There are so many different French potato recipes, so here's a collection of the ones I have found so far, along with others I have yet to try.
Whether you like your potatoes crispy on the outside and fluffy on the inside, baked in cream, mashed or topped with cheese, I can promise that there is something for everyone.
Some of these dishes are a meal in themselves and some are perfect for entertaining or simple family suppers.
Bon appétit!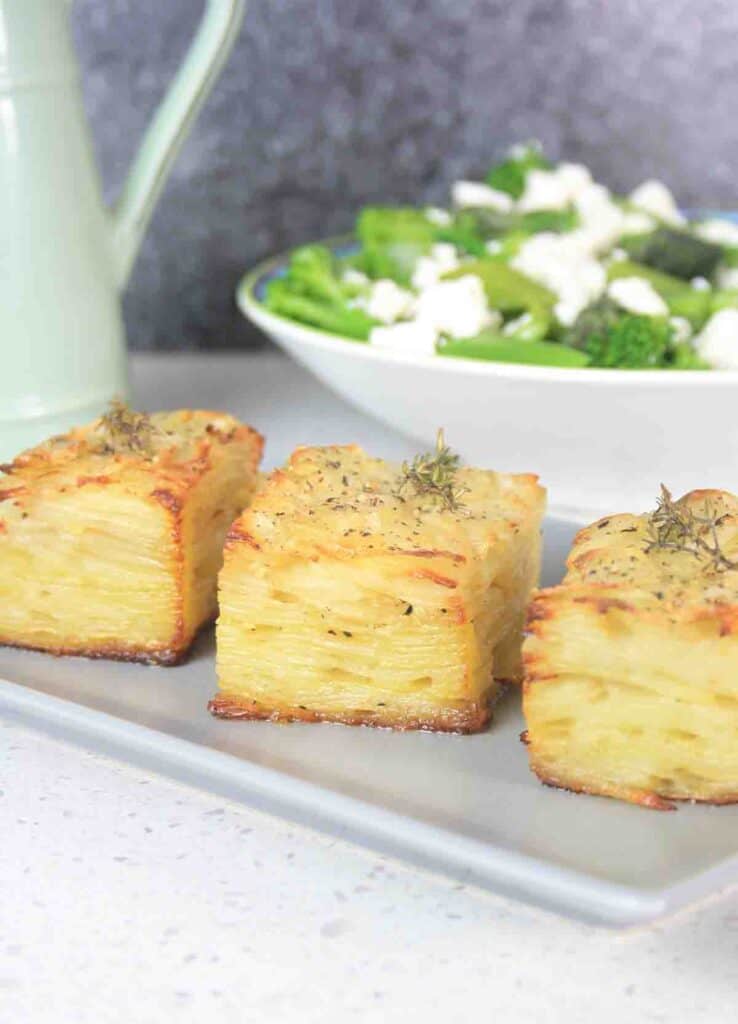 I am a real fan of French style potato dishes, because there are just so many variations. In Britain we seem to have roast, boiled, mashed or chipped and that's it! Of course, there are a few notable exceptions, like bubble and squeak, but we have mostly borrowed the French potato recipes.
While you have probably heard of potatoes dauphinoise there are plenty of other potato bakes, frugal or luxuriously creamy and cheesy, that may tempt you.
There are also plenty of variations on a roast or fried potatoes, with plenty of crunch, that are elegant enough for entertaining or a change for the Sunday roast.
Of course, the best bit is that they are all easy to do, with plenty of step by step pictures and instructions.
I'll let you know what my favourite is but I'd love to know what your favourite is in the comments.
Jump to:
Chateau Potatoes
Chateau potatoes are traditionally served with chateaubriand steak in France, but they go really well with any roasted or grilled meats or vegetarian dishes.
These potatoes are braised in butter and garlic and served with the cooking butter poured over them. They take just 40 minutes to cook.
Delicious for a special occasion.
Serve with
Potatoes Sarladaise
Sarladaise potatoes are named for the town of Sarlat in France, where they are a regional specialty French potato dish.
These potatoes are sliced and fried in duck fat and garlic, which gives a uniquely rich and decadent taste.
I like to save the fat from cooking duck but it's often found in supermarkets too.
Serve with
Fondant Potatoes
Fondant potatoes are reminiscent of a British roast potato, but they are very different.
They are braised first in butter to get a crisp golden crust, and then in stock, so that the middle is soft.
Serve with
Parisienne Potatoes
Parisienne potatoes are a great idea for a dinner party, as their even size make an elegant side dish.
The potatoes are shaped into balls which are roasted in butter, which you can easily prepare in advance too.
Serve with
Parmentier Potatoes
With parmentier potatoes the potatoes are cubed and cooked with onions, garlic and rosemary.
They are really easy to do and you don't even have to peel the potatoes, so they are great for family dinners.
Serve with
Potatoes Pavé
These potatoes pavé are my absolute favourite and, although they look difficult, they are in fact very straightforward.
Thinly sliced potatoes are layered in a square cake tin and baked in the oven with stock.
The potatoes are left to cool overnight, with tins on top, to press the potatoes.
They are then cut into portions, brushed with butter and roasted in the oven until crispy.
Serve with
Boulangère potatoes
Boulangère potatoes are a frugal dish of sliced potatoes baked in stock with onions and thyme.
The great thing about this is that the bottom of the dish is full of tender potatoes and the top forms potato crisps or chips, naturally in the oven.
Serve with
Dauphinoise potatoes
Dauphinoise potatoes are always popular and often made very differently to the original French version.
Sliced potatoes are baked in cream and that's it! There is no garlic, although the dish is often rubbed with a garlic clove and there is no cheese either.
However, I do love to add leeks and bacon and top with cheese sometimes!
Serve with
Individual Dauphinoise potatoes
This French potato recipe is popular in restaurants to serve in individual portions.
I've added the cheese on top as it helps to keep the dauphinoise together when serving. Truly decadent!
Serve with
Tartiflette
This is one French potato bake where cheese is essential. Cooked sliced potatoes are layered with bacon and Reblochon cheese, which is similar to Camembert.
It is often served as a meal in itself but it also goes particularly well with sausages.
Serve with
Duchesse Potatoes
If you like creamy and cheesy mash the you will love duchess potatoes, which are then baked in the oven.
They can be frozen and baked from frozen too. Perfect for getting ahead.
Serve with
What is the different between gratin potatoes and dauphinoise?

Gratin means a topping, such as breadcrumbs or cheese that is then browned in the oven or under the grill. The potatoes are normally cooked then sliced and baked in cream.

Dauphinoise, is made by cooking raw potatoes in cream and traditionally there was no cheese or other topping.
More potato dishes
More French Side Dishes