Crispy Potatoes Pavé, also known as pressed potatoes are normally seen in French restaurants but you can easily make this elegant side dish at home.
Pavé, meaning paving slab in French, describes these scalloped potatoes perfectly! This potato dish shows off the layers of potato like a pile of slabs.
Buttery, garlicky and tender on the inside, they have the delicious crispy crunch of a roast potato on the outside. This dish might look tricky, but there's very few ingredients and it's a doddle to put together without the need for any special skills.
They're perfect for make ahead entertaining, or a cosy dinner for two.
Once you've tried these you will be hooked!
What type of potato is used in this dish?
If I am having a plain boiled potato I will always use new potatoes, but for everything else I use a Maris Piper. They are perfect for mash, chips and roast potato as they are floury and fluffy when cooked. This means that you get plenty of crispy edges when you fry or roast them. Another potato to use would be a Rooster or King Edward. If you are in the US an equivalent potato would be a Russet or Yukon Gold.
Avoid using a waxy potato as they contain less starch and you will need the starch to help the potato layers stick togther.
What are the ingredients?
This is such a simple dish. You will need butter for cooking the potatoes pavé for the layers and more butter for roasting them.  You could replace the roasting butter with baking spray to reduce calories, but as one portion is only 68 calories, I'm sticking with the butter!
To flavour the potatoes you will also need some chicken or vegetable stock. It's fine to use a stock cube for this.
I love garlic in potatoes,  so there are two cloves in this dish, but feel free to leave it out. I have also used fresh thyme in the stock and as a garnish, but you could leave it out or swap for sage or rosemary. Don't be tempted to use dried thyme; I always find it to be far too woody and the taste is completely different.
How to make this dish
Start by greasing and lining a 20cm loose bottomed square cake tin.
Butter the sides and base then cut a sheet of baking parcment large enough to cover the bottom and sides.
Cut 4 slits at the corners of the tin.
Press the paper into the tin.
Melt half of the  butter in a saucepan and add the garlic for 1 minute. Stir the butter into the stock with the chopped thyme.
Peel the potatoes,  then slice on the thinnest setting of a mandoline or a food processor. There is no need to rinse them as the starch will help to hold together the layers together while cooking.
Layer the potatoes in the tin evenly, occasionally spooning over the buttery stock.
Cover with foil and cook 180 for 1 hour or until competely tender. I use a skewer to make sure that the potatoes are cooked through.
Leave to cool then fold the foil in half. Add two pieces of cardboard or a baking tin that fits and weigh down with more tins. This will ensure that the layers are compacted and the potato will slice cleanly.
Refrigerate overnight.
When you are ready to cook cut the layered potatoes into 12 pieces and place on baking paper or a silicon mat.
Melt the butter and brush the potatoes.
Roast 200 C  for 40 minutes then add thyme sprigs if using.
Cook for a further 10 minutes then serve.
These pressed potatoes are so crispy and buttery and might just be my favourites as they look so elegant and taste so delicious too.
If you make these potatoes or have any questions please let me know in the comments section.
I would love to hear from you!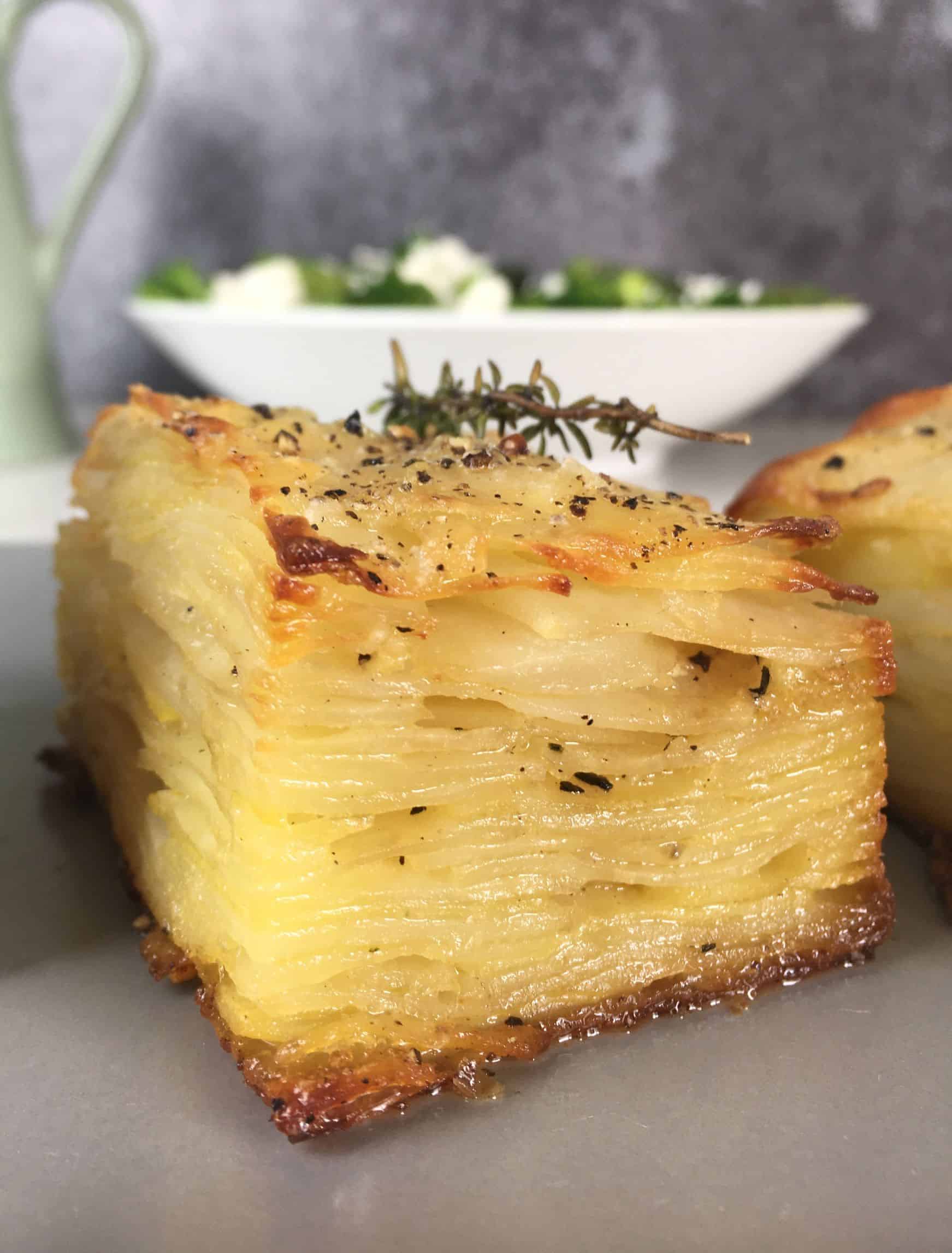 How to serve and store potatoes pavé
You can serve these crispy potatoes with any dish, but they go particularly well with meat dishes like Confit Duck  or Slow Roast Belly Pork. They are the perfect dish for entertaining as you can make them up to 2 days in advance and just roast them when you are ready.
If you have more than you need, freeze sliced portions wrapped in cling film.
Other French Potato Recipes
📋 Recipe
Be the first to receive new recipes in your inbox and get my free E-Book of 25 French Recipes! Subscribe here!