Duck confit has to be one of my favourite meals. I can't resist the rich, tasty, tender meat with a perfectly crispy skin. It's just so good!
There's no mystery to this French classic, it's probably the easiest thing to cook. First, there's no basting or fiddling. The duck just goes in the oven.
I'll show you the traditional method and my own quick version, so you can make a restaurant quality dish in the comfort of your own home.
In addition, I'll share with you my favourite red wine and redcurrant sauce which is the perfect accompaniment to all game dishes.
Bon appétit!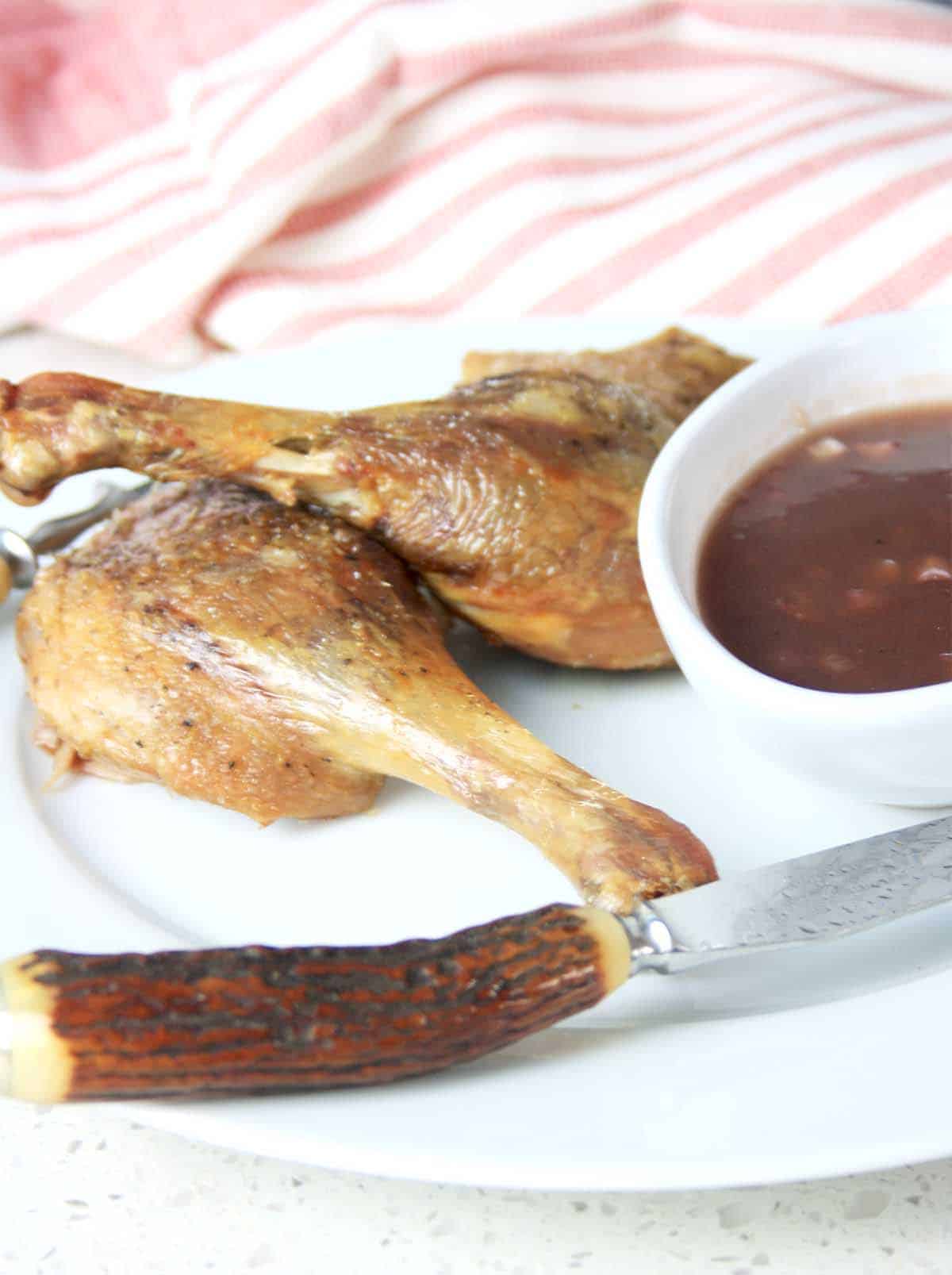 Jump to:
What is a confit?
Confit means to preserve in French and it relates to both sweet and savoury foods. For example, confiture, refers to jam, which is fruit preserved in a sugar syrup. Confit de canard, or preserved duck, relates to meat salted and slow cooked in fat.
In years gone by this way of cooking was one of the ways to preserve meat and it's still really popular today. Before I moved to France permanently we always kept a tin of confit in the cupboard, so that when we arrived at the house we could always make dinner if the shops were shut. It was just a question of opening the tin, scraping off the fat and roasting the legs in the oven until crisp
What are the ingredients?
This technique is best used with duck legs. I find that if you roast a whole duck the breast will be perfectly cooked but the legs will be tough, even if cooked through. Cooking the legs separately means they will always be tender.
To make a traditional confit you will need duck fat and salt. Nowadays you can buy goose and duck fat in tins and jars, especially in the run up to Christmas, but it's easy to retain the duck fat from cooking and keep in a covered container in the fridge.
The leftover duck fat is perfect for roast potatoes and other vegetables.
For my quick confit you just need salt and pepper.
For the sauce you will need redcurrant jelly, shallots and red wine. You could substitute cranberry jelly if you can't get hold of redcurrant but I would use one that isn't overly sweet.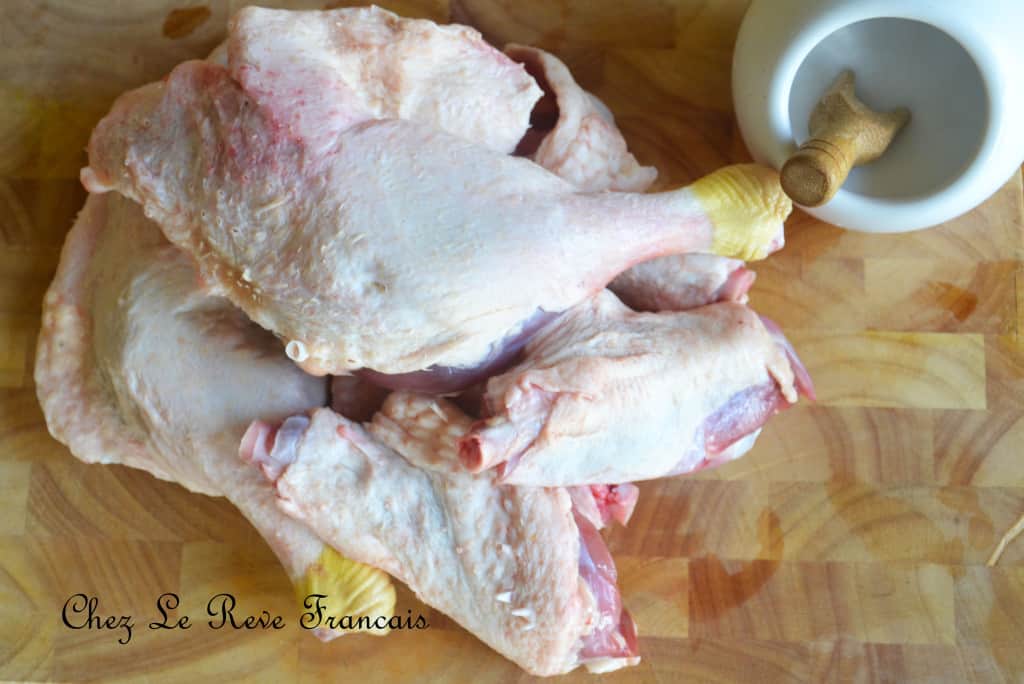 How to make duck confit in 2 ways
If you want to preserve the duck for other meals then use the traditional method. Otherwise, the quick confit method is perfect.
Traditional method
Start by drying the legs with kitchen paper and sprinkling the skin with the salt. Place in the fridge in a covered container for 24 hours. If you prefer you can add fresh herbs or spices. I love to use a few squashed juniper berries and rosemary for this.
When you are ready to cook wipe off the salt with paper towel and place in a deep sided roasting tin, skin side down.
Cover the legs with the duck fat. If it's hard melt it in a saucepan first. Before you panic at the sight of all that grease, remember that you are not actually going to eat the fat, it is just for cooking and will be drained off later.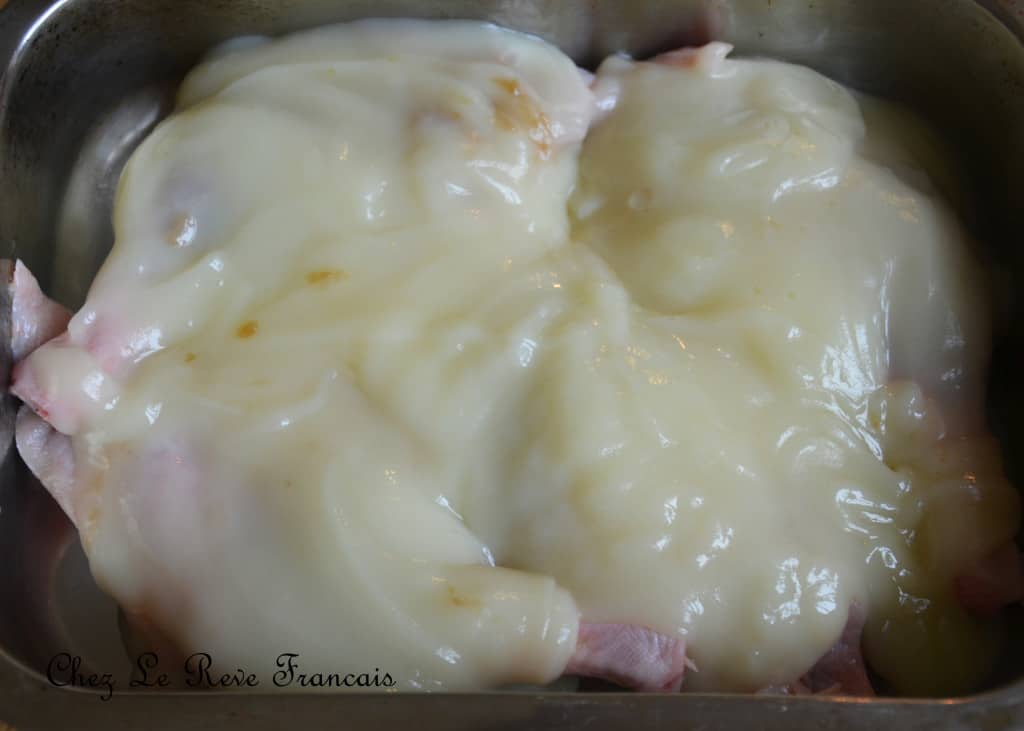 The duck meat itself is very lean as most of the fat comes from the skin. The fat is there to slowly poach the meat. This way the sinewy joints become deliciously tasty and tender. Cover the dish with foil and roast in the oven 150C/300F/Gas 3 for about 2 hours for small legs and 3 hours for larger legs.
If you are cooking more legs make sure that you have enough fat to submerge the legs.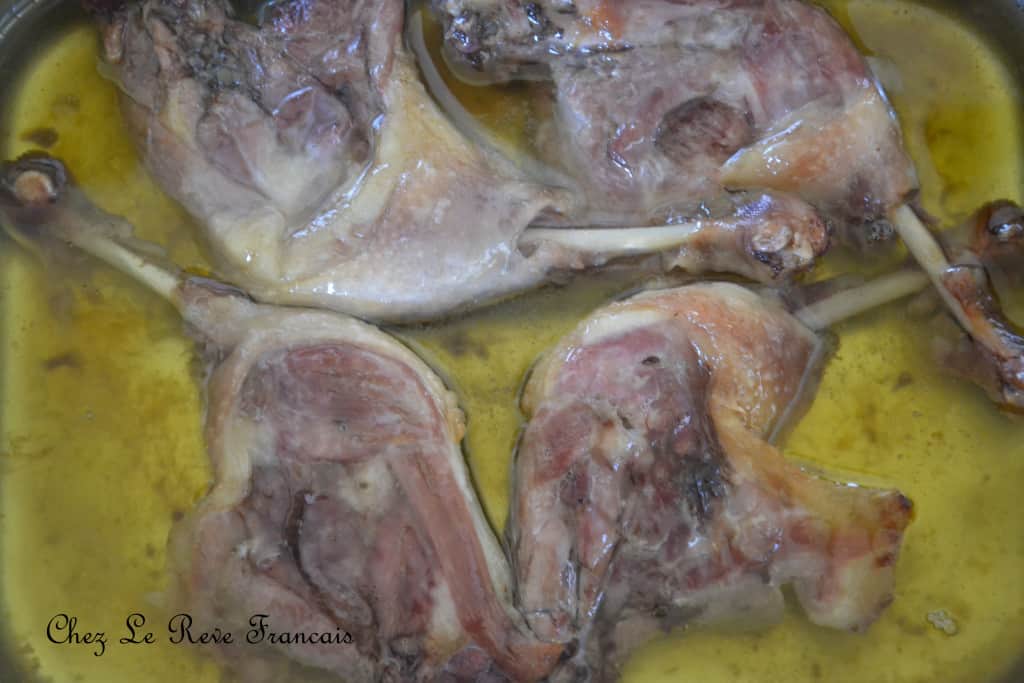 The meat will be ready to fall off the bone at this stage. Drain off all the fat, (into a sealable container ready for next time in the fridge), reserving the cooking juices for the sauce later on.
Place the duck in a clean oven tin, season and roast skin side up at 200C/400F/Gas 6 for 20 minutes to crisp the skin.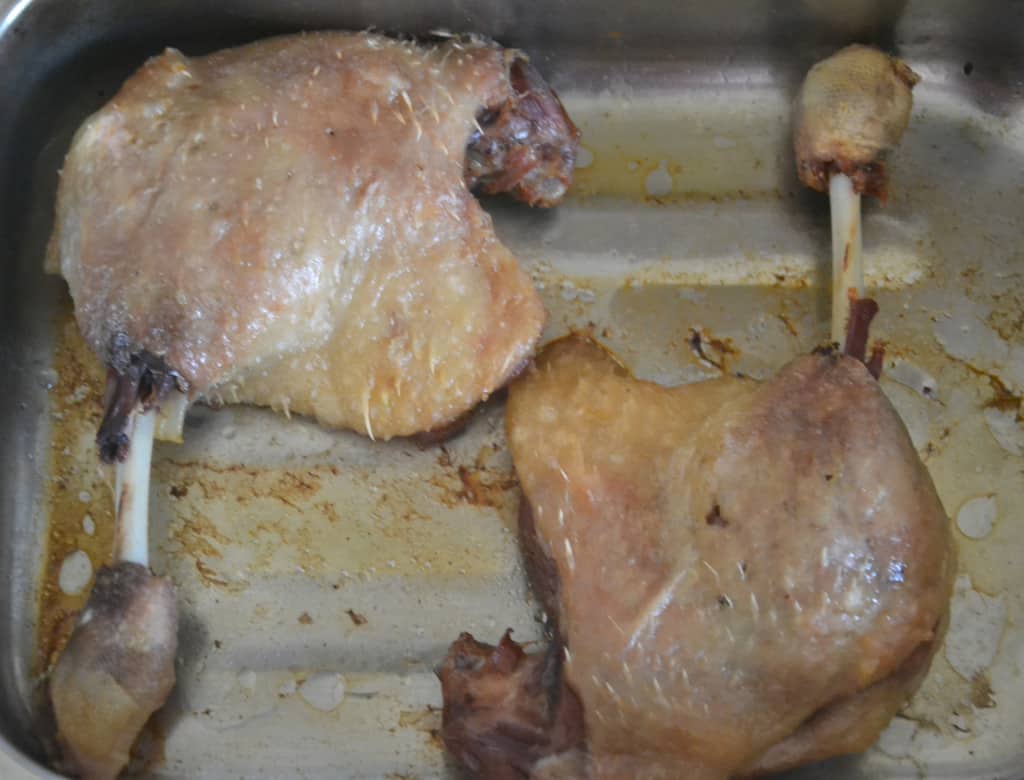 Quick confit method
Put the duck legs in a tin, skin side up and poke all over with a carving fork or sharp knife. Sprinkle with salt.
Cover with foil and roast for 2 to 3 hours at 150C/300F/Gas3.
Drain off the fat, reserve the cooking juices and place in a hot oven 200C/400F/Gas6 for about 20 minutes until the skin is crispy.
Allow the duck to rest while you prepare the sauce.
How to make the redcurrant and red wine sauce
Finely slice and fry two shallots in butter or duck fat until transparent then add about 125ml of red wine. Leave the wine to reduce by about half, which will take about 5 minutes.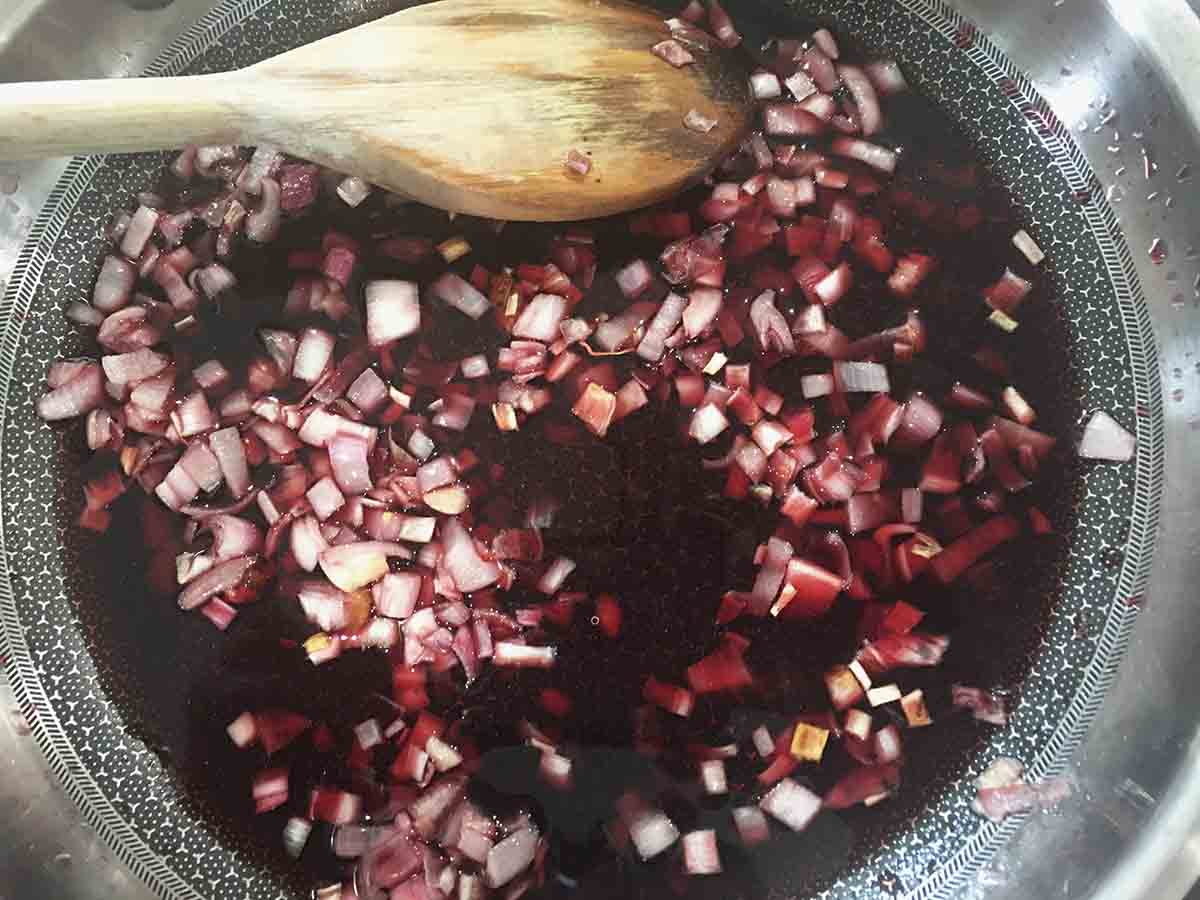 At this point add 2 heaped tablespoons of redcurrant jelly for about 3 minutes until it melts.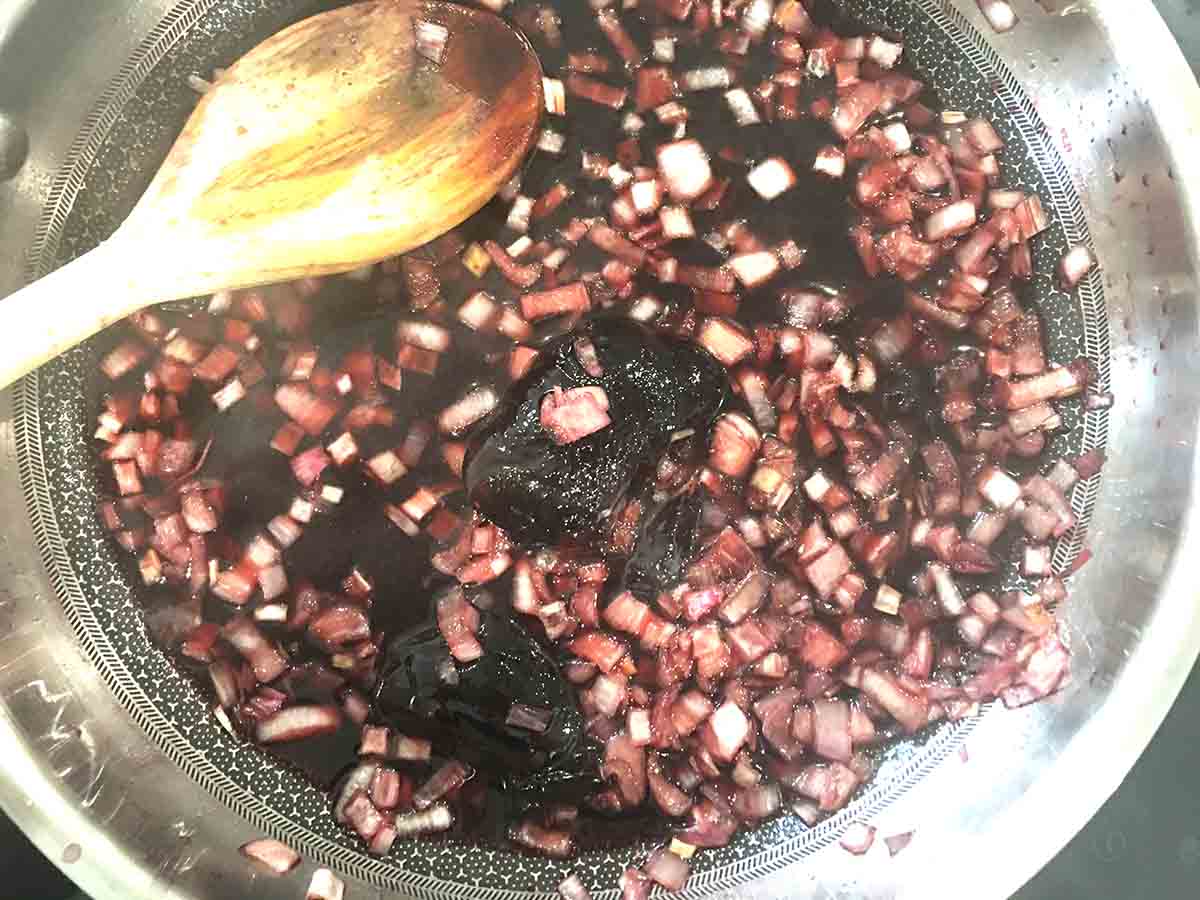 Now you can add any cooking juices to the pan and season to taste.
If the sauce is too runny for you add a teaspoon of cornflour to water and stir in until it thickens. If you prefer more sauce, to go with the whole meal, add some chicken stock and thicken accordingly to your taste.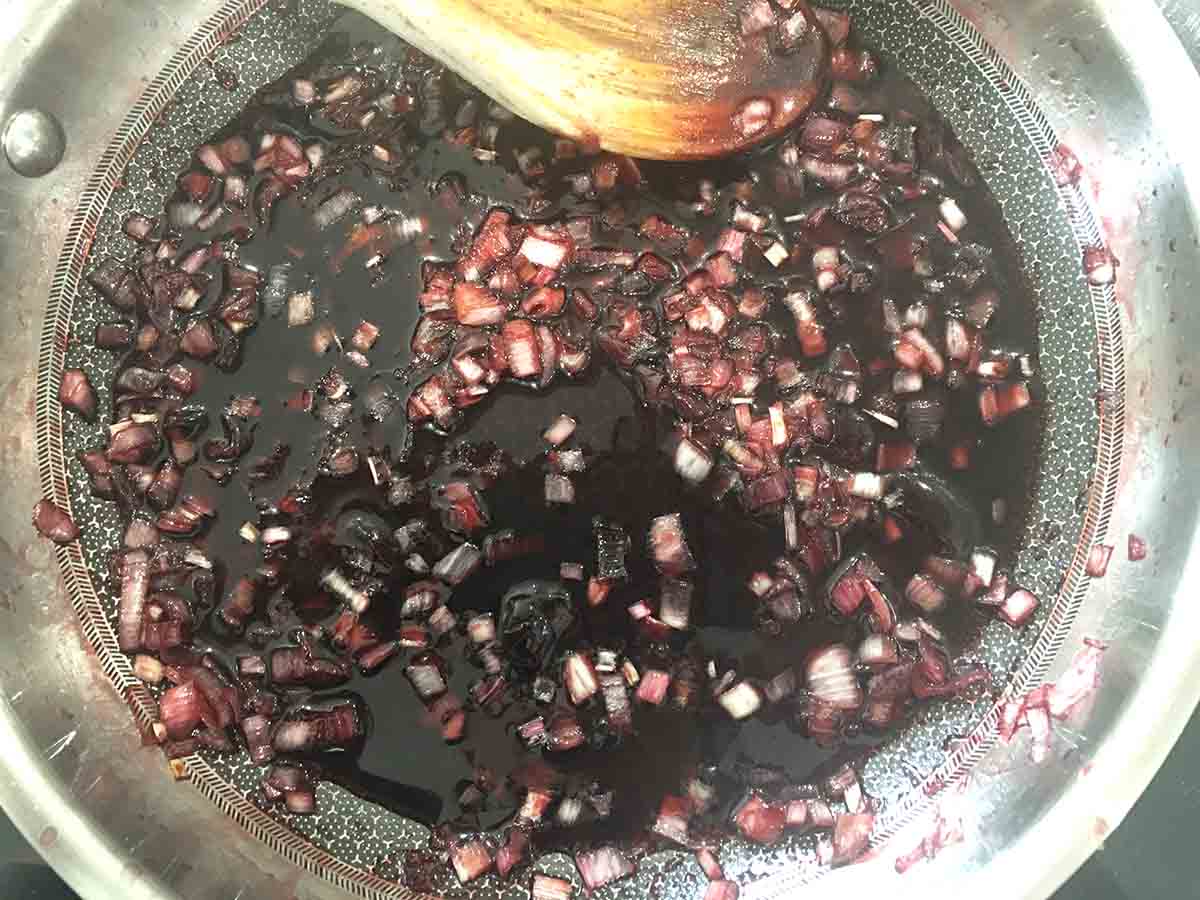 Serve the duck with the sauce on the side.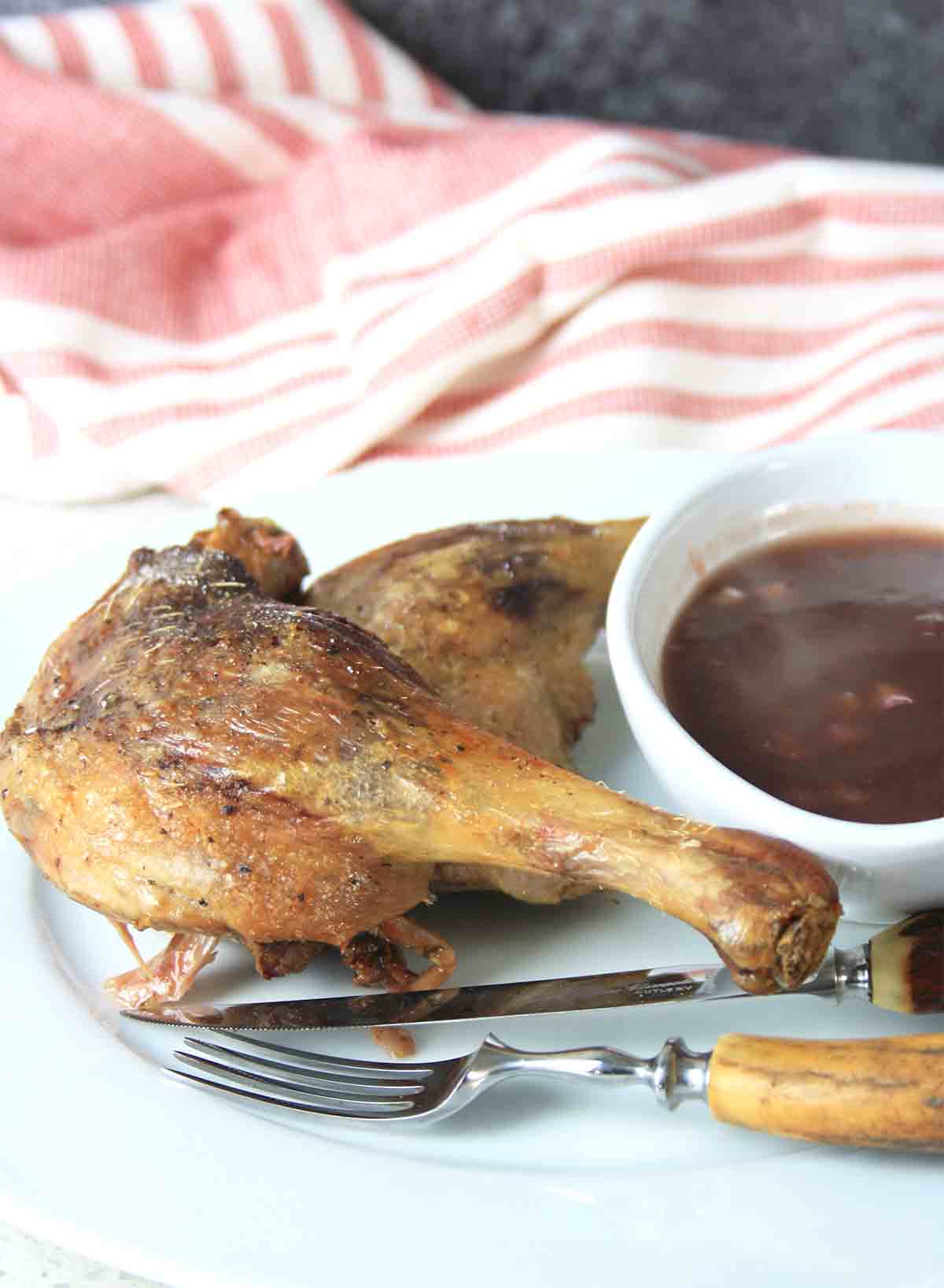 Crispy skin and tender duck meat. What could be better or easier?
I would love to know what you think about this recipe so please let me know in the comments.
Frequently asked questions
What do you serve with this dish?
Serve the duck with the redcurrant sauce, but it's also equally delicious with a creamy Mushroom Shallot and Cognac Sauce . As these sauces are quite rich, serve with steamed vegetables and mashed potatoes. If you are serving this when you are entertaining you might be interested French Dinner Part Menus, as there are plenty of ideas of different potato dishes to serve. In fact, this dish is perfect for entertaining as it can be happily left in the oven.

Preserved duck is also an essential ingredient in a traditional cassoulet dish but you can make a quick Chicken Cassoulet in just over 30 minutes.
What else can you confit?
You can use this technique with chicken legs or any other game bird or poultry that is sinewy such as a turkey leg, pheasant or guinea fowl. Typically goose legs and duck are used in France.

It is also great for cooking pork or duck to make rillettes. This is when the meat is shredded and packed into preserving jars. It's delicious spread on crusty bread and makes an excellent gift too.
How do you store the cooked duck?
If you are using the traditional method place the duck in a container and pour over the duck fat. Cover and keep in the fridge for 2-3 months. You can remove pieces as needed but be sure to make sure the remaining dusck is covered in fat.

For the quick method the cooked duck should be eaten within a couple of days or frozen. I often do this so that I can make duck spring rolls or pancakes easily.

More duck and game recipes to try
📋 Recipe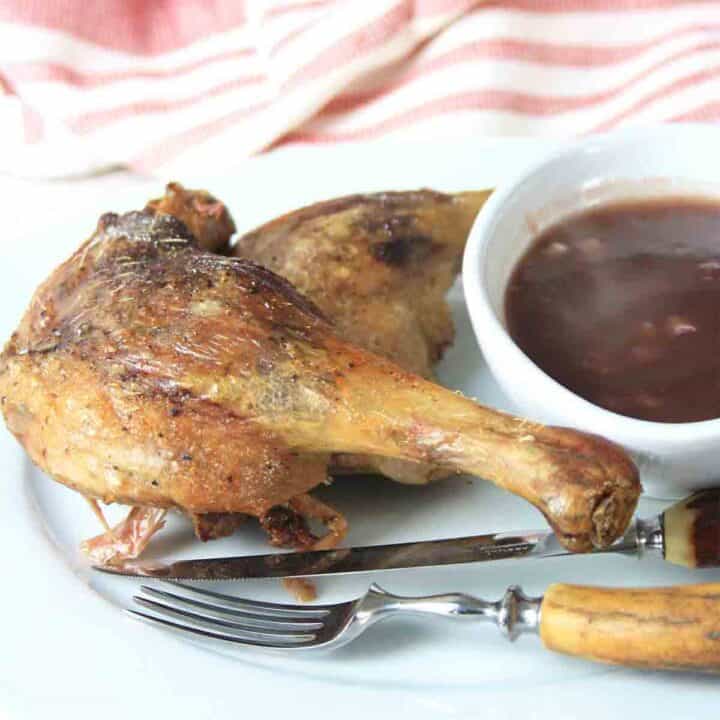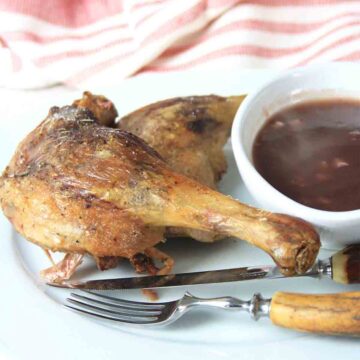 Duck confit with Redcurrant Sauce
Easy slow cooked duck legs with a delicious redcurrant and red wine sauce.
Ingredients
4

large duck legs

2

shallots

sliced

125

ml

red wine

2

tablespoon

redcurrant jelly

1

tablespoon

salt

½

tsp

pepper
Instructions
Fork the duck legs all over, sprinkle over the salt and place in a roasting dish.

Cover with foil and roast 1450C/300F/Gas3 for 2 hours

Drain the duck, retaining the fat and cooking juices separately. Season and place in the oven 200C/400F/Gas 6 while you make the sauce.

Heat 1 tablespoon of the retained duck fat in a frying pan and soften the shallots for 2-3 minutes.

Add the wine and reduce by about half before adding the redcurrant jelly, along with the reserved juices.

Season to taste and allow to bubble to required consistency.

Allow the duck to rest for a few moments and serve with the sauce on the side.
Nutrition Facts
Duck confit with Redcurrant Sauce
Amount Per Serving (0 g)
Calories 415
Calories from Fat 180
% Daily Value*
Fat 20g31%
Cholesterol 197mg66%
Sodium 1937mg84%
Potassium 102mg3%
Carbohydrates 4g1%
Protein 47g94%
Vitamin C 7mg8%
Calcium 22mg2%
Iron 4mg22%
* Percent Daily Values are based on a 2000 calorie diet.
Notes
The nutritional information provided is approximate and is calculated using online tools. Information can vary depending on various factors, but we have endeavoured to be as accurate as possible.
For this particular recipe the nutritional information assumes that the the fat from the duck is all consumed in the dish, which has inflated the nutritional information.
Disclaimer: The nutritional information provided is approximate and is calculated using online tools. Information can vary depending on various factors, but we have endeavoured to be as accurate as possible.
Detailed instructions for this recipe, including step by step photographs, hints and tips, can be found in the main article.
This recipe was first published on the 4th October 2015 but has been updated with more information and photographs.
Food safety
We sometimes take for a granted that we have years (or decades) of cooking experience, that the average visitor may not. Add to, or remove from, the list below with health and safety tips.
Cook to a minimum temperature of 165 °F (74 °C)
Do not use the same utensils on cooked food, that previously touched raw meat
Wash hands after touching raw meat
Don't leave food sitting out at room temperature for extended periods
Never leave cooking food unattended
Use oils with high smoking point to avoid harmful compounds
Always have good ventilation when using a gas stove