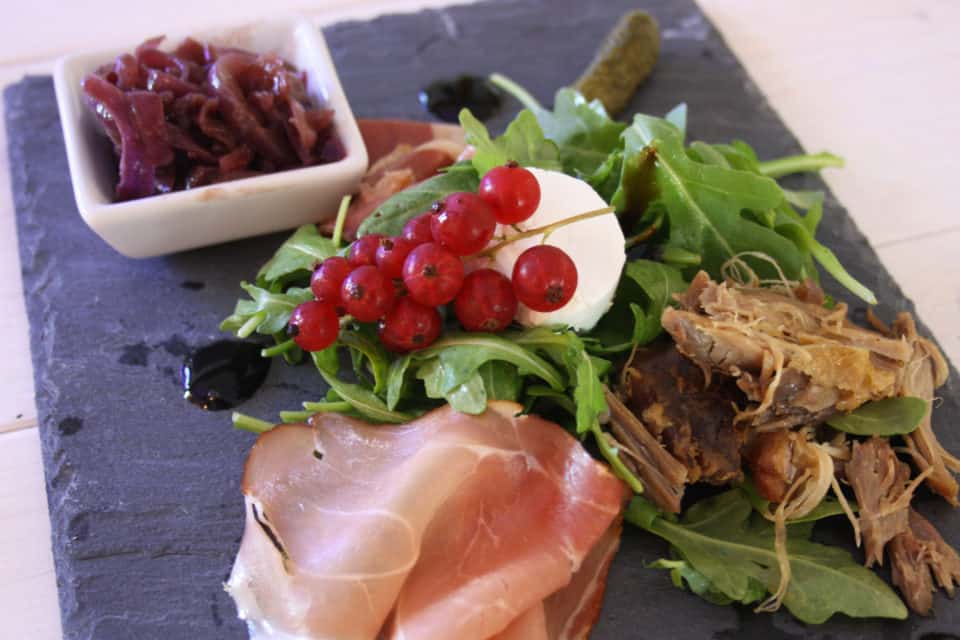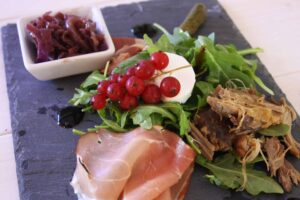 French Ploughman's. Have you heard of a Ploughman's lunch? From what I understand and remember it was one of the first meals that pubs served before the rather greasy offering of chicken in the basket and the the more modern gastro-pubs. Typically it would consist of great doorsteps of bread, a hunk of cheddar some pickled onions and chutney. If it was a posh pub you might get a piece of ham! I think it's rare to see it offered anywhere these days so I thought I would give this old classic a revamp with French ingredients for a dinner party starter where the work can be done the day before and it can be plated just before serving.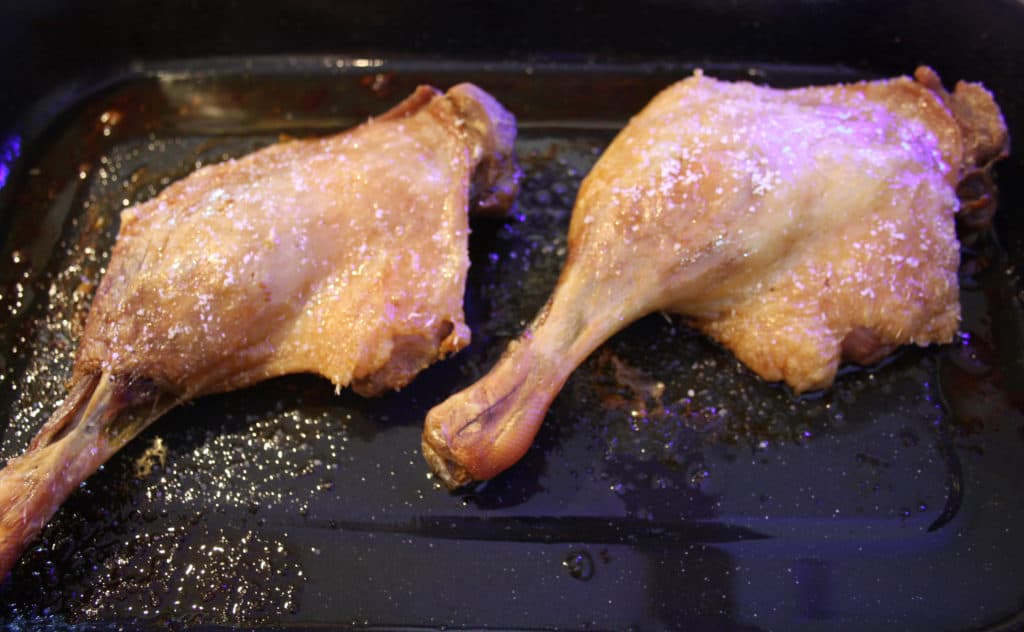 First cook the duck. Ideally use duck fat to make a confit but the duck legs cook quite well in their own fat. I prick the skin and sprinkle with sea salt in an oven dish. Tightly cover the dish with foil and roast for about 3 hours at 140/150 C until the duck is really soft. Drain off the fat and place under a preheated grill for a few minutes to crisp up the skin then shred the meat with two forks so that there is a mixture of meat and crispy skin.
Next make the onion chutney by slicing red onions and softening gently in melted butter for about 5 minutes before adding brown sugar and vinegar. Simmer on a low heat for 20 minutes. Leave to cool then refrigerate until needed.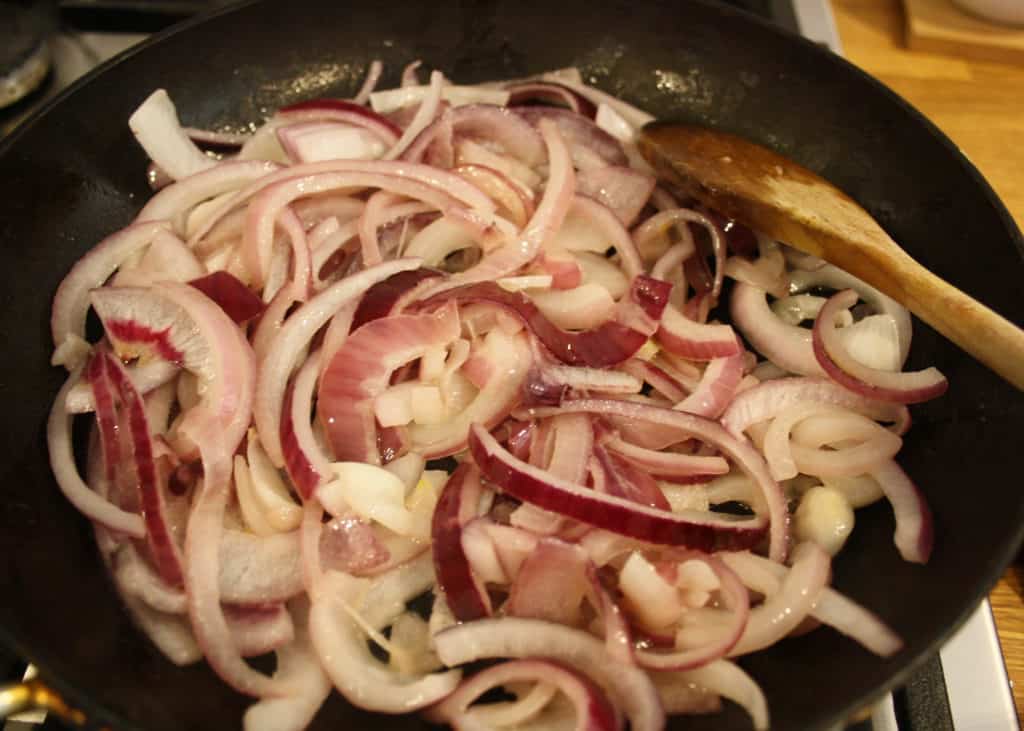 When you are ready to serve add a handful of rocket to each plate, some duck confit, smoked duck, ham, cornichons, chutney and sliced goat cheese. Decorate with some redcurrant sprigs and a little balsamic glaze.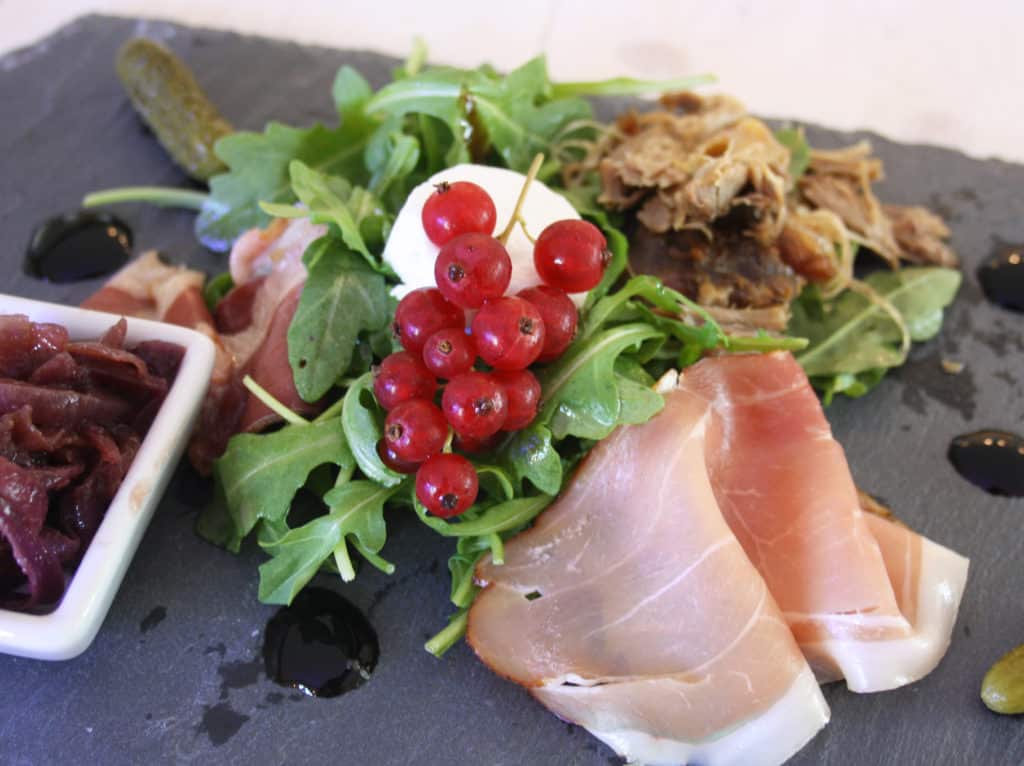 Perfect as a starter or light lunch served with some French bread and salted butter!
Tell me what you think about my French Ploughman's?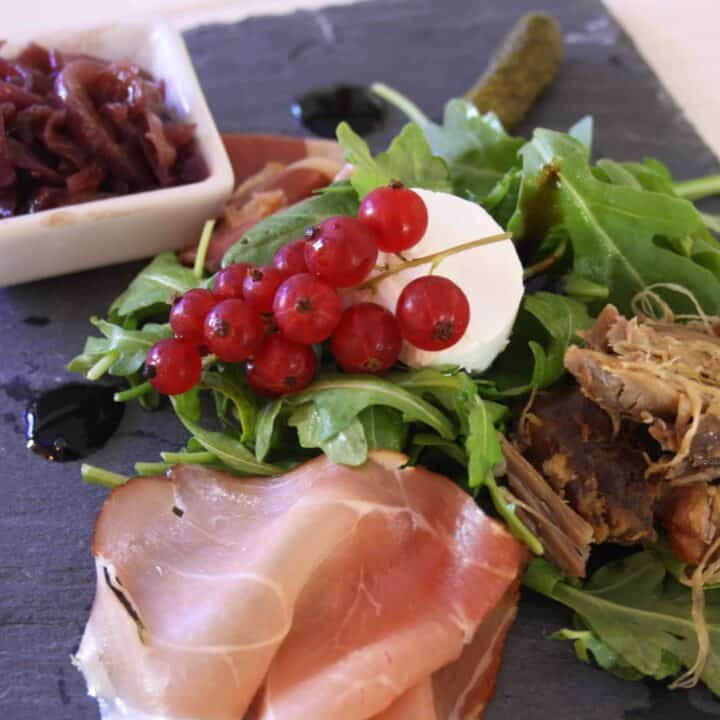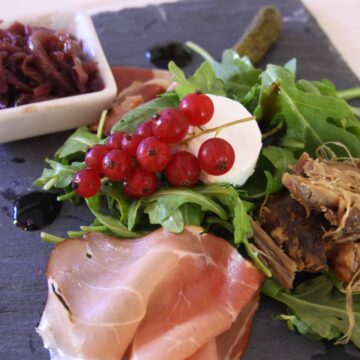 French Ploughmans
Here's a simple starter or lunch dish of goat cheese, red onion chutney, duck confit, smoked duck, ham and cornichons.
Ingredients
2

large duck legs

60

g

sliced smoked duck

100

g

thin sliced cured ham

2

red onions

sliced

1

tbsp

brown sugar

1

tbsp

vinegar

red wine or cider

50

g

butter

12

small cornichons

1

bag

rocket

balsamic drizzle

100

g

goat cheese
Instructions
Place the duck in a roasting tin, prick all over, sprinkle with salt, cover with foil and roast at 150 C for about 3 hours.

Remove the foil, drain off any fat, re salt and place the duck under a preheated grill for a few minutes until the skin is crispy.

Make the chutney by melting the butter over a medium heat and then adding the sliced onions. After 5 minutes add the sugar and vinegar, stir until dissolved and then simmer for 20 minutes, stirring occasionally.

Assemble the dish adding a pile of rocket to the centre, arrange the meats casually around and place the cheese and redcurrants on top. Decorate with cornichons or capers, a drizzle of Balsamic glaze and a pot of chutney.