This smoked salmon and avocado starter is known as a salmon timbales because this neat little stack resembles timbale drums.
With the fresh and light flavours of cooked and smoked salmon, avocado, cucumber and fennel, this dish is perfect for summer eating or an elegant starter for a dinner party.
Perfect for making in advance, and easy to vary the ingredients, entertaining has never been so simple or delicious.
Bon appétit!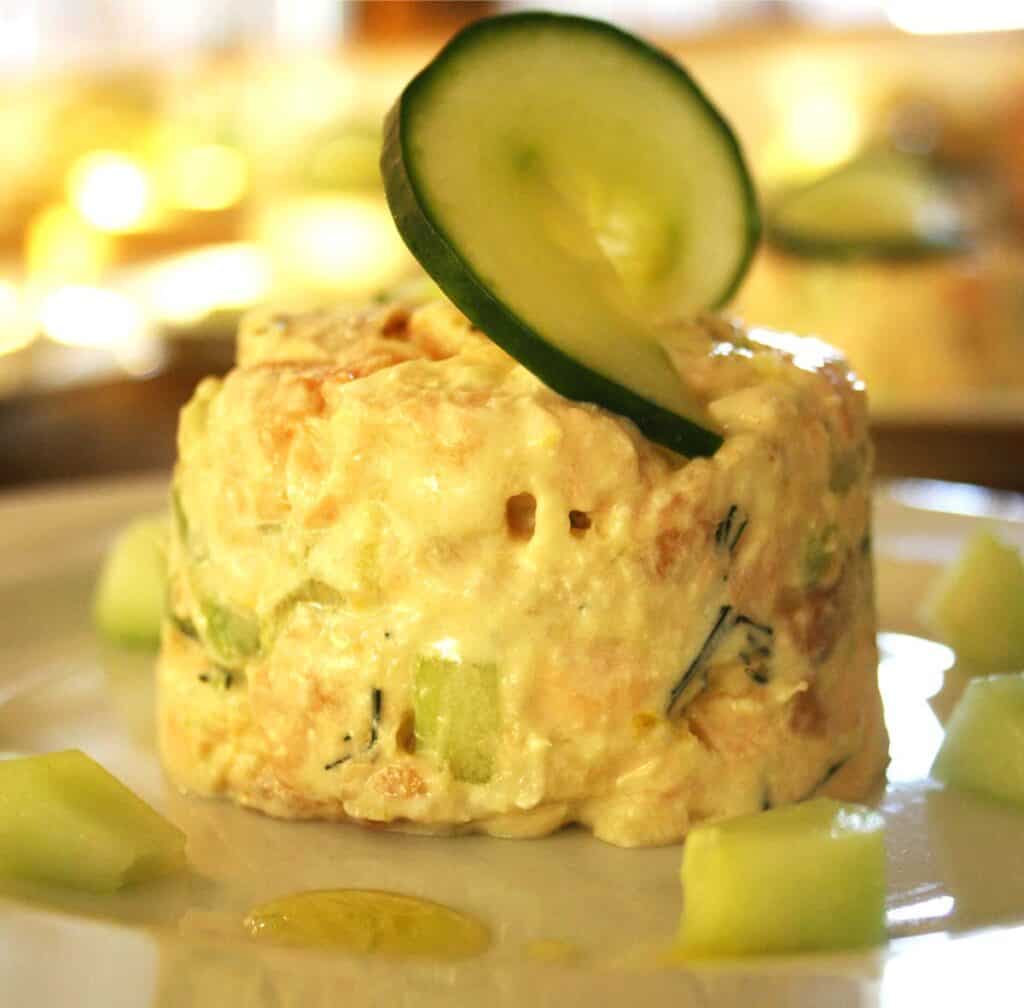 French starters are often quite simple but they are very much part of the meal.
It's popular to serve a form of timbale like this or something very simple in a verrine, ( a small glass for eating from). Very often, it is vegetarian, such as chopped beetroot with feta cheese and some crème fraîche.
A timbale is formed in a container and chilled in the fridge before serving. And, although it might look complicated, it's really easy to do and without the need for gelatin. You will just need small dishes and cling film.
Once you have made this version you will see that it's really easy to vary the ingredients for your guests. You'll find lots of suggestions and substitutions too.
Why you will love this
Make from scratch or use cooked salmon to save time
Easy to make
Make in advance and chill until needed
Lots of delicious vegetarian and seafood variations to try
Jump to:
🥘 Ingredients
Salmon - fresh salmon fillets or cooked salmon and smoked salmon. Most supermarkets sell smoked salmon trimmings, which are much cheaper to use. If you are using cooked salmon use 300g, the weight of raw salmon usually reduces by a quarter when it is cooked.
Avocado - fresh avocado.
Cucumber
Fennel - fresh fennel or dill fronds.
Lemon - zest of a lemon and some juice to stop the avocado from discolouring.
Crème fraiche - full fat or half fat version.
Mayonnaise - any variety or reduced fat.
See recipe card for quantities.
🍽 Equipment
foil
oven tray
mixing bowl
sharp knife
cling film
6 ramekins
🔪 Instructions
If you are using fresh salmon wrap the fillets loosely in kitchen foil.
⏲️ Cooking Time
Preheat the oven to 180 C / 350 F / 160 FAN / Gas 4. and cook for 15 to 20 minutes until cooked.
Open the foil and leave to salmon to cool.
While the salmon is cooking and cooling get everything prepared
Start with some fresh dill.
Remove the fronds from the main stem and chop.
Peel, de seed and dice the cucumber. Use a teaspoon or grapefruit spoon to remove the seeds from the middle, or they will make the salmon timbales too wet.
Chop the avocado and place in a small bowl. It doesn't matter if the pieces aren't uniform as it won't notice in the finished dish. Add some lemon juice to the avocado to stop it from turning brown.
Chop the smoked salmon and zest the lemon.
When the salmon has cooled gently flake the fish with your hands. Add some mayonnaise and creme fraiche and stir gently to combine.
Place the mixture in some loose bottom molds so that they are easy to turn out. Alternatively line some ramekins with enough cling film to make a parcel.
Chill for 2 hours then turn out to serve and decorate.
Try
Slices of lemon or cucumber
cubed cucumber or apple
dill fronds or other herbs
🥗 Salmon dishes
Salmon and Avocado Parcels
Substitutions
Crème fraiche - use sour cream or Greek yogurt instead.
Mayonnaise - as above.
📖 Variations
Prawns / shrimp - use cooked prawns or crayfish instead of the poached salmon
Crab - use a mixture of white and brown crabmeat. Tinned crab is good value for this.
Tuna - tinned tuna will work well.
Lobster - chopped lobster tail.
Smoked fish - such as smoked haddock or mackerel.
Herbs - fresh chopped chives, tarragon or parsley.
Vegetarian - try a combination of chopped boiled eggs, chopped deseeded tomatoes, cooked chopped asparagus, peppers, courgettes or mushrooms.
Storage
Refrigerator - store in the fridge for up to 2 days.
Freezer - not suitable for freezing as the ingredients will separate.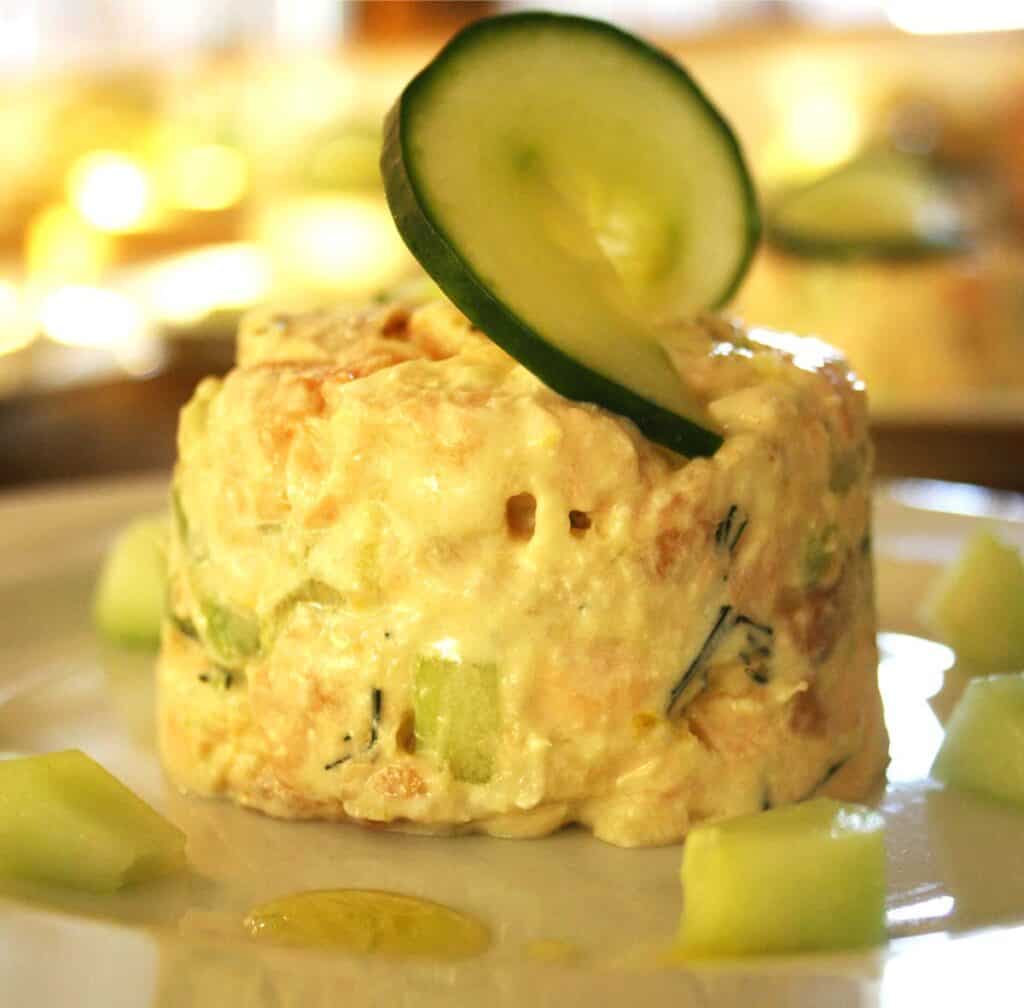 More appetisers and starters
📋 Recipe
Food Safety
Do not use the same utensils on cooked food, that previously touched raw meat.
Wash hands after touching raw meat.
Don't leave food sitting out at room temperature for extended periods.
Never leave cooking food unattended.
Use oils with high smoking point to avoid harmful compounds.
Always have good ventilation when using gas.
Thank you for taking the time to leave a comment. I love to read them and answer your questions. However, due to spam comments, I do have to moderate each one, so don't worry if you cannot see your comment immediately. I'll publish your comments as soon as I can.