This is one of those dishes that once you have made it once you'll want to make it again and again. I think it makes a beautiful dinner party dish or summer buffet and is quite simple enough to do on weeknights.
There is only 20 minutes of cooking time too, so plenty of time to get some vegetables steamed or a salad assembled.
Best of all, this dish is only 364 calories per portion, has very little clean up and it's so easy!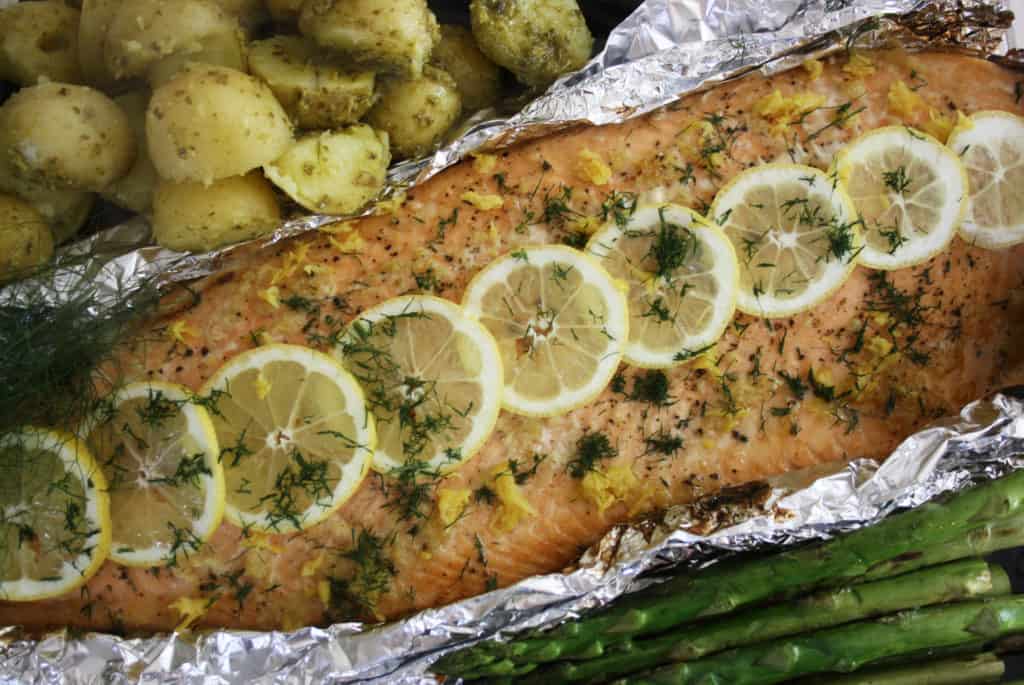 What are the ingredients?
1.25 kg salmon fillet
4 cloves garlic crushed
25 g butter
4 tbsp clear honey
1 juice and zest of a lemon
lemon thinly sliced
2 tbsp fresh dill, chopped
seasoning
You can make this dish with individual salmon fillets if you prefer.
How to make this dish
Use some kitchen paper to dry the fish off, especially if it has previously been frozen. Run your fingers over the flesh to check for bones and remove with tweezers if necessary.
Start by lining a large oven tray with foil, making sure there is enough to encase the salmon in a loose parcel. Grease the foil and add the salmon.
Put the butter, garlic, honey and lemon juice in a bowl and melt in the microwave until just melted or, gently heat in a saucepan. Pour over the salmon and season well with salt and pepper.
Seal the foil packet loosely but make sure that no liquid can escape and bake for about 15-20 minutes. I prefer my salmon to be only just cooked so often only give it 15 minutes as the grill will do some extra cooking.
Open up the foil carefully, without losing any of the juices and put under the grill for a few minutes until the salmon is golden. Sprinkle over lemon zest and chopped dill and decorate with thinly sliced lemon to serve.
Spoon over the juices to serve.
Serve hot with new potatoes and vegetables or cold with salads. This makes a great buffet dish without going to the trouble of cooking a whole salmon and dealing with the bones.
More fish dishes you may like
Food safety
We sometimes take for a granted that we have years (or decades) of cooking experience, that the average visitor may not. Add to, or remove from, the list below with health and safety tips.
Cook to a minimum temperature of 165 °F (74 °C)
Do not use the same utensils on cooked food, that previously touched raw meat
Wash hands after touching raw meat
Don't leave food sitting out at room temperature for extended periods
Never leave cooking food unattended
Use oils with high smoking point to avoid harmful compounds
Always have good ventilation when using a gas stove