Turkey ballotine is the perfect dish for Thanksgiving and Christmas when you are having a small gathering.
It's so simple to prepare in advance and takes just over an hour to cook, so there's no slaving away in the kitchen. Perfect for eating hot or cold, this dish slices beautifully too.
Best of all, the stuffing is taken care of and there are no bones to worry about after so the cleaning up is easy!
Once you've made this dish you can swap around the stuffing ingredients and enjoy all year round for summer buffets and winter dinners.
Bon appétit!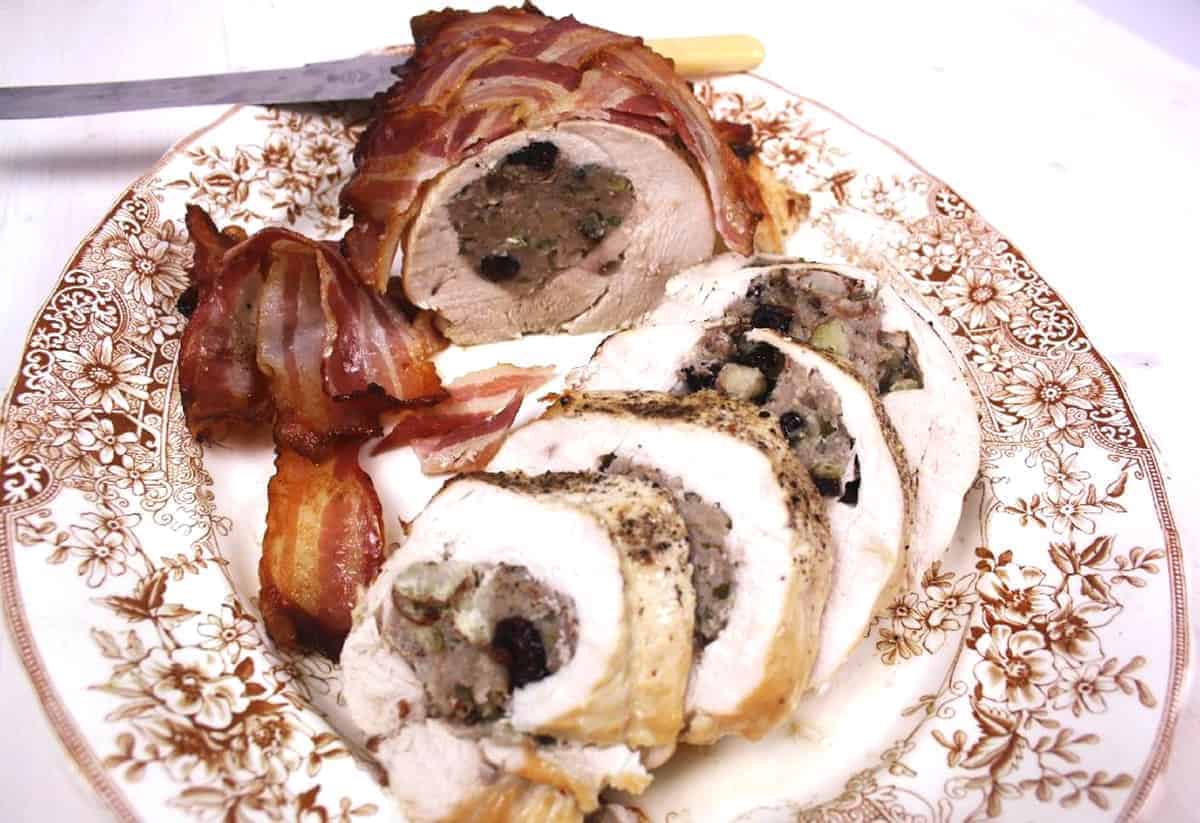 What is a Ballotine?
Traditionally a ballotine is a French term for a boned poultry thigh or leg which is then stuffed before braising in stock. This dish is quite common in France, often made with a whole duck, chicken or guinea fowl. French people do like to buy meat that is already stuffed and you can often buy really good sausagemeat, or farcie with fresh herbs and seasonings.
I remember falling in love with the pictures for a recipe which involved deboning a whole turkey and stuffing it with a pistachio forcemeat. It was not for the faint hearted so for this dish I have simplified the preparation and cooking process, so that you can have a delicious meal that can be eaten hot or cold at any time of the year.
What are the ingredients?
Rather than use thigh or leg I am using a turkey breast for simplicity.
For the stuffing, I am using traditional festive flavours, and to me that means cranberries, chestnuts, shallots and fresh sage to flavour the sausagemeat.
I always keep dried cranberries to hand, as when you cook with them the moisture from the other ingredients plumps them up, without adding the liquid that fresh ones would produce as they cook.
How to make a turkey ballotine
Start by making the forcemeat. Fry finely chopped shallots in the butter and combine with dried cranberries, chestnuts, sage and pork sausagemeat.
Open out the fillet from the breast and cut a slit at the other end, where it is attached so that the piece is roughly an even thickness.
If you are aiming for a perfect result use a rolling pin to flatten the thickest part of the breast.
Form sausagemeat into a long sausage in the middle of the meat. If you have made the breast much larger from flattening you will need to put the sausagemeat closer to the edge.
Roll up the turkey and use string to secure in place.
Roast for 40 minutes at 180C/350F/Gas5 then remove the string and wrap with streaky bacon and cook for another 30 minutes or until the juices run clear.
If your turkey breast has the skin still attached then you won't need to use bacon to keep the joint from drying out. You could cover in foil for 40 minutes instead.
In any case, the combination of turkey, stuffing and bacon is delicious!
Leave the ballotine to rest for about twenty minutes before carving.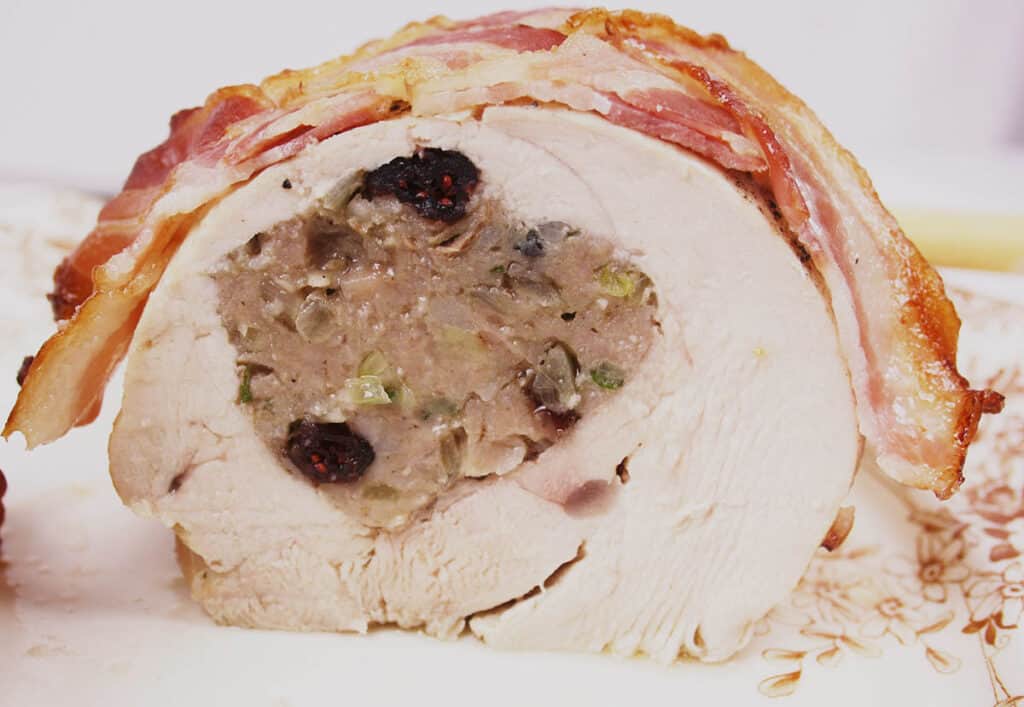 So here's my easy stuffed turkey recipe that won't break the bank at Christmas. Let me know what you think and what ingredients you put in your stuffing.
I would love to know in the comments!
Recipe FAQs
Hints and Tips
Prepare this dish the day before and just bring to room temperature before cooking.
It's really important to let the turkey rest after cooking. This allows the juices to settle and ensures that the meat is easy to carve.
If you can't get hold of sausagemeat just use some good quality pork sausages and take the skins off.
Use the same technique and stuff chicken breast instead. Cover in bacon before roasting and cook for 20-30 minutes.
More Christmas recipes
Food safety
We sometimes take for a granted that we have years (or decades) of cooking experience, that the average visitor may not. Add to, or remove from, the list below with health and safety tips.
Cook to a minimum temperature of 165 °F (74 °C)
Do not use the same utensils on cooked food, that previously touched raw meat
Wash hands after touching raw meat
Don't leave food sitting out at room temperature for extended periods
Never leave cooking food unattended
Use oils with high smoking point to avoid harmful compounds
Always have good ventilation when using a gas stove