Asparagus, Broccoli and Endamame Salad is a really easy salad to make as everything is cooked together in one pot in a few minutes. It's great for entertaining as you can make it in advance and serve at room temperature. It's delicious on its own or with your favourite dressing and so easy to switch ingredients depending on what you have to hand.
With only 144 calories for a generous portion this salad will be your new favourite!
What are the ingredients?
Have you tried endamame beans? They are basically soy beans that have yet to mature. They are often served as a snack and I've eaten them cooked in their pods with salt and chilli. You eat them hot, straight out of the pods and they are absolutely delicious! Although I have not seen the pods on sale in the UK I can get them frozen which is perfect for adding them to stir fries. If you can't get hold of them you could use broad beans that have been cooked and cooled and then slip them out of their outer jackets.
I have also used tenderstem broccoli, also known as broccolini, but you could use normal broccoli and break into small florets.
The other ingredient is asparagus. However, it's only normally available in season, so  a good alternative would be whole French beans.
Of course you can also use peas, ribbon strips of  uncooked courgette or shredded kale. You can also use all frozen vegetables, if that's what you have.
I've garnished the Asparagus, Broccoli and Endamame Salad with chunks of crumbled Feta cheese, also known as salad cheese. It's creamy and slightly salty and pairs perfectly with the vegetables. Alternative cheese would be a white Stilton or other strong cheese.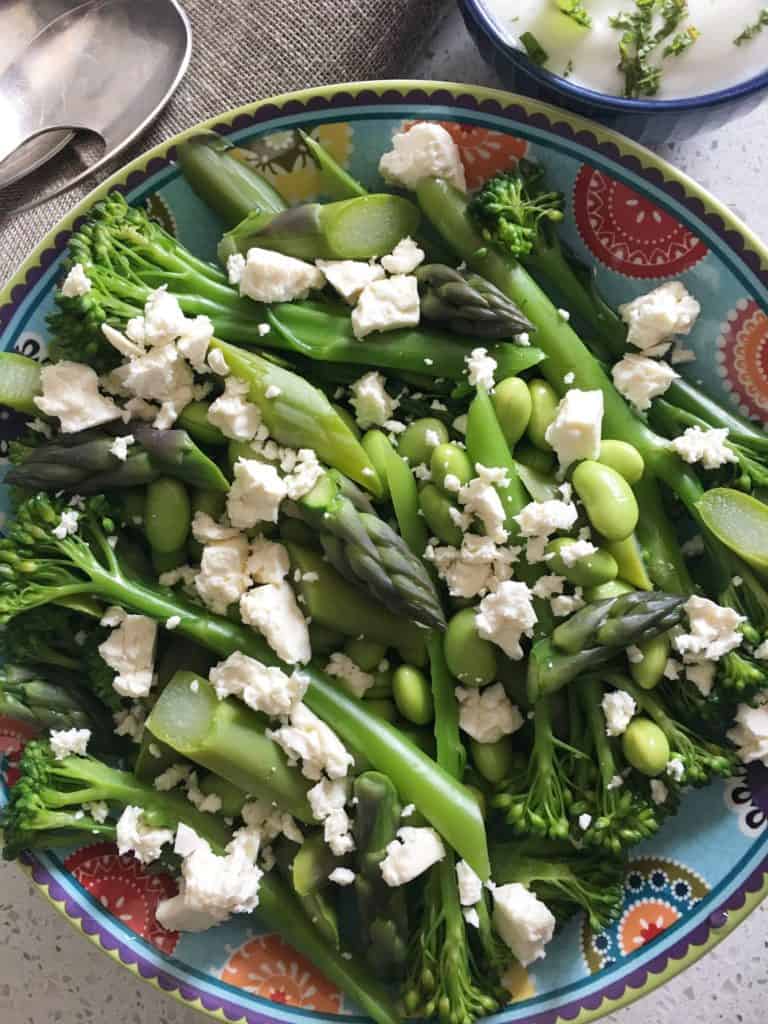 How to make the Asparagus, Broccoli and Endamame Salad
Begin by preparing the vegetables.
I find it's always best  not to cut the ends off the asparagus. If you bend the spear at the cut end it will naturally snap where the woody stem ends.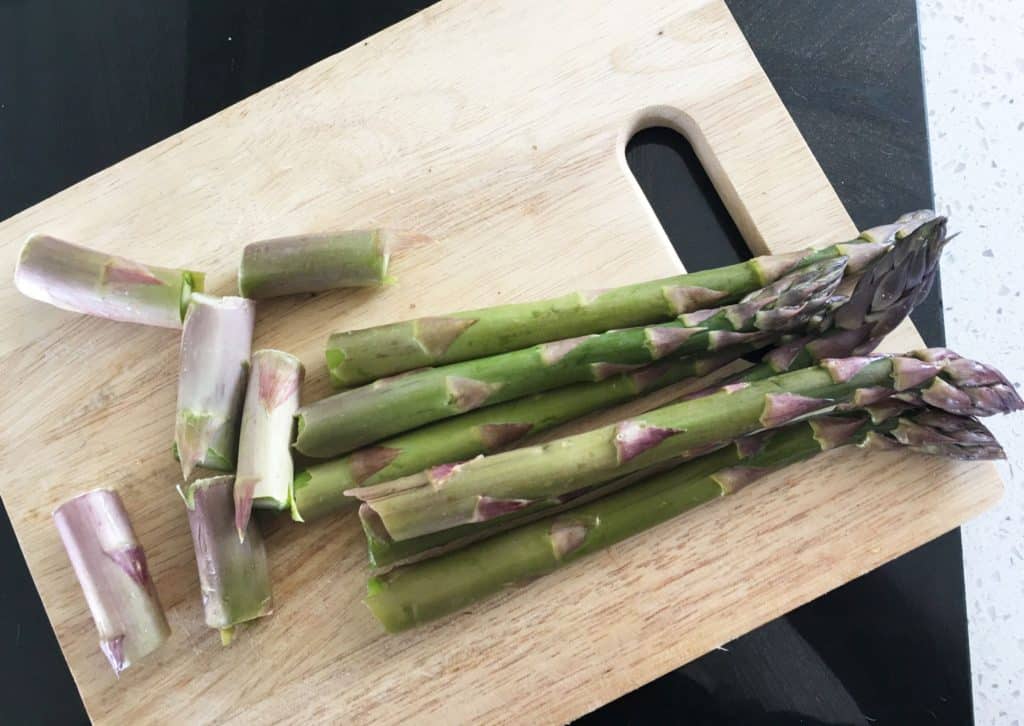 Cut the asparagus into 1 inch pieces on the slant, trim the broccoli and slice each stem into 2. Separate the asparagus tips. They cook quicker than the rest of the asparagus spear and you still want the vegetable to have a good crunch.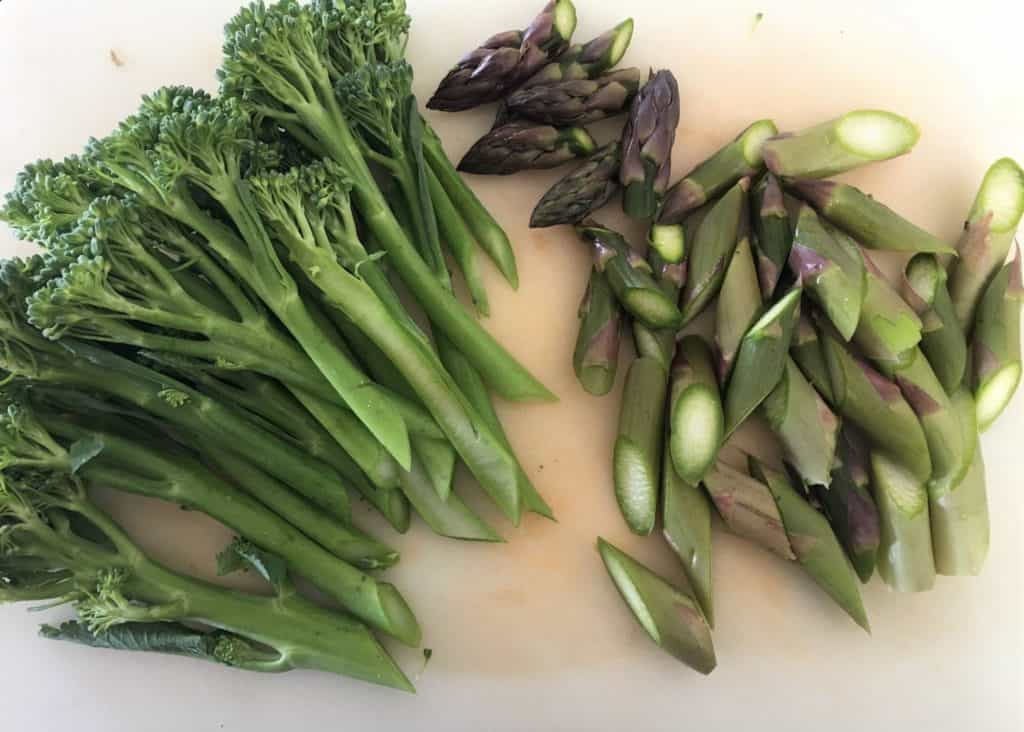 Bring a large pan of water to the boil and add the asparagus to the pan for 2 minutes then add the endamame beans, asparagus tips and broccoli. for a further 2 minutes or until the vegetables are just tender.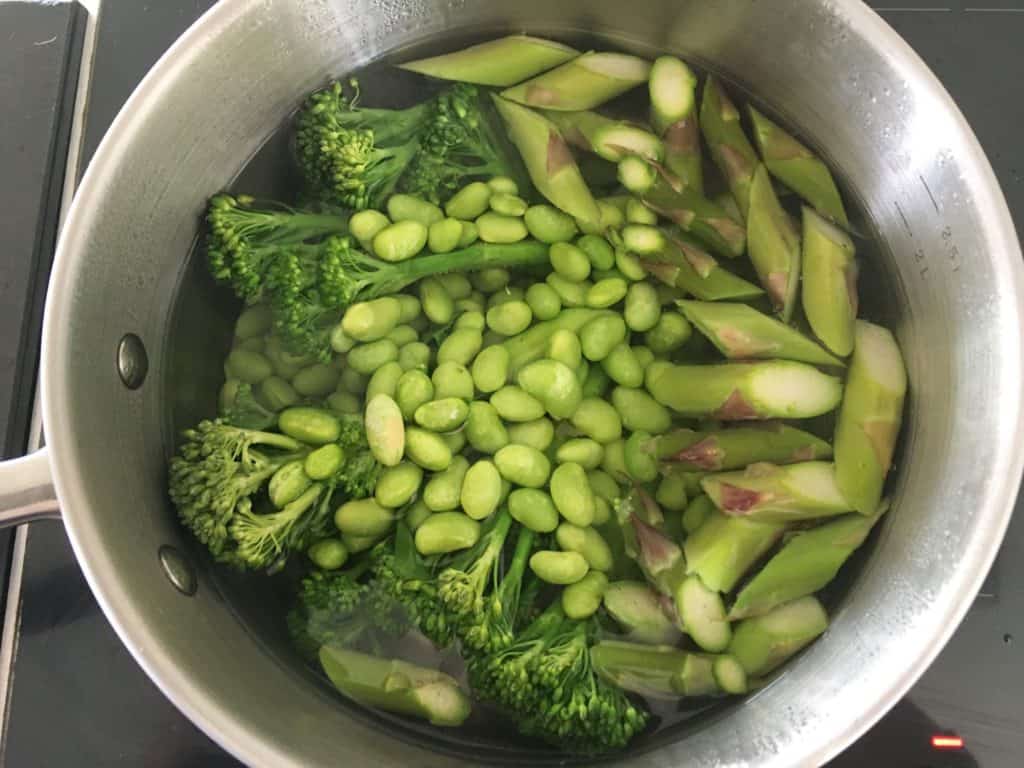 As soon as the vegetables are cooked drain and place in a large bowl of water with 5 or 6 ice cubes. This will stop the cooking process so that the vegetables keep their vibrant colour.
When the ice has melted drain the vegetables well and place in a serving dish. Crumble the feta on top.
Mix some natural yogurt with chopped mint for an easy dressing,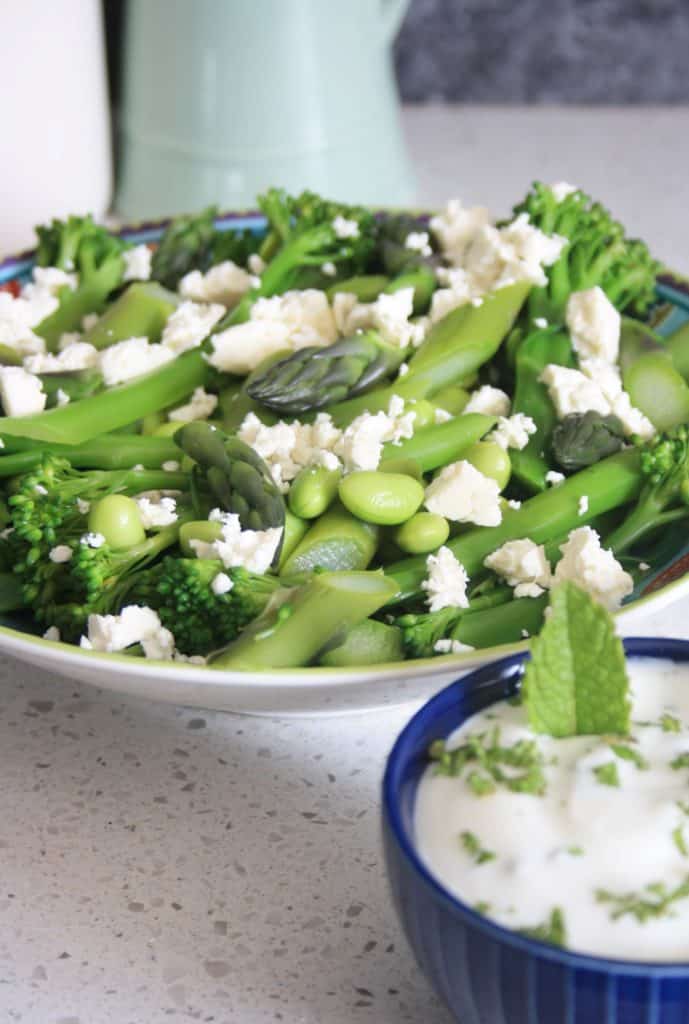 How to serve the Asparagus, Broccoli and Endamame Salad
This salad is delicious with roast meats and barbecues served alongside new potatoes. It's great to make in advance if you are entertaining too. Just crumble the cheese over at the last minute.
Other Salads and Dressings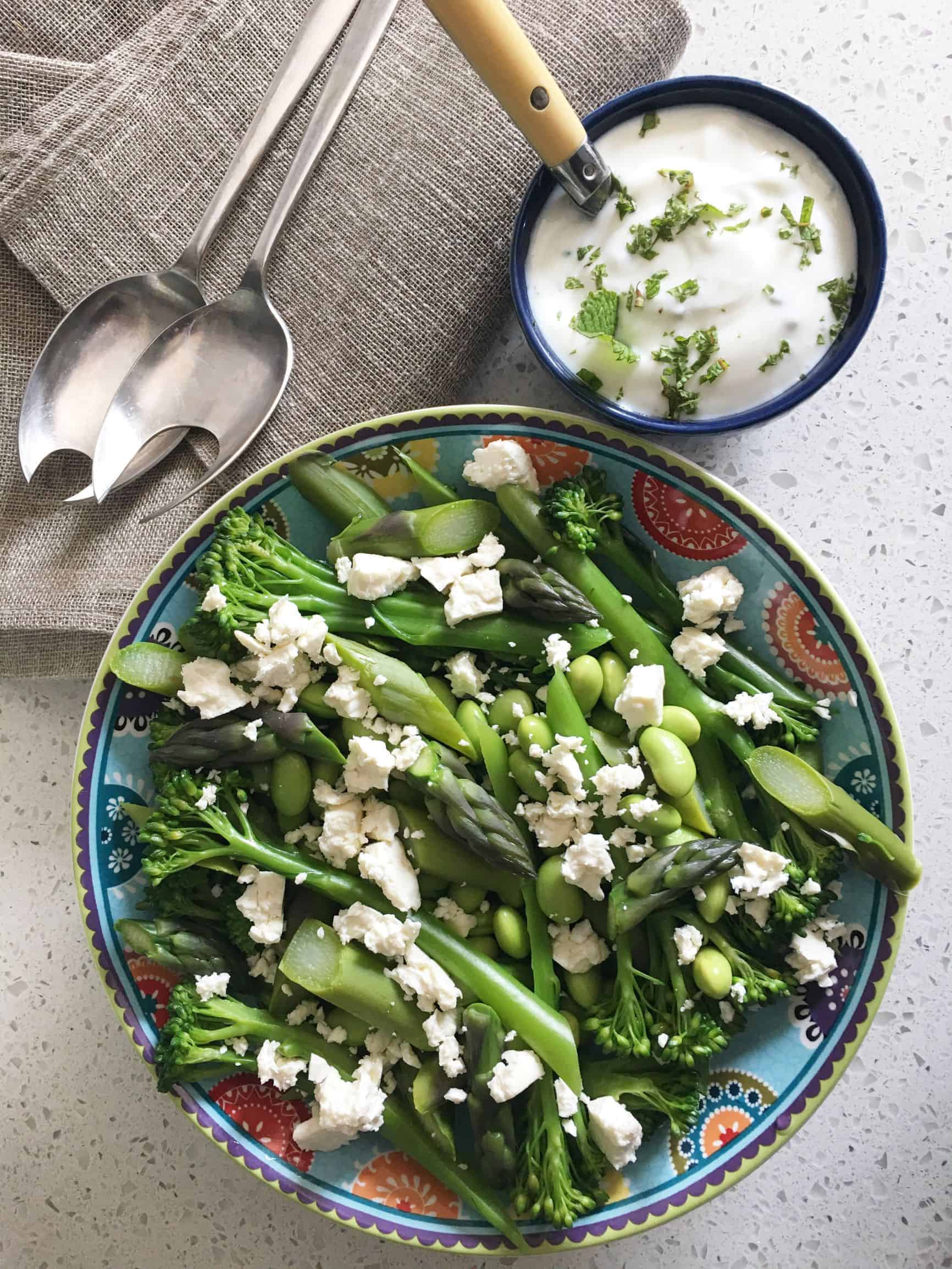 Ingredients
150

g

asparagus

150

g

broccoli

tenderstem/broccolini

150

g

endamame beans

100

g

feta cheese

4

tbsp

fat free natural yogurt

1

tbsp

mint

chopped
Instructions
Cut the asparagus into 1 inch pieces on the slant, separating the tips

Trim the broccoli and slice each stem into 2.

Bring a large pan of water to the boil and add the asparagus to the pan for 2 minutes then add the endamame beans, asparagus tips and broccoli. for a further 2 minutes.

Once cooked drain immediately and place in a large bowl of water with 5 or 6 ice cubes.

When the ice has melted drain the vegetables well and place in a serving dish. Crumble the feta on top.

Mix some natural yogurt with chopped mint for an easy dressing,
Nutrition
Calories:
144
kcal
|
Carbohydrates:
10
g
|
Protein:
11
g
|
Fat:
8
g
|
Saturated Fat:
4
g
|
Cholesterol:
23
mg
|
Sodium:
310
mg
|
Potassium:
424
mg
|
Fiber:
4
g
|
Sugar:
5
g
|
Vitamin A:
676
IU
|
Vitamin C:
38
mg
|
Calcium:
216
mg
|
Iron:
2
mg
Be the first to receive new recipes in your inbox and get my free E-Book of 25 French Recipes! Subscribe here