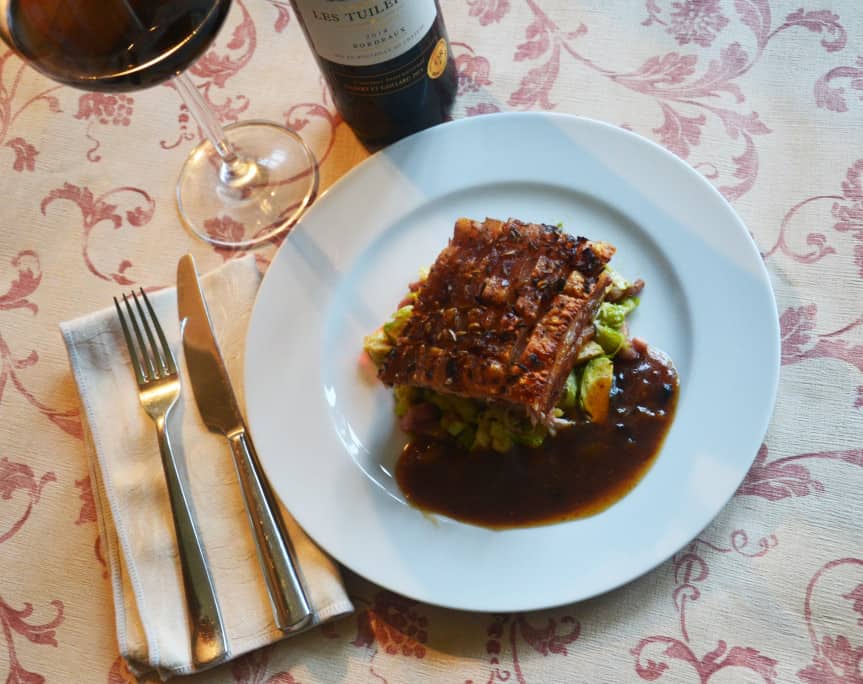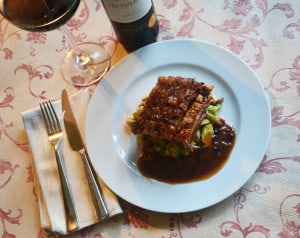 Here's my latest recipe for belly pork.
We are in the midst of pre-Christmas madness here but, of course, most French people are still chilled and the supermarkets are still fairly quiet! It's a long way from standing in a queue for hours in Sainsbury's watching everyone heave huge trolleys around, getting more and more stressed. As everyone starts talking turkey I thought I'd mix it up with a pork dish. The only joint I can buy with the skin still on is belly here as often all the skin is removed so I keep experimenting.....I think this one's a winner! I forgot to say...it's very easy too.
Start by slicing the onions.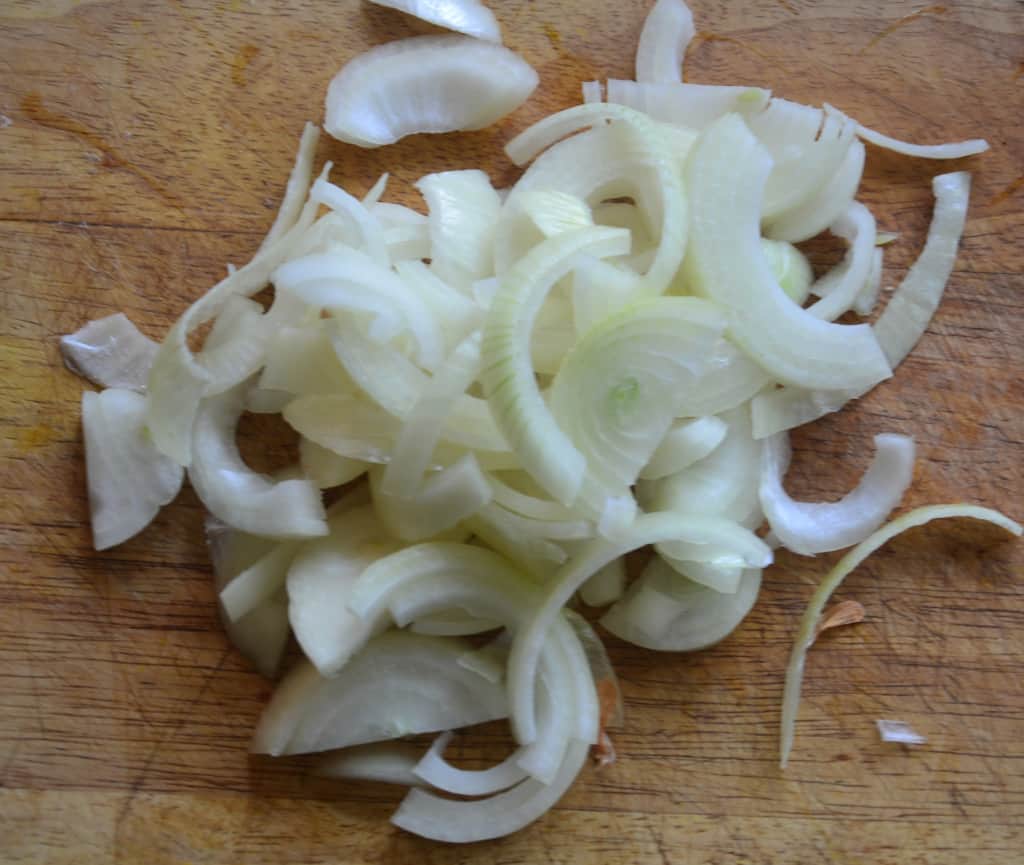 Get the pork out of the fridge about half an hour before you want to cook it and score the surface in squares,(this makes it easy to portion later on). I use a craft knife as you need something really sharp and I can throw the blade away when I need to.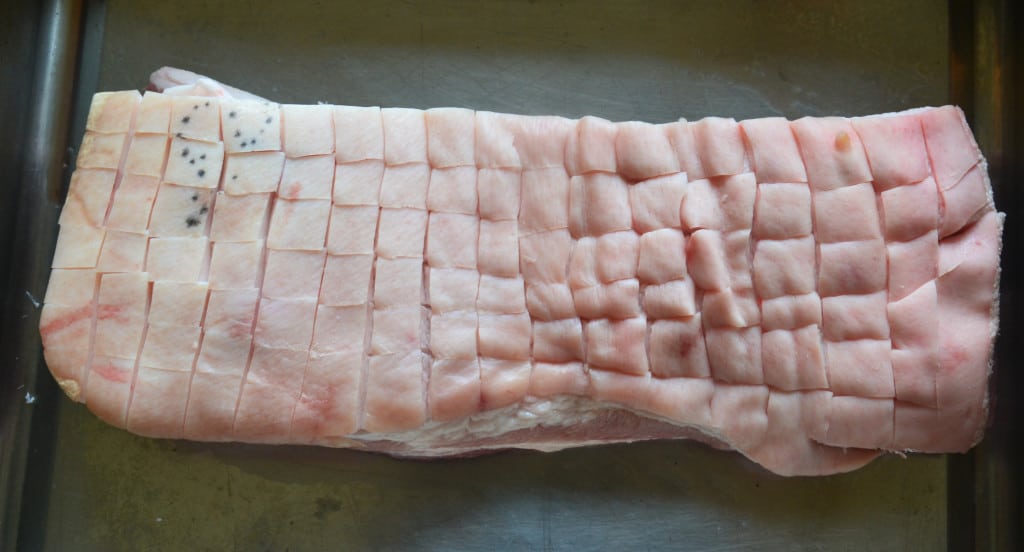 Dry the meat with kitchen towel and rub it with vegetable oil. Place the sliced onions in a roasting pan with the meat on top. Rub in the chilli flakes and fennel seeds and sprinkle with coarse salt, cooking salt and freshly ground black pepper.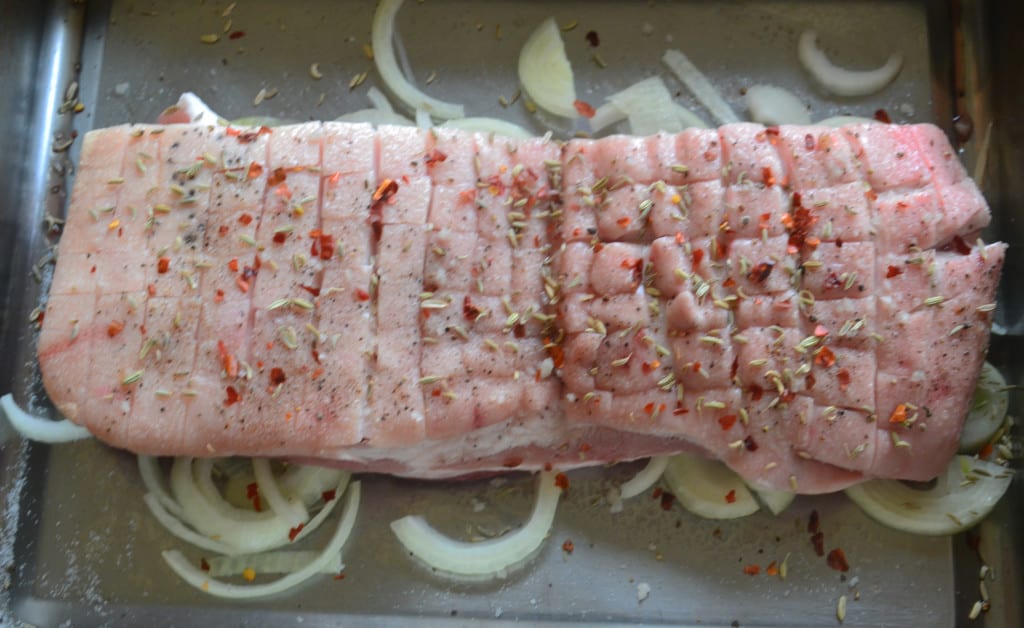 Roast at Gas 4, about 170-180 for 2 hours, covered with foil. Remove the foil and cook for another 30 minutes at Gas 7, 220 c, to crisp the skin.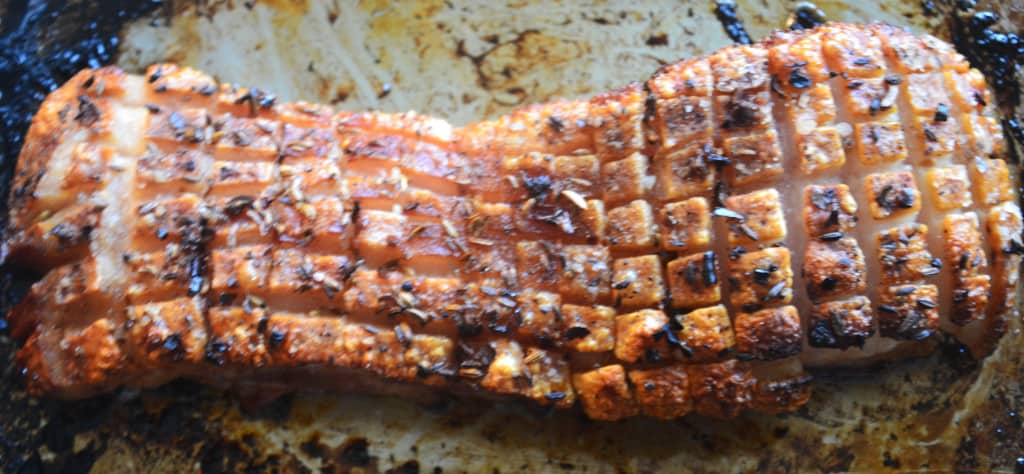 Leave it to rest for about 15 minutes and then carve into portions. We ate this between four but it would do 6. I served this with fried Brussels sprouts with lardons and a gravy made with the meat juices.
It's a heavy day for me tomorrow so my next post will be after Christmas Day. Here's a self indulgent post of the 'Grimwood' family Christmas tree....
Hope you enjoy the recipe. Let me know what you think and have a very Happy Christmas!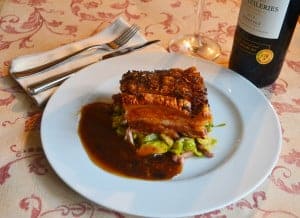 Slow Roast Belly Pork with Chilli and Fennel
An easy slow roast of belly pork with chilli and fennel.
Ingredients
1.5

kg

pork belly

coarse salt and ground black pepper

cooking salt

1

tbsp

vegetable oil

2

onions

sliced

2

tsp

fennel seeds

1-2

tsp

chilli flakes
Instructions
Score the surface of the pork in squares with a craft knife.

Rub the meat with vegetable oil and sprinkle with the chilli, fennel, salts and pepper.

Place the sliced onions in a roasting pan with the meat on top.

Cover with foil and roast at Gas 4, 170-180 C for 2 hours.

Remove the foil and increase the heat to Gas 7, 220 C for 30 mins.

Rest for at leat 15 minutes before serving.
Nutrition Facts
Slow Roast Belly Pork with Chilli and Fennel
Amount Per Serving
Calories 1332
Calories from Fat 1215
% Daily Value*
Fat 135g208%
Cholesterol 180mg60%
Sodium 88mg4%
Potassium 534mg15%
Carbohydrates 4g1%
Protein 24g48%
Vitamin A 124IU2%
Vitamin C 4mg5%
Calcium 29mg3%
Iron 2mg11%
* Percent Daily Values are based on a 2000 calorie diet.