Pulled Pork with Pineapple Barbecue Sauce
Pulled Pork with Pineapple Barbecue Sauce is one of my recipes all year round. It's perfect for making for summer buffets, in baps with salad and perfect in the winter when you want the comfort of roasted meat, not to mention the whole house smelling amazing and tantalising everyone's taste buds!
The best thing about this recipe is that it's easy to do with simple ingredients. The worst thing is you need time and patience for the oven to do its work!
Although I can't buy a a whole pork shoulder easily in the UK, I always buy a shoulder joint in preference to leg or loin as there is so much flavour packed into cheaper cuts of meat. And, although there appears to be a lot more fat, the slow cooking renders the fat down slowly, which keep the meat moist and tender enough to be pulled apart with forks. Otherwise it wouldn't be pulled pork!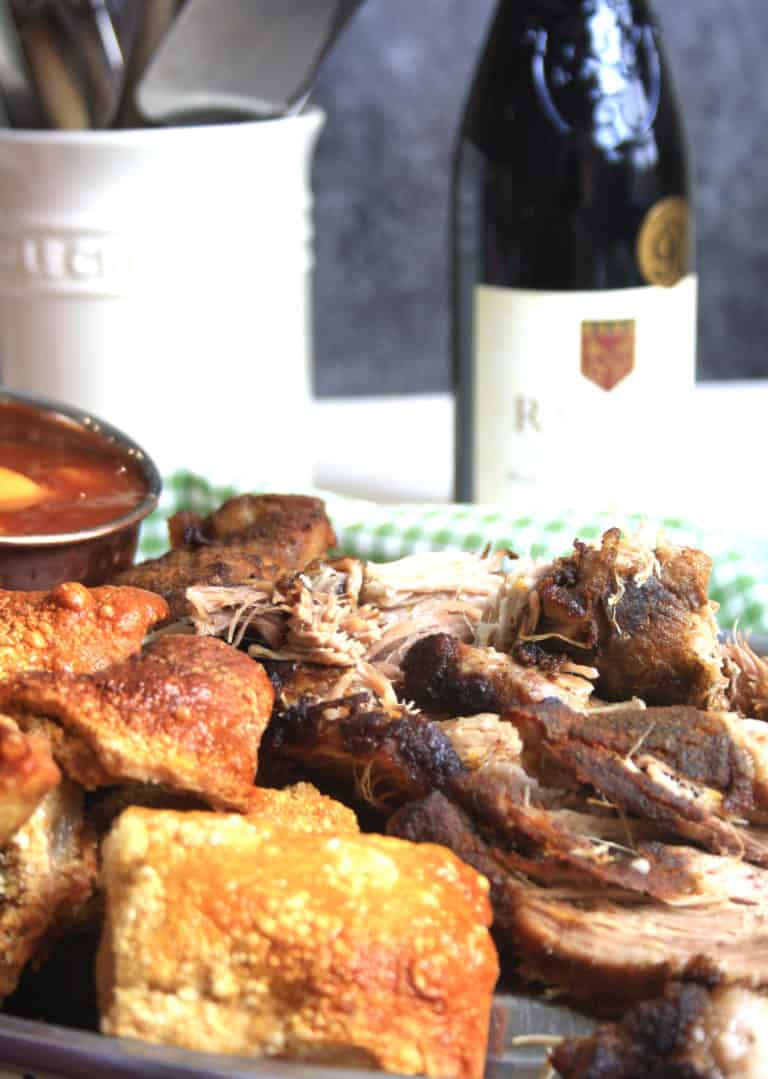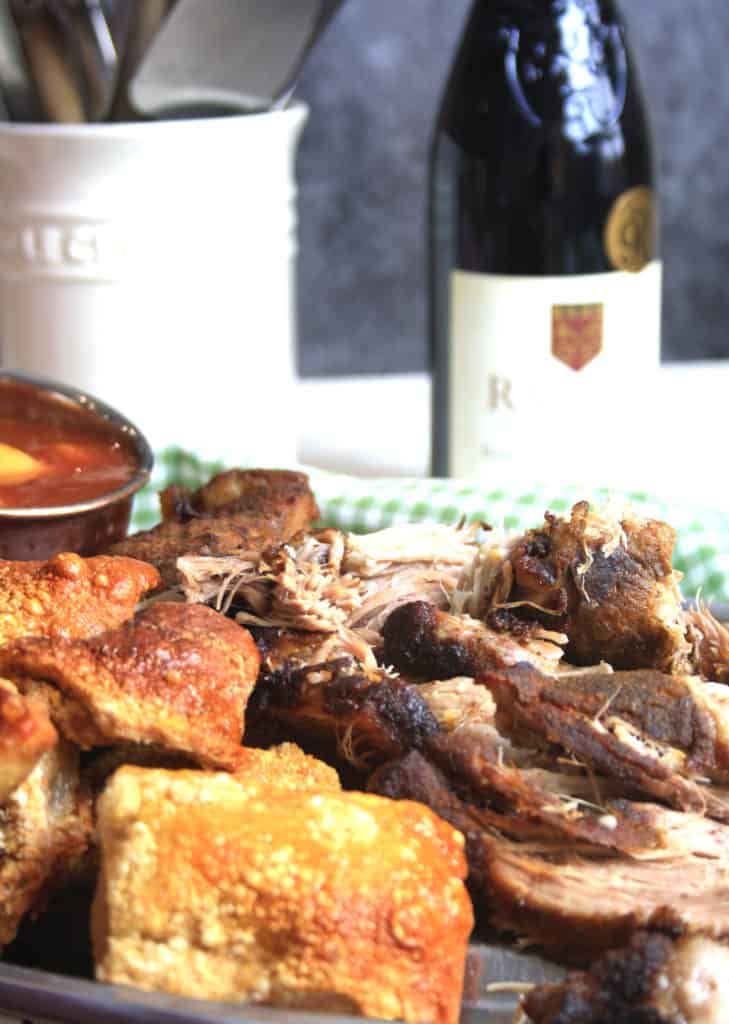 Ingredients for Pulled Pork
I find that the average prepacked weight for pork shoulder in the UK is around 2 kg, which will comfortably feed 6-8 people. You can use a piece without the skin to reduce the calories, it's up to you.
For the dry rub it's just store cupboard ingredients. I've used 2 tbsp of brown sugar, a teaspoon of ground black pepper and a tablespoon each of flaked sea salt, smoked paprika and cumin. There are many different versions of dry rub so choose the flavours that you prefer. A teaspoon of chipotle paste or chilli powder works well or just plain paprika.
If you intend on making the Pulled Pork with Pineapple Sauce you will need a small can of pineapple rings (227g, 137g drained weight), ketchup, honey and Worcester sauce.
How to make the Pulled Pork
If you want to turn the skin into amazing crackling score the skin well then sprinkle in generously with salt. Leave for 30 minutes. This will help the skin to open apart and produce brilliant crackling later.
Preheat the oven to 150 C and mix together the ingredients for the dry rub. Wash the salt off the pork skin and dry the joint with kitchen paper.
Cover the flesh in the dry rub and place in a large roasting dish. Use a piece of kitchen paper to rub a tablespoon of vegetable oil into the skin and then sprinkle with flaked sea salt. Add 2 cups of water to the dish then cover with foil and place in the oven.
It will take anywhere between four and eight hours, depending on how tender you want it to be. After four hours it will still be carvable, but will also break into large chunks. By eight hours it will be easy to use forks to pull the meat into a string like consistency, perfect for mixing with a sauce to serve in baps. If you are leaving this cooking for a long time you may need to top up the water. Use boiling water from the kettle.
Perfect Crackling!
When it's cooked to your liking remove the foil and drain off the juices. If the crackling is looking good put the tray under a hot grill to finish it off. If it looks very pale and soft still, cut it off the joint, place on a tray and under the grill. Remove the crackling and set aside to cool.
Of course, if you prefer, you can roast the pork without the skin on and cook the crackling separately. Salt and oil as before, place on a rack above a roasting tray and roast at 180 C for an hour or so. When it looks like it is doing well increased the heat mto 200 C for 10 minutes or so to finish.
Pineapple Barbecue Sauce
Drain the juices from the pork into a jug and carve or shred the meat in the roasting dish. Cover with the foil if you are intending to eat straightaway.
Skim any fat from the juices and place in a saucepan. Add the sweet chilli sauce, ketchup, honey,Worcester sauce and pineapple chunks. Brink to the boil and check the taste and consistency. Feel free to add the pineapple juice, if you are feeding a crowd or just want more sauce. You may also prefer to thicken the sauce slightly with a cornflour and water mix.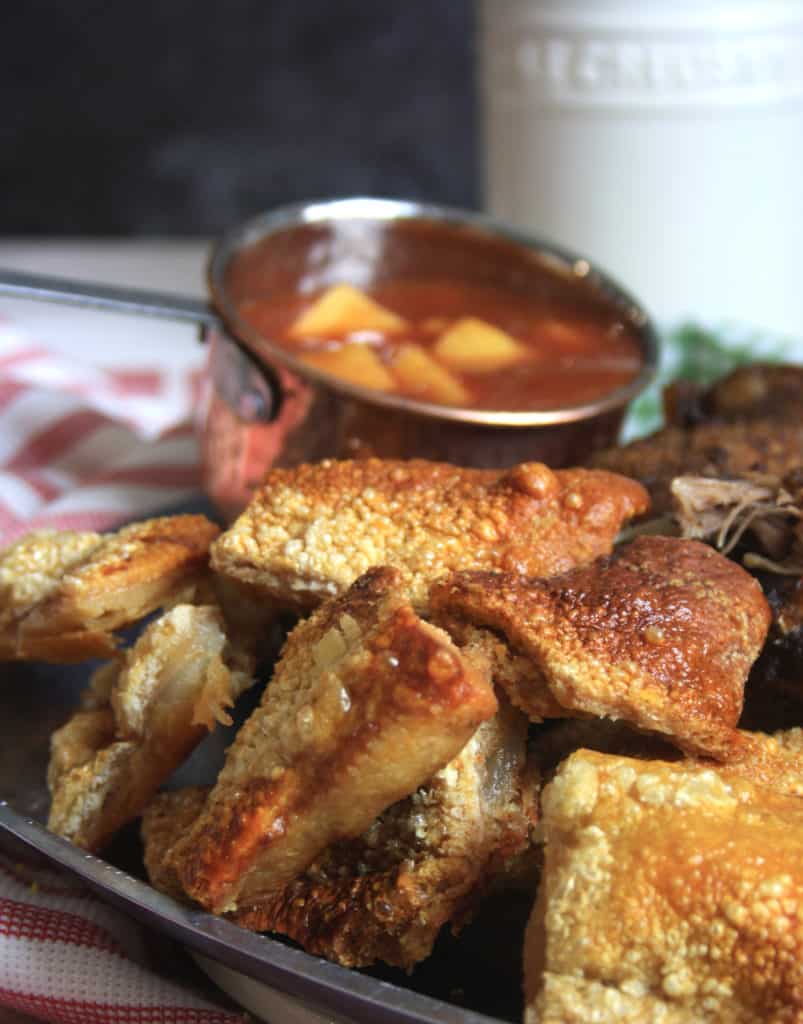 If you are making the pulled pork for a gathering I recommend cooking it overnight, shredding, adding the sauce then leaving to chill until you want to reheat it. The flavours develop further and makes for fuss free entertaining! I love to have big pile of crackling on the side so that people can help themselves. It's irresistable!
More Pork Recipes
You might like to try Tuscan Roast Pork. This is an aromatic dish roasted with potatoes and apples and a spiced rub including fennel seeds..
Or how about Slow Cooked Paprika Pork?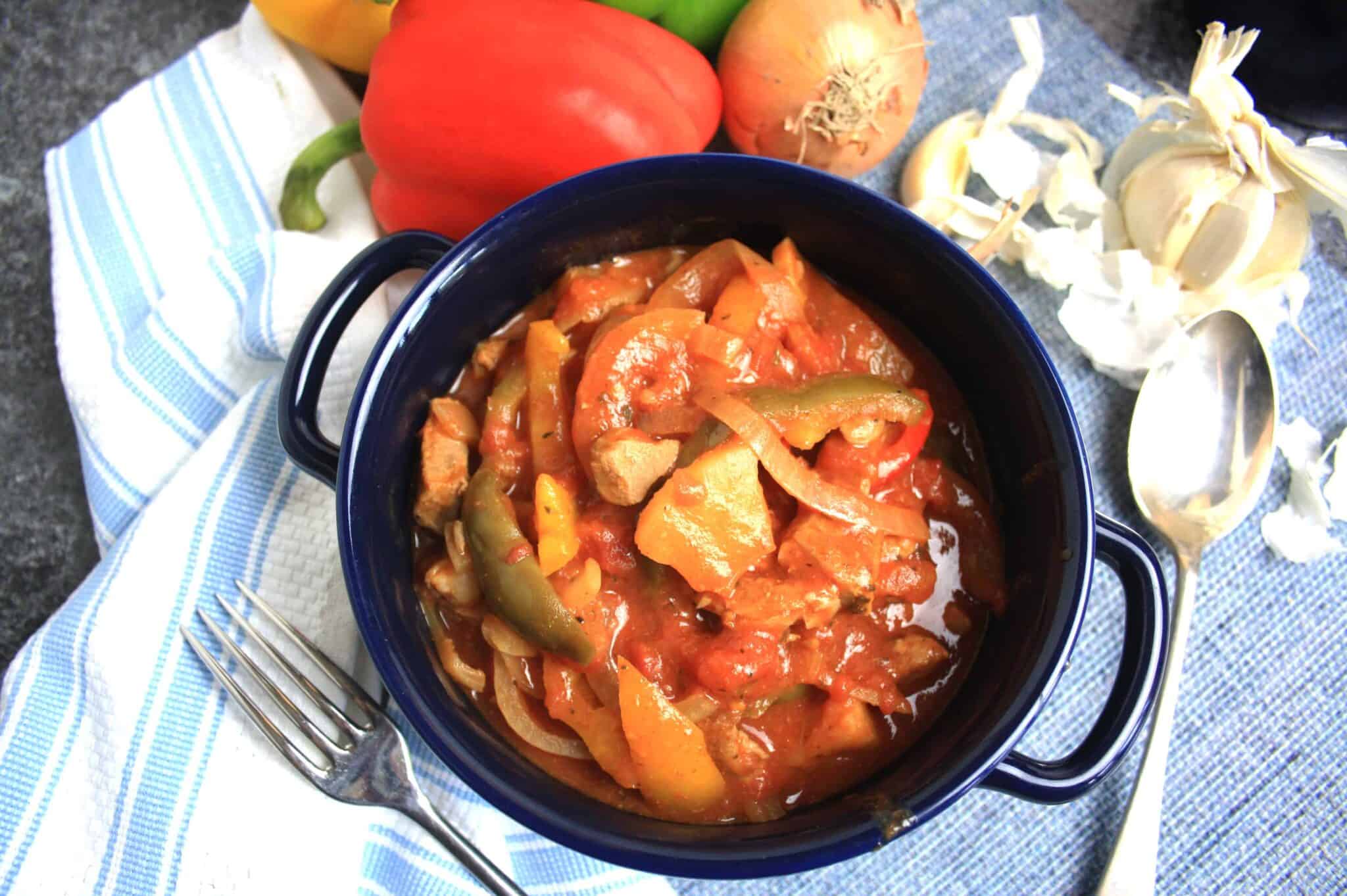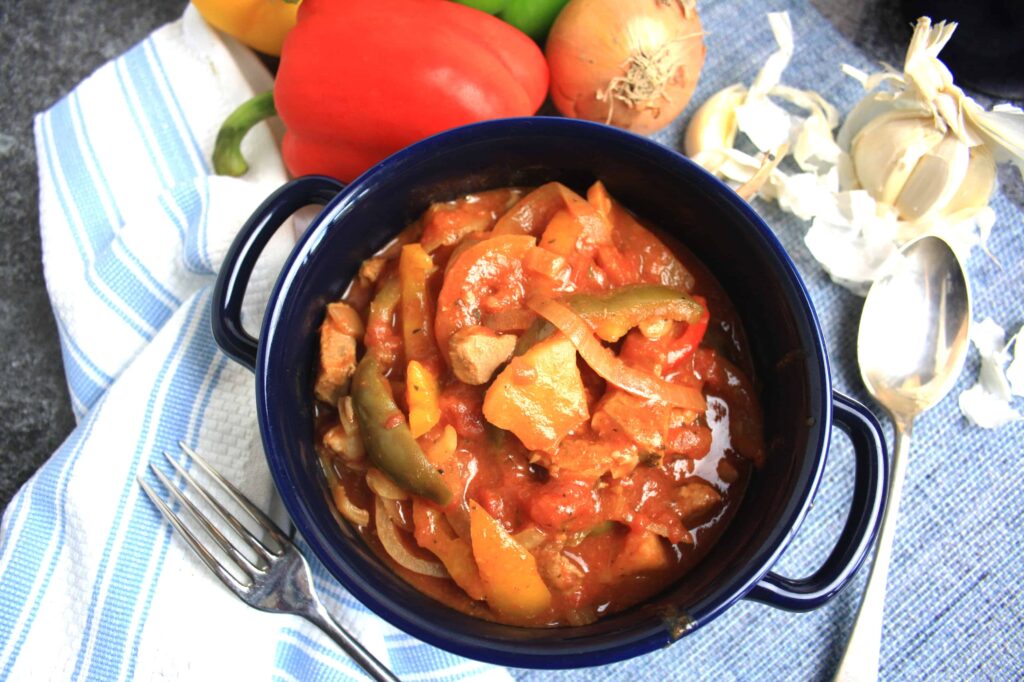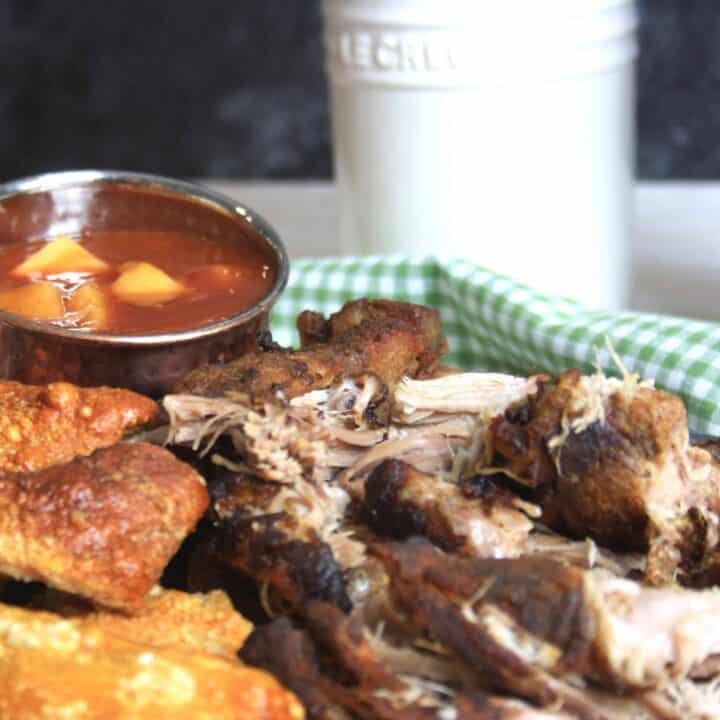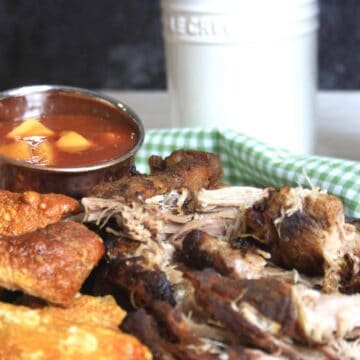 Pulled Pork with Pineapple Barbecue Sauce
Dry rubbed pork shoulder roasted slow with perfect crackling and an easy sauce.
Ingredients
2

kg

pork shoulder

500

ml

water

1

tbsp

vegetable oil

1

tbsp

flaked sea salt

table salt

to be washed off
For the rub
2

tbsp

brown sugar

1

tbsp

flaked sea salt

1

tbsp

smoked paprika

1

tbsp

ground cumin

1

tsp

ground black pepper
For the sauce
227

g

pineapple pieces

137 drained weight, retain juice

2

tbsp

sweet chilli sauce

4

tbsp

ketchup

1

tbsp

honey

1

tbsp

Worcester sauce

cornflour

1 tbsp if required mixed with a little water
Instructions
Score and salt the pork rind. Leave for 30 minutes and wash off. Dry the joint with kitchen paper.

Combine the rub ingredients together and rub into the flesh. Place the meat in a large roasting dish.

Rub the skin with oil and sprinkle the sea salt over. Add the water, cover with foil and roast at 150 C for between 4 and 8 hours.

Remove from the oven and place the skin under a hot grill to crisp then cut off and set aside.

Drain the juices from the pork into a jug and skim off any fat. Add the sauce ingredients and retained juices to a saucepan and bring to a boil. Add the pineapple juice if liked and thicken if required with cornflour mixed with water.

Pull the pork into chunks or fine threads with 2 forks and serve mixed with the sauce as a filling for baps or with the sauce on the side.
Nutrition Facts
Pulled Pork with Pineapple Barbecue Sauce
Amount Per Serving
Calories 301.91
Calories from Fat 117
% Daily Value*
Fat 13g20%
Cholesterol 102.17mg34%
Sodium 1997.62mg87%
Potassium 629.19mg18%
Carbohydrates 14.96g5%
Protein 30.38g61%
Vitamin A 502.31IU10%
Vitamin C 4.47mg5%
Calcium 41.52mg4%
Iron 2.79mg16%
* Percent Daily Values are based on a 2000 calorie diet.
Be the first to receive new recipes in your inbox and get my free E-Book of 25 French Recipes! Subscribe here