Have you tried potatoes Parisienne? These crisp, baked potato balls are simply roasted in a buttery mix for the essential fluffy middle and crisp golden coating.
More elegant than a British roast potato, but still easy to make, these potatoes are perfect with roast meats and other dishes.
Perfectly bite sized and ready to pop in the mouth means that children will love them too!
Bon appétit!!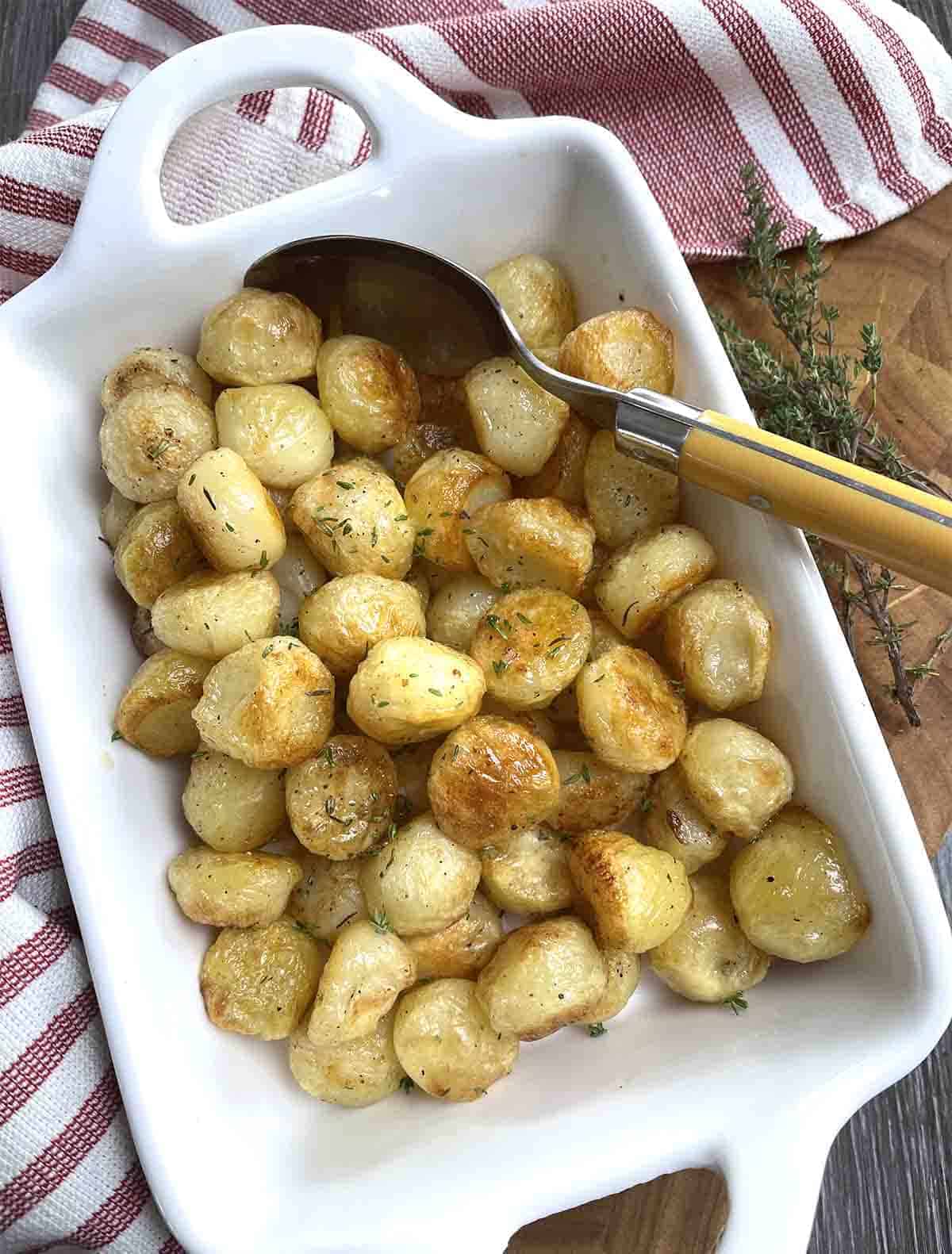 The French have so may different ways of preparing potatoes and pommes Parisenne are a really popular dish in France that you made not of heard of.
A melon baller is used to scoop out little potato balls that are traditionally fried in clarified butter until crisp and golden.
I've decided to simplify this dish as it is much easier to roast the potatoes in a mixture of oil and butter. Although it's not difficult to make clarified butter, this version makes it easy to make these potatoes with the minimum of fuss. After all, it's much easier to turn them once in a roasting dish, than it is to deal with hot butter spattering everywhere on the on the hob.
They are also sometimes known as noisette potatoes or pommes noisettes and you can buy them prepared in the frozen section in the supermarket in France for a treat.
Noisette means hazelnut in French and you can buy a noisette spoon for shaping fruits and vegetables that is normally smaller than a melon baller or a similar size.
Because of their size, they are much more elegant on a plate than roast potatoes and they are cute enough to tempt children too.
Perfect for Christmas and other celebrations!
Jump to:
🥘 Ingredients
There are only a few ingredients for this recipe that you would normally have at home.
Potatoes - I prefer to use  Maris Piper  potato as they are a good all round potato for mashing, roasting and chips. They fluff up nicely on the inside and get a really good crispy coating. Another floury variety is King Edwards. If you are in the US then you really need a russet potato as the characteristics are very similar.
Oil - sunflower oil has a high smoking point is suitable for roasting at high temperatures also helps to stop the butter from burning.
Butter - to give the potatoes a golden colour and rich taste. Salted or unsalted is fine but just use less salt if you use salted.
Seasoning - flaked sea salt and freshly ground black pepper.
See recipe card for quantities.
🍽 EQUIPMENT
melon baller or noisette spoon
deep roasting dish
large saucepan
colander
slotted spoon
🔪 Instructions
Start by peeling the potatoes and putting them in cold water.
Use the melon baller to carefully cut balls from the potatoes. They won't all be perfectly round but that's fine.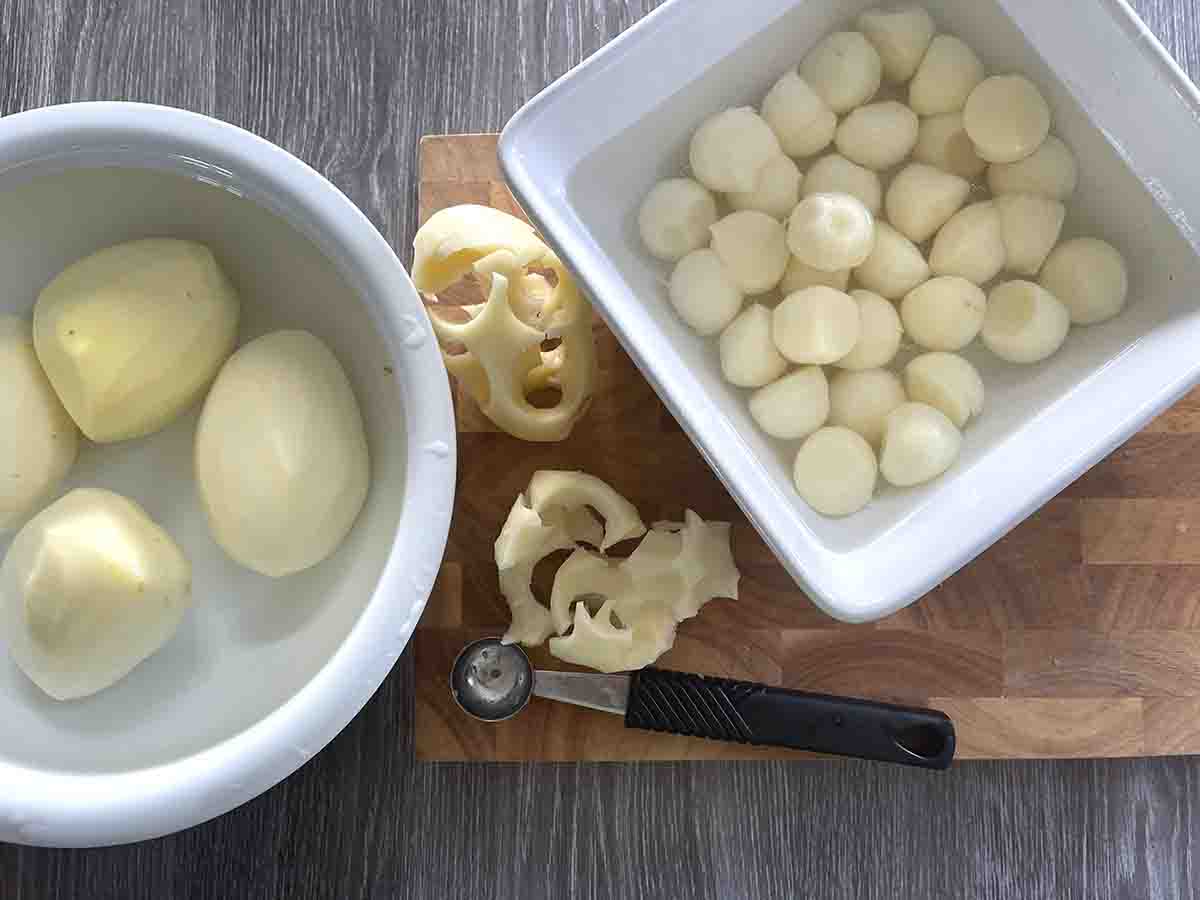 Bring a large saucepan of water to the boil and add half a teaspoon of salt. Add the potatoes, boil for 5 minutes then drain in the colander. Reserve the cooking liquid in a large jug.
💭 Top tip
To save time boil the water in the kettle first.
Potato Leftovers
It's easier to deal with the leftover potato pieces at the same time as making the potatoes Parisienne.
Cut the potato leftovers into small pieces and return to the saucepan with the cooking liquid that has been strained into the jug.
Add half a teaspoon of salt and cook for 5 to 10 minutes until tender.
Drain and leave to cool. Cover and refrigerate for 3 days or 3 months in the freezer.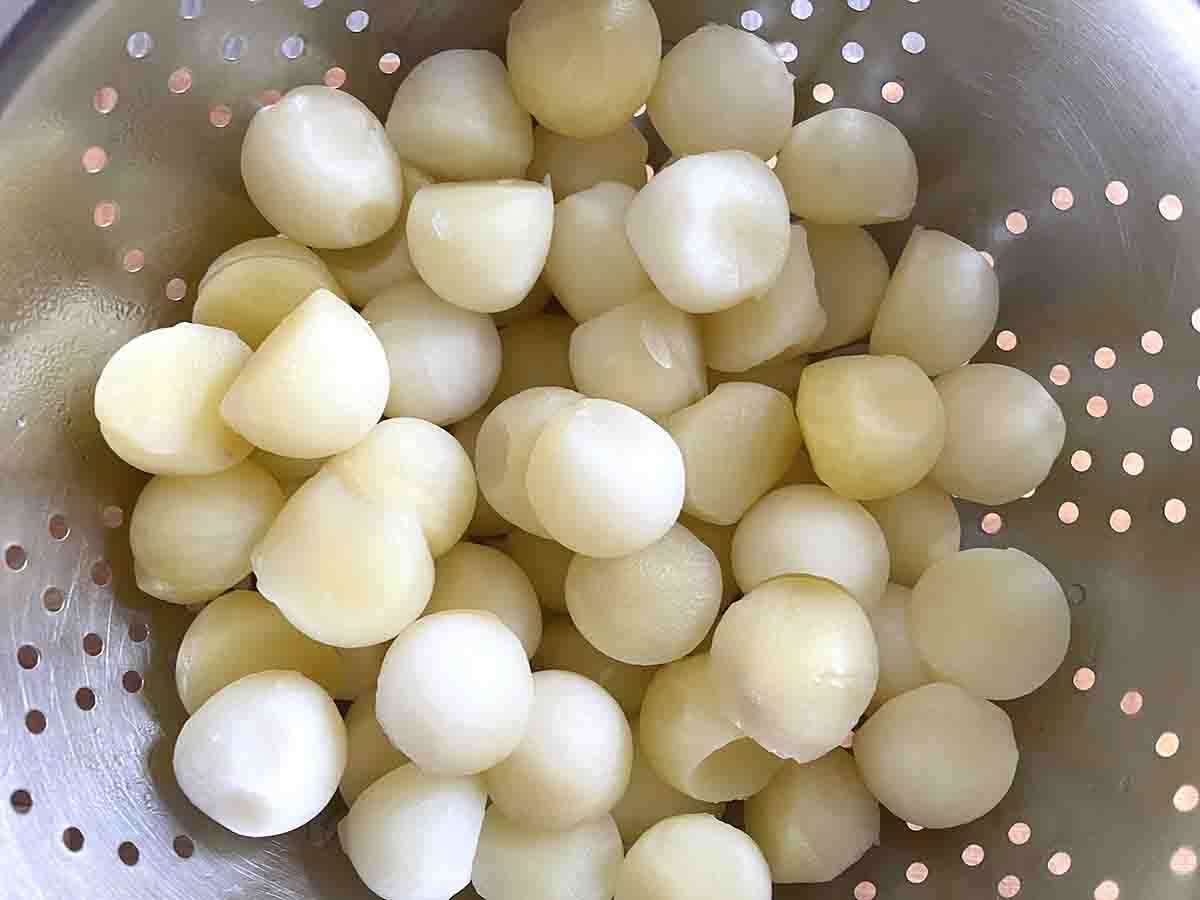 ⏲️ Baking time
Preheat the oven to 220C/425F/200FAN/Gas Mark 7.
At the same time add the butter and oil to a large roasting tin and place in the oven to heat.
When the oven has reached temperature add the potatoes and use a slotted spoon or spatula to make sure that they are fully coated in the butter mix.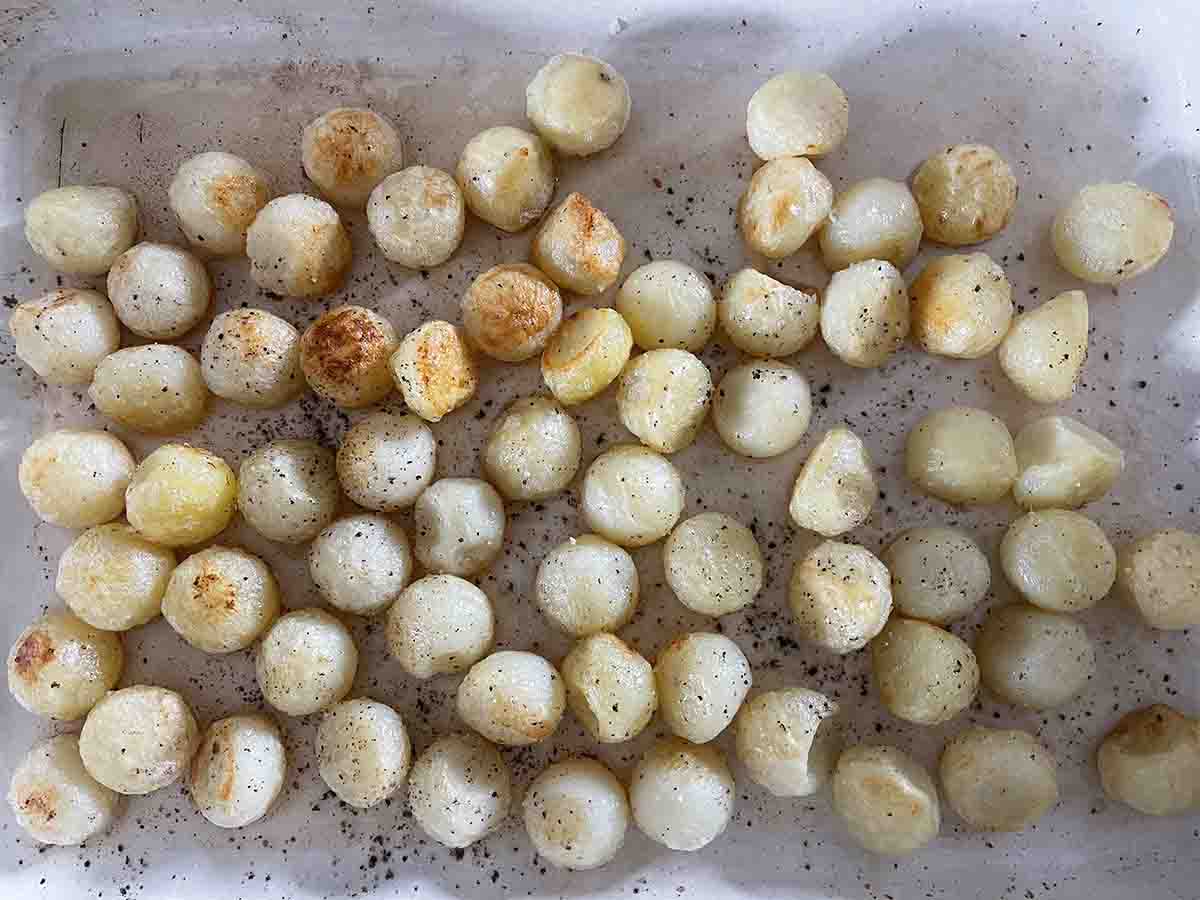 Roast them in the oven for 15 minutes then turn them over and season with salt and pepper.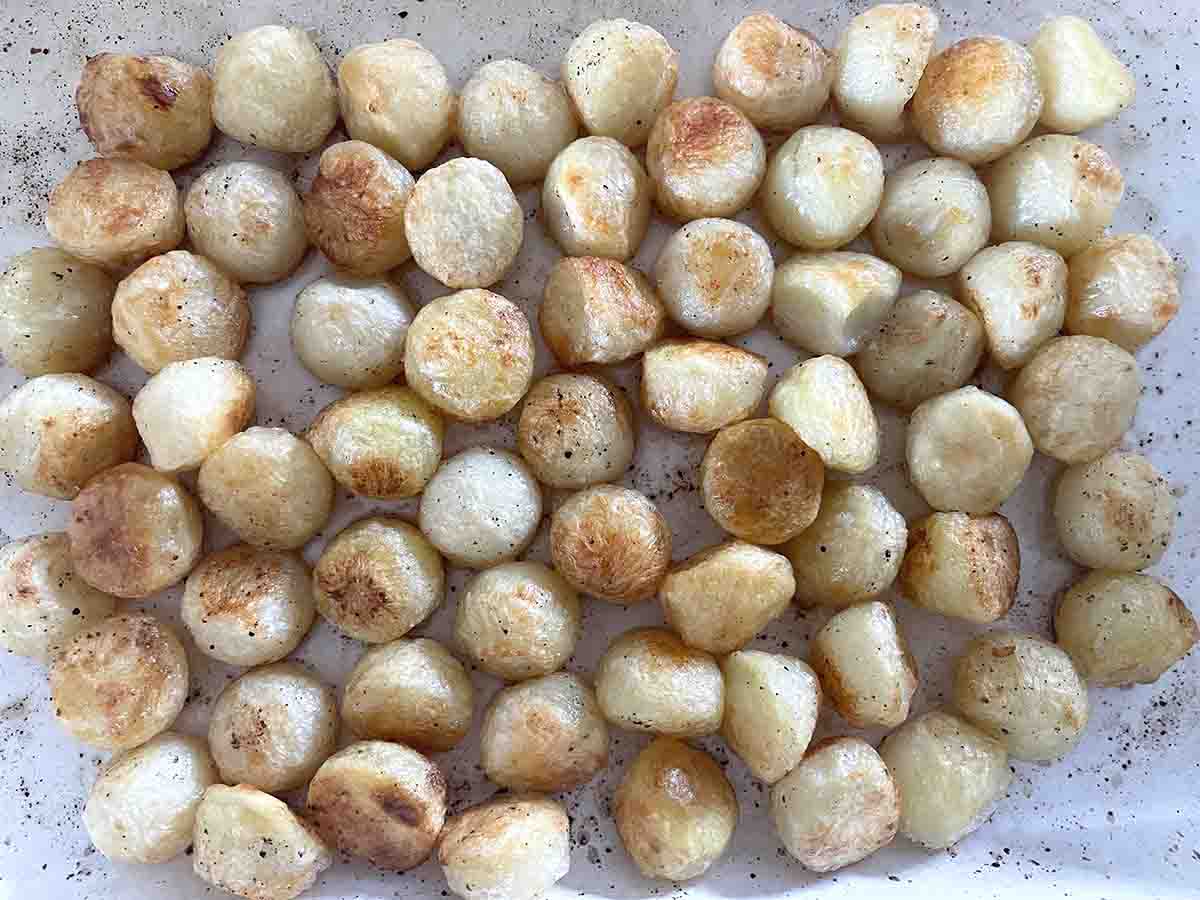 Return them to the oven for a further 15 minutes before serving.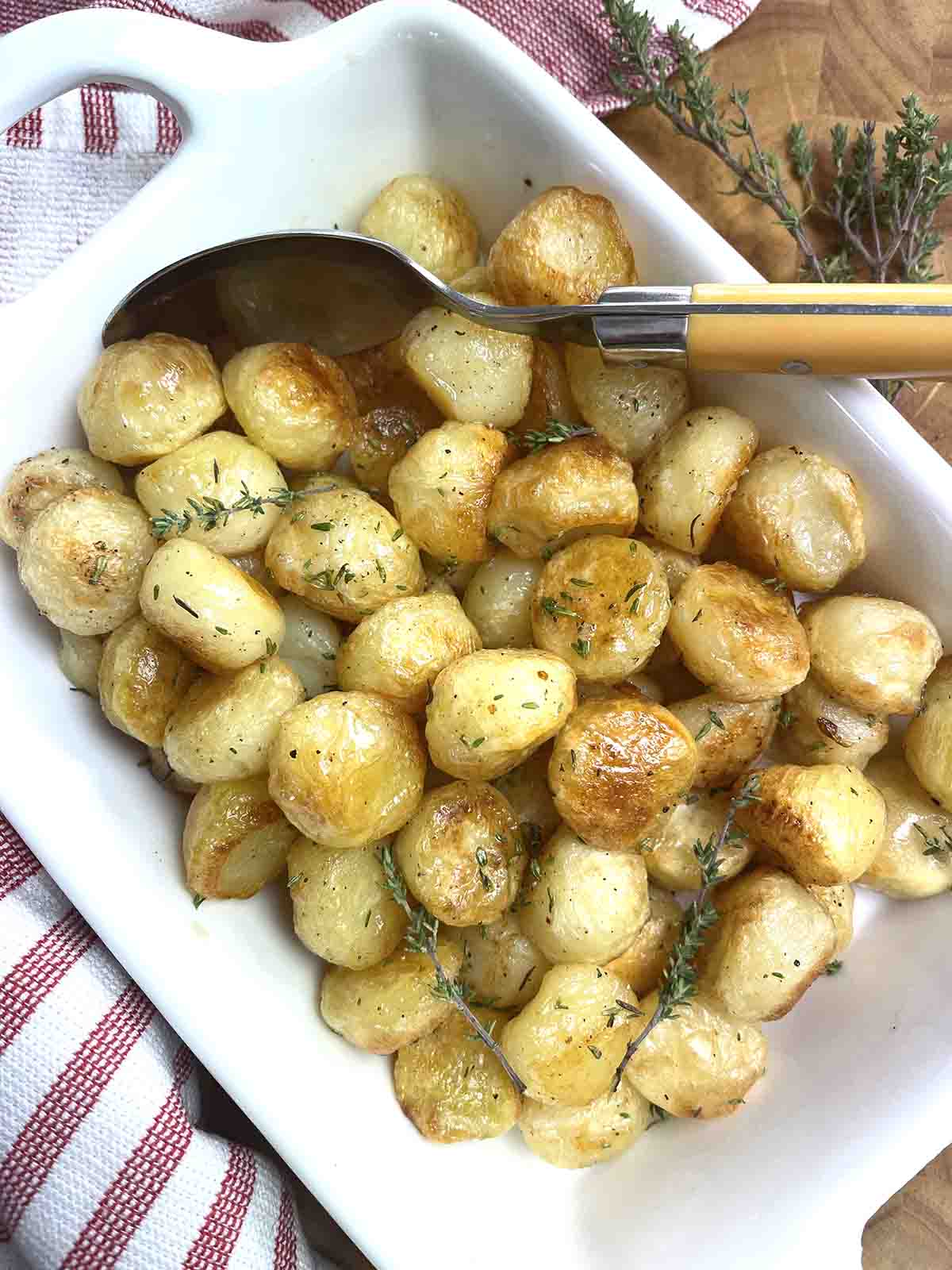 🥗 Serve with
Noisette potatoes go well with roast meats, chops or one pot meals too.
📖 VARIATIONS
Giving the visitor ideas on how they can change this recipe to better suit their dinner guests, or their cultural cuisine, is a great way to increase the chances they make the recipe
Spicy flavourings - add a teaspoon of chilli pepper flakes, paprika or chilli powder to the potatoes before adding them to the roasting dish. You could also try turmeric, cumin or ground coriander.
Extra ingredients - sprinkle over 2 tablespoons of grated Parmesan before roasting or add some finely sliced onion or bacon pieces.
Herbs - add a teaspoon of dried oregano or mixed herbs halfway through cooking.
STORAGE
Any leftover cooked potatoes can be covered and stored in the fridge for 3 days. Reheat them in a hot oven or in the microwave.
It's also possible to freeze the potatoes after boiling. Open freeze them on a baking tray until solid then transfer to bags or containers to freeze for up to 3 months. Cook them from frozen.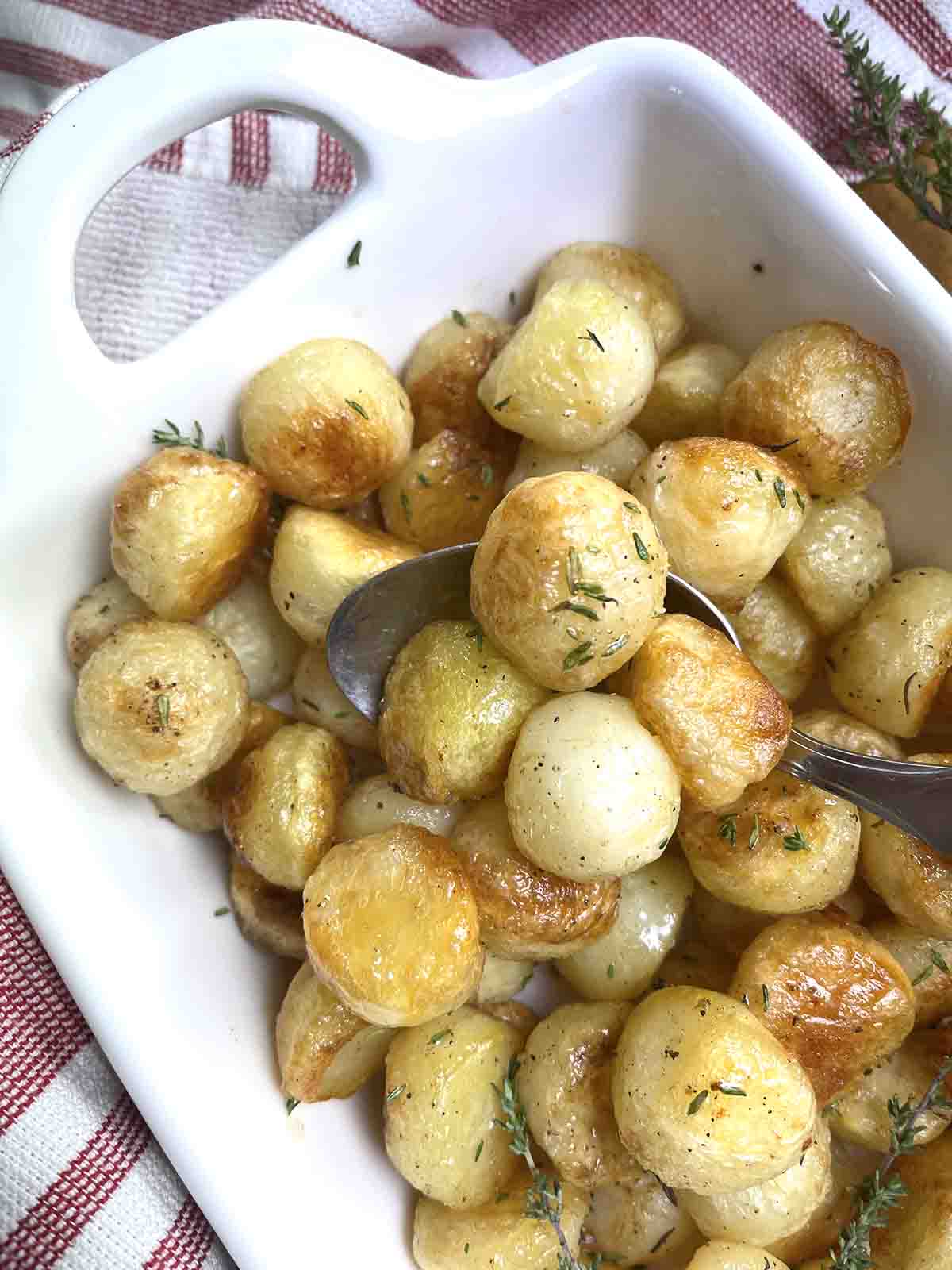 FAQs
What can you do with the leftover cooked potato?


There are plenty of uses for leftover cooked potato. Try duchess potatoes, cheesy potato cakes, potato scones or pancakes for leftover mashed potato.

If you leave the potatoes in cooked pieces they are perfect for adding to omelets or soups at the last minute.

More French potato dishes
📋 Recipe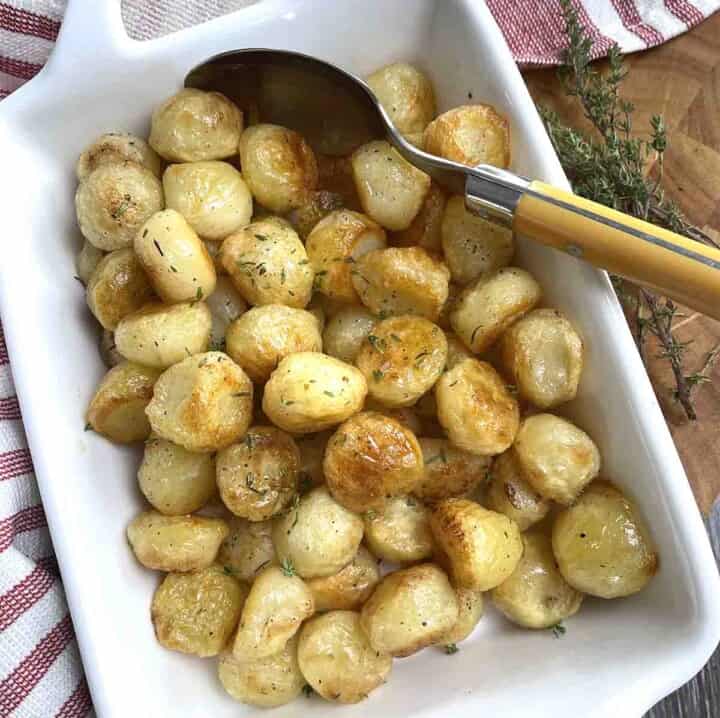 Potatoes Parisienne
Potato balls roasted in butter and oil for a crispy French side dish that everyone will love.
Equipment
colander

saucepan

roasting dish

melon baller or noisette spoon

slotted spoon or fish slice
Ingredients
1250

g

potatoes

maris piper

1

teaspoon

salt

flaked sea salt

½

teaspoon

pepper

black pepper

3

tablespoon

butter

3

tablespoon

sunflower oil
Instructions
Preheat the oven to 220C/425F/200FAN/Gas Mark 7 and add the oil and butter.

Peel the potatoes and place them in water.

Use a melon baller to cut round pieces of potato.

Bring a pan of water to the boil and add ½ teaspoon salt, add the potato balls and cook for 5 minutes.

Drain the potatoes in a colander.

Add the potatoes to the roast dish and stir to coat in the butter.

Roast the potatoes for 15 minutes then turn them over and season with the remaining salt and pepper.

Cook for a further 15 minutes before serving.
Nutrition Facts
Potatoes Parisienne
Amount Per Serving
Calories 169
Calories from Fat 171
% Daily Value*
Fat 19g29%
Cholesterol 23mg8%
Sodium 656mg29%
Potassium 6mg0%
Carbohydrates 1g0%
Protein 1g2%
Vitamin A 264IU5%
Calcium 4mg0%
Iron 1mg6%
* Percent Daily Values are based on a 2000 calorie diet.
Notes
Disclaimer:
The nutritional information provided is approximate and is calculated using online tools. Information can vary depending on various factors, but we have endeavoured to be as accurate as possible.
It should be noted that the nutritional information assumes that all the ingredients are consumed even though some butter and oil will remain in the serving dish.
The amount of potatoes equates to about 7 large ones.
Disclaimer: The nutritional information provided is approximate and is calculated using online tools. Information can vary depending on various factors, but we have endeavoured to be as accurate as possible.
Detailed instructions for this recipe, including step by step photographs, hints and tips, can be found in the main article.
FOOD SAFETY
Do not use the same utensils on cooked food, that previously touched raw meat.
Wash hands after touching raw meat.
Don't leave food sitting out at room temperature for extended periods.
Never leave cooking food unattended'
Use oils with high smoking point to avoid harmful compounds.
Always have good ventilation when using gas.