Are you wondering what to serve with duck breast?
Duck breast is so delicious, with tender meat and crispy skin, so it needs a selection of elegant side dishes to be fully appreciated.
Whether you are serving the duck with a sauce and prefer crispy potatoes or a creamier version, there are so many to choose from.
In addition, there are plenty of vegetable dishes that complement duck perfectly too.
Bon appétit!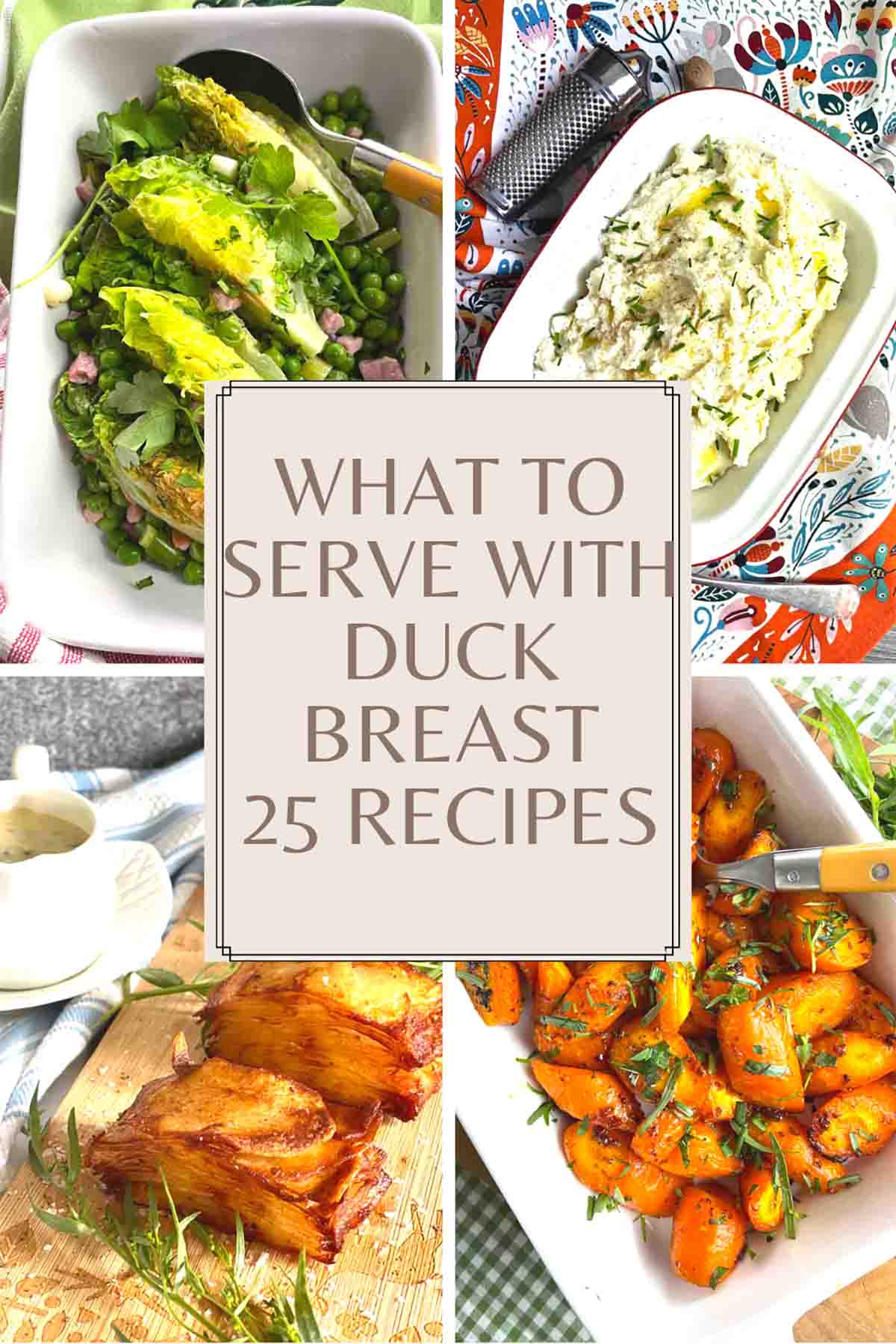 Jump to:
Duck is a very popular restaurant dish in France, but it's easy to get hold of in most supermarkets too, so there's no excuse not to make an elegant dinner at home.
Although, whole birds and legs are delicious, it's far easier to deal with the breast.
So, what to serve with duck breasts? This really depends on whether you are serving a sauce with the duck. If you are then a great crispy potato dish is the best option to mop up the sauce.
However, if you don't have a sauce with the duck, it's better to serve a creamy potato dish as this balances out the richness of the dish.
Of course, although there are plenty of French potato recipes, there are plently of colourful and easy vegetable side dishes too.
❤️Why you will love these ideas
✔️Delicious with other roasted and grilled meats.
✔️Perfect for entertaining.
✔️Step by step instructions and pictures.
✔️Crispy or creamy side dish to suit your dish.
✔️ Many dishes can be prepared in advance.
💙 Save this recipe for later
Did you know? When you see the 💙 on the right hand side you can bookmark this page, to save it for later or share it too.
What to serve with duck breast with creamy sauces
Roast Potatoes
This easy roast potato recipe will give you perfect results every time.
If you are looking for a crispy roastie, with plenty of delicious crunch on the outside and a fluffy inside then this is it.
You don't need anything fancy, in fact only two ingredients are needed to make this recipe and you won't use any other method.
The best thing about this recipe is that it's so simple too. You only need to turn them once while they are roasting, giving you plenty of time to make the rest of dinner or something else.
Fondant Potatoes
Fondant potatoes are a classic French dish that is perfect for entertaining or a special meal at home.
The potatoes are cut into cylinders. Then, they are fried in oil until crisp, basted in lashings of butter, garlic and herbs and finally braised in stock.
So easy to make and you can forget about them while they braise too.
The result is a potato with a crisp, buttery crust on the outside, with a meltingly tender potato inside.
Confit Potatoes Pavé
These confit potatoes pavé have got to be the most naughty and decadent potatoes that you can make!
Scalloped potatoes are layered and slow roasted in a duck fat confit until tender, then pressed overnight to form beautiful layers.
Next, the potatoes are cut into slices and deep fried to crispy golden perfection.
Crispy Potatoes Pavé
Crispy Potatoes Pavé, are very similar to the confit potatoes, however, they are cooked in stock rather than fat.
Buttery, garlicky and tender on the inside, they have the delicious crispy crunch of a roast potato on the outside. This dish might look tricky, but there's very few ingredients and it's a doddle to put together without the need for any special skills.
They're perfect for make ahead entertaining, or a cosy dinner for two.
Potatoes Rissolé
French potatoes rissolé anyone? They are crunchy, buttery and so delicious.
Here's a French potato dish that is entirely made on the stove top in about 20 minutes, with very little fuss.
Cubed potatoes are fried until they are a crispy golden brown and finished with a garnish of shallots and butter.
Sarladaise Potatoes
This classic fried potatoes recipe uses potato slices cooked in duck fat and garlic until they are crisp and golden.
If you want a simple yet delicious side dish then this potato dish goes with just about anything. There's no need to peel the potatoes or precook them, just crispy potatoes ready in 10 minutes.
Cute for kids and elegant for the adults, this is a great dish that is so versatile.
Chateau Potatoes
Chateau potatoes are the traditional accompaniment to a chateaubriand steak but they are delicious with all main courses.
I've used small potatoes to make this recipe easy to prepare, so that you can have buttery and garlic braised potatoes in 40 minutes.
Perfect for entertaining, as all the preparation can be done in advance.
Potatoes Parisienne
These crisp, baked potato balls are simply roasted in a buttery mix for the essential fluffy middle and crisp golden coating.
More elegant than a British roast potato, but still easy to make, these potatoes are perfect with roast meats and other dishes.
Perfectly bite sized and ready to pop in the mouth means that children will love them too.
Crispy Smashed Potatoes
These Crispy Smashed Potatoes are great when you want the crispiness of roast potatoes, but don't want to mess about chopping and peeling.
With just a few ingredients and 30 minutes of roasting, you can have tender crushed potatoes, flavoured with garlic with an irresistible crunch.
Parmentier Potatoes
Parmentier potatoes, or cubed potatoes, are the easiest and quickest way to serve crispy potatoes from scratch.
Just a few ingredients, a quick chop and on you are on your way to these crispy diced potatoes, flavoured with garlic and rosemary.
This is an authentic French recipe that goes with everything from breakfast to dinner, all year round.
What to serve with duck breast - creamier side dishes.
Boursin Mashed Potatoes
These Boursin mashed potatoes take everyday mash to the next level.
Such an incredibly easy recipe, with a light creamy texture and the flavour of garlic and herbs, giving a punch of flavour.
Delicious for any night of the week for a family dinner, or take the stress out of entertaining, with this easy side dish that you can prepare in advance too.
Potatoes Dauphinoise
What can beat tender scalloped potatoes cooked in cream with a delicious crispy top? Absolutely nothing!
This dish is so deliciously simple and goes with anything, or you can just eat it on its own.
Celeriac Dauphinoise
This celeriac dauphinoise is so creamy and delicious and a great alternative to potato dauphinoise.
It's easy to prepare in advance for fuss free entertaining or just a cosy supper at home.
Celeriac Purée
Light and delicious, this recipe feeds a crowd, is easy to make in advance and freezes beautifully too. This makes it perfect for entertaining and large family gatherings.
If you've never had it before, then you definitely need to try it, especially if you are a fan of mashed potatoes!
Potatoes Boulangère
If you are looking for a delicious change these French potatoes boulangère are easy to make in advance for a crowd.
Tender on the inside with a crispy topping, these layered scalloped potatoes are always a hit.
There are only 4 main ingredients, no precooking and no tending to, once they are in the oven.
You don't even need to peel the potatoes if you don't want to.
Duchess Potatoes
These Duchess potatoes are the perfect treat for mashed potato lovers.
Creamy and cheesy, these elegant baked mashed potatoes take everything to the next level of deliciousness.
Perfect for entertaining and tasty enough to please the whole family, these French style potatoes will be your new favourite.
Best of all you can prepare these ahead of time and even freeze them and cook from frozen too.
Potatoes Aligot
These French cheesy mashed potatoes take mash to the next level and beyond.
The French call these potatoes aligot. They definitely resemble a cheese fondue, with the delicious cheese pull that is so irresistible.
Rosemary Garlic Mashed Potatoes
Try these rosemary garlic mashed potatoes, for a delicious twist on plain old mash that won't break the bank.
Creamy and mild cooked garlic is mixed with cooked potatoes and fresh rosemary, for an aromatic and tasty dish that goes with everything.
Perfect for a budget friendly family meal or entertaining friends, this is an easy dish that you'll want to make again and again.
Vegetable side dishes for duck
Honey Glazed Carrots with Mustard
These honey glazed carrots with mustard are so easy to prepare and cook.
Roasting the carrots brings out their natural sweetness and the honey enhances this even more with a gorgeous shiny glaze. The mustard adds a great tang too that balances the sweetness.
Cavolo Nero Kale with Beurre Noir
This cavolo nero recipe with browned garlic butter and lemon comes together in just 5 minutes of cooking! This has to be the fastest vegetable side dish ever.
Simply cooked, then covered with a delicious dressing, it's perfect with roast or grilled meats.
Green Beans Almondine
Green beans almondine, or amandine, are a French dish that is so simple to make, but tastes delicious.
The sweetness of the beans with the crunch of the nuts is a great combination.
The beans are cooked al dente and added to a mixture of almonds, that have been toasted in a mixture of butter and garlic.
Roasted Green Beans and Carrots
These roasted green beans and carrots make a great change from boiled or steamed vegetables.
Roasting brings out the natural sweetness and gives delicious caramelised edges, that really do bring these vegetables to life.
Put these veggies in the oven and this dish is cooked with very little effort in just 20 minutes.
No draining, straining or steam in sight.
Roast Savoy Cabbage
This is a really simple side dish that is packed with flavour.
The cabbage is cut into wedges, for easy preparation and portioning, then roasted with oil, seasoning and fennel seeds.
The natural sweetness of the cabbage is enhanced by roasting and the fennel adds an extra nutty warmth to the dish.
Of course, the extra layer of Gruyère cheese sprinkled over halfway through makes this dish so delicious and comforting too.
Braised Red Cabbage
Braised red cabbage with apple and spices is the perfect partner to duck breast.
The sweetness of the apple combined with the warmth of cinnamon and cloves, make it perfect with meat.
And the best bit? This is so easy. Just throw it all in a casserole and let it slowly braise. That's it.
French Peas with Bacon and Lettuce
Have you tried French peas? This delicious dish of braised peas in wine and stock is traditionally eaten as a starter, but I love to eat it as a side dish.
For extra flavour there's spring onions and bacon lardons, which give loads of flavour and some extra texture too. And, if cooked lettuce sounds strange, believe me it's not. It becomes tender and sweet.
Duck dishes to try
If you love duck, try some of these duck recipes.