Duck donburi bowl to be one of my favourite dishes when I visit Wagamama's, but that's not very often.
But, I can still have this dish at home, made from scratch. Best of all there's absolutely nothing difficult about it.
Duck legs are slow cooked until tender and melting then mixed with onions and carrots in a rich teriyaki duck sauce and served with broccoli, cucumber and spring onions.
The whole lot is piled into a large bowl and topped with a fried egg and a sprinkling of sesame seeds.
Just grab some chop sticks, or a fork for speed and get stuck in.
Bon appétit!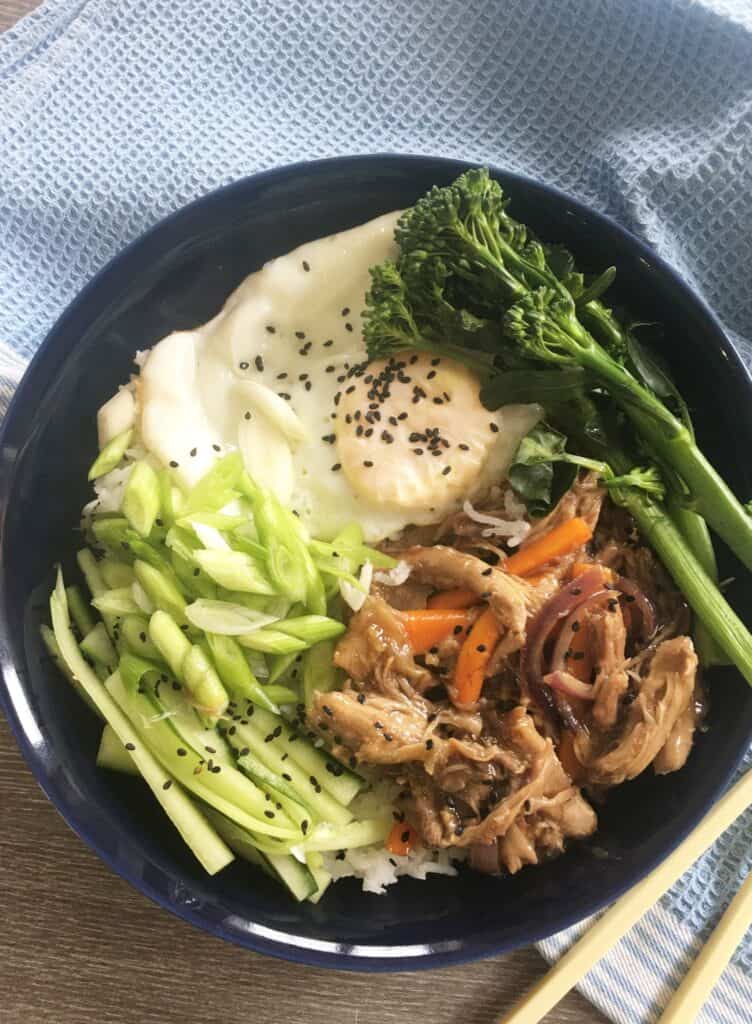 Jump to:
What is a donburi bowl?
Donburi essentially means bowl, referring to a large bowl the dish is served in. It originates in Japan, where it is a bowl of rice served the meat, vegetables and sometimes a raw or poached egg.


Is duck fat healthy or unhealthy?

People often believe that duck fat is bad for you as we are often advised to remove the fat from chicken.

Whilst it is not exactly a superfood it does contain a good level of monunsaturated and polyunsaturated fats and also vitamins and minerals. These fats can help to lower cholesterol.

In comparison to coconut oil it is much healthier, but it still not as healthy as olive oil.
I've always loved Asian food of any type, but when I lived in rural France, it was difficult to find places to eat.
Donburi duck is a recreation of what is essentially a very westernised dish, and likely has no bearing on food that the Japanese eat.
However, if like me, you have a penchant for sweet sticky sauces, the idea of slow cooked teriyaki duck, all nestled with rice and vegetables is totally comforting. I make no excuses.
The good thing about donburi bowls is that it's so easy to vary the ingredients too, so if you have leftover pulled pork or slow cooked brisket then dinner is practically done.
Or, just make this dish with a few prawns or keep it totally plant based, it's up to you.
❤️ Why you will love this dish
Simple to make.
Easy to vary the ingredients to what you have available.
Perfect fakeaway dinner.
Prepare in advance.
Use up roast leftovers for a speedy meal.
💙 Save this recipe for later
Did you know? When you see the 💙 on the right hand side you can bookmark this page, to save it for later or share it too.
🥘 Ingredients
Duck - duck legs with the skin on. These are typically cheaper than duck breast,s but need long slow cooking to make them tender.
Salt - cooking or kosher salt.
Rice - basmati or other long grain rice.
Onion - red onion for sweetness and crunch
Cucumber - English cucumber.
Spring onions - also known as green onions or scallions. They make a great garnish.
Broccoli - long stemmed broccolo, also known as tenderstem or broccolini.
Carrots - any carrots, for crunch and solour.
Teriyaki sauce - straight out of a jar. It's also easy to make your own from store cupboard ingredients with this teriyaki recipe made in 10 minutes.
Eggs - free range eggs.
Oil - vegetable oil or olive oil for frying.
Black sesame seeds - optional garnish.
The printable recipe card with full ingredient quantities and instructions can be found at the bottom of the article.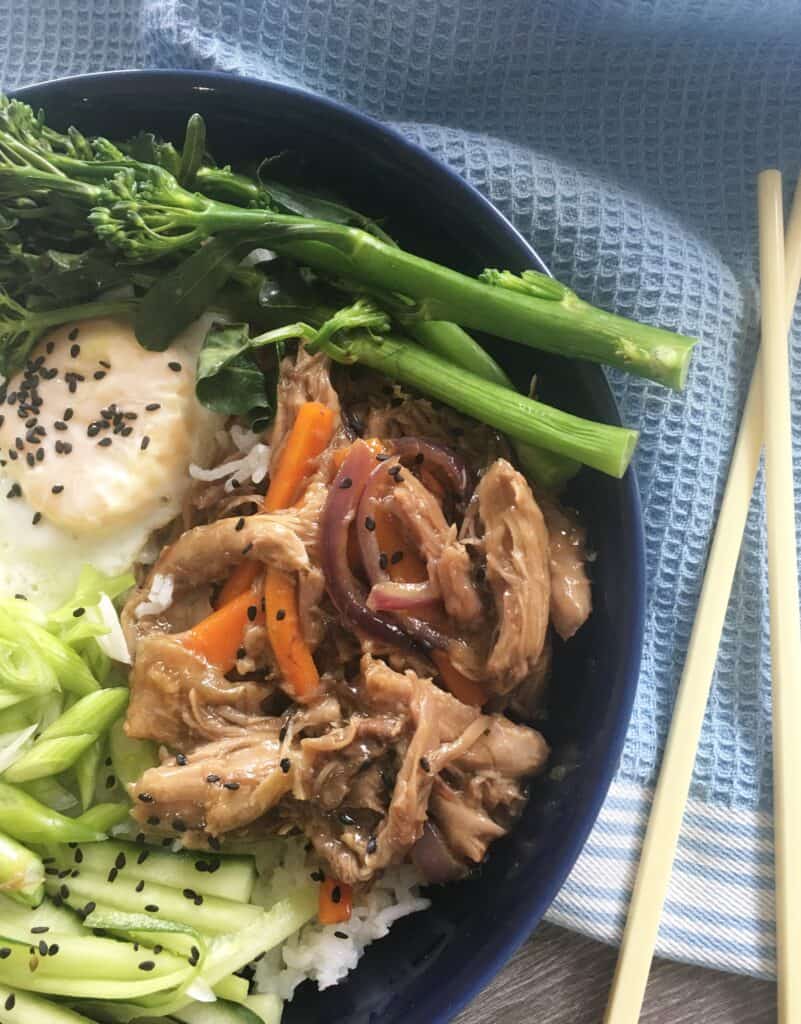 🍽 Equipment
wok or large frying pan / skillet
sharp knife
chopping board
aluminium foil
small deep roasting dish
frying pan / skillet for the fried eggs
🔪 Instructions
⏲️ Baking Time
Start by cooking the duck legs.
This does take some time so I normally cook double the amount I need and freeze the leftovers, shredded, in a container so that I just need to thaw the meat and I can have a donburi in minutes.
Wipe the duck legs dry with kitchen paper and place in a deep sided roasting dish. Prick them all over with a carving fork or a skewer and sprinkle them with salt.
Cover the dish with foil and roast at 160 C / 310 F / 140 FAN / Gas 2.5   for 2 hours.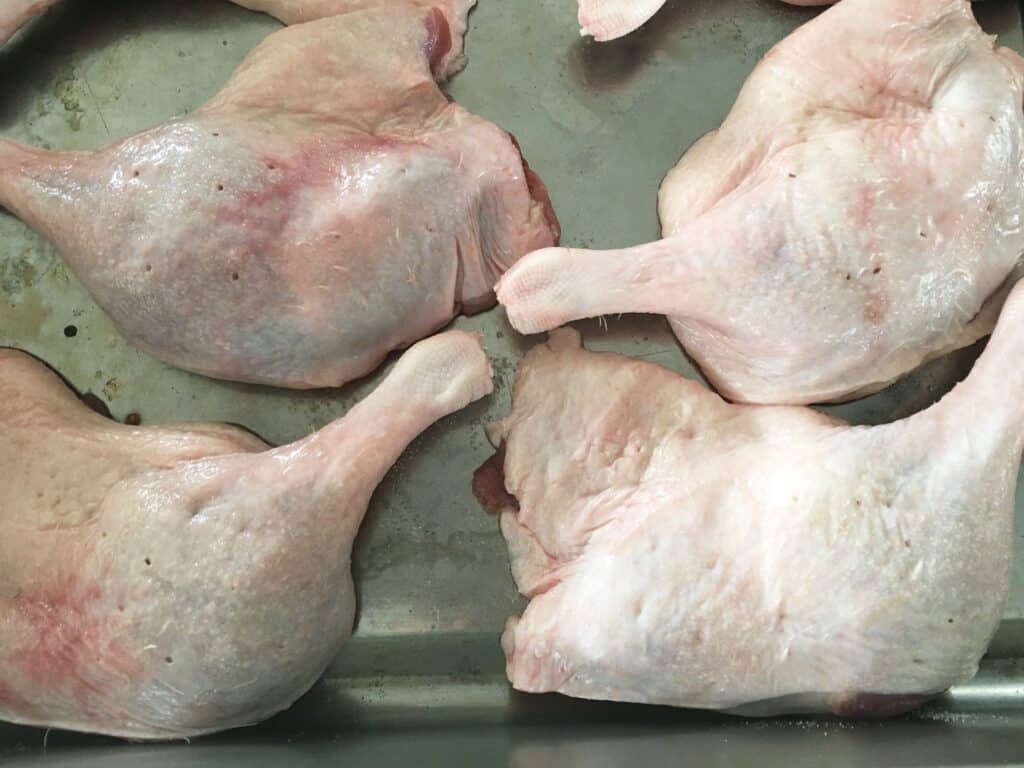 In the meantime prepare the vegetables.
Cut the carrots into julienne strips and finely slice the red onion.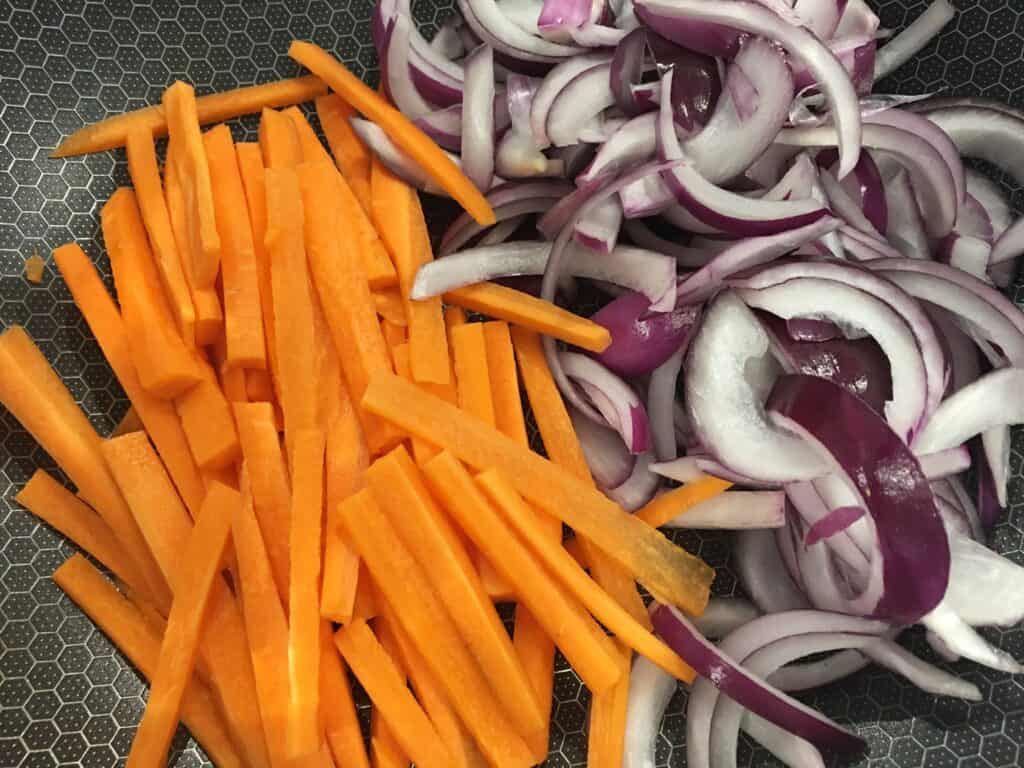 Next, prepare the cucumber.
I find that cutting cucumbers length ways means that you get strips of watery seeds so I prefer to remove them first.
My tool of choice for this is little scoop used for hulling strawberries, but a grapefruit spoon or teaspoon works just as well.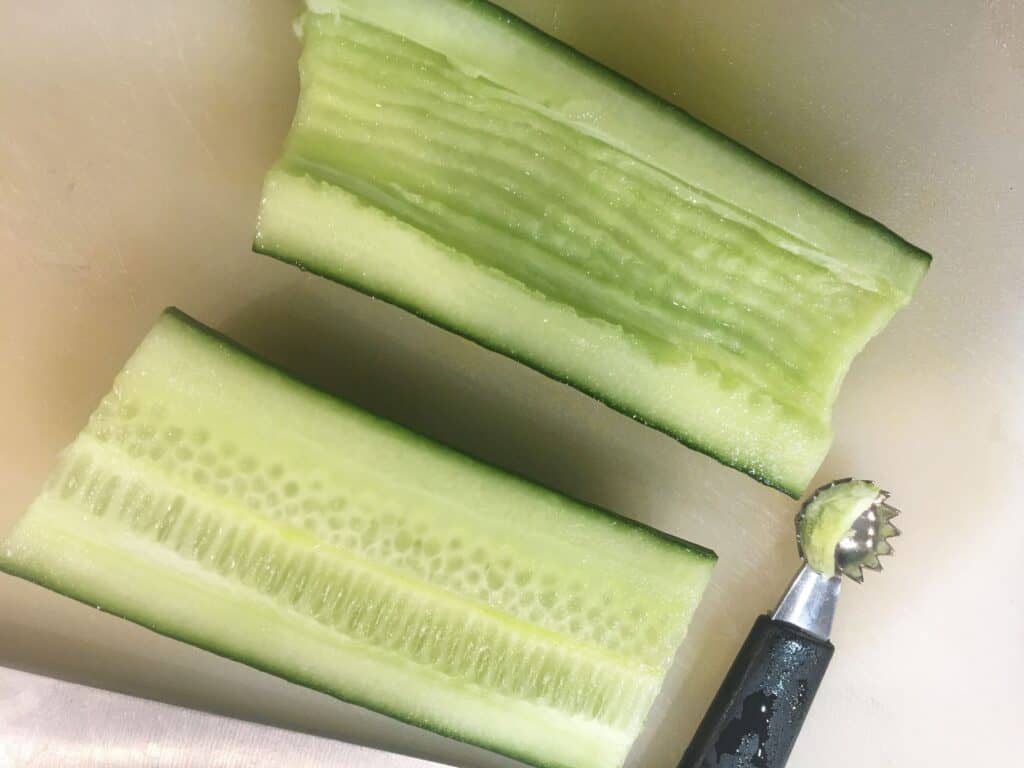 Cut the cucumber into julienne strips and finely slice the spring onions diagonally.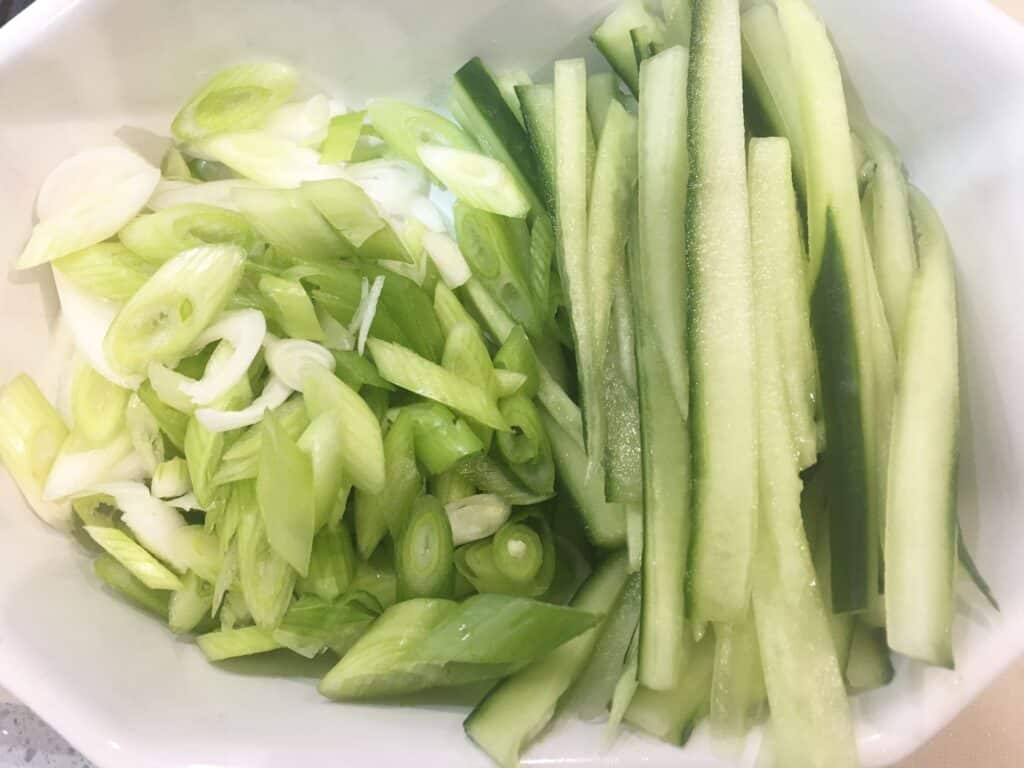 When the duck has finished the cooking time use a fork to check that it is completely tender.
Drain off all the fat.
For extra crispy skin put it under a medium grill or broiler for a few minutes.
💭 Top Tip
Don't discard the duck fat down the sink as it will clog the pipes.
Duck fat makes amazing roast potatoes and confit potatoes so put the fat into a sealed container and store in the fridge, where it will keep for weeks.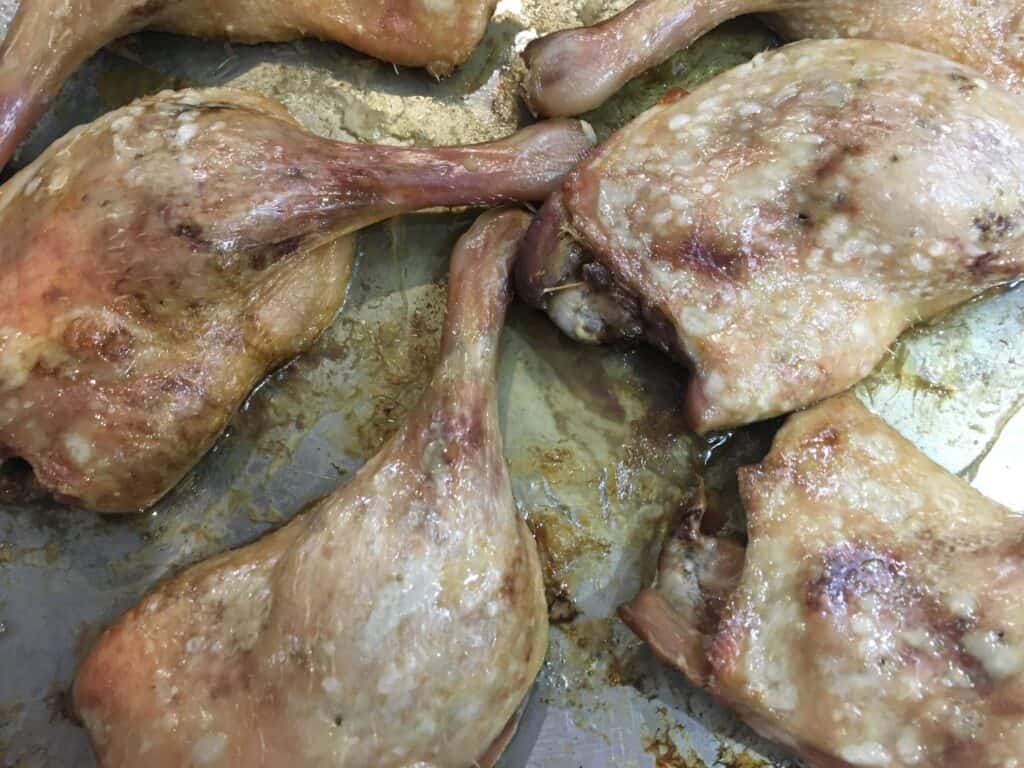 Use two forks to pull the meat off the bones and shred it.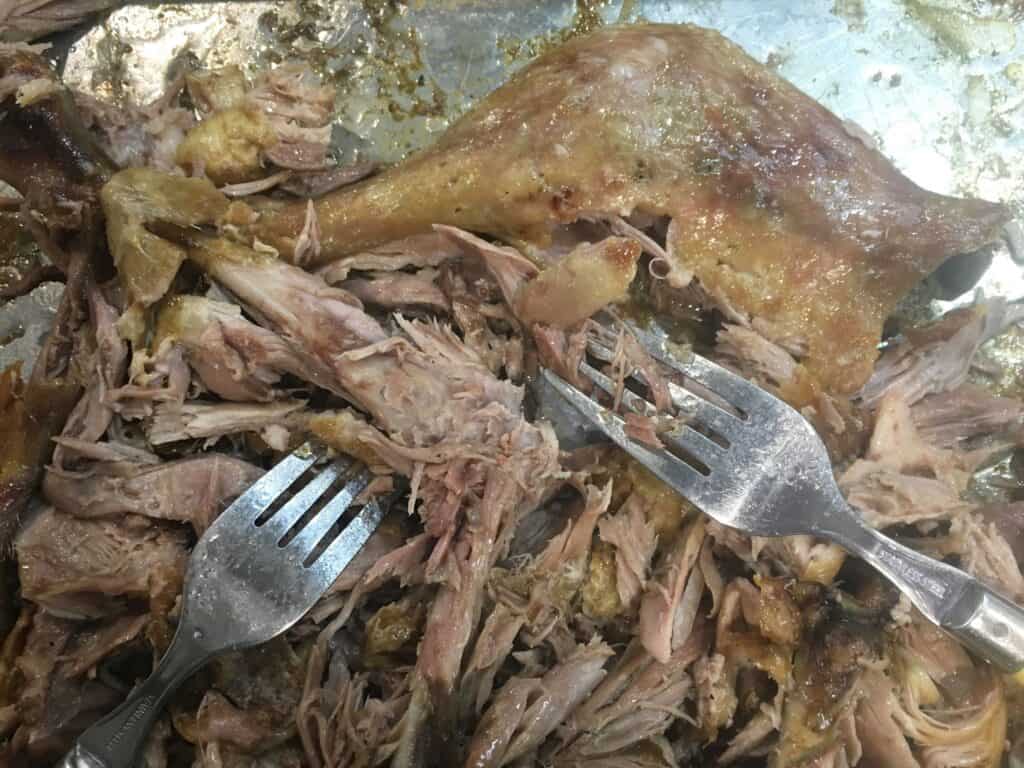 Heat the oil in a large frying pan or wok and fry the carrots and onions for about 5 minutes until just cooked.
Put the rice on to cook. I use basmati rice, which normally takes 10 minutes.
Add the duck and teriyaki sauce to the pan for 5 minutes until hot.
Cook the broccoli while the duck is heating. I prefer to microwave it in 2 cm of water for about 4 minutes.
Heat the oil in a frying pan and fry the eggs to your liking. I do them 2 at a time.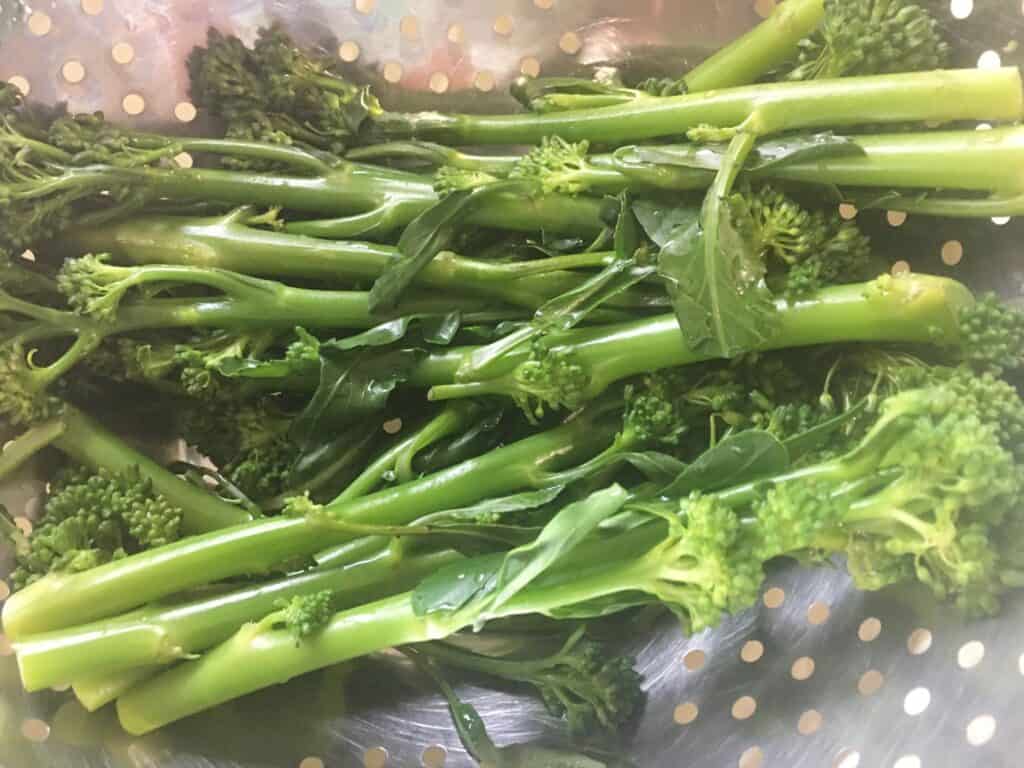 Now it's time to plate up the duck donburi.
In individual serving bowls add a layer of rice. Put the duck mixture in one corner, the spring onions and cucumber in another , then broccoli and finally the fried eggs.
Sprinkle with sesame seeds and serve immediately.
The combination of the hot duck and rice with the cool spring onions and cucumber makes this dish lighter than you would expect. Add to that the yolk of the egg spilling over the rice and you will be in heaven!
🥗 Side Dishes
If you are having an Asian night at home, why not try some of these dishes?
Pork and Peanut Moneybags
If you are wondering what to do with leftover duck fat, try some of these recipes.
🥙 Substitutions
Duck - if you don't want to slow cook the duck legs it's easy to pan fry duck breast instead. Follow instructions for duck with 5 spice and honey.
Teriyaki sauce - use another sauce such as yakitori or oyster.
📖 Variations
Meat - use slow cooked brisket, pulled pork, cooked shredded chicken or sliced lamb roast.
Fish - pan fry tuna steaks or jut use some raw prawns or other shellfish such as scallops.
Vegetarian - use tofu, chickpeas, cashew nuts and mushrooms.
Use fresh or frozen vegetables, depending on waht you have to hand or try some of these ideas.
mushrooms
pak choi
edamame beans
roasted squash
cauliflower roasted in turmeric
sliced mixed peppers
green beans
asparagus
leeks
Garnish with:
sliced radishes
pickled ginger
chopped peanuts
sliced avocado
fresh sliced chillies
🍣 Storage
The whole assembled dish is not suitable for reheating or freezing because it contains hot and cold elements.
Refrigerator - keep leftover cooked duck covered in the refrigerator for up to 3 days.
Freezer - pack in airtight bags or containers and freeze for up to 2 months. Defrost overnight in the refrigerator.
Reheat - eat the duck cold in sandwiches and salads or add to your stir fry.
🍱 Prepare in Advance
It's a great idea to prep this meal in advance due to the time it takes to cook the duck. Get all the vegetables cut earlier in the day and roast the duck the day before if you like.
Let me know what you think in the comments or you can post a picture and tag me on Twitter @chezlereve, Instagram @chezlerevefrancais, or Facebook @chezlerevefrancais
More duck recipes
📋 Recipe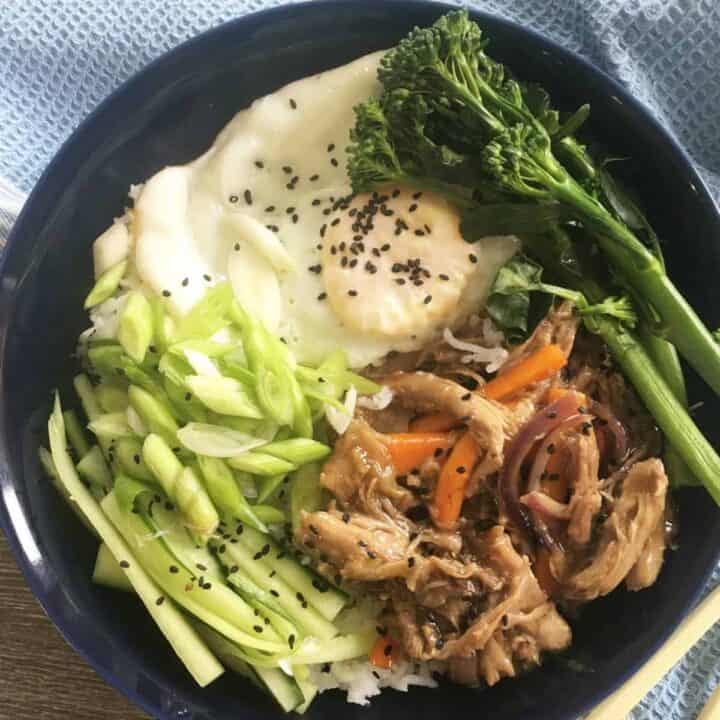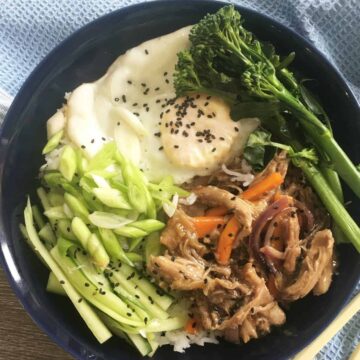 Donburi Bowl with Duck
This duckdonburi bowl consists of slow cooked teriyaki duck mixed with broccoli, carrotsand cucumber all topped with a fried egg.
Equipment
wok or large frying pan / skillet

sharp knife

chopping board

Aluminium foil

small deep roasting dish

Frying pan / skillet
Ingredients
4

duck legs

1

tablespoon

salt

280

g

rice

1

red onion

160

g

cucumber

100

g

spring onions

160

g

broccoli

tenderstem

200

g

carrots

200

ml

teriyaki sauce

4

eggs

2

tablespoon

oil

1

tablespoon

black sesame seeds

optional
Instructions
Prick the duck legs and place them in a deep sided roasting dish.

Sprinkle with salt, cover with foil and roast at 160 c for 2 hours.

Cut the carrots and cucumber into julienne strips, finely slice the red onion and finely slice the spring onions diagonally.

Drain the fat from the duck and shred with two forks.

Heat 1 tablespoon of oil in a wok and fry the carrots and onions for about 5 minutes until just cooked.

Cook the rice for about 10 minutes or according to instructions and steam the broccoli for about 4 minutes until tender..

Add the duck and teriyaki sauce to the wok and heat for 5 minutes until hot.

Fry the eggs in the remaining oil.

In individual serving bowls add a layer of rice then serve the duck mixturer, the spring onions and cucumber, then broccoli and finally the fried eggs.

Sprinkle with sesame seeds and serve immediately.
Nutrition Facts
Donburi Bowl with Duck
Amount Per Serving
Calories 868
Calories from Fat 297
% Daily Value*
Fat 33g51%
Cholesterol 360mg120%
Sodium 3970mg173%
Potassium 713mg20%
Carbohydrates 77g26%
Protein 63g126%
Vitamin A 9118IU182%
Vitamin C 49mg59%
Calcium 159mg16%
Iron 7mg39%
* Percent Daily Values are based on a 2000 calorie diet.
Disclaimer: The nutritional information provided is approximate and is calculated using online tools. Information can vary depending on various factors, but we have endeavoured to be as accurate as possible.
Detailed instructions for this recipe, including step by step photographs, hints and tips, can be found in the main article.
More duck and game recipes
🍲 Food Safety
Do not use the same utensils on cooked food, that previously touched raw meat.
Wash hands after touching raw meat.
Don't leave food sitting out at room temperature for extended periods.
Never leave cooking food unattended.
Use oils with high smoking point to avoid harmful compounds.
Always have good ventilation when using gas.
Do you have a question or did you make the recipe? Please leave a rating as it helps other readers to discover this dish. Your name and email are required to avoid spam comments; they are never used for any purpose or shared with third parties.
However, due to spam comments, I do have to moderate each one, so don't worry if you cannot see your comment immediately. I'll publish your comments as soon as I can.