Sesame Garlic Tofu. I am definitely not a vegetarian but I do enjoy vegetarian dishes in an effort to eat a balanced diet. I like to think that I'm an adventurous eater but I've always had a problem with tofu. Perhaps it's just that, in the dishes I've tried, it has always tasted so bland. In the last few years supermarkets in France have started to stock more vegan and vegetarian products so I've been determined to give them a try.
I love Asian flavours and one of my favourite dishes is sesame garlic chicken. Chunks of chicken are fried in a batter and then tossed in a sweet and sticky sesame and garlic sauce. It's delicious but very high in fat and calories. What if there was a way to capture that flavour in a Sesame Garlic Tofu using less sugar, fat and flour? It turns out that there is.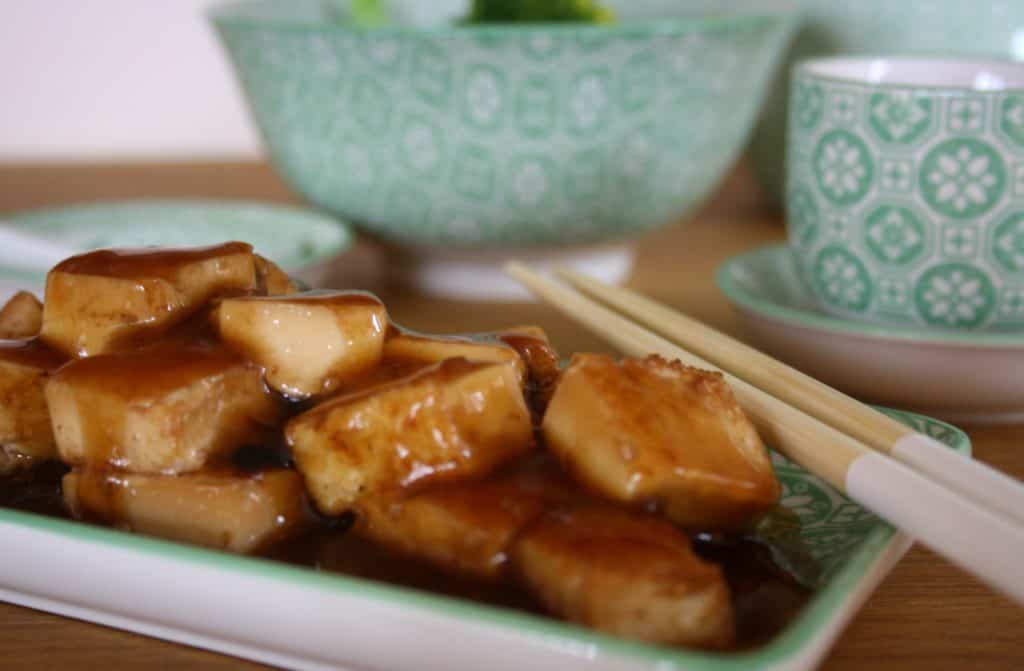 What is tofu?
Tofu is soy bean curds which are then pressed to form different types of tofu, namely, silken or firm. If you buy the silken type it is great for making desserts as it has a creamy texture which is perfect for a vegan cheesecake. Unfortunately it is not great for frying as it has a tendency to break up. For this dish the best type of tofu is the firm variety.  When I made this dish I could only use silken. I treat it like halloumi cheese and aim to remove some of the water content prior to cooking. My idea is to wrap the tofu in thick kitchen towel and use a plate weighted down with a can to draw out the excess water for at leat 30 minutes.
Naturally, the tofu you buy in the west is very bland , but that makes it great for sucking up the flavours you choose like a sponge.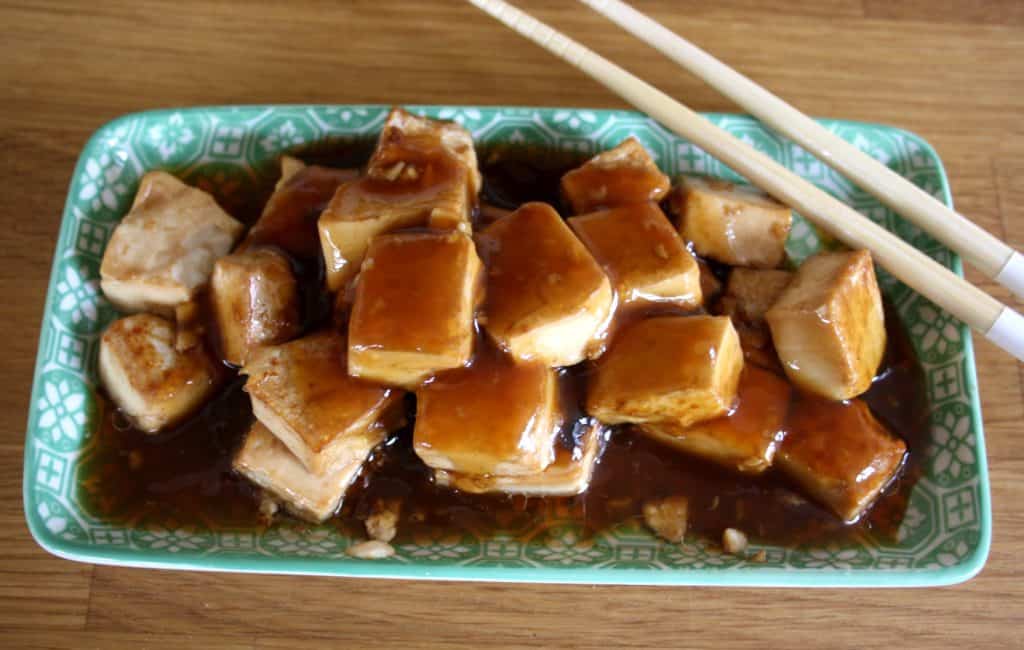 What are the ingredients for Sesame Garlic Tofu?
Ideally you will have firm tofu or silken tofu that has been pressed.
For the marinade I have used honey, garlic, soy sauce and cider vinegar. You could also use white wine or rice wine vinegar in its place.
The marinade also forms the base for the sauce. You will need water and cornflour to thicken.
For the garnish I have used black and white sesame seeds.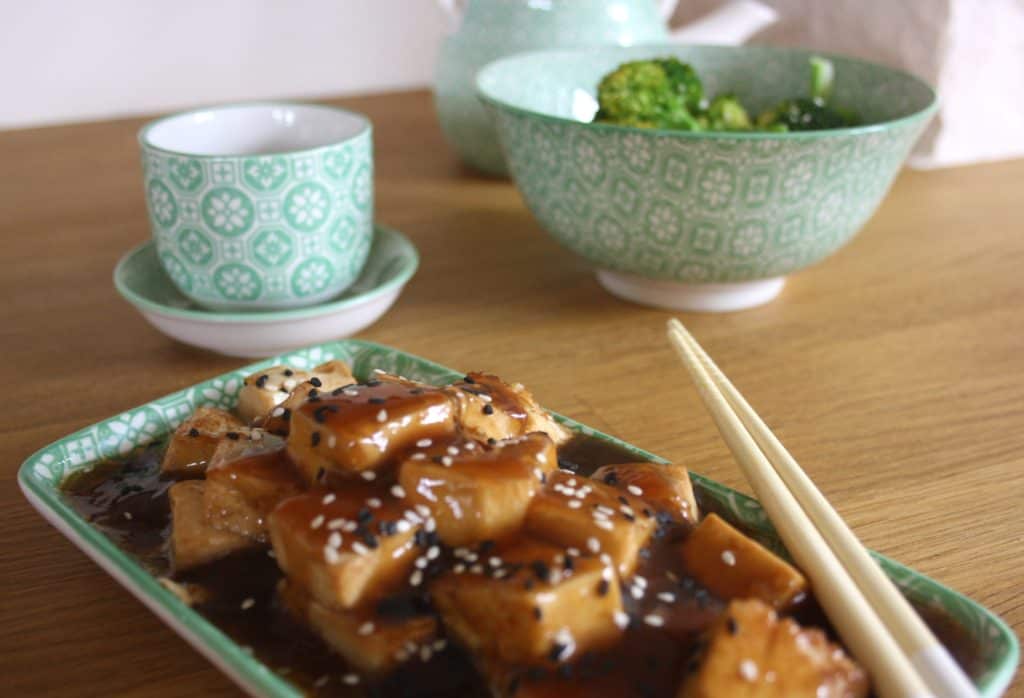 How to make Sesame Garlic Tofu
Start by carefully cutting the tofu into biI should point out that I used silken Tofu for my Sesame Garlic Tofu but it does break easily so if you can buy firm tofu it would be easier. Since making this dish I have read a variety of tips from pressing the tofu, wrapped in kitchen roll, to remove excess water to freezing it first, which changes the texture too.te sized chunks and placed in a dish. Make a marinade of dark soy sauce, crushed garlic, cider vinegar and runny honey and pour over the tofu. Leave in the fridge to marinate for at least half an hour.
Drain the marinade into a small saucepan and add water and cornflour. Heat the sauce while stirring until it thickens and then turn the heat off. Heat oil in a frying pan and carefully add the tofu in a single layer. Carefully turn the tofu  and fry so that it gets crispy then serve immediately with the sauce poured over and sesame seeds scattered over the top.
If you love Chinese food how about trying Szechuan Salt and pepper Prawns? They are healthier than fried as they are baked in the oven but just as crispy.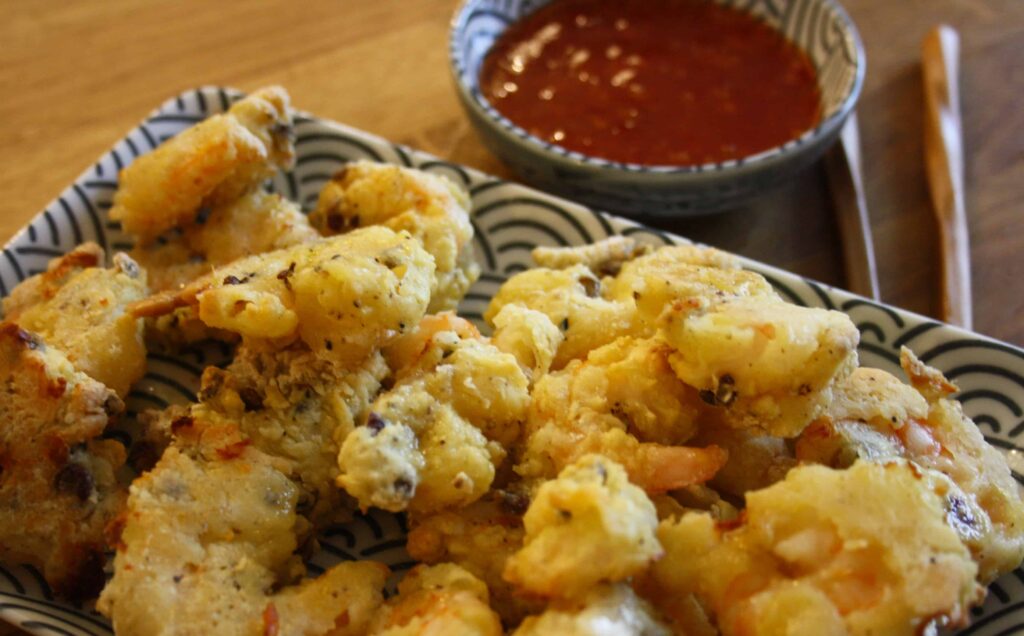 Other Vegetarian dishes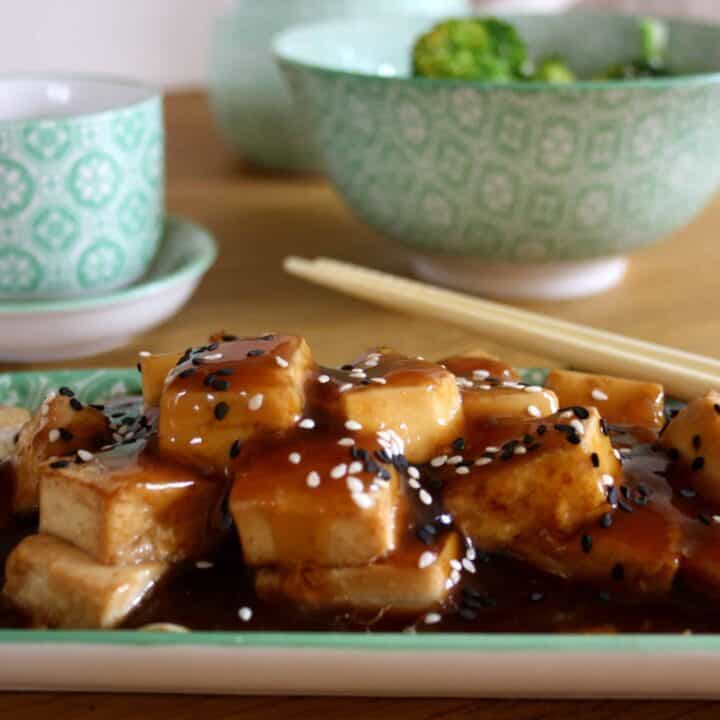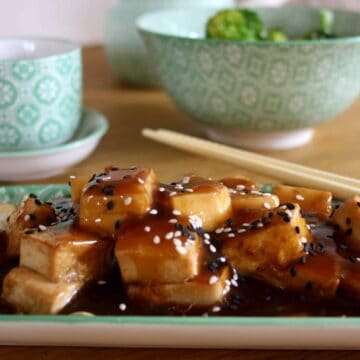 Sesame Garlic Tofu
Sesame Garlic Tofu is a vegetarian dish that is packed full of flavour and cooked in under 10 minutes for a delicious and satisfying meal.
Ingredients
300

g

tofu, cut into chunks

3

tablespoon

dark soy sauce

2

cloves

garlic, crushed

1

tablespoon

cider vinegar

3

tablespoon

runny honey

80

ml

water

2

teaspoon

cornflour

1

teaspoon

white sesame seeds

1

teaspoon

black sesame seeds

2

tablespoon

oil
Instructions
Combine the honey, garlic, soy sauce and vinegar and pour over the tofu. Refrigerate for at least 30 minutes.

Drain the marinade from the tofu and place in a saucepan with the cornflour and water. Heat while stirring until the mixture thickens.

Heat the oil in a large non stick pan and add the tofu in a single layer. Fry for a few minutes until the tofu is browned then carefully turn over for a further few minutes.

Drain the tofu and serve immediately with the sauce poured over and the sesame seeds scattered over.
Nutrition Facts
Sesame Garlic Tofu
Amount Per Serving
Calories 387
Calories from Fat 198
% Daily Value*
Fat 22g34%
Sodium 1519mg66%
Potassium 57mg2%
Carbohydrates 34g11%
Protein 17g34%
Vitamin C 0.9mg1%
Calcium 218mg22%
Iron 2.9mg16%
* Percent Daily Values are based on a 2000 calorie diet.
Disclaimer: The nutritional information provided is approximate and is calculated using online tools. Information can vary depending on various factors, but we have endeavoured to be as accurate as possible.
Detailed instructions for this recipe, including step by step photographs, hints and tips, can be found in the main article.
Be the first to receive new recipes in your inbox and get my free E-Book of 25 French Recipes! Subscribe here!