These Szechuan salt and pepper prawns are so delicious!
Juicy prawns are coated in a spicy batter then baked until crisp for the perfect crunch.
There's no need to deep fry these, so they are healthier and perfect for a starter, appetiser or light lunch too.
Who needs the takeaway?
Bon appétit!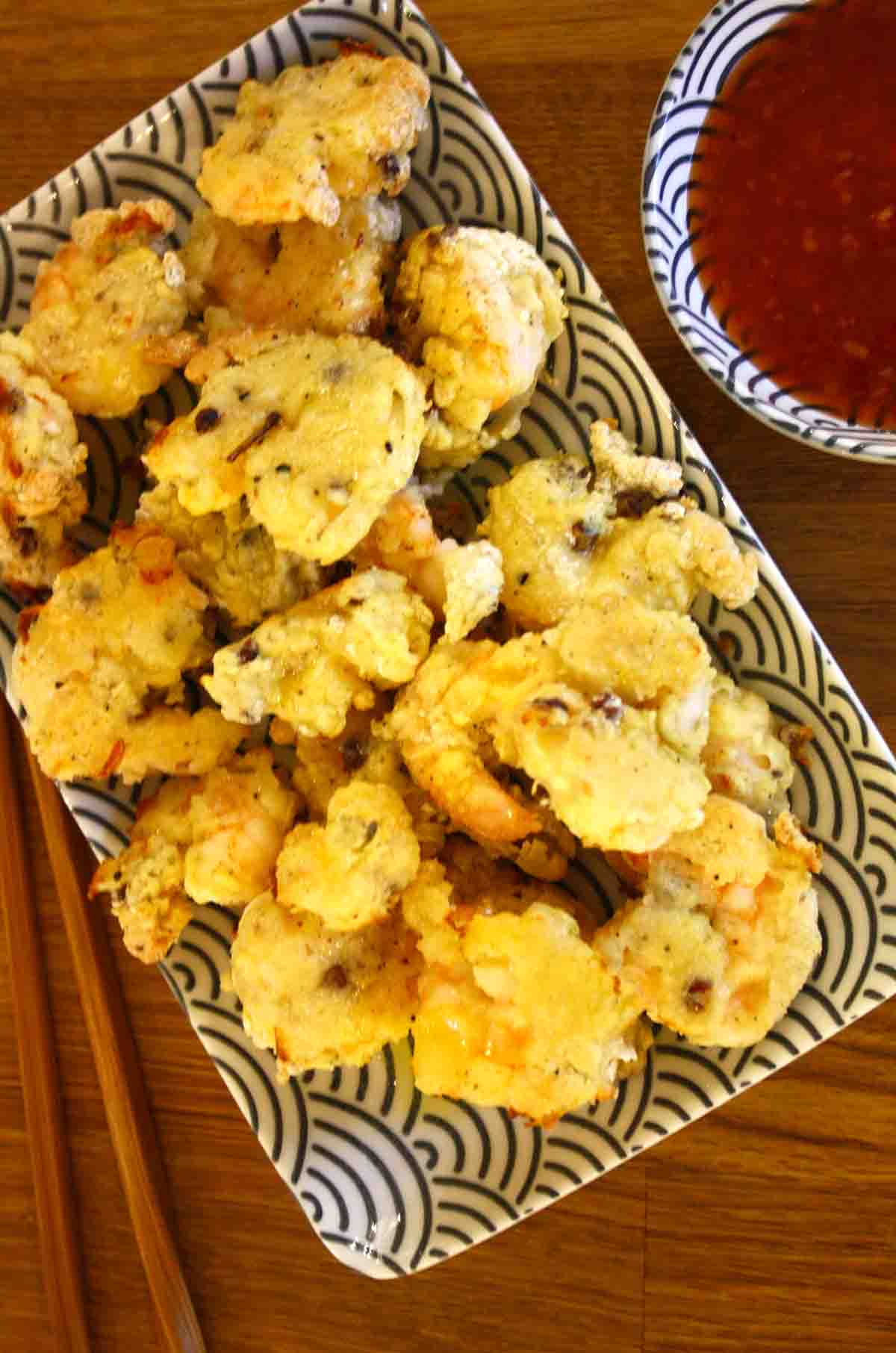 Jump to:
I used to love takeaway food, but now I find that it is often expensive, disappointing, oily and, if you live in a village like me, just too far away to justify the trip.
Luckily, this recipe is just so easy and ready in about 20 minutes. There's no messing with hot oil either, which is much healthier for everyone.
You can adapt this recipe to use other ingredients too.
❤️ Why you will love this dish
Ready in 20 minutes.
Baked not fried.
Easy to adjust the spice level.
💙 Save this recipe for later
Did you know? When you see the 💙 on the right hand side you can bookmark this page, to save it for later or share it too.
🥘 Ingredients
Prawns - raw king prawns, (shrimp), deveined and shell removed. If you prefer, leave on the end tail parts for presentation. Use fresh or frozen prawns that have been defrosted.
Egg  - free range beaten egg.
Flour - plain or all purpose flour.
Flaked sea salt - or other salt of your choice.
Ground black pepper - freshly ground.
Szechuan pepper - these are widely available now online or in supermarkets.
The printable recipe card with full ingredient quantities and instructions can be found at the bottom of the article.
🔪 Instructions
Put the flour in a bowl with the Szechuan pepper, flaked sea salt and ground black pepper.
💭 Top Tip
If you want more of a fine pepper mix, I use a small coffee grinder just for spices like this. It also works well for cardamom pods and black pepper too. Alternatively, use a pestle and mortar.
The dipping of the prawns can get quite messy, so I like to use one hand for flouring and the other for egg dipping. This will stop you from getting crusty hands!
Give it a stir to distribute the spices.
I used frozen raw king prawns so dry them off with some paper towel and then add them to the flour and coat evenly with a fork.
Dip them in beaten egg first and then back into the flour mix.
Make sure that they are fully coated and place on a non stick baking tray.
⏲️ Baking Time
Bake at 190 C / 375 F / 170 FAN / Gas 5 for about 10 minutes.
Serve immediately with your favourite sauce.
Baked, crispy Szechuan salt and pepper prawns. They are not as naughty as normal but they are certainly delicious and very easy to do.
🥗 Side Dishes
Serve as part of an Asian meal with some of these ideas.
🥙 Substitutions
Flour - use a gluten free flour, or for a change use cornflour or coconut flour.
📖 Variations
Squid - or calamri rings or pieces.This is a great dish to make with squid rings or small pieces of squid, if you are not a fan of prawns. I like to score pieces of squid in a diamond pattern as then they will curl up as they cook. This is also a great coating for baked chicken too.
Chicken - use chicken fillets or strips instead. Depending on their size, they made to be cooked longer.
🍣 Storage
Refrigerator - cool, cover and store for up to 2 days.
Freezer - place in arirtight containers and freeze for up to a month. Defrost overnight in the refrigerator.
Reheat - in the oven for 10 minutes at 190 C / 375 F / 170 FAN / Gas 5.
🍱 Prepare in Advance
Coat the prawns too far in advance as they will still leach out some liquid.
🤔 FAQs
Let me know what you think in the comments or you can post a picture and tag me on Twitter @chezlereve, Instagram @chezlerevefrancais, or Facebook @chezlerevefrancais
More fish dishes like this
📋 Recipe
More seafood recipes
🍲 Food Safety
Do not use the same utensils on cooked food, that previously touched raw meat.
Wash hands after touching raw meat.
Don't leave food sitting out at room temperature for extended periods.
Never leave cooking food unattended.
Use oils with high smoking point to avoid harmful compounds.
Always have good ventilation when using gas.
Do you have a question or did you make the recipe? Please leave a rating as it helps other readers to discover this dish. Your name and email are required to avoid spam comments; they are never used for any purpose or shared with third parties.
However, due to spam comments, I do have to moderate each one, so don't worry if you cannot see your comment immediately. I'll publish your comments as soon as I can.