Estimated reading time: 5 minutes
These Szechuan prawns are so delicious! Juicy prawns coated in a spicy Szechuan, salt and pepper coating and then baked until crisp for the perfect crunch.
There's no need to deep fry these, so they are healthier and perfect for a starter, appetiser or light lunch too.
Who needs the takeaway?
Bon appétit!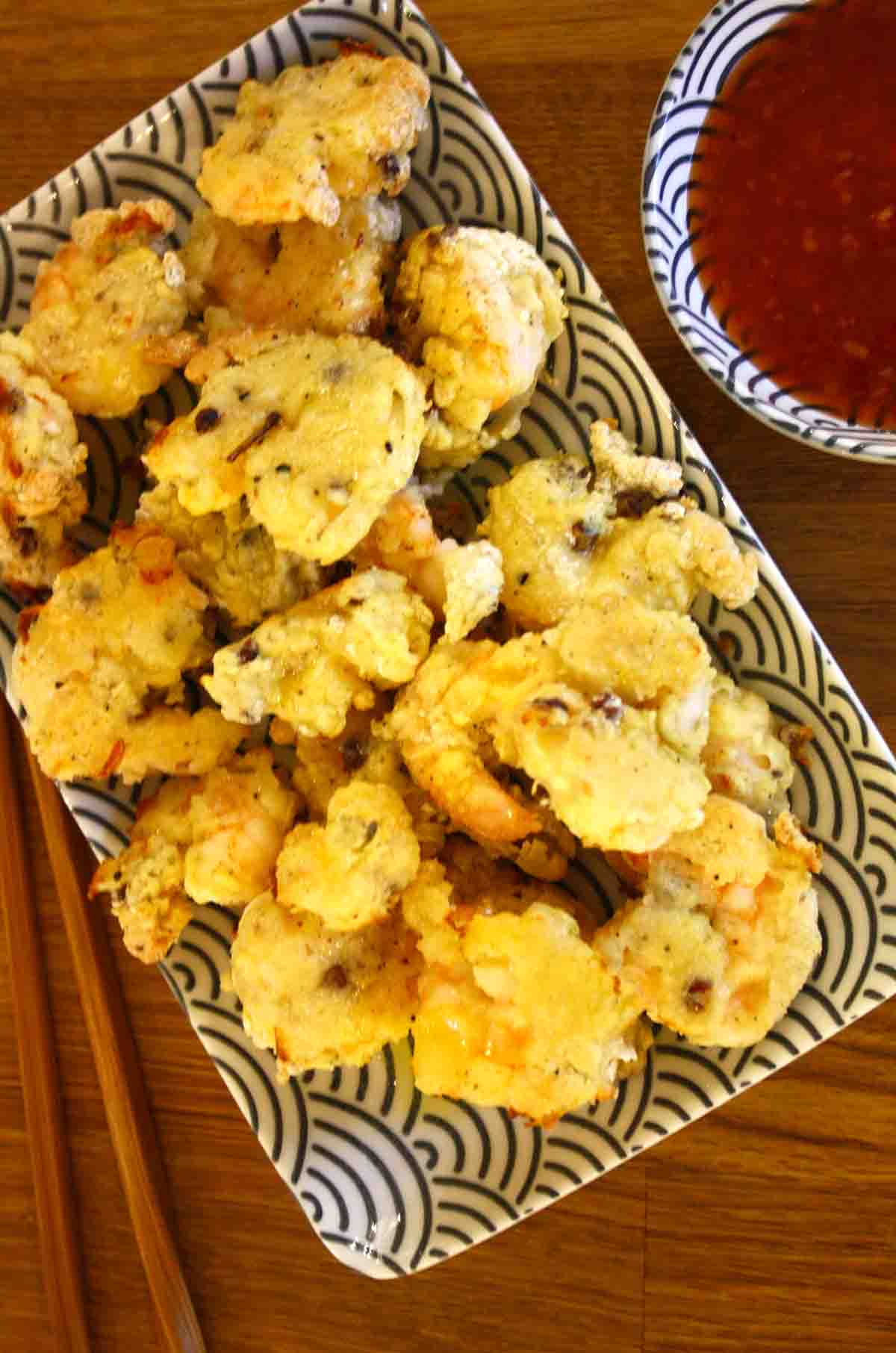 Jump to:
Why you will love this
I used to love takeaway food, but now I find that it is often expensive, disappointing, oily and, if you live in a village like me, just too far away to justify the trip.
Luckily, this recipe is just so easy and ready in about 20 minutes. There's no messing with hot oil either, which is much healthier for everyone.
You can adapt this recipe to use other ingredients too!
What are the ingredients?
There are few ingredients for salt and pepper prawns.
You will need raw king prawns, about 20 to feed for as a starter. If you are using frozen ones let them defrost thoroughly and then sit on paper towel to drain off. If they are too wet then the coating won't stick.
For the coating I use plain or all purpose flour with flaked sea salt and freshly ground black pepper, along with the Szechuan pepper.
If you like a burst of flavour you can the pepper like this or, if you prefer a more subtle taste, pound them with a pestle and mortar first.
How do you make this?
Put some flour in a bowl with the Szechuan pepper, flaked sea salt and ground black pepper.
Give it a good stir to distribute the spices.
I use frozen raw king prawns so dry them off with some paper towel and then add them to the flour and coat evenly with a fork.
Dip them in beaten egg and then back into the flour mix, to fully coat and place on a non stick baking tray.
Bake at 190C/350F for about 10 minutes until crisp.
Serve immediately with sweet chilli sauce.
Baked, crispy Szechuan salt and pepper prawns. They are not as naughty as normal but they are certainly delicious and very easy to do!
Recipe FAQs
Top tips
If you want more of a fine pepper mix I use a small coffee grinder just for spices like this. It also works well for cardamom pods and black pepper too.
The dipping of the prawns can get quite messy so I like to use one hand for flouring and the other for egg dipping. This will stop you from getting crusty hands!
More fish recipes to try
📋 Recipe
<
p style="margin: 0in;font-family: Calibri;font-size: 11.0pt">Be the first to receive new recipes in your inbox and get my free E-Book of 25 French Recipes! Subscribe here