Estimated reading time: 5 minutes
This seafood chow mein is packed with flavour and is ready in only 15 minutes!
With plenty of crunchy vegetables, moist seafood and soft noodles, this dish is full of texture and healthy too.
Perfect for a healthy week night meal and much quicker than a takeaway - you will love this idea.
Bon appétit!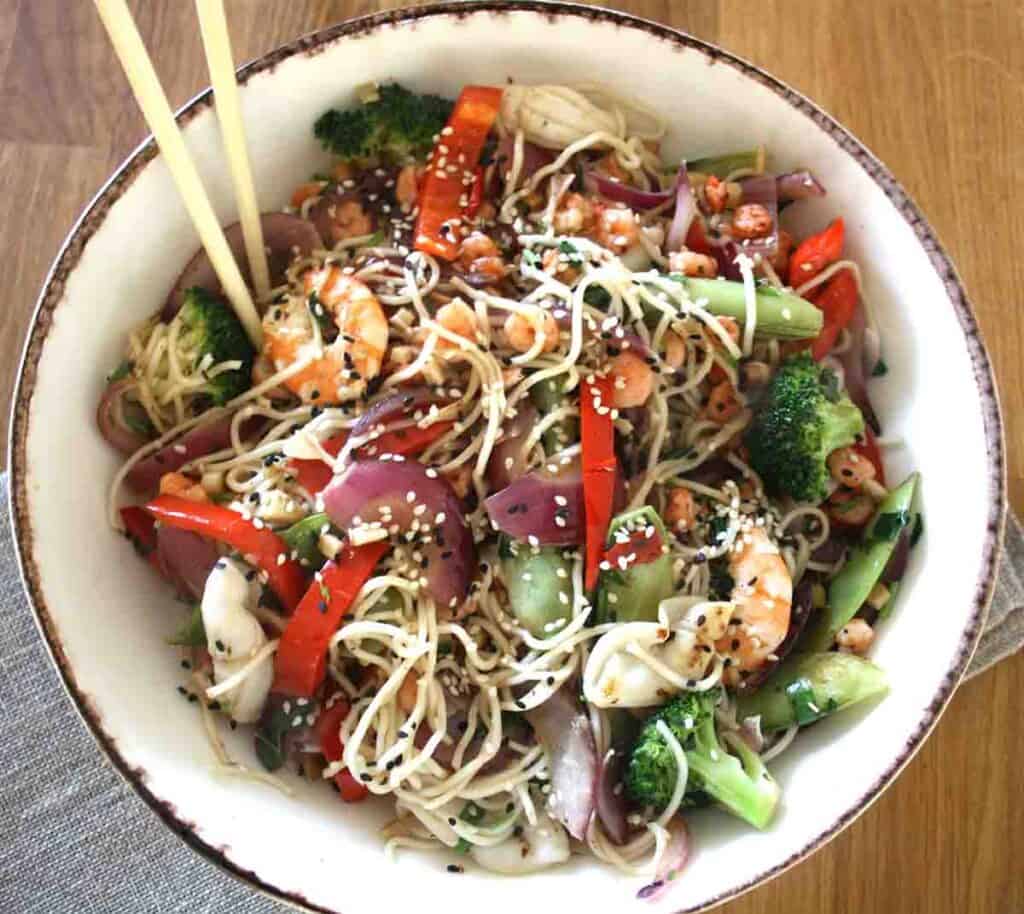 Jump to:
Why you will love this
This recipe is so versatile and we have it in one form or another every Monday evening.
I always have frozen raw and cooked squid and prawns in the freezer, so I put what I need in a bowl to defrost in some cold water while I'm chopping the vegetables. Whether they are raw or cooked they need very little cooking.
The best bit about the vegetables is that this is the perfect time to use up odd vegetables. I always seem to have half of a pepper or broccoli and an assortment of mushrooms too, so nothing goes to waste in this recipe.
What are the ingredients?
Use whatever vegetables you have or prefer. Just remember that vegetables like carrots take longer to cook so slice them thinly on the diagonal or cut them into matchsticks.
cooked or raw shelled prawns and squid, defrosted if frozen
ginger
garlic
chilli
lemon grass
sesame oil
soy sauce
red pepper
onion
broccoli cut into small pieces
medium egg noodles
How to make this dish
Start by getting all the vegetables washed and chopped.
For small squid tubes open them out and cut in half. Carefully make fine diagonally lines, first one way then the other. This will help the squid curl up as it cooks.
For large squid tubes, slice them into rings.
If you are using dried noodles, put them in a large bowl and cover with boiling water.
In a wok or deep frying pan heat some oil on a medium to high heat and add the onion for a couple of minutes.
Now tip in the garlic, chillies, lemon grass and ginger for one minute to release their flavours.
Add the rest of the vegetables.
Tip in the shellfish for a few minutes until opaque.
Drain the noodles and add to the wok and stir everything around. Add the soy sauce and sesame oil and stir again.
I find it's easier to serve seafood chow mein with tongs.
Now you are ready to dig in!
Recipe FAQs
Top tips
For convenience I buy large pieces of ginger and cut into 2cm portions and store in a bag in the freezer. If you have a micro plane grater I just grate the whole piece into the dish from frozen and the grater doesn't get clogged.
I freeze home grown chillies from fresh and then slice and cook from frozen. This way I never run out.
Swap the dried noodles for ready noodles to save even more time.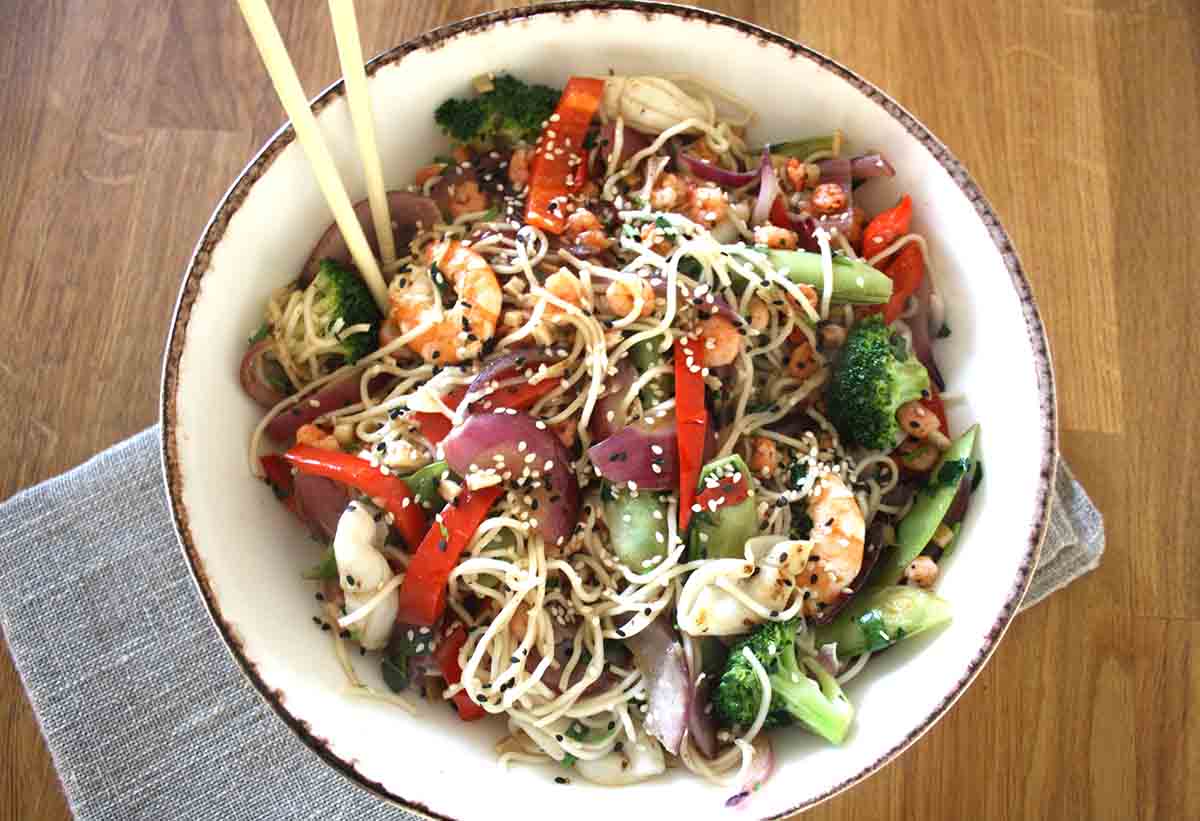 So here's my Prawn & Squid Noodle Bowl, so quick in under 15 minutes, so simple and so healthy.
More Asian style dishes to try
Pork and Peanut Moneybags
📋 Recipe