Have you tried stuffed calamari? This is a fabulous summer dish that you can easily prepare in advance and cook in just a few minutes.
The squid or calamari is stuffed with the aromatic flavours of garlic, ginger and chilli, mixed with prawns and crab. Then it's quickly grilled or griddled for a delicious low fat meal.
It's just so easy.
Bon appétit!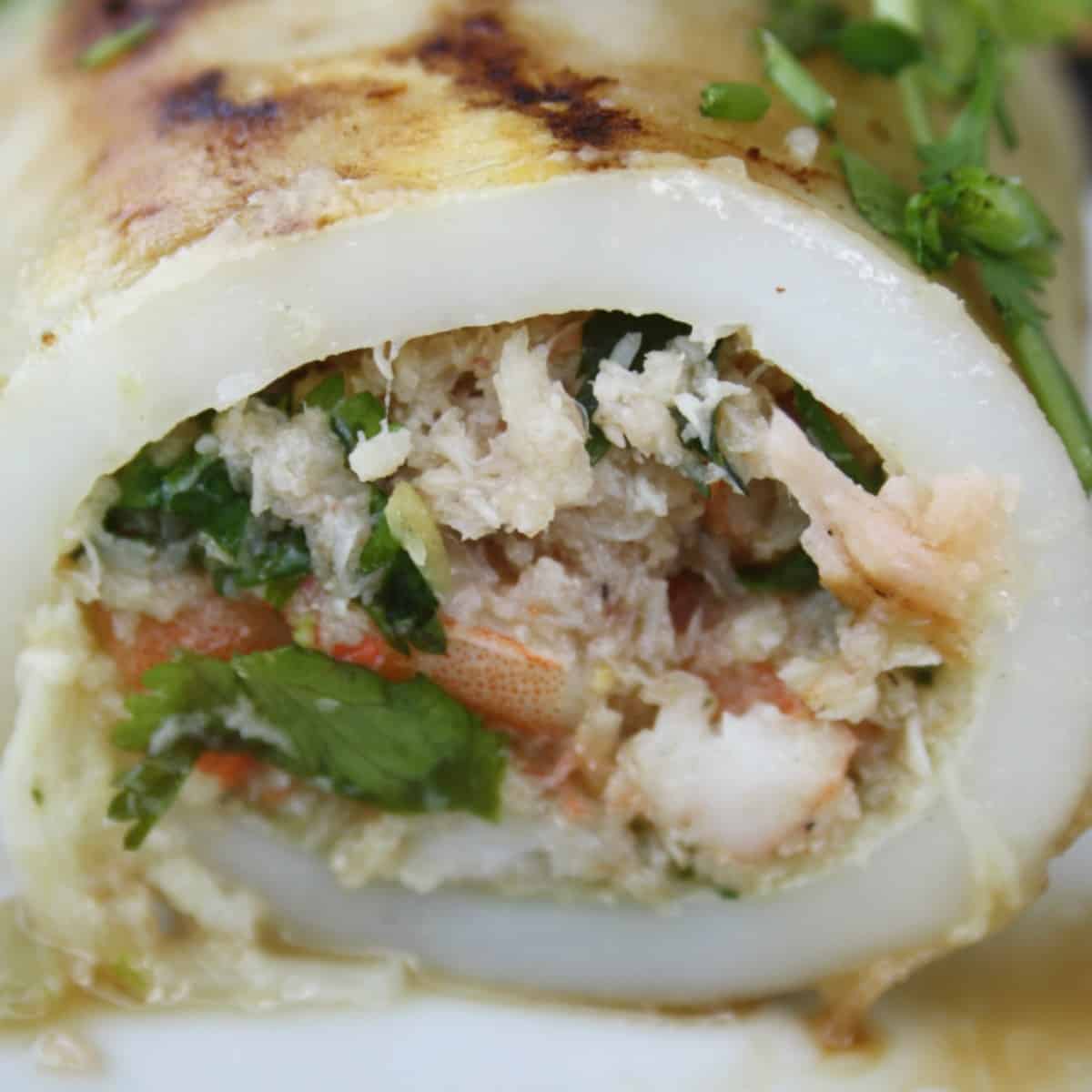 Jump to:
This is a family favourite in my house and for good reason too!
Firstly, I've used frozen squid tubes and prawns as it's cheaper than fresh and works perfectly. Better still, a tin of crab meat is all that is needed, as it goes a long way.
It's so easy to make the filling and get the squid stuffed in advance if you are entertaining, then it takes just less than 10 minutes to cook on a barbecue or griddle.
Best of all, each portion is only 263 calories!
❤️ Why you will love this dish
Prepare in advance.
Great for bbq, grilling or griddling.
Easy to vary the flavours.
Only 263 calories a portion
Delicious as a starter or main course.
Uses frozen calamari and prawns and crab from a tin.
💙 Save this recipe for later
Did you know? When you see the 💙 on the right hand side you can bookmark this page, to save it for later or share it too.
🥘 Ingredients
Squid tubes - calamari tubes cleaned and defrosted if frozen. An average squid tube is about 18 cm long, but sizes in the supermarket vary in size, so you would need 4 of this size for 4 people. If they are smaller, you might need to allocate 2 or more per person instead.
Prawns - use frozen and defrosted cooked prawns. There's no need to use expensive prawns as they will be chopped up. Small, cheaper prawns or shrimp are fine.
Crab - use fresh if you want but canned crab works well in this recipe.
Shrimp paste - this really enhances the flavour of the fish.
Shallots - long shallots are easier to peel and add a mild flavour.
Garlic - garlic cloves.
Ginger - fresh or frozen ginger. There's no need to peel it.
Red chillies - I've used long finger chillies.
Lime - zest and juice.
Oil - olive or vegetable oil for grilling.
Coriander - fresh coriander. Use the leaves and the stalks.
The printable recipe card with full ingredient quantities and instructions can be found at the bottom of the article.
🍽 Equipment
griddle pan or grill
cocktail sticks
sharp knife
chopping board
mixing bowl
grater/zester
juicer
🔪 Instructions
Peel the garlic and shallot.
Finely chop the shallots, garlic, ginger, chillies and coriander.
Heat the oil in a frying pan and fry the shallot and ginger until softened for a few minutes.
Now add the garlic and chillies for about a minute. Remove from the heat and allow to cool.
Chop the prawns and add the drained tinned crab, lime zest and juice, shrimp paste and the softened vegetables in a large bowl.
Mix everything together.
Carefully fill the squid tubes with the mixture, but don't pack it too tight.
Leave a good space at the the end so that you can secure with cocktail sticks.
⏲️ Cooking Time
Heat a griddle pan or barbecue and brush with oil. Cook over a medium to high heat for about 2 minutes or only until cooked through and opaque.
Eat immediately while they are warm.
I like to sprinkle over a few extra chillies and coriander and serve with extra lime.
I hope you like this recipe as much as we do!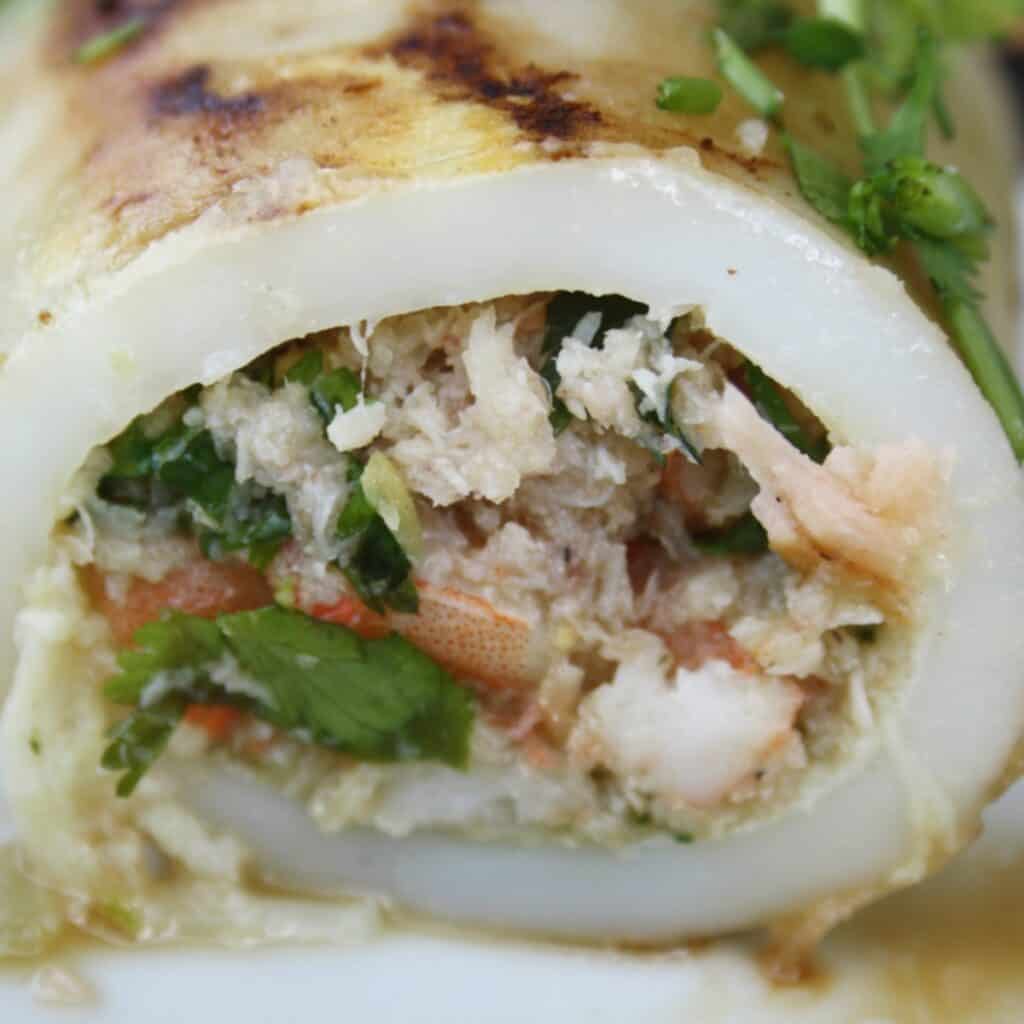 💭 Top Tips
To avoid waste I buy a bag of chillies or grow them and put them in a bag in the freezer. Take out what you need and slice or chop from frozen. This works for ginger too. Just cut it into 3cm chunks and grate it directly into curries or your recipe. It is much easier to grate when it's frozen as it doesn't clog the grater.
If you are using frozen fish, make sure that it is fully defrosted and dried with kitchen towel, otherwise the filling will be too wet.
If you are using small prawns or shrimp leave them whole to add some texture.
Add a splash of soy sauce to the pan, when the squid is almost cooked to give it extra colour and flavour.
🥗 Side Dishes
Try serving with some of these salads.
🥙 Substitutions
Crab - used poached and flaked salmon.
Shallots - use spring onions, but there is no need to cook them.
Fish paste - use a teaspoon of fish sauce or leave it out.
📖 Variations
Herbs - use dill, tarragon or parsley.
🍣 Storage
Refrigerator - cool, cover and refrigerate for up to 2 days.
Freezer - not suitable for freezing.
Reheat - add a little oil to a pan and fry over a medium heat for a few minutes.
🍱 Prepare in Advance
Make the stuffing and fill the calamari tubes a few hours in advance.
Let me know what you think in the comments or you can post a picture and tag me on Twitter @chezlereve, Instagram @chezlerevefrancais, or Facebook @chezlerevefrancais
More seafood recipes to try
📋 Recipe
More seafood recipes
🍲 Food Safety
Do not use the same utensils on cooked food, that previously touched raw meat.
Wash hands after touching raw meat.
Don't leave food sitting out at room temperature for extended periods.
Never leave cooking food unattended.
Use oils with high smoking point to avoid harmful compounds.
Always have good ventilation when using gas.
Do you have a question or did you make the recipe? Please leave a rating as it helps other readers to discover this dish. Your name and email are required to avoid spam comments; they are never used for any purpose or shared with third parties.
However, due to spam comments, I do have to moderate each one, so don't worry if you cannot see your comment immediately. I'll publish your comments as soon as I can.