Fish burgers? We've all done beef burgers and fish cakes so why not try a Thai fish burger?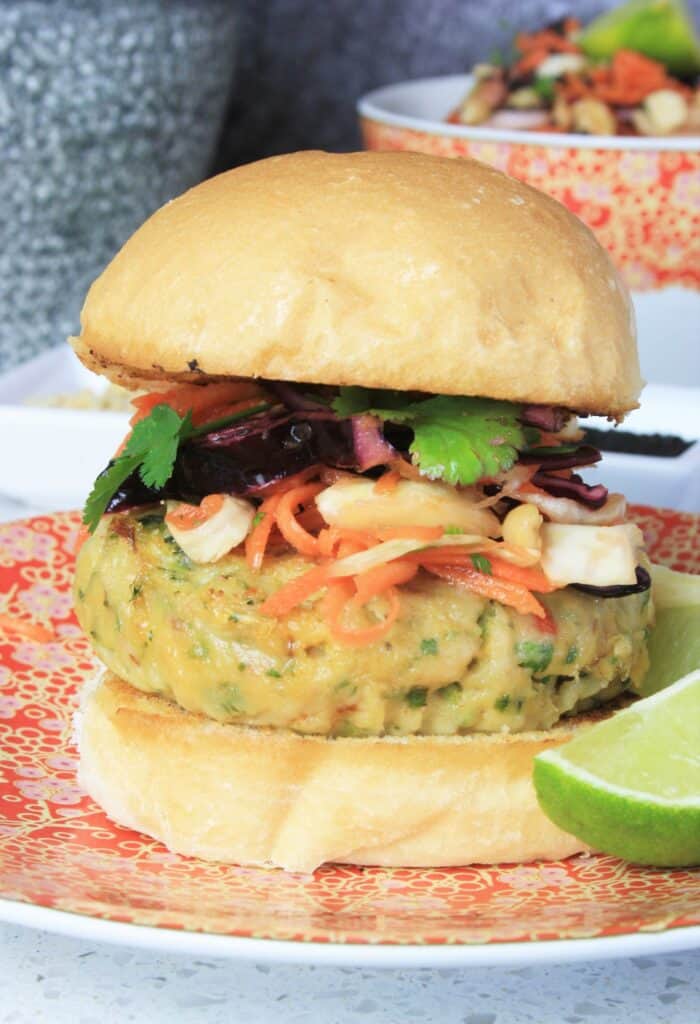 These fish burgers are very low in fat, taste great and work well on the barbecue too. This is a quick and easy dish which is also great for entertaining.
They are perfect for preparing in advance and the flavours mean that you might even win over a few fish phobics too!
What are the ingredients for the fish burgers?
Fish is generally expensive, wherever you live so for this recipe I am using frozen white fish fillets. In the UK and France this tends to be hake, which has a mild flavour and is naturally low in fat.
Youlwill need 500g for 4 people.
For the Thai flavours
1 lemon grass stalk
1 tablespoon Thai red curry paste from a jar
2 long red chillies
15 g fresh coriander
20 g ginger root
1 teaspoon fish sauce
You will also need
1 egg
2 tablespoon of plain or all purpose flour
1 tablespoon oil
1 like quartered to serve
Ingredient variations
It really doesn't matter what type of fish you use but it does need to be skinless and boneless. As the fish is going to be mixed with strong flavours there is no need to use a more expensive fish. Other fish you could use that are available in the UK are basa or pollack.
If you can't get hold of lemon grass try using the zest of a lemon or lime.
If you are not keen on heat thenreduce or leave out the chillies. You could use a small amount of chopped red bell peppers for colour.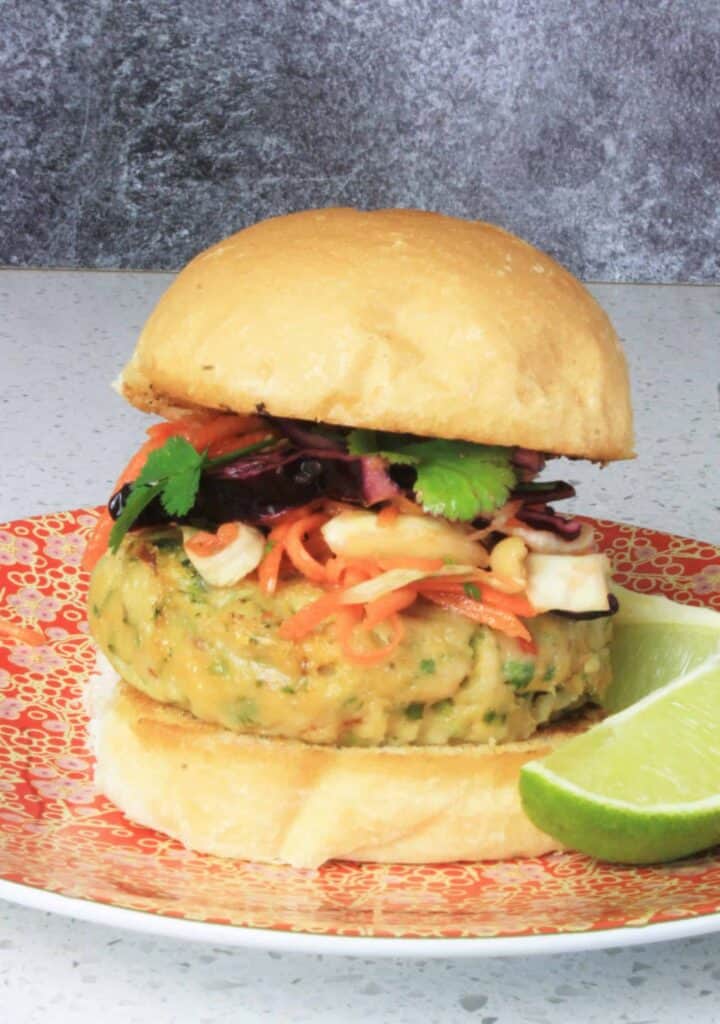 How to make the fish burgers
Start by chopping the fish into chunks.
If you are using frozen fish make sure that it is well thawed and place it in a colander over the sink. It's really important to squeeze out all the excess water ot the fish burgers will not stick together. You can use your hands to squeeze but I find it's easier to used a potato masher over the colander.
Lay the fish on some kitchen paper while you prepare the rest of the ingredients.
Rough chop the chillies, ginger, lemon grass and coriander and put in the food processor with the egg, sugar, fish sauce and red curry paste. Process until well combined.
Add the fish and pulse a few times until well combined. If the mixture still seems too wet add a tablespoon of flour.
Divide the mixture into four burgers using the flour to coat.
Refrigerate for the fish burgers for 30 minutes. I find this helps them to firm up and make them easier to fry.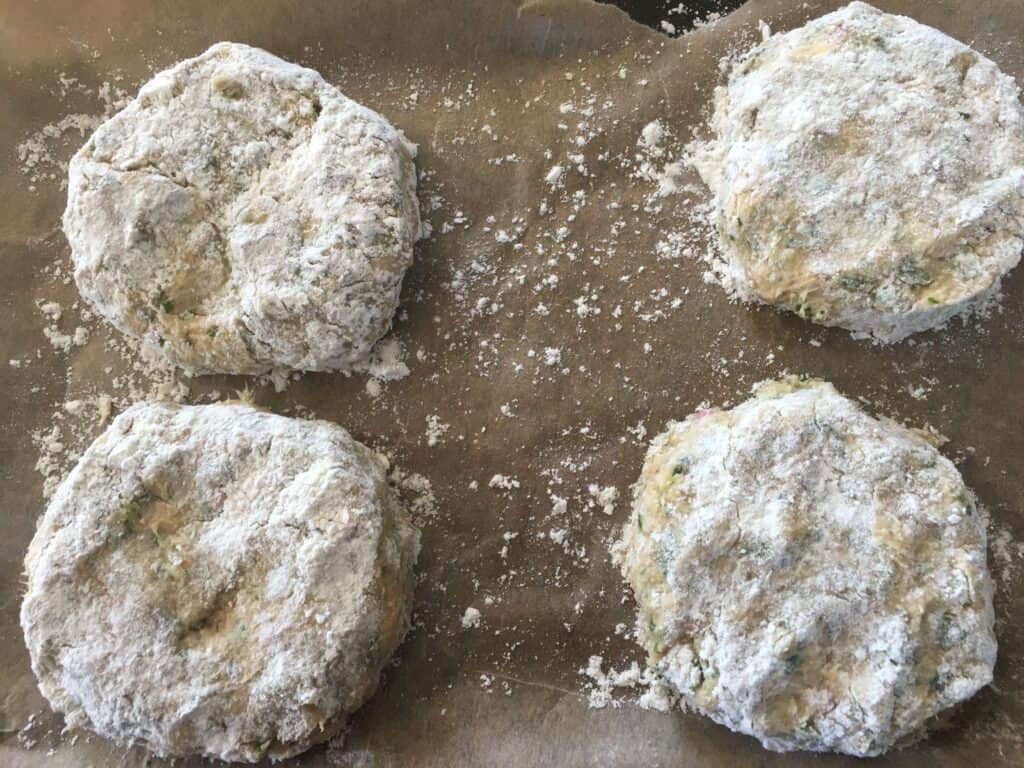 Heat the oil to medium in a non stick frying pan and add the burgers. They are quite thick so allow about 3-4 minutes a side. They are quite robust so you could griddle them or cook them on a well oiled grill or barbecue too.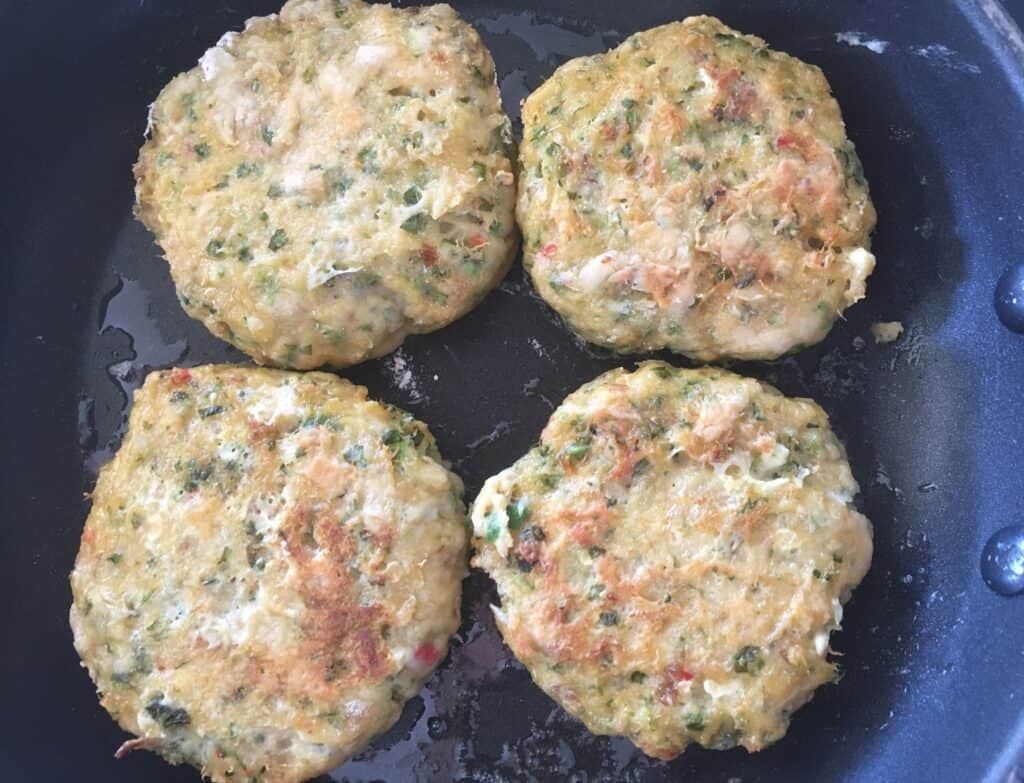 You can serve these straightaway or cool and reheat, or freeze later.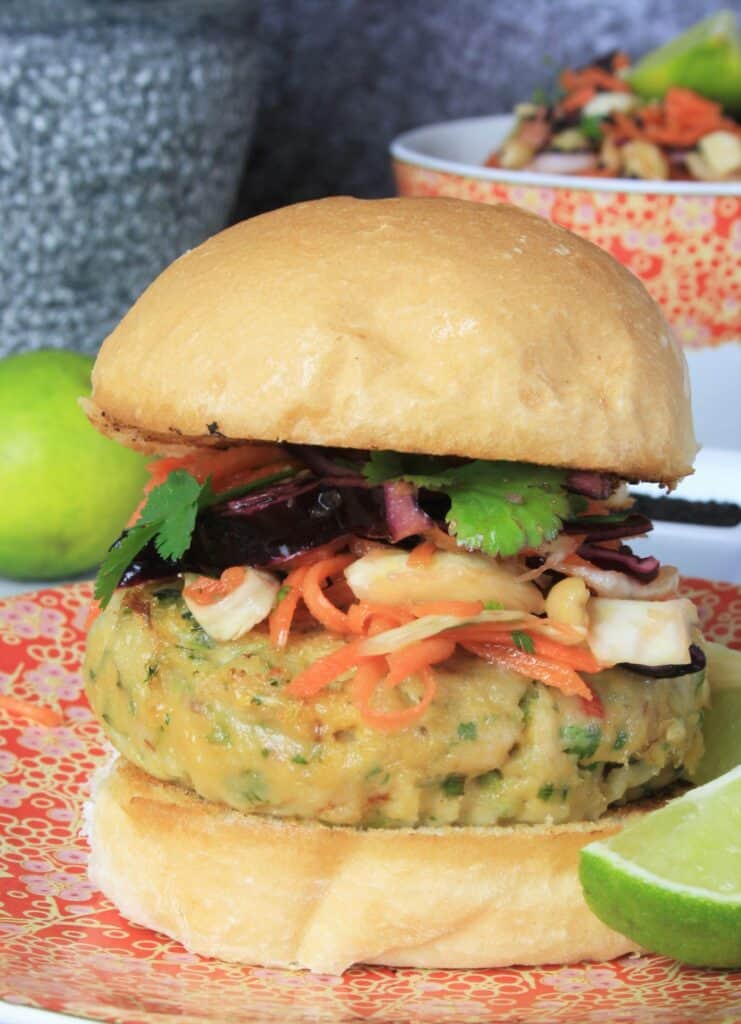 If you fancy another gurger with a difference try these homemade Beef Burgers Stuffed with Stilton.
What to serve with these burgers
I love to serve these heaped with Asian Coleslaw and nestled in a toasted bun!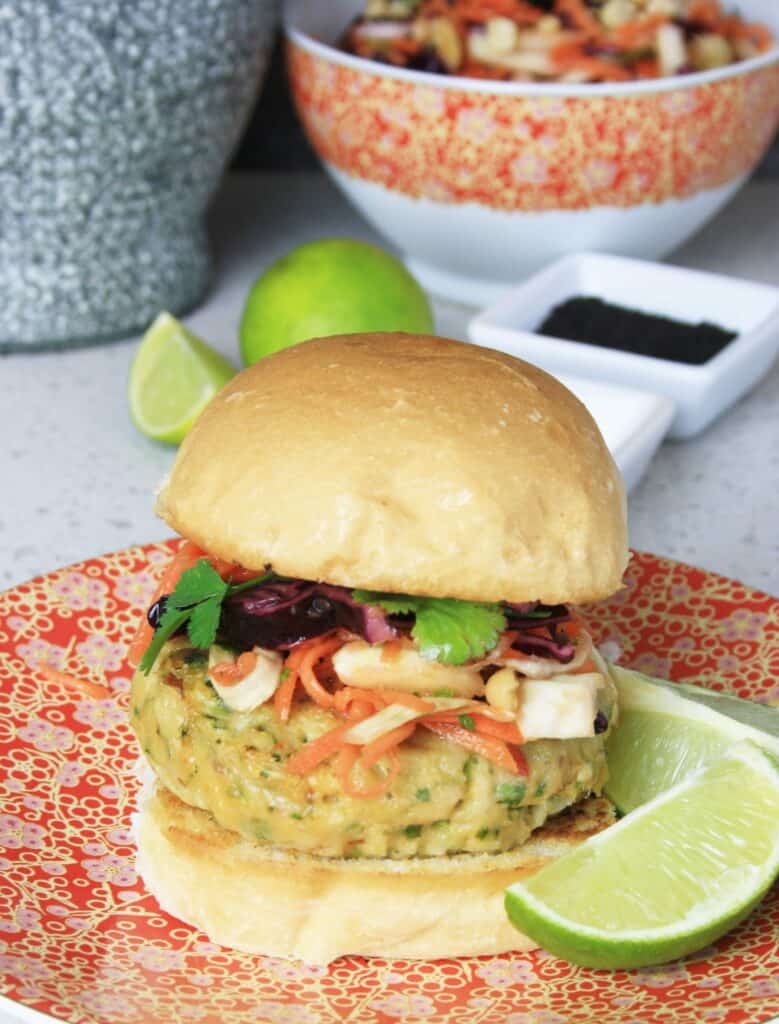 More fish dishes to try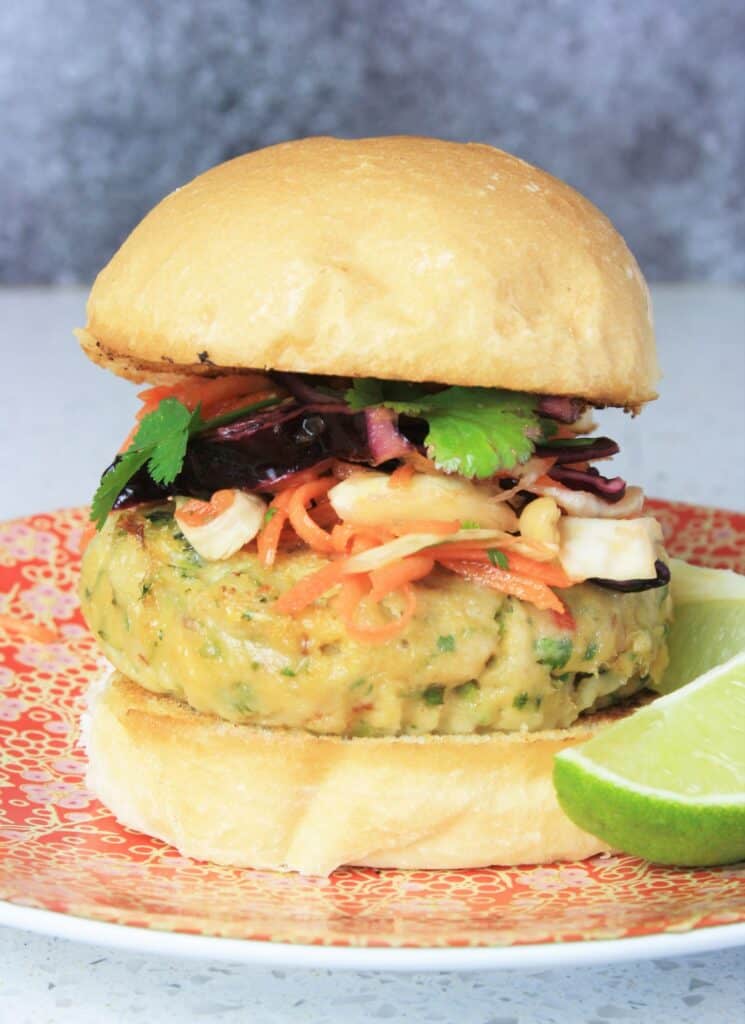 📋 Recipe
Thai Fish Burgers was originally published on the 15th May 2016 and has been updated with new pictures and content.
Food safety
We sometimes take for a granted that we have years (or decades) of cooking experience, that the average visitor may not. Add to, or remove from, the list below with health and safety tips.
Cook to a minimum temperature of 165 °F (74 °C)
Do not use the same utensils on cooked food, that previously touched raw meat
Wash hands after touching raw meat
Don't leave food sitting out at room temperature for extended periods
Never leave cooking food unattended
Use oils with high smoking point to avoid harmful compounds
Always have good ventilation when using a gas stove