This creamy chicken and leek pie is the perfect comfort food for autumn and winter weather.
Chunks of chicken are nestled in a rich creamy sauce with leeks and bacon, but there's no cream needed at all.
This pie also has a double crust, which is easy to make and comes out great every time.
You can make this chicken and ham pie from scratch, or you can cheat all the way. It's perfect for using up leftover chicken or turkey, especially if you need new ideas at Christmas and Thanksgiving.
Bon appétit.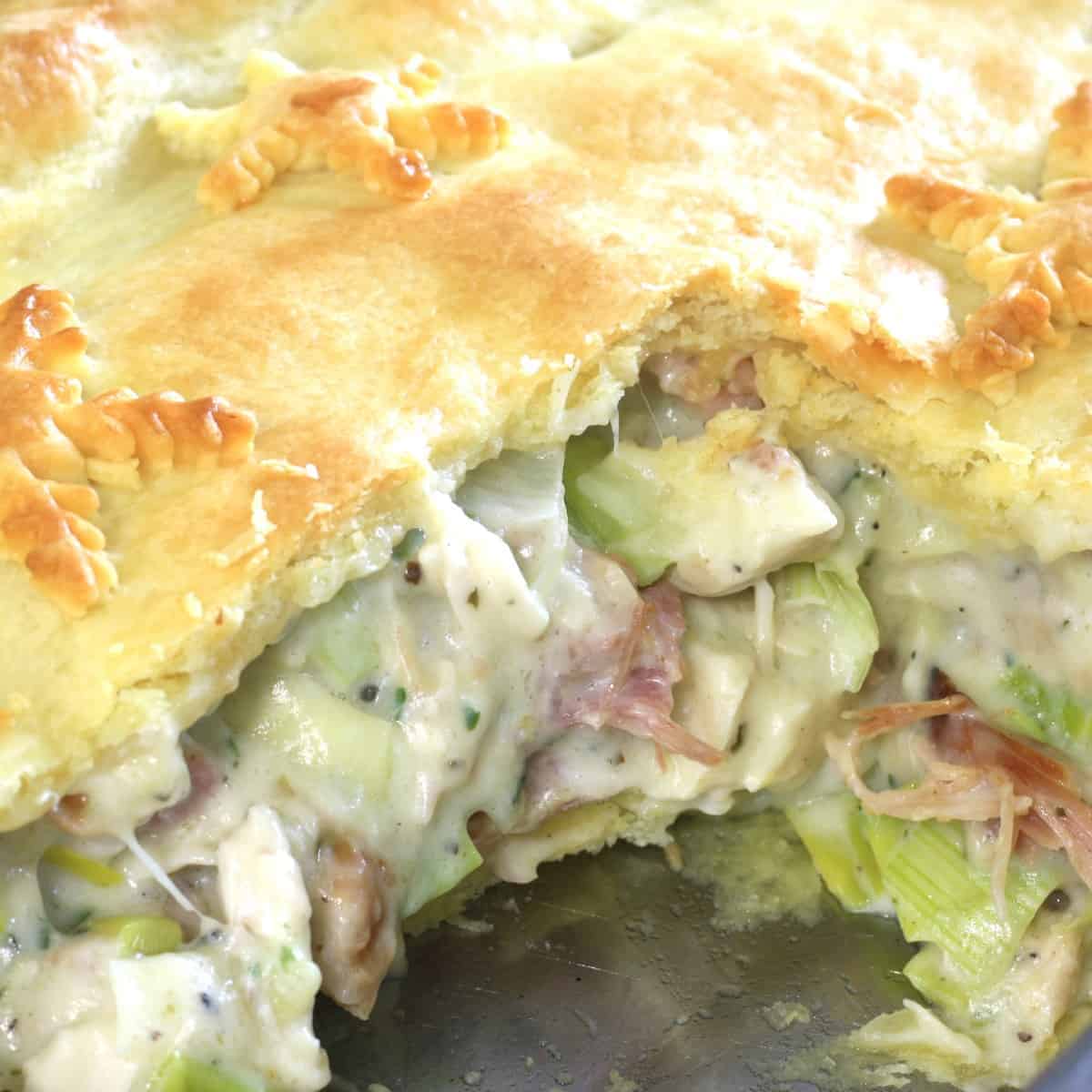 Jump to:
My family love a proper pie and if I ask my husband what he likes best it has to be a pie There are so many variations across the world and some great ones in the UK. If you are interested in some of the best British pies there are plenty to choose from.
One to definitely try is steak and kidney pie, a proper British favourite.
The great thing about this recipe is that you can make it from scratch, cooking the meat and making pastry, or you can do the whole lot with leftover meat and shop bought shortcrust or puff pastry.
There are so many variations too, with chicken and ham pie or chicken and bacon pie or just using vegetables.
Either way, this is a delicious pie, that will be a true family favourite. Serve with duchess potatoes or roast potatoes with roasted vegetables.
❤️ Why you will love this dish
Lots of variations. of pastry and fillings.
Perfect for using up leftovers from a roast.
Easy to save time by using ready made pastry.
💙 Save this recipe for later
Did you know? When you see the 💙 on the right hand side you can bookmark this page, to save it for later or share it too.
🥘 Ingredients
Chicken - boneless and skinless chicken breasts are easy to cook or boneless thighs.
Bacon - smoked bacon lardons. These have great flavour and are just small pieces of bacon.
Leeks - use both the white and green parts for maximum flavour.
Milk - whole milk or semi skimmed will give the best results. There's no cream in this version.
Butter - this gives the sauce an extra creaminess and taste.
Chicken stock - made from stock cubes or homemade.
Butter - for a rich tasting pastry. For the best pastry put the butter in the fridge until the last minute.
Flour - plain or all purpose flour
Lard - this makes the pastry really melt in the mouth. Use all butter if you prefer.
Seasoning - frehsly ground black pepper and salt to taste. Keep in mind that stock and salted butter will have already added salt to the sauce.
Egg - to glaze.
Tarragon - a teaspoon of dried tarragon.
The printable recipe card with full ingredient quantities and instructions can be found at the bottom of the article.
🍽 Equipment
ceramic pie dish about 26cm/10 inches in diameter
food processor - optional
rolling pin
measuring jug
cling film
saucepan
frying pan / skillet
wooden spoon
pastry brush
🔪 Instructions
Start by making the pastry.
I prefer to make my pastry with a higher quantity of fat to flour as I like the pastry to melt in the mouth.
For ease, use a food processor with the blade and a big bowl. Cut the butter and lard into cubes, so that it mixes quickly without overworking the flour. Add the flour and salt to the bowl and tip in the butter pieces.
Pulse a few times until the fat and flour is combined. Beat the egg and then add an egg and enough cold water until it comes together in one piece.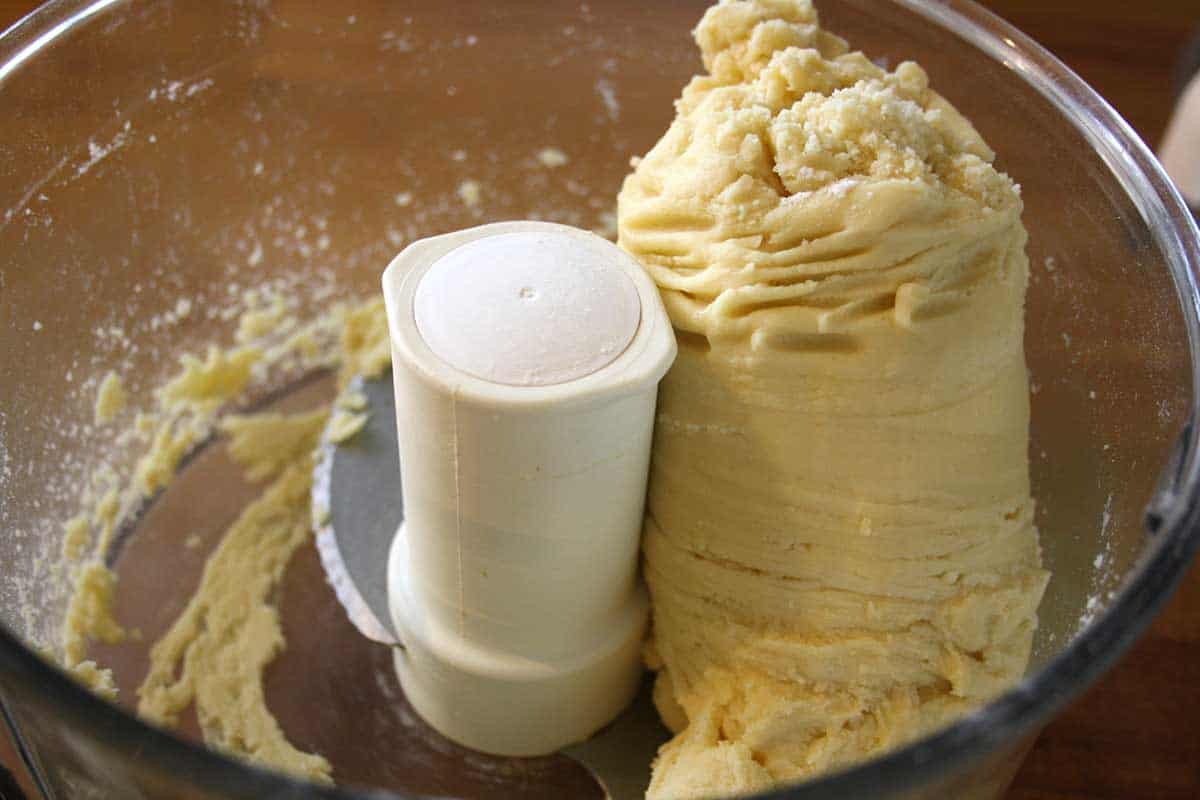 Of course, you can rub it in by hand, use a pastry cutter or just use a fork if you prefer.
Divide the dough into 2 round flat portions of ⅔ and ⅓.
Wrap each piece of dough in cling film and refrigerate for 30 minutes to let the dough rest.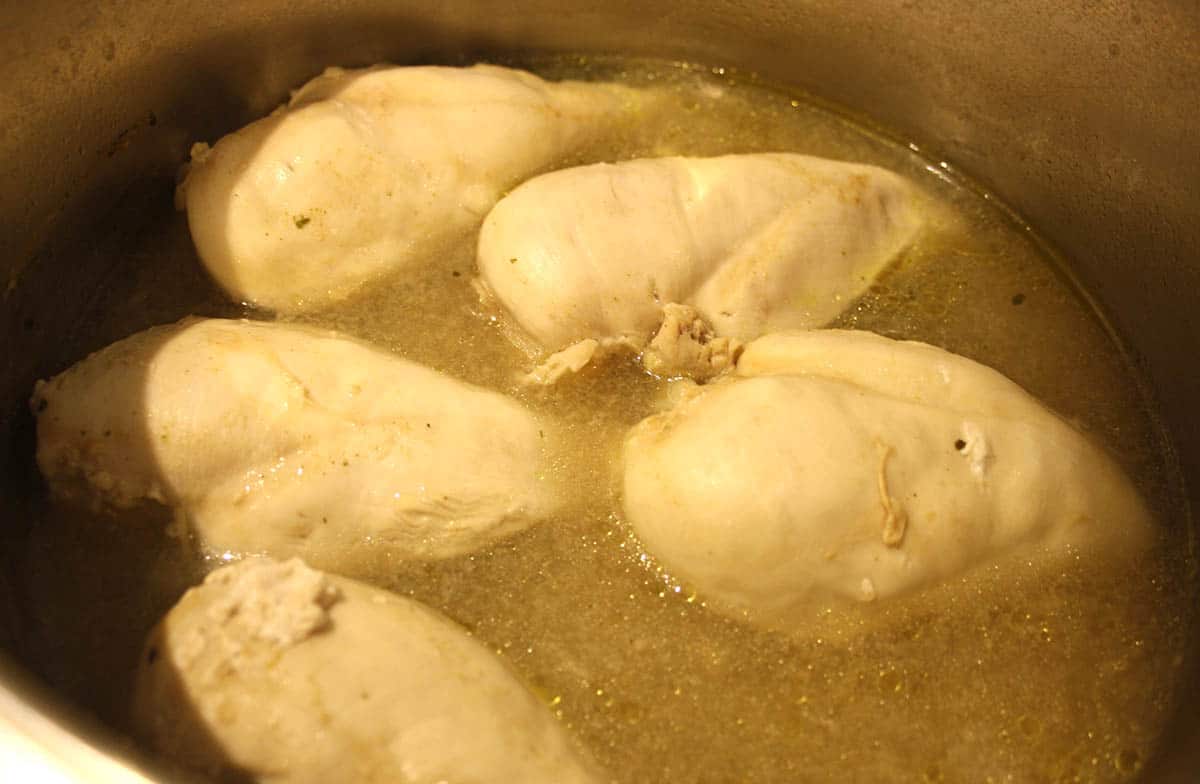 For the chicken,put 4 small chicken breasts in the chicken stock and bring to a simmer for about 15 minutes until it is cooked.
Put the chicken on a plate to cool and reserve 250ml/8 fl oz. of the stock for the sauce.
Take two forks and pull the chicken breast apart into bite sized chunks.
If you are using leftover chicken prepare it in the same way and if you are using cooked ham instead of bacon then shred or cut it into chunks.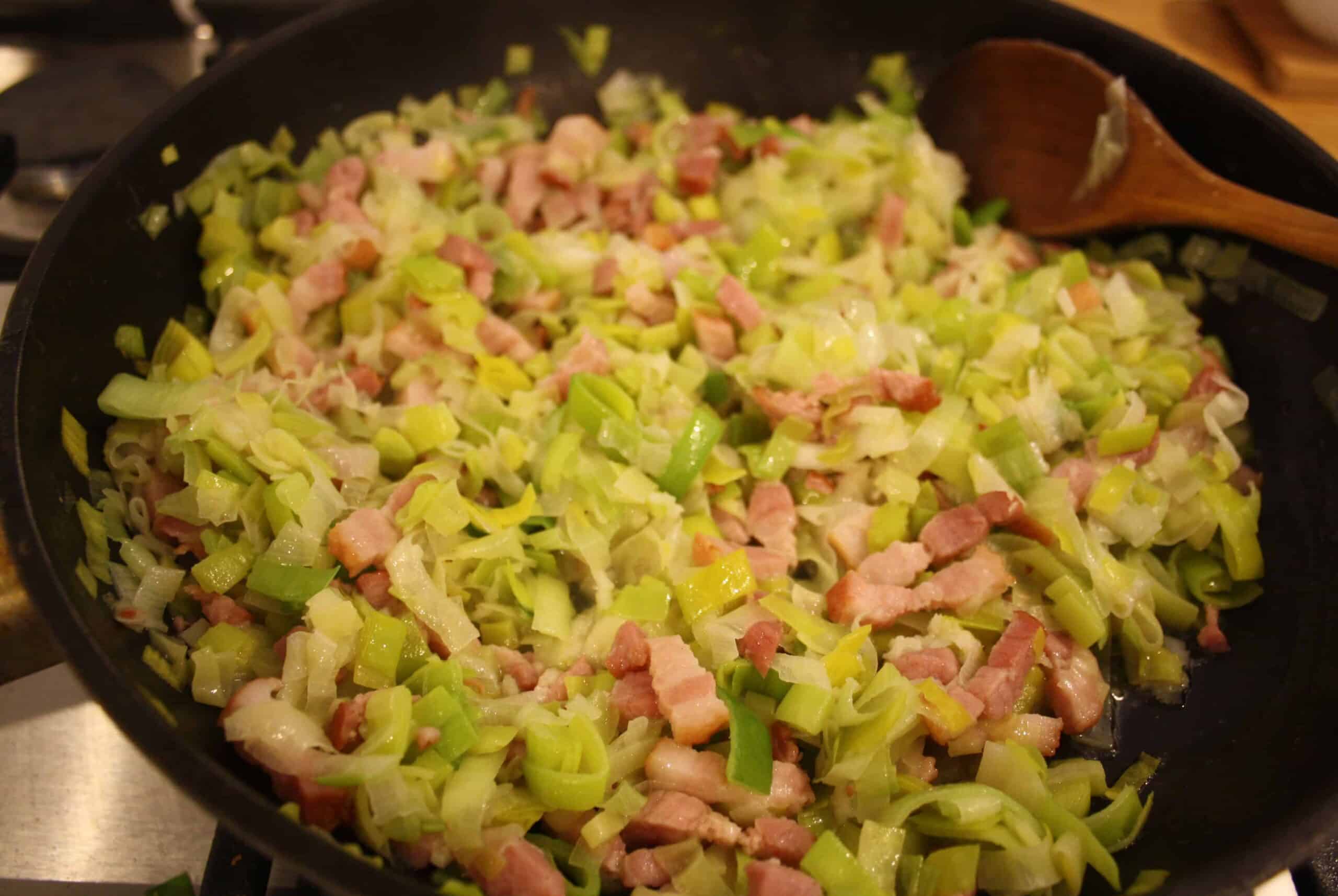 Fry the smoked bacon lardons or bacon together with finely sliced leeks in a large frying pan over a medium heat until softened.
If you are not using bacon add a little vegetable oil to fry the leeks.
Add the cooked chicken and cooked ham, if you are using, to the pan with the leeks.
Make the sauce by adding the retained stock and milk to a saucepan with the butter and flour. Cook over a medium heat, whisking constantly until the sauce thickens and comes to a boil. Simmer for a minute to make sure that the flour is cooked out or it will have a raw taste.
Season to taste and add the fresh or dried tarragon or other herbs of your choice.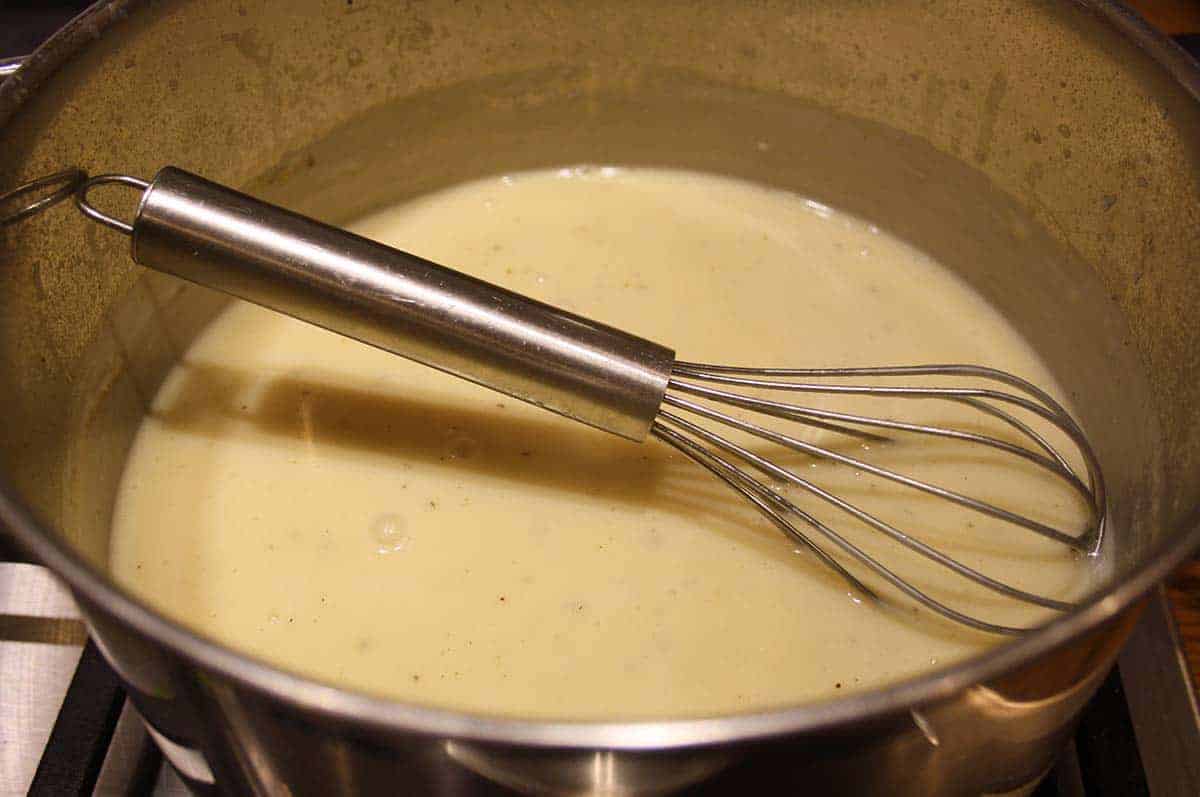 Pour the sauce over the the meat and leek mixture and stir well
Allow to cool, as adding the hot mixture to the pastry will cause it to start melting before it goes into the oven.
Roll out the larger piece of pastry to cover a pie dish with an overlap for the top and add in the cooled filling.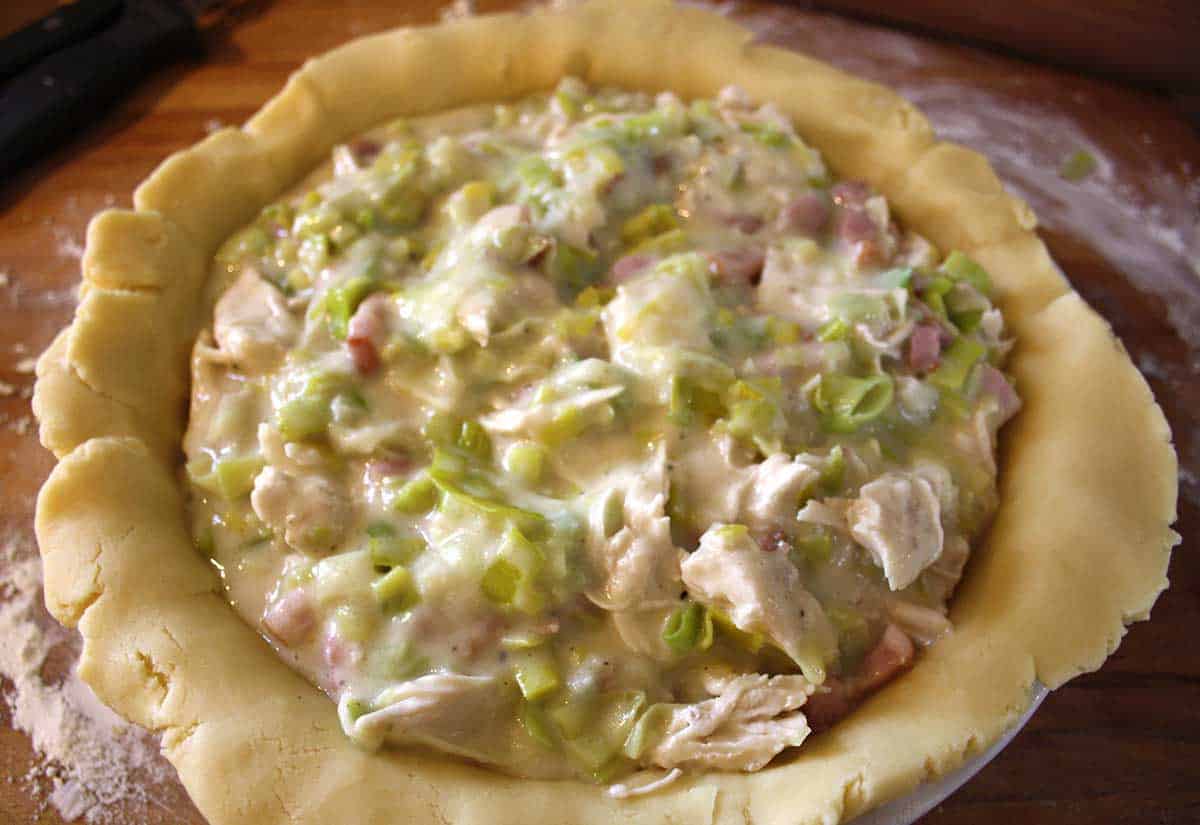 Beat the egg with a tablespoon of water.
Roll out the remaining dough and top the pie, sealing the edges with beaten egg and glazing the top. Make a small hole to let the steam escape.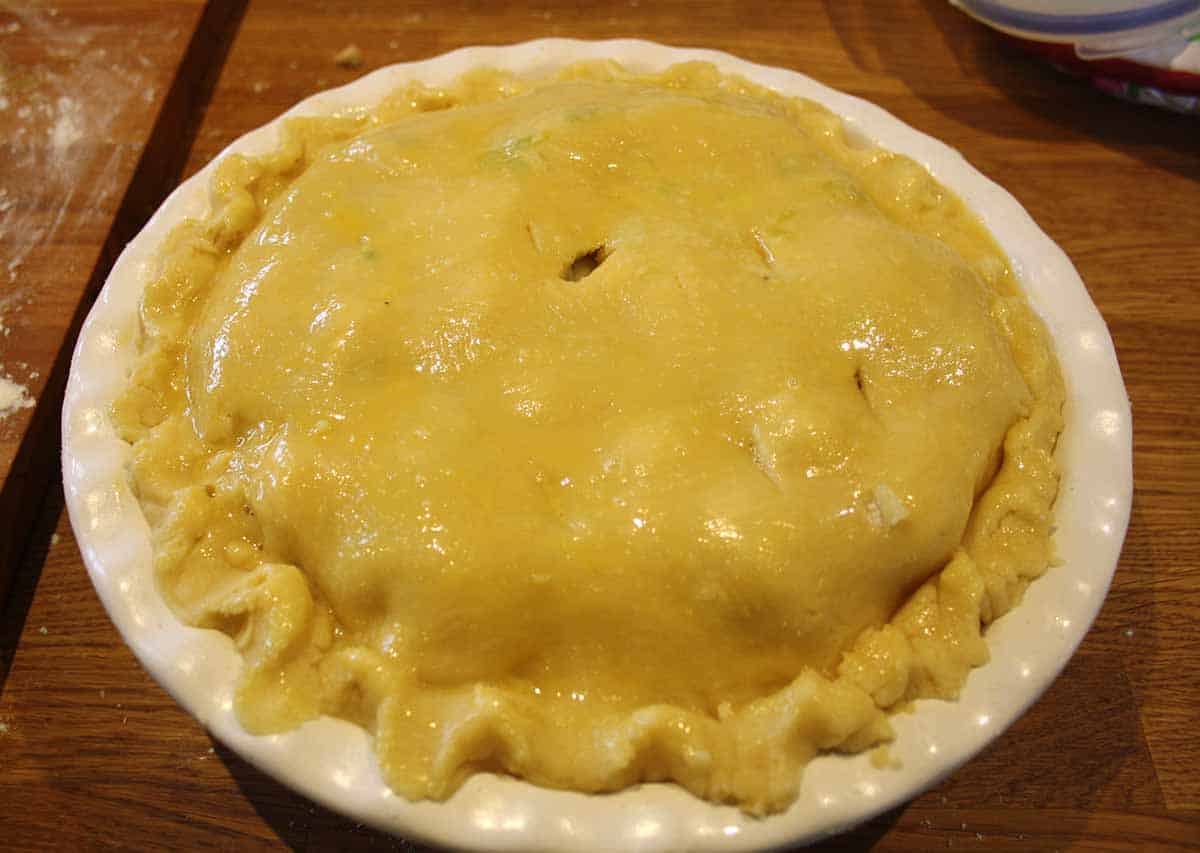 ⏲️ Baking time
Cook for 30-40 minutes at 190 C / 375 F / 170 FAN / Gas 5 until golden.
Here's the creamy chicken and leek pie.
So here's a delicious pie that is perfect to make from scratch or with leftovers.
🥗 Side Dishes
Serve with some of these side dishes.
🥙 Substitutions
Chicken - use skinless chicken thigh if you prefer or even a mixture. The thigh meat has great flavour and keeps really moist. This recipe is also perfect for using cold leftovers from chicken or turkey, if you have them or from a bought ready cooked chicken or rotisserie chicken. Make sure that you remove all of the skin as it tends to turn slimy in a pie.
Bacon - make it a chicken and ham pie and use chunks or pieces of leftover ham, rather than the bacon.
Leeks - instead try using sliced mushrooms or leave them out.
Sauce - use a tin of soup, such as mushroom or chicken instead of making the sauce.
Pastry - Use two sheets of ready rolled short crust pastry to save time.
📖 Variations
Pot pie - rather than using a double crust with shortcrust pastry just use a sheet of store bought puff pastry. Seal, glaze and bake as usual.
Vegetarian - simply use vegetable stock to cook vegetables of your choice. Try quartered mushrooms, broccoli florets broken up, , sliced peppers, green beans, peas and sweetcorn.
Luxury - instead of using milk you can substitute some of the quantity for single cream or light cream or use half and half.
🍣 Storage
Refrigerator - this creamy chicken and leek pie is best eaten on the day it is made. If you have made the pie with freshly cooked meat then cool, cover and refrigerate for up to 3 days.
Freezer - If you wanted to freeze the pie then assemble it and wrap well and freeze for a month. Defrost and brush with egg wash before cooking as normal.
Reheat - in an oven proof dish covered with foil until piping hot.
🍱 Prepare in Advance
Make the pie filling and pastry and assemble just before cooking.
💭 Top tips
If you have gravy left from a roast then use this as part of the sauce for extra flavour.
For meal preparation make use of the oven space while cooking. Put some chicken breasts or thighs in deep roasting dish, season, cover with foil and bake for 20 minutes. Refrigerate or freeze the meat in chunks or shredded to use in recipes.
🤔FAQs
Which pastry is best for pies?

If you want a double crust pie, with a layer of pastry at the bottom and on top of the filling, then shortcrust pastry is best because it will not try to rise up.

It's possible to use shortcrust for a bottom layer and puff pastry for the top.

For a pot pie, or top crust only, use flaky or puff pastry. You can also try using filo pastry for lighter topping. Cut sheets into quarters, scrunch them up and place on top of the pie before baking.
More pie recipes to try
📋 Recipe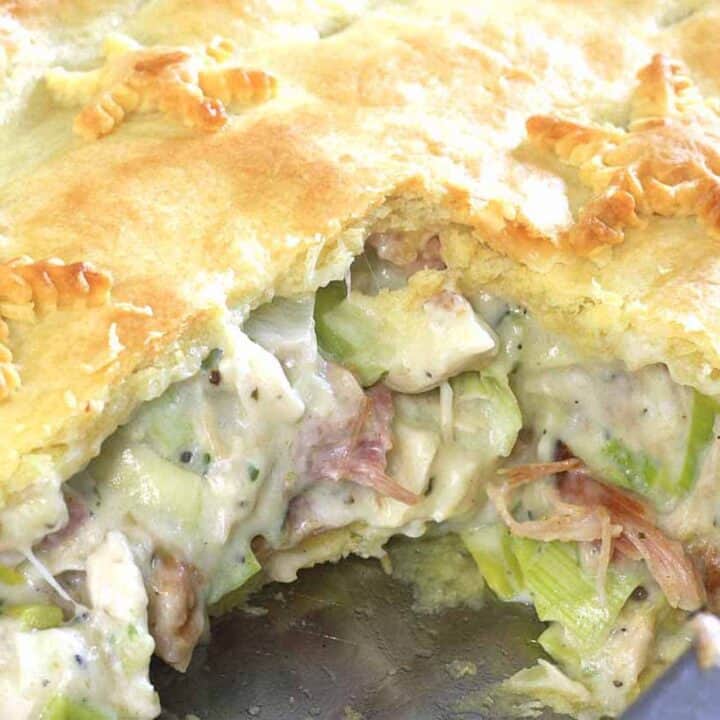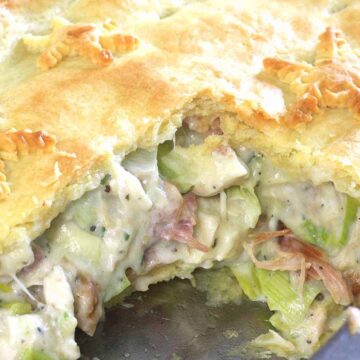 Creamy Chicken and Leek Pie.
Creamy chicken and leek pie with bacon or ham that you can make fully from scratch or use leftovers and store bought pastry. A real family favourite.
Equipment
ceramic pie dish about 26cm/10 inches in diameter

Food processor - optional

Rolling Pin

Measuring jug

cling film

saucepan

Frying pan / skillet

Pastry brush
Ingredients
600

g

chicken breast

200

g

smoked bacon lardons

2

leeks

washed and finely sliced

500

ml

chicken stock
Pastry
350

g

plain flour

½

teaspoon

salt

200

g

butter

or combination of butter and lard

1

beaten egg

1

tablespoon

cold water

if needed

beaten egg

to seal and glaze pie
Sauce
30

g

plain flour

30

g

butter

250

ml

milk

mixed with 250 ml of poaching stock
Instructions
Make the pastry by pulsing the flour, salt and fat together then adding in the beaten egg and sufficient water  to make a dough.

Divide into 2 portions of ⅓ and ⅔ then refrigerate wrapped in cling film for 30 minutes.

Poach the chicken in the stock for about 15 minutes and retain 250ml stock for the sauce and shred the chicken.

In a large pan fry the bacon in its own fat with the leeks until soft then add in the chicken.

Make the sauce by adding the 250ml of retained stock topped up with 250 ml milk to a saucepan with the flour and butter. Heat and whisk continuously until thickened and season to taste.

Pour the sauce over the chicken mixture and allow to cool.

Roll out the larger piece of dough to line a pie dish and add the meat mixture before topping with the remaining dough and sealing the edges with the beaten egg.

Glaze the pie top with egg and cook for about 30 minutes at

190 C / 375 F / 170FAN / Gas 5

until golden.
Nutrition Facts
Creamy Chicken and Leek Pie.
Amount Per Serving
Calories 797
Calories from Fat 387
% Daily Value*
Fat 43g66%
Cholesterol 224mg75%
Sodium 1720mg75%
Potassium 591mg17%
Carbohydrates 56g19%
Protein 46g92%
Vitamin A 1522IU30%
Vitamin C 5mg6%
Calcium 46mg5%
Iron 4mg22%
* Percent Daily Values are based on a 2000 calorie diet.
Disclaimer: The nutritional information provided is approximate and is calculated using online tools. Information can vary depending on various factors, but we have endeavoured to be as accurate as possible.
Detailed instructions for this recipe, including step by step photographs, hints and tips, can be found in the main article.
Food Safety
Do not use the same utensils on cooked food, that previously touched raw meat.
Wash hands after touching raw meat.
Don't leave food sitting out at room temperature for extended periods.
Never leave cooking food unattended.
Use oils with high smoking point to avoid harmful compounds.
Always have good ventilation when using gas.
Do you have a question or did you make the recipe? Please leave a rating as it helps other readers to discover this dish. Your name and email are required to avoid spam comments; they are never used for any purpose or shared with third parties.
However, due to spam comments, I do have to moderate each one, so don't worry if you cannot see your comment immediately. I'll publish your comments as soon as I can.