This chicken and leek pie is the PERFECT comfort food for the cooler weather.
Chunks of chicken are nestled in a rich creamy sauce with leeks and bacon but you won't need any cream at all. What could be better than that? Well, this pie also has a double crust, which is easy to make and comes out great every time.
You can make this chicken and bacon pie from scratch, or you can cheat all the way. I won't tell anyone! It's perfect for using up leftover chicken or turkey, especially if you need new ideas at Christmas and Thanksgiving.
Bon appétit!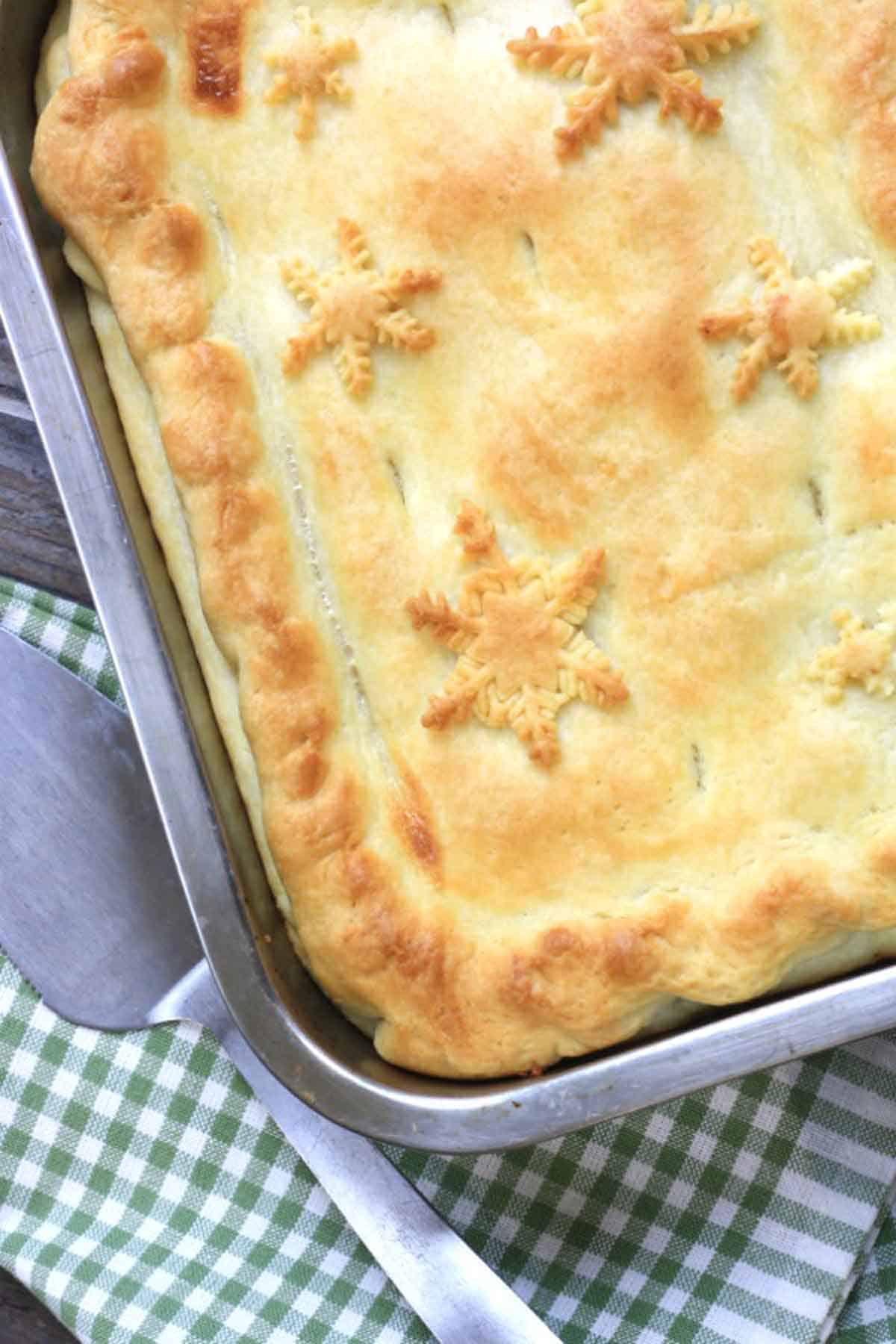 Jump to:
My family love a proper pie and if I ask my husband what he likes best it has to be a pie! There are so many variations across the world and some great ones in the UK. If you are interested in some of the best British pies, there are plenty to choose from.
What are the ingredients?
To make this dish from scratch I've used chicken breasts but you could easily substitute turkey or use thigh meat. Thigh meat is a great choice for pies as the meat tends to have more flavour and stays juicy.
I've used smoked bacon lardons, but any bacon will work for the sauce. You will also need, milk, butter and chicken stock.
The pastry is just butter and flour combined with egg and water, but the recipe also has lard. My grandma always used it in pastry and it does make the pastry in savoury pies much lighter and meltingly tender.
You can also add fresh herbs to the pie. I love to use a tablespoon of chopped fresh tarragon but you can use a teaspoon of your favourite dried herbs too.
How to cheat in this recipe!
This recipe is not difficult but life certainly can be, so here is a list of ways to cheat in this dish, for when you don't have the time or energy for the whole process.
Use cold leftovers from chicken or turkey, if you have them from a leftover roast, of use bought ready cooked chicken.
Use leftover ham of any kind rather than the bacon.
If you have gravy left from a roast then use this as part of the sauce for extra flavour.
Try using a tin of soup, such as mushroom or chicken instead of making the sauce at all.
Use two sheets of ready rolled short crust pastry to save time or just use one for a top crust pie instead.
How to make the chicken and leek pie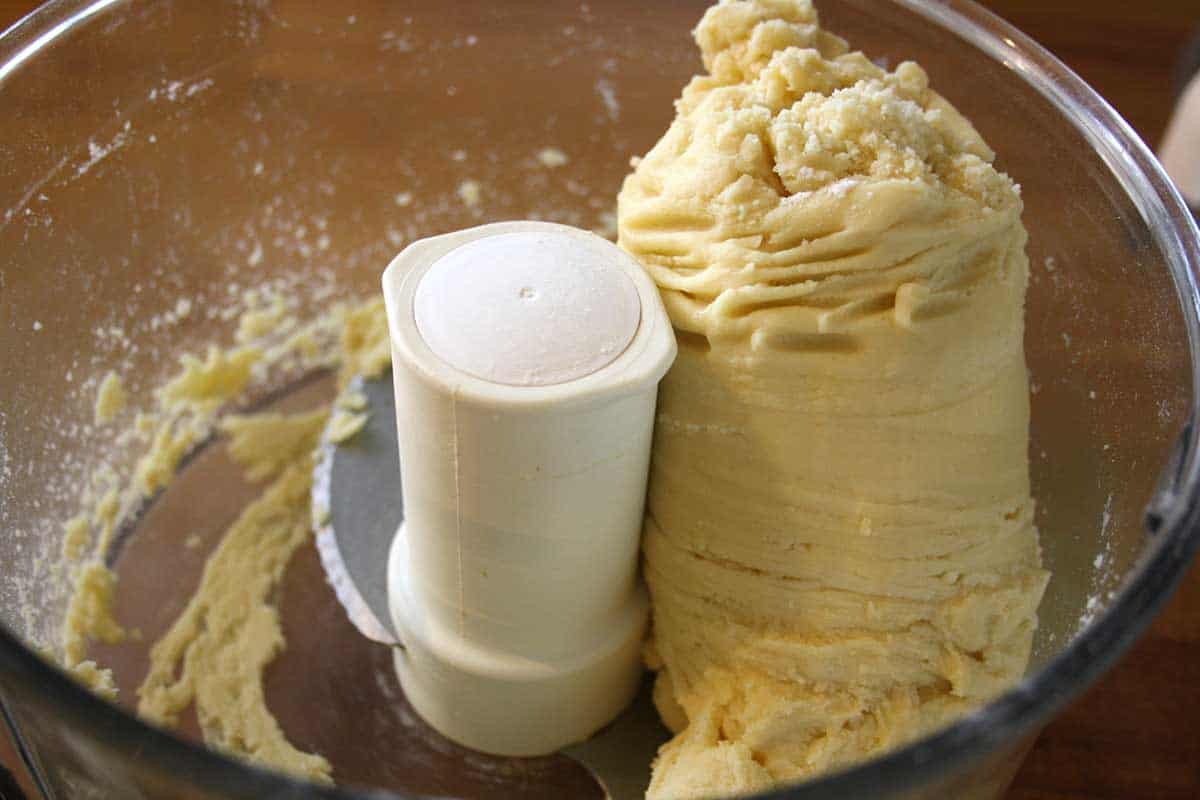 I prefer to make my pastry with a high quantity of fat to flour as I like the pastry to melt in the mouth. For ease, I always use a food processor to pulse until the fat and flour is combined and then tip in an egg and enough cold water until it comes together in a lump.
Of course, you can rub it in by hand or use a fork like my grandma did. Neither of us could stand having sticky hands! Divide the dough into 2 portions of ⅔ and ⅓ and wrap in cling film. Refrigerate for 30 minutes.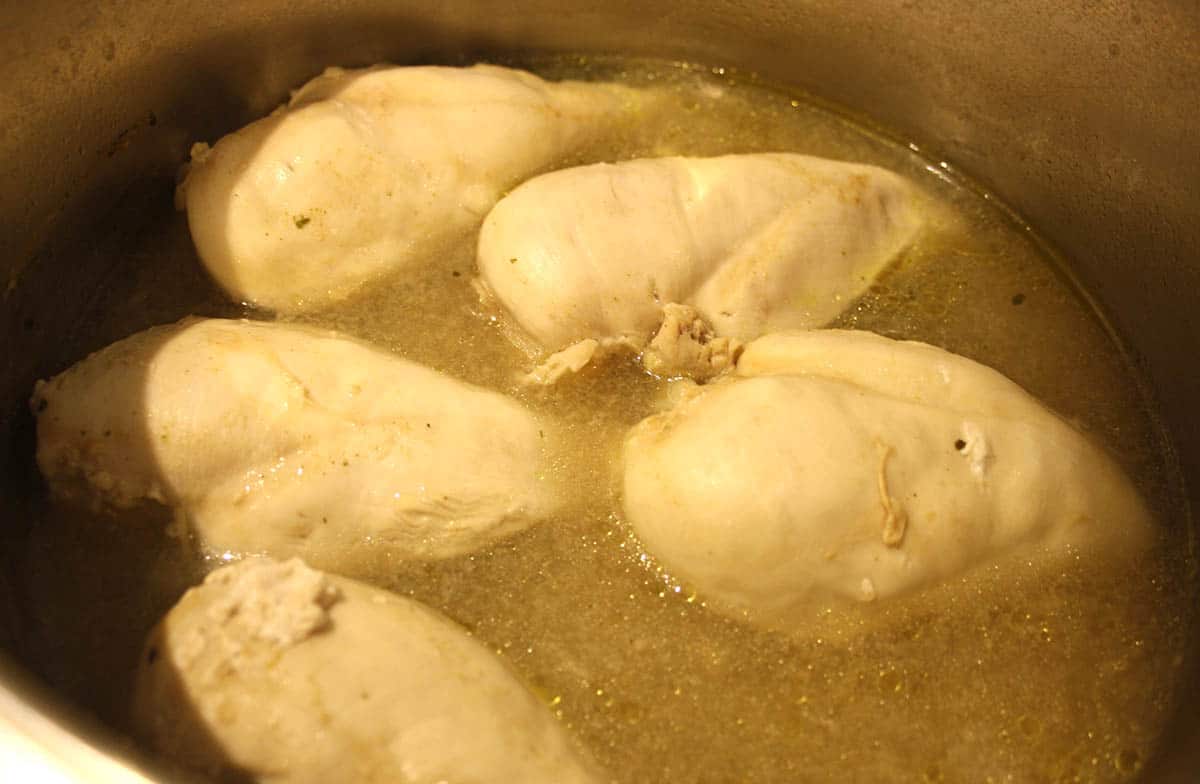 For the chicken I put 4 small chicken breasts in stock and simmered for about 15 minutes until cooked. Reserve the stock for the sauce.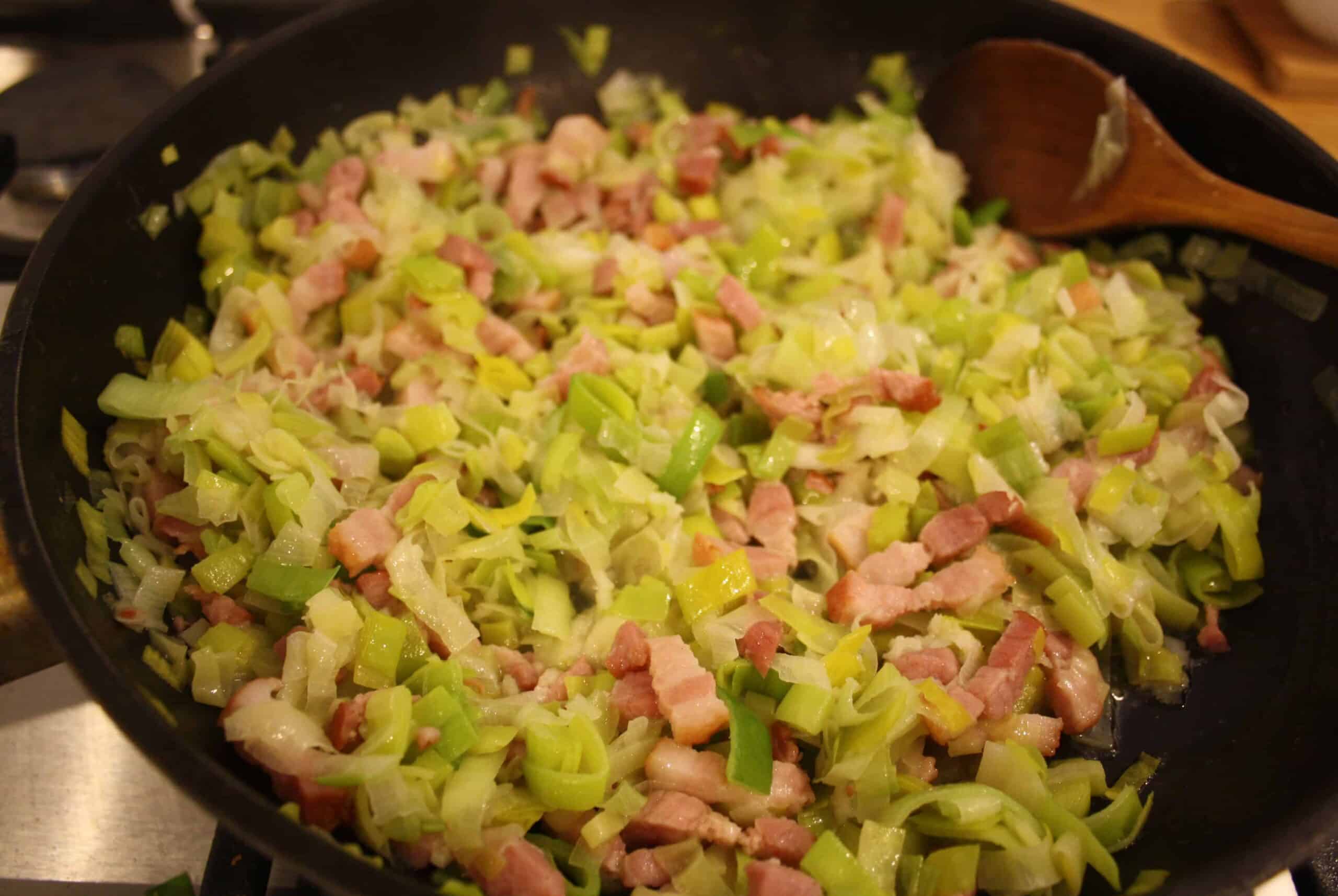 Fry smoked bacon lardons together with finely sliced leeks in a large frying pan until softened.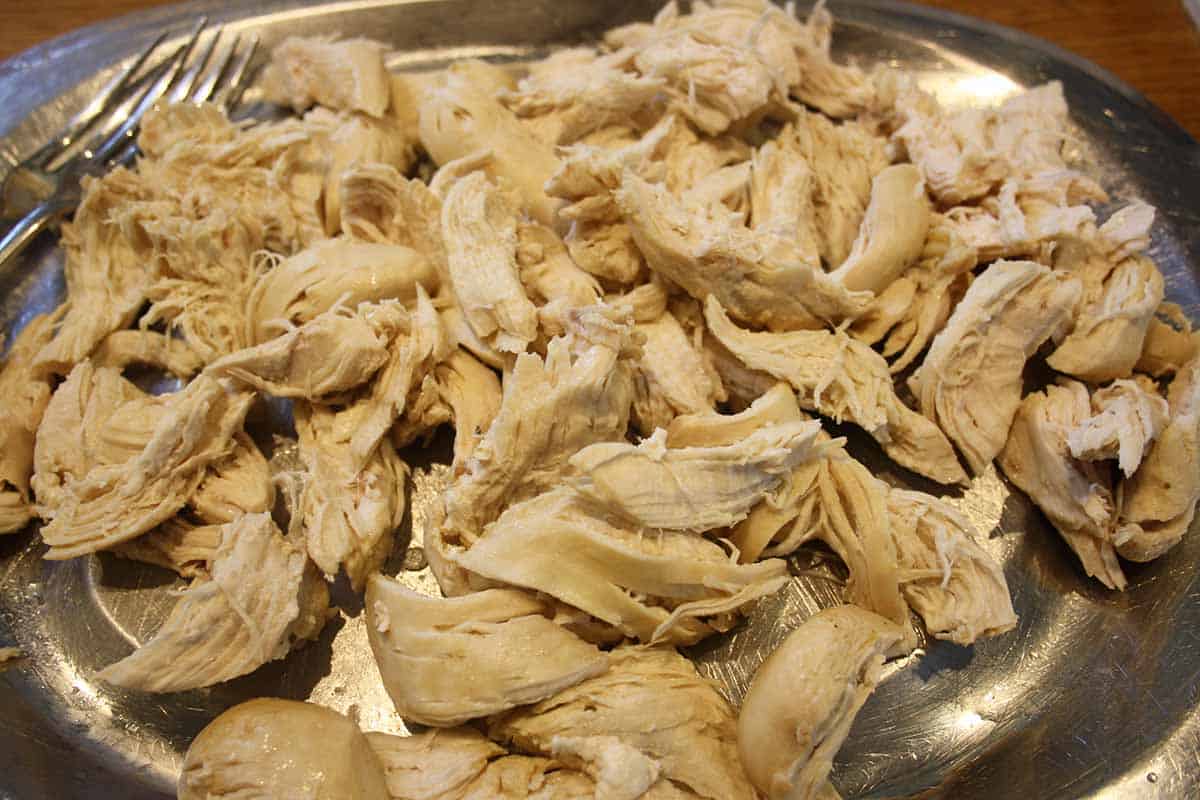 Use a couple of forks to shred the chicken into bite size pieces and add them to the pan with the leeks and bacon.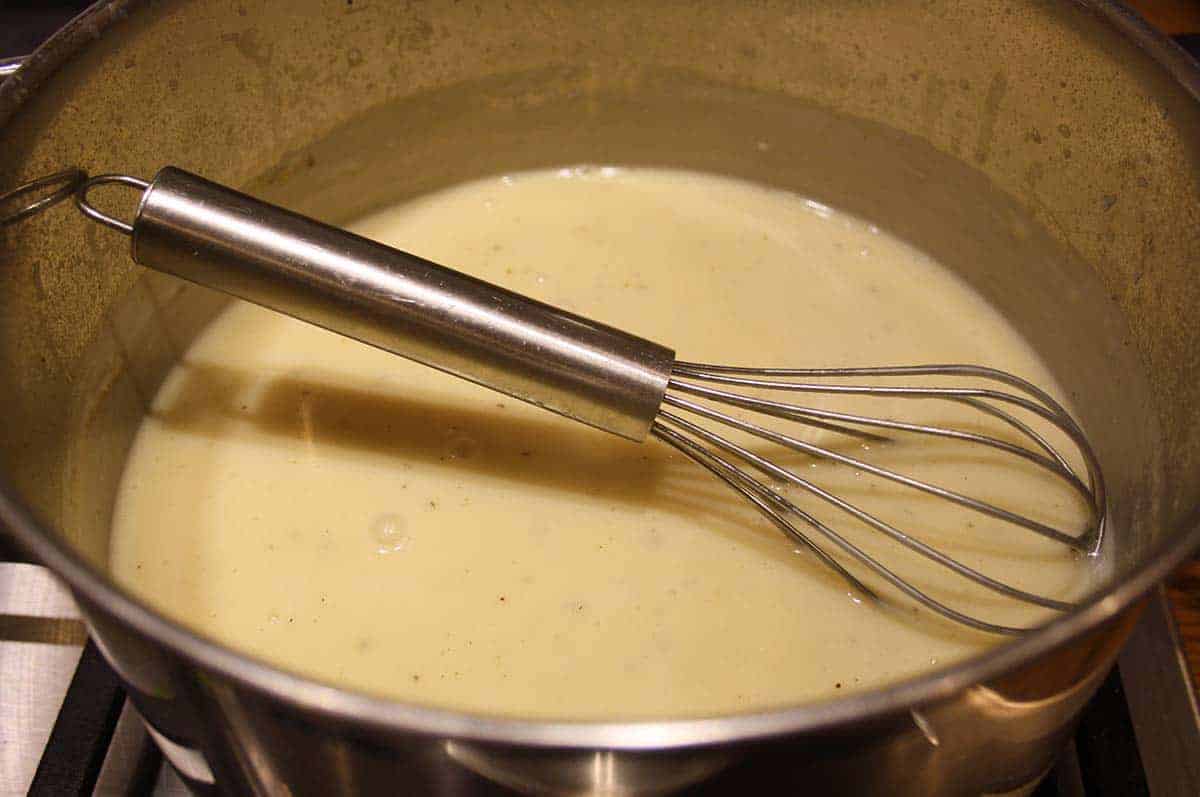 Make the sauce by adding the retained stock and milk to a saucepan with the butter and flour. Whisk constantly while it comes up to the boil and season to taste. Pour over the the meat and leek mixture and stir well. Allow to cool.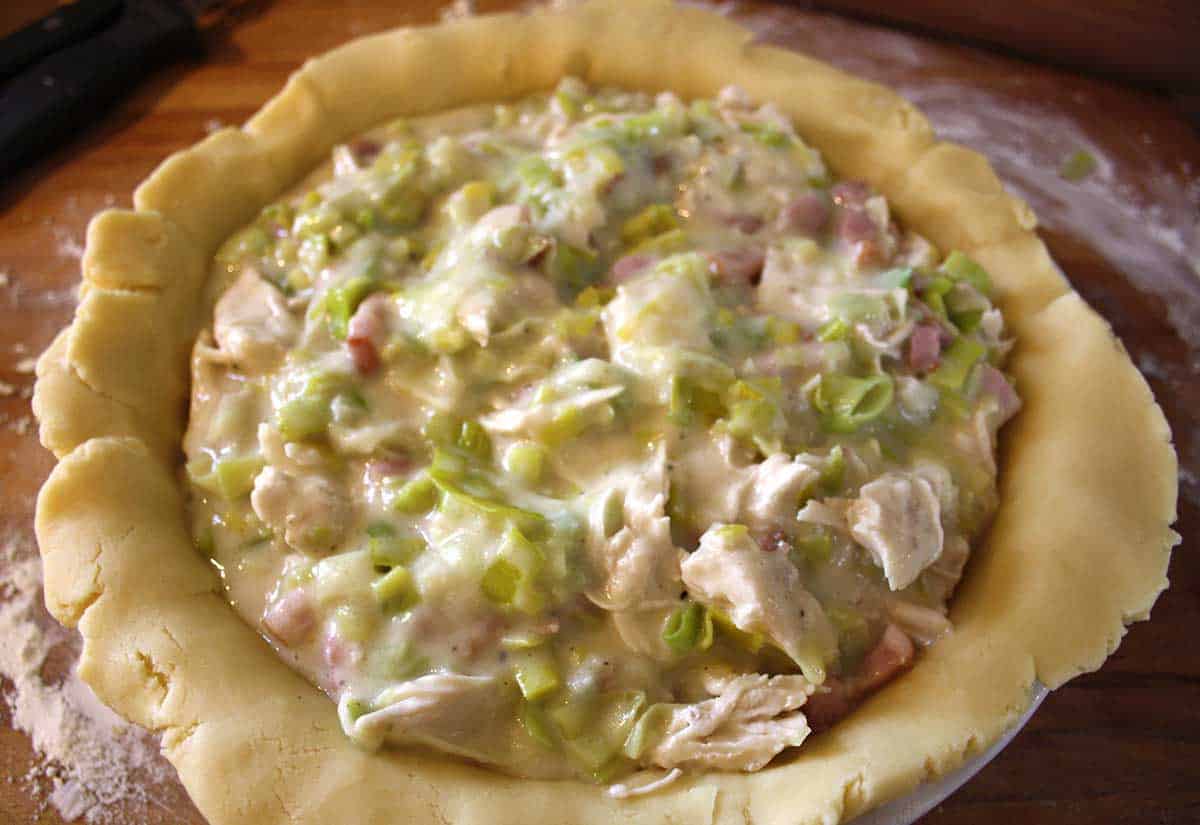 Roll out the larger piece of pastry to cover a pie dish and add in the filling.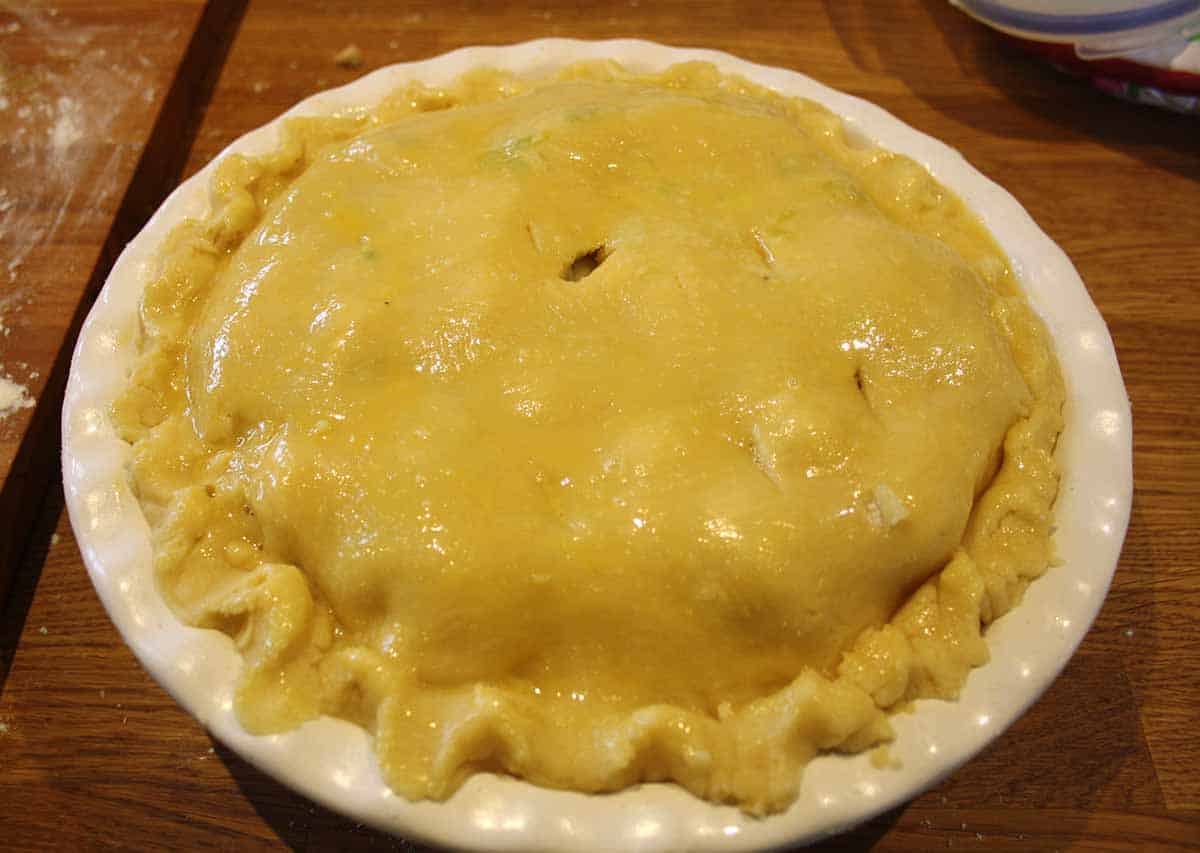 Roll out the remaining dough and top the pie, sealing the edges with beaten egg and glazing the top. Make a small hole to let the steam escape. Cook for 30-40 minutes at 190 C until golden then sit back and enjoy.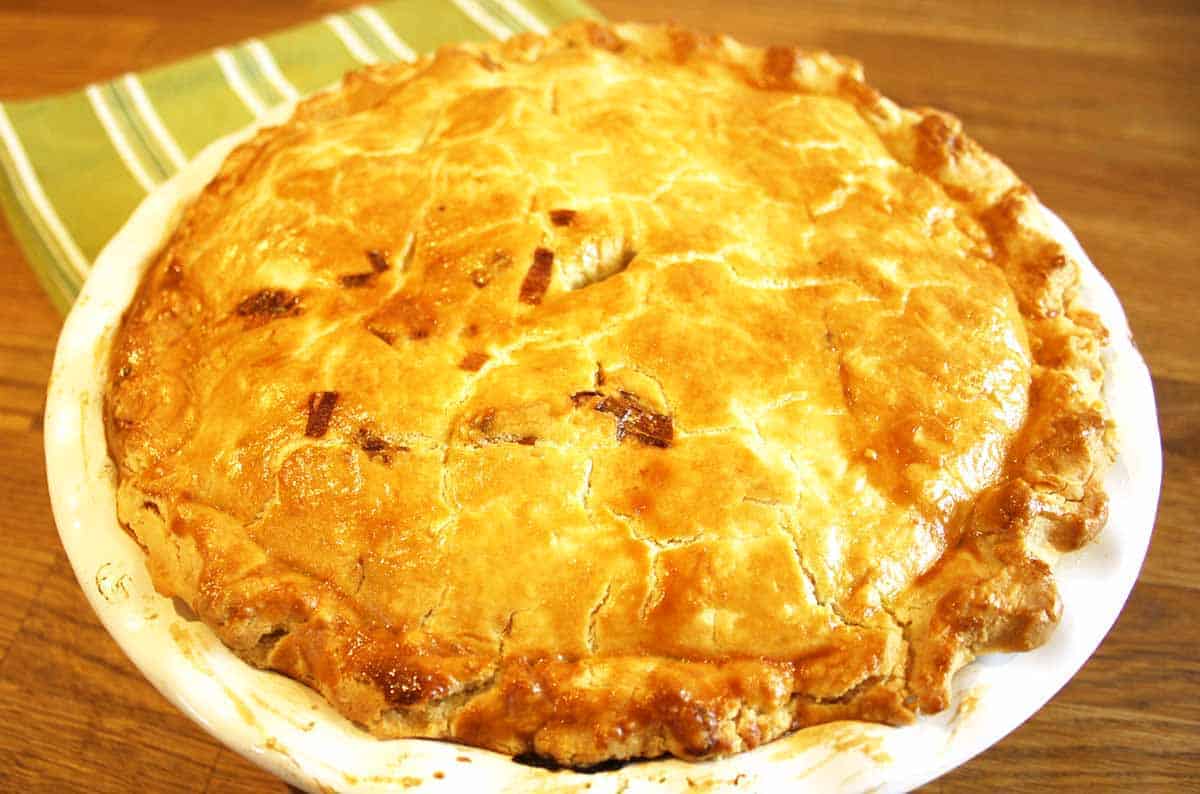 Here's the original pie.
Here's an updated version using ready made shortcrust pastry, leftover turkey and ham.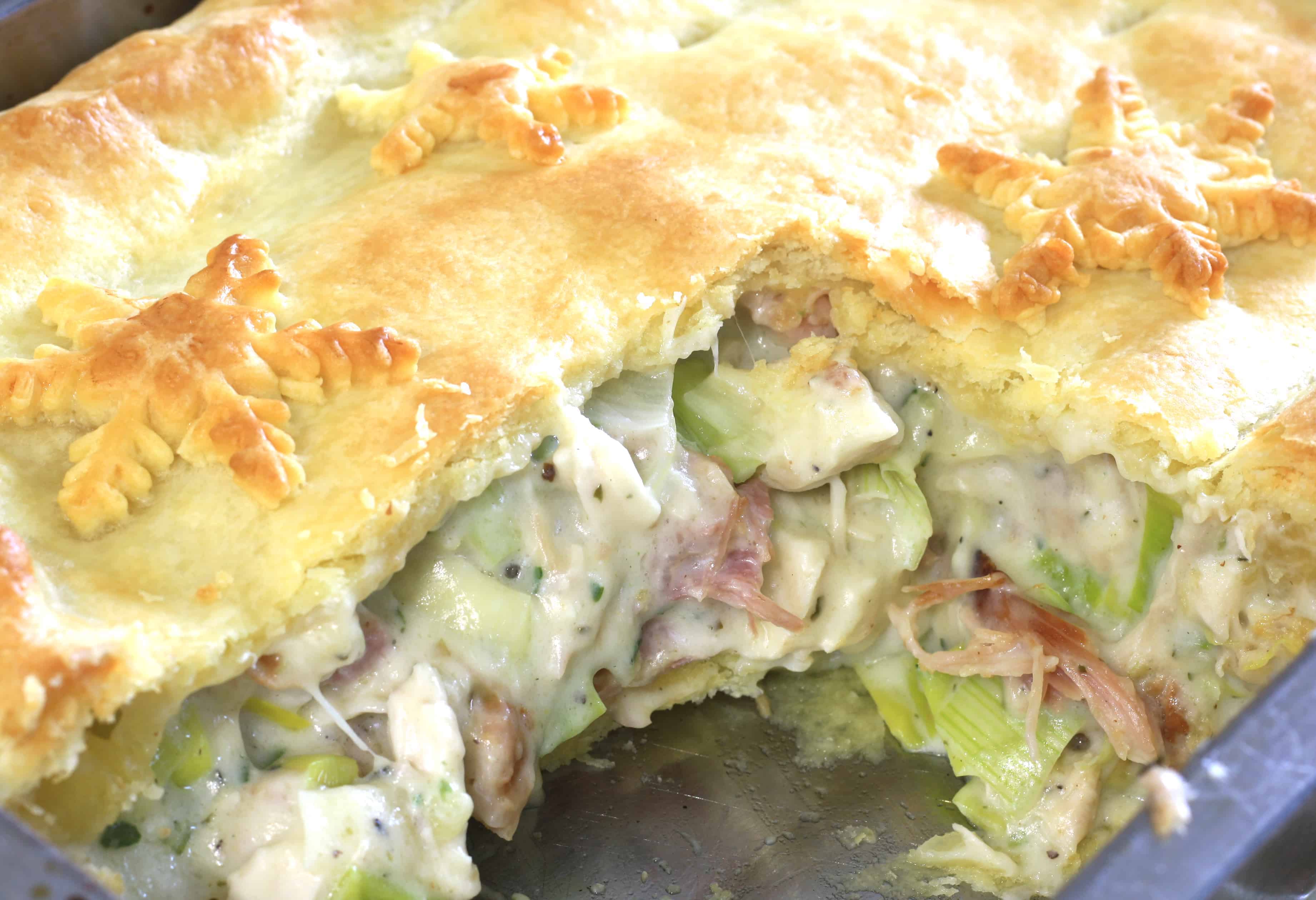 So here's a delicious pie that is perfect to make from scratch or with leftovers. You really need to try this as it's the most popular recipe on the site!
Recipe FAQ
What else can I put in this pie?
If you are not a fan of leeks you can really use any vegetables you like but it would be best to precook vegetables such as carrots. This is a great time to add any leftover vegetables from the fridge too. If you just want to keep it as a chicken and ham or chicken and bacon pie, it will still be delicious.

Broccoli florets broken up, quartered mushrooms, sliced peppers, green beans, peas and sweetcorn would all work well.
How do you store this pie?
I think that a pie is best eaten on the day it is made. If you have made the pie with freshly cooked meat you could reheat it the next day, but the results will not be as good.

If you wanted to freeze the pie then assemble it and wrap well and freeze for a month. Defrost and brush with egg before cooking.
Top tips
If you are using meat that is already cooked be sure to remove all of the skin as it tends to turn slimy in a pie.
When we have a roast chicken or ham I always pick the chicken carcass and freeze all of the meat in pieces. It's perfect to make a pie or a stir fry or a pasta dish with little effort.
Often, if I have the oven on for something else, I put chicken breasts or thighs in deep roasting dish, season, cover with foil and bake for 20 minutes. I then use the meat during the next few days or freeze it when it has cooled.
Let me know what you think in the comments or you can post a picture and tag me on Twitter @chezlereve, Instagram @chezlerevefrancais, or Facebook @chezlerevefrancais.
More pie recipes to try
📋 Recipe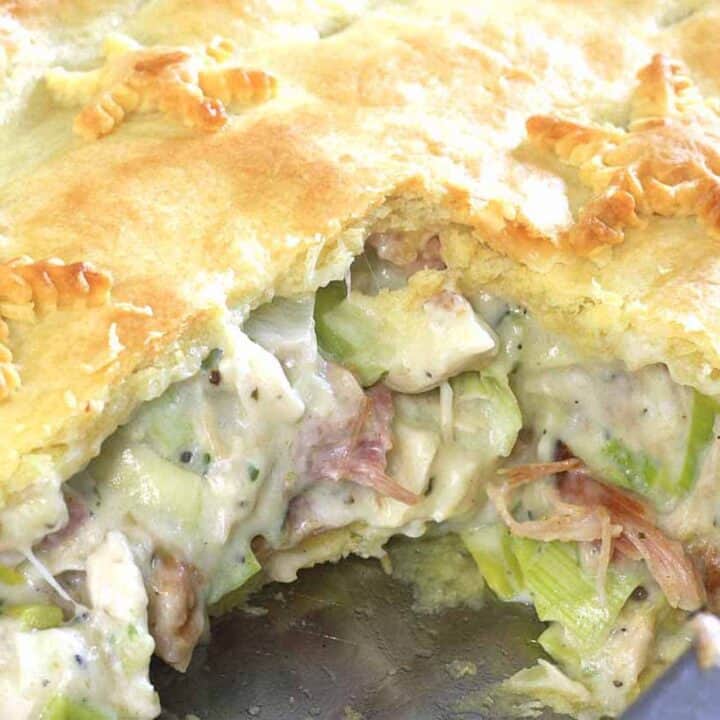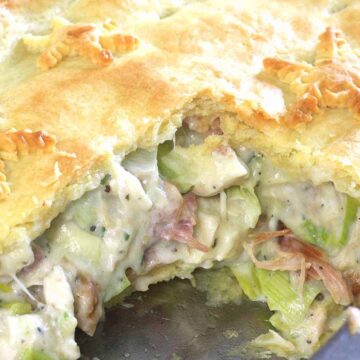 Chicken and Leek Pie.
Chicken and Leek Pie.
Melt in the mouth double crust pastry pie filled with chicken, leeks and bacon in a simple creamy sauce.
Ingredients
600

g

chicken breast

200

g

smoked bacon lardons

2

leeks

washed and finely sliced

500

ml

chicken stock
Pastry
350

g

plain flour

½

tsp

salt

200

g

butter

or combination of butter and lard

1

beaten egg

1

tbsp

cold water

if needed

beaten egg

to seal and glaze pie
Sauce
30

g

plain flour

30

g

butter

250

ml

milk

mixed with 250 ml of poaching stock
Instructions
Make the pastry by pulsing the flour, salt and fat together then adding in the beaten egg and sufficient water  to make a dough.

Divide into 2 portions of ⅓ and ⅔ then refrigerate wrapped in cling film for 30 minutes.

Poach the chicken in the stock for about 15 minutes and retain 250ml stock for the sauce and shred the chicken.

In a large pan fry the bacon in its own fat with the leeks until soft then add in the chicken.

Make the sauce by adding the 250ml of retained stock topped up with 250 ml milk to a saucepan with the flour and butter. Heat and whisk continuously until thickened and season to taste.

Pour the sauce over the chicken mixture and allow to cool.

Roll out the larger piece of dough to line a pie dish and add the meat mixture before topping with the remaining dough and sealing the edges with the beaten egg.

Glaze the pie top with egg and cook for about 30 minutes at 190 C until golden.
Nutrition Facts
Chicken and Leek Pie.
Amount Per Serving
Calories 797
Calories from Fat 387
% Daily Value*
Fat 43g66%
Cholesterol 224mg75%
Sodium 1720mg75%
Potassium 591mg17%
Carbohydrates 56g19%
Protein 46g92%
Vitamin A 1522IU30%
Vitamin C 5mg6%
Calcium 46mg5%
Iron 4mg22%
* Percent Daily Values are based on a 2000 calorie diet.
Be the first to receive new recipes in your inbox and get my free E-Book of 25 French Recipes! Subscribe here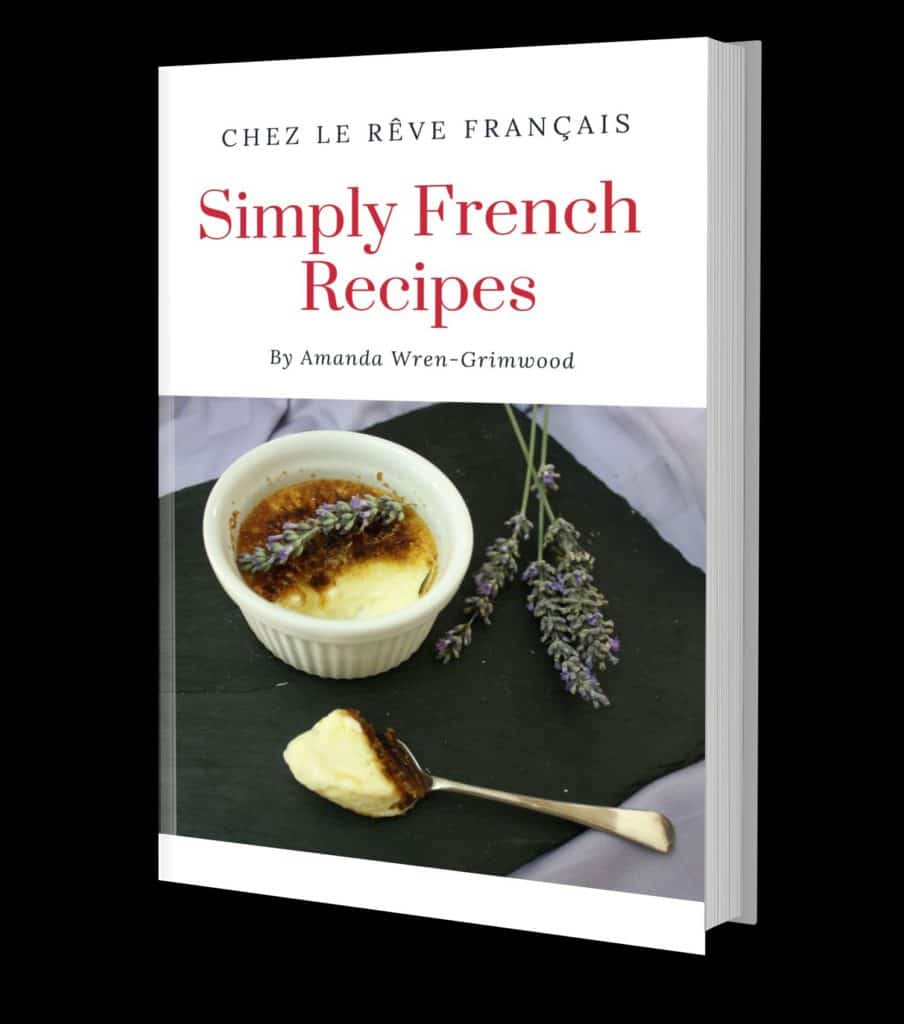 This recipe was first published on the 8th March 2017. It has now been updated with additional information.