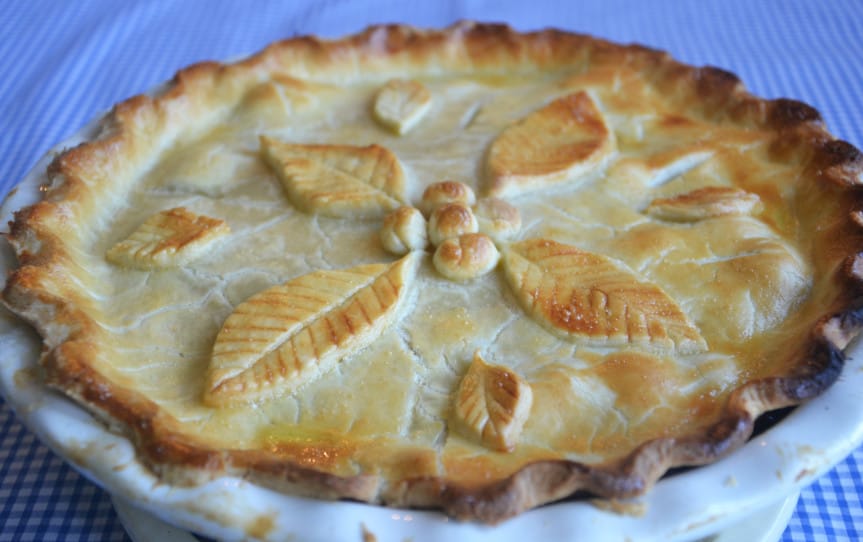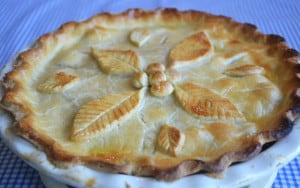 Steak and Kidney Pie. There's nothing better when the leaves are falling from the trees and the nights are drawing in, than looking forward to a proper pie. Steak and kidney or 'snake and pygmy', as my dad always referred to it, is a real family frugal favourite. It's frugal as I can buy the cheapest, toughest steak and  stretch the dish further with the addition of mushrooms and plenty of onions.
This steak and kidney pie recipe might seem to take a lot of time but the results are definitely worth it. I find it's easier to make enough for two large pies. I put one in the freezer, with or without a crust, for when I don't have much time.
Start by softening chopped onions in oil in a large frying pan.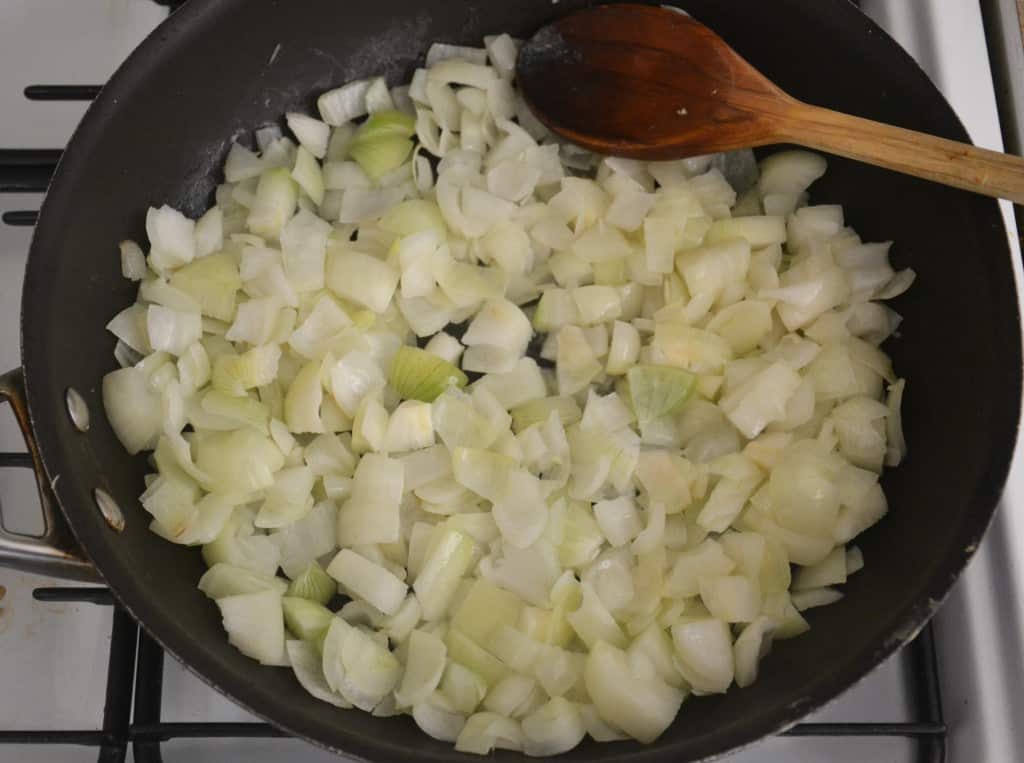 Add some chopped mushrooms. For added richness you could use dried mushrooms which have been re-hydrated in warm water.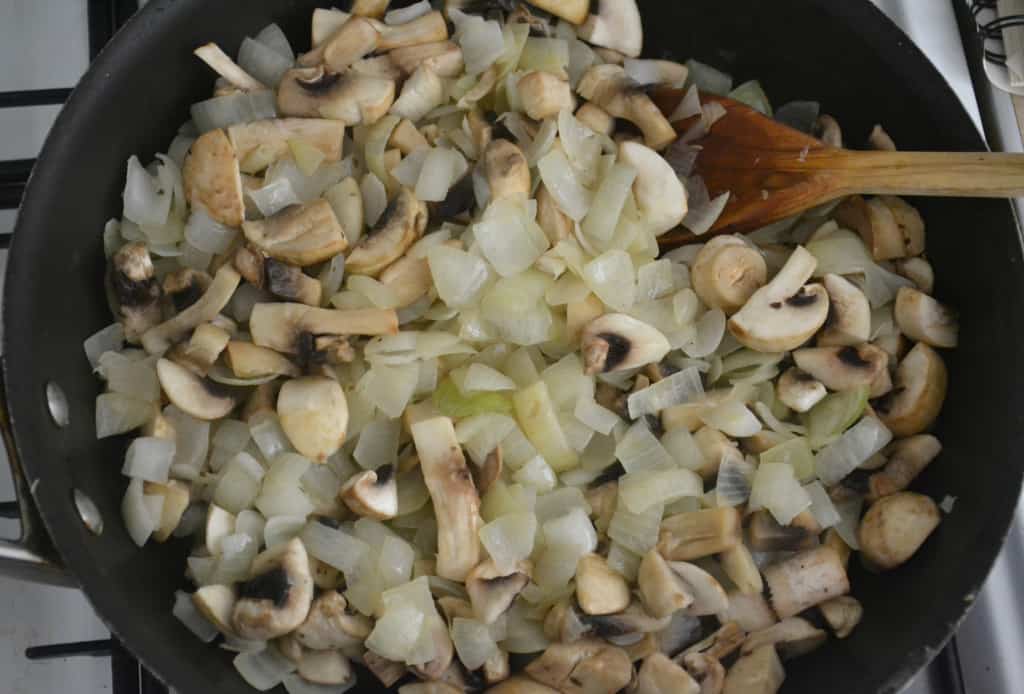 When softened, transfer to a large casserole dish or a slow cooker.
Cut the steak into chunks and core and chop the kidneys too. Don;t forget to cut around the core.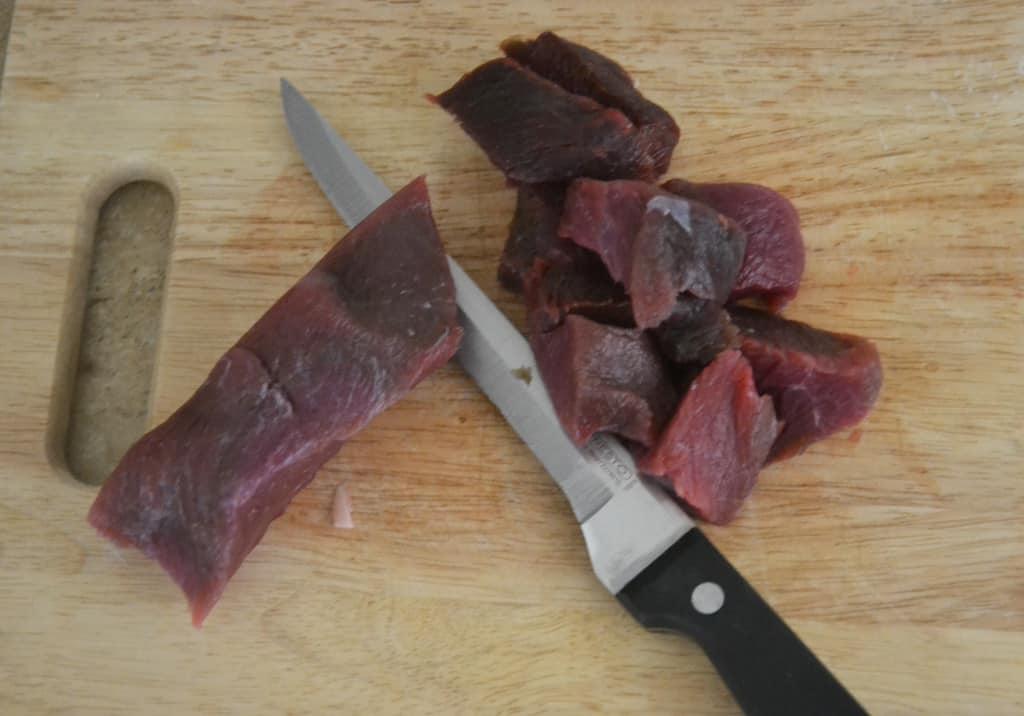 Fry the beef over a high heat and then transfer to the dish.
Add the kidney for a minute and then sprinkle over plain flour, beef stock and Worcester sauce. Bring to the boil to thicken and mix with the other ingredients.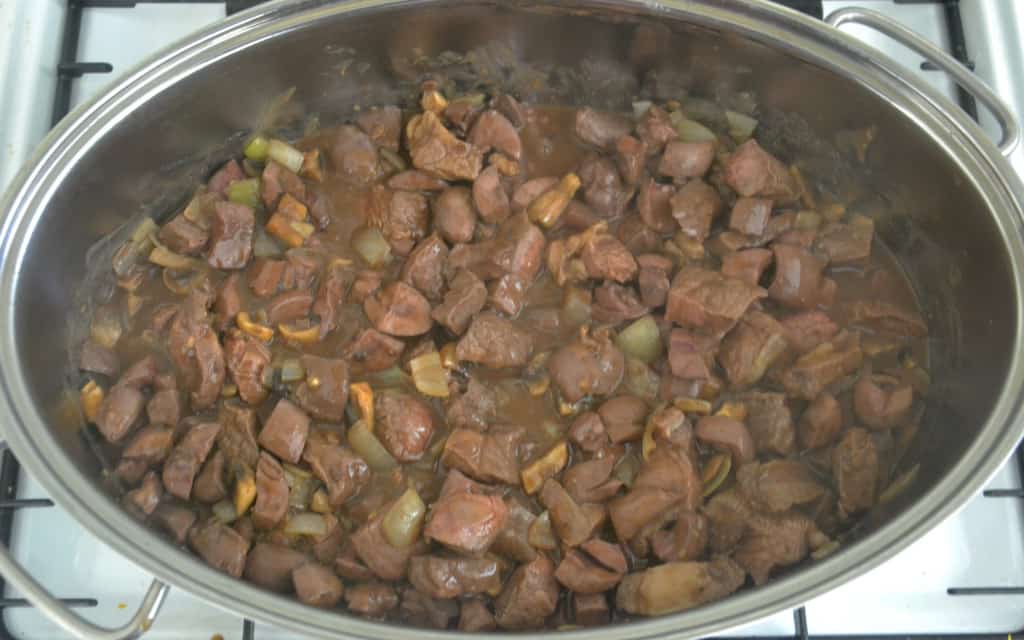 I put this in the oven at Gas 3, 140 C (fan), 160 c. Times vary with the cut of meat. In the slow cooker allow 8 hours on high.
The pictures show the ingredients for two pies.
Check the consistency at the end of cooking . Add some cornflour mixed with water if it seems too thin and then transfer to a pie dish to cool. Cover with cling film and refrigerate overnight. This helps the flavours to develop and stops the pastry from melting.
The next step is to make the pastry. The easiest way is to put the flour, butter and suet into a food process and pulse until it resembles breadcrumbs. You can do it by hand, or if you can't stand getting messy hands, use a fork. My grandmother always made pastry this way and it was always light and melting.
Add enough cold water to pulse into a ball. Wrap in cling film and place in the fridge to cool.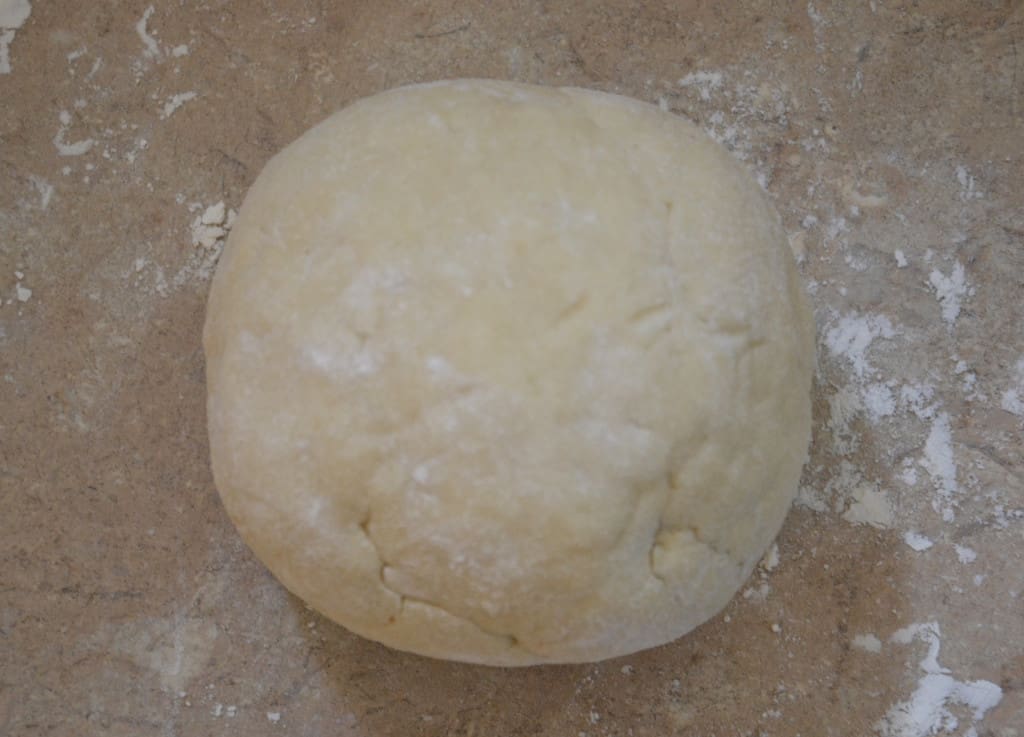 Roll out to cover the dish.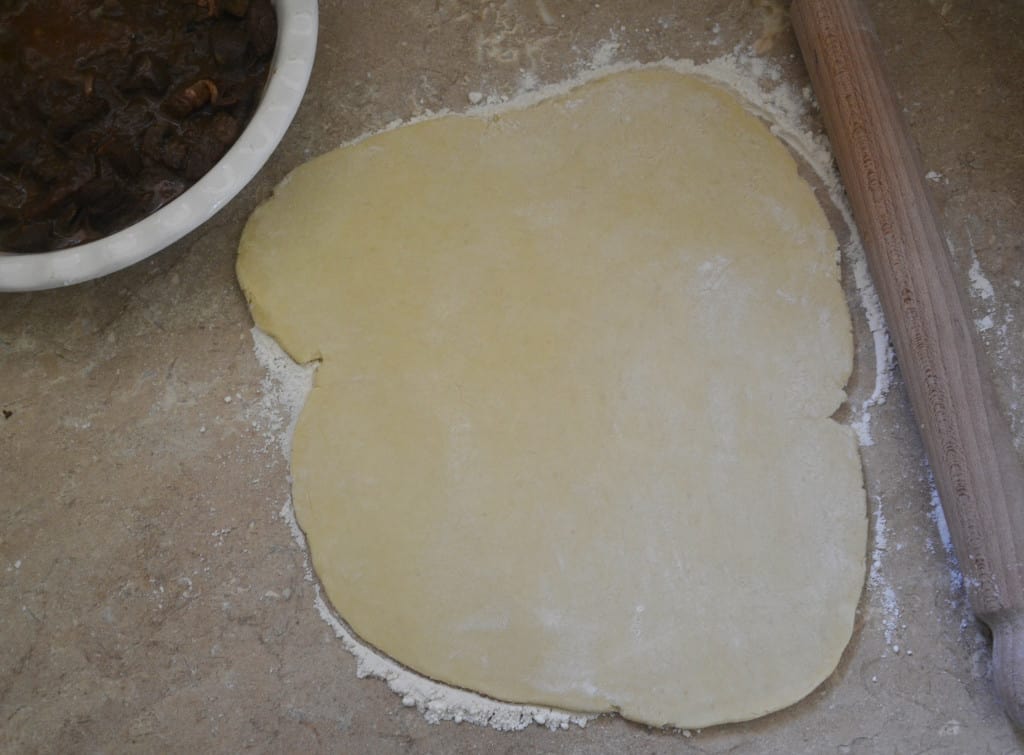 Place on top of the cooled steak and kidney mix and decorate. Glaze with beaten egg and make a few slits in the top in case it puffs up.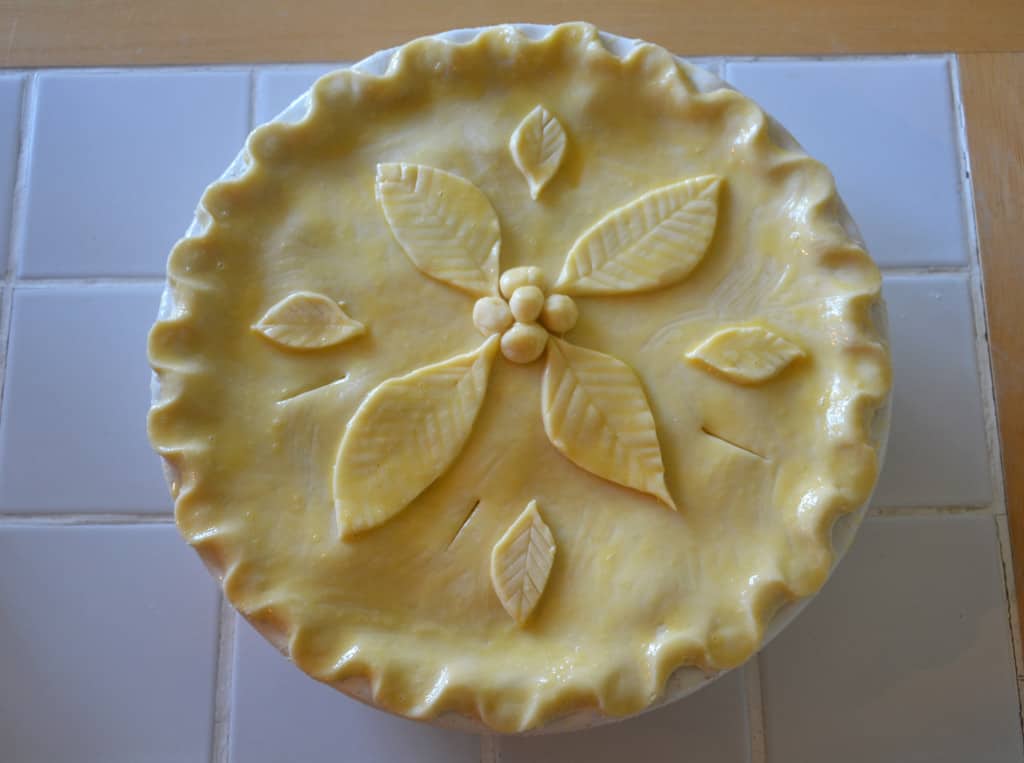 If you have any pastry leftover cut into rounds and place in the freezer to avoid waste.  Keep adding to the tin when you make pastry to have  easy mini quiches and tarts.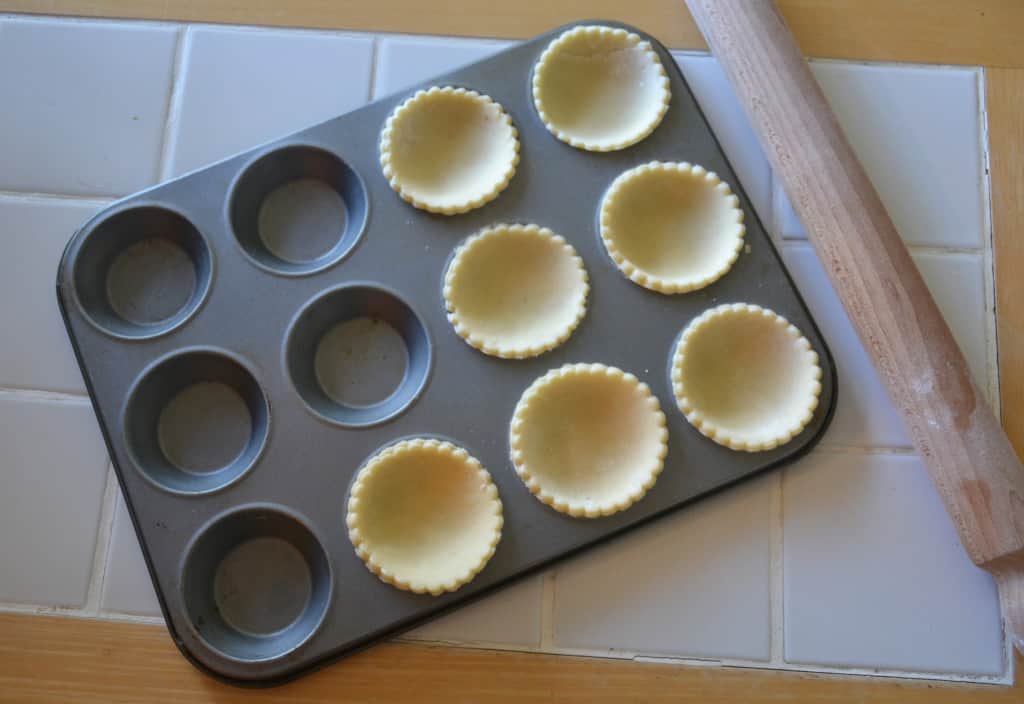 Bake at 180 c or Gas 5 for about 20 minutes.
And here it is, my steak and kidney pie......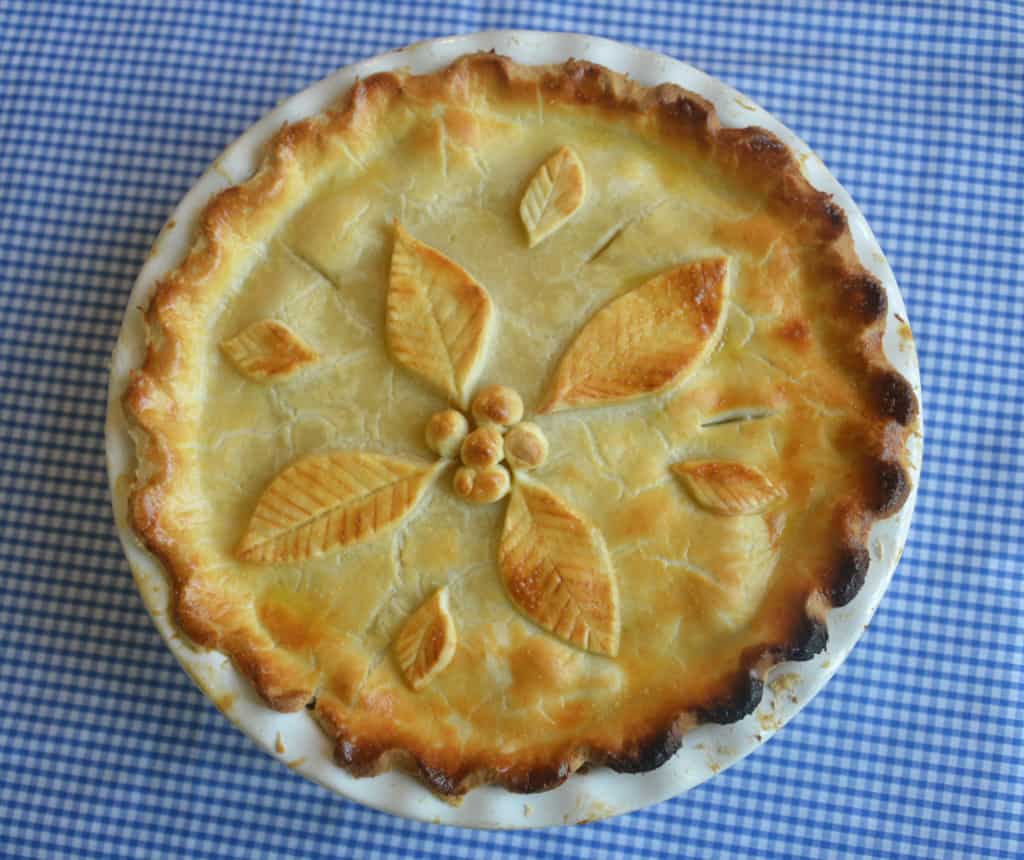 I'm sure it serves more than 4, but not in our house!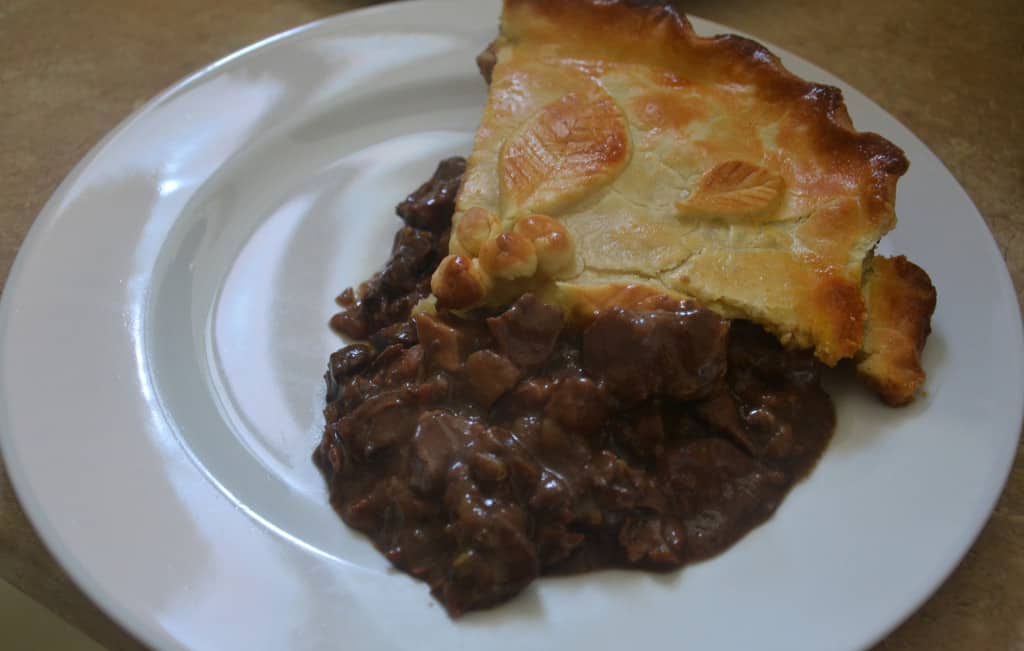 Who could resist.....?
What's your favourite pie?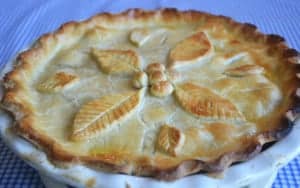 Steak and Kidney Pie
Slow cooked steak and kidney with mushroom and onions, topped with a buttery suet pastry
Ingredients
750

g

stewing or braising steak

cubed

500

g

or 3 pigs kidney

cored and chopped

250

g

or 8 mushrooms

chopped

2

large onions chopped

1

tbsp

Worcester sauce

1

tbsp

plain flour

1

pint

beef stock

seasoning

1

tsp

dried thyme

oil to fry
For the pastry
10

oz

/ 185g plain flour

1

tsp

salt

3

oz

/ 90g butter

2.5

oz

/ 75g shredded suet or lard

Beaten egg to glaze.
Instructions
Fry the onions for a few minutes over a medium heat to soften and add the mushrooms. Transfer to a casserole dish.

Increase the heat and brown the steak with salt and pepper, transfer to casserole.

Add the kidney to the pan for a minute and then sprinkle in the flour, stock and Worcester sauce.

Bring to the boil and then combine with ingredients in the dish.

Cover and cook for about 4 hours on Gas 3, or 8 hours on high in a slow cooker.

Transfer the mixture to a pie dish and cool and cover, ideally overnight.

In a food processor pulse the pastry ingredients together until they resemble breadcrumbs.

Add cold water and pulse until it forms a dough.

Cover in cling film and refrigerate for 20 minutes.

Roll out to cover the dish and decorate. Add a few slits to the top and glaze with beated egg..

Cook in the oven at Gas 4-5 / 180 C for about 20 minutes.