Steak and kidney pie is one of the ultimate British comfort foods. Slow roast chunks of beef, nestled in a thick mushroom gravy, then covered in a rich suet shortcrust pastry top.
It doesn't get much better than that for a delicious dinner!
Great for making in advance and freezing, this pie is great for cooks that want to get ahead. More importantly your family will love it!
Bon appètit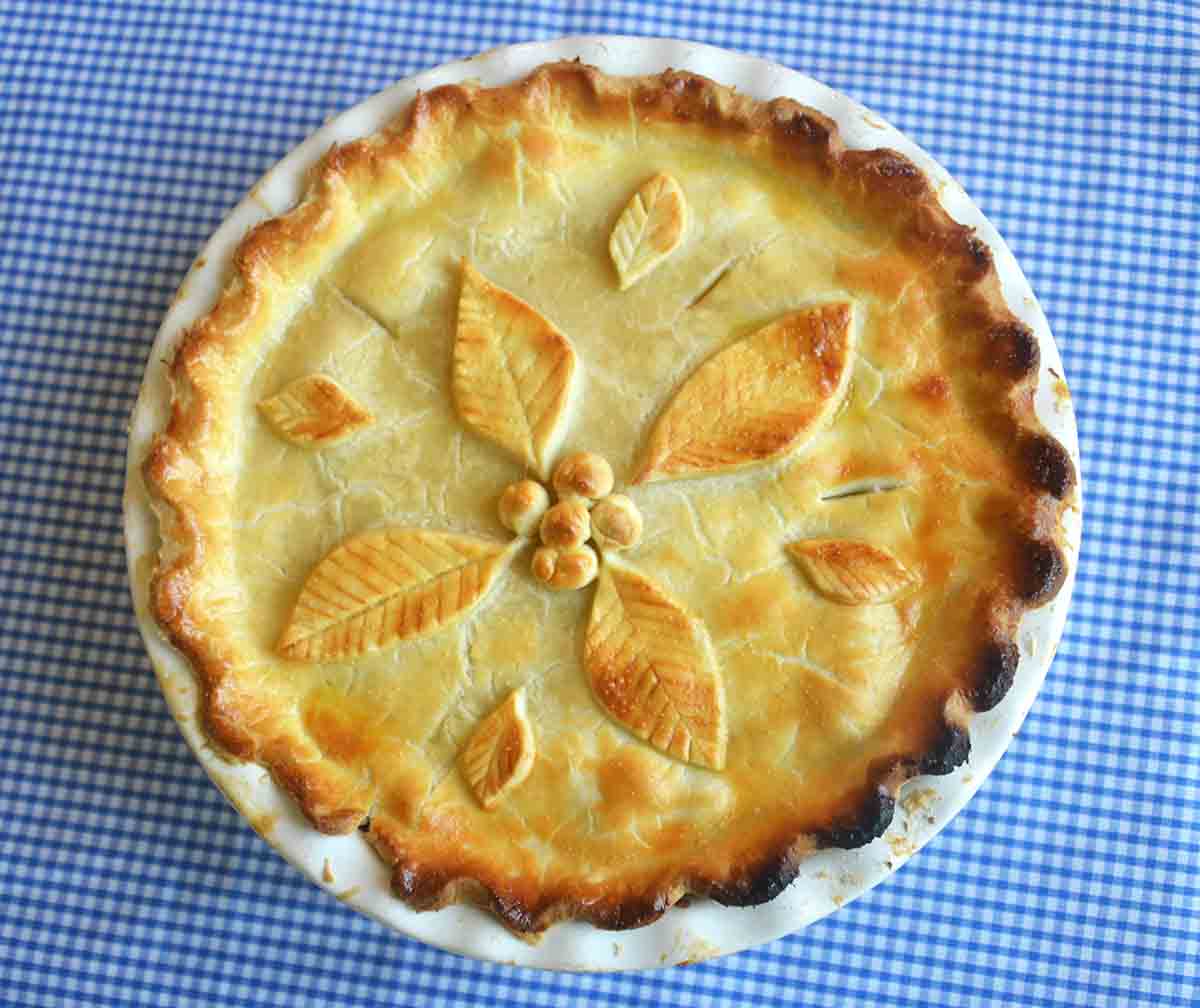 Jump to:
Why you will love this dish
great for using cheaper cuts of meat so perfect for feeding large families
don't fancy making the pastry - no worries, buy some ready made
freeze the pie unbaked for another time
easy to cook in the oven or slow cooker/crock pot
What are the ingredients?
Depending on where you live beef cut name vary but for this recipe you can use the cheapest beef you can find. I tend to buy stewing or braising (chuck) steak. I've also used kidney, which is really cheap, so you can vary the amounts of beef and kidney to your liking or just leave it out if you prefer.
For the rest of the filling you will need onions, mushrooms, beef stock, Worcester sauce, dried thyme, flour and seasoning.
For the pastry you will need plain flour, butter, lard and an egg to glaze.
How to make steak and kidney pie
This steak and kidney pie recipe might seem to take a lot of time but the results are definitely worth it. I find it's easier to make enough for two large pies. I put one in the freezer, with or without a crust, for when I don't have much time.
Start by softening chopped onions in oil in a large frying pan.
Add some chopped mushrooms. For added richness you could use dried porcini mushrooms which have been re-hydrated in warm water.
When softened, transfer to a large casserole dish or a slow cooker.
Cut the steak into chunks and core and chop the kidneys too. Don't forget to cut around the tough white core.
Fry the beef over a high heat and then transfer to the dish.
Add the kidney for a minute and then sprinkle over plain flour and cook for a minute.
Then add the beef stock and Worcester sauce. Bring to the boil to thicken and mix with the other ingredients.
I put this in the oven at 160C/140FAN/310F/Gas 3 for about 2-3 hours. Times will vary with the cut of meat.
If you want to use a slow cooker allow 8 hours on high but halve the amount of stock used.
The pictures show the ingredients for two pies.
Check the consistency at the end of cooking . Add some cornflour mixed with water if it seems too thin and then transfer to a pie dish to cool. Cover with cling film and refrigerate overnight if possible.
This helps the flavours to develop and stops the pastry from melting if you put it straight onto a hot filling.
The next step is to make the pastry. The easiest way is to put the flour, butter and suet into a food process and pulse until it resembles breadcrumbs.
You can do it by hand, or if you can't stand getting messy hands, use a fork. My grandmother always made pastry this way and it was always light and melting.
Add enough cold water to pulse into a ball. Wrap in cling film and place in the fridge to cool.
Roll out to cover the dish.
Place on top of the cooled steak and kidney mix and decorate. Glaze with beaten egg and make a few slits in the top in case it puffs up.
Bake at 180C/350F or Gas ⅘ for about 20-30 minutes.
Recipe FAQs
What can you do with leftover shortcrust pastry?
If you have any pastry leftover form topping the pie simply cut into rounds and place in the freezer to avoid waste. Keep adding to the tin when you make pastry and then, when it's full it's easy to make mini quiches and tarts.
And here it is, my steak and kidney pie!
A perfect, melt in the mouth pastry on top of tender chunks of beaf in a rich gravy.
Top tips
make it easier to prepare kidneys by slicing in half through the core and then using kitchen scissors to chop the meat from around the white core
to give kidneys a milder flavour leave them to soak in milk for half an hour before draining and using in the recipe
More pie recipes
📋 Recipe