This Cranberry and Turkey Pork Pie is always a show stopper at any size of gathering!
Crisp hot water crust pastry is layered with sausage meat, turkey and cranberries in this rich raised pork pie.
It's easy to make in advance to serve cold and slices beautifully.
The best bit? You don't need to worry about the pastry being perfect either!
Bon appétit!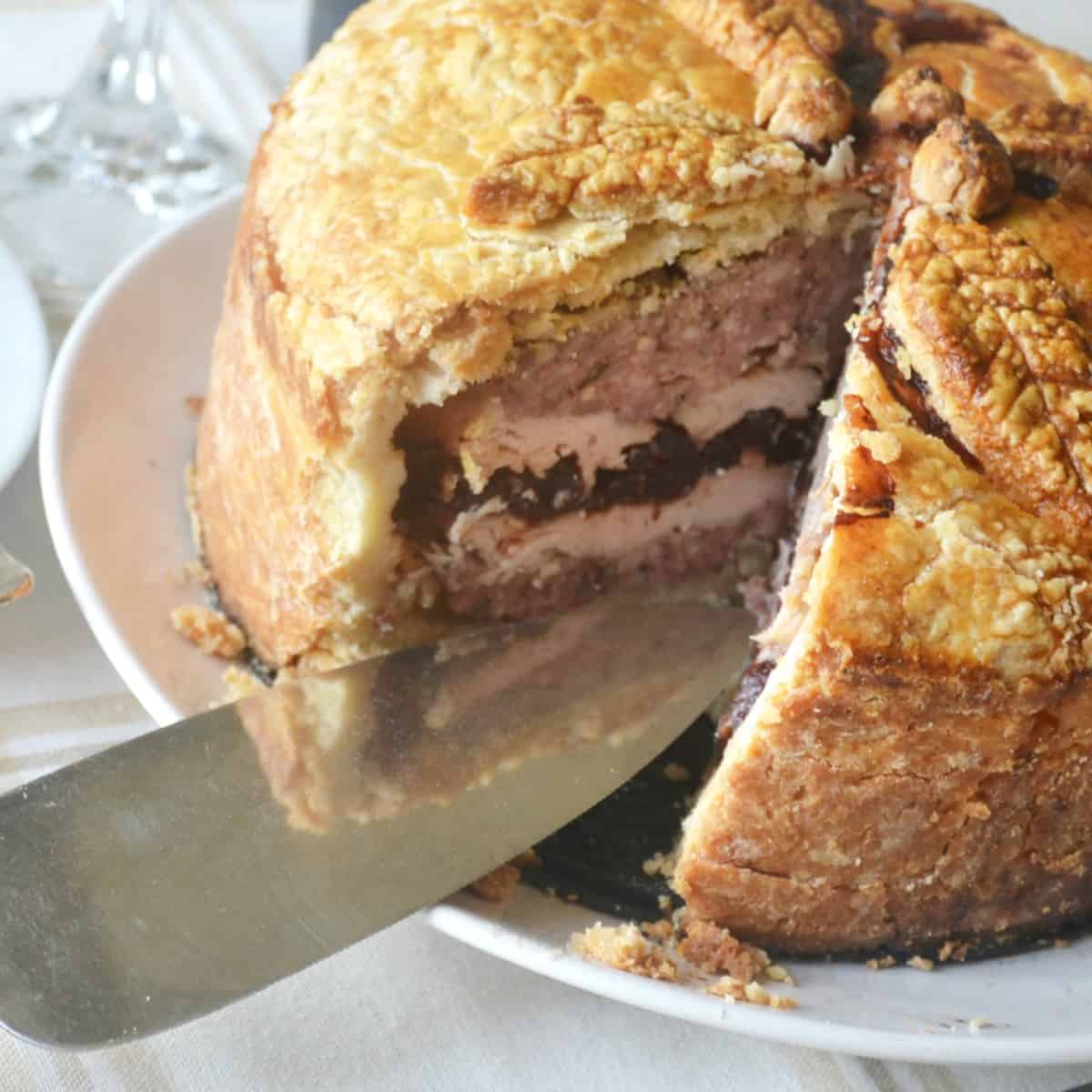 Jump to:
Why you will love this pie
Perfect for making in advance a day or two before serving
Easy to customise with different fillings
Easily makes 10 servings
Your guests will love it!
This is no ordinary turkey pie. It is a cranberry, turkey, minced pork and hot water crust pastry pie, that not only looks beautiful but tastes amazing!
I've been making this pie for many years, normally for summer buffets, because it looks so pretty when you cut it. It's also full of Christmas flavours, which makes this pie great for the festive season too.
You may be looking at this and thinking that it looks far too complicated. It's not. This recipe is very simple and the pastry is designed to be shaped by hand so no need to worry about patchwork pastry. No one will know!
What are the pie ingredients?
For the filling you need good quality course pork sausage meat, turkey escalopes and cranberries.
You can use fresh cranberries or dried. If you have dried ones, like me, I like to stick them in a bowl and pour boiling water over to plump them up while I'm getting the other ingredients ready.
I've also used shallots and dried herbs to flavour the sausage meat but you could leave them out or use a normal onion instead.
How to make the pie filling
Add the shallots to the mincemeat along with seasoning and herbs.
Mix well and divide the mixture into two portions.
How to make hot water crust pastry
It may sound daunting, but hot water crust pastry is probably the easiest to make as there is no rubbing in of the fat. It is just a case of mixing lard, water, milk, salt and flour.
Make the pastry by combining plain flour and salt in a large bowl.
Then heat the milk, water and lard in a saucepan until it bubbles.
Pour the hot milk mixture onto the flour and beat the mixture together quickly.
Turn the dough out onto a floured board and very quickly knead.
Cut off a third of the dough and wrap in clingfilm for the lid.
Roll out the remainder to cover the bottom and sides of a 71/2 (19-20cm) inch spring form tin. It doesn't matter if the dough falls apart just press together to get an even layer.
Push half of the sausage meat into the dish.
Follow this by adding a layer of turkey escalope and then the drained dried cranberries.
Add another layer of turkey and follow with the remaining mincemeat.
Roll out the remaining pastry for the lid and seal with beaten egg.
Make a steam hole in the middle and use any pastry scraps to decorate the top.
Cover the top with egg wash.
Cook for 2 hours at 180C/160FAN/350F/Gas Mark 4. If the pie is becoming too brown place some tin foil over the top.
Leave it in the tin to cool and refrigerate overnight before opening the pie.
Recipe FAQs
Top tips
To ensure perfect pastry get everything prepared before hand. When the pastry starts to cool it will be difficult to work with.
If you can't find good sausage meat use good sausages and take them out of their skins instead.
You can normally buy escalopes precut but if you can't find them simply cut chicken or turkey breasts into flat slices
This is a great pie for any celebration with crumbly pastry, moist meat and juicy cranberries. I have to say, it never lasts very long!
Let me know what you think in the comments or you can post a picture and tag me on Twitter @chezlereve, Instagram @chezlerevefrancais, or Facebook @chezlerevefrancais.
Popular Pie recipes
📋 Recipe
This recipe was initially published on the 26th December 2015 but has been updated.
Food safety
We sometimes take for a granted that we have years (or decades) of cooking experience, that the average visitor may not. Add to, or remove from, the list below with health and safety tips.
Cook to a minimum temperature of 165 °F (74 °C)
Do not use the same utensils on cooked food, that previously touched raw meat
Wash hands after touching raw meat
Don't leave food sitting out at room temperature for extended periods
Never leave cooking food unattended
Use oils with high smoking point to avoid harmful compounds
Always have good ventilation when using a gas stove