This monkfish recipe with chorizo is perfect for when you are entertaining or wanting to make a special meal at home but don't have much time.
Quickly fried monkfish and coins of crisp Chorizo complement each other so well, with the soft and delicious monkfish and the salty spicy sausage.
The best bit? From start to finish this dish only takes 15 minutes! Put some veggies on to steam before you start, or open a bag of salad and get stuck in.
Oh, and I forgot to mention - this is so easy, even if you are dealing with a whole monkfish. There's step by step instructions for filleting too.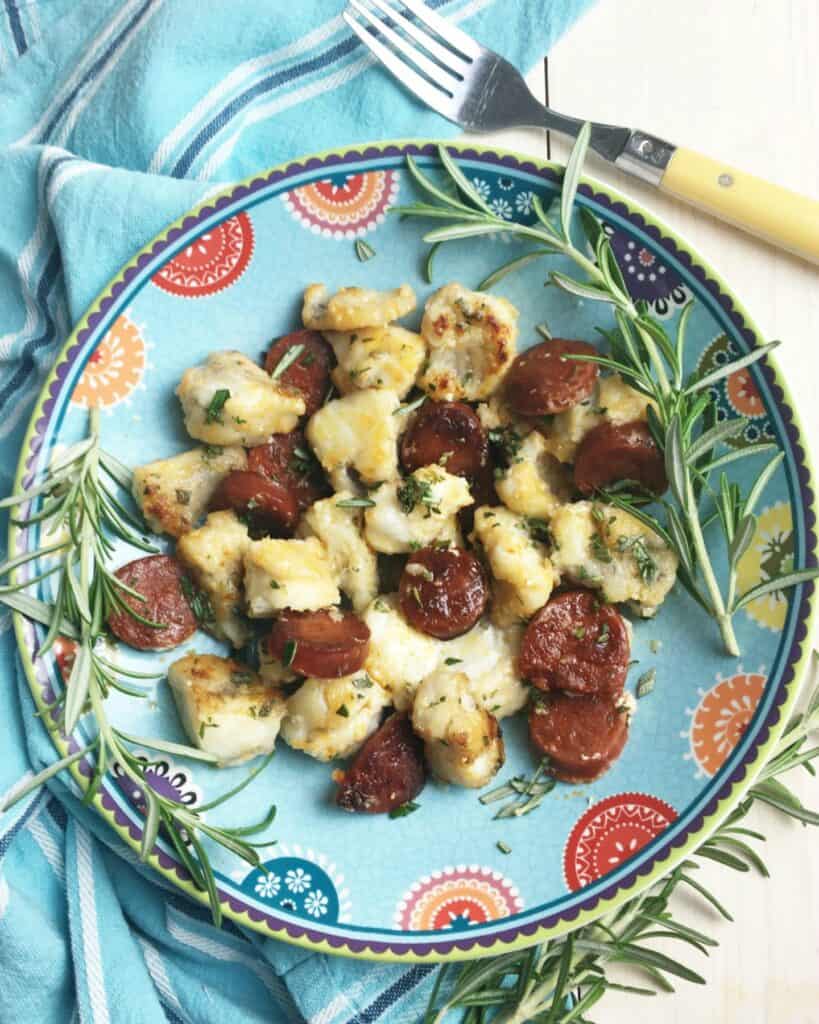 I often get inspired to cook from eating out and I love trying to recreate a version of something I've seen or eaten and then adding a little twist.
When we were living in France we often used to pop to La Rochelle for lunch. If you have never been to La Rochelle, it's a pretty harbour town on the western coast of France, about an hour from where I used to live. Full of cobbled streets and independent shops, it also has a huge range of eateries. At about 11.45 am the owners attempt to entice you to their restaurant with wafts of garlic and mussels in white wine. If you love fish, it's a paradise. Delicious food, very reasonable priced, means you can indulge whilst watching the boats in the harbour. It's magical and I miss it!
This dish is more like something served in the Basque region, on the border of Spain, where they often use Chorizo in dishes. It's absolutely delicious for a dinner party or special dinner, but best of all, you can have it on the table in 15 minutes!
What are the ingredients?
Fresh thyme is used a lot in French cooking but monkfish is quite a meaty fish and I am using the more aromatic rosemary for this dish. I've used 2 tablespoons of chopped fresh rosemary for this monkfish recipe.
You will also need a whole chorizo sausage cut in 1cm slices, (typically about 225g), 2 tablespoons of all purpose/plain flour, a teaspoon of ground black pepper and a tablespoon of butter.
I started this dish with a whole monkfish, bought with the head cut off from a French market. If you have seen a whole monkfish you will understand why it's sold headless!
In the UK it's possible to buy monkfish fillets fresh or frozen. For 4 people you will need about 600g of prepared monkfish.

What is monkfish?
Monkfish is an angler fish from the shark family, typically found in the north sea and coastal Europe. The fish itself is more meaty than other fish, in that it doesn't break up quickly when cooking. If you are not sure about fish or cooking it, monkfish is great because there are no little bones to fiddle with and it doesn't have a strong fishy flavour. It's more like dealing with a huge prawn (shrimp).
What are the alternatives for this monkfish recipe?
If you can't get hold of monkfish you can use cod, halibut or haddock. Cheaper alternatives would be pollack or hake.
If you prefer shellfish, this dish would be perfect with prawns, scallops or even lobster.
Step by Step - How to fillet a monkfish tail?
Start by skinning the tail. I find it easier to think of it as pulling the skin off a chicken leg; a bit slimy but not difficult. I use a fish filleting knife to help as it is flexible.
Once the skin is off use a knife to slice off any membrane. Don't worry about the fins that are left poking out at this stage as they should come off with the backbone.
It's easy to feel the central bone. Use the knife to cut down each side.
Slide the knife under the bone and cut all the way along to remove it.
It's then very simple to cut the remaining flesh into two filets. Check to make sure that all the fins are gone. It's easy to slice them off.
Save the boes for stock. I tend to keep a bag in the freezer and throw bits in as I prepare fish. It's a great way to make a fish soup, when you have a bagful.
For this recipe cut the flesh into 2cm chunks.
How to make Monkfish with Chorizo and Rosemary
Cut some Chorizo into thick slices and dry fry in a large pan for about a minute. Drain the Chorizo on kitchen paper and remove most of the fat from the pan.
Add the chopped fresh rosemary to seasoned flour and coat the monkfish chunks.
Heat the butter in the pan and fry the fish for about a minute each side.
Add in the Chorizo and heat through.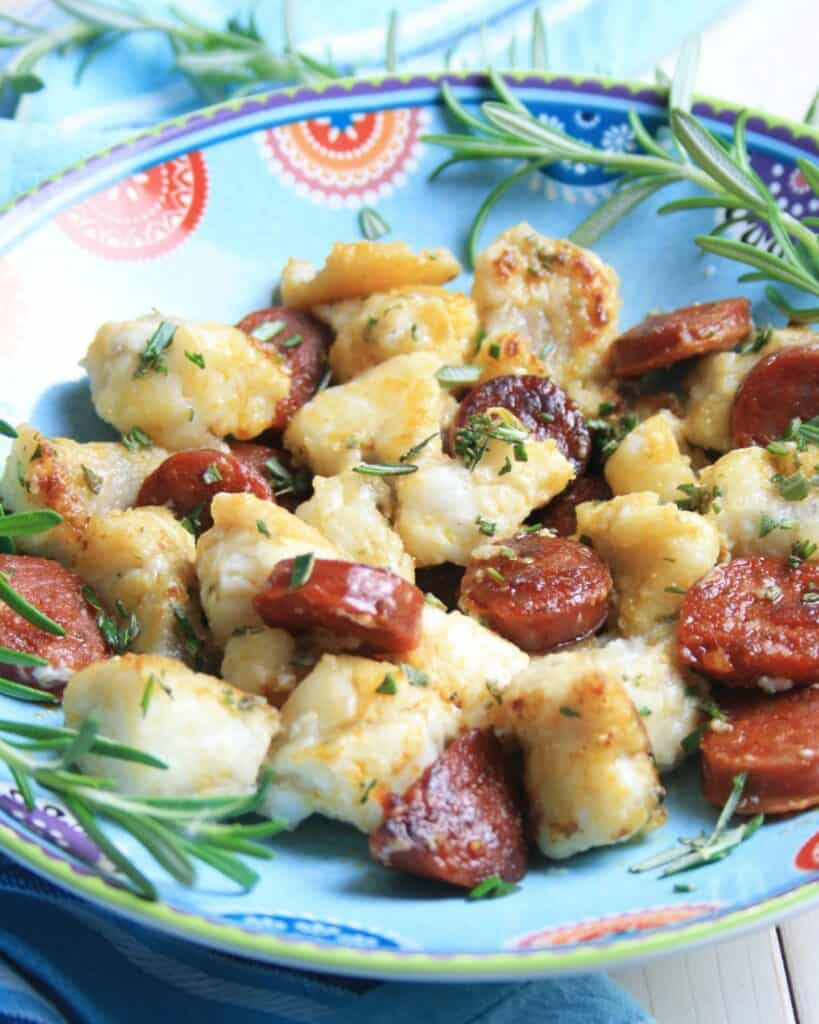 Garnish with some extra chopped rosemary.
This monkfish recipe is ready in less than 10 minutes, if everything is to hand.
Caramelised chorizo, soft on the inside and crunchy on the outside monkfish, and the aromatic flavour of rosemary. You seriously need to try this!
What to serve with the monkfish
The French often serve fish with plain boiled rice, but you could try these:
Other fish dishes to try
Be the first to receive new recipes in your inbox and get my free E-Book of 25 French Recipes! Subscribe here!
This post was originally published in January 2016 but has been updated in May 2020.