Mussels in white wine, also known as moules marinière, is a classic French dish that is still hugely popular as a starter or main course.
Simply cooked, with the flavours of garlic and white wine, mussels are delicious and delicately flavoured.
If you've never prepared them before you will find lots of tips - it really is so easy!
Bon appétit!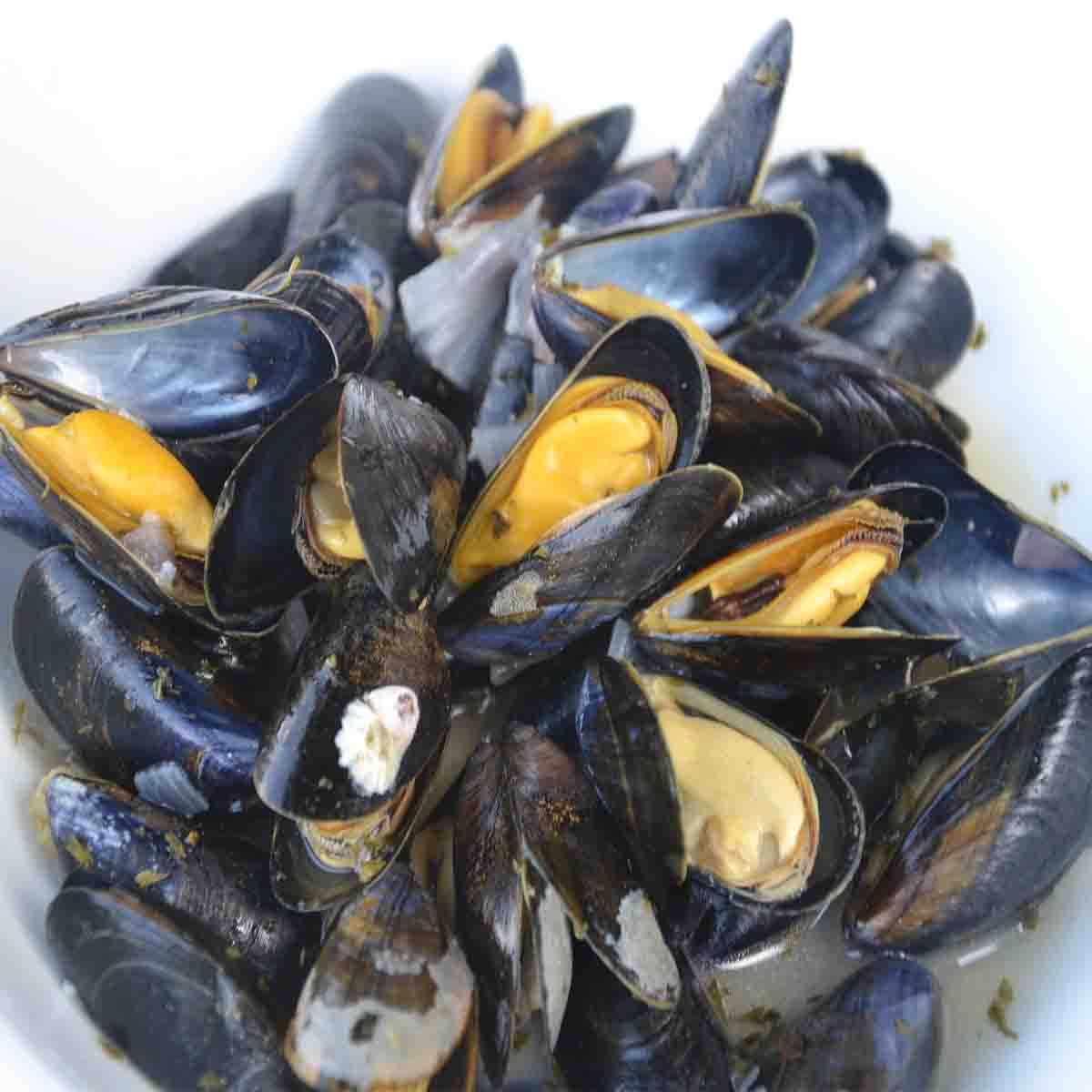 Jump to:
What are the ingredients?
Depending on where you buy your mussels you will likely buy them in a net, partly prepared or just by weight. I always allow about 300g/11oz for a a starter and 500g/18oz for a main course.
For the cooking broth you will need shallots, garlic, water, white wine, fresh parsley and butter.
How to prepare mussels for cooking
It's really important to prepare any shellfish properly just by following these simple rules. Clams should be prepared in the same way.
Fill a bowl with cold water and tip in the mussels.
Check each mussel inturn by removing any stringy, beardy bits.
Check each one for cracks or missing shell and discard.
Discard any that are open and will not shut when you tap the shell.
Discard any that float in the water.
After cooking, advise your guests not to eat any that have not opened.
How to make mussels in white wine or moules marinière
If you are cooking for four people you are going to need a large saucepan. I have a big stockpot that I always use for mussels.
Begin by heating the butter until melted and then adding finely chopped shallots for a few minutes until softened. Add the garlic and continue to fry for a further minute.
Add the wine, water and chopped parsley then tip in the prepared mussels. Put the lid on the pan over a medium heat. After a few minutes of steaming in the liquid they will start to open.
Use a big slotted spoon to stir the mussels so that they cook evenly for a further few minutes until all the shells have opened.
Serve in big bowls with plenty of the juices and with extra parsley scattered over the top.
Recipe FAQs
Top Tips
I like to bring the steaming pot to the table and let everyone help themselves. It's much more impressive and they stay nice and warm.
You can serve them simply with bread or be really good and just have a salad.
Rather than messing about with a fork simply use a mussel as your tool to pinch the mussels from the shells.
You probably won't have any leftovers but sometimes I keep a few cooked ones back and pop them in the freezer, still in their shells. I find it's great to throw them into a paella or pasta dish last minute. Be sure to use any frozen ones within a month.
The sweetness of the mussels and the saltiness of the sea water from the mussels is a great combination. Don't forget the bread for soaking up all the delicious juices!
More shellfish recipes to try
📋 Recipe
More seafood recipes
This recipes was originally posted the 6th August 2015.