What is Carrot and Celeriac Remoulade?
Carrot and Celeriac Remoulade is a classic French salad which you may have never heard of! At least, I had never heard of it before I moved to France to live.
Although I do like to make salads from scratch, I often bought coleslaw pre packaged in the UK, for convenience. Unfortunately, the coleslaw in France tends to be mostly grated carrot in vinegar, which is not particularly appetising. Remoulade is a name for a mayonnaise based sauce, often flavoured with mustard and herbs. In fact, if you go to a typical French supermarket you would find it difficult to find a mayonnaise without mustard in it. It sounds odd, but there isn't a strong mustard taste and I actually find UK brands tasteless. My favourite brand is Benedicta and luckily I can buy it online and get my fix.
What is celeriac?
If you have never tried this vegetable before it resembles a knobbly white swede but with a lighter texture. It can be quite awkward to peel and it is easier to cut off the knobbly end. As soon as the peeledsurface is exposed to the air it will start to turn brown so it needs to be put in water with lemon juice, if it's to be cooked , or just in lemon juice if it's to be eaten raw.
The celeriac is crunchy, like a carrot, with a subtle celery flavour which goes well with the sweetness of carrots.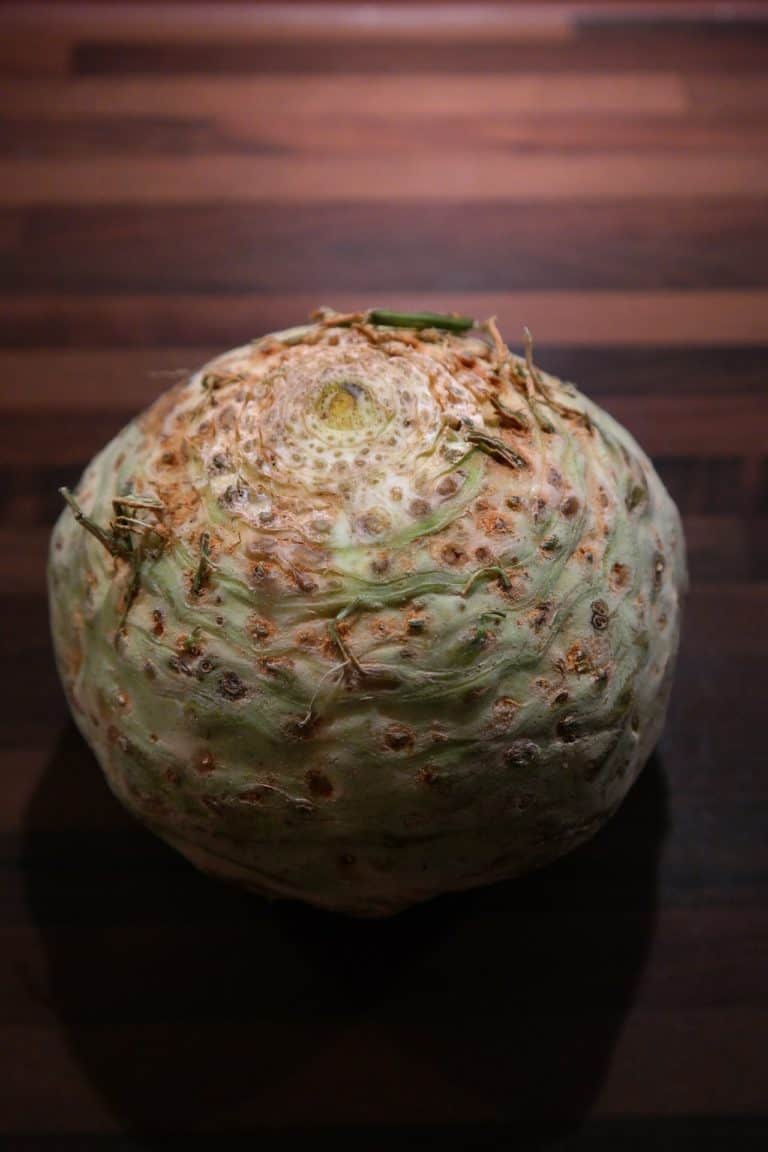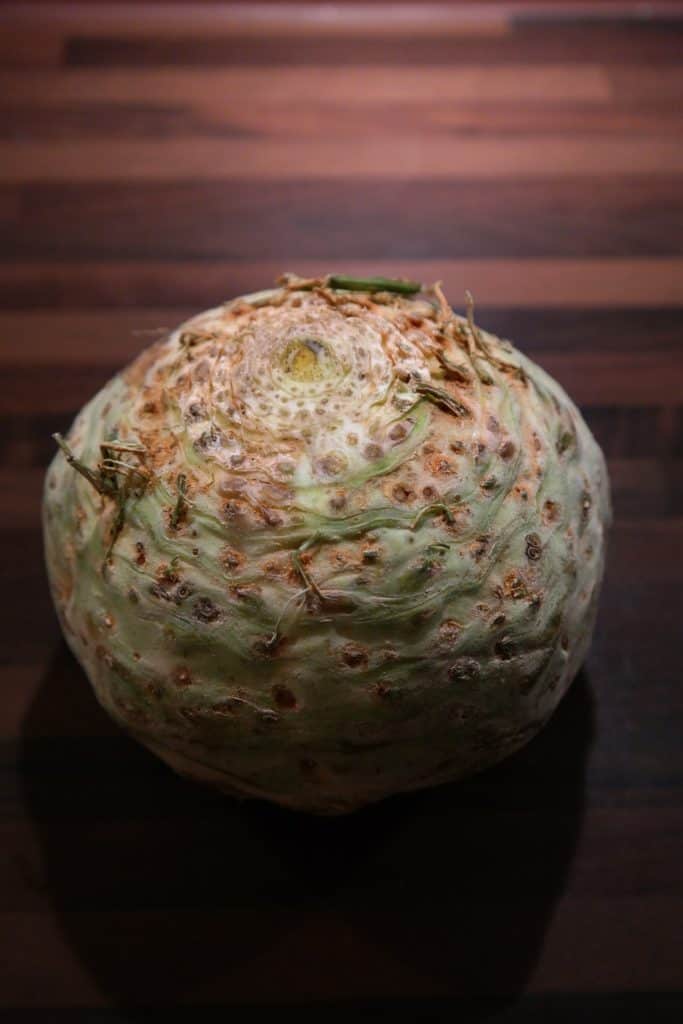 How to serve celeriac
In France,  it is often served as a puree enriched with cream which is delicious as a vegetable side dish. In fact, it is so popular you can buy frozen puree that you just warm through in a saucepan.
Cook the celeriac in boiling water in small chunks, as it does take some time to become tender. Try mixing cooked potato and celeriac together for a new take on mashed potatoes.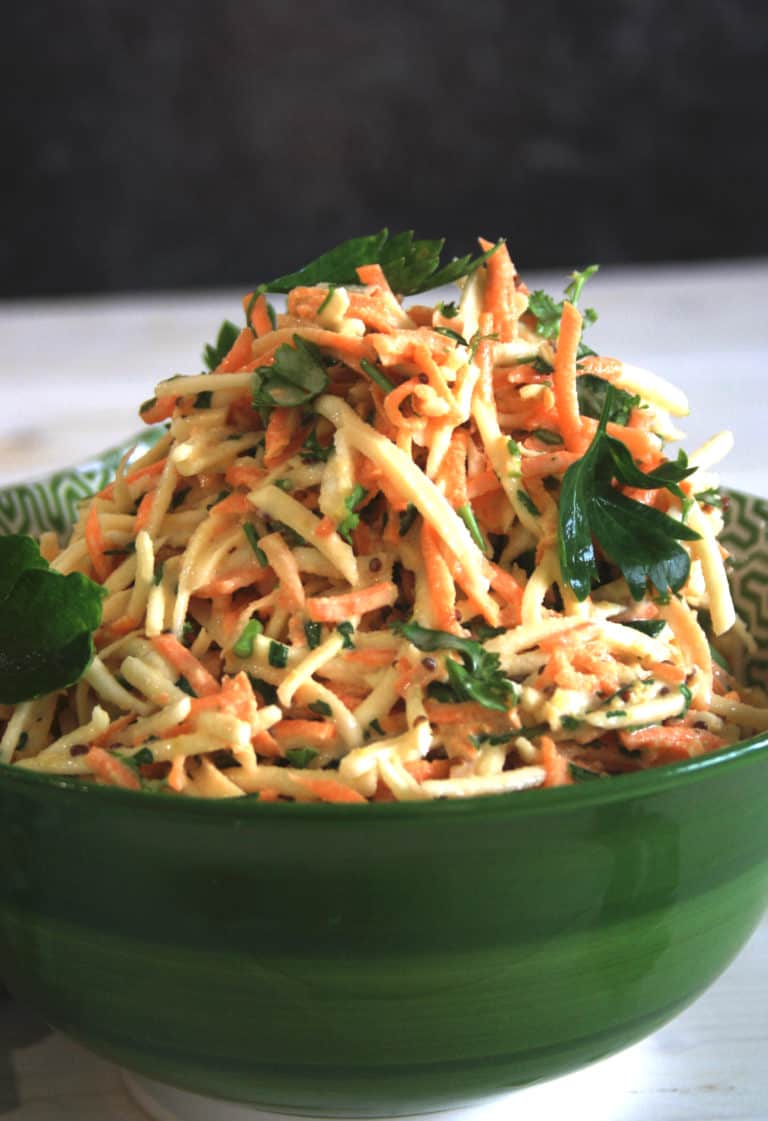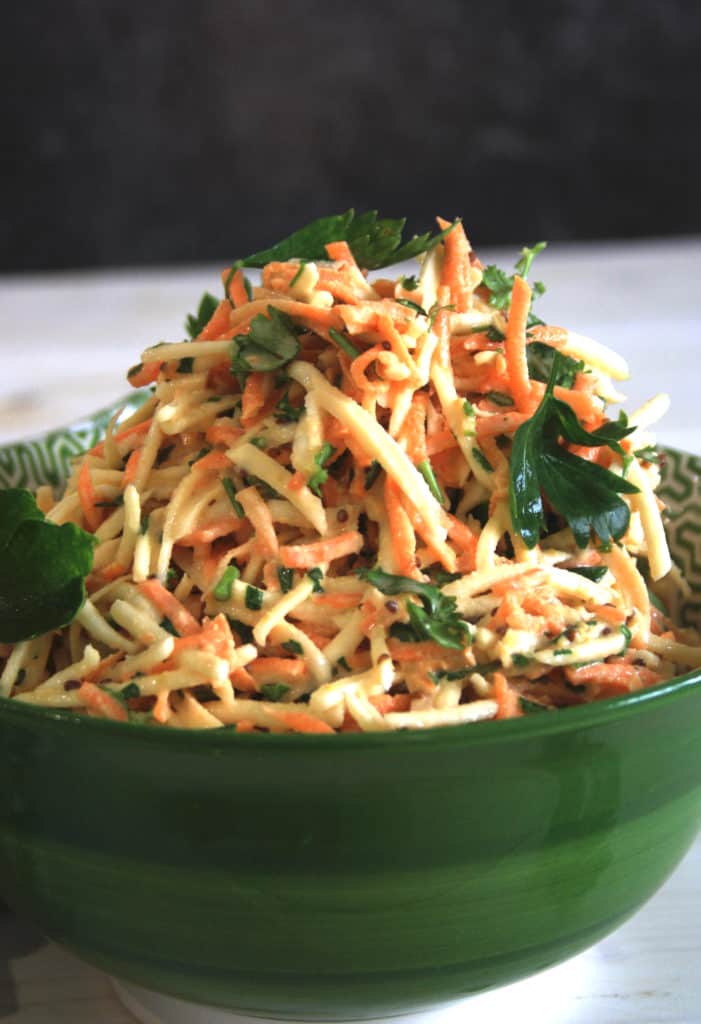 Ingredients for carrot and Celeriac Remoulade
For this recipe you will need equal parts of carrot and celeriac and lemon juice to coat. For this recipe bottled lemon juice is fine if you don't have any fresh lemons.
Although the classic recipe calls for mayonnaise, I have cut the calories in this dish by swapping half of the mayonnaise for fat-free yoghurt, with whole grain mustard as a flavouring.  For the herb element I've used coriander, because I prefer it to parsley. Typically, flat leaf parsley or snipped chives are used.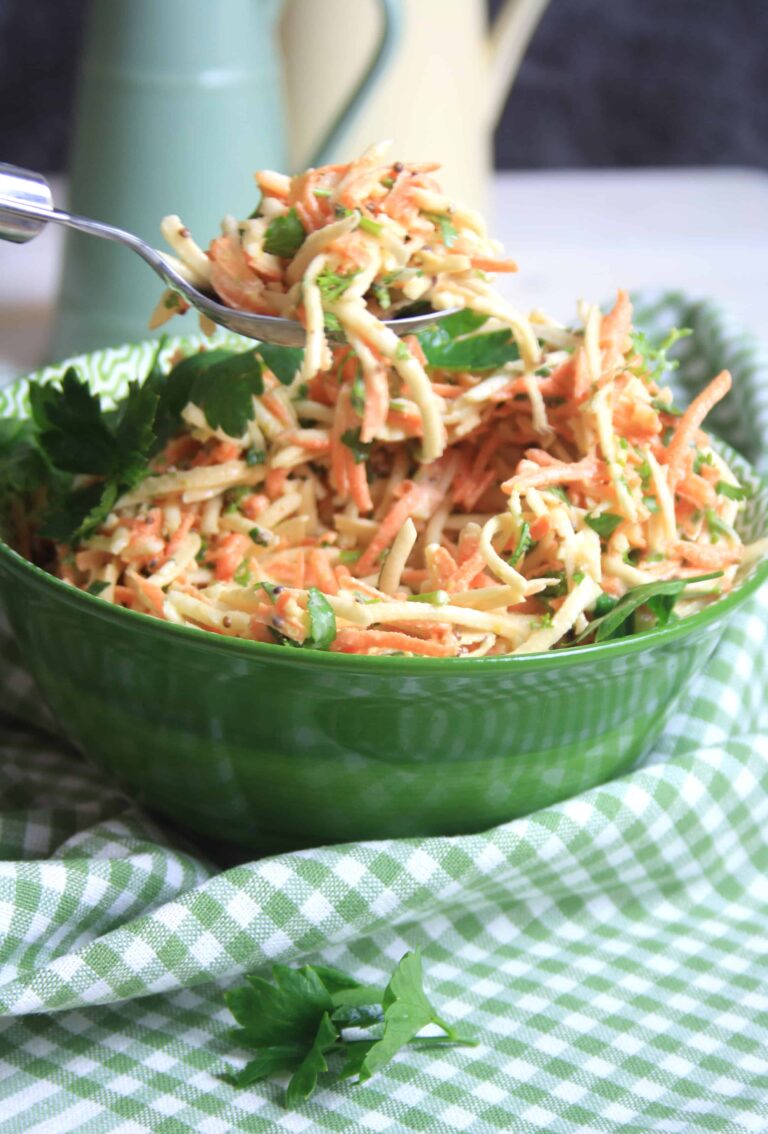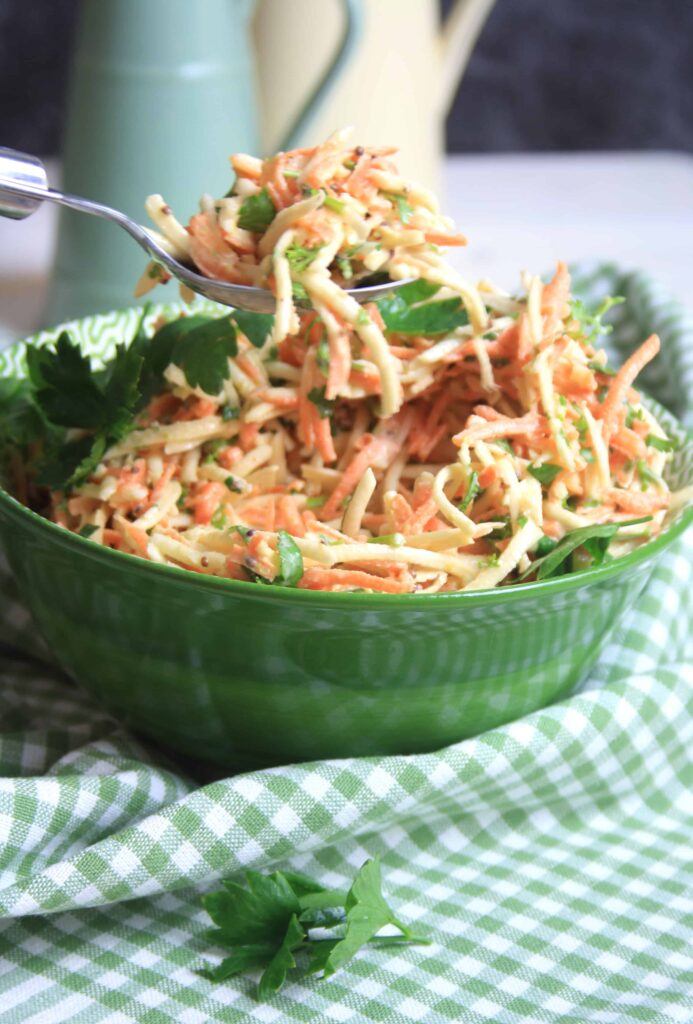 How to make Carrot and Celeriac Remoulade.
I always make this in the food processor and it takes longer to clear up than it does to make it! It's also easily made by hand grating.
Using a medium grater attachment  to grate the carrots and then transfer them to a large bowl.
Peel and immediately grate the celeriac then add to the carrots with the lemon juice and stir well.
Add the remaining ingredients and chill until ready to serve.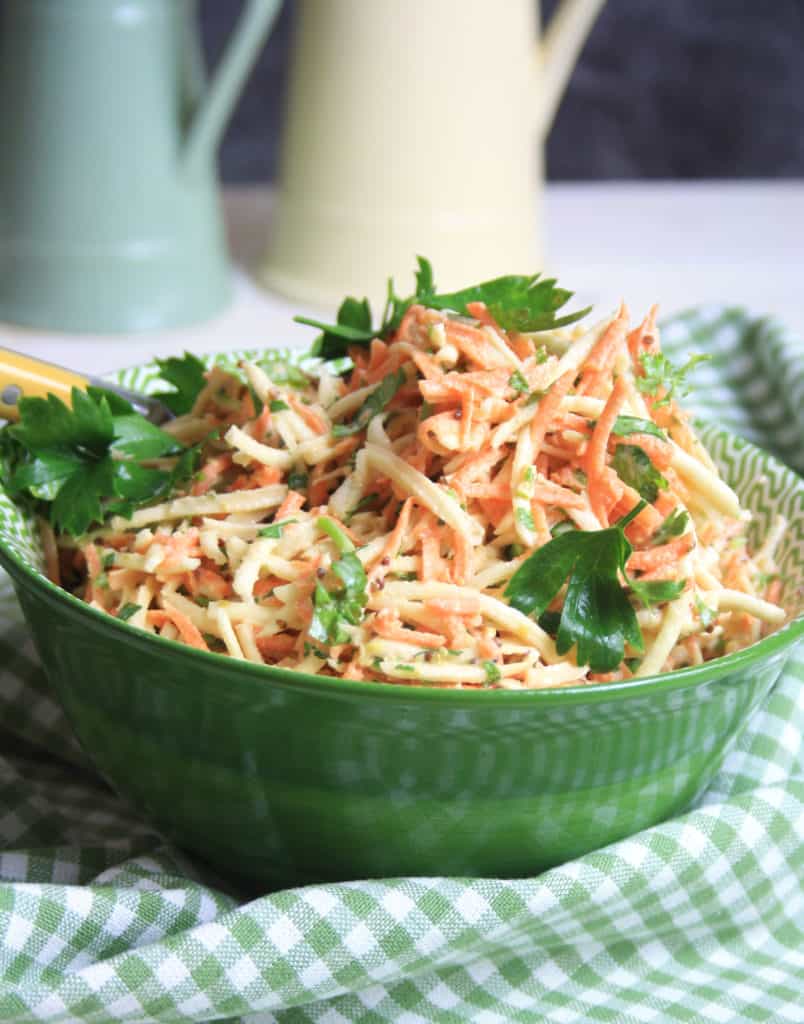 How to serve Carrot and celeriac Remoulade
Use this recipe as a replacement for coleslaw as a salad side dish. It is often served as part of a charcuterie board, or just with cold meat. It's great in sandwiches too.
Due to the yoghurt in the dressing, I would make sure that this is eaten within a couple of days.
Similar Recipes to try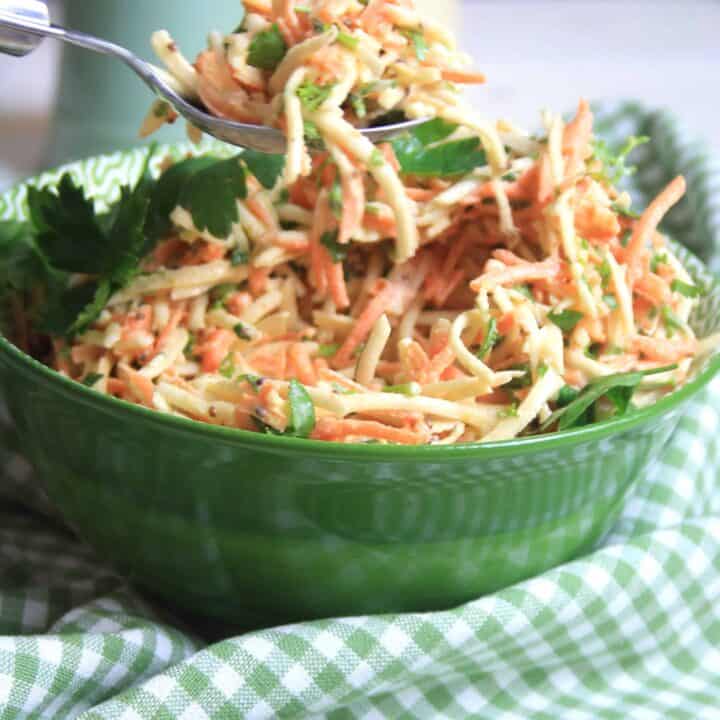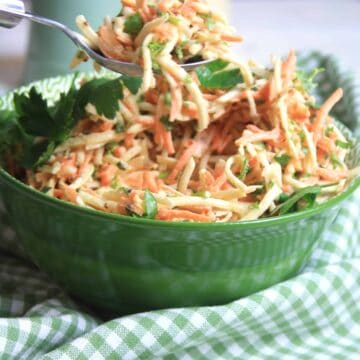 Carrot and Celeriac Remoulade
Classic French salad of carrot and celeriac root in a light mayonnaise sauce
Ingredients
300

g

carrots

peeled weight

300

g

celeriac

peeled weight

6

tbsp

mayonnaise

6

tbsp

fat free yoghurt

2

tbsp

lemon juice

2

tbsp

wholegrain mustard

20

g

coriander

finely chopped

seasoning

to taste

celery leaves

to garnish
Instructions
Grate the carrot in a food processor and place in a large bowl.

Repeat with the celeriac and immediately add the lemon juice and mix well.

Add the rest of the ingredients and mix well.

Garnish with celery leaves or a few coriander leaves if liked.
Nutrition Facts
Carrot and Celeriac Remoulade
Amount Per Serving
Calories 160
Calories from Fat 99
% Daily Value*
Fat 11g17%
Cholesterol 6mg2%
Sodium 251mg11%
Potassium 517mg15%
Carbohydrates 13g4%
Protein 3g6%
Vitamin A 8555IU171%
Vitamin C 28mg34%
Calcium 122mg12%
Iron 2mg11%
* Percent Daily Values are based on a 2000 calorie diet.
Be the first to receive new recipes in your inbox and get my free E-Book of 25 French Recipes! Subscribe here