Celeriac remoulade is a classic French salad that is full of tangy flavours and plenty of crunch.
So versatile, as a side dish to grilled meats, picnics or part of a grazing board, this salad is easy to put together and delicious to eat.
It's perfect for feeding a crowd too and makes a fab change from coleslaw. Your guests will love it!
Bon appétit!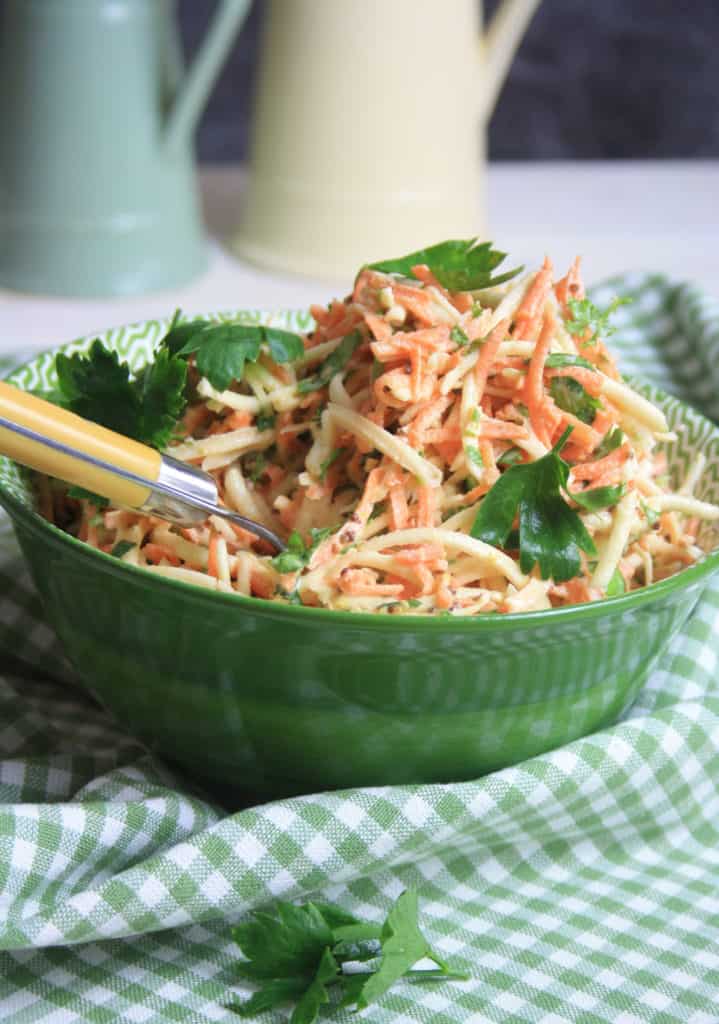 Jump to:
About this dish
Carrot and Celeriac Remoulade is a classic French salad which you may have never heard of. At least, I had never heard of it before I moved to France to live.
Although I do like to make salads from scratch, I often used store bought coleslaw, if it was just two of use eating. Unfortunately, the coleslaw in France tended to be mostly grated carrot in vinegar with lots of onion, which is not particularly appetising, so I was on the lookout for something else when I saw this salad on the deli, both with carrot and on its own too.
Remoulade is a name for a mayonnaise based sauce, often flavoured with mustard and herbs. In fact, if you go to a typical French supermarket, you would find it difficult to find a mayonnaise without mustard in it. It sounds odd, but there isn't a strong mustard taste and I actually find UK brands tasteless.
🥘 Ingredients
The star of the show is a celeriac root! If you have never tried this vegetable before it resembles a knobbly white swede, but with a lighter texture. It can be quite awkward to peel and it is easier to cut off the knobbly end with the roots and then peel the rest with a vegetable peeler.
As soon as the peeled surface is exposed to the air it will start to turn brown so it needs to be put in water with lemon juice, if it's to be cooked, or just in lemon juice if it's to be eaten raw.
The celeriac is crunchy, with a subtle celery flavour which goes well with the sweetness of carrots.
For this recipe you will need equal parts of carrot and celeriac and lemon juice to coat. For this recipe bottled lemon juice is fine if you don't have any fresh lemons.
Although the classic recipe calls for mayonnaise, I have cut the calories in this dish by swapping half of the mayonnaise for fat-free yoghurt, with whole grain mustard as a flavouring. You can also use dijon mustard but avoid yellow English mustard as it's too savage for this dish.
Of course, you can also make your own mayonnaise, which is really quick to do.
For the herb element I've used coriander, but typically flat leaf parsley or snipped chives are used.
🔪 Instructions
The easiest way to grate the vegetables in in a food processor. Of course, you can also grate them.
Using a medium grater attachment fitted to the large bowl to grate the carrots and then transfer them to a large bowl.
Peel the celeriac and cut into chunks before grating. Now add to the carrots with the lemon juice and stir well.
Add the remaining ingredients and chill until ready to serve.
FAQs
More Salad recipes
📋 Recipe
Be the first to receive new recipes in your inbox and get my free E-Book of 25 French Recipes! Subscribe here