Do you know how to prepare oysters? For me, there's nothing better than a freshly shucked oyster, nestled in its seawater cocoon. So light and refreshing!
This really is the simplest starter, as it is all about the oyster itself, so there is no complicated recipe here, just pure pleasure.
Bon appétit!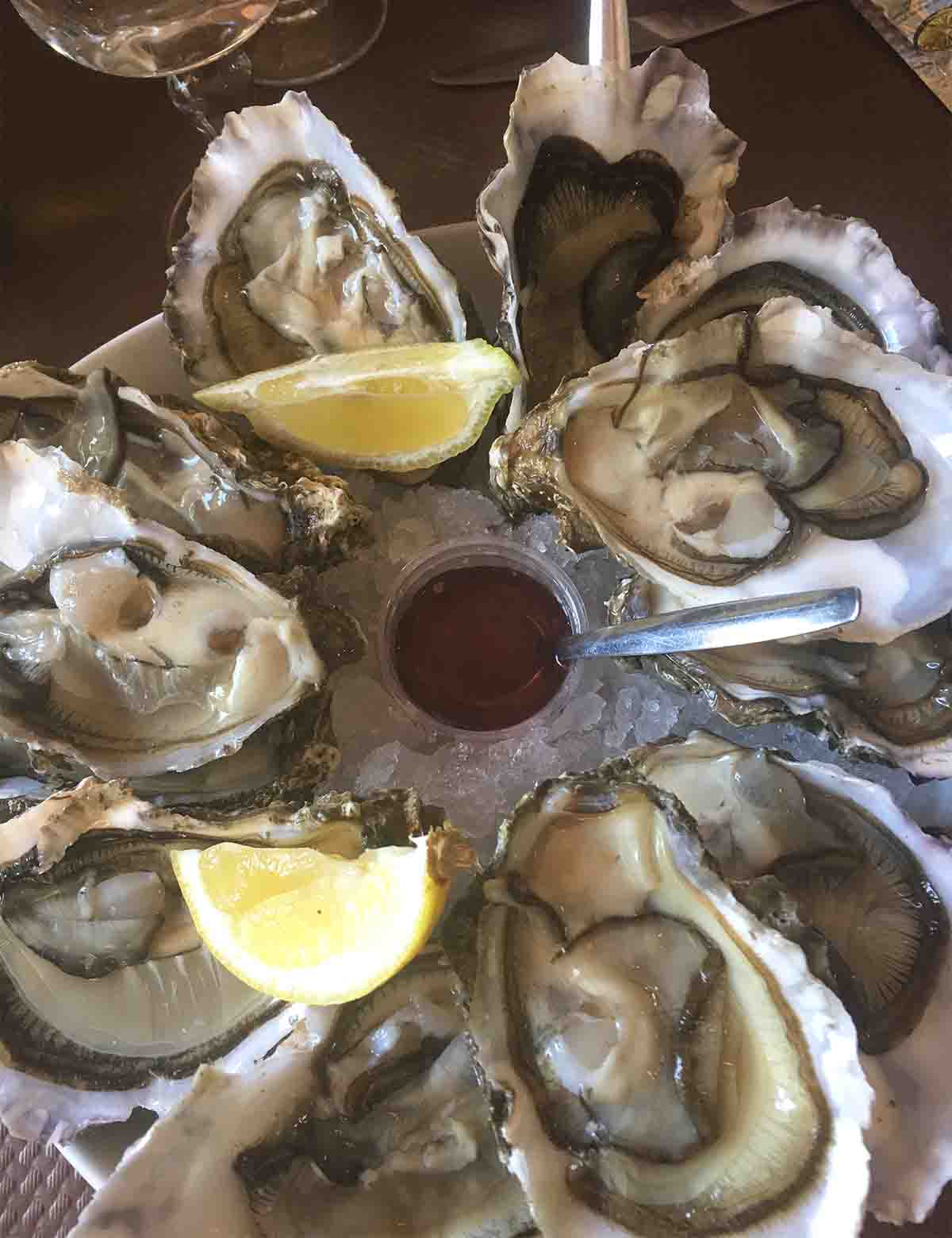 Jump to:
Oysters
If you haven't tried oysters before then you are really missing out on something quite unlike most other foods. If you asked me to describe the flavour the words that come to mind are: clean, fresh, slightly salty, delicate and light. For me they are simply delicious!
In France they are still hugely popular and all the large supermarkets in France stock them all the time. The French people love them, especially as a traditional starter at Christmas. There are huge queues and often they set up a special stall in the car-park or in another part of the shop. It's a great atmosphere and the shoppers are handed out aperitifs!
🥘 Ingredients
There is a huge variety of oysters, both in the UK and France. Each has their own unique taste, shape and size.
The most prized in Charente Maritime are the Marennes-Oléron oysters, which undergo a particular process for maturity.
Now that I am back in the UK, we have oysters delivered for special occasions, and of course, they arrive live, ready to be shucked and eaten.
I allow 6 per person for a starter.
🍽 Equipment
Safety is important when opening oysters, so that you don't cut yourself.
You will need a tea towel, to get a good hold on the oyster and a shucking knife.
If you are serious about oysters at home, you can also get a silicone oyster gripper, which holds it securely.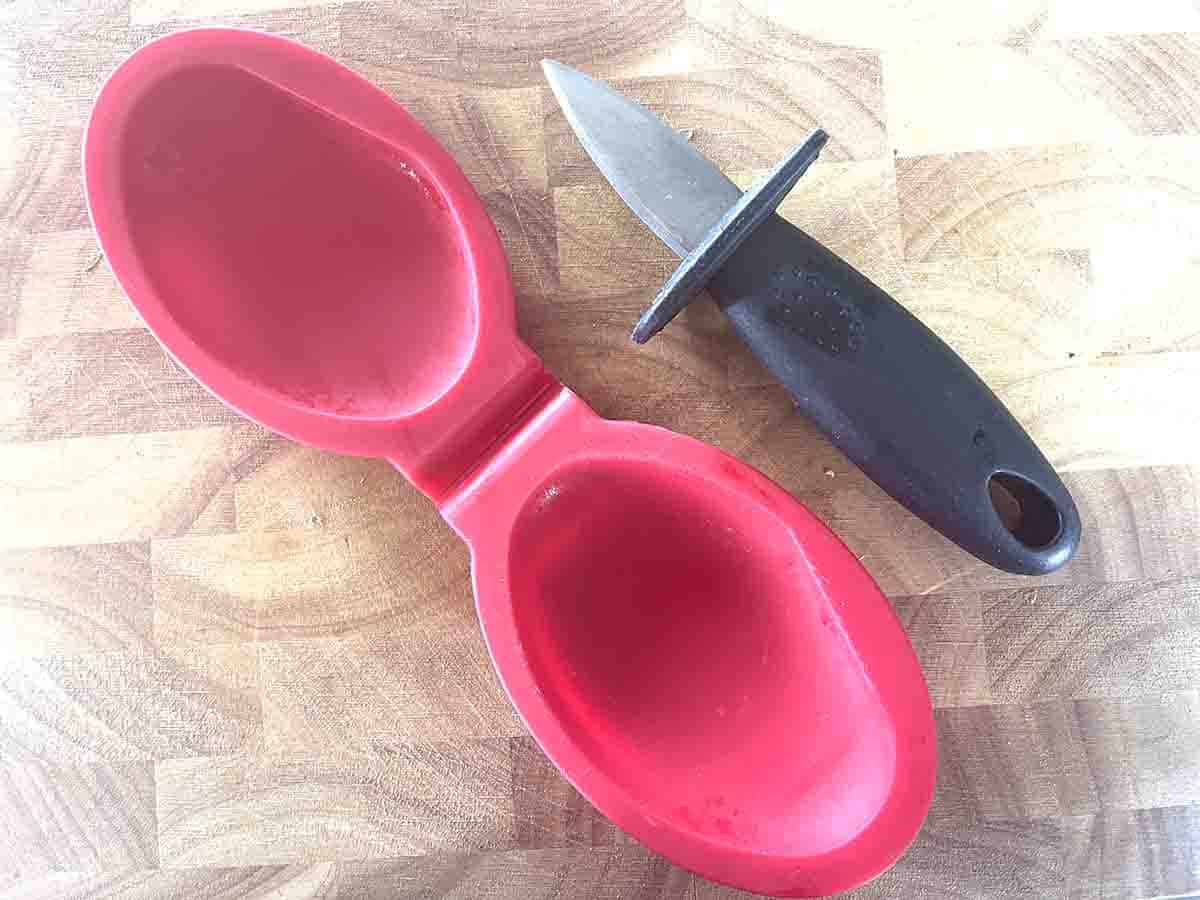 The knives are cheap to buy. I have one that is just a double sided blade, which is the cheapest and most popular, and another that has a lever. This lever can be used to nip off a piece of shell if you are having difficulty inserting the knife.
A small paring knife is a good substitute.
🔪 Shucking Instructions
Start by checking your oysters to make sure that none are cracked or open in any way, as they could be bad to eat.
Rinse the oysters under the cold tab and brush off any loose bits.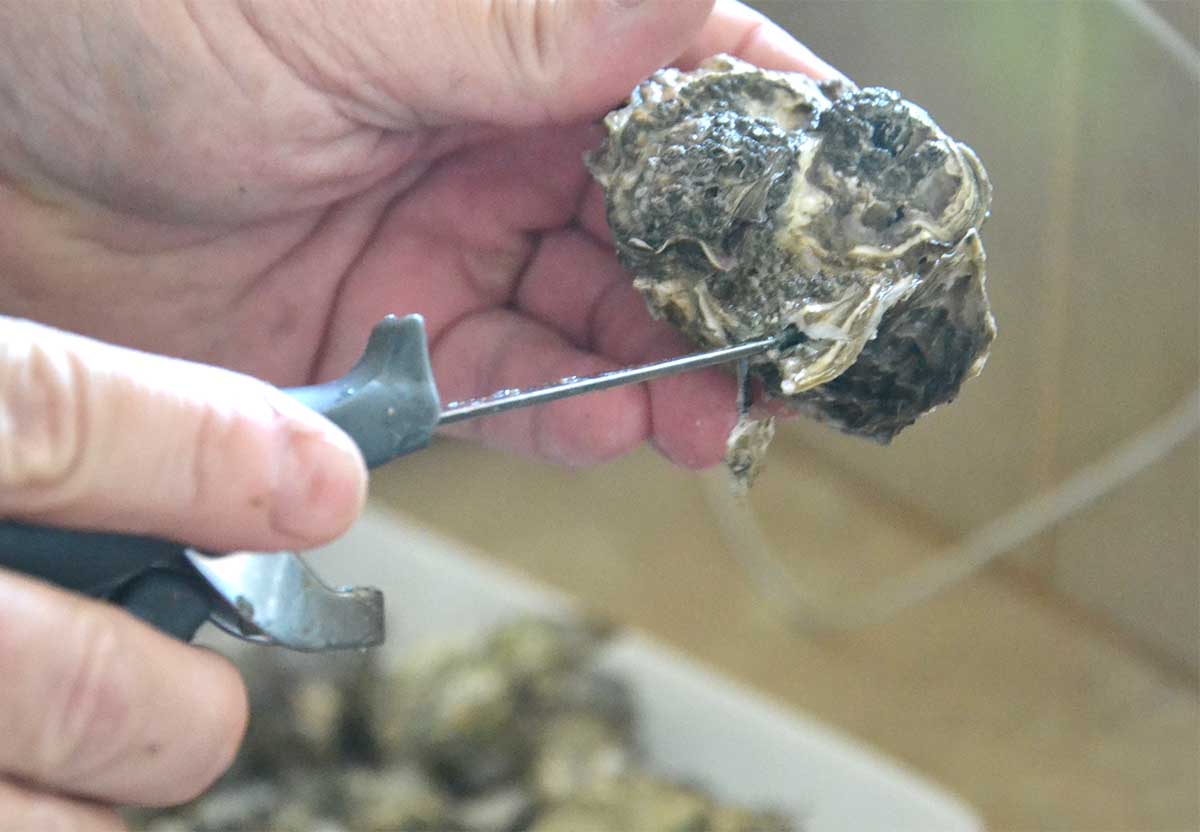 Hold your oyster, with a cloth, with the flattest bit uppermost as you don't want to spill any of the juices when you open it.
Now look for the hinge, which is normally the pointiest part of the oyster, and insert the knife.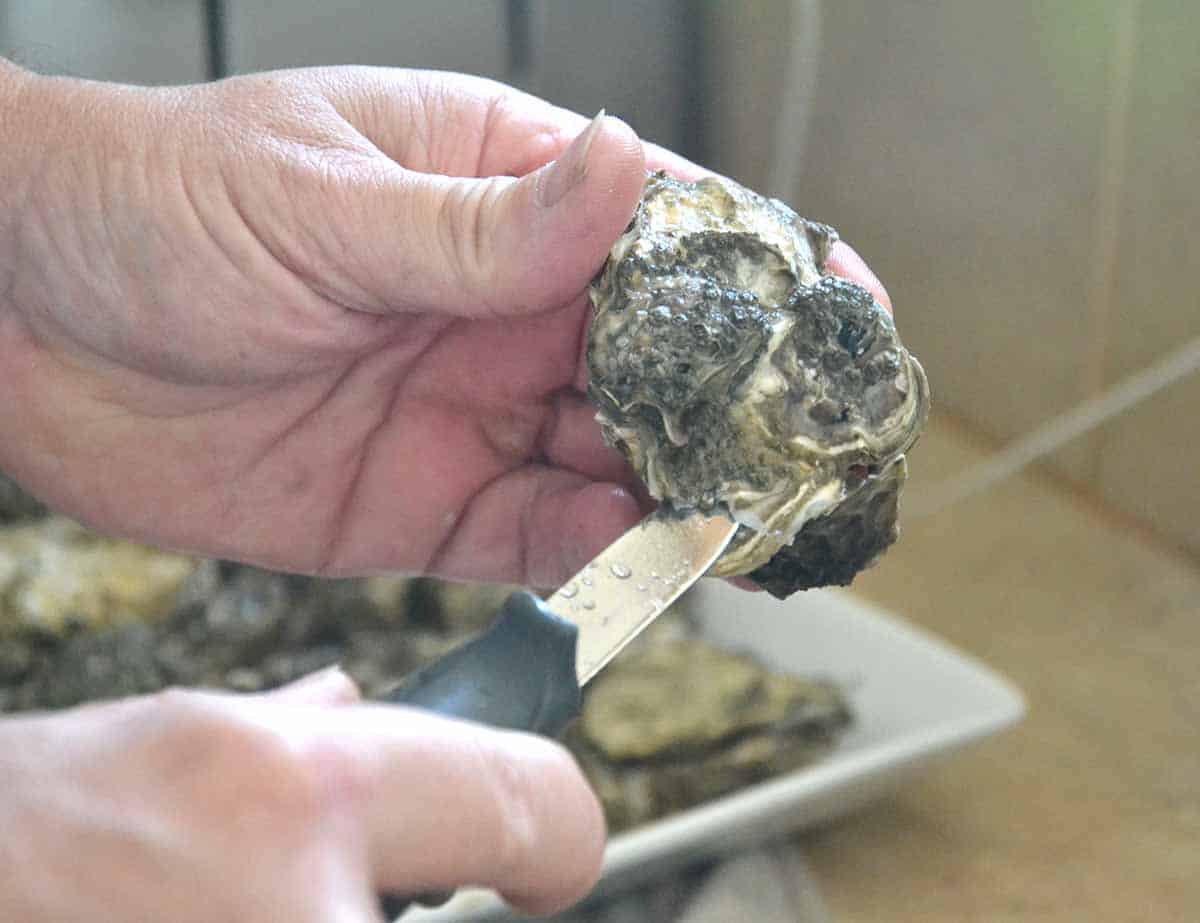 When the knife is in far enough and secure, twist the knife to release the seal of the muscle. The noise you hear is called the 'shucking' noise.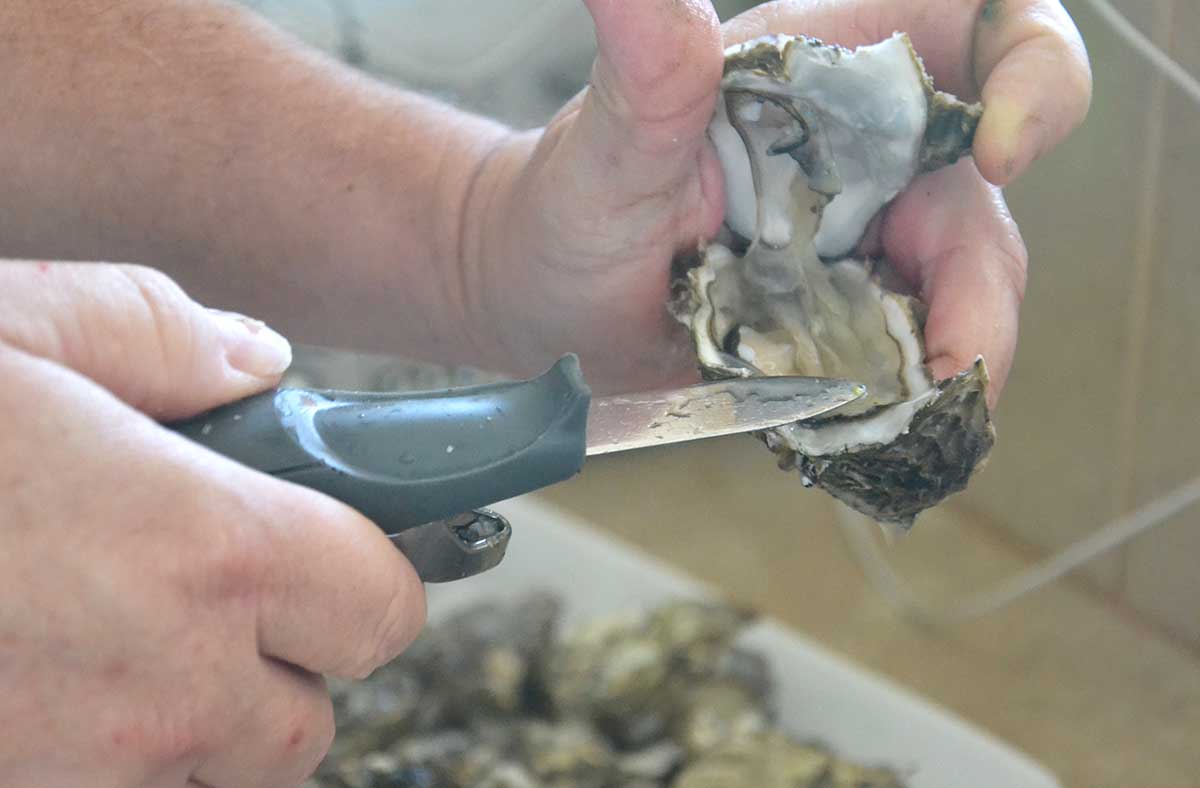 Ideally the oysters should be served straightaway, but it will take a time to open all the oysters so use the top shell as a lid to keep them fresh, while you prepare the rest.
Look at these beauties, brimming with flavour!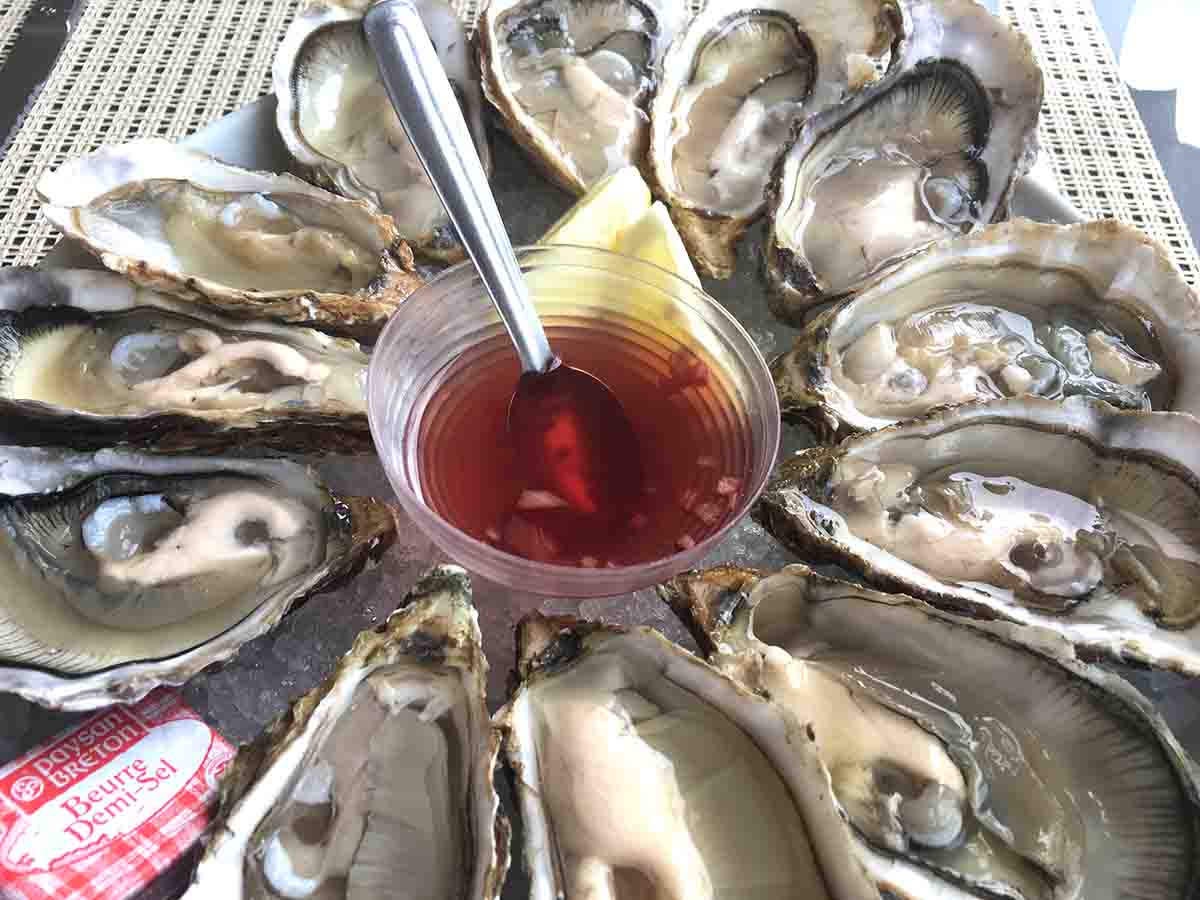 📖 Serving variations
The French often serve the oysters on specially grooved plates so that the oysters sit sill on the plate. I love to serve a big platter, where everyone can help themselves. This is much less daunting for anyone who has not tried oysters before.
Start with a layer of crushed ice on a large platter. I tend to put the ice in a tea towel and bash it with a meat tenderiser. Now arrange the oysters and scatter lemon wedges across so everyone can help themselves. Take off the top oyster shells to serve.
In restaurants you are often given a little 3 pronged fork to loosen the oyster, before tipping it into your mouth. Believe me, it is considered very bad etiquette if you don't use the fork to scrape away every single piece of flesh!
At home though, I prefer to use a grapefruit spoon. Its pointed, serrated edge makes it a much better tool.Athough I am usually given a little fork to loosen the oyster in restaurants I have to say that a grapefruit spoon is much more effective. They are often served with Tabasco and finely chopped shallots in red wine vinegar. A little bit of crusty bread and butter always goes down well too...
FAQs
What do you serve with oysters?


Traditionally, serving oysters is very simple. Lemon wedges, a small bottle of tabasco sauce and perhaps some shallot vinaigrette, known as mignonette. It's some finely chopped shallots, black pepper and red wine vinegar.

How do you store oysters?

Store them in the fridge, with the flattest side uppermost. Cover them with a clean tea towel that has been under cold water and wrung out. Technically, they can live for 4-5 days, if the temperature of your fridge is between 0-5 C. If I am having an oyster delivery, I would eat them the same day or the following day.
What wine do you serve with oysters?

I love crisp dry white wine so for a French wine I would choose a Muscadet sur Lie, Sancerre, Chablis or a Sauvignon Blanc.
If you want to see some shucking in action have a look at this video I took of my poor husband.....
It is definitely the effort!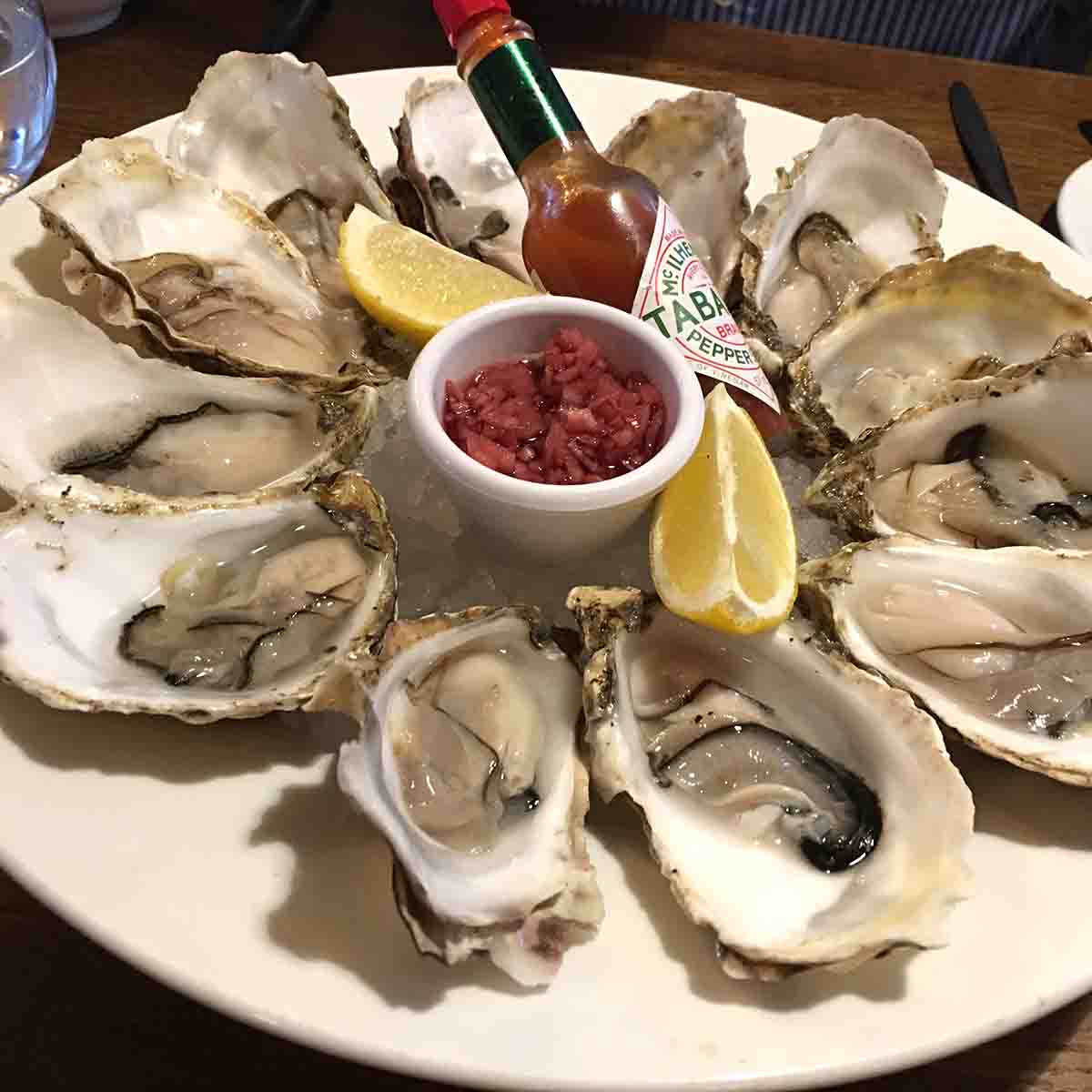 More shellfish recipes
📋 Recipe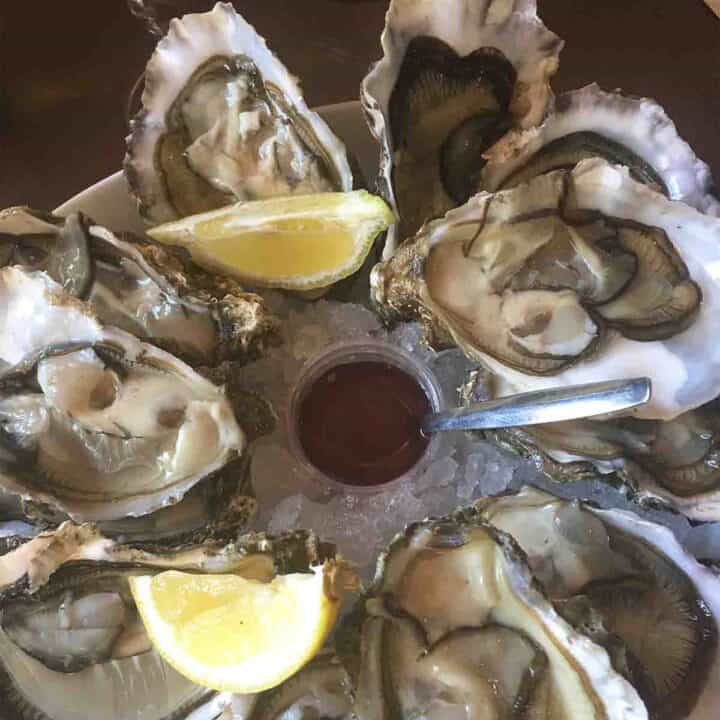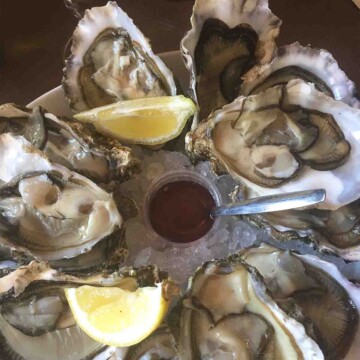 How to Prepare Oysters From Scratch
Step by step guide to prepare and serve oysters from scratch.
Ingredients
24

oysters

live in the shell

1

lemon
Mignonette dressing
1

shallot

¼

teaspoon

black pepper

3

tablespoon

red wine vinegar
Instructions
Rinse the oysters under the cold tab and brush off any loose bits.

Hold your oyster, with a cloth, with the flattest bit uppermost and insert the knife into the hinge.

Twist the knife to release the seal of the muscle and remove the top shell.
Mignonette dressing
Finely chop the shallot and place in a small bowl.

Add the pepper and vinegar and stir well.
Nutrition Facts
How to Prepare Oysters From Scratch
Amount Per Serving
Calories 19
Calories from Fat 9
% Daily Value*
Fat 1g2%
Cholesterol 3mg1%
Sodium 9mg0%
Potassium 77mg2%
Carbohydrates 4g1%
Protein 1g2%
Vitamin A 11IU0%
Vitamin C 15mg18%
Calcium 16mg2%
Iron 1mg6%
* Percent Daily Values are based on a 2000 calorie diet.
Disclaimer: The nutritional information provided is approximate and is calculated using online tools. Information can vary depending on various factors, but we have endeavoured to be as accurate as possible.
Detailed instructions for this recipe, including step by step photographs, hints and tips, can be found in the main article.