Baked Halloumi Fries
Have you tried Halloumi Fries? They seem to be really popular right now tapas or starter dish but they are often served deep fried, which although is very tasty, it's not the healthiest. Although the cheese contains fat, I wanted to make these without the hassle of deep frying and, even better, without added oil altogether. After a fair bit of trial and error I bring you a baked halloumi fry. It has all the crunch and colour of fries without all of the extra fat. Trust me, you won't taste the difference!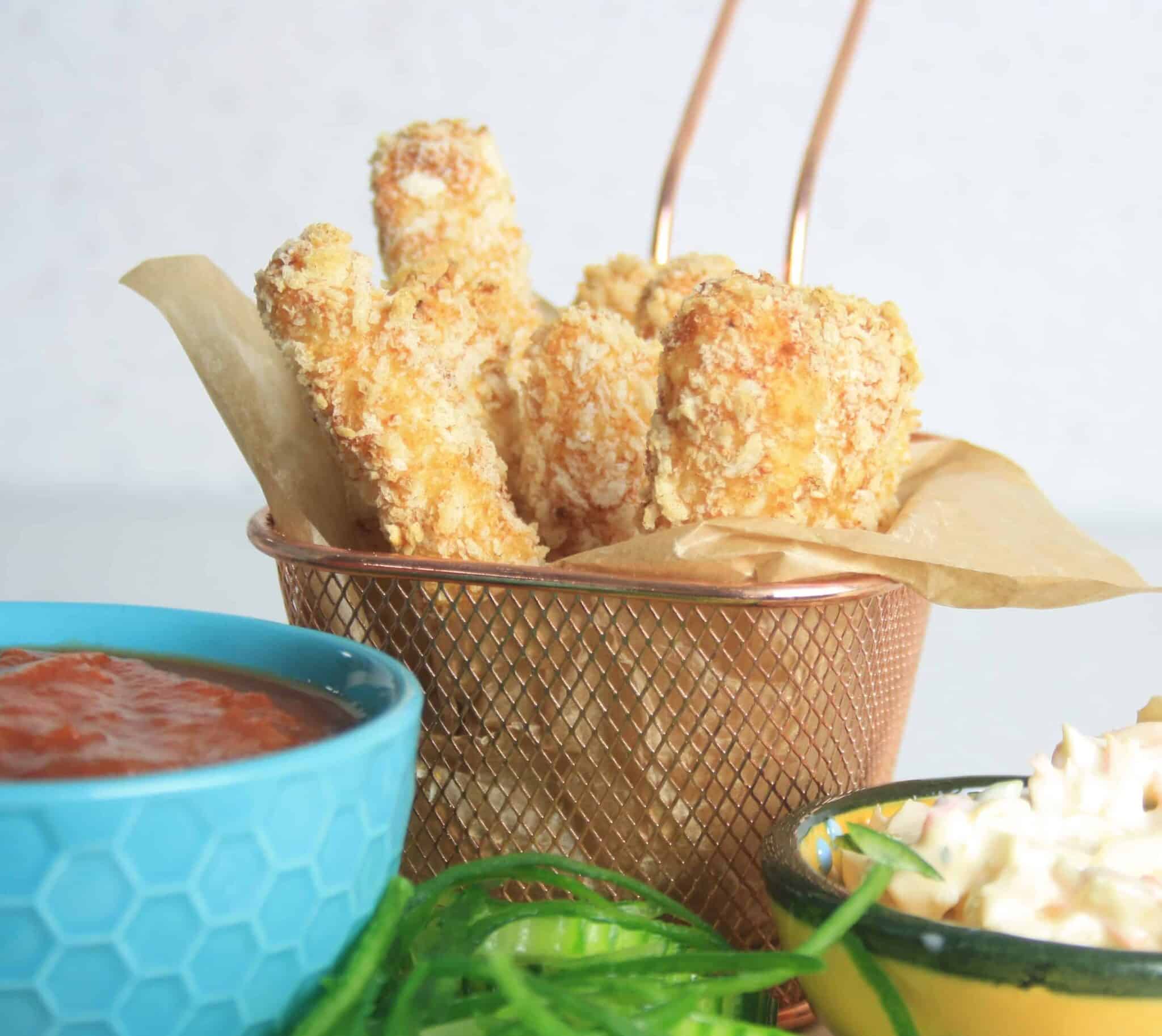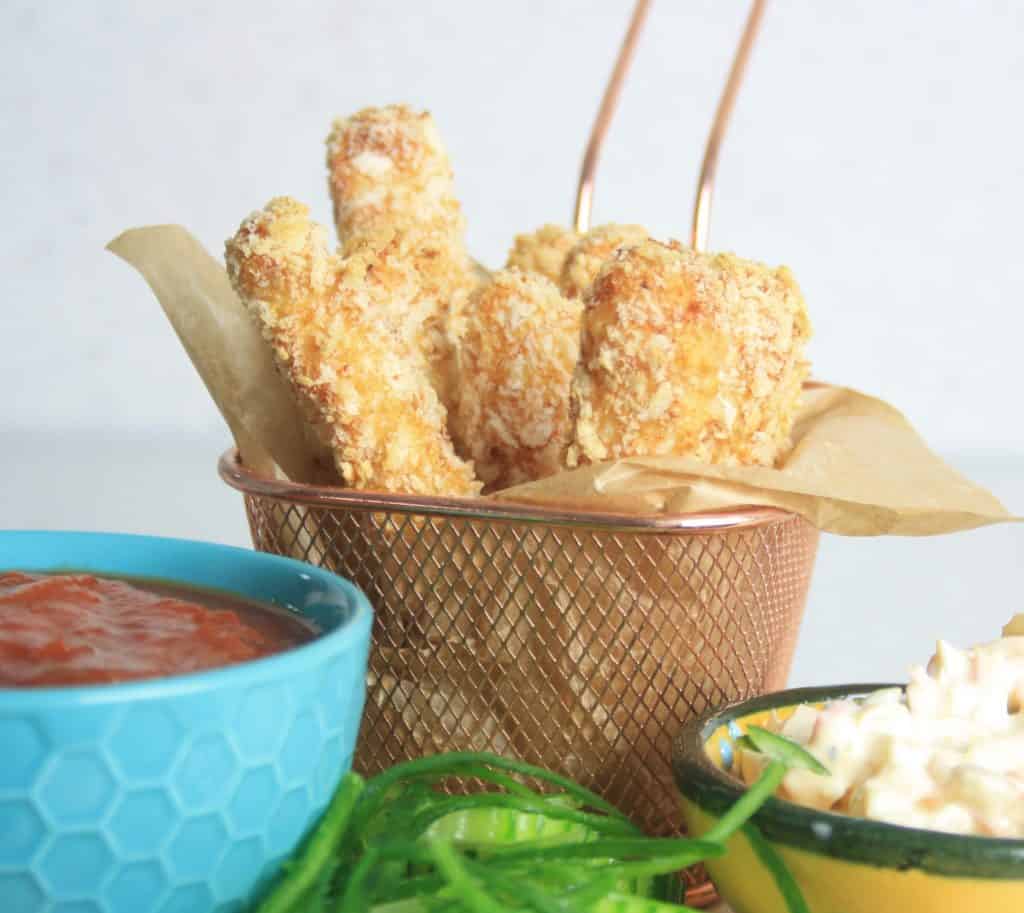 What do I need?
A standard 225g pack makes 18 fries. You can use any variety with herbs, chilli or reduced fat. The other ingredients I've used are plain flour, panko breadcrumbs, egg and smoked paprika. I always keep a few packs of halloumi in the fridge, as it has such a long fridge life and the rest of the ingredients are pantry staples. They are quick to make too so they are perfect for a last minute get together.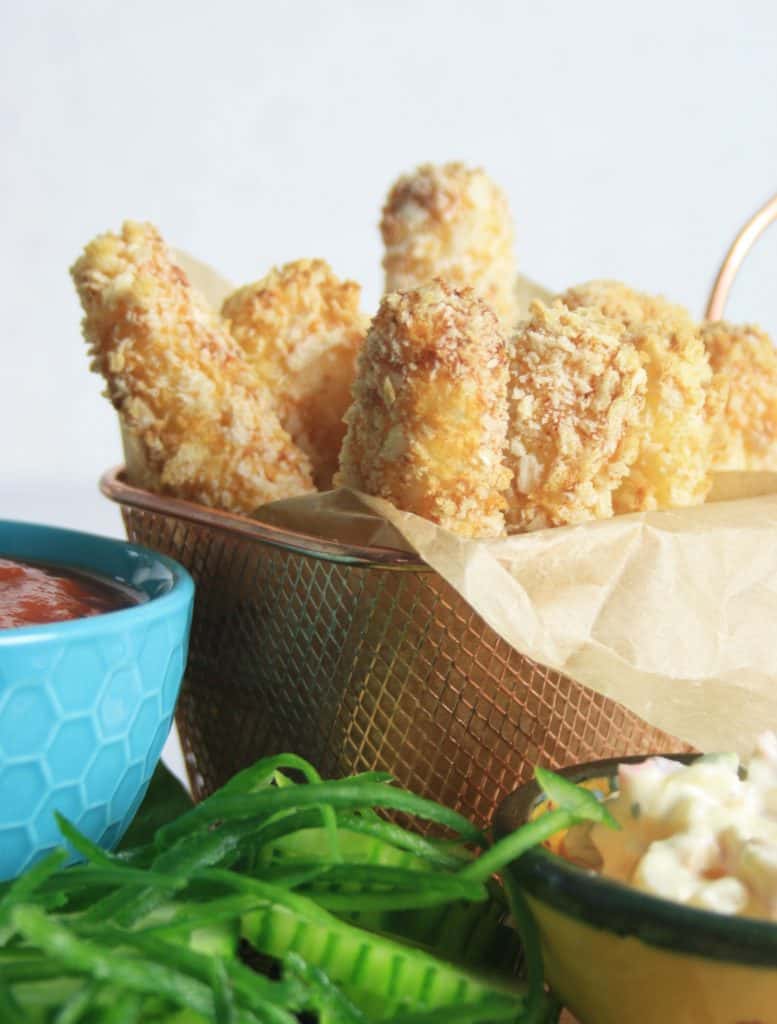 How to make the baked halloumi fries
Any one can make these. There are no special skills involved, I promise!
Open the packet of halloumi, drain off the liquid and place on a sheet of kitchen towel. Cut 5 slices lengthways, just less than a centimetre, then cut each slice into 3. Use another piece of towel to vcover the halloumi for a few minutes to soak up as much moisture as possible. If you skip this step the fries tend to spread in the oven and won't hold their fry or chip shape.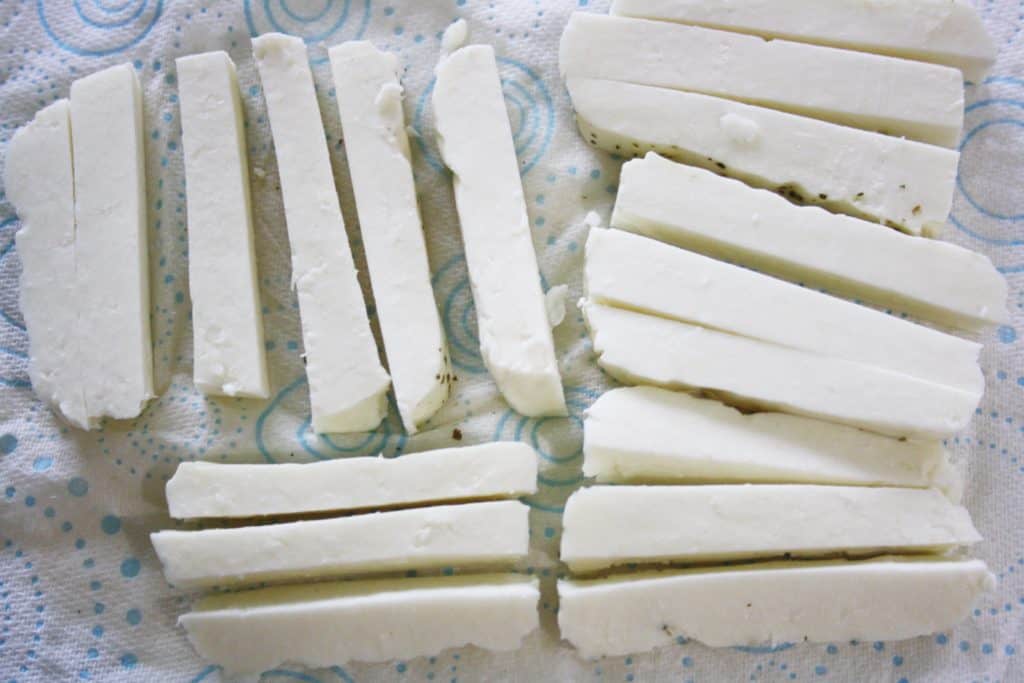 In the meantime get everything ready for breading. I find it's easier to get everything ready in separate pots with flour, beaten egg and the panko paprika mix. Get a large non stick baking tray to hand. I find it's better to use a reusable baking mat as the food just slides off.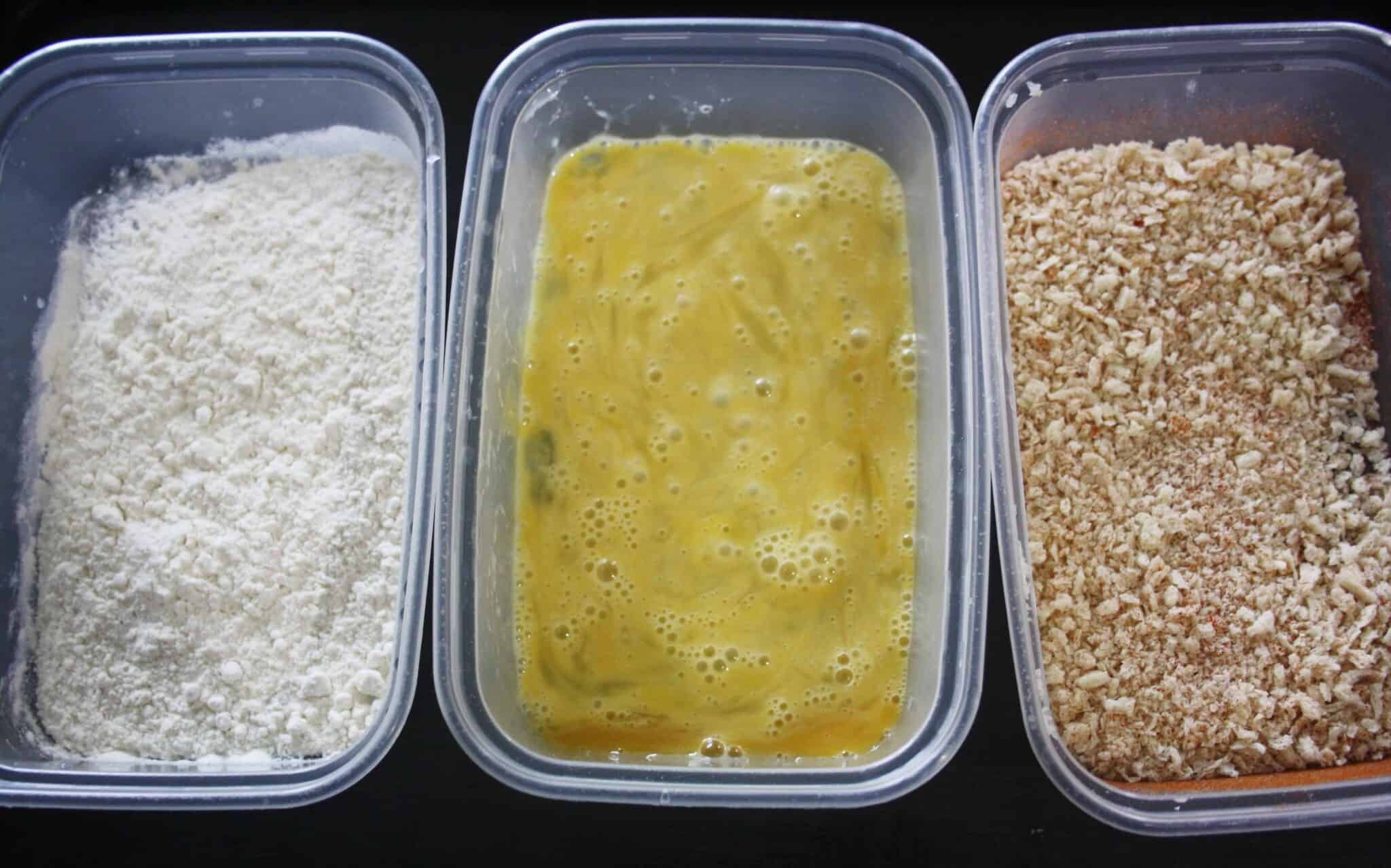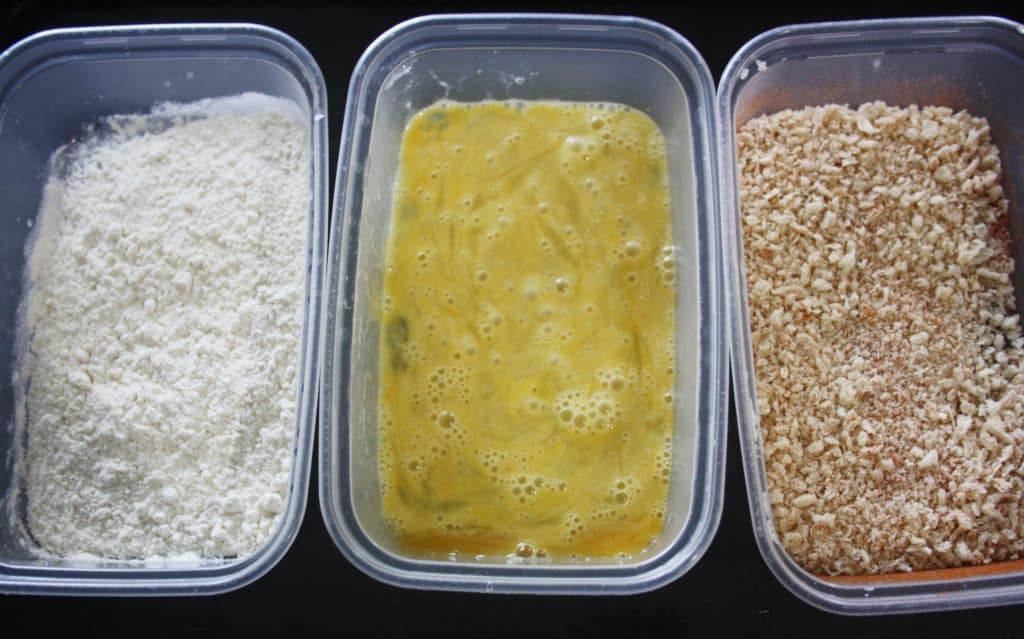 The next bit sounds simple: dip each piece in the flour then the egg and finally the panko. However, if you do this you will find that you've run out of panko because it's all stuck to your hands. It's better to put 4 pieces in the flour with your left hand then use the same to drop them in the egg. Add another 4 pieces to the flour then use your right hand to turn the pieces in the egg before using the left hand to dip in the panko. Better still get some little hands involved in the kitchen and get the kids to help!
Lay the coated pieces of halloumi on the oven tray. The paprika gives them the start of a golden colour before they are baked because there won't be any oil added.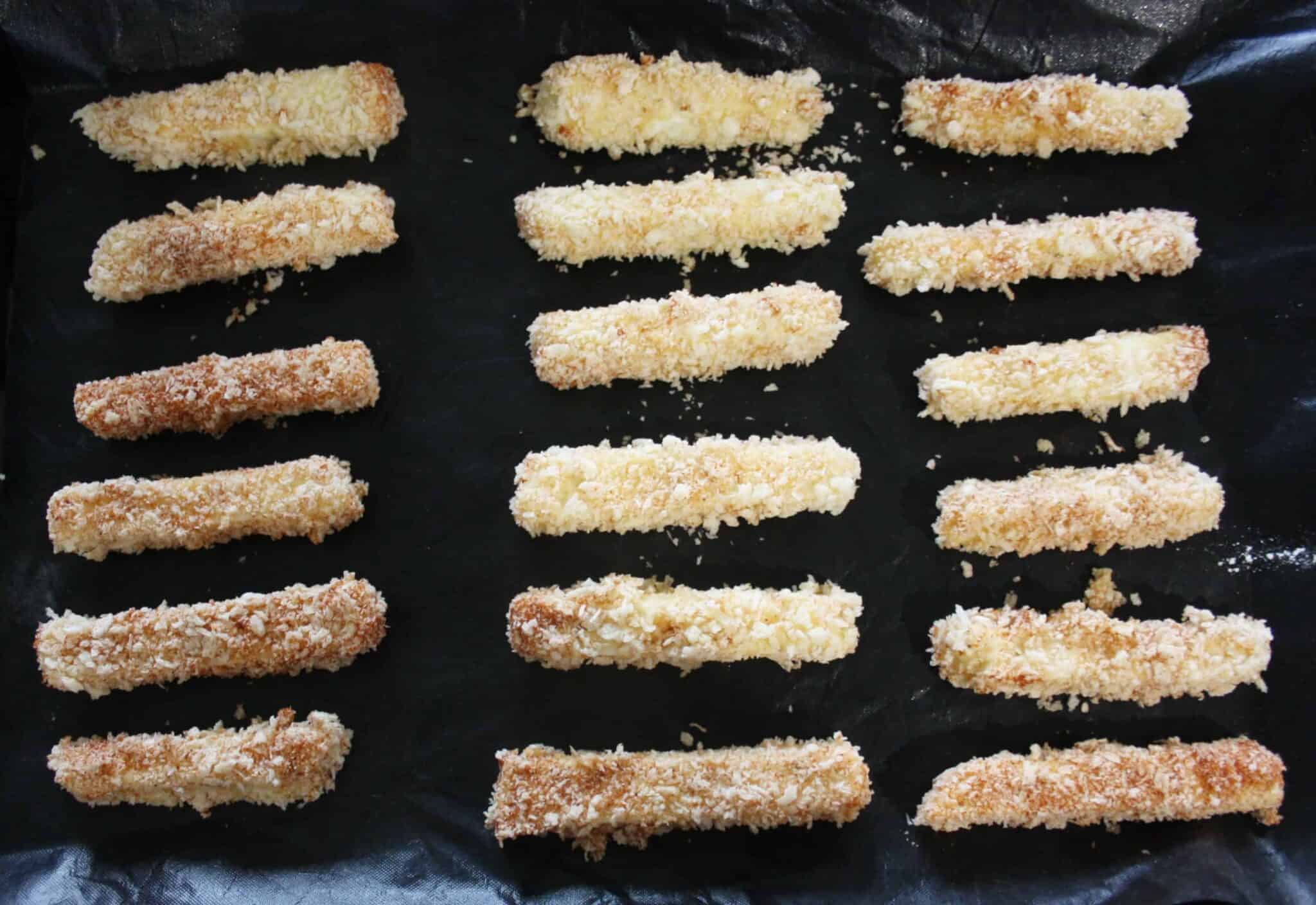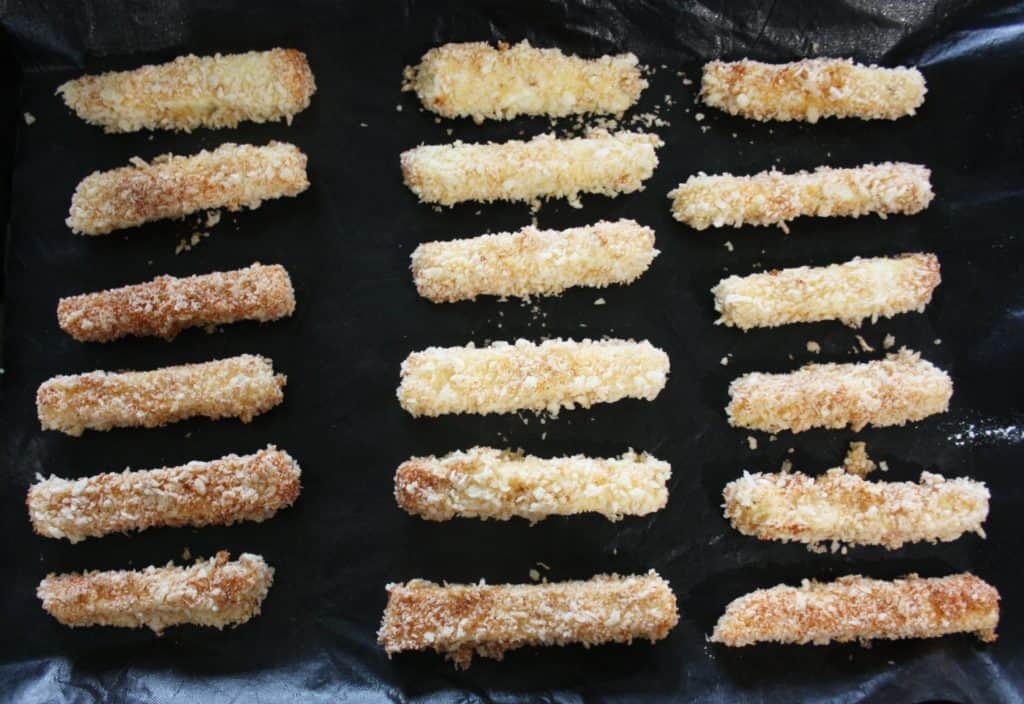 Bake in a preheated oven at 200C or 190C fan oven for 20 minutes. Turn over after 10 minutes.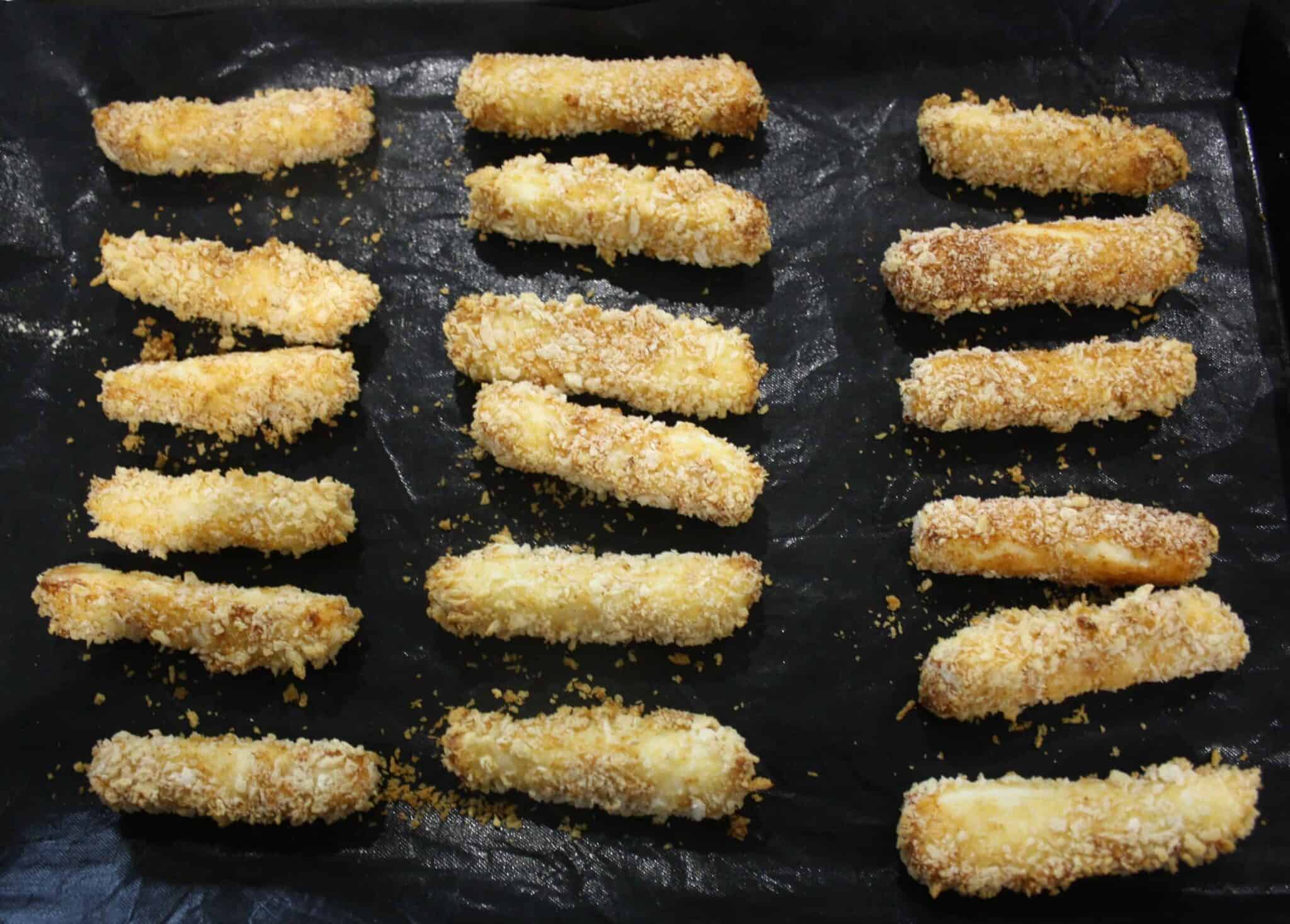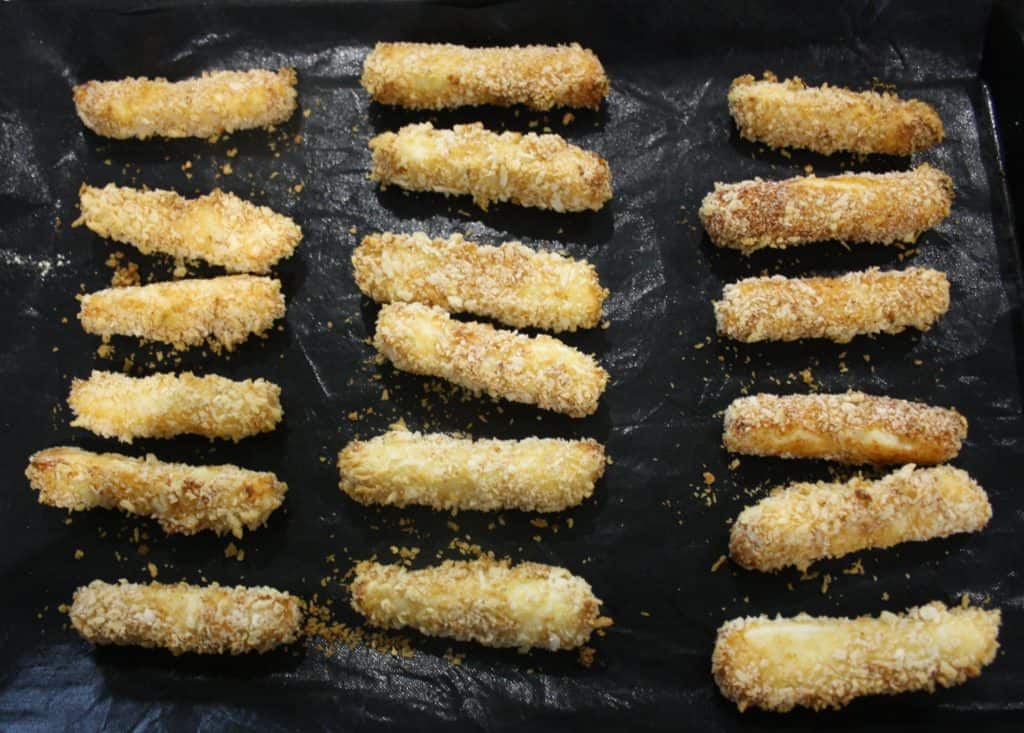 How to serve
These are so good that everyone will be swiping them straight off the oven tray, but if they can manage to hold out they are great at parties, on sharing boards, as a starter or a snack. They are best served warm from the oven with your favourite dip. A tomato based sauce or salsa goes particularly well but try Sriracha swirled into some mayonnaise or make your own Roasted Garlic Mayonnaise.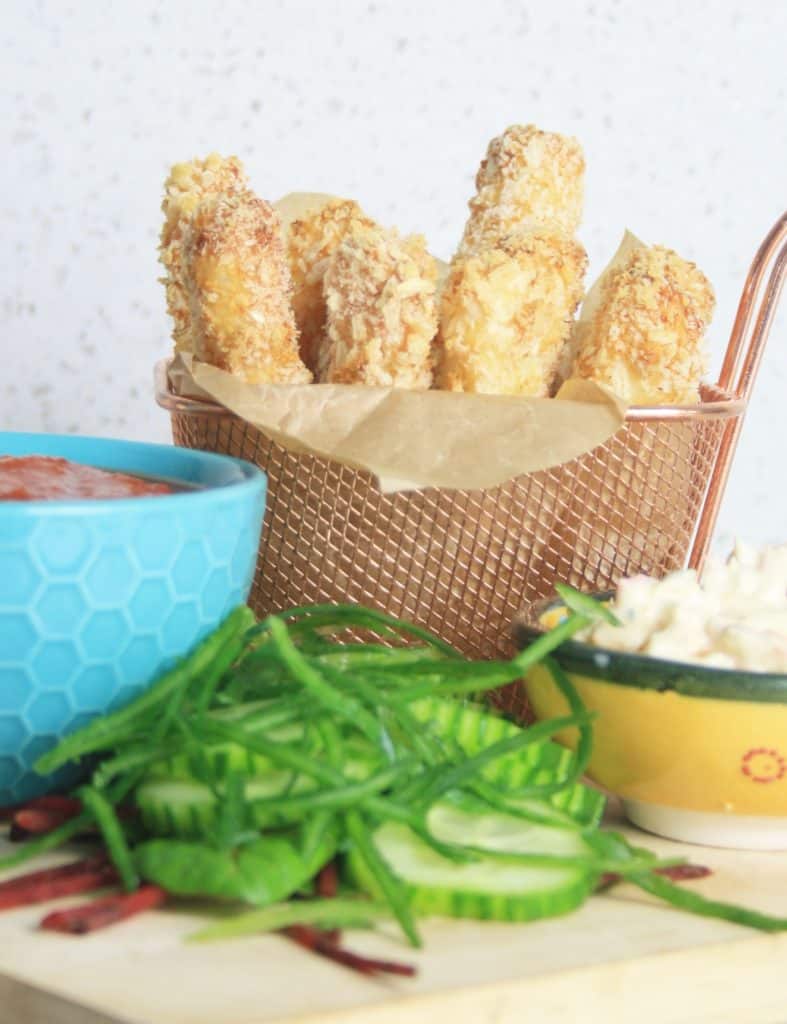 How to store
You could prepare these a few hours in advance and store in the refrigerator before baking. Or, store cooked halloumi fries in a sealed container and enjoy cold. You could rehead these for 10 minutes at 180 C.
If you want to freeeze them it's best to open freeze on oven trays then pack into sealed containers then reheat as above.
More party food recipes to try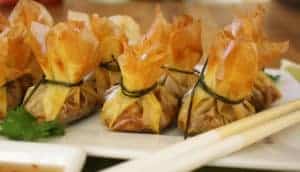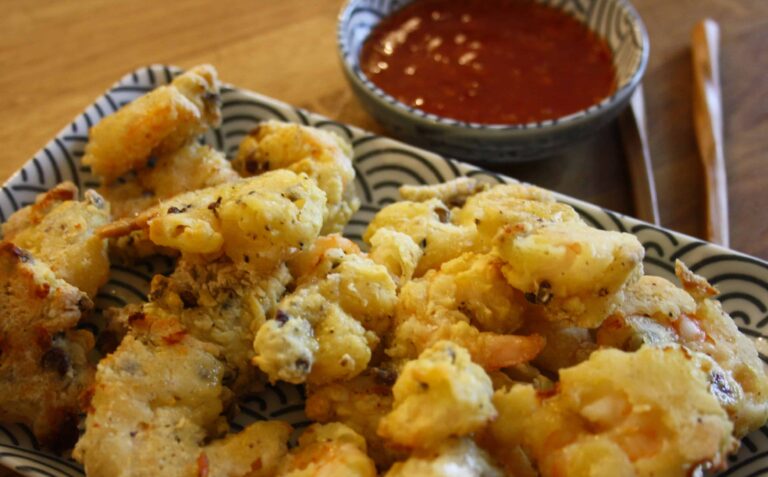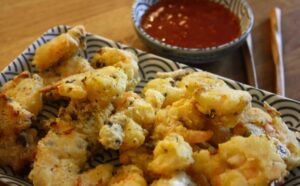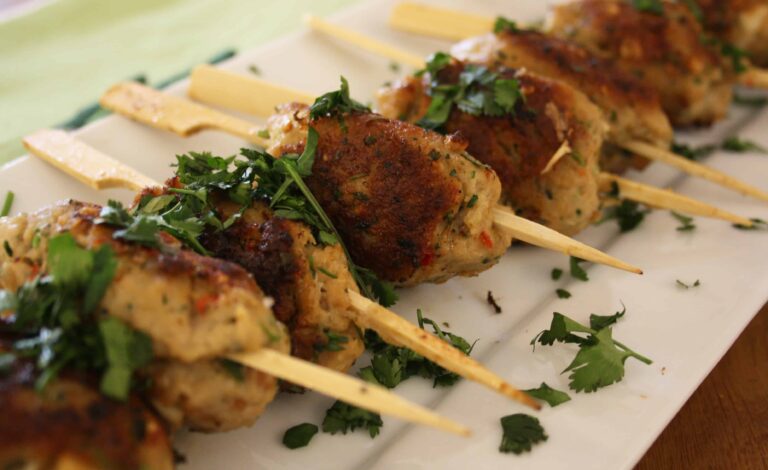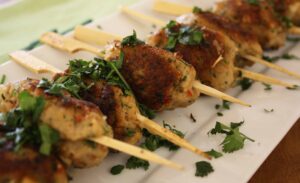 Pork & Peanut Moneybags . Szechuan Salt & Pepper Prawns. Asian Pork Koftas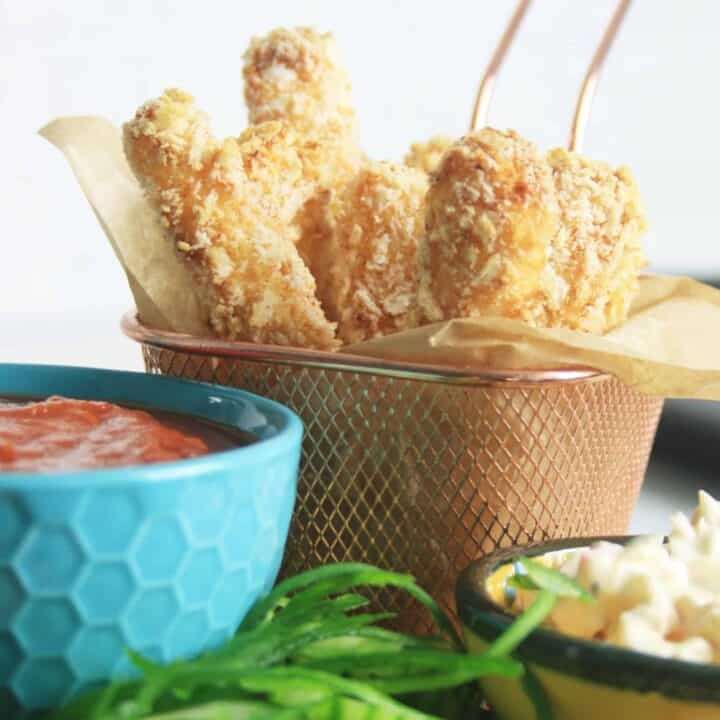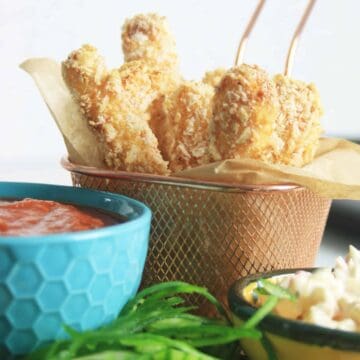 Baked Halloumi Fries
Easy dish of halloumi baked with panko and smoked paprika
Ingredients
225g

halloumi

2

tablespoon

flour

1

egg

beaten

50

g

panko breadcrumbs

3

teaspoon

smoked paprika

optional
Instructions
Cut the halloumi into 5 slices lengthways, then cut each slice into 3, giving 18 fries.

Lay the fries on kitchen paper and cover with another piece to mop up excess moisture.

Put the egg, flour into separate shallow pots.

Preheat the oven to 190 C and prepare an oven tray.

Dip the pieces into flour then egg then panko and place on the baking tray.

Bake for 10 minutes before turning over then baking for a further 10 minutes.
Nutrition Facts
Baked Halloumi Fries
Amount Per Serving (60 g)
Calories 173
Calories from Fat 99
% Daily Value*
Fat 11g17%
Cholesterol 27mg9%
Sodium 522mg23%
Potassium 49mg1%
Carbohydrates 9g3%
Protein 11g22%
Vitamin A 532IU11%
Calcium 397mg40%
Iron 1mg6%
* Percent Daily Values are based on a 2000 calorie diet.
Notes
Change the paprika for oregano or basil for a Mediterranean flavour.
Be the first to receive new recipes in your inbox and get my free E-Book of 25 French Recipes! Subscribe here!