Spicy mango chutney with lime is sweet, sticky and tangy and the perfect accompaniment to your favourite curry.
It's fun to make, full of chunks of juicy mango, chillies, spices and slices of lime -but don't just save it for curries!
There's so many uses for this chutney, from sandwiches, dips, salads or even a last minute gift.
Bon appètit!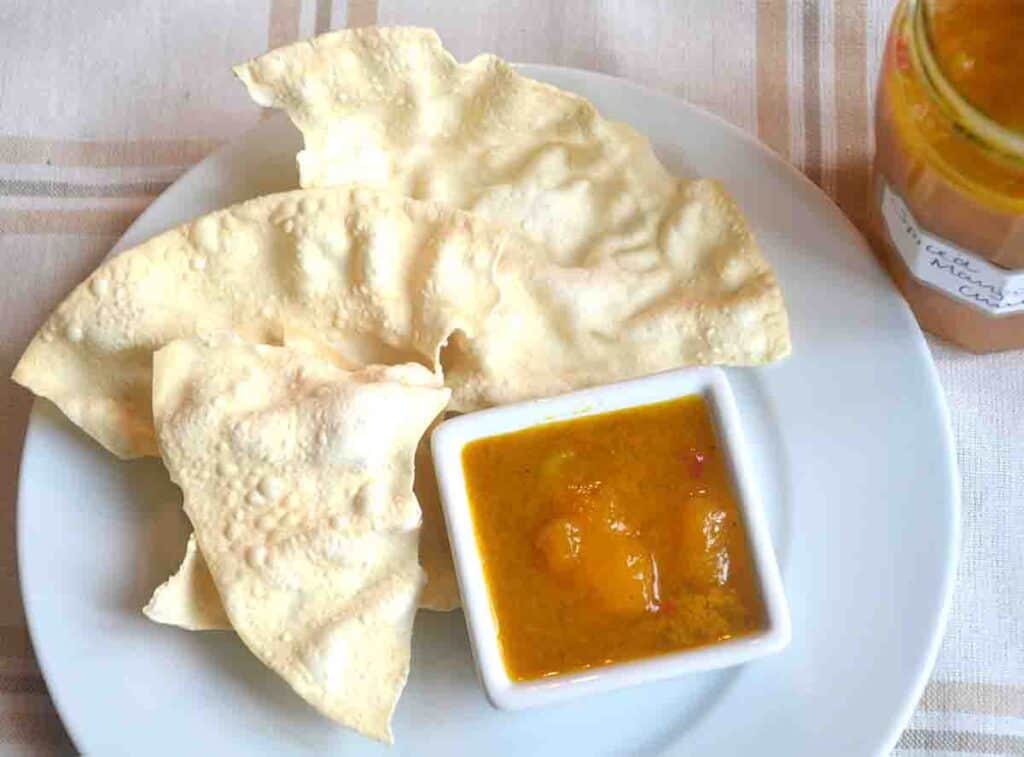 Jump to:
Why you will love this recipe
easy to make with no special skills
makes a great gift
can be used in so many other recipes
What are the ingredients?
It's actually really easy to get the ingredients for this recipe as there is no weighing out.
It starts with 3 mangoes and 3 limes and 3 red thin chillies.
Then for preserving it's a bag of sugar and a bottle of apple cider vinegar.
I've used some dried spices too; coriander seeds, cumin seeds and cardamom seeds.
For extra colour and flavour I've added turmeric.
How to prepare a mango
The most tricky part of this dish is preparing a mango and it's not easy to remove the stone like a peach.
For me, the secret is not to peel it first. The flesh is very juicy and sticky, so it's difficult to hold it safely if it's peeled.
Hold it vertically on a chopping board and slice about an inch off each side of the middle where the stone is.
Score eack side piece into cubes and then use a small knife to separate each cube from the skin.
Now you can use a potato peeler or paring knife to peel the middle section and carefully cut away the rest of the flesh from the stone.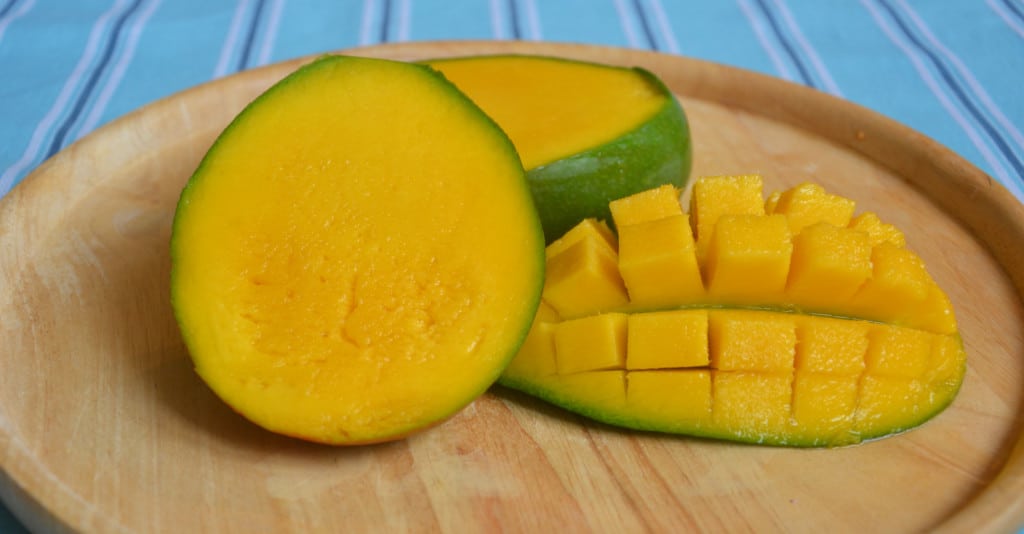 How to make spicy mango chutney with lime
Cut the mango into smallish pieces - it's up to you how chunky you make it.
For the limes it's easier to cut into quarters and then finely slice. There's no need to remove any peel at all. It will become part of the chutney and add extra colour and flavour.
I've used long thin red chillies and left in the seeds and membranes but you can leave the chillies out if you prefer, or remove the seeds. Unfortunately the only real way to tell how how your chillies are is to taste a piece. Just don't try it if it's a Carolina Reaper variety!
Place the mango, sliced limes, chillies and vinegar in a pan.
Bring to the boil and simmer for 15 minutes.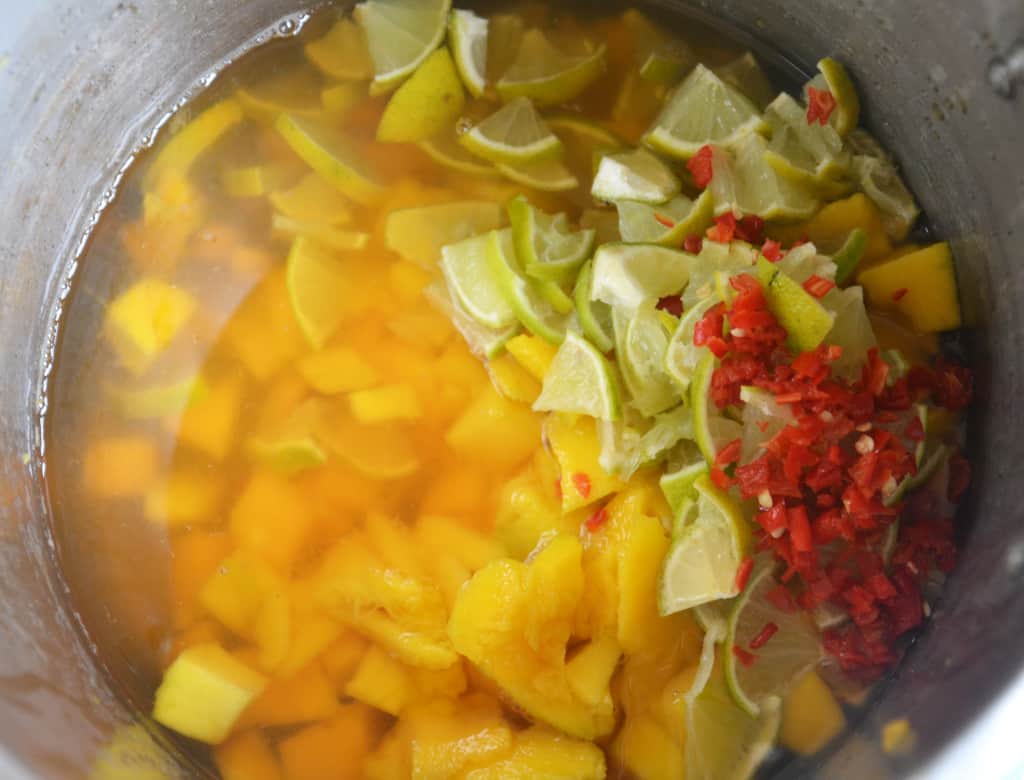 Add the sugar and salt and simmer for 40-50 minutes until the mixture is thick.
There will be a strong smell of vinegar for a while so try and keep the kitchen well ventilated.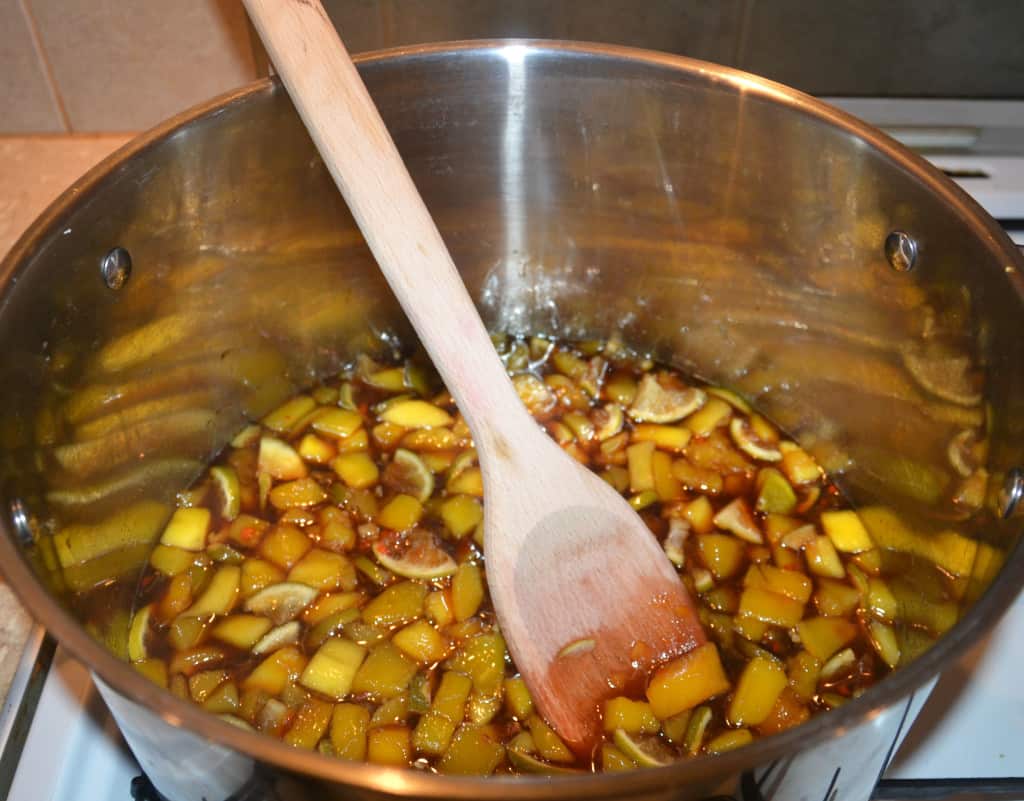 Pound some cardamom pods in a pestle and mortar and extract the seeds.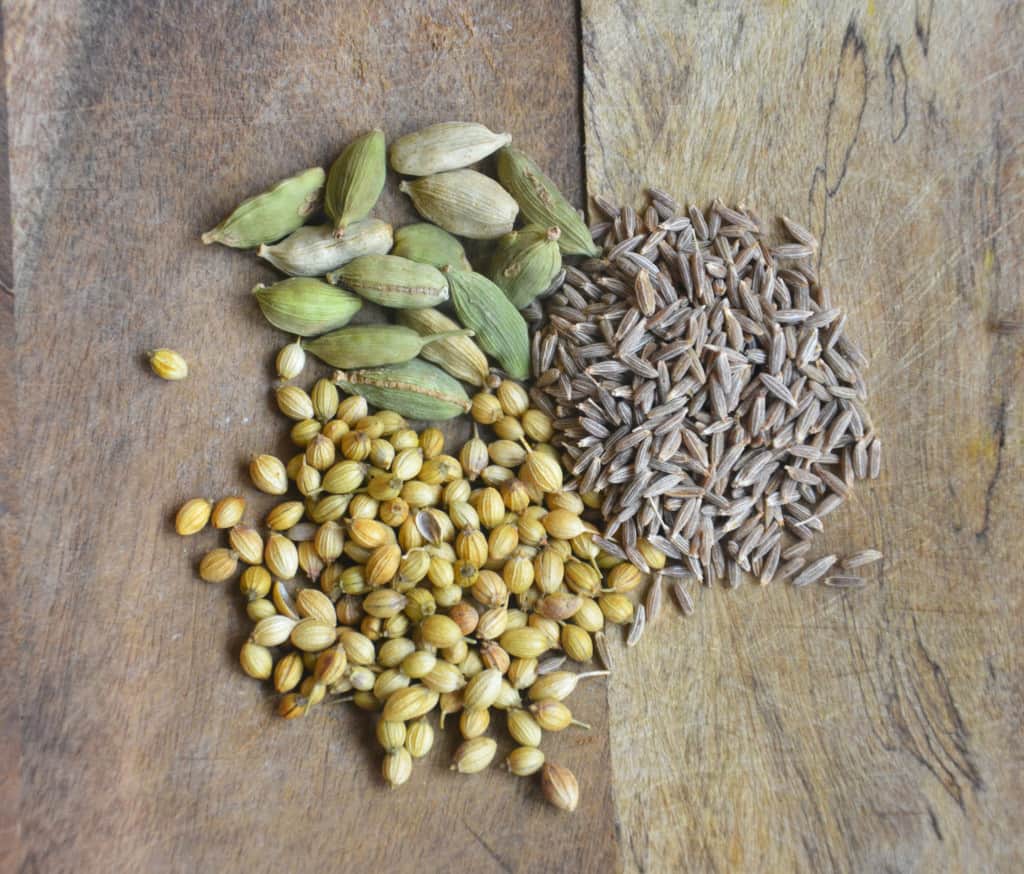 Dry fry the cardamom seeds with the cumin and coriander seeds. It will just take a minute or two over a medium heat for the aroma to waft up. As soon as this happens, remove from the heat.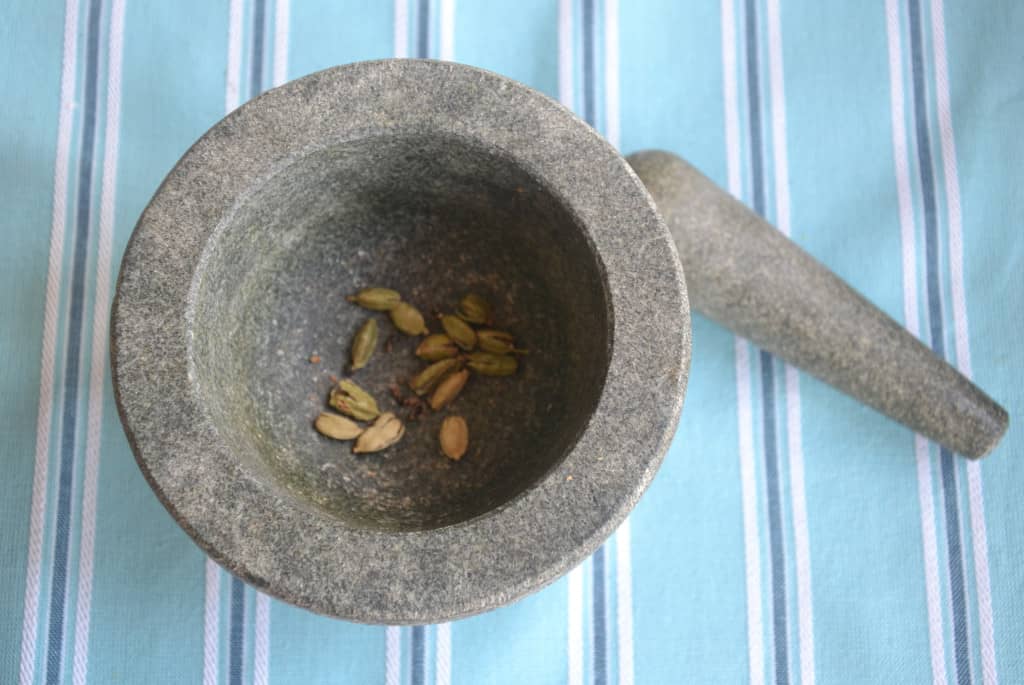 Grind the seeds to a fine powder with a pestle and mortar. I do mine in an electric coffee grinder that I keep just for spices.
Add the spices to the warm mango chutney mix and then pour into sterilised jars.
Recipe FAQs
What can I serve the chutney with?

My favourite way of serving this is with poppadums or a curry.

It's great as a dip on its own or stirred through natural yogurt.

Try it in chicken sandwiches or in a chicken salad to make coronation chicken.
How do you store the chutney?

If the chutney is poured and sealed in sterilised jars it will have a shelf life of two years.

Once opened, it's best to store in the refrigerator and use within 4 weeks.
How do you sterilise the jars?

The easiest way to sterilise jars at home is in the oven.

Wash the jars thoroughly in hot soapy water. Arrange the jars and lids on an oven proof tray and place in an oven preheated to 160C/325F/Gas3 for 10 minutes.

Allow to cool slightly before filling.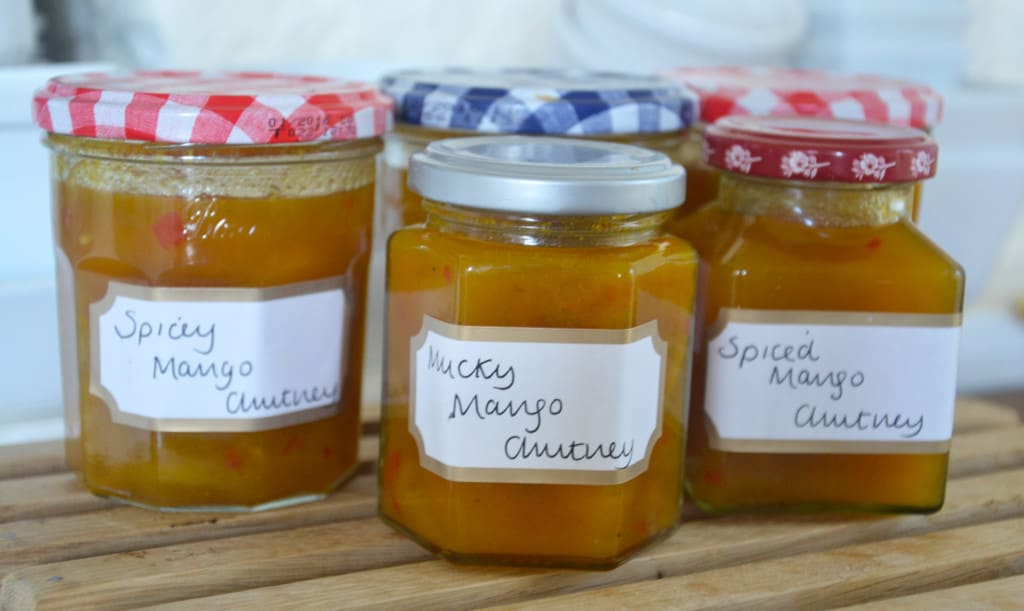 This makes about 6 jars which have a shelf life of 2 years. It won't last that long! You will be using it in a chicken sandwich or in Coronation Chicken if you are not dipping poppadums in it.
📋 Recipe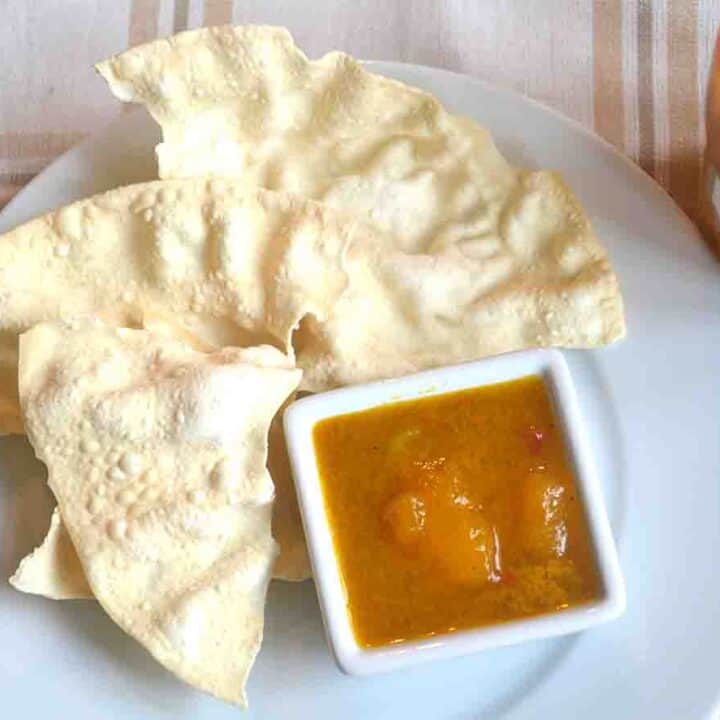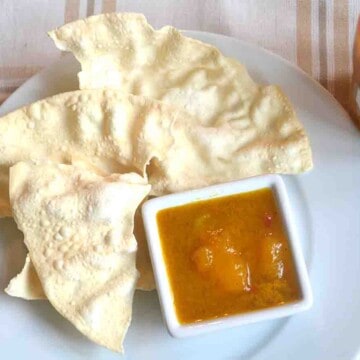 Spicy Mango Chutney with Lime
An easy lime and mango chutney flavoured with chillies, cardamom, cumin and coriander
Ingredients
3

large mangoes

peeled and chopped

3

limes

quartered and sliced thinly

3

chillies

deseeded and chopped

750

ml

apple cider vinegar

500

g

granulated sugar

1

tablespoon

salt

1

teaspoon

cardamom seeds

1

teaspoon

cumin seeds

1

teaspoon

coriander

1

teaspoon

turmeric
Instructions
Place mangoes, lime, chillies and vinegar into a large vinegar-proof pan and simmer for 15 minutes.

Add the sugar and salt and simmer for 40-50 minutes until the mixture is thick and sticky.

Dry fry the spices and pound to a powder. Add the turmeric.

Stir the spices into the chutney mixture.

Pour into sterilised jars.
Nutrition Facts
Spicy Mango Chutney with Lime
Amount Per Serving
Calories 22
Calories from Fat 9
% Daily Value*
Fat 1g2%
Sodium 59mg3%
Potassium 20mg1%
Carbohydrates 5g2%
Protein 1g2%
Vitamin A 68IU1%
Vitamin C 4mg5%
Calcium 2mg0%
Iron 1mg6%
* Percent Daily Values are based on a 2000 calorie diet.
Notes
The chutney tasted better if it is left for a month and will last for 2 years.
Disclaimer: The nutritional information provided is approximate and is calculated using online tools. Information can vary depending on various factors, but we have endeavoured to be as accurate as possible.
Detailed instructions for this recipe, including step by step photographs, hints and tips, can be found in the main article.