Quail Scotch eggs are easy to make, bite sized little snacks that are perfect to pop into your mouth!
Delicious when warm, the crisp crump coating gives way to a layer of sausage meat with the little gem of a quail egg inside.
Great for parties and picnics and with plenty of variations too.
Bon appétit!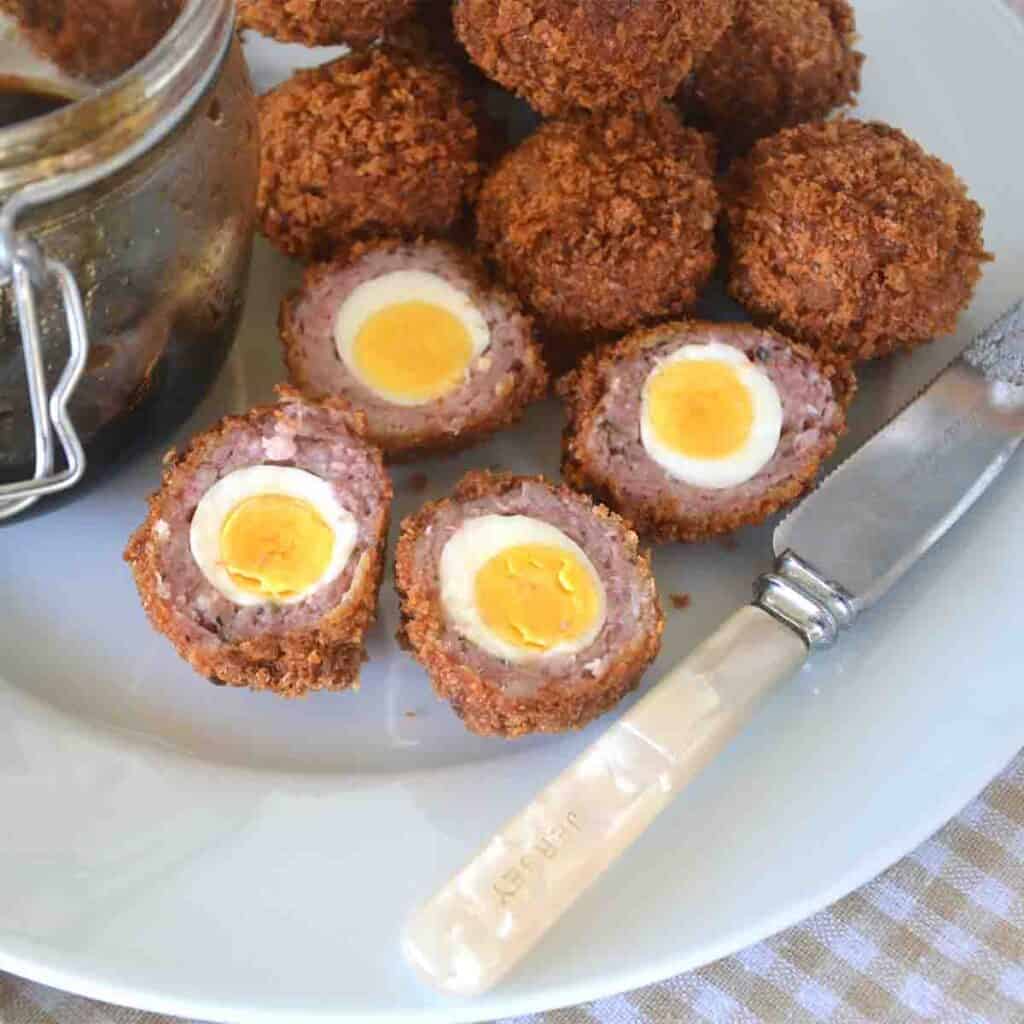 Jump to:
About this recipe
These little morsels have long been a British favourite for picnics and family get togethers and they have recently had a resurgence in pubs and restaurants as a trendy warm starter served with a sweet onion chutney.
Rather than serving a big Scotch egg, these mini Scotch eggs are much easier to make with quail eggs rather than wrestling sausage meat around a hen's egg.
🥘 Ingredients
Quail eggs are often available in supermarkets or farmers markets and they are great to use in recipes for boiled eggs. They are about the quarter of the size of a hen's egg, so perfect for bite sized snacks.
I've also used pork sausage meat bought in a block, but you can just squeeze out the flesh from the cases of your favourite sausages. If you are using plain sausage meat I like to add some dried herbs such as sage for extra flavour.
For the breading you will need eggs, plain flour and fresh breadcrumbs or panko.
You will also need oil for deep frying or oil spray for baking.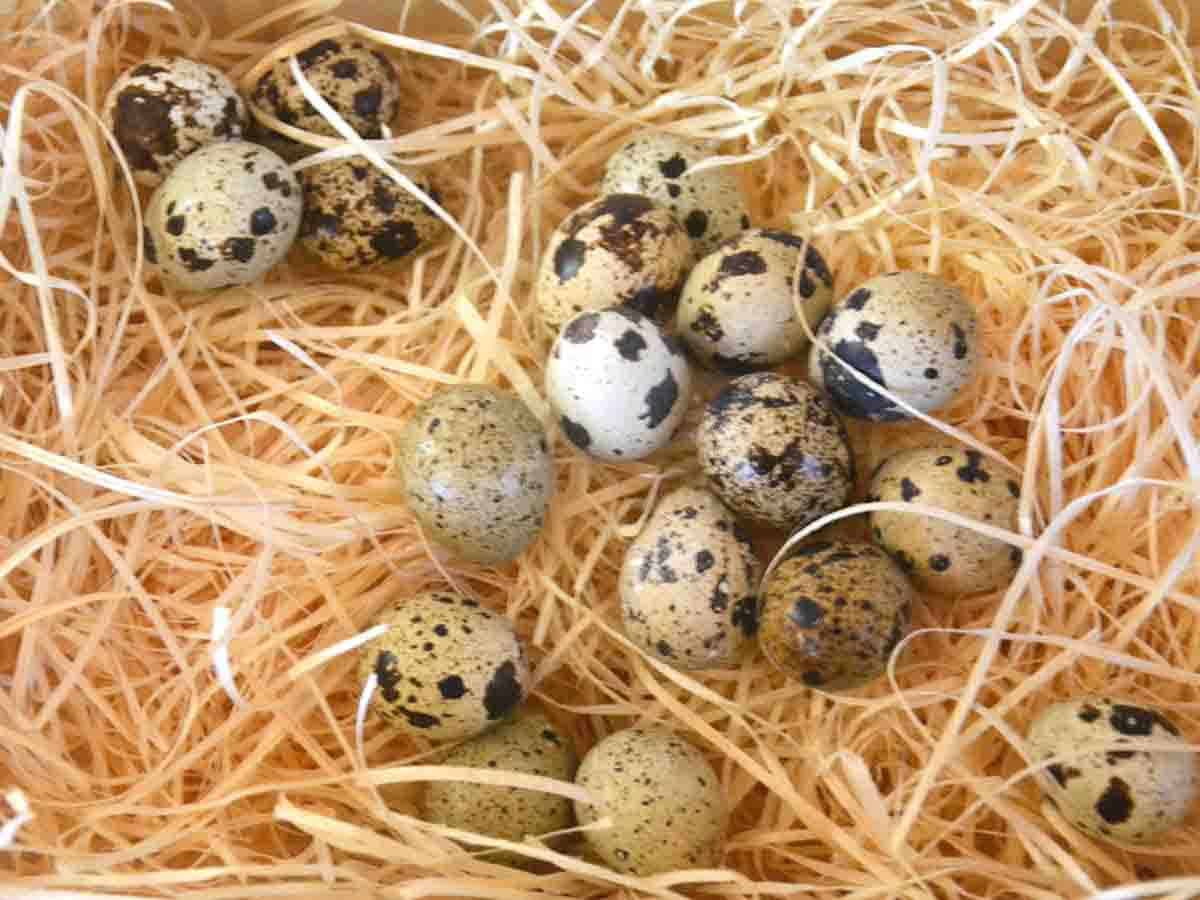 🔪 Instructions
Put the eggs into a saucepan and cover with water. Bring to the boil and then simmer for 2 minutes. This will give a just set yolk with a slightly runny middle. Boil the eggs for 3 minutes if you prefer a firmer yolk.
Plunge immediately into cold water, then change the water, again until it stay cool. Take the eggs out one at a time, shell them and then return to the saucepan as you go. I find that this is the easiest way to get the shells to slip off.
The secret with the breading eggs is to get everything ready and use one hand for the dry ingredients and one for the wet. This stops you getting into a total mess!
Prepare three bowls with flour, eggs and panko breadcrumbs. If you can't get panko in the shops it's easy to make homemade panko with fresh brown bread whizzed in the food processor then baked in the oven.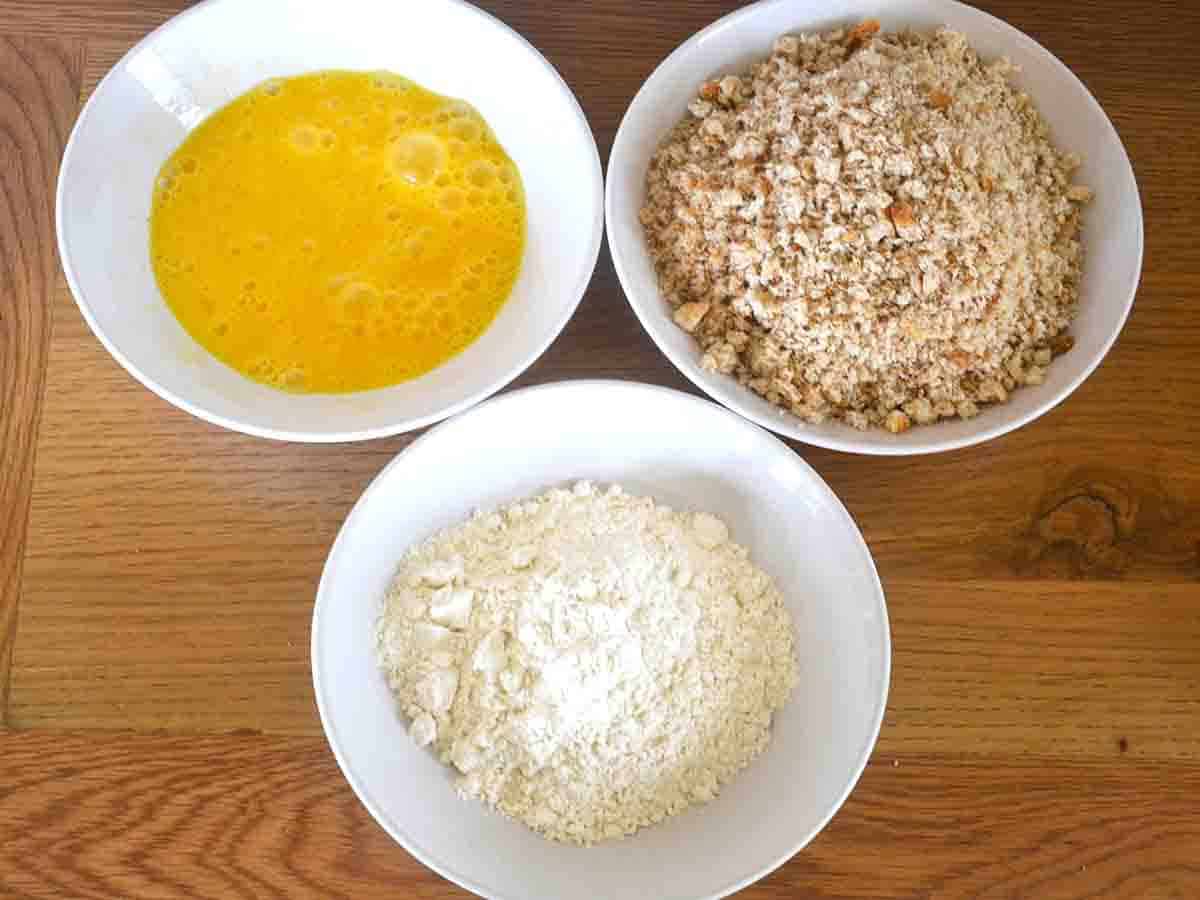 Season the sausage meat and add the herbs. It makes it easier if you divide the sausage meat into 12 portions before you start.
Flatten the sausage meat into a rough circle with floured hands. Put a quail egg in the middle.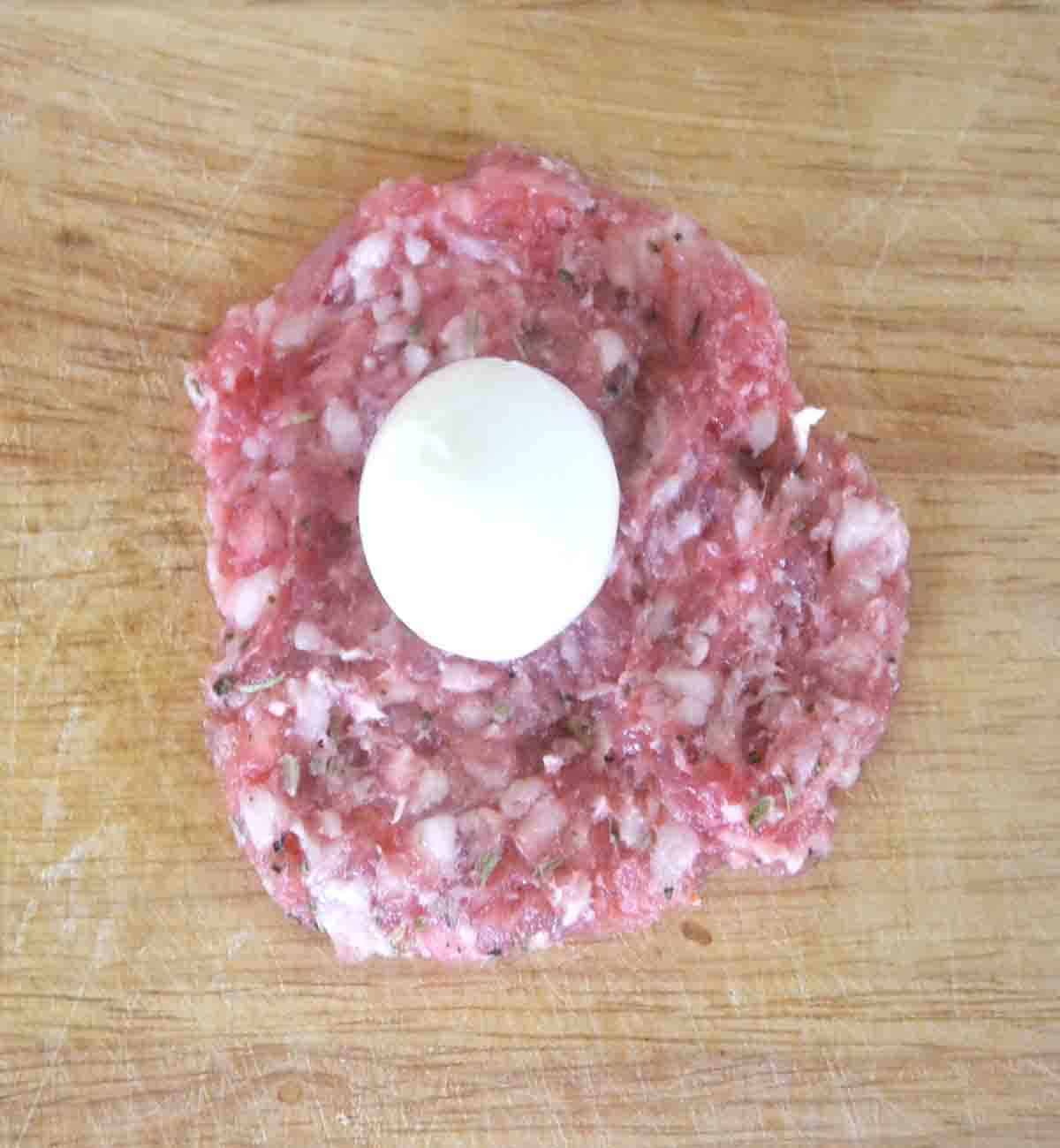 Gradually shape the sausage meat around the egg . It's easier if you cup it in your hand and gently cover the egg.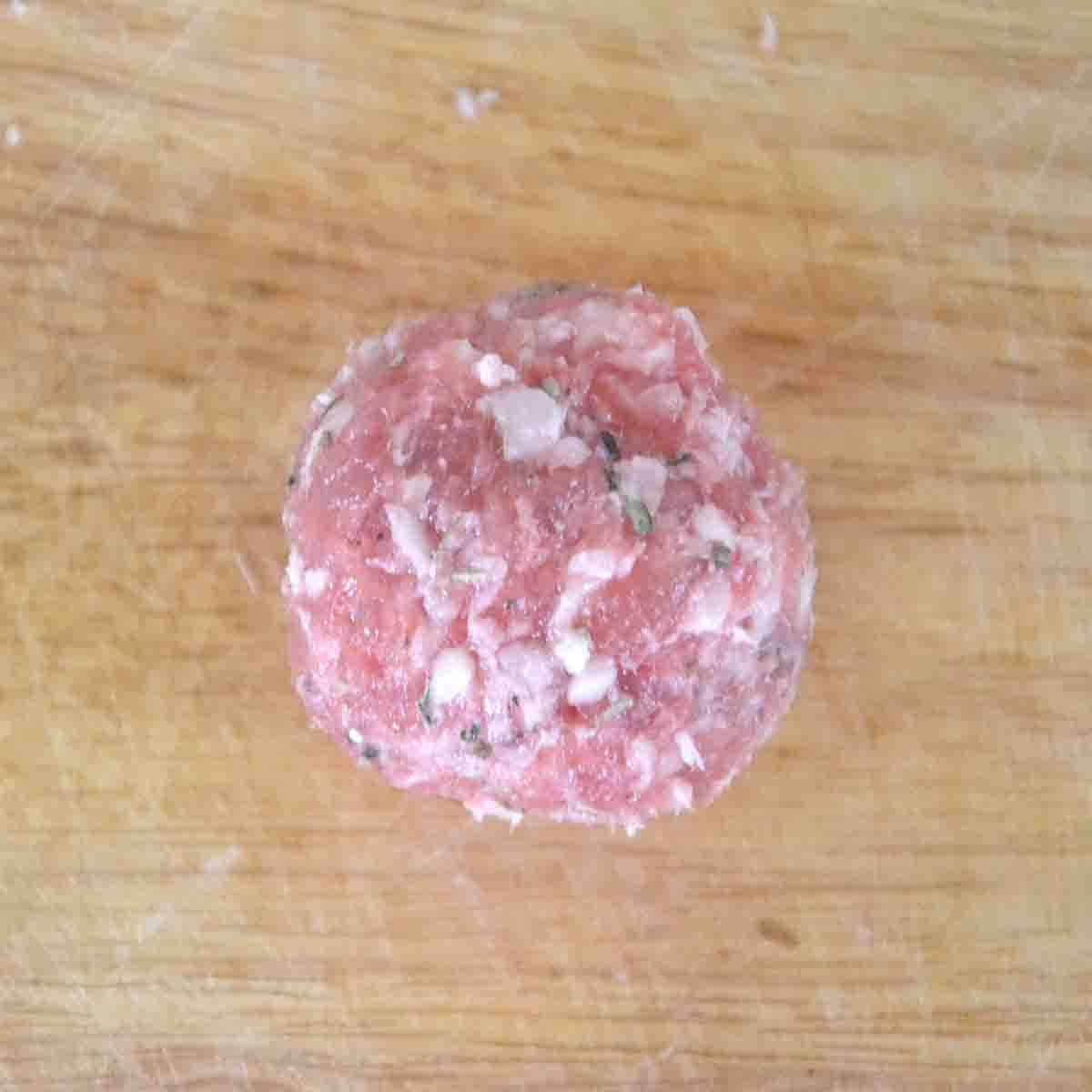 As you shape each one I find it's easier to dip them in flour straightaway and then place on a board whilst the rest are shaped.
Once they have all been shaped and dipped in flour, dunk them in the beaten egg and then breadcrumbs.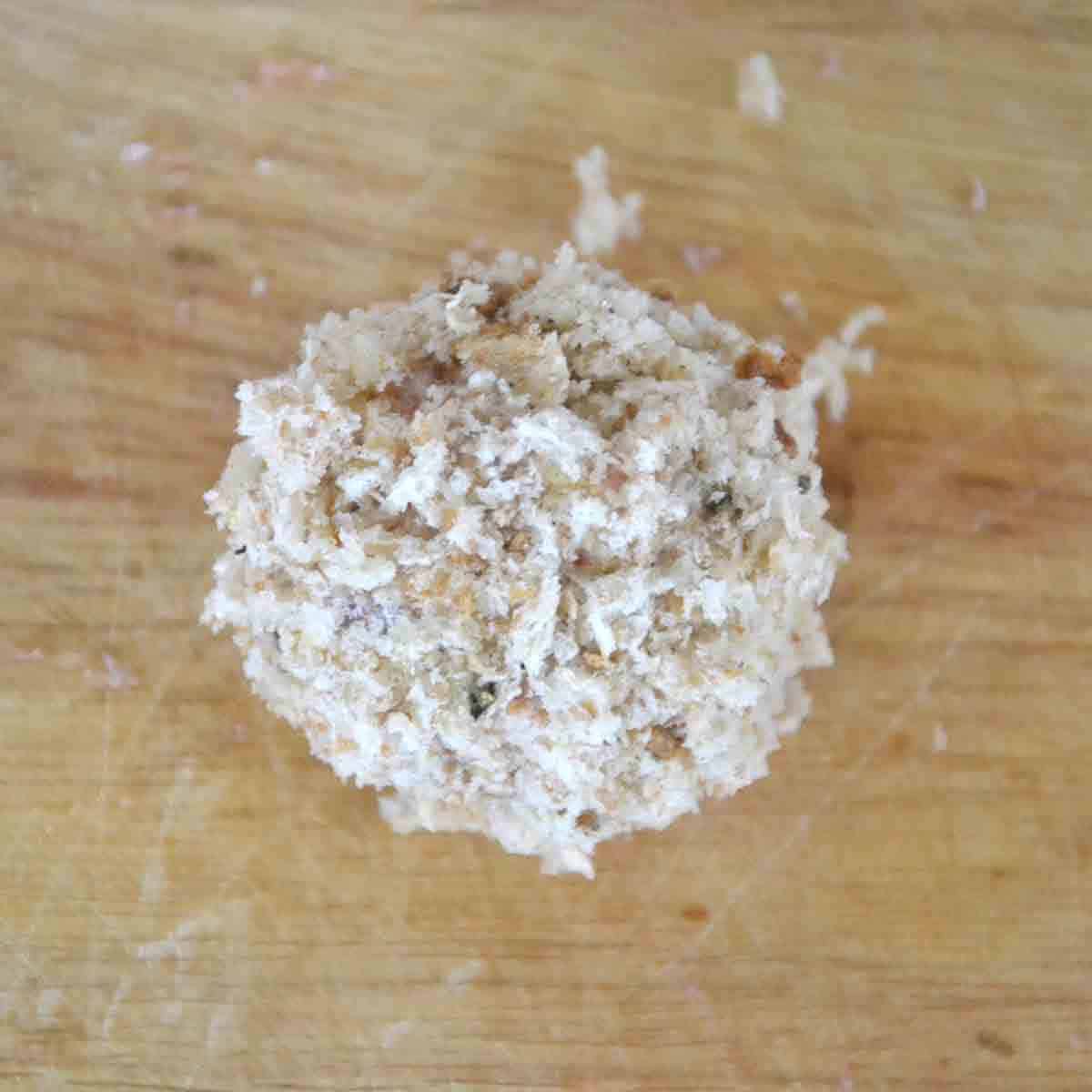 It's best to put them in the fridge for 30 minutes before cooking. This helps them to firm up.
⏲️ Cooking time
Spray with cooking oil or light oil spray and bake at 180C/350F for about 20 minutes until cooked through.
Alternatively, deep fry at 180C/350F for 4 minutes.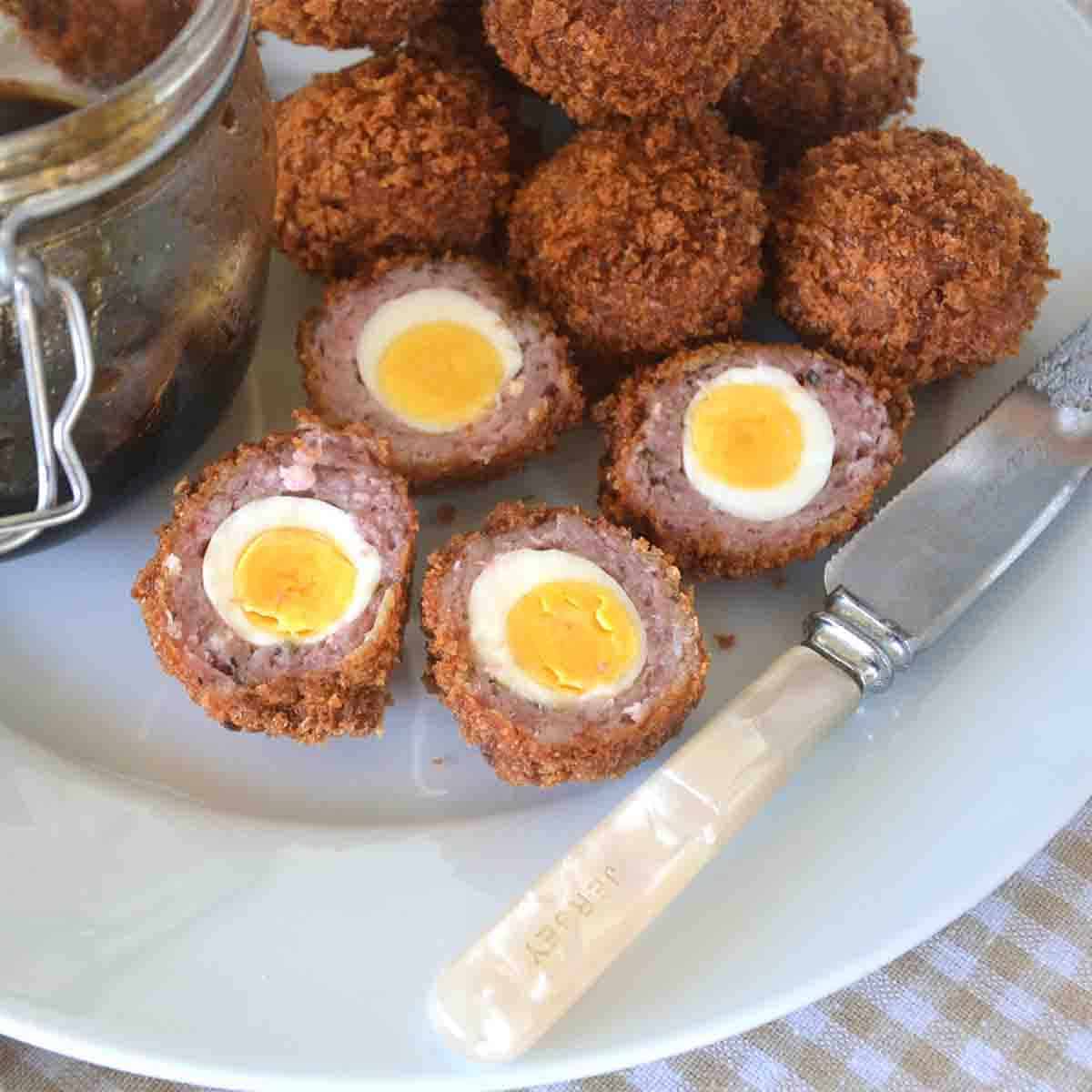 Enjoy them while they're hot with red onion chutney or a dollop of mustard.
They are perfect picnic and grazing food for buffets when eaten cold too.
Lovely!
FAQs
What are the origins of a Scotch egg?

A Scotch egg seems to have many origins, including being a cold snack, sold by Fortnum and Mason.

It is also very similar to the Indian nargis kebab, a Scotch egg made with minced lamb.
What other ingredients can I use?

You can use any minced meat, such as chicken or lamb, for a different flavour. I've also had one with pulled ham hock and black pudding mixed in with the pork.


Can I make a vegetarian quail Scoth egg?


Try making a base with mashed chickpeas, white beans or black beans.
A falafel mix would be really tasty.
How do you store these?

Cool and cover these mini Scotch eggs and keep in the fridge for up to 3 days. Alternatively freeze them for up to a month.
More picnic recipes
📋 Recipe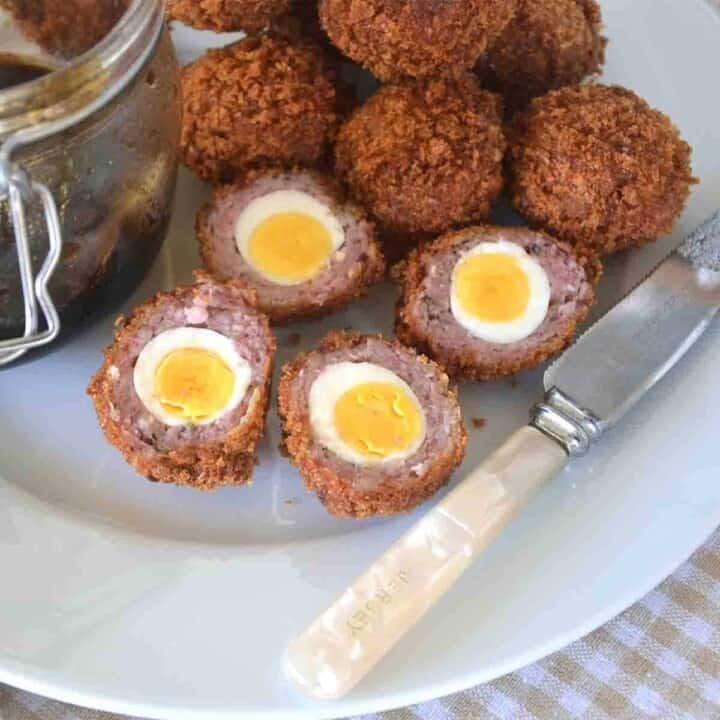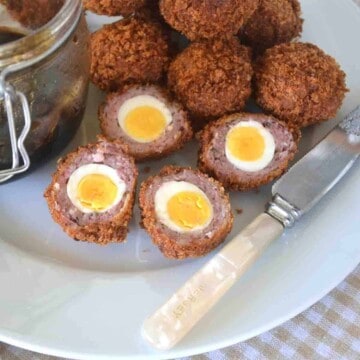 Quail Scotch Eggs
Quail eggs, wrapped in sausage meat, coated in breadcrumbs and then baked in the oven.
Ingredients
12

quail eggs

400

g

sausagemeat

3

tablespoon

plain flour

2

beaten eggs

140

g

fresh breadcrumbs

oil spray

1

tablespoon

of dried savoury/sage or mixed herbs
Instructions
Simmer the eggs in boiling water for 3 minutes. Plunge into coldwater and carefully peel.

Whilst the eggs are cooling prepare bowls with breadcrumbs, egg and flour.

Combine the sausagemeat with dried herbs and season well.

Divide the sausagemeat into portions with floured hands and then flatten each portion into a circle with the egg in the middle.It's easiest to keep it in your hand to form the sausagemeat around the egg.

Prepare the rest of the eggs and dip the balls in flour as you go.

Dip the balls in the beaten egg and then the breadcrumbs.

Place in the fridge for about 30 minutes before baking at 180C/350F for 20 minutes.
Nutrition Facts
Quail Scotch Eggs
Amount Per Serving
Calories 179
Calories from Fat 99
% Daily Value*
Fat 11g17%
Cholesterol 127mg42%
Sodium 321mg14%
Potassium 130mg4%
Carbohydrates 10g3%
Protein 9g18%
Vitamin A 113IU2%
Vitamin C 1mg1%
Calcium 34mg3%
Iron 1mg6%
* Percent Daily Values are based on a 2000 calorie diet.
Notes
Disclaimer:
The nutritional information provided is approximate and is calculated using online tools. Information can vary depending on various factors, but we have endeavoured to be as accurate as possible.
Disclaimer: The nutritional information provided is approximate and is calculated using online tools. Information can vary depending on various factors, but we have endeavoured to be as accurate as possible.
Detailed instructions for this recipe, including step by step photographs, hints and tips, can be found in the main article.