Croissant Dough at The Artisan School of Food
Croissant Dough? If someone at home had suggested to me that I make croissants from scratch I would have laughed! Living in France meant buying croissants from the boulangerie, warming them up, tearing off a piece, slathering it with lashings of butter and a generous dollop of jam before devouring greedily. The whole idea of lengthening this process by spending time making them would surely take all the fun away?
However, I was asked to review an 'Introduction to Patisserie' course at The School of Artisan Food and with 'Bake off' in full swing and this week being 'National Baking Week', it seemed an ideal time to learn some new skills.
The Artisan School of Food
Nestled in the heart of Sherwood forest The School of Artisan Food is based in renovated stables dating back to 1870 at the Welbeck Estate in north Nottinghamshire. The school is a registered charity and is now in partnership with Nottingham Trent University. The courses range from an Advanced Diploma in Artisan baking, which takes six months, to tasting sessions, fun lessons for children, not forgetting butchery, pizzas, bread making and everything in between. The courses vary in price, starting at £15, so there is something to suit all budgets.
Who teaches the course?
The course is led by Emmanuel Hadjiandreou, an internationally renowned baker and author and also by technician David Carter. They both have a wealth of experience to share with the class. Taking photos and short videos are encouraged and they are very keen to take questions or repeat a demonstration. There was plenty of laughter too as both tutors were relaxed and entertaining. There is definitely a focus on everyone enjoying themselves while learning.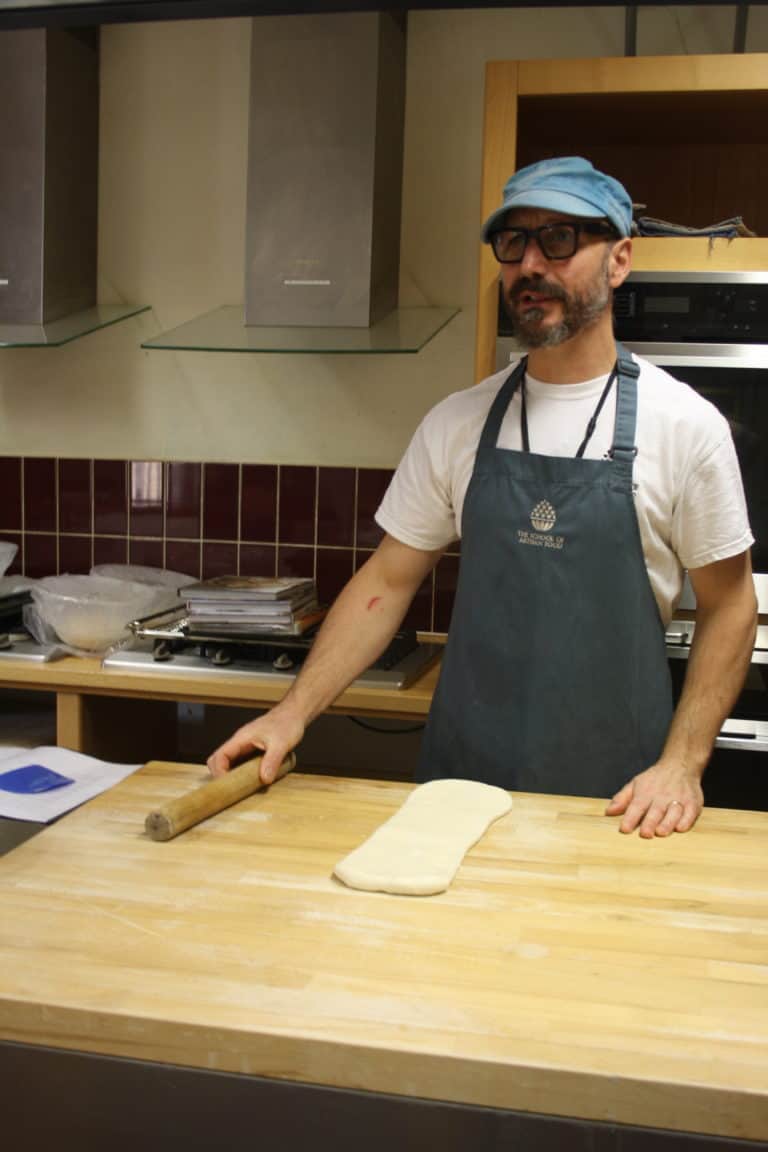 What happens on the day?
This was an all day course which started with registration at 9.30 am. I actually arrived a little earlier, but wasn't the first to arrive. We were greeted individually and shown to the refectory where we could help ourselves to drinks and to a selection of freshly baked breads and buns. We were all given a cloth bag to keep our recipe booklets in sat down with breakfast to get to know our fellow bakers.
At 10 am we went into the 'state of the art' kitchen and found a workstation, (there were 12 in all and our course was full). There was plenty of space with a fridge and shared sink. Everything we needed was already set out underneath.
The pattern of learning was to watch a short demonstration then return to our workstations and carry out the same task. This worked well for me because, the whole process of making croissant dough was unfamiliar and, breaking it down into bite sized chunks gave me confidence that I could complete the next stage. As the croissant dough needs to rest in the fridge at different stages, there was also the opportunity to observe other techniques and learn about related topics.
At 1.15 we had lunch prepared by chefs on the premises. I was expecting a few sandwiches but there was a very tempting spread of jacket potatoes, pulled pork in barbecue sauce, Boston beans, sour cream, grated cheese, avocado salsa, green salad along with fresh bread and artisan cheeses made on the estate.
By 2 pm it was time to return to the kitchen to continue our baking. We finished at 5 pm armed with an array of pastries and our fully prepared puff pastry that was now ready to be made into our own creations.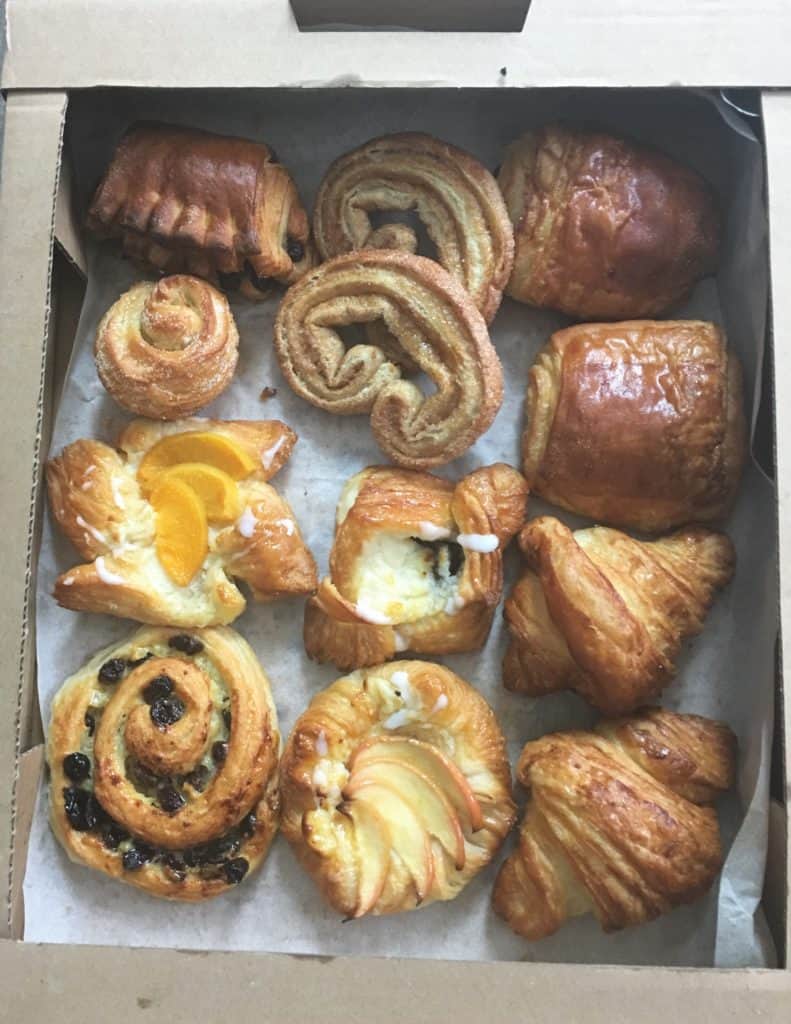 What will I learn?
How to make croissant dough from scratch, including lamination of the dough, shaping croissants and baking in domestic ovens. I particularly thought that the focus on troubleshooting was really helpful. As a cook and blogger I know how often things go wrong when you are following or adapting a recipe, so all of the handy tips were great for building confidence.
How to make other patisserie items using croissant dough such as 'cruffins'.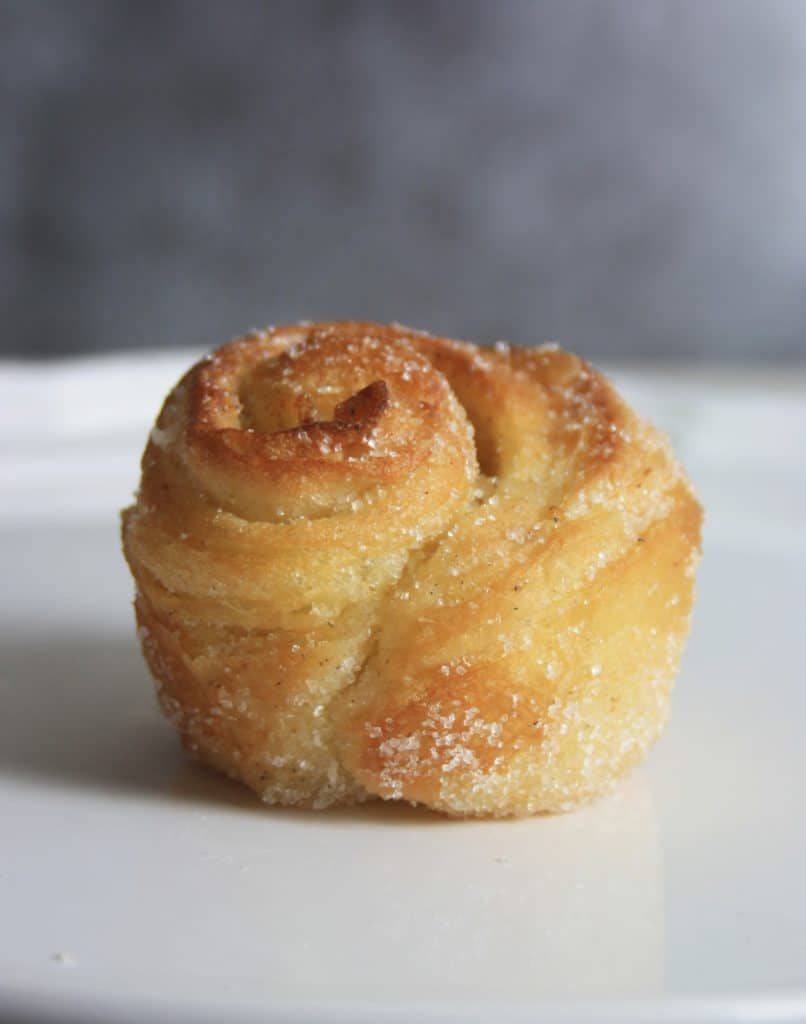 I had never heard of these before but so cute! Just roll out the dough to a large rectangle, sprinkle on some flavoured sugar, roll along the long edge and cut in slices. Bake in well greased muffin tins.
3. How to make Danish Pastries, including the custard filling, fruit decoration and glazing.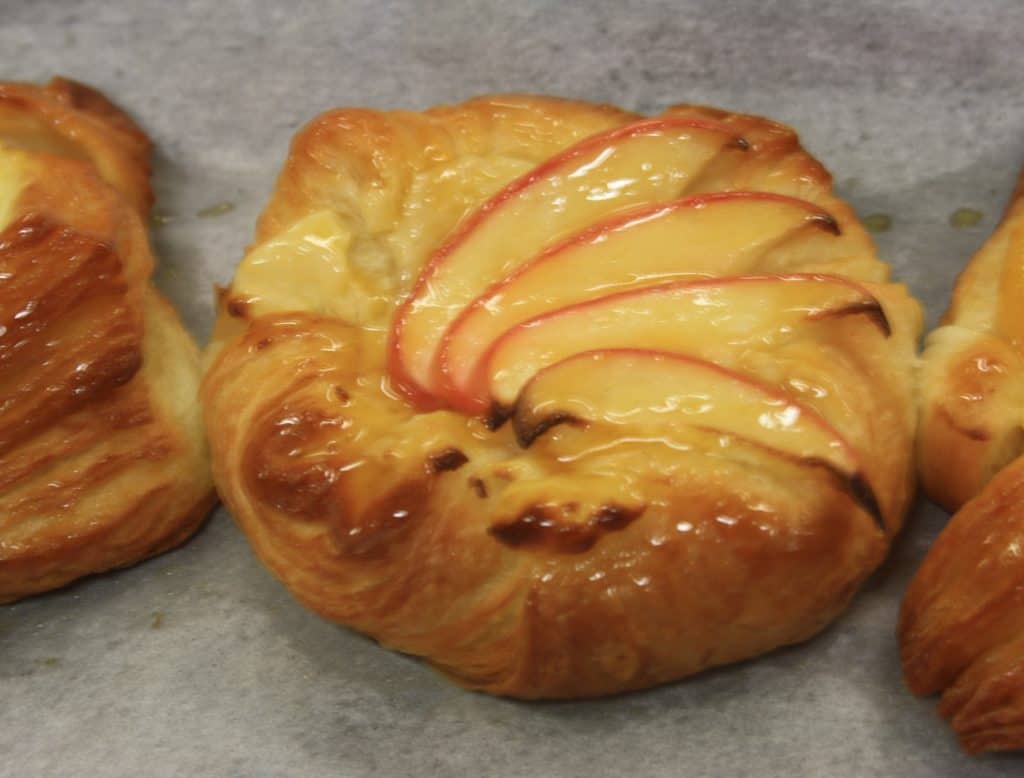 4. How to make pain au chocolate and the chocolate batons they are filled with. In addition we learned how to make palmiers, cock's combs (bear claws) and sultana rolls.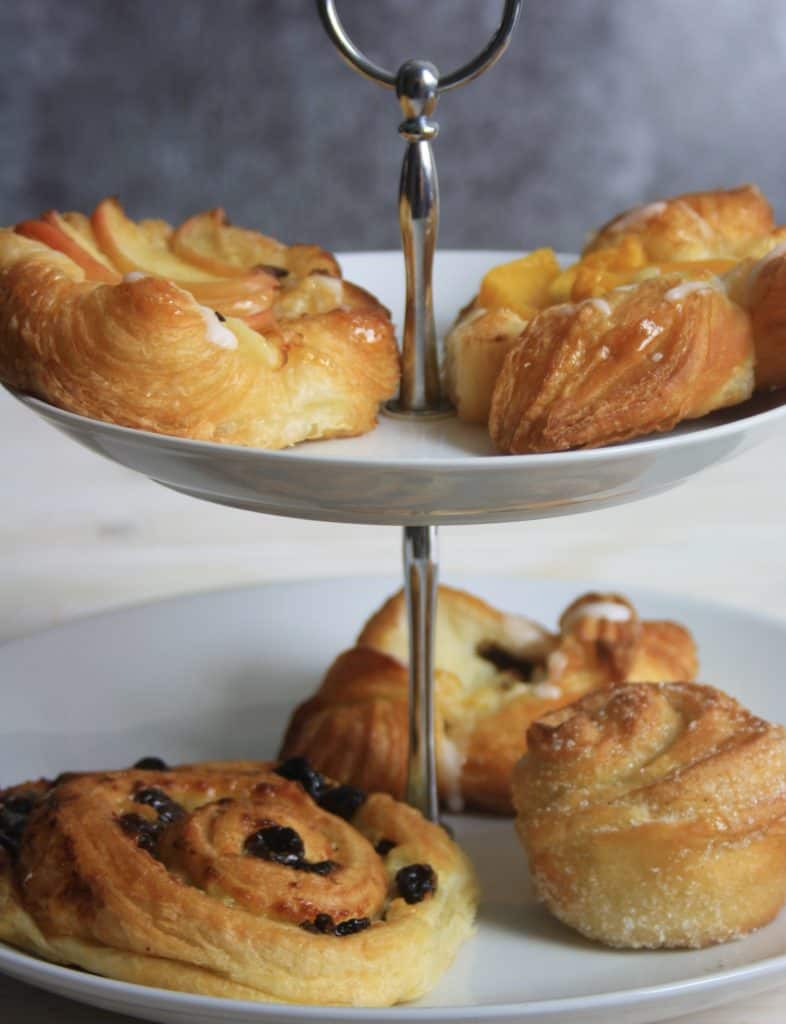 5. How to make puff pastry from scratch using a different lamination and rolling method.
Is this course for me?
I had never made puff pastry or croissant dough before and wasn't familiar with laminated dough either. However, everything was explained in detail and there was also an instruction booklet to refer to.
There was a range of age and experience on the course, with a man who had never done any baking along with someone who had attended several courses with Emmanuel. I certainly didn't feel I had to do everything perfectly and several people made mistakes which helped us all to learn.
If you like to be in the kitchen and prefer to learn by watching someone and then having a go then this is a fabulous course. The day flew by but not a moment was wasted, even the clearing up took only a few minutes.
I would definitely recommend one of the courses here and am very tempted by the 'Gamekeeper's Favourites' course. There is also a farmshop on site, with artisan cheeses and meats. My husband read my mind and foraged for partridge, pigeon, venison and game pie mix, so my freezer is set for Winter meals.
Lastly, don't be afraid to wear your comfiest shoes - I'm not used to being on my feet all day at the moment and my ankle boots felt like lead weights at the end of the day!
Disclosure: I was invited to attend a course without payment. All of the pictures and opinions are my own.
Notes on the recipe for croissant dough.
The recipe below was provided by The Artisan School of Food. The instructions are in my own words but are not meant to replace the in depth information given on the course.
Other recipes using pastry or pâtisserie
Other reviews you may like to read...
The Balloon Bar - An interview with the Duchess of Rutland on her new bar in the grounds of Belvoir Castle.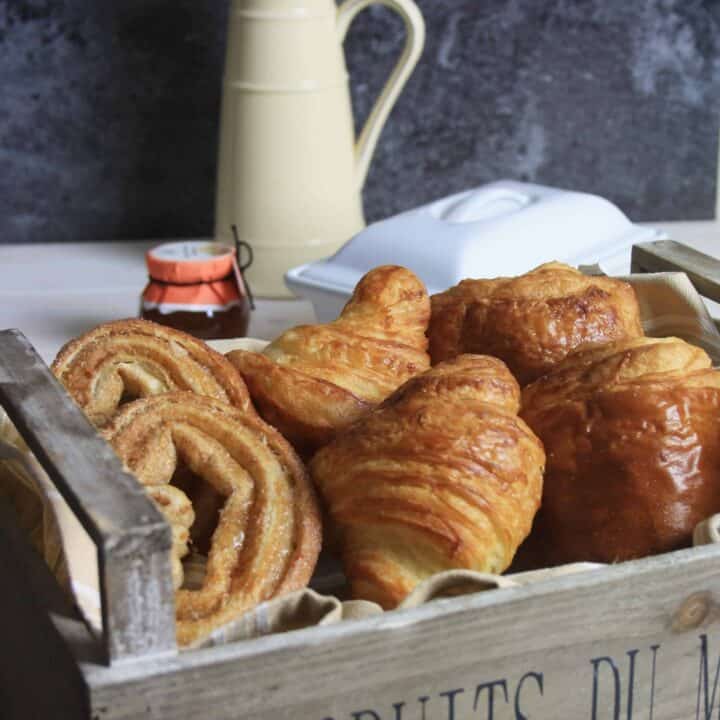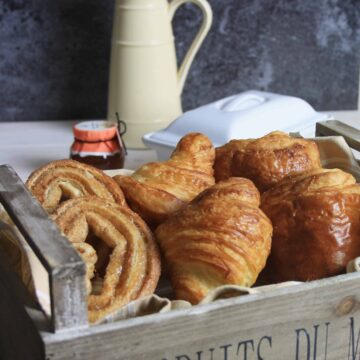 Croissants
How to make croissant dough for a variety of uses and bake croissants
Equipment
bowl scraper

larger plastic bowl

smaller plastic bowl

plastic bag
Ingredients
5

g

dried yeast

140

g

water

weighed on scales

250

g

strong flour

20

g

sugar

5

g

salt

150

g

unsalted butter

shaped into a flat block
Instructions
The day before
In the larger bowl dissolve the yeast in warm water and mix the remaining dry ingredients in the other bowl.

Mix the dry ingredients into the wet mixture and bring together.

Cover the bowl with the smaller bowl and leave to rest for 10 minutes.

Scrape the bowl down and knead the dough in the bowl for 10 seconds by bringing the outside edges into the middle.

Turn the dough over(it should be ball shaped) cover with the bowl and leave for 10 minutes.

Repeat the kneading and resting a further 3 times then rest in the refrigerator overnight covered.

Shape the butter into a flat square shape about 10 X 5 cm and refrigerate.
Baking day
Scrape the dough out of the bowl and form into a ball shape.

Cut a cross halfway down the ball and open the dough into a square by pulling out the corners. Neated up the edges if needed and place any cut pieces on top.

Put the dough on the worktop tilted into a diamond shape and gently flatten.

Put the cold butter in the middle and wrap the dough around it as if making a parcel, making sure the seems overlap.

Pull the parcel to the edge of the surface, long length to the edge, and use the rolling pin to start to flatten the butter further.

Turn the dough so that the short length is at the bottom and firmly roll out until the length of the rolling pin is reached. Turn the dough over to make sure it isn't sticking.

Fold the length of dough into 3.

Wrap in a plastic bag and refrigerate for 20-30 minutes

Unwrap the dough and place on the worktop with the open ends top and bottom and repeat the rolling, folding, wrapping, refrigerating process a further 2 times.

Roll out the dough to A4 size, with the long length at the bottom and cut into 4 equal strips.

Cut each strip along the diagonal and gently stretch the dough.

Make a cut at the short end and use the corners to start rolling up the dough into the croissant shape, making sure that the end piece is secured underneath before placing on silicone paper on a baking sheet.

Proof the dough by placing in the oven, raise the temperature to 50C then turn off. Wait 30 minutes.

Glaze the croissants with beaten egg mixed with water.

Preheat the oven to 250C and add the croissants. Turn down the oven immediately to 210C and bake for 10-15 minutes.
Nutrition Facts
Croissants
Amount Per Serving
Calories 258.96
Calories from Fat 142
% Daily Value*
Fat 15.78g24%
Cholesterol 40.31mg13%
Sodium 246.14mg11%
Potassium 41.72mg1%
Carbohydrates 25.44g8%
Protein 4.16g8%
Vitamin A 468.56IU9%
Calcium 9.19mg1%
Iron 0.28mg2%
* Percent Daily Values are based on a 2000 calorie diet.
Be the first to receive new recipes in your inbox and get my free E-Book of 25 French Recipes! Subscribe here