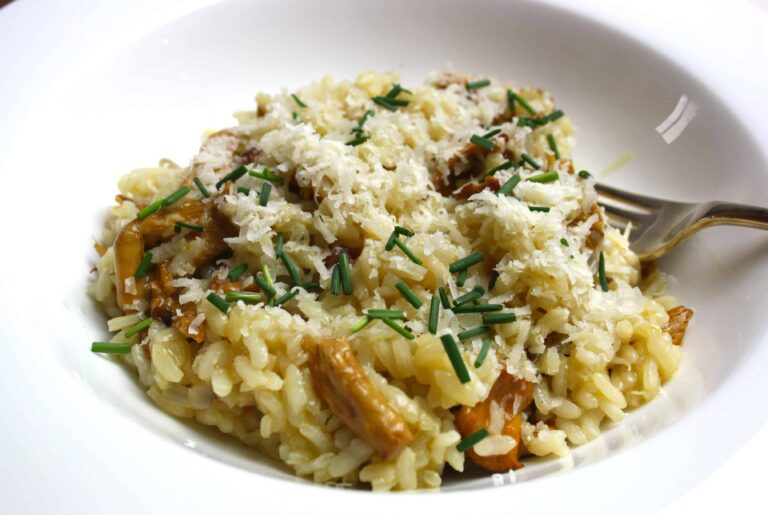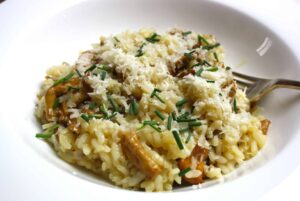 Wild Mushroom Risotto. If I'm cooking just for myself I often have a vegetarian dish and that normally involves mushrooms. Often I would just cook some pasta, fry some sliced chestnut mushrooms in butter, add some garlic and tarragon then finish with a dollop of creme fraiche. However,  where I live in rural France the French seem to be a nation of hunter gatherers and when I'm walking the dogs in the woods you we often  find someone picking mushrooms. There is a huge variety that you can eat, although many of the poisonous ones look similar to the edible ones! If in doubt you can normally take them to the local pharmacy and they will check for you. The ones which grow in the garden naturally are edible too but luckily the shops nearby have always got a great selection of local mushrooms so I started to think about new ways to use them.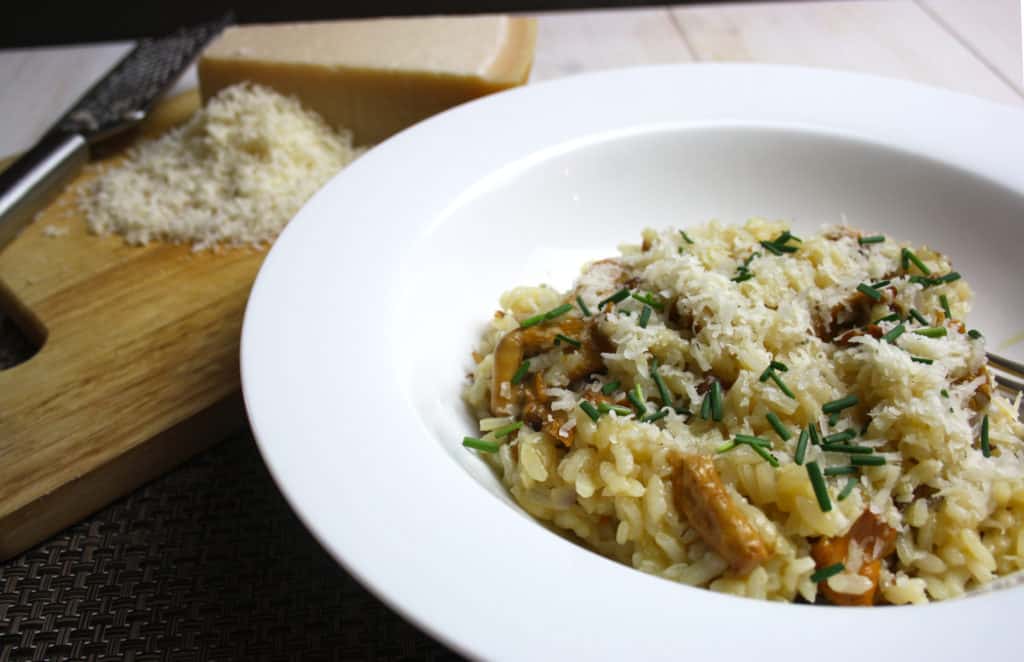 I've always shied away from making a risotto. When I was learning to cook I remember looking at a recipe for risotto which seemed to go on forever. There was endless faffing with ladles and manic stirring and the feeling that it could all go horribly wrong so for many years I didn't attempt it. Now I have my own way of doing it and dinner is ready in under 20 minutes.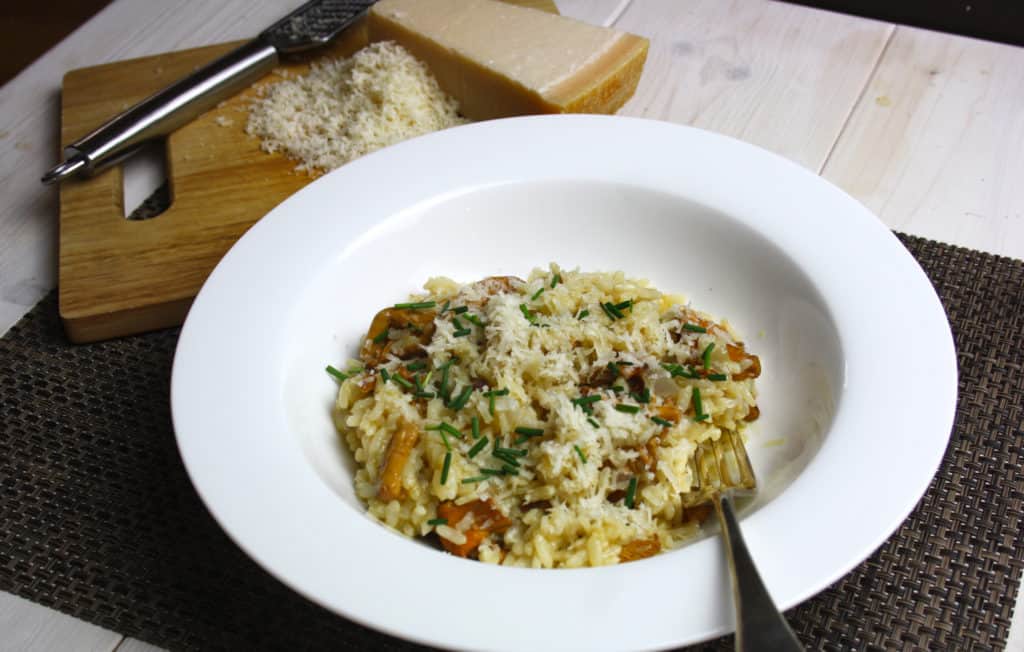 I was inspired to make a Wild Mushroom Risotto when I found girolle mushrooms in the supermarket. They have an ochre yellow colour and a strong flavour but any mushroom works well for this dish. You could use white mushrooms and add a little rehydrated dried ones too. Put a vegetable stock base, (I use the little stock pots),  in a saucepan with a lip and add enough boiling water. Of course, this would be better with homemade stock but it is not always to hand. Keep the stock on a simmer. You could do this in a jug but it will take much longer as it starts to cool.  Start by frying the mushrooms in a little oil with chopped shallots in a non stick pan. Set the mushrooms aside and heat oil in the pan before stirring in the rice for a few minutes until it goes translucent then tip in some  dry white wine, if you have it. When it is absorbed add about a half cup of stock, wait for it to be absorbed then add more. Stir from time to time until the rice is tender. When you have added the last drop of stock return the mushroom and shallots to the pan.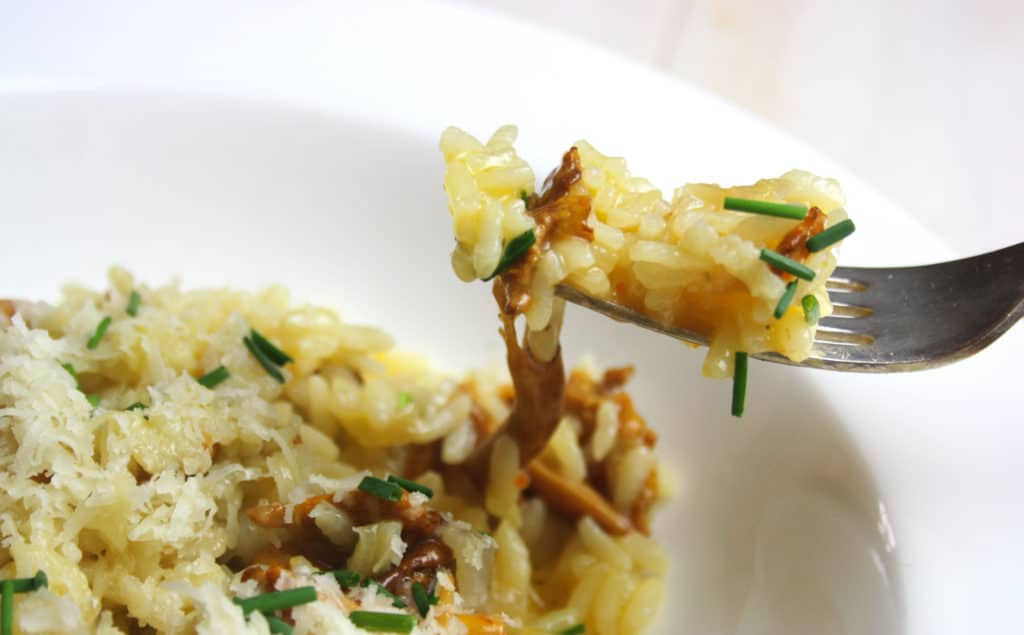 When it's ready season, stir in a knob of butter and some chives then garnish with Parmesan.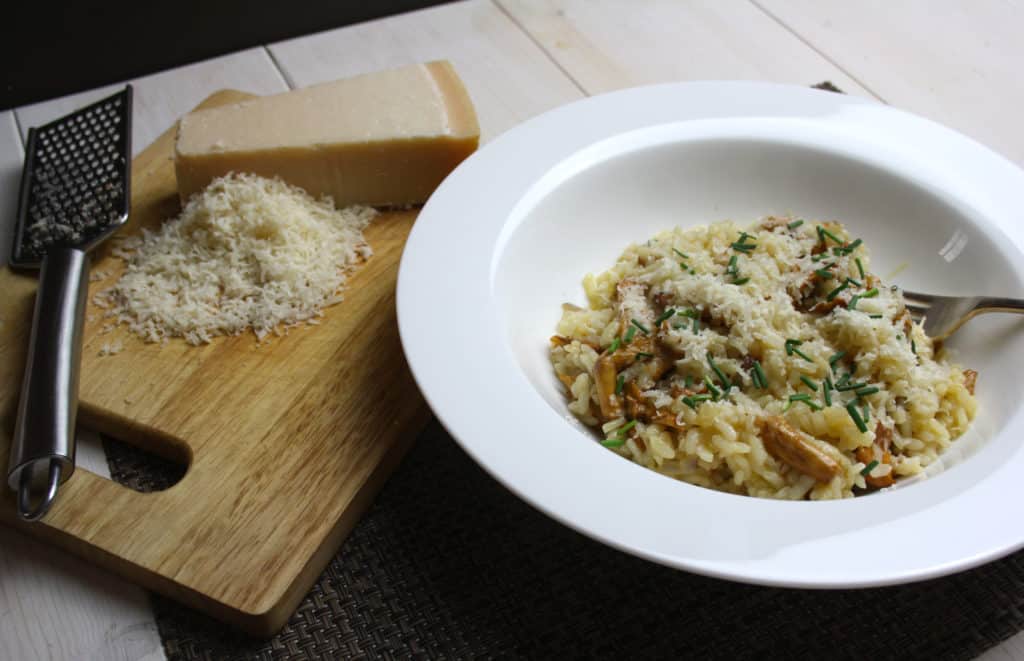 For me it's perfect when  the rice is creamy and the cheese melts in to the sauce....
What's your favourite risotto?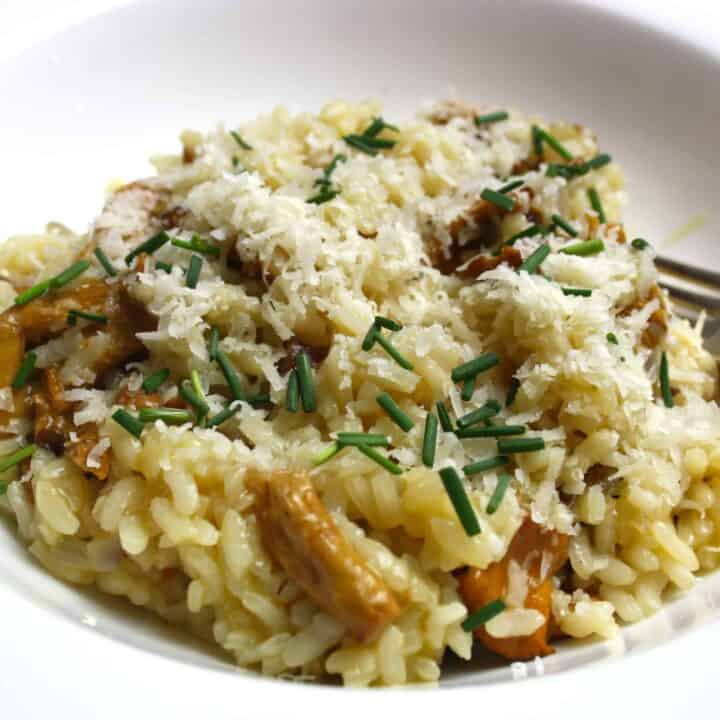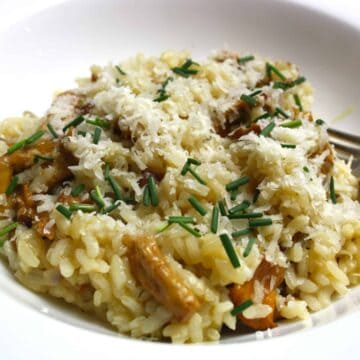 Wild Mushroom Risotto
This dish is simple to make and flavoured with Parmesan and chives. For this recipe I used girolle mushrooms but any mushroom will work.
Ingredients
600

g

sliced mushrooms

240

g

Arborio rice

1

litre

vegetable stock

2

shallots, finely chopped

200

ml

dry white wine

or use extra stock

2

tbsp

oil

1

tbsp

butter

3

tbsp

chopped chives

grated Parmesan

to serve
Instructions
Put the stock in a saucepan with a lip and heat to a simmer.

Using a non stick pan fry the mushrooms and shallot in a tsp of the oil and remove from the pan.

Heat the rest of the oil in the pan and tip in the rice, stirring for a few minutes until the rice becomes translucent.

Add the wine, if using and allow it to be absorbed before stirring in some stock.

As the stock is absorbed add more, about a half cup at a time, until it is all absorbed, stirring occasionally. Just before adding the last amount if stock return the mushrooms and shallots to the pan.

When cooked stir through the butter and chives and season to taste.

Stir through some grated Parmesan or scatter on top to serve.
Nutrition Facts
Wild Mushroom Risotto
Amount Per Serving
Calories 385
Calories from Fat 99
% Daily Value*
Fat 11g17%
Cholesterol 8mg3%
Sodium 38mg2%
Potassium 600mg17%
Carbohydrates 56g19%
Protein 9g18%
Vitamin A 89IU2%
Vitamin C 4mg5%
Calcium 14mg1%
Iron 4mg22%
* Percent Daily Values are based on a 2000 calorie diet.