This Massaman curry is rich and creamy and has plenty of flavour. It's mildly spiced and easy to make in about 30 minutes.
You can make this with store bought paste but it's also easy to make your own curry paste.   I started making my own in France, as I could never find any in the shops.
The flavour of the duck adds an extra decadence to this dish and it always stays beautifully tender. This dish is great for a special occasion and, as the skin is removed, a much less saturated fat version.
What are the ingredients?
For the curry you will need
3 duck breasts
1 large onion
5 tbsp massaman curry paste
50 g peanuts
400 g tin coconut milk
1 large cinnamon stick
2 whole star anise
1 tbsp brown sugar
1 tbsp fish sauce
1 tbsp oil
150 ml water
For the garnish I've used 1 tbsp of chopped fresh coriander/cilantro and 1 tbsp of cream but this is optional.
How to make the curry
It's quite simple to remove the skin. Place it skin down on a board and use a knife to separate the flesh. Sometimes you can just peel it off or else you might need to pull the flesh back and cut gently where it joins. Slice the duck into 1cm slices
Roughly chop some peanuts and dry fry them until golden.
Heat some oil in a large frying pan and soften some sliced onions. Add the duck slices and curry paste, cinnamon and star anise and cook for a few minutes until the duck is coloured.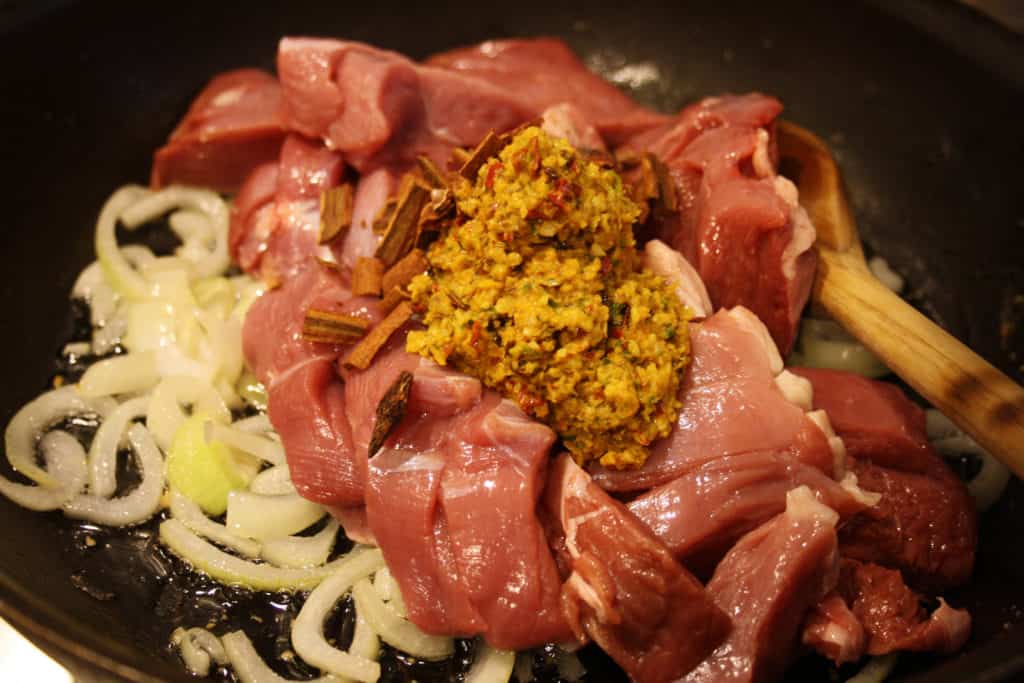 Tip in the coconut milk, water, fish sauce and sugar, bring to a simmer and cook for about 10-15 minutes.
Stir in half of the nuts before serving and garnish with a spoonful of cream, the remaining nuts and some chopped coriander.
Serve with boiled rice and spiced potatoes and enjoy!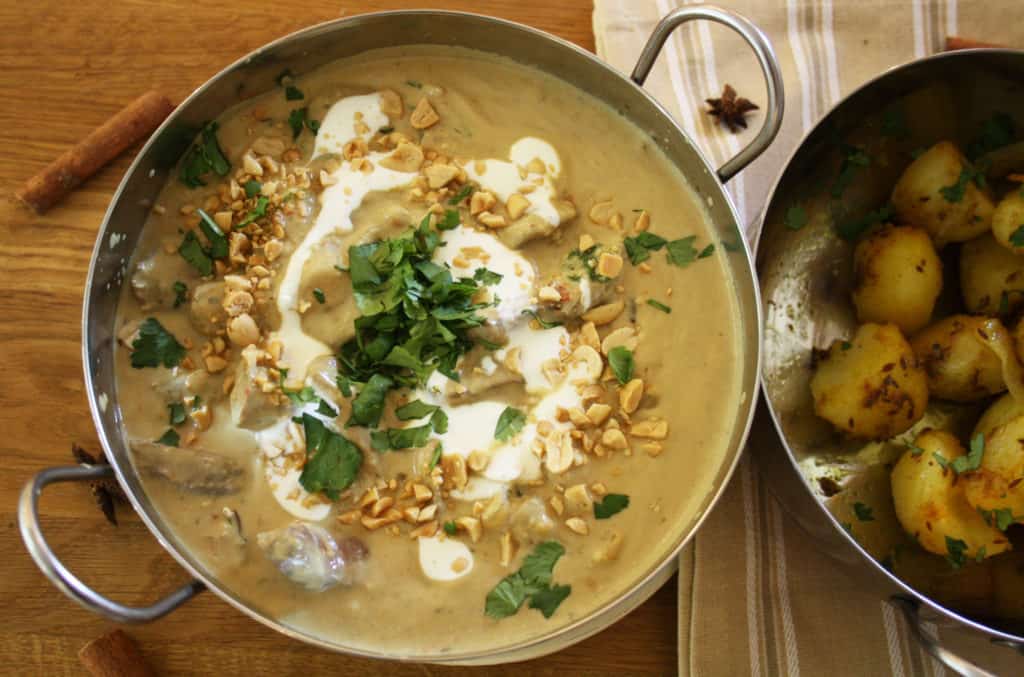 Substitutions
This duck curry can be substituted with prawns or chicken. Here's one made with chicken with the addition of frozen green beans, red peppers and mushrooms. Probably not authentic but a great family meal.
This curry is also great for using leftover lamb or beef.
More Asian recipes to try
Be the first to receive new recipes in your inbox and get my free E-Book of 25 French Recipes! Subscribe here