Estimated reading time: 5 minutes
This warm confit duck salad with griddled pineapple is perfect for hot summer evenings.
Tender and tasty slow cooked duck legs are shredded and served on crunchy salad greens, mangetout and juicy griddled pineapple. It's all topped with a tangy lemon and lime dressing.
Simple to assemble and easy to cook in advance, this salad is a delicious treat.
Bon appétit!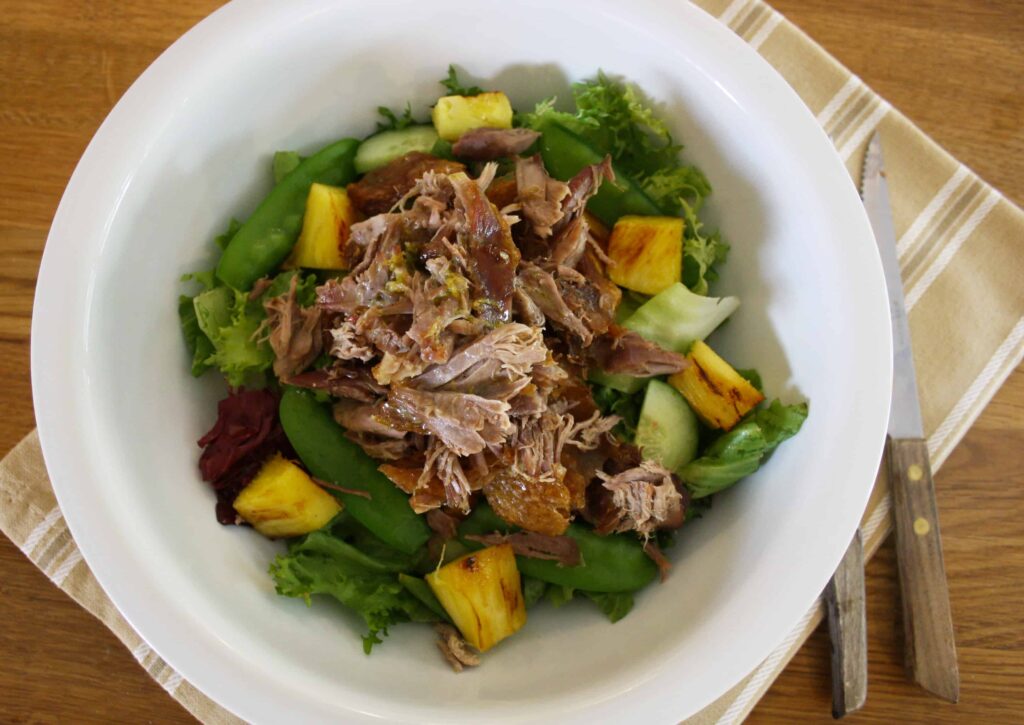 Why you will love this
easy to prepare the duck in advance and even freeze and reheat
the duck is crispy on the outside and meltingly tender on the inside
perfect for fuss free entertaining or just a special lunch at home
What are the ingredients?
For the salad:
4 small duck legs - with the skin on
fresh or canned pineapple
bag of mixed salad leaves - i prefer to use a mixture of red and green leaves but use your favourites
cucumber
mangetout, also known as snow peas or you could swap for sugar snap peas instead
seasoning
For the dressing:
juice and zest of a lemon and two limes
olive oil - go as fancy as you want but regular olive oil still has a great taste
apple cider or white wine vinegar
seasoning
How to make a warm confit duck salad
For this recipe I use my quick confit method.
Prick the duck with a fork and dry the skin with kitchen paper. Season with salt and black pepper and place in an over roasting dish with sides deep enough for the duck.
Cover the tin with foil and roast in the oven for about 2 hours at 160C/310F.
At this point the duck should be extremely tender if you test with a fork. You may need to cook for longer if you duck legs are larger.
When it's completely tender it's time to crisp up the skin. Remove the foil and either turn the oven up to 200C/400F for 10 minutes or place under a medium /high grill for a few minutes until nice and crisp.
When it's cooked to your liking shred the duck using a couple of forks to tear the meat off the bone into bite sized pieces.
While the  duck is cooking make the lemon and lime dressing.
Zest and juice one lemon and two limes. If the limes are hard put them in the microwave for 10 seconds. This really helps them release their juices.
Place the juice and zest in a jam jar with olive oil, vinegar, salt and pepper and give it a good shake.
Peel and core the pineapple and cut into wedges. For this dish I used half a small pineapple.
Put a teaspoon of oil on a  hot griddle and place the pineapple on for a minute or so each side until you can see some caramelisation marks. Afterwards cut into chunks.
Cook some mangetout in boiling water for two minutes and then plunge into cold water to stop the cooking process. 
Now it's just assembly. Pile sliced cucumber and salad leaves into individual bowls, toss on the pineapple  and mangetout and place the shredded duck in the middle.
Give the dressing another shake and drizzle over the lemon and lime dressing and dig in.
Recipe FAQs
I think it's wicked so tell me what you think.
More duck recipes to try