Pork shanks, slow roasted until the meat is falling off the bone, then served with a mouthwatering pineapple sauce. What could be better?
Crackling, of course! And with this dish, you can still have that delicious crispy crackling too.
Making the most of more economical cuts of meat, this recipe is easy and can be used for so many other dishes that your family will love.
Bon appètit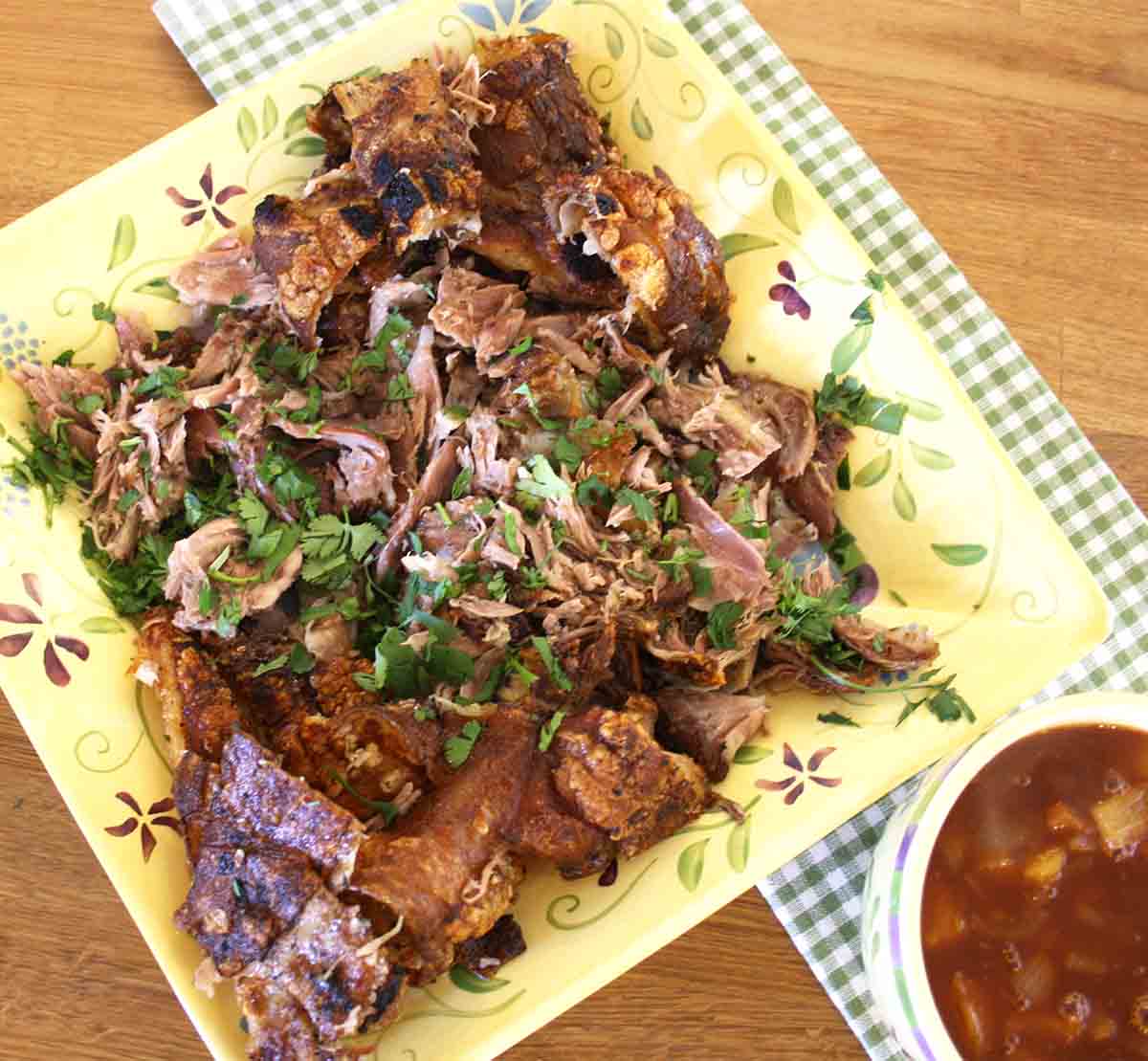 Jump to:
Why you will love this dish
so easy - quick preparation then forget about it!
economical cut from the butcher and meat always keeps more moist when cooked on the bone
enjoy the meat roasted all year round or use in sandwiches, pulled pork buns, tortillas, curries
What are the ingredients?
Two shanks will comfortably feed 4 people, and as the skin is normally left on this cut, there will a generous amount of crackling too.
For roasting I have used regular vegetable oil, course sea salt, freshly ground black pepper and paprika.
You could also add chilli powder, chilli flakes, oregano, smoked paprika or cajun spice if you like.
How to make slow roasted pork shanks with pineapple sauce
This recipe is really easy.
I scored the pork all over. You can used a stanley knife very carefully for this if you do not have a sharp knife. I prefer to use a bread knife for scoring as there is more control over the knife.
Make a mixture of the oil and spices and rub all over the pork.
Put the pork shanks on a rack on an oven tray and cover with foil.
I like the meat to be shreddable so it took 7-8 hours to roast these at 140C/275F/Gas1.
The easiest way to cook these is to leave them in the oven overnight.
I use a fork to see if the meat is ready to pull apart easily.
To crsip up the skin set the shanks under a hot grill, turning frequently.
Sometimes this still doesn't work but don't panic! Simply cut the skin off, using scissors or poultry shears helps, and put the skin on an oven tray and grill.
The sauce can be made in advance and couldn't be simpler. I had some fresh pineapple but tinned or frozen would work well too.
Put water, vinegar, onion, honey, ketchup, Bourbon, soy, sugar and pineapple in a saucepan.
Bring to the boil stirring and then simmer for about 20 minutes or longer if you prefer a thicker sauce. Fry the onions first if you like.
Recipe FAQs
When the meat is cooked and the crackling is crisp pull off the crackling and use two forks to tear all the meat from the bones.
Serve with the sauce and enjoy!
What is your favourite frugal pork cut?
More pork recipes
📋 Recipe