Pork rillettes, or rillettes de porc, are a popular lunch or snack in France. Think of fresh crusty bread, creamy French butter, topped with tender pork and served with cornichons.
This recipe is so easy to do, makes a great gift and is so deliciously frugal too.
A French lunch is not just bread and cheese!
Bon appétit!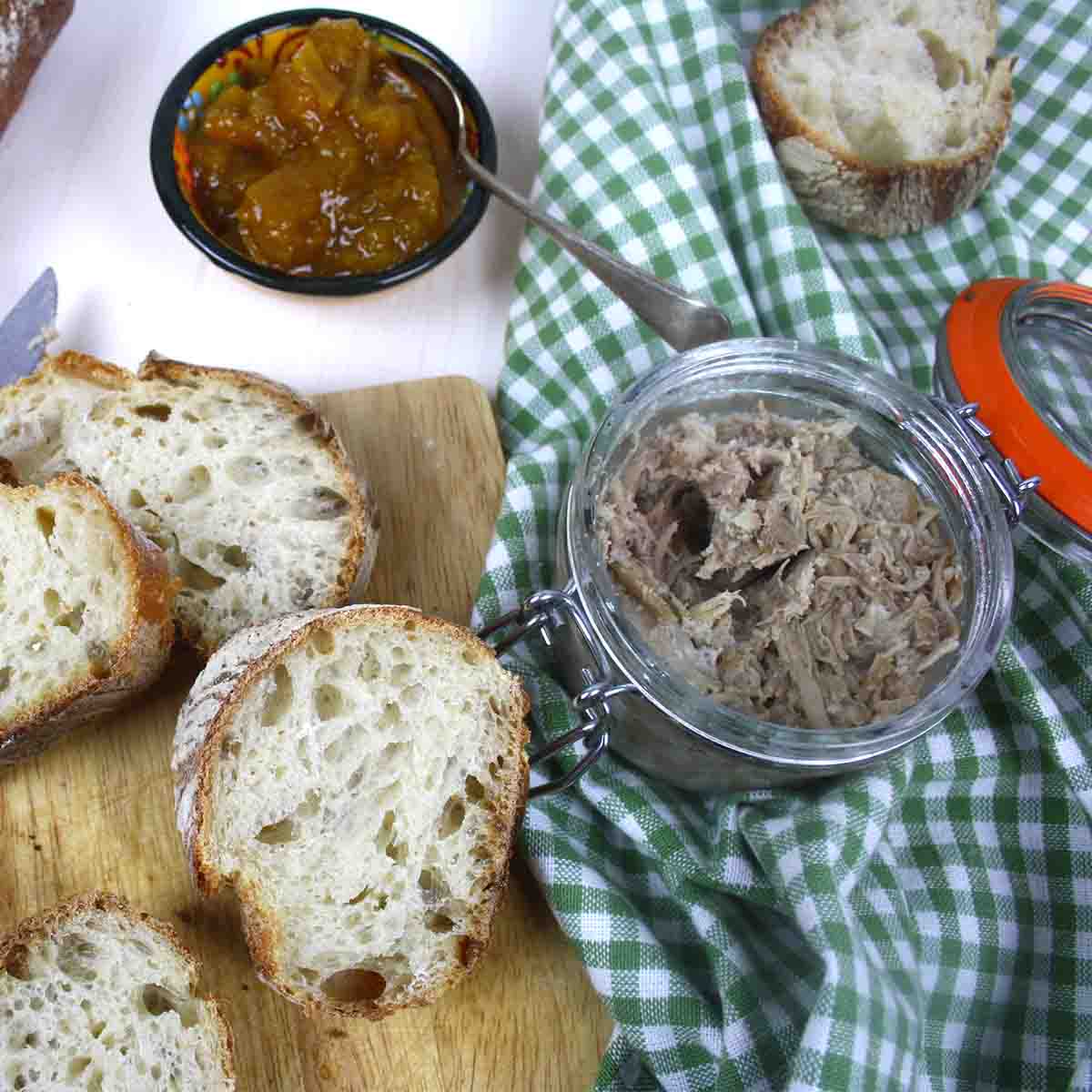 Jump to:
What are rillettes?
Rillettes are basically a dish of slow cooked pork or poultry in its own fat to make a tasty, unctuous spread. It's cooked in a very similar way to making duck confit, but the meat is served shredded instead.
My French friends give these as gifts. They often have them at a casual evening meal, if they have eaten their main meal at midday, as is the norm in France. Perhaps, it's a bit like pulled pork in a jar, but much more classy and easier to make than a pâté!
What are the ingredients?
You can make this spread from any meat, but duck and pork seem to be the most popular. Pork seems to be the cheapest meat here in France so for this recipe I buy chunks of belly pork. You need the fat in the meat for the cooking process, but the finished product is not greasy. You can also use pork shoulder if you prefer.
The rest of the ingredients are lard, (rendered pork fat), garlic, fresh thyme and seasoning.
How to make pork rillettes
Start by placing slices of belly pork, (or shoulder), in a large lidded saucepan with lard, crushed garlic, chopped fresh sage and seasoning.
Heat slowly until the lard has dissolved and then cover and cook on a low heat for 3 hours, stirring occasionally. Remove the lid and cook for a further hour or until the pork is very soft.
If you prefer, cook the meat in the oven at 150C/300F/GAS 2.
Drain the meat in a colander over a large bowl, reserving the liquid. Remove the sage and any lumps of fat leftover in the pan.
Use two forks to shred the meat.
Put the rillettes back into a clean saucepan with the reserved juices from straining and heat for a few minutes until everything is mixed.
Pack the rillettes into sterilized jars and leave to cool and then pour over a layer of melted lard to seal before securing the lid.
Recipe FAQs
What's your favourite thing to spread on crusty bread? This is definitely mine.
More recipes like this
📋 Recipe
Food safety
We sometimes take for a granted that we have years (or decades) of cooking experience, that the average visitor may not. Add to, or remove from, the list below with health and safety tips.
Cook to a minimum temperature of 165 °F (74 °C)
Do not use the same utensils on cooked food, that previously touched raw meat
Wash hands after touching raw meat
Don't leave food sitting out at room temperature for extended periods
Never leave cooking food unattended
Use oils with high smoking point to avoid harmful compounds
Always have good ventilation when using a gas stove