What is Haslet?
Have you heard of Haslet? It's a pork meatloaf typically served cold that has it's origins way before its American counterpart. I'm originally from the south coast of England, where haslet was sold sliced on the deli counter, but is rarely seen today. In Lincolnshire it's still hugely popular. It's normally pronounced 'hazelet' like its previous old English word 'acelet'. The word originates from old French 'hastilles' or entrails and some of the recipes I've found incorporate pigs liver. It would seem that it was originally a very economical dish made with offal.
We are lucky enough to have many independent butchers around Boston and they all have haslet for sale. One of my new friends worked in a local butchers many years ago and recalls that theywere simply made with good quality sausagemeat and hand formed into loaves then baked.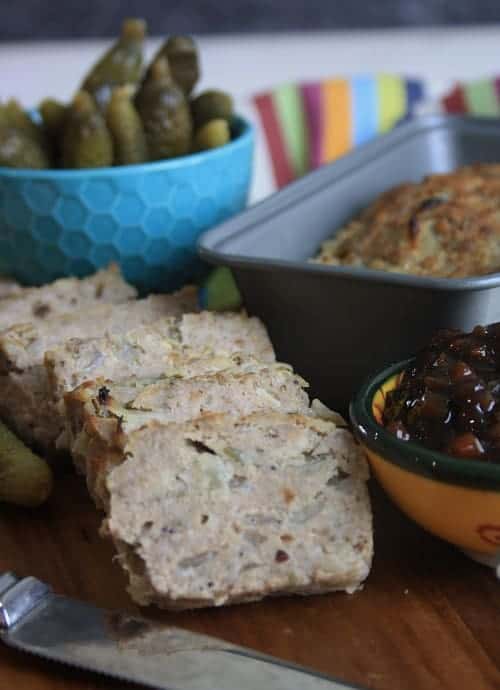 What are the ingredients?
I decided to make my version of this popular dish lighter on the calories but heavier on the flavours.
I've used lean pork mince as the majority ingredient. Next is good pork sausagemeat; it will need a certain amount of fat to bind it together or it will fall apart on slicing.
For additional binding I've used fresh brown breadcrumbs, but use what you have.
Any sausage dish needs onions but I've used a combination of shallots for sweetness and white onion. They must be chopped finely or it will make the haslet difficult to slice.
Sage goes so well with pork and I've used some fresh sage, finely chopped along with some allspice, chilli powder and salt and ground black pepper. The chilli doesn't make the haslet hot and spicy but it just adds an extra savoury note.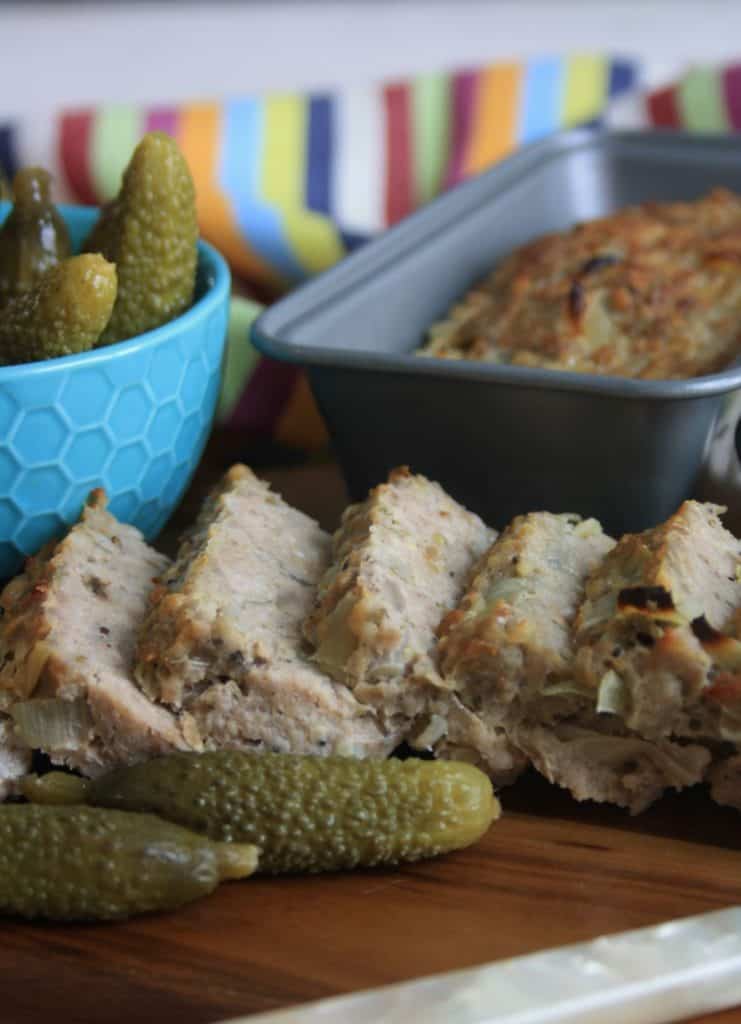 How to make it
First, I have to say that this a very easy process! It's just a question of getting the ingredients prepared then mixing them all together and baking.
Make the breadcrumbs by tearing the bread into chunks and blitzing in a food processor. Chop the onions finely. Put all of the ingredients into a large bowl and mix well to combine.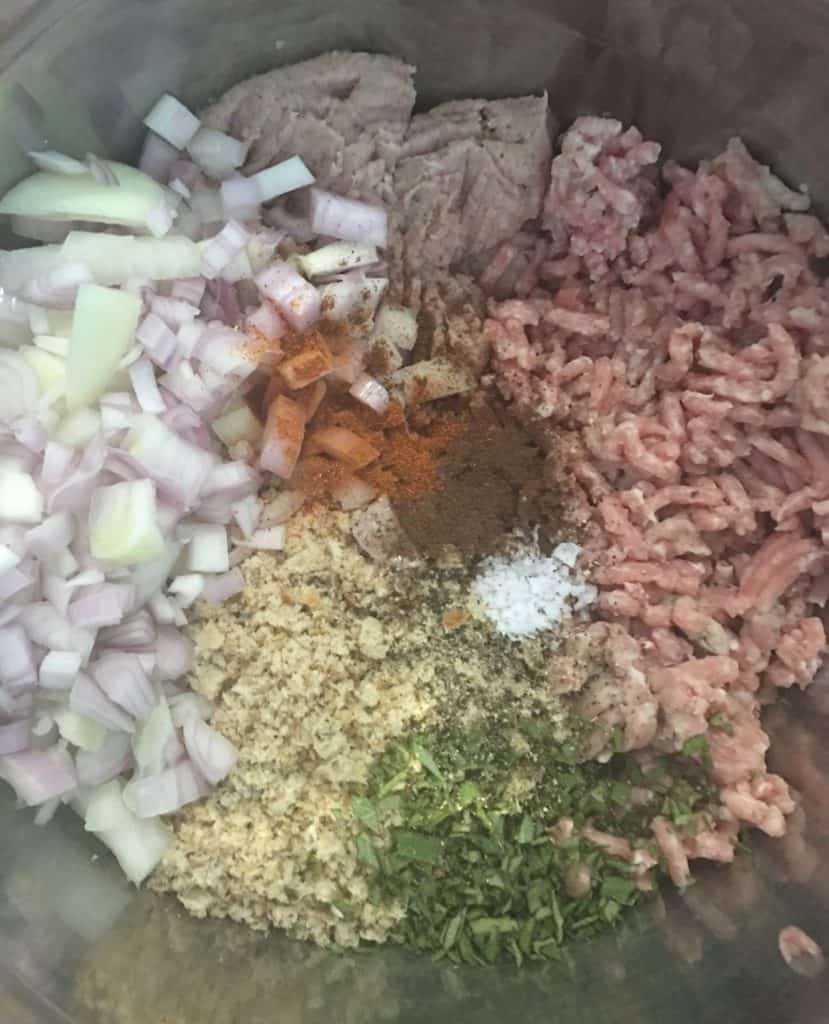 Divide the mixture between 4 loaf tins and press down well.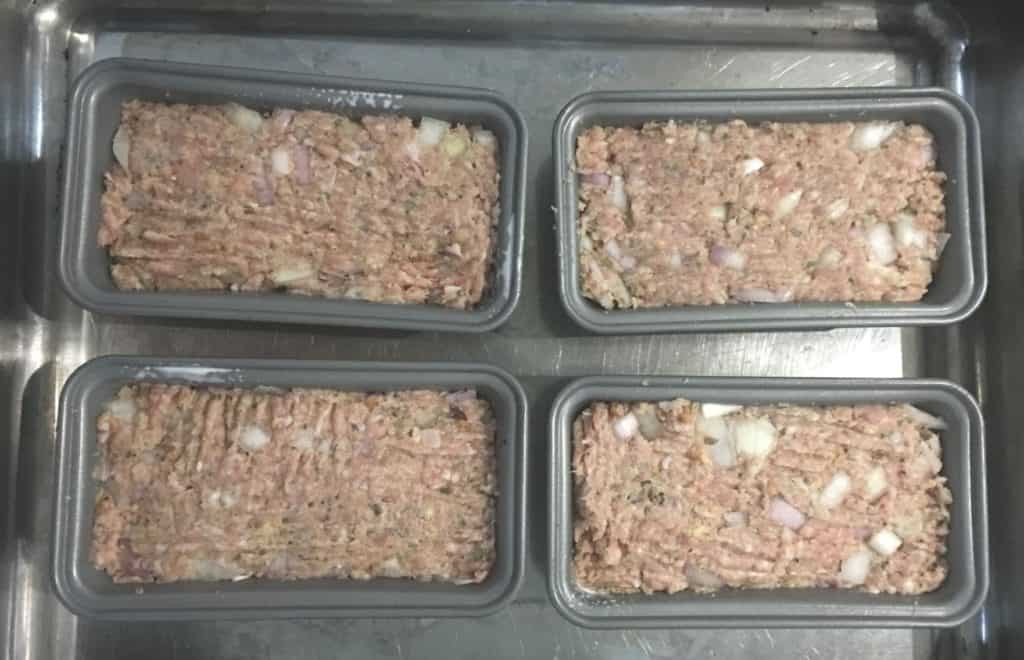 Cover the tins in foil then put the loaf tins into a deep sided oven dish and pour boiling water until it reaches half way. This will ensure that the haslets cook evenly and don't burn or dry out.
Bake for an hour at 200 C the remove the foil and bake for a further 45 minutes.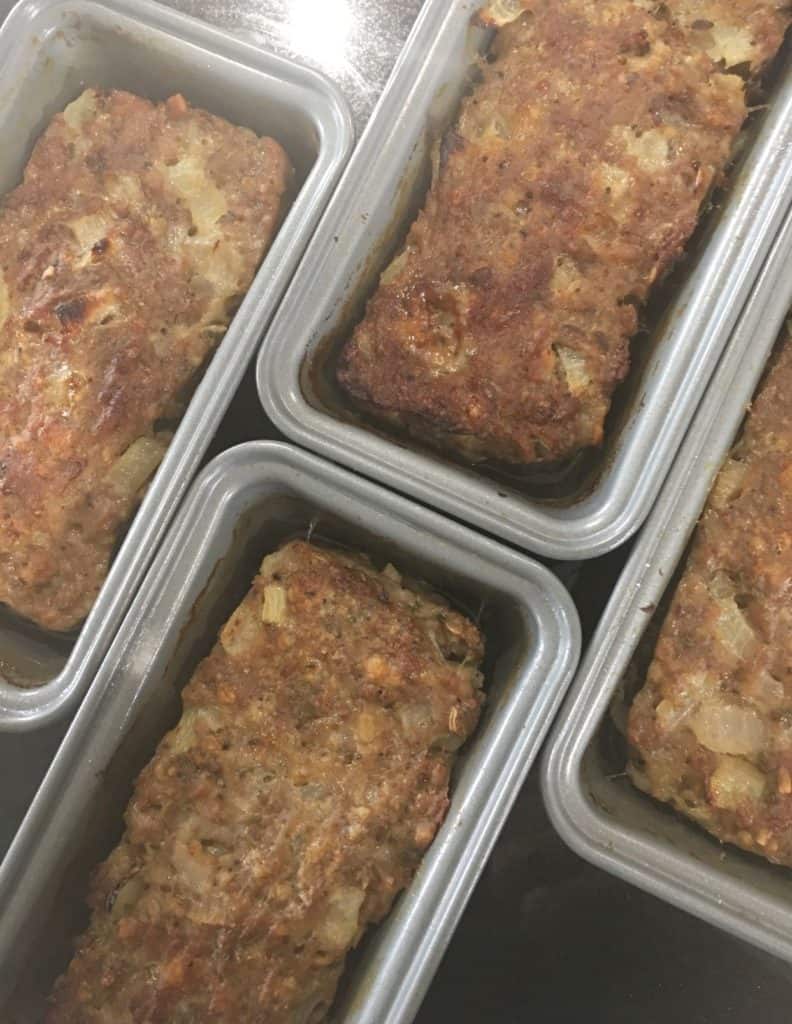 At this point, depending on your sausagemeat, you can drain off the excess fat from the tins. Put the tins on a rack to cool then refrigerate until needed.
How to serve the haslet
These little loaves of deliciousness are very versatile. Slice them lengthways and use as a traditional Lincolnshire sandwich filling. Or serve as part of a snacking board with fresh breads and pickles. The little French cornichons go perfectly.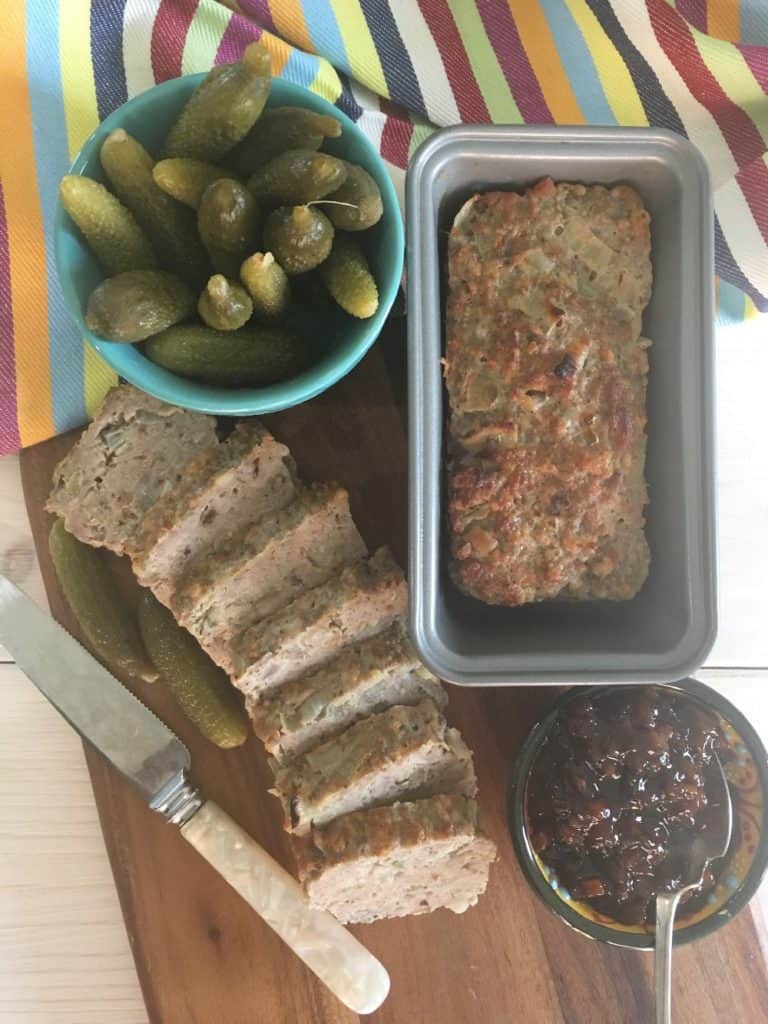 Haslet is also essentially a great stuffing side dish for roast pork or chicken. Simply slice into thick slices when cold, wrap in foil and place in the oven for 20 minutes with the potatoes. Of course, you could serve it as the main part of a dish with gravy for a frugal roast.
Got some leftover? Slice it thickly lengthways and fry gently for a few minues each side. It make the perfect sausage sandwich or serve it with fried eggs and bacon for a decadent Sunday breakfast.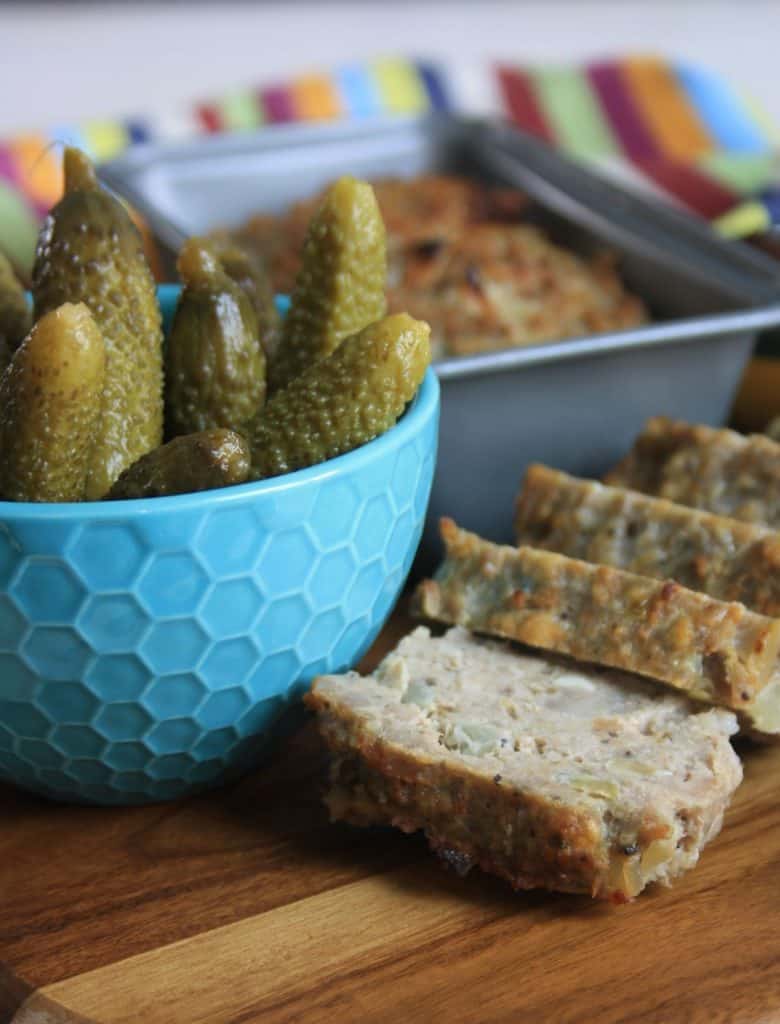 Variations
For an even lighter dish use minced chicken or turkey and use turkey sausages for the sausagemeat.
For a tastier stuffing fry some finely chopped lardons and mushroom together and add the to the mixture.
Cook the mixture in one large dish or loaf pan (capacity at least 1 litre|) and serve thick slices hot with a rich gravy for a frugal Sunday lunch.
Storing
Once the haslet is cooked it will keep up to 3 days covered, in the refrigerator. Only reheat it once until piping hot throughout.
Can I freeze haslet? Yes, I wrap it in foil then a bag and freeze for up to 3 months. Leave to defrost in the fridge and enjoy cold or reheat as above.
Similar dishes
You might also enjoy Duck Terrine with Asparagus. This is another simple French dish containing pork mince and duck fillets cooked in a bain marie like haslet and is perfect as an elegant starter or lunch.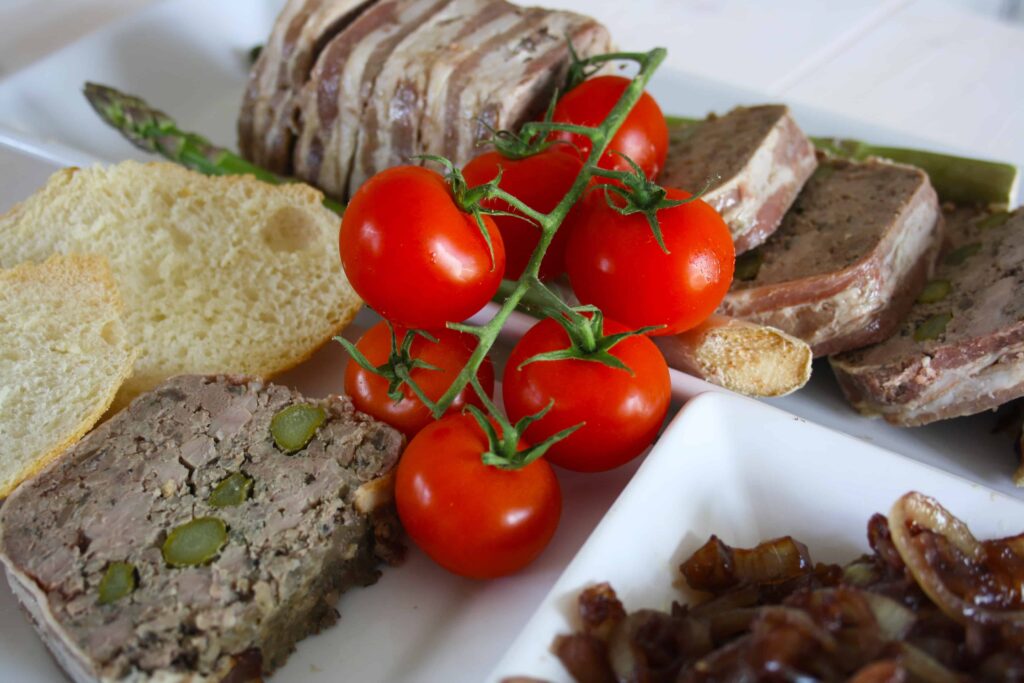 Or try Pork rillettes. This is another French dish which uses pork shoulder as a frugal starter or lunch.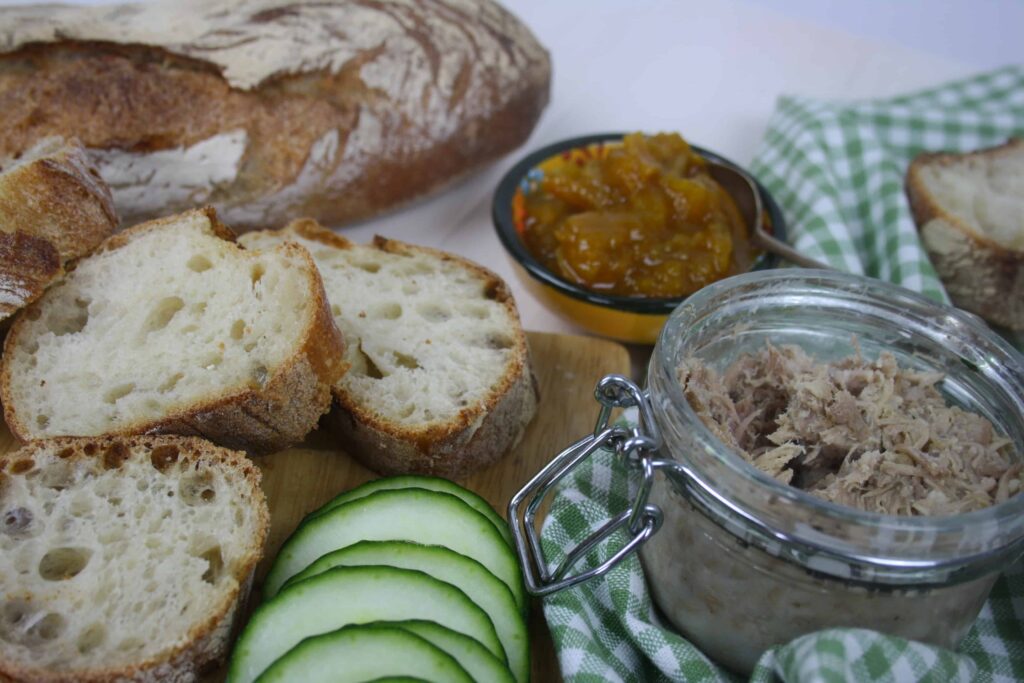 Lastly, have you ever had a British ploughman's lunch? It's rarely on the menu today but here's my French version of French Ploughman's. It's another perfect lunch or starter with smoked duck breast, cured ham, confit duck, goat cheese and redcurrants, all served up with a caramelised onion chutney.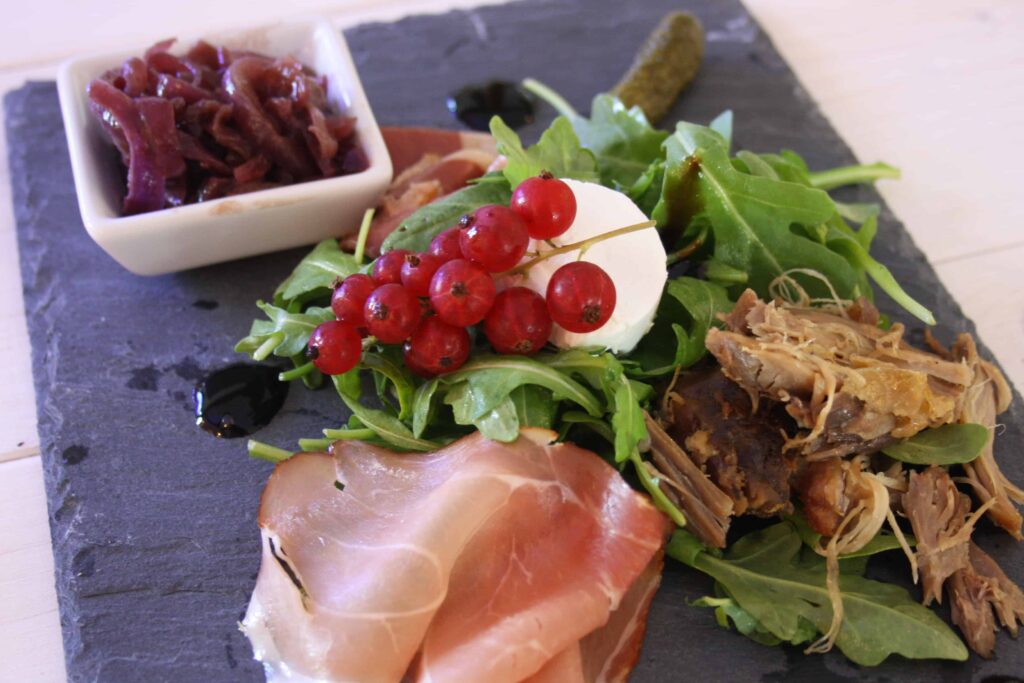 📋 Recipe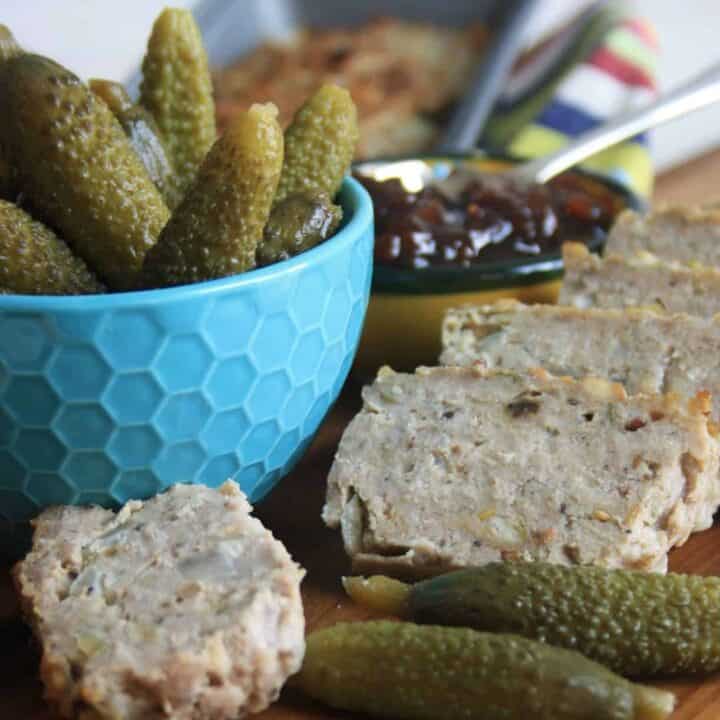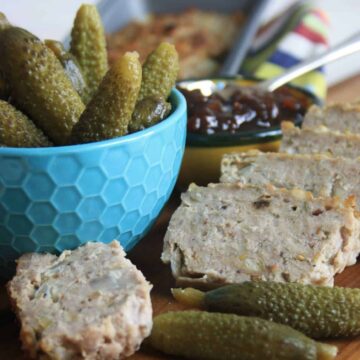 Lincolnshire Haslet
Traditional dish of pork and spices baked and served hot or cold
Ingredients
500

g

pork mince

300

g

sausagemeat

2

tablespoon

onion

1 small finely chopped or shallots

150

g

breadcrumbs

fresh

¼

teaspoon

chilli powder

1

teaspoon

all spice

1

tbsp

sage

fresh and chopped

½ teaspoon

teaspoon

black pepper

ground

½

teaspoon

salt
Instructions
Prepare all the ingredients and mix well together in a large bowl.

Divide the mixture between 4 300ml non stick loaf tins and cover with foil.

Put the loaf tins in a high sided roasting tin and pour boiling water half way up the sides of the loaf tin.

Bake at 200 C for 1 hour and then remove the foil for a further 45 minutes.

Leave to cool for a few minutes in the tins.
Nutrition Facts
Lincolnshire Haslet
Amount Per Serving (250 g)
Calories 711
Calories from Fat 441
% Daily Value*
Fat 49g75%
Cholesterol 144mg48%
Sodium 1115mg48%
Potassium 618mg18%
Carbohydrates 28g9%
Protein 38g76%
Vitamin A 93IU2%
Vitamin C 2mg2%
Calcium 106mg11%
Iron 4mg22%
* Percent Daily Values are based on a 2000 calorie diet.
Disclaimer: The nutritional information provided is approximate and is calculated using online tools. Information can vary depending on various factors, but we have endeavoured to be as accurate as possible.
Detailed instructions for this recipe, including step by step photographs, hints and tips, can be found in the main article.
Be the first to receive new recipes in your inbox and get my free E-Book of 25 French Recipes! Subscribe here!