Garlic and Mint Lamb with Pomegranate Molasses is a really simple dish to prepare and cook. It's perfect for a barbecue or cooked in the oven and needs very little attention, giving you plenty of time to do something else or prepare a delicious salad.
Perfect for lazy garden days at home or casual entertaining, the pomegranate molasses adds great colour and sweetness to this dish that the whole family will love.
What is pomegranate molasses?
Pomegranate molasses is basically pomegranate juice which is reduced down, without adding sugar, until it becomes a syrup. It has a sweet flavour but also a tang, making it perfect for using with meat marinades, in dressings and also diluted as a refreshing cordial.
In the UK I have been able to get it from some branches of Sainsbury's but it's easy to get hold of online too.
What are the ingredients for Lamb with Pomegranate Molasses?
I've used a 2 kg leg of lamb in this dish, which is plenty to serve six people, or plenty of leftovers, whichever way you look at it! It is delicious served cold or used in a curry, so nothing will go to waste.
The rest of the ingredients are simple; 80g of pomegranate molasses or about 5 tablespoons, water, mint leaves and 2 large cloves of garlic.
How do you make Lamb with Pomegranate Molasses?
Start by drying the lamb with kitchen towel. Cut 10 slits in the lamb.
Cut each garlic clove into 5 slices. Take a mint leaf and wrap around a piece of garlic then push into a slit in the lamb. Repeat with the remaining garlic.
If you are cooking this on a rotisserie attach the lamb to it now.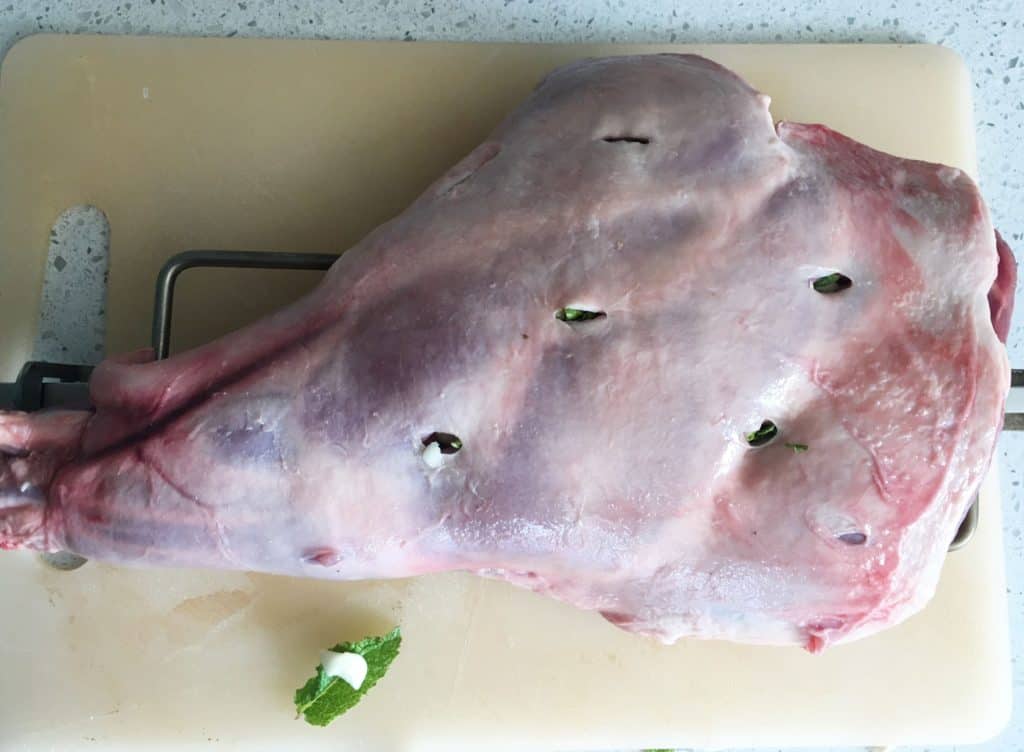 Heat the oven or barbecue to 180 C/350 F.
Mix the water with the pomegranate molasses.
Transfer the lamb to the rotisserie, turn it on. Put the lid on and ensure the temperature stabilises at 180 C.
For extra flavour, and to catch the juices, put a tray underneath with some damp hickory woodchips.
To oven cook, transfer to a large oven dish, lined with foil or use a disposable foil pan. This will stop the glaze from burning on the pan and it will be easy to clean afterwards. Trust me, I have cooked too many glazed hams in the oven and ended up with a pan that took a month to clean
Glaze the lamb with the molasses mixture.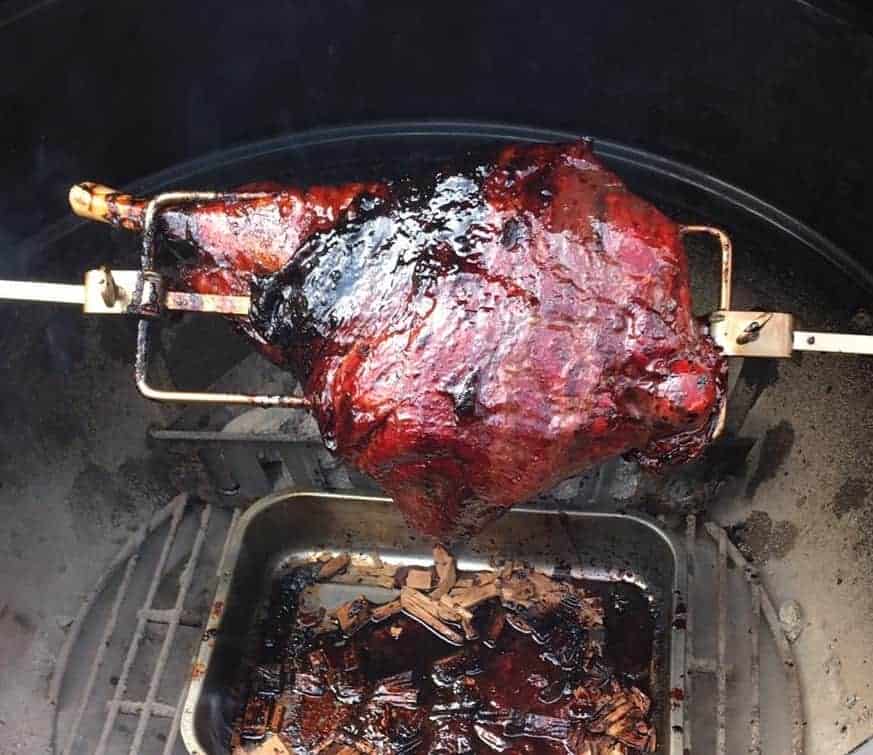 Depending on the exact size of the lamb leg you will need around 2 hours to cook the lamb if you like it medium.
The guidance is 20 minutes for 450g of lamb, but obviously ovens are often different. To be sure of the internal temperature use a meat thermometer, which should register 82 C or 180F.
Baste the lamb with the pomegranate molasses marinade every 30 minutes or so to build up a rich, shiny finish.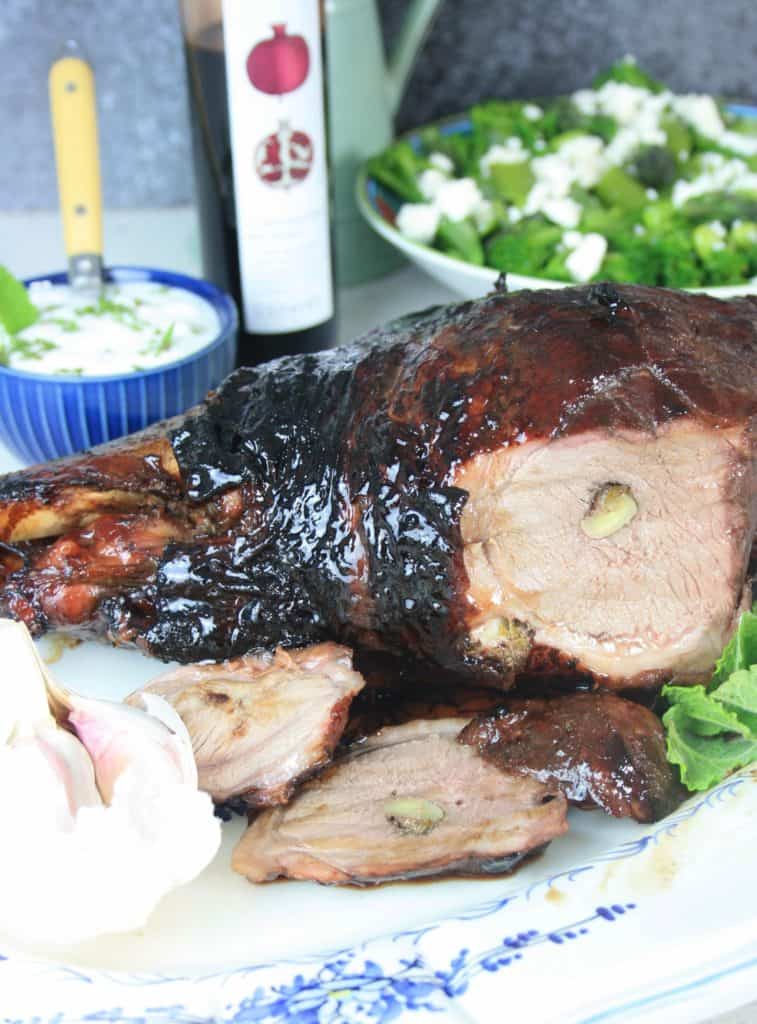 When the lamb has finished cooking transfer to a platter and cover loosely with foil for at least 15 minutes. This will make it easier to carve.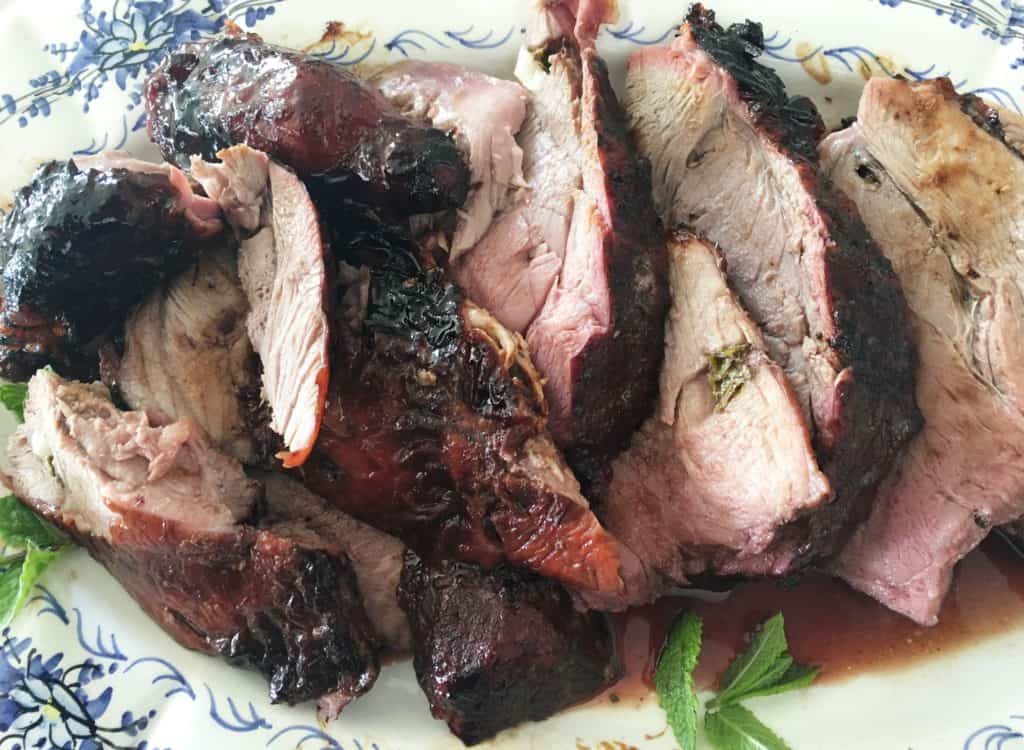 I hope that you enjoy the is Lamb with Pomegranate Molasses. We often have s spit roast duck with pomegranate molasses - I can't tell you how crispy the skin gets!
What to serve with this dish
Other roast meat recipes
📋 Recipe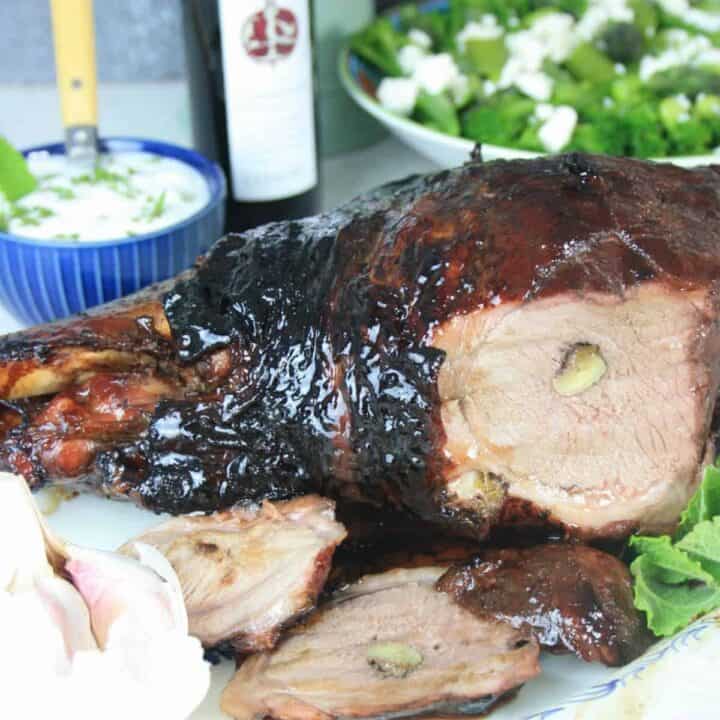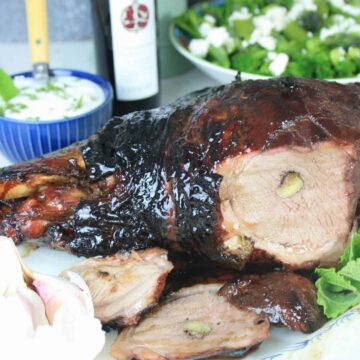 Lamb with Pomegranate Molasses, Garlic and Mint
Lamb studded with garlic and mint and roasted in a pomegranate molasses glaze.
Ingredients
2

kg

leg of lamb

80

g

pomegranate molasses

2

tablespoon

water

2

cloves

garlic

10

mint leaves
Instructions
Set the barbecue grill or oven to 180 C

Mix the water with the pomegranate molasses and set aside.

Wipe the lamb with kitchen towel and make 10 slits in the meat.

Cut the garlic cloves into 5 pieces each, wrap each piece in a mint leaf and stuff into the slits.

Put the lamb on the rotisserie or oven tray lined with foil.

Baste the lamb with the pomegranate molasses glaze.

Cook covered for about 2 hours, basting every 30 minutes with the glaze.

When the lamb is cooked transfer to a platter and cover with foil for at least 15 minutes before carving.
Nutrition Facts
Lamb with Pomegranate Molasses, Garlic and Mint
Amount Per Serving
Calories 307
Calories from Fat 81
% Daily Value*
Fat 9g14%
Cholesterol 134mg45%
Sodium 135mg6%
Potassium 616mg18%
Carbohydrates 10g3%
Protein 43g86%
Vitamin A 71IU1%
Vitamin C 1mg1%
Calcium 18mg2%
Iron 4mg22%
* Percent Daily Values are based on a 2000 calorie diet.
Notes
If you are using a barbecue grill put a pan underneath to catch the juices with some damp hickory woodchips to add an extra smoky flavour.
Disclaimer: The nutritional information provided is approximate and is calculated using online tools. Information can vary depending on various factors, but we have endeavoured to be as accurate as possible.
Detailed instructions for this recipe, including step by step photographs, hints and tips, can be found in the main article.
Food safety
We sometimes take for a granted that we have years (or decades) of cooking experience, that the average visitor may not. Add to, or remove from, the list below with health and safety tips.