Homemade cranberry sauce with orange, port and spices couldn't be easier to make and it's infinitely superior to shop bought jars.
Perfect with turkey on the big day, it's so versatile to eat with cold cuts, cheese and cold pies the whole year round. Not forgetting sandwiches, hot paninis or easy appetisers made with puff pastry and brie.
This recipe makes enough for 10 servings and has a rich fruity flavour that the whole family will love.
Bon appétit!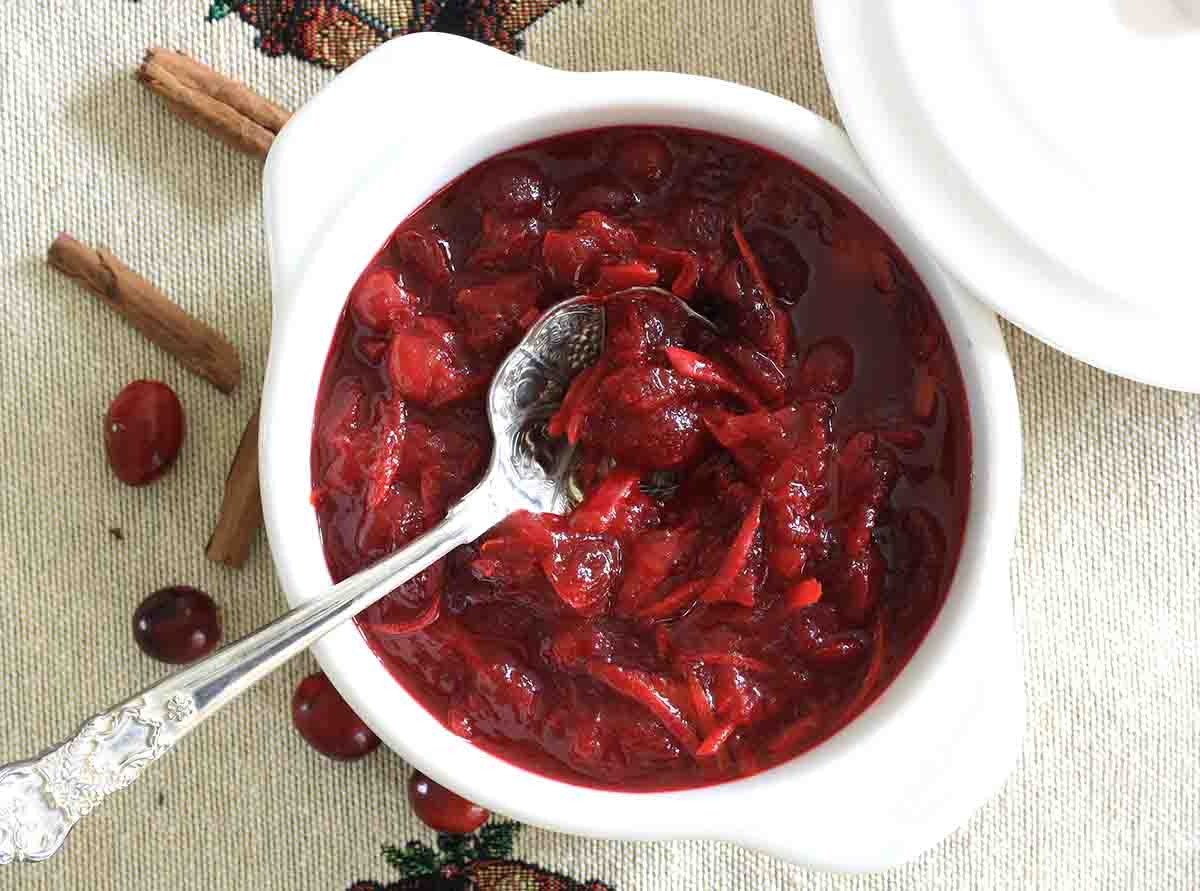 Jump to:
I'm a real lover of this sauce. As a child, it was just a jar of something sweet and fruity, to slather on the turkey once a year. My love for it has increased over the years and now I can't contemplate a roast chicken without it all year round.
Of course, I could never buy it in France and my very fruitless attempt at growing cranberries at home resulted in a lot of dead bushes. I've since found out that they are really difficult to grow, perhaps because I didn't live in a bog! Luckily, fresh cranberries are now often available in the UK and France, so here is mycranberry orange version , packed full of festive flavours.
Why you will love this sauce
no skills required
just one pot for an easy clear up
ready in 25 minutes with minimal work
perfect for making in advance
What are the ingredients?
I have deliberately used a lot less sugar in this recipe and instead added a lot of Christmas flavours.
Aside from fresh cranberries I've used an orange and extra juice, cinnamon, cloves and some juniper berries.
I've also added port for extra richness but obviously you can just leave it out if you wish.
How to make cranberry sauce from scratch
Start by making a bouquet garni by putting a cinnamon stick, cloves, and juniper berries in a piece of muslin and then tie with string. This will make it easier to remove the spices when the sauce is made.
Put the cranberries in a saucepan with sugar, finely sliced orange rind, (zest if you prefer), orange juice and the bouquet garni.
Bring the whole lot to the boil and simmer for 20 minutes, stirring occasionally. Leave to cool before serving.
Recipe FAQs
The good thing about this sauce is that it will go with many meals over the Christmas period. The orange flavours go particularly well with duck, goose and game birds and it is perfect with gammon too.
Top tips
be careful when removing the orange peel not to remove the bitter white pith
when the cranberries are heated they have the tendency to burst open and spit hot juice so beware when simmering the sauce
More Christmas recipes with cranberries to try
📋 Recipe
This recipe was first published on the 23 December 2018 but has been updated with more information.
Food safety
We sometimes take for a granted that we have years (or decades) of cooking experience, that the average visitor may not. Add to, or remove from, the list below with health and safety tips.
Cook to a minimum temperature of 165 °F (74 °C)
Do not use the same utensils on cooked food, that previously touched raw meat
Wash hands after touching raw meat
Don't leave food sitting out at room temperature for extended periods
Never leave cooking food unattended
Use oils with high smoking point to avoid harmful compounds
Always have good ventilation when using a gas stove