Chicken with tarragon is a magic combination that I never get tired of!
This recipe has been a family favourite for years because it's easy, economical and absolutely delicious. Whether you are entertaining or enjoying a family meal at home, this is a great recipe that always turns out perfect.
For this dish you can use any part of the chicken or even leftovers and the meat will stay succulent due to the easy sauce.
Best of all this dish is on the table in 30 minutes from start to finish so it's perfect for a midweek treat too. Just set the veggies to cook while you tend to the chicken.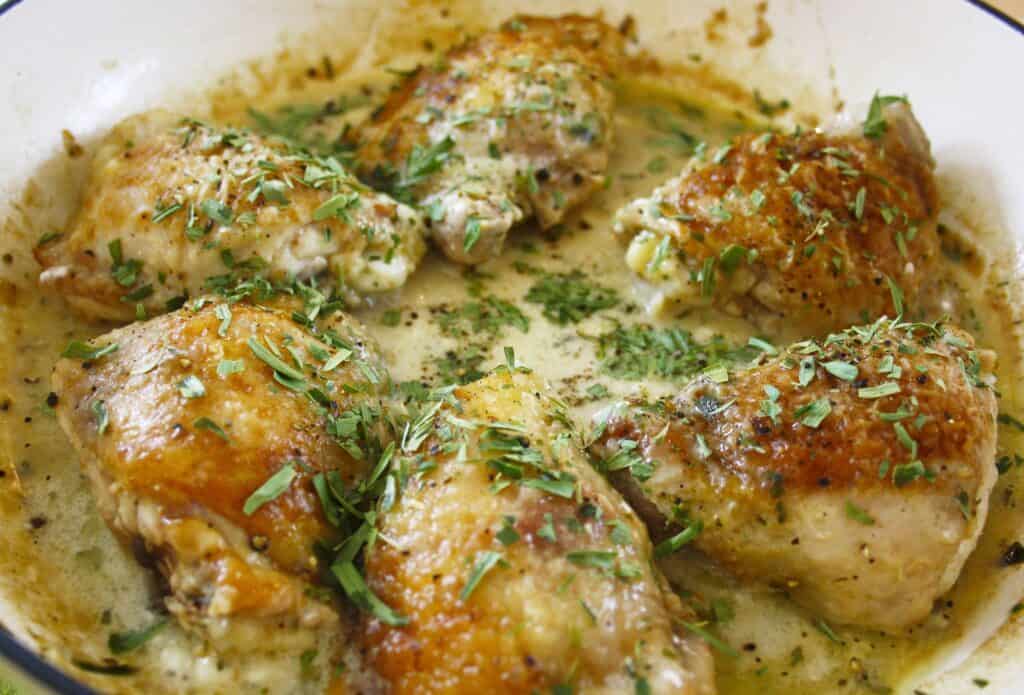 What are the ingredients?
With chicken breasts more expensive we often use thigh meat at home. It has a richer, gamier flavour and the meat stays moist when it's cooked on the bone. Nowadays it's difficult to buy chicken breast with the skin on and I do like a little bit of crispy skin. Of course, feel free to remove the skin.
If you have not used juniper berries before they are the main flavouring in gin and the clean aromatic flavour goes perfectly with the tarragon.
This dish calls for fresh tarragon, which I grow in the garden, but if you can't get it then used dried. Dried tarragon is one of only a few that isn't gritty and woody and I often throw some dried tarragon in my chicken gravy.
You will also need crème fraîche, white wine and chicken stock. I always keep a pot of reduced fat crème fraîche in the fridge as it has a longer shelf life than cream and is more stable in sauces. It's also good for a quick pasta sauce or to make a yummy dip.
How to make this dish
Trim off any visible fat and excess skin and dredge the thighs in seasoned flour. Heat a little oil and butter in a large shallow pan and put the chicken in skin down for about 5 minutes until golden. Turn over the chicken to brown and remove some of the excess fat from the pan if you like.
Next add the wine and allow to bubble for a couple of mintes to reduce and then the stock, most of the tarragon and juniper berries. Feel free to leave out the wine and add some extra stock instead.
Simmer for 10-15 minutes until the chicken is cooked through. To keep the skin crispy try not to pour the liquid onto the chicken.
Check the seasoning then stir the crème fraîchethrough the sauce. Serve with the remaining tarragon sprinkled over.
Crunchy skin, moist meat and an creamy tarragon sauce with juniper.
What could be better?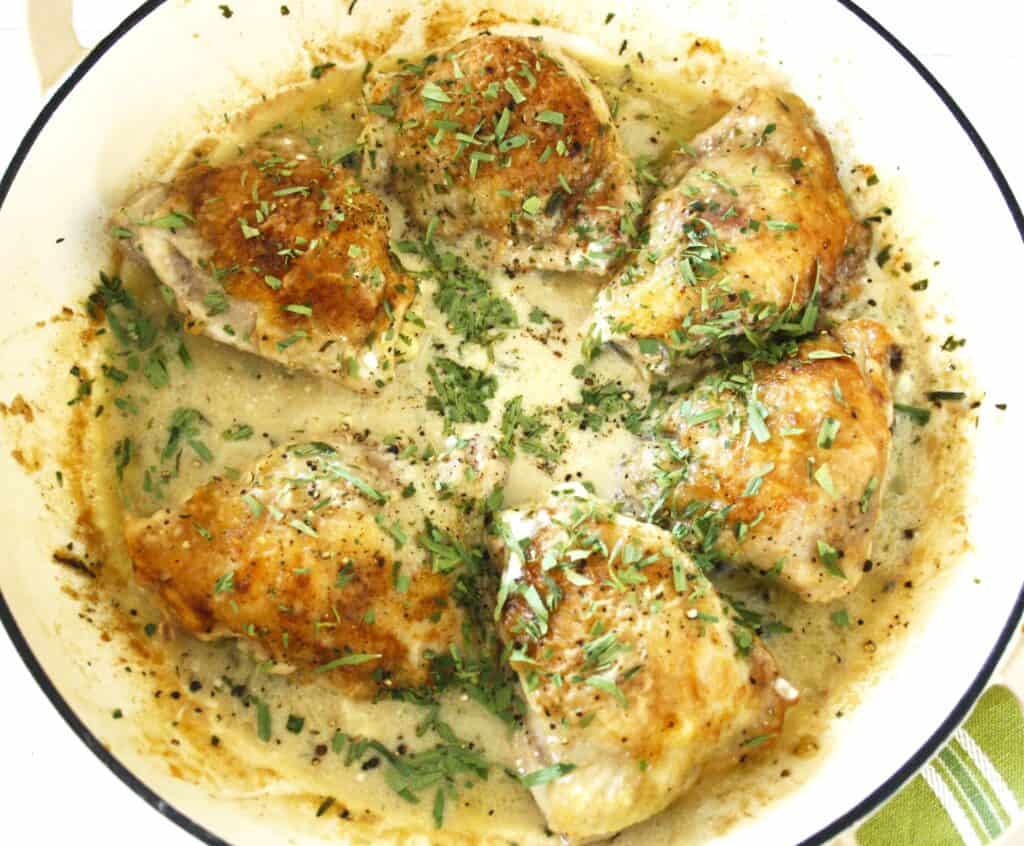 You may also like
📋 Recipe
Food safety
We sometimes take for a granted that we have years (or decades) of cooking experience, that the average visitor may not. Add to, or remove from, the list below with health and safety tips.
Cook to a minimum temperature of 165 °F (74 °C)
Do not use the same utensils on cooked food, that previously touched raw meat
Wash hands after touching raw meat
Don't leave food sitting out at room temperature for extended periods
Never leave cooking food unattended
Use oils with high smoking point to avoid harmful compounds
Always have good ventilation when using a gas stove