This Chicken Cassoulet with Sausage is my easy take on a French classic.
Juicy chicken thighs and tasty sausages are cooked in a tomato and bean sauce, topped with a crispy breadcrumb topping....
This delicious, no fuss meal is ready in 30 minutes and is so hearty and satisfying you can serve it straight from the pan on its own.
What is a Cassoulet?
Cassoulet is a French dish based on white beans, which are very popular in the French diet.
It is not uncommon to see vast sacks for sale in supermarkets and markets where the beans are still in their shell. In my region, on the Vendée border, 'mogettes' were a favourite local variety, but I often bought the more economical 'haricot blanc' or 'coco' beans.
The English name is navy bean, which is smaller than a cannellini bean, and native to America.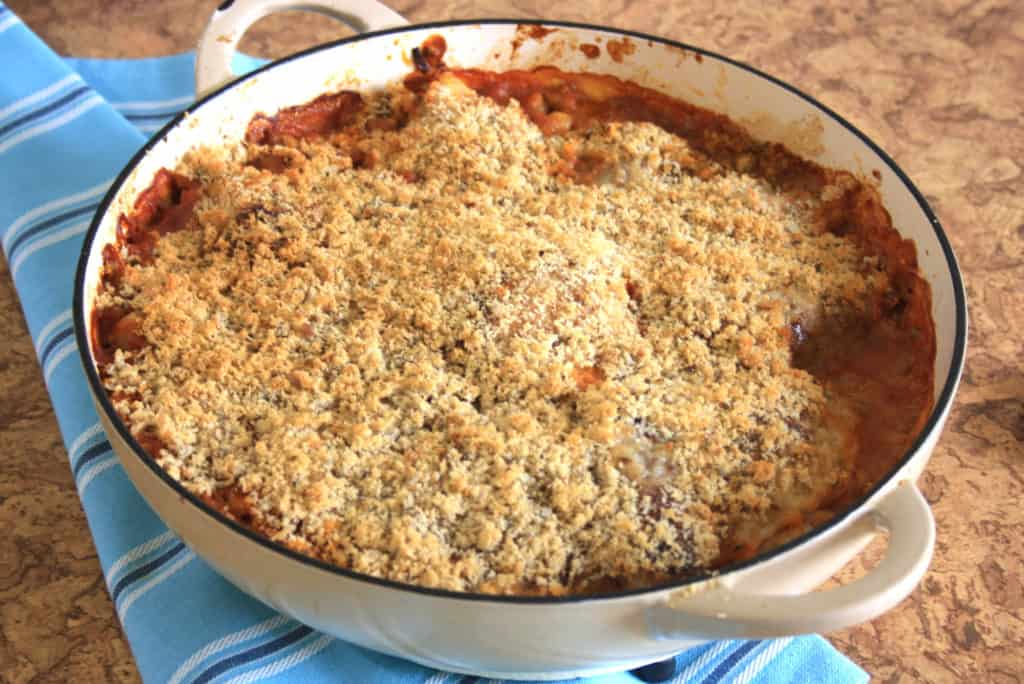 For a traditional Cassoulet, named for the dish it is cooked in, haricot blancs are favoured. The dish originated in Southern France, notably Toulouse, Carcasonne and Castelnaudry and each area has its particular version which they claim to be the best.
It is normally a slow cooked dish which could include goose, duck, belly pork, lamb and thick sausages cooked in a rich tomato sauce with the beans. It was finished off with a layer of breadcrumbs, presumably to soak up the huge amount of fat the dish generates. The crusty layer is then pushed into the sauce and left to cook further before repeating the process up to six times in some recipes!
Here is my version, with a few changes along the way. The changes mean that you can still enjoy this dish with minimal time cooking and using everyday ingredients.
What are the ingredients?
I've used chicken thighs as they are readily available, economical and have great taste.
For the sausages I do prefer to use a Toulouse style sausage. These sausages are substantial, chunky and full of garlic and herbs. However, any good quality pork sausage will work well.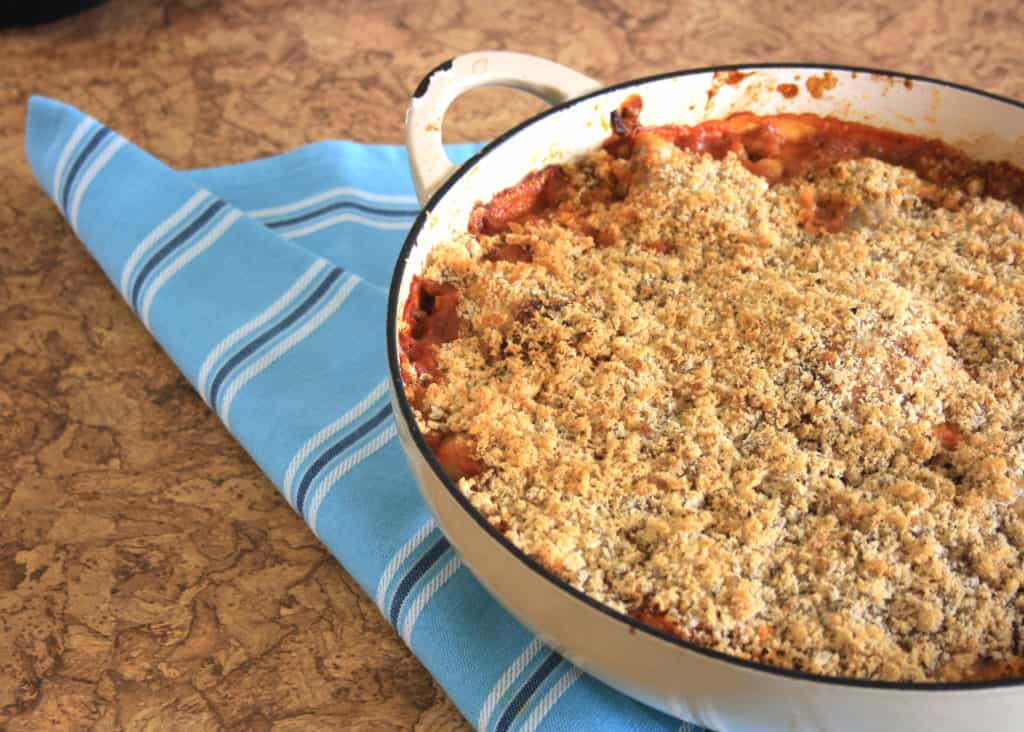 For the beans you can use any tinned white bean that is available. I often used to buy dried beans to save money but these do require soaking in water overnight before boiling for at least 40 minutes, so be sure to follow the pack instructions.

How to make Chicken Cassoulet with Sausage
Start by trimming the chicken thighs of any excess fat and place skin side down in a large frying pan or skillet with the onions.
Brown the chicken over a medium heat for about 7 minutes before turning over. This gives the skin a good colour and allows the chicken fat to render down and cook the onions.
Turn over the chicken and cook for a few minutes with the garlic then turn the chicken over.
If you have space in the pan brown the sausages in the same pan. I often cook them in a separate pan and discard the fat as some sausages are very greasy.
At this point tip in a can of chopped tomatoes and 2 tins of drained cannellini beans around the chicken.
Put a lid on the dish and cook for another 10 minutes. Remove the lid and scatter on the breadcrumbs. I just blitz a few slices of bread for this.
Place the dish under the grill for 5-10 minutes until golden and crispy.
It's time to grab a spoon and dive right under that crust!
I'd love to know if you make this dish. Please let me know what you think in the comments.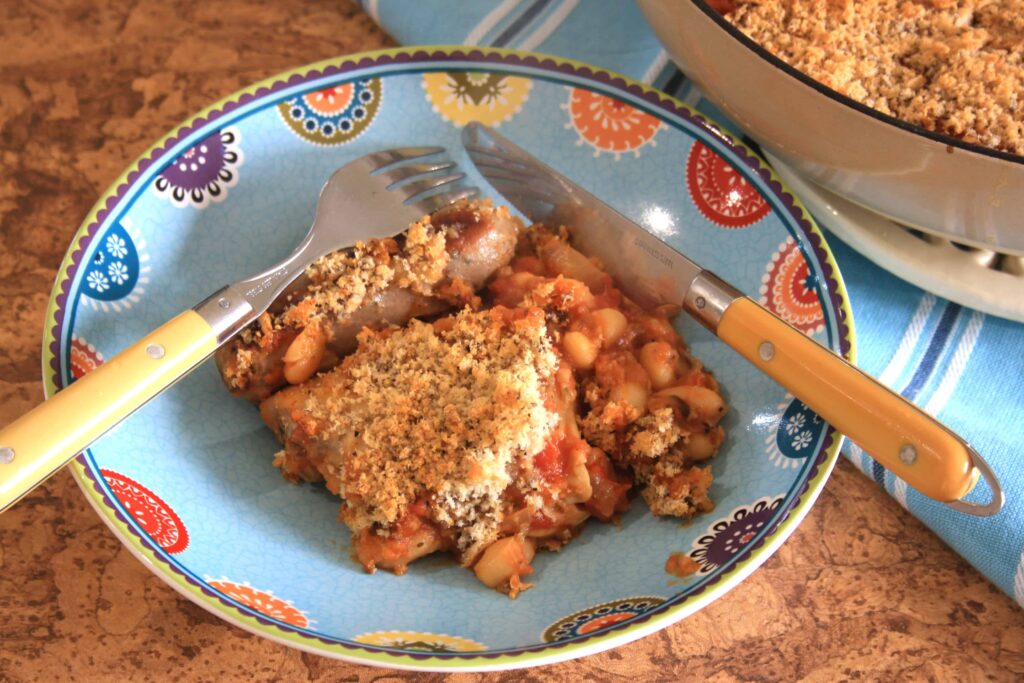 What do you serve with this dish?
In my version there is still a high amount of protein and carbohydrate in this dish. You could serve it on its own or with some steamed vegetables. Traditionally it was eaten with bread to mop up the juices but today a green salad will make it more of a balanced meal.
How do I lower the calories in this dish?
It's easy to remove the skin from chicken thighs simply by pulling it off. You could also use chicken breast but I would suggest cutting the breast into strips to make cooking easier. Leave out the sausages or use a low-fat version.
How can I make this dish suitable for vegans or vegetarians?
Simply skip the meat and start by frying the onion before adding leftover roasted vegetables or a selection of raw vegetables such as carrots, mushrooms, peppers or courgettes. Just make sure that harder vegetables are cut smaller or added first to ensure they are cooked.
How can I customise this dish?
You can use chicken breast instead but I normally cut in 3 lengthways to ensure even cooking. You may need to add a little oil.
Why not try some Chorizo or other spicy sausage too? Slices of belly pork or shoulder chops would also work.
More importantly, this is the perfect dish when you have leftover roast meat or barbecue meat.
If you really want to make it easy just use a couple of cans of baked beans!
More sausage and chicken ideas
📋 Recipe
Be the first to receive new recipes in your inbox and get my free E-Book of 25 French Recipes! Subscribe here