Toad in the Hole is the perfect comfort food. Sausages cooked in a delicious Yorkshire pudding batter that is crispy on the outside and soft on the inside.
Easy to make, and with added bacon and onions, this British family favourite is the sort of food that sticks to your ribs when it's freezing cold outside and you need to warm up.
Trust me, everyone loves this dish and will be fighting over the crispiest bits!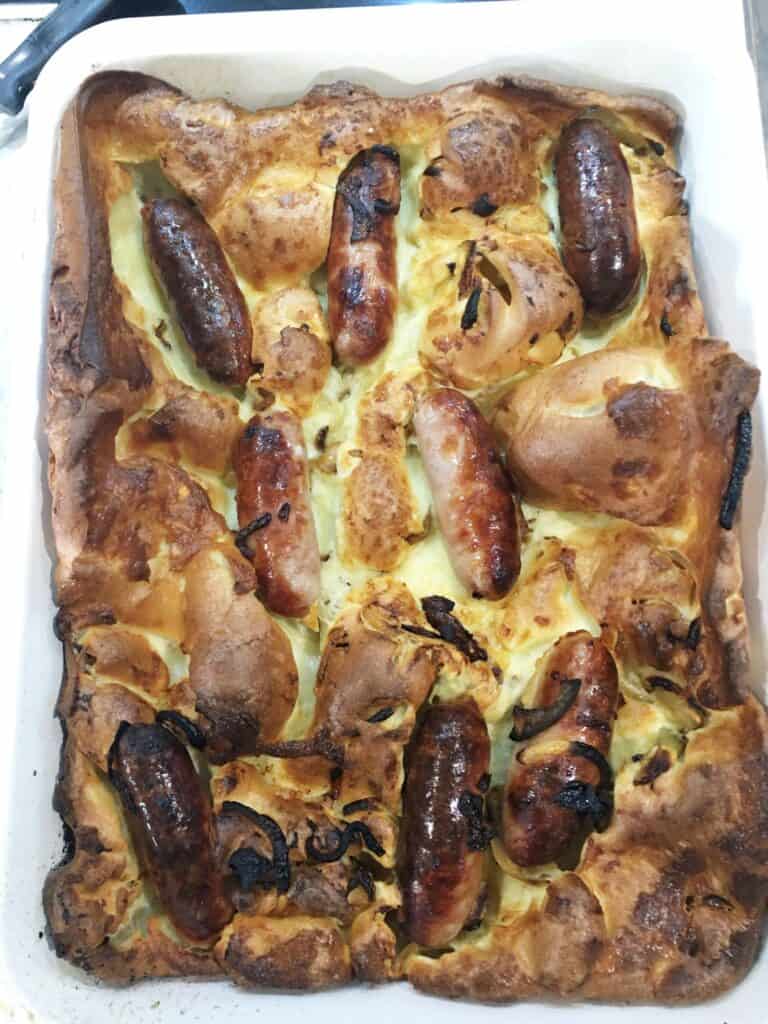 What are the ingredients?
Start by making the batter. I use the same quantities and ingredients as my Yorkshire Puddings recipe which works every time in this dish too.
The sausages you use are down to your own personal preference. This is really a traditional frugal dish so would have been made with plain sausages.
When I was living in France I used Toulouse sausages which have quite a strong flavour with garlic and herbs but in the UK I tend to use a Lincolnshire sausage.
You will also need onions and bacon or lardons but these additions are optional.
How to make toad in the hole
Make the batter by putting all the batter ingredients into a liquidiser for a couple of minutes. Alternatively you can put the flour in a bowl with the salt, make a well in the flour and pour in the eggs and milk. Start stirring from the middle with a wooden spoon, gradually drawing the flour in. Beat vigorously until smooth.
Fry the sausages, onions and bacon for a few minutes until they are coloured and arrange on a roasting dish.
Put the dish in a preheated oven at 230 C with added vegetable oil and heat for about 10 minutes.
Give the batter a stir, open the oven and quickly pour the batter into the tin and promptly shut the door. After about 25 minutes the twisted toad in the hole should be ready. Don't think about opening the door before then or the toad in the hole will collapse.
The Yorkshire pudding should be well risen and crispy around the edge and soft and squidgy in the middle.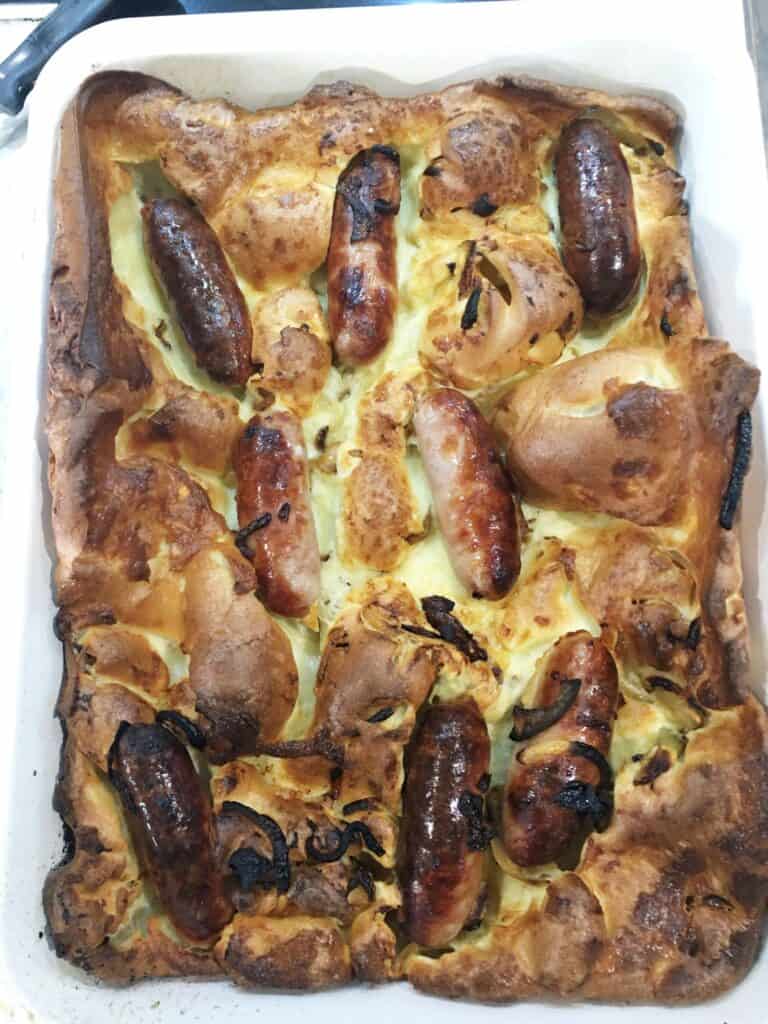 More comfort food to try...
📋 Recipe
Food safety
We sometimes take for a granted that we have years (or decades) of cooking experience, that the average visitor may not. Add to, or remove from, the list below with health and safety tips.
Cook to a minimum temperature of 165 °F (74 °C)
Do not use the same utensils on cooked food, that previously touched raw meat
Wash hands after touching raw meat
Don't leave food sitting out at room temperature for extended periods
Never leave cooking food unattended
Use oils with high smoking point to avoid harmful compounds
Always have good ventilation when using a gas stove