What makes this the best Yorkshire Puddings Recipe? The answer is that it works EVERY single time and in different cookware.
If you are having roast beef you have to have Yorkies with them. But this recipe is also great for using the puddings in different ways like my French Yorkie Scramble for a decadent brunch.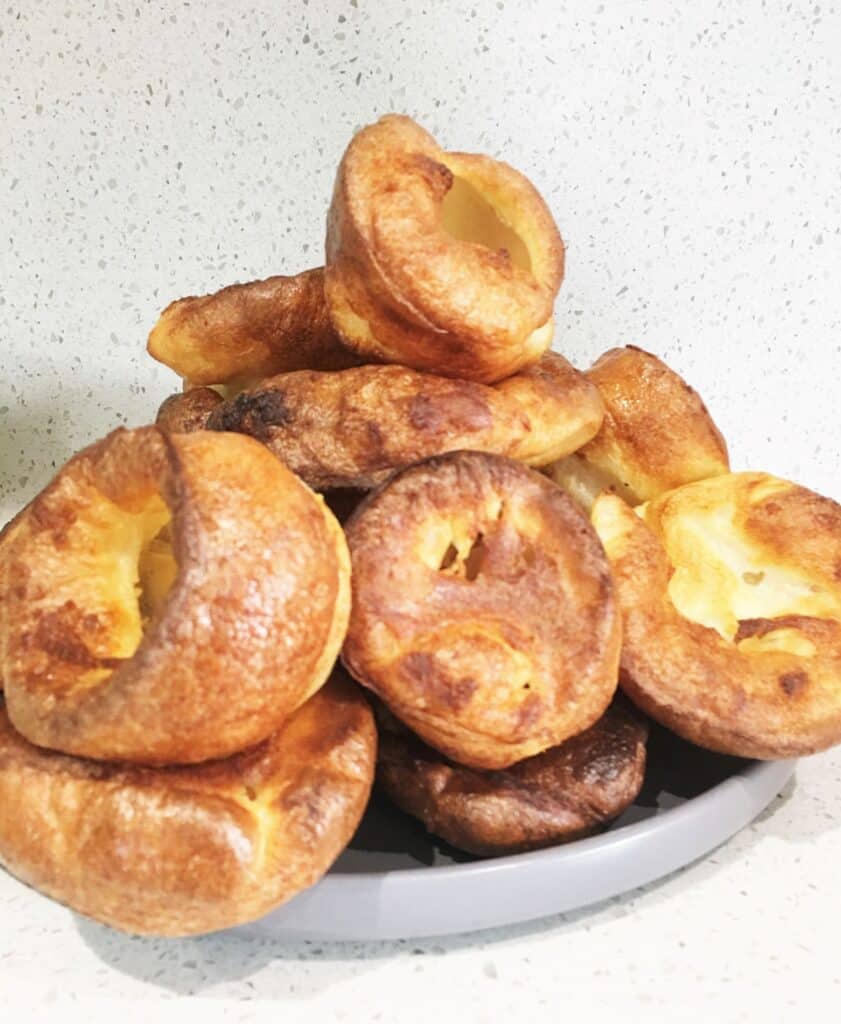 What are the ingredients?
Yorkshire Puddings are made with very simple pantry staples. The difference with this recipe is that it has 4 eggs, rather than the usual 1 or 2. This makes sure that the puddings rise until they are crspy on the outside and tender on the inside.
How to make the puddings
This bit couldn't be simpler.
The old fashioned way is to sift the flour in a bowl, add the salt and make a well in the middle. Add the eggs and the milk by gradually drawing in the flour from the sides until you have a smooth batter.
I just throw everything, except the oil, in a liquidiser and blend for about a minute and that's it. Sometimes you need a spatula to make sure that it has mixed well and blend briefly again. The mixture can then sit until you are ready.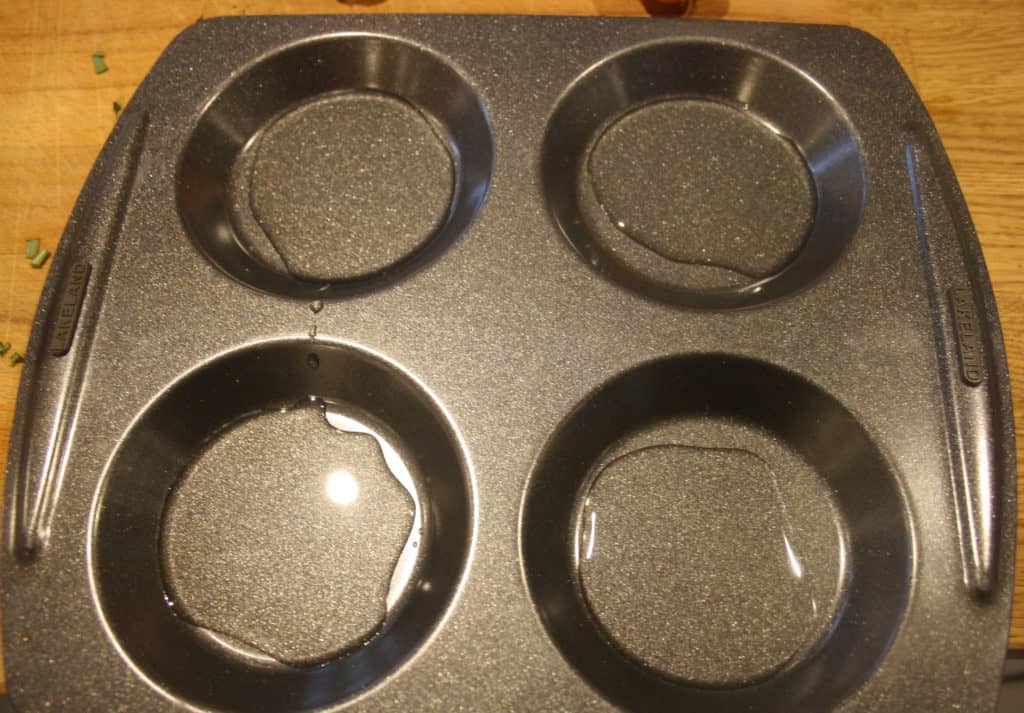 It's up to you what size tin you use but for best results it has to be a metal tin. You can cook these in a glass or stoneware dush if they will take the oven temperature but using metal makes them rise much higher and ensures a crispy, not soggy bottom.
The amount of vegetable oil you need depends on the container. It's got to be enough that it will cover the bottom, like the picture above. These tins are specifically for Yorkies and will give a large cup shape, perfect for filling.
For individual puddings I prefer to use muffin tins like the picture below. They lift out easily and are impressive on the plate.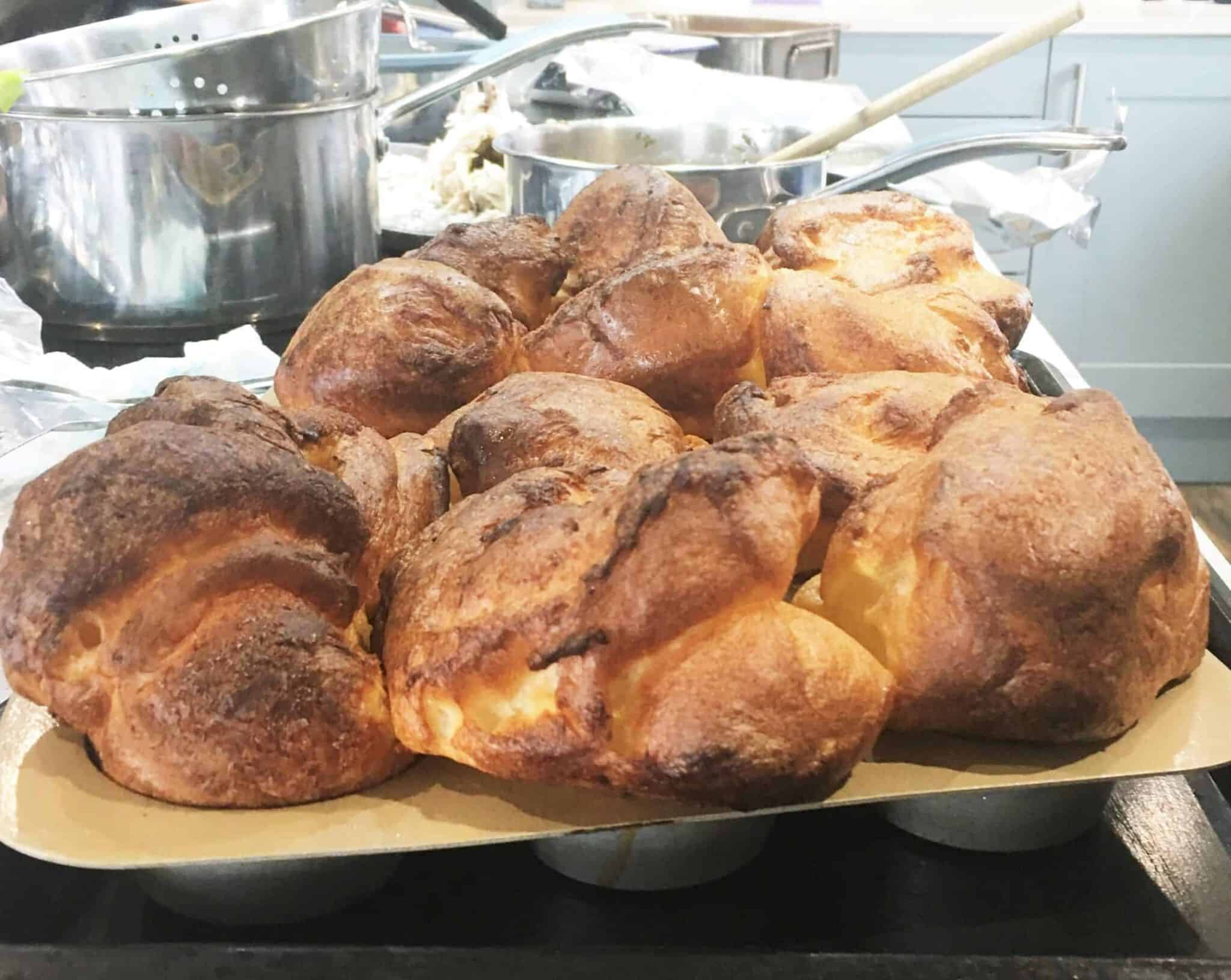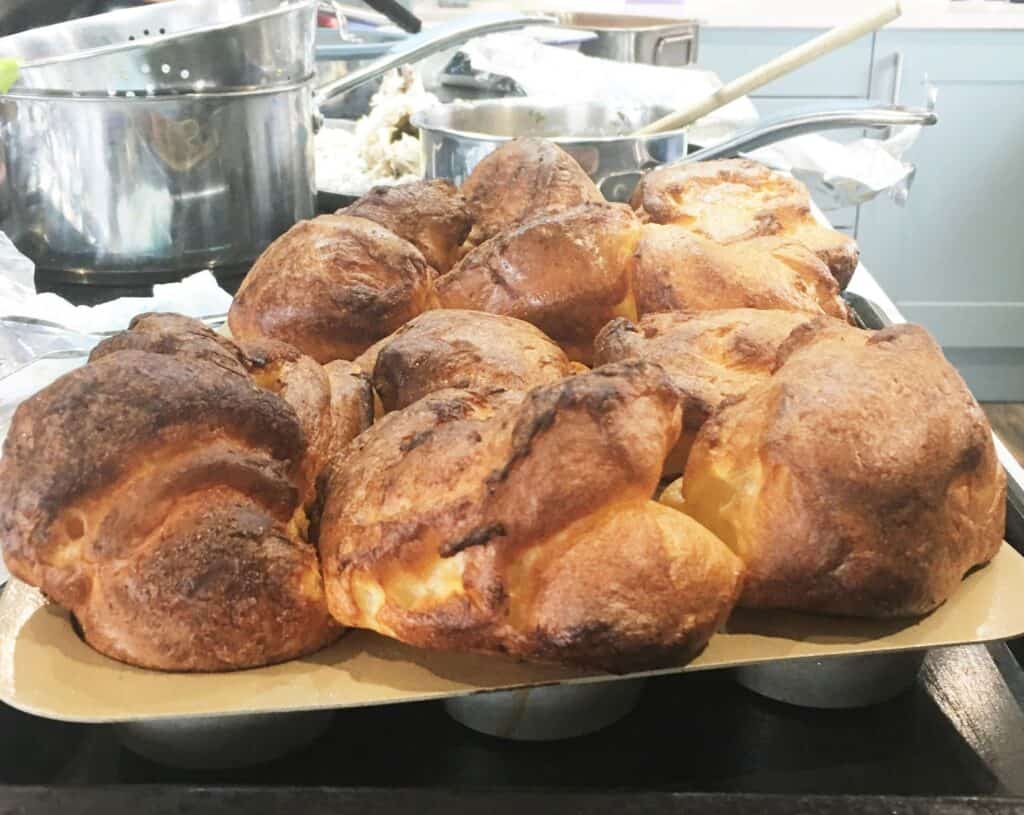 For the pie tin below I've made half the mixture which makes a pudding to feed four people.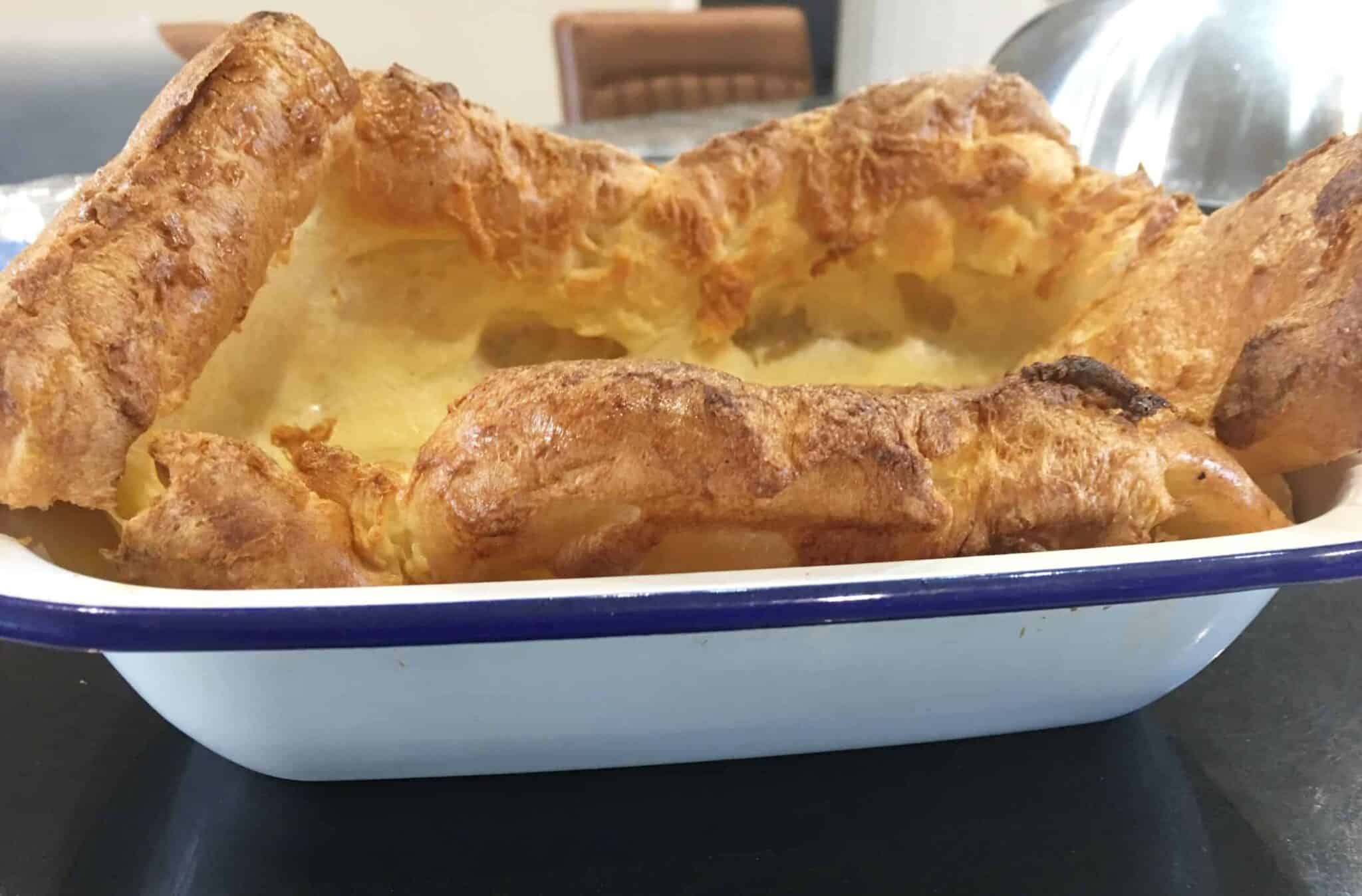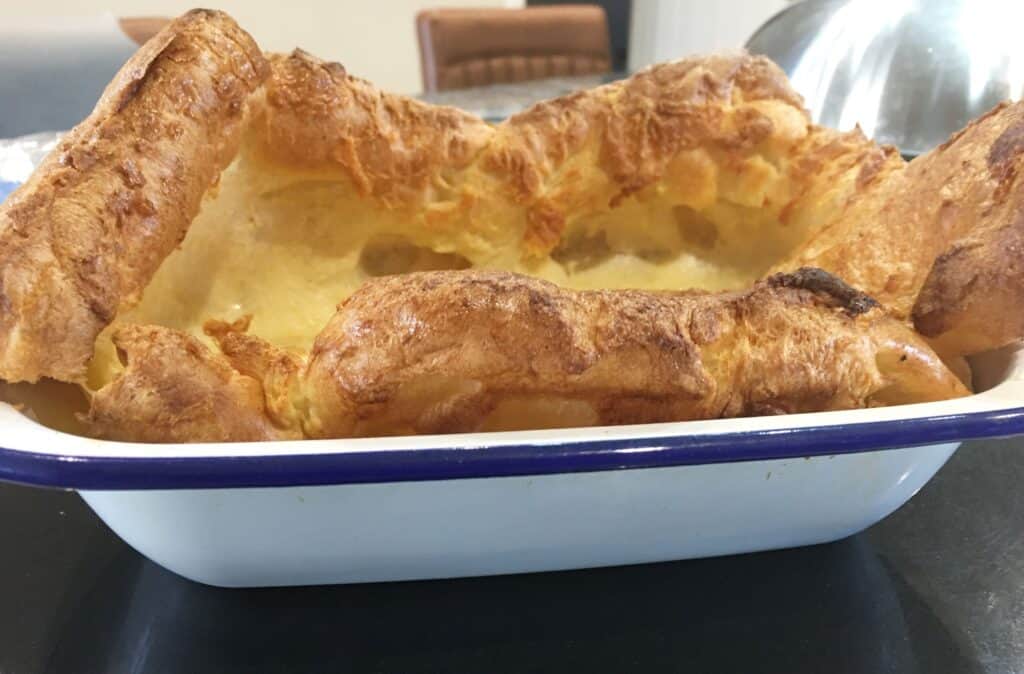 The most important thing is oven temperature. The oil needs to be almost smoking hot. Preheat your oven to 220C FAN/ 230C / 450F / Gas 8 and put the tins in the top part of the oven for 10 minutes with plenty of room for them to rise. Give the mixture a stir. You might find it easier to pour the mixture into a smaller jug.
When you are ready open the door, pull out the rack with the tins on a little and pour the mixture until each tin is about half full. Do this as quickly as you can and shut the door.
Smaller Yorkies take 20 minutes and a large tin with take 30 to 40 minutes. Don't be tempted to open the door to check as they will just collapse.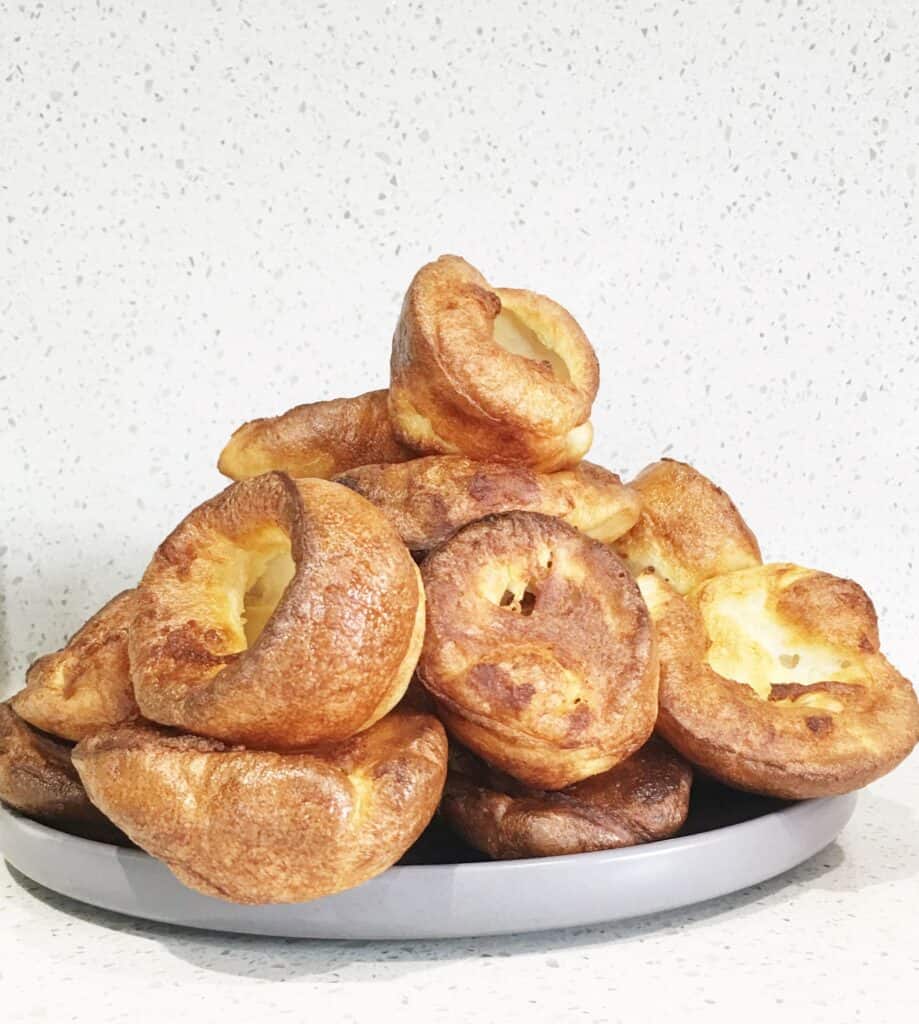 Perfectly crisp on the outside and soft on the inside this is the best Yorkshire Puddings Recipe!
How to make French scrambled egg Yorkshire puddings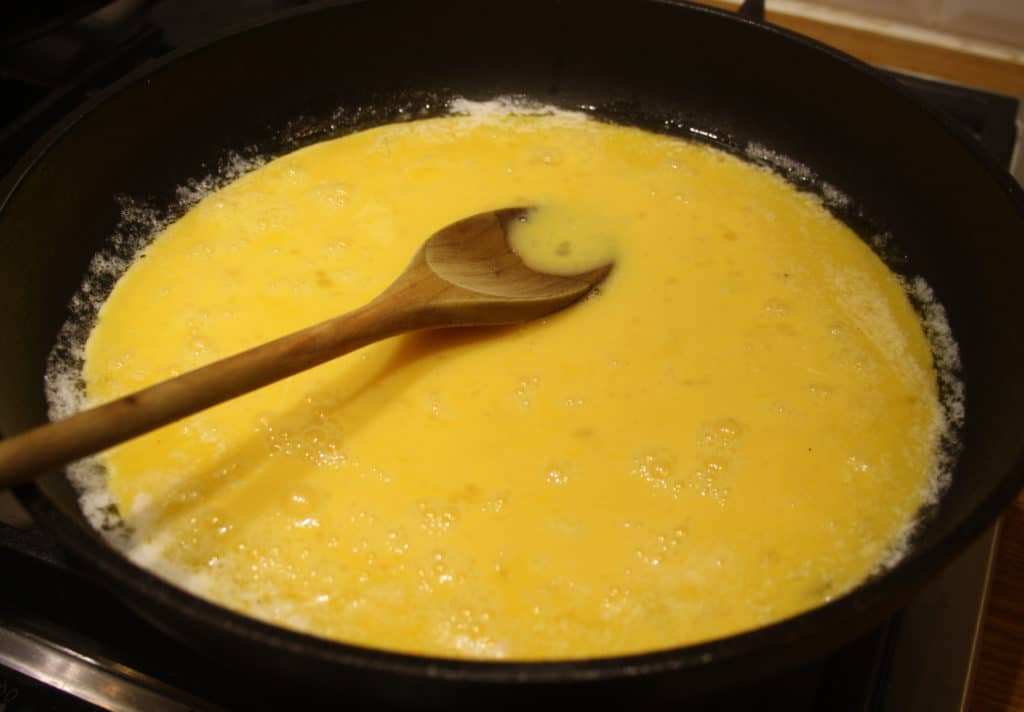 There's so many other things you can make with Yorkies. How about filling them with scrambled egg for a delicious brunch?
If you make scrambled eggs with milk this is a much simpler method. All you need to do is melt the butter in a large frying pan over a medium heat then add the eggs directly into the pan and stir over a medium heat. When they are still soft add another dollop of butter or cream and turn off the heat.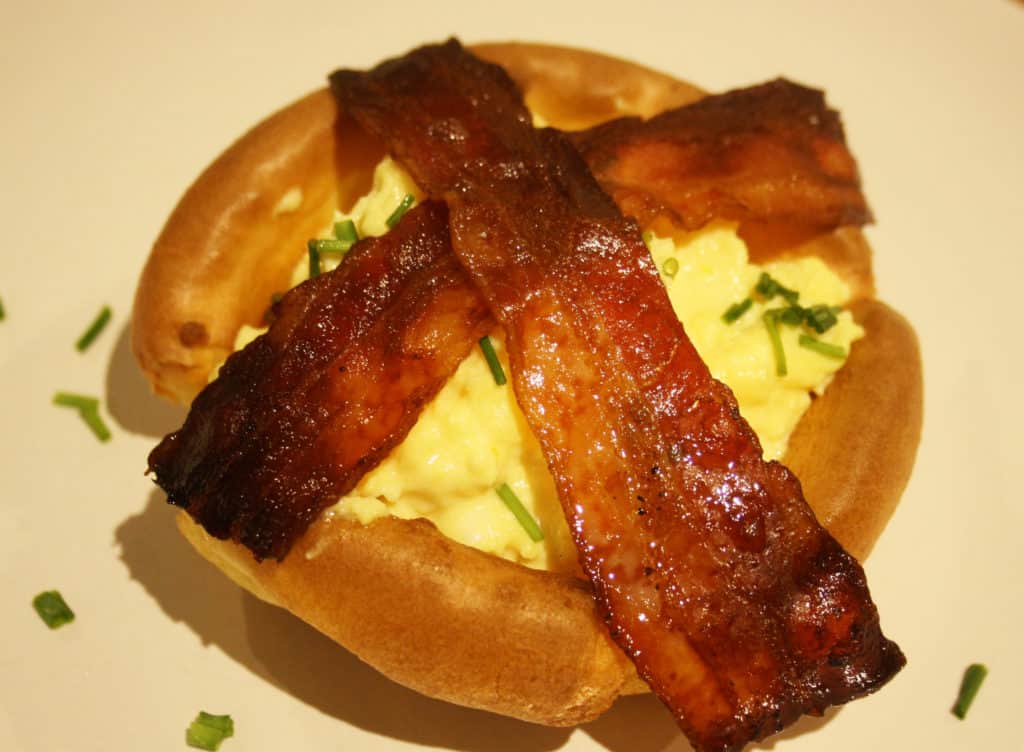 Pile the Yorkie scramble into the puddings and top with crisp bacon and a sprinkling of chives. If you are feeling naughty you could add a drizzle of maple syrup too.
Ravenhall Hotel near Scarborough love this idea and feature the recipe on their website, along with other ways to enjoy Yorkies, so it must be good!
What else can I make with this batter?
If you've got some sausages why not make my version of Toad in the Hole?
Sauasages and caramelised onions are baked with the pudding mix for a winter treat that will really stick to your ribs for perfect comfort food.

If you have leftover puddings they are delicious reheated and served with maple syrup, fruit and ice cream.

If you want to be truly decadent in York there are takeawy restaurants serving giant flat Yorkshire puddings with a roast dinner rolled up inside but why not make a large one and serve the meat and gravy in the middle?
What are the origins of Yorkshire Pudding?
This dish comes from the north of England and was normally cooked with the drippings from mutton as it cooked. The pudding was eaten as a starter to dull the appetite and was often the only course in poorer households.
Is there a difference between popovers and Yorkshire puddings?
The ingredients are the same for both but popovers are normally cooked in a straight sided tin and greased with butter.
Can I make these in advance?
Absolutely. My grandma always made these before she cooked the meat and potatoes. They can be warmed through for 10 minutes before serving.
The puddings also freeze well in a bag or container. They can be reheated from frozen.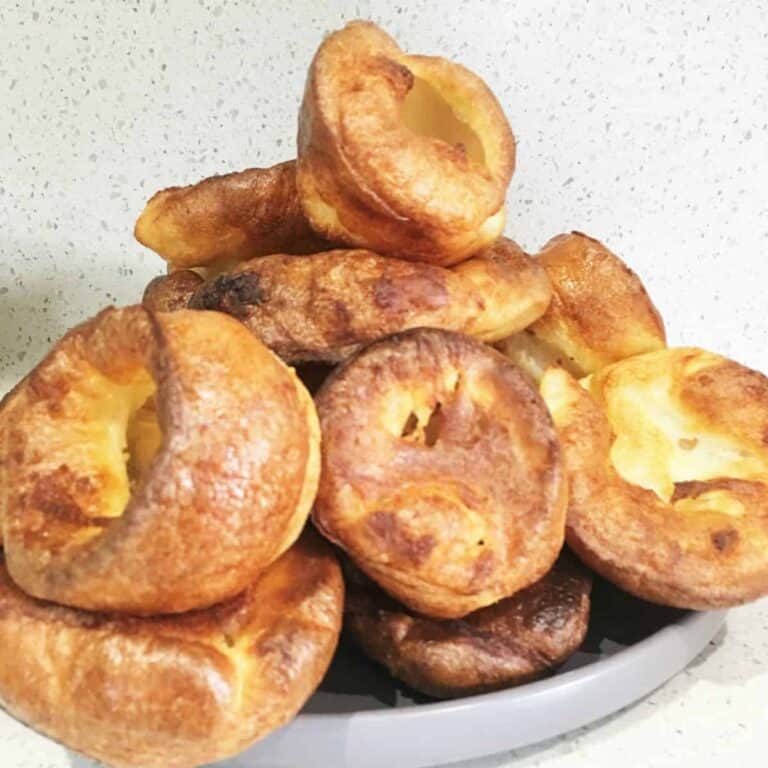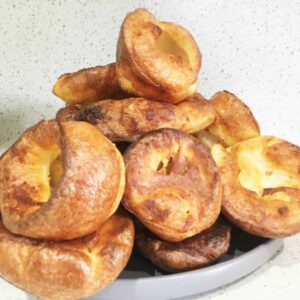 Best Yorkshire Puddings Recipe
Fool proff method to make the perfect Yorkshire Puddings
Ingredients
For the Yorkies
4

eggs

140

g

plain flour

200

ml

milk

1

teaspoon

salt

½

teaspoon

pepper

100

ml

oil
Instructions
Put the eggs, seasoning, flour and milk in a liquidiser and mix until smooth.

Heat oven to 230, line 2 X 4 pudding tins with oil and heat until smoking.

Pour the batter into the tins whilst still in the oven and cook for 15-20 minutes until well risen and golden.
Nutrition Facts
Best Yorkshire Puddings Recipe
Amount Per Serving
Calories 221
Calories from Fat 144
% Daily Value*
Fat 16g25%
Cholesterol 84mg28%
Sodium 333mg14%
Potassium 82mg2%
Carbohydrates 15g5%
Protein 5g10%
Vitamin A 159IU3%
Calcium 43mg4%
Iron 1mg6%
* Percent Daily Values are based on a 2000 calorie diet.
Notes
You may need to use more or less oil depending on your baking dish.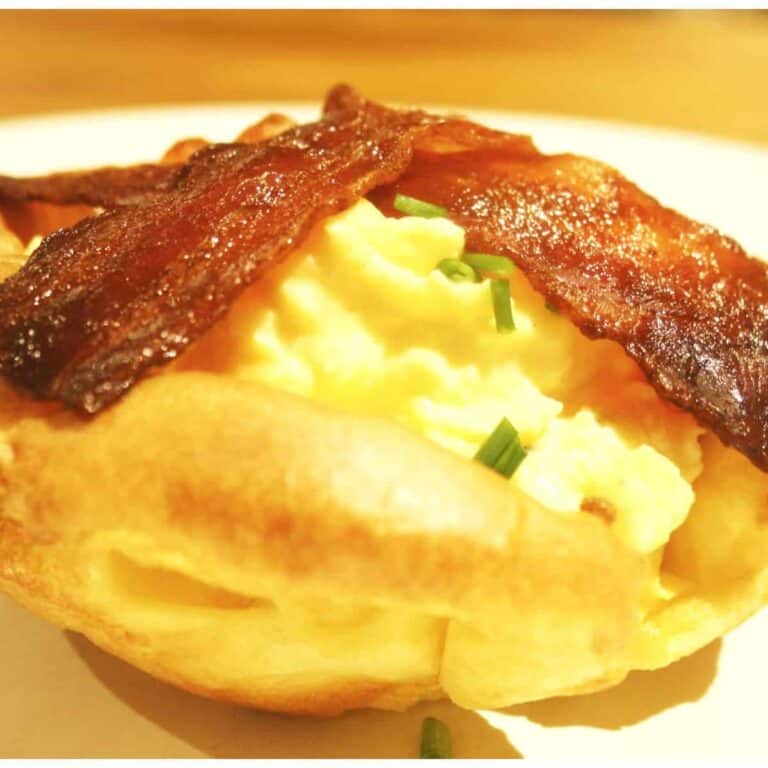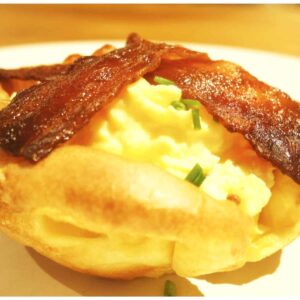 French Yorkie Scramble
Fill a ready made Yorkshire pudding with creamy scrambled egg for a decadent brunch.
Ingredients
25

g

butter

8

eggs

25

g

butter

to stir in

seasoning

to taste

4

Yorkshire Puddings
Instructions
Heat the butter in a large frying pan and crack in the eggs, stirring to mix.

Cook over a medium heat, stirring constantly until the mixture is just set.

Turn off the heat and stir in the butter or cream.

Divide the mixture between 4 of the Yorkies and top with crisp bacon if liked.
Nutrition Facts
French Yorkie Scramble
Amount Per Serving
Calories 436
Calories from Fat 315
% Daily Value*
Fat 35g54%
Cholesterol 438mg146%
Sodium 547mg24%
Potassium 203mg6%
Carbohydrates 16g5%
Protein 16g32%
Vitamin A 947IU19%
Calcium 92mg9%
Iron 3mg17%
* Percent Daily Values are based on a 2000 calorie diet.
Food safety
We sometimes take for a granted that we have years (or decades) of cooking experience, that the average visitor may not. Add to, or remove from, the list below with health and safety tips.
Cook to a minimum temperature of 165 °F (74 °C)
Do not use the same utensils on cooked food, that previously touched raw meat
Wash hands after touching raw meat
Don't leave food sitting out at room temperature for extended periods
Never leave cooking food unattended
Use oils with high smoking point to avoid harmful compounds
Always have good ventilation when using a gas stove