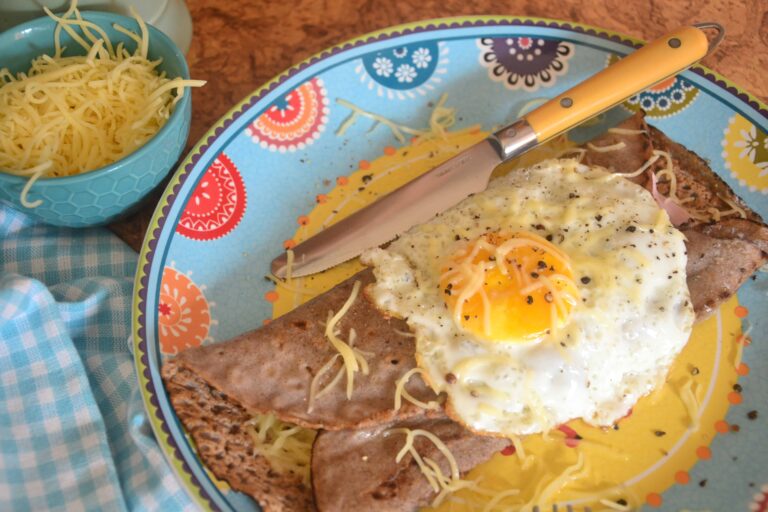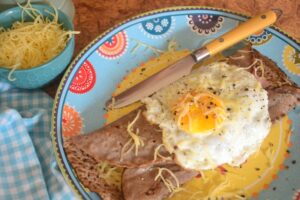 French Buckwheat Galettes. Have you tried buckwheat? It's not an everyday grocery item in the UK but it's really easy to buy in France. In fact, I didn't know it was buckwheat as the label says it's 100% Blé Noir, or Farine de Sarrasin, so I just thought it was unrefined wheatflour. Now I realise that it is not wheat at all but a flower crop that is rich in fibre, protein and vitamins! I regret to say that this is not the reason we eat it; we eat these galettes as they are absolutely delicious.
Whilst this dish might look like a breakfast to my British and American friends it is certainly not. Breakfast for my French friends is firmly enshrined in bread or ready bought toasted bread served with jam. In our house my husband has cornflakes, my son has Weetabix and I have yoghurt. Day old French bread becomes a lethal weapon so the morning rush into town is for fresh bread but that's not our way. A cooked breakfast or 'fry-up' is something reserved for staying in hotels! This, my friends, is a popular French lunch where we live.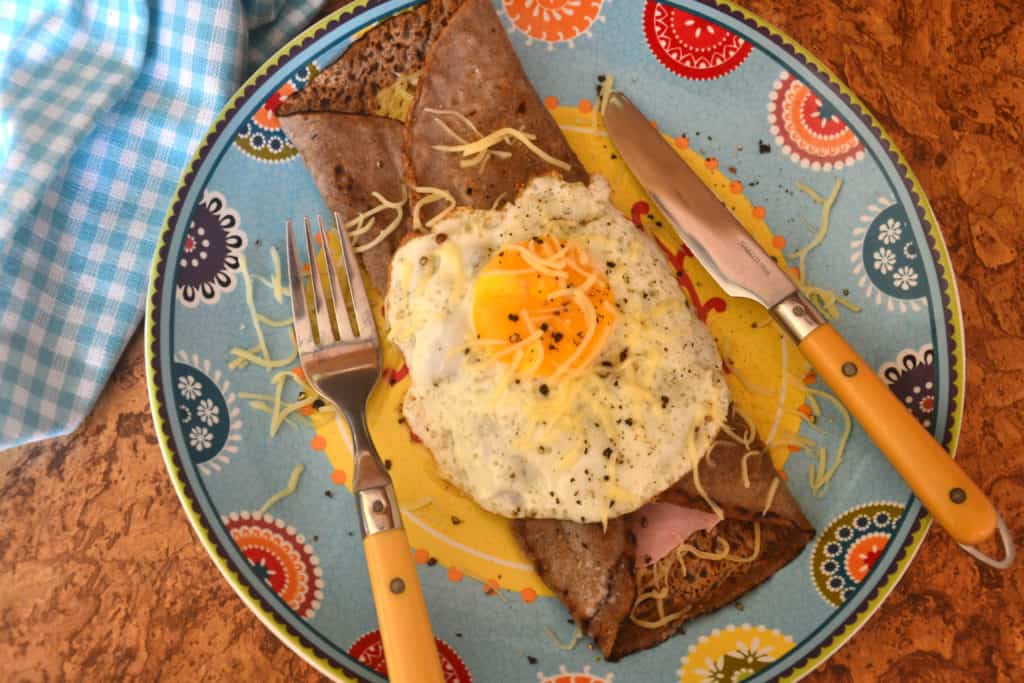 We came across these savoury buckwheat galettes by accident. Shortly after moving to France we had the unenviable task of re registering our British car and applying for healthcare all in the same day. Anyone who has been through this ordeal will be empathising. There is no way to get through this than with a steely grit and the promise of something cold and perhaps alcoholic! So after arranging the car, realising they had spelt the surname wrong, asked for it to be corrected then told we would have to wait for the certificate to come in the post and then complain about it, we set about finding somewhere for lunch. A Creperie, was all that was open so it would have to do. I envisaged Nutella pancakes but everyone was ordering savoury pancakes and coffee so we did too.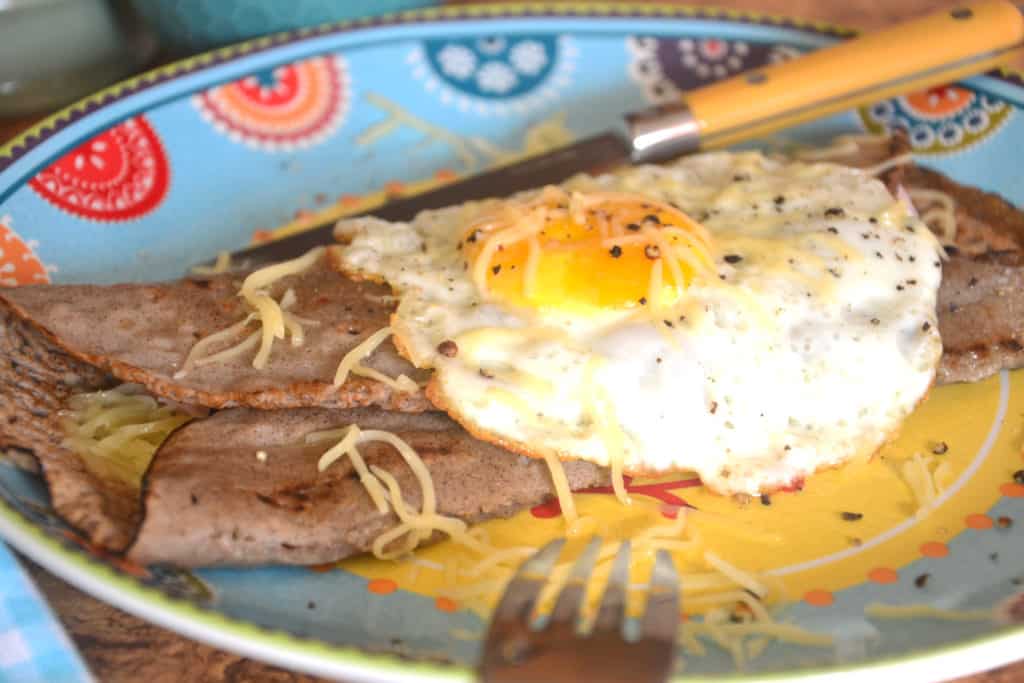 There was a whole range of fillings but the simplest is a slice of decent ham sprinkled with Emmenthal cheese and finished with a fried egg on top. Variations include goat cheese, poached salmon, fried peppers, sausage or anything else you fancy! Its a really simple batter of buckwheat, salt and water that you mix until smooth and then just leave in the fridge for up to 3 hours. When you are ready to cook heat oil in a heavy frying pan and pour out the excess then add a ladle of batter. Swirl it round for an even cover and when it bubbles up and detaches flip it over. I then slide the pancake onto a plate covered in grease proof paper and then cook the rest. If you have a well seasoned pan you may not need any oil. I find it's easier to let them cool then cover with plastic wrap and leave in the fridge until ready to assemble the buckwheat galettes.
My recipe makes 4 savoury galettes so I get 4 plates ready with galettes. Fold a slice of ham lengthways and place in the centre then cover with a generous handful of cheese. Heat a knob of butter in a pan then lay on the galette. While the buckwheat galette is toasting quickly fry an egg. Fold the sides of the galette into the middle then transfer to a plate with an egg on top. Repeat until all the galettes are done and serve. The correct way is to cook the galette add the ham and cheese and fry an egg on top then fold in three edges. Believe me when I say that each one will end up looking different! This is my tried and tested method.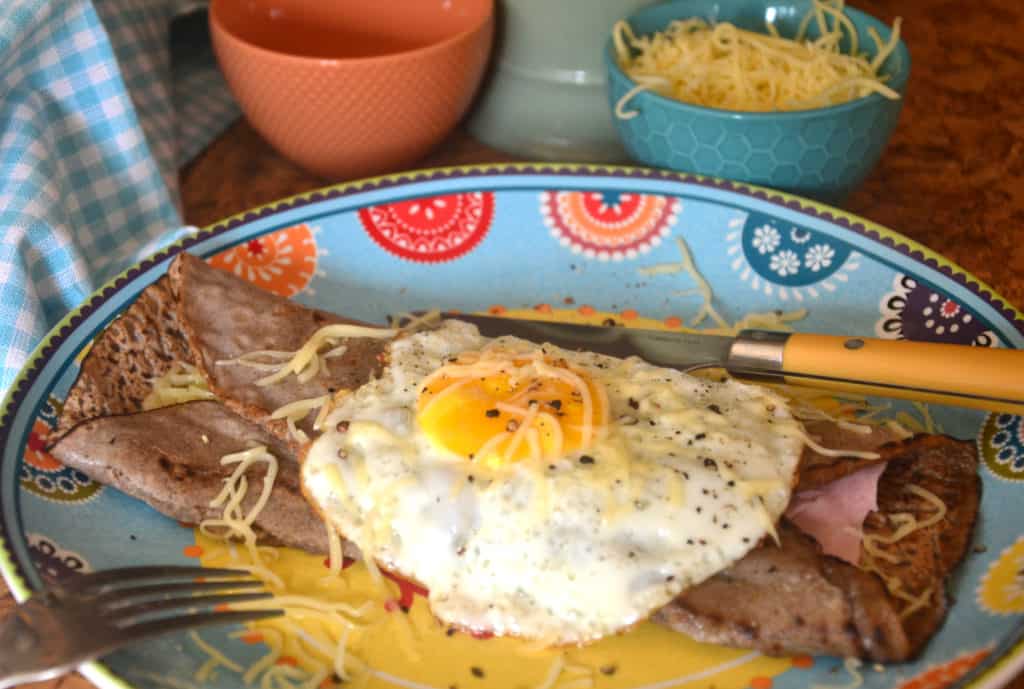 Can you believe that you can buy these ready made in the supermarket to warm through at an eye watering price? For us it's the perfect lunchtime or teatime treat when it's cold or we have been busy in the garden. The buckwheat has a really nutty flavour and is great for filling up hungry children and adults alike.
It's gluten free too...
What is your favourite pancake?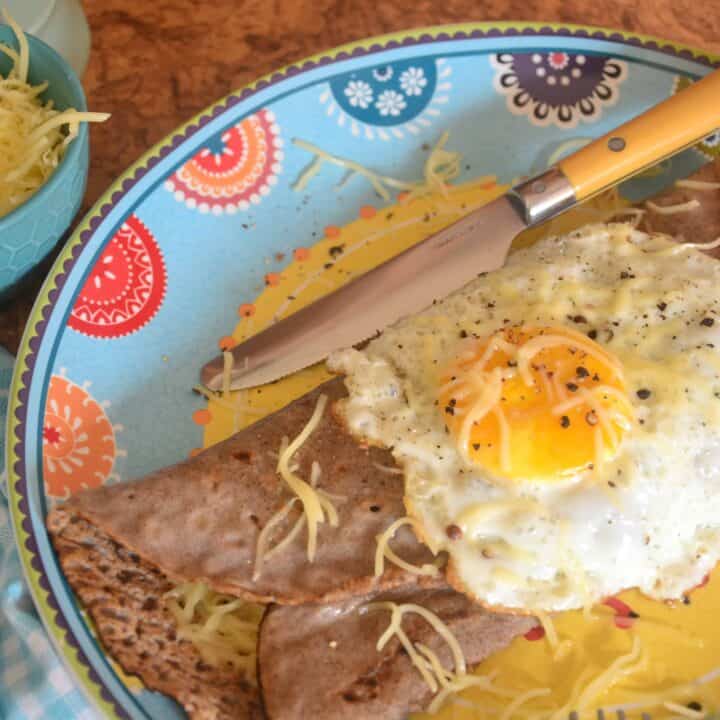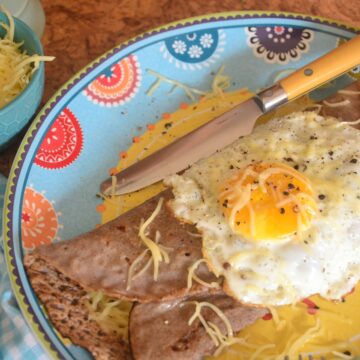 French Buckwheat Galettes
French Buckwheat galettes are gluten free pancakes filled with egg, cheese and ham for a tasty breakfast or lunch.
Ingredients
220

g

buckwheat flour

50

ml

cold water

1

tsp

salt

4

slices

ham

4

eggs

butter

oil

4

tbsp

grated cheese

seasoning
Instructions
Mix the flour and salt together and gradually mix in the flour until the batter is smooth.

Heat oil in a frying pan and pour out excess. Add a cup of the mixture to the pan and turn over when the pancake bubbles up. Set the pancake aside and cook the remaining 3.

In a different pan heat oil and fry the eggs.

Place a slice of ham on each galette with a tbsp of cheese

Heat a knob of butter then add the galette for a few minutes until it turns golden.

Flip the sides into the centre, transfer to a plate and top with a fried egg to serve.
Nutrition Facts
French Buckwheat Galettes
Amount Per Serving (0 g)
Calories 0
% Daily Value*
Fat 0g0%
Cholesterol 0mg0%
Sodium 0mg0%
Potassium 0mg0%
Carbohydrates 0g0%
Protein 0g0%
Vitamin A 0IU0%
Vitamin C 0mg0%
Calcium 0mg0%
Iron 0mg0%
* Percent Daily Values are based on a 2000 calorie diet.