Stuffed jacket potatoes are a tasty and filling side dish or even a main course. With a filling of crème fraiche, cooked potato, bacon, cheese and chives, they are hearty and delicious, all year round.
A bit like a fuller version of loaded potato skins, twice baked potatoes are perfect with grilled meats and barbecues. Of course, they are equally delicious as a starter or main course with salad.
So simple to make and easy to vary the ingredients too. There are so many variations to try.
Which ones are your favourite?
Bon appétit!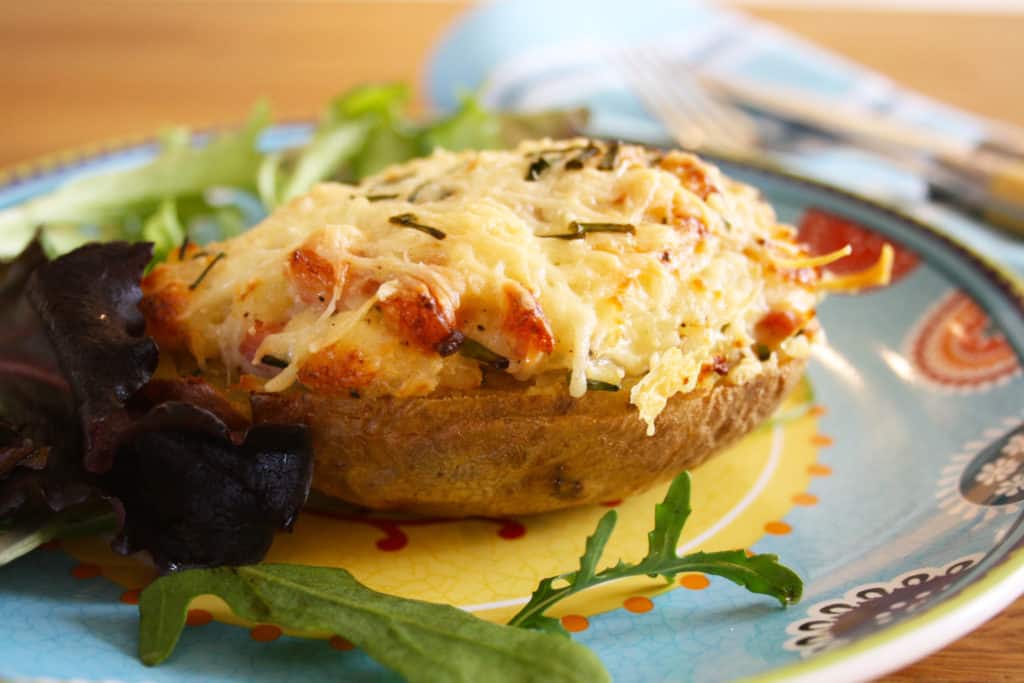 Twice baked potatoes, stuffed jacket potatoes or whatever you want to call them, have been around for years, but often get forgotten, despite being so delicious!They are great for filling family meals that the kids will love.
While you can cook them from scratch in the oven, this version has an optional shortcut, to cut down the initial cooking time.
The ingredients are simple ones, that you probably already have to hand as fridge staples.
Of course, you can vary the ingredients too, to make use of what you have and make this a great frugal dish to use up those vegetables that are sitting in the fridge.
Why you will love this dish
Filling and frugal family meal
Easy to prepare and cook
Can be eaten as a starter, side dish or main course
Simple to swap the ingredients to your favourites or food that needs to be used up
Jump to:
🥘 Ingredients
See recipe card for quantities.
Potatoes - large baking potatoes of any variety.
Oil - vegetable, sunflower or olive oil to give the potatoes a crispy skin.
Onion - brown or yellow all purpose onions.
Garlic - garlic cloves for the freshest flavour.
Crème fraiche - makes the filling light and creamy.
Bacon - smoked bacon lardons or bacon for the best flavour.
Cheese - cheddar cheese.
Chives - fresh chives, not dried.
Seasoning - flaked sea salt and freshly ground black pepper.
🍽 Equipment
Sharp knife
Bowl
Frying pan
Wooden spoon
Oven tray
🔪 Instructions
Scrub the potatoes and prick them with a fork about all over.
To save time, I prefer to start bake potatoes in the microwave.
Place them on a plate lined with kitchen paper and cook on full power for about 7 minutes.
Turn the potatoes over carefully and cook for another 7 minutes. Timings will vary.
Use a fork to check that the potatoes are cooked through.
⏲️ Baking Time
Preheat heat the oven to 200 C / 400 F / 180 FAN / Gas 6.
Brush the potatoes with the oil and put them directly onto an oven rack and bake for 15-20 minutes until golden brown.
Remove them from the oven and leave to cool enough to handle.
Slice the potatoes in half and place them on a baking tray.
Scrape out most of the potato flesh, leaving an even layer, and place in a large bowl.
💭 Top tip
Use a teaspoon to remove the potato for ease. For even better results, use a serrated grapefruit spoon if you have one.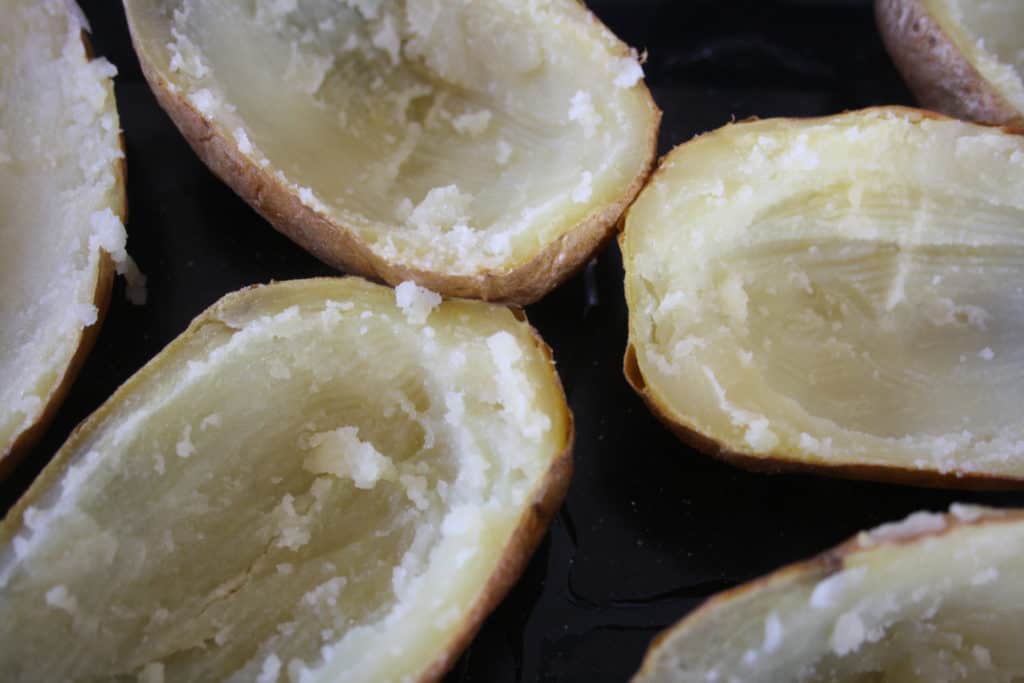 Make the filling for the potatoes.
Peel the onions and garlic and finely chop.
Heat the frying pan over a medium heat and add the bacon and onions. Cook for 2 or 3 minutes until the onions are translucent.
Add the garlic and cook for 1 minute to release the flavour then remove from the heat.
💭 Top tip
There should be enough fat released, as the bacon cooks, to fry the onions. Add a teaspoon of extra oil to the pan if you are using very lean bacon.
Grate the cheese and chop the chives, retaining enough for the topping.
Mash the potato in the bowl with a fork and add the prepared ingredients, along with the crème fraiche.
Mix together well.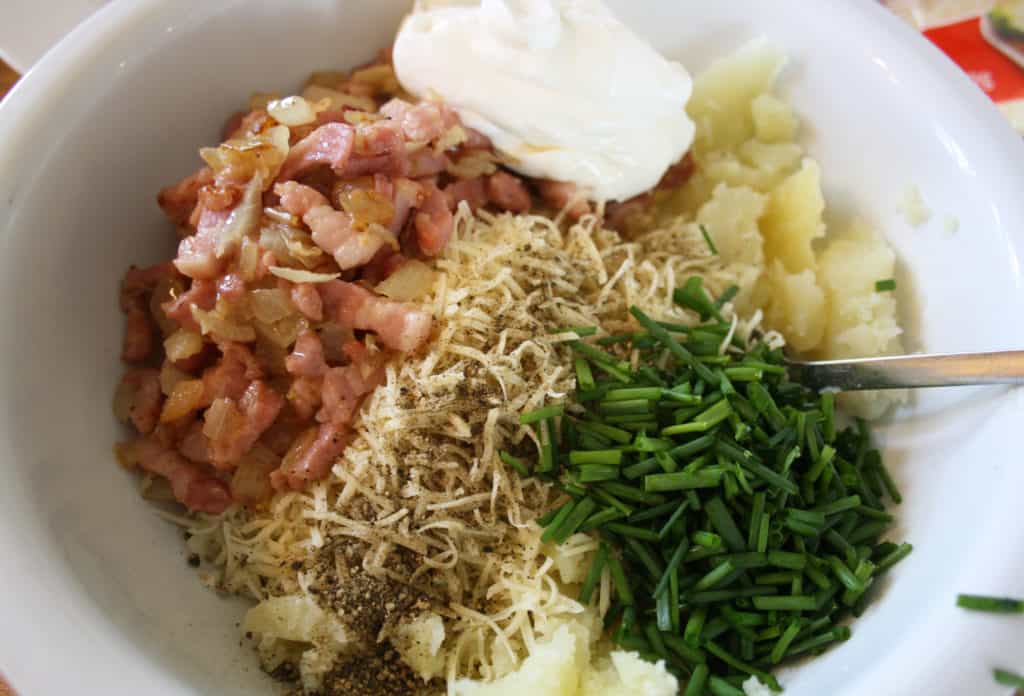 Fill the halves with the mixture.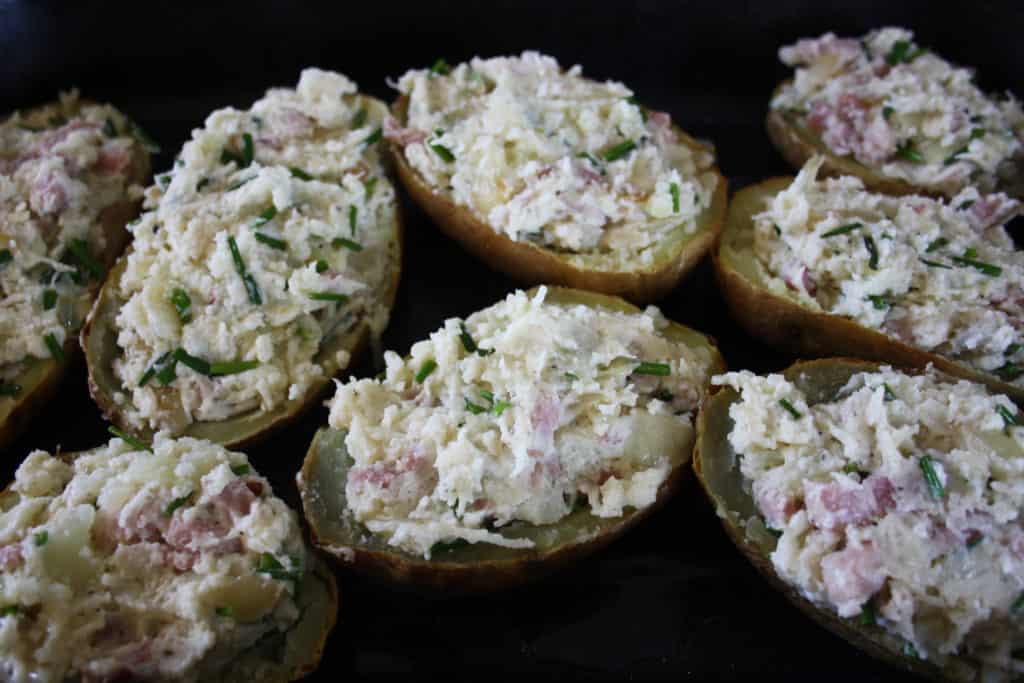 Top with the remaining cheese and chives.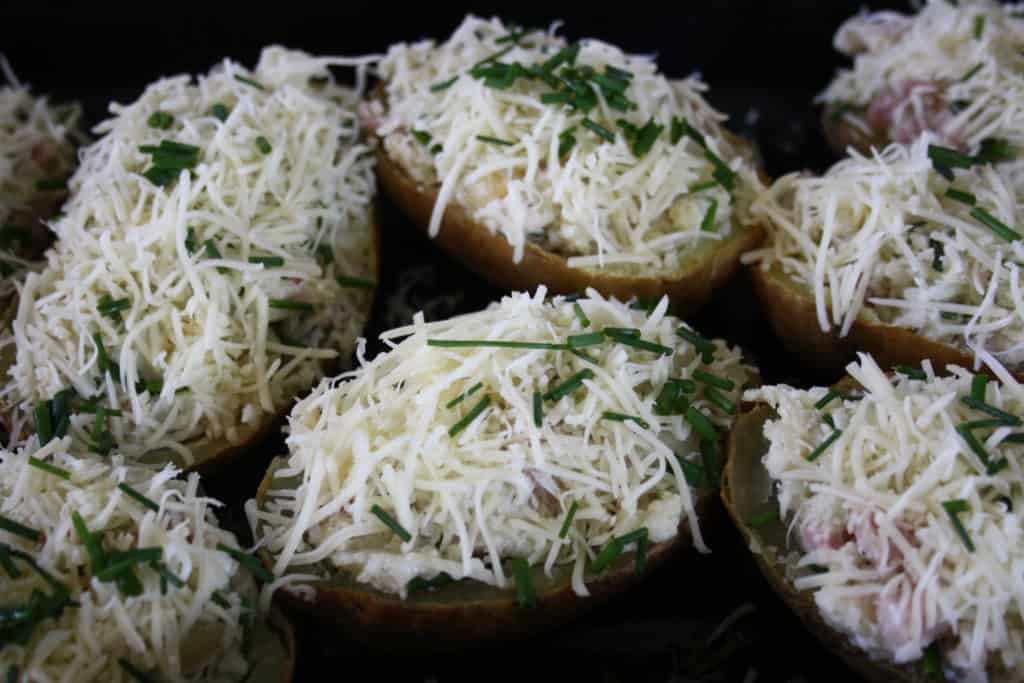 Bake for another 15 minutes until golden.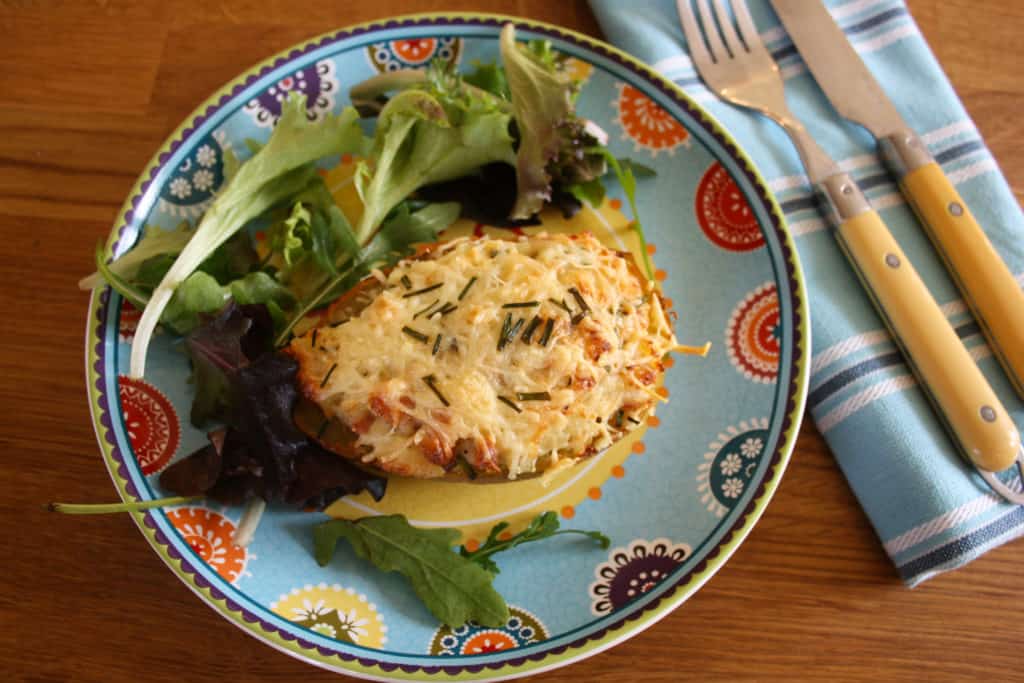 🥗 Serve with
If you are serving the stuffed jacket potatoes as a side dish, they go well with casual dishes, such as grilled meats. Take a look at the beef, pork and chicken recipes for inspiration.
Substitutions
Bacon lardons - use cooked ham instead and add with the cold ingredients.
Crème fraiche - use yogurt, mayonnaise, sour cream or just a splash of milk.
Onions - chopped, uncooked spring onions.
📖 Variations
Vegetarian - skip the bacon and replace with chopped and cooked peppers, mushrooms, courgettes or aubergines.
Meat feast - use chopped chorizo, leftover choopped cooked sausages, leftover chicken, prawns or salmon.
Mini stuffed baked potatoes - use smaller potatoes and serve as party finger foods in small potatoes.
Storage
Refrigerator - cover and store up to 3 days in the refrigerator.
Freezer - wrap individually and store for up to 3 months.
To reheat - Reheat in the oven for 20 minutes.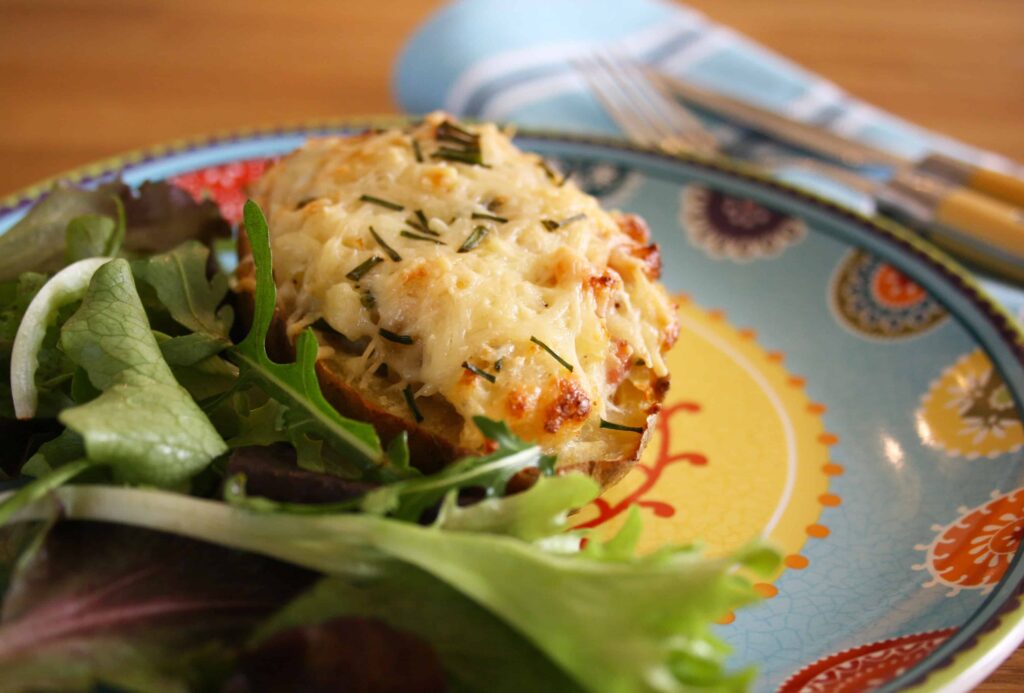 FAQs
Can you make these in advance?

Absolutely. Cook the potatoes and leave to cool then store in the fridge with the filling until you are ready to fill and bake for a second time.
More potato dishes to try
There are so many side dishes you may like to try, but here are some of my potato favourites.
📋 Recipe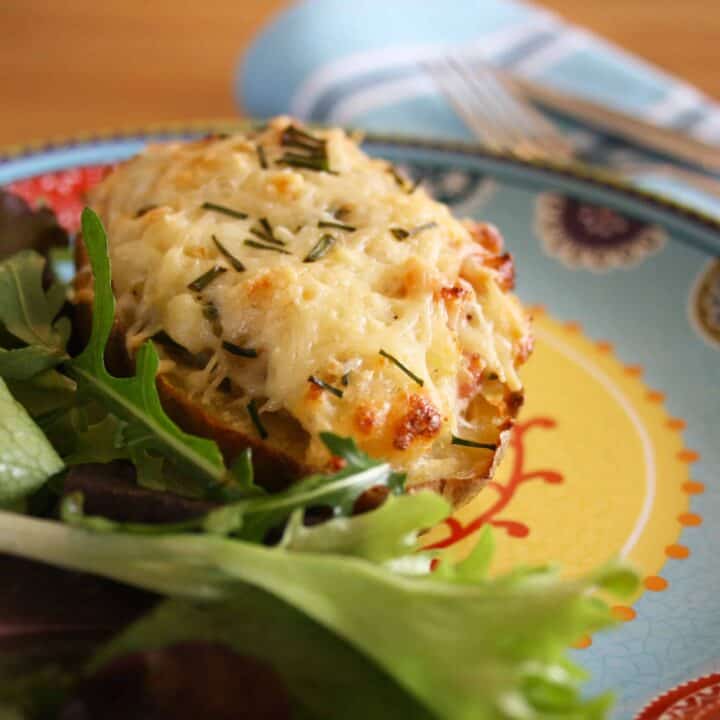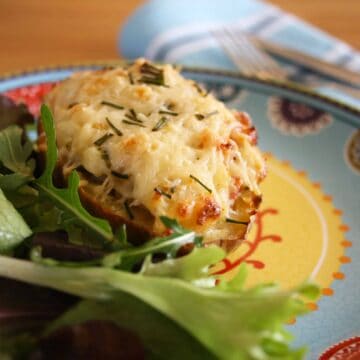 Stuffed Jacket Potatoes
Twice baked stuffed jacket potatoes. Baked potato mixed with onions, bacon, cheese, garlic, chives and creme fraiche stuffed in potato skins and baked.
Ingredients
4

baking potatoes

1

tablespoon

oil

1

onion

chopped

2

cloves

garlic

crushed

4

tablespoon

creme fraiche

200

g

smoked lardons

100

g

cheese

grated

50

g

cheese

for garnish

2

tablespoon

chives

chopped

2

tablespoon

chives

for garnish

seasoning
Instructions
Prick the potatoes and cook in the microwave for 15 minutes turning once.

Heat the oven to 200 C and brush the potatoes with oil before baking for 15 minutes.

Make the filling by frying the bacon and onions together then add the garlic for 1 minute.

Split the potatoes and scrape out most of the filling then combine with the onion, garlic, bacon, cheese and creme fraiche.

Season as required the fill the potato shells on an oven tray.

Top with the extra cheese and chives and bake for another 15 minutes until golden brown.
Nutrition Facts
Stuffed Jacket Potatoes
Amount Per Serving
Calories 596
Calories from Fat 342
% Daily Value*
Fat 38g58%
Cholesterol 79mg26%
Sodium 586mg25%
Potassium 1081mg31%
Carbohydrates 43g14%
Protein 21g42%
Vitamin A 600IU12%
Vitamin C 16.4mg20%
Calcium 320mg32%
Iron 2.4mg13%
* Percent Daily Values are based on a 2000 calorie diet.
Disclaimer: The nutritional information provided is approximate and is calculated using online tools. Information can vary depending on various factors, but we have endeavoured to be as accurate as possible.
Detailed instructions for this recipe, including step by step photographs, hints and tips, can be found in the main article.
Food Safety
Do not use the same utensils on cooked food, that previously touched raw meat.
Wash hands after touching raw meat.
Don't leave food sitting out at room temperature for extended periods.
Never leave cooking food unattended.
Use oils with high smoking point to avoid harmful compounds.
Always have good ventilation when using gas.
Thank you for taking the time to leave a comment. I love to read them and answer your questions. However, due to spam comments, I do have to moderate each one, so don't worry if you cannot see your comment immediately. I'll publish your comments as soon as I can.