Saffron sauce is a classic French sauce that is a delicious accompaniment to many vegetable and fish dishes.
It's actually a saffron hollandaise sauce, so it's creamy and buttery with a subtle yellow colour.
It takes just a few minutes to make too.
Bon appétit!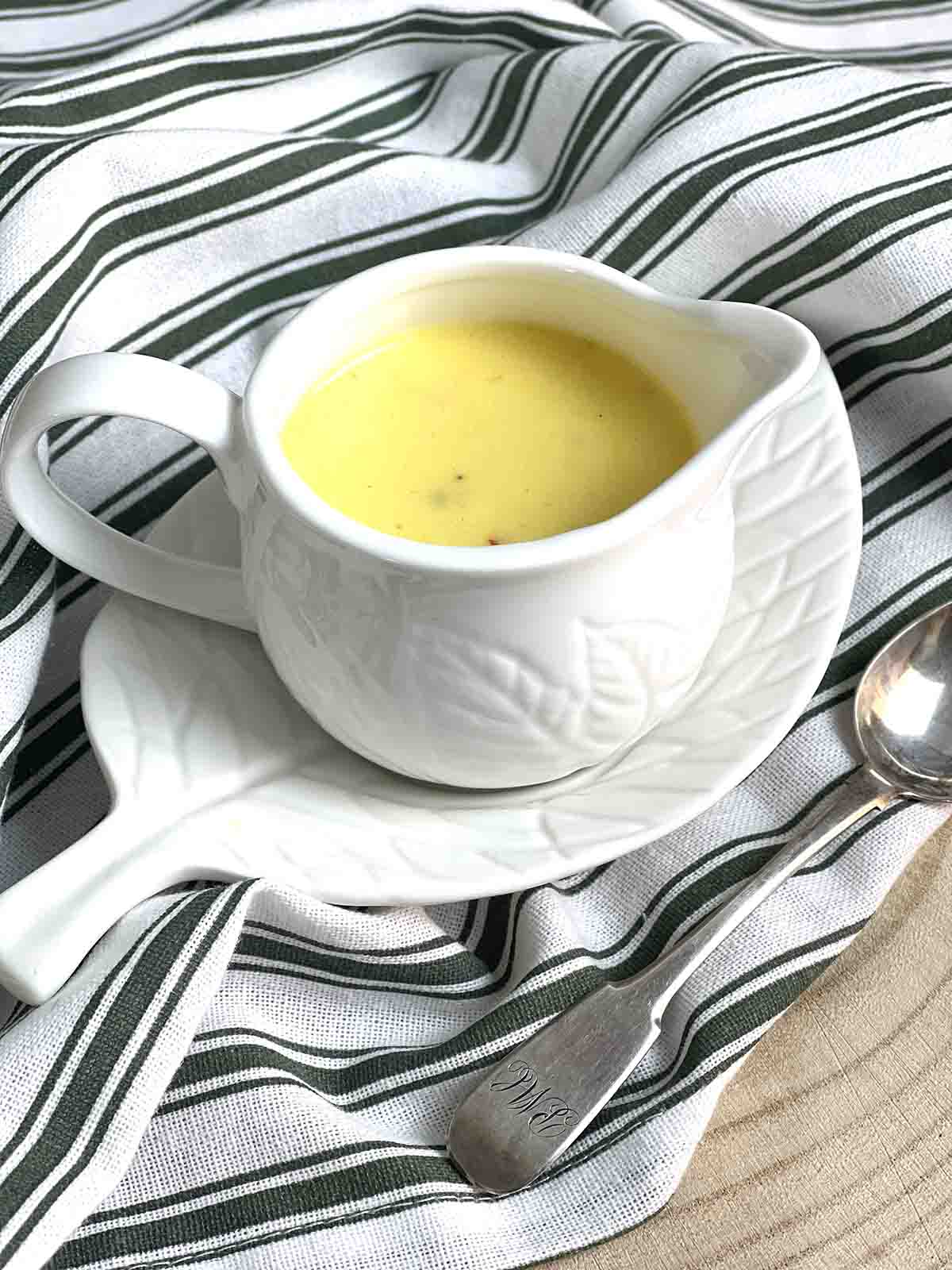 Jump to:
French sauces
This saffron sauce is actually known as grimrod sauce. However,I cannot find any reference as to why it is called this, only that Grimrod is a name.
Hollandaise is one of the mother sauces in French cuisine. Although there are many different sauces, made in different ways, there are essentially 6 French sauces, from which most other sauces are made.
Each sauce can also have daughter sauces, where extra ingredients are added to the basic sauce.
Bechamel sauce
Béchamel sauce - often more commonly known as a white sauce made with a roux of flour and butter cooked together.
It is typically used in lasagne, macaroni cheese, pies or served with vegetables.
The daughter sauces include Mornay, which is a cheese sauce, delicious with fish and cauliflower cheese and also Soubise sauce , This a a sauce made with onions cooked in butter and it is delicious with meats, especially lamb.
Mayonnaise
Mayonnaise sauce - this sauce is an emulsion of oil, egg yolks and an acid such as vinegar or lemon juice.
It's creamy with a slight tang. Very often, French mayonnaise has mustard added to it for colour and flavour, which gives an added dimension, without tasting strong.
It's delicious on salads, sandwiches, such as coronation chicken, with seafood and for dipping chips.
A popular daughter sauce is tartar sauce which is typically served with fish and has the addition of capers and cornichons.
Velouté
Velouté sauce - this sauce is very much like béchamel, except the milk is replaced by stock made from bones.
It is typically served with chicken or seafood dishes.
Suprême sauce is a daughter sauce that is used in the classic dish of chicken supreme, where cream is added to the sauce.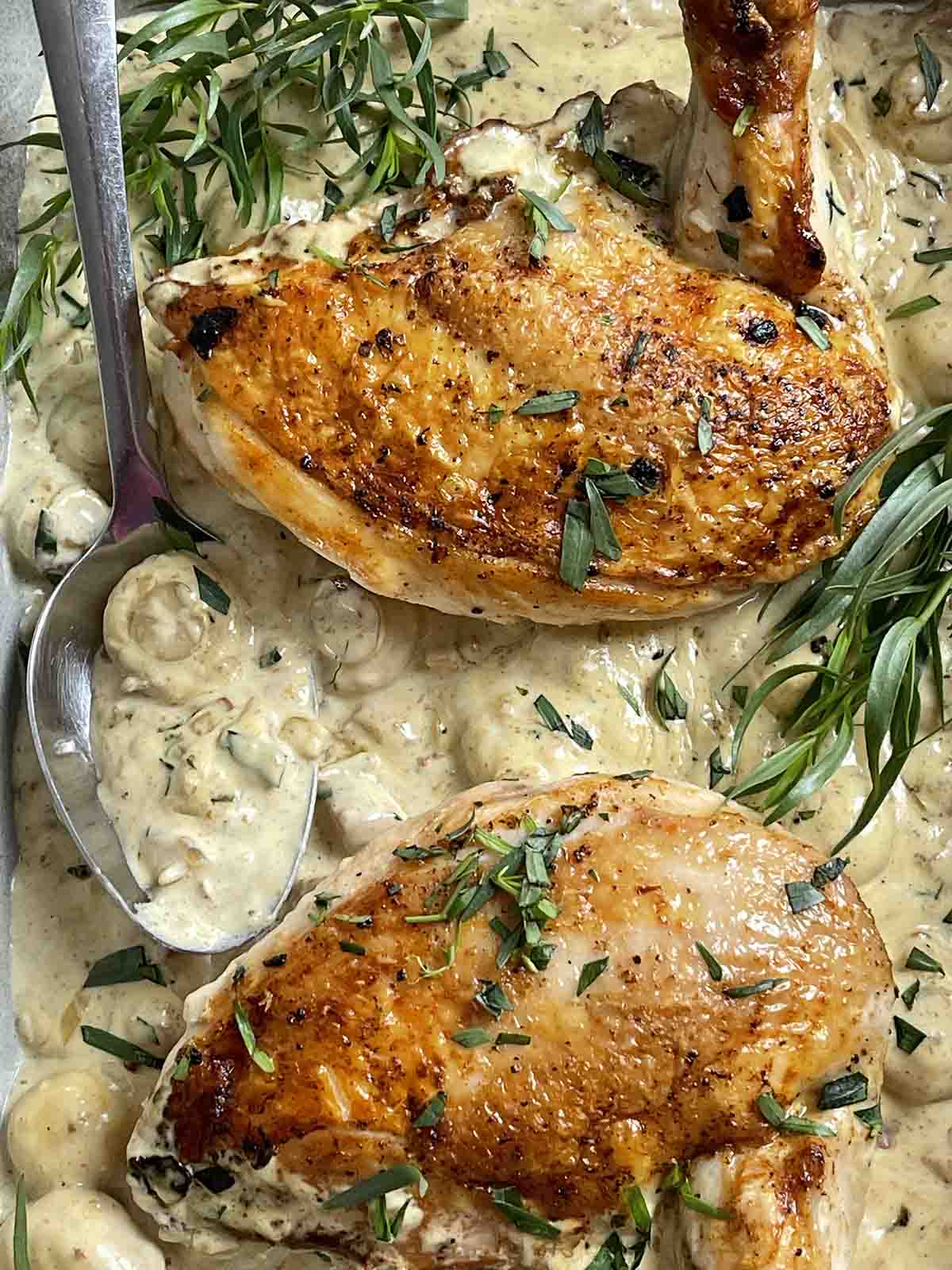 Espagnole
Espagnole sauce -  this sauce is more commonly known as brown sauce. It's made with brown stock, which is notrmally beef stock, with the addition of a mirepoix, (mixture of carrots, onions and celery), and tomato pureé.
This is a rich sauce, which is usually made into a daughter sauce, such as demi-glace, where is it combined with more stock.
It is normally served with meat, and is a more tasty version of the common gravy used on a roast dinner.
The most well known daughter sauce is bourguignon, where the sauce is enhanced with a bouquet garni and Burgundy red wine.
Tomato
Tomato sauce - this is a thick and rich sauce simmered with with tomatoes, stock and a roux.
It is typically served with pasta dishes.
The most famous daughter sauce is bolognaise, where the carrots, onions and celery are cooked as a base for flavour with minced beef.
Hollandaise
Hollandaise sauce -  this sauce is another emulsion  like mayonnaise but this time it is made with butter and egg yolks.
The name hollandaise lterally means Dutch style, as the Dutch used a large amount of butter in cooking.
It's the sauce used to top poached egg is eggs benedict, and is often served with fish, chicken, asparagus and other vegetables.
Béarnaise sauce is a daughter sauce with the addition of tarragon and shallots infused in wine and vineagar. It is particularly good with beef dishes but it is also delicious with chicken.
Choron sauce - this is a béarnaise sauce where chopped tomatoes or tomato purée is added at the end. It's totally delicious with steak.
Foyot sauce - glace de viande (meat glaze), is added to béarnaise sauce. This is a jellied stock that has been made by slowly reducing the stock. It is not the same as demi glace which is half the concentration of glace de viande.
Maltaise - this sauce is made by adding blood orange juice and sometimes the zest.
Mousseline - this sauce is also known as sauce chantilly. Whipped cream is folded into the sauce just before serving.
Grimrod sauce - saffron threads are added during cooking, which gives the sauce a fantastic colour and slightly lemony flavour.
❤️ Why you will love this dish
✔️Store cupboard ingredients.
✔️Ready in 10 minutes.
✔️Delicious with fish, egg and vegtable dishes.
💙 Save this recipe for later
Did you know? When you see the 💙 on the right hand side you can bookmark this page, to save it for later or share it too.
🥘 Ingredients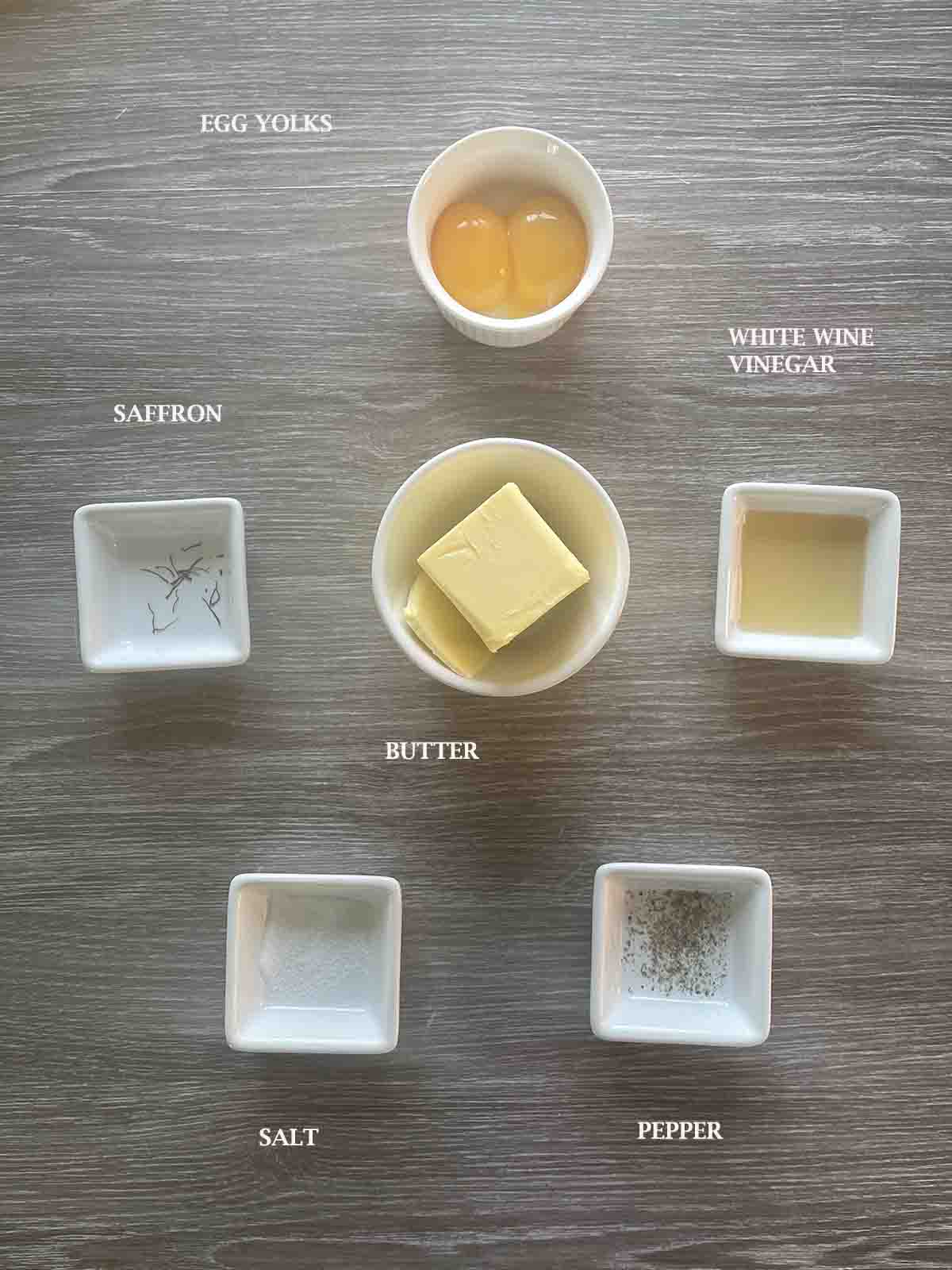 Eggs - large free range egg yolks.
Butter - salted or unsalted butter. Use less salt if your butter is salted.
Salt - flaked sea salt, which has a milder flavour than cooking salt.
Pepper - freshly ground black pepper.
Vinegar - white wine vinegar is essential as other vinegars will spoil the flavour. The acid is essential to balance the flavour in the sauce. Without it the sauce would just taste of butter.
Saffron - about 10 threads to add colour and flavour.
💭 Top tip
I normally store my eggs at room temperature, but if you put your eggs in the fridge for an hour or so before you are ready to use them they will be easier to separate.
Separate each egg and put the yolk and whites in separate bowls, one at a time. This makes it easier in case you come across a bad egg without wasting the rest.
The printable recipe card with full ingredient quantities and instructions can be found at the bottom of the article.
🍽 Equipment
whisk
glass or ceramic bowl
saucepan
jug
🔪 Instructions
Place the egg yolks in a heatproof bowl with the vinegar.
Whisk briefly to combine.
Melt the butter in a pan or in the microwave in 10 second bursts on full power.
Skim off any solids that float to the top and pour into a jug.
This makes it easier to pour the butter later. It's also important to let the butter cool.
💭 Top Tip
Make the sauce by setting up a bain marie. You don't need to have any special equipment, just use a glass bowl over a pan of simmering water. The bowl should sit on the saucepan and not in it so the bowl is heated with gentle heat from the water.
The aim is to have about an inch of water in the bottom of a saucepan over a low to medium heat that is at a simmer.
Take care to make sure that the bowl doesn't touch the water. In this way the contents of the bowl are warmed but don't get a direct heat. This will help to make the egg yolks increase in volume when they are whisked over warm air.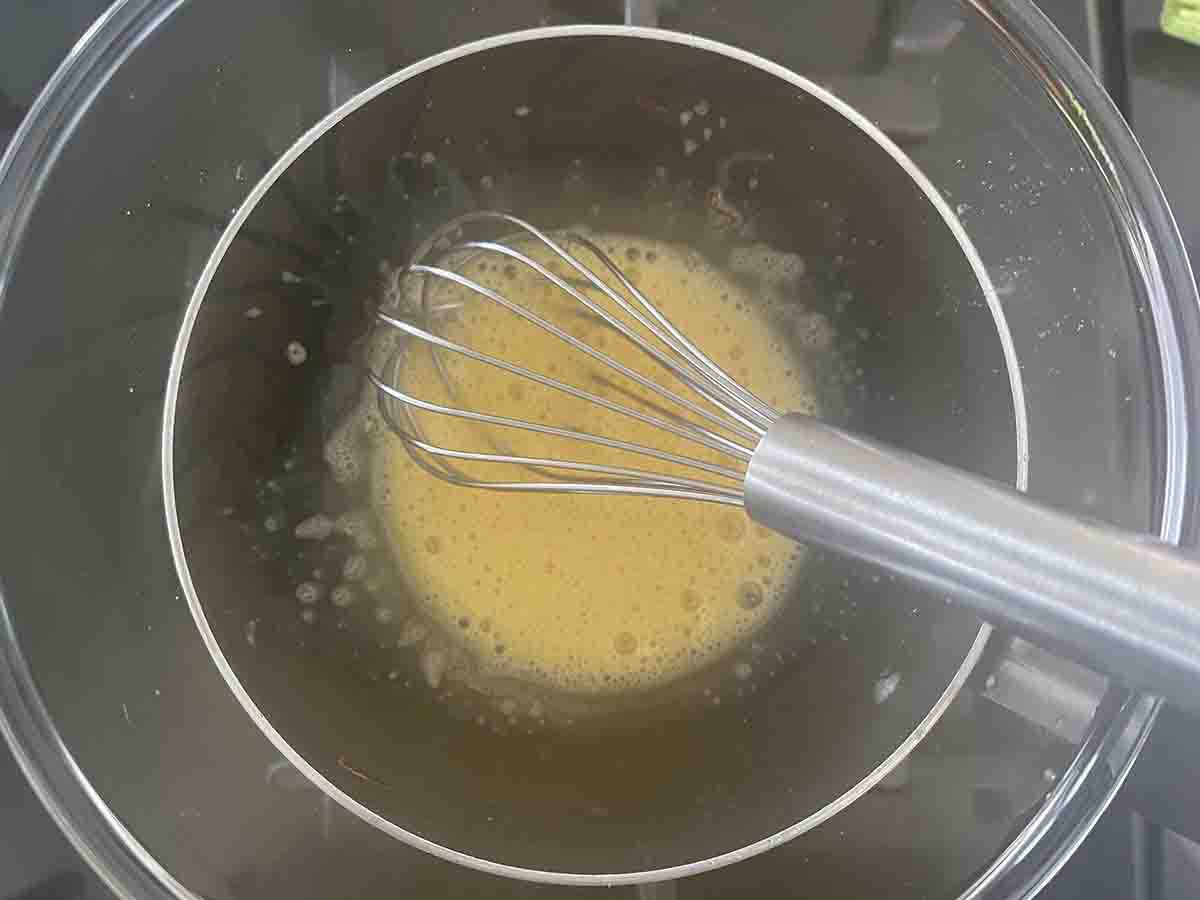 Add the saffron to the egg yolks.
⏲️ Cooking Time
Place the bowl over the simmering water and whisk constantly and pale and thick.
This will take around 5 minutes.
Remove from the heat.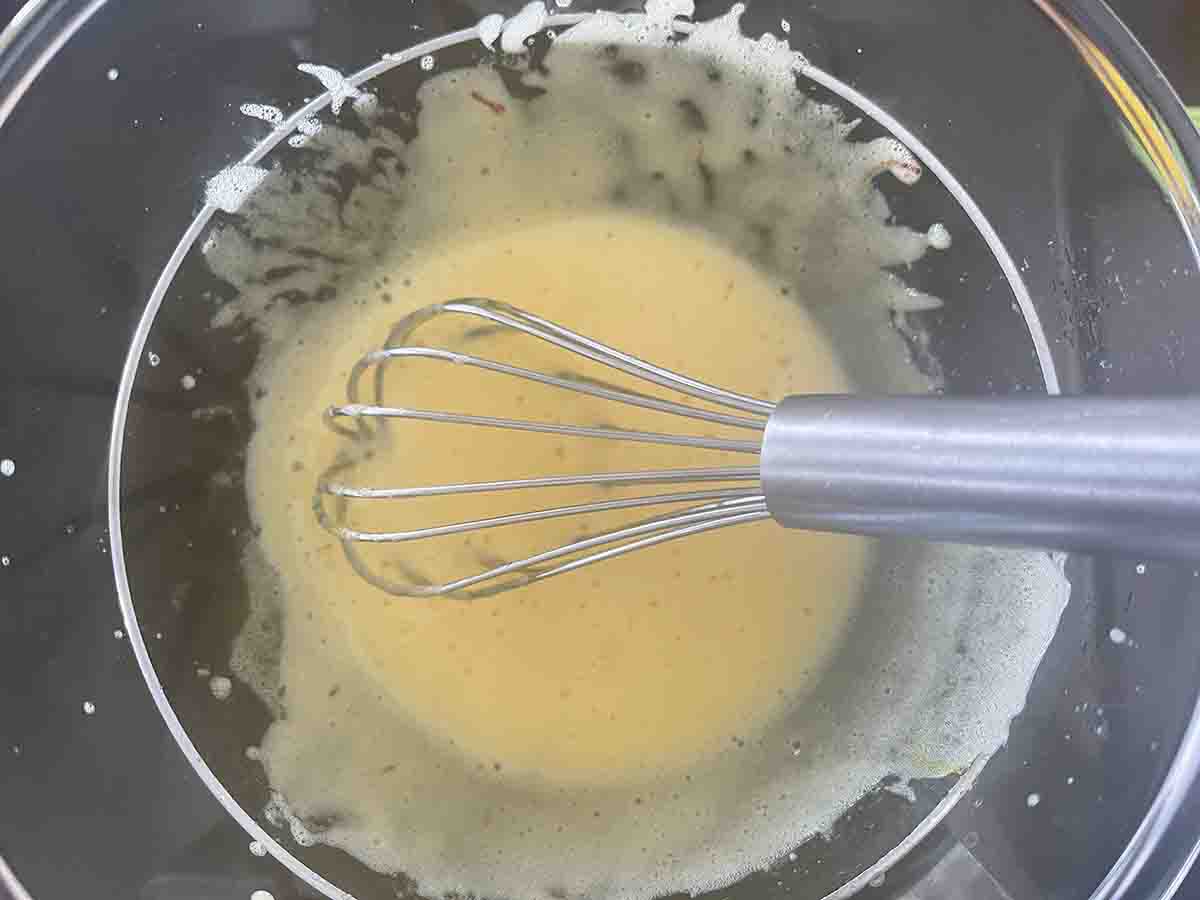 Continue whisking and start to pour in the butter in a very steady stream.
The butter will create an emulsion with the eggs and become much thicker.
If this doesn't start to happen stop pouring the butter and whisk.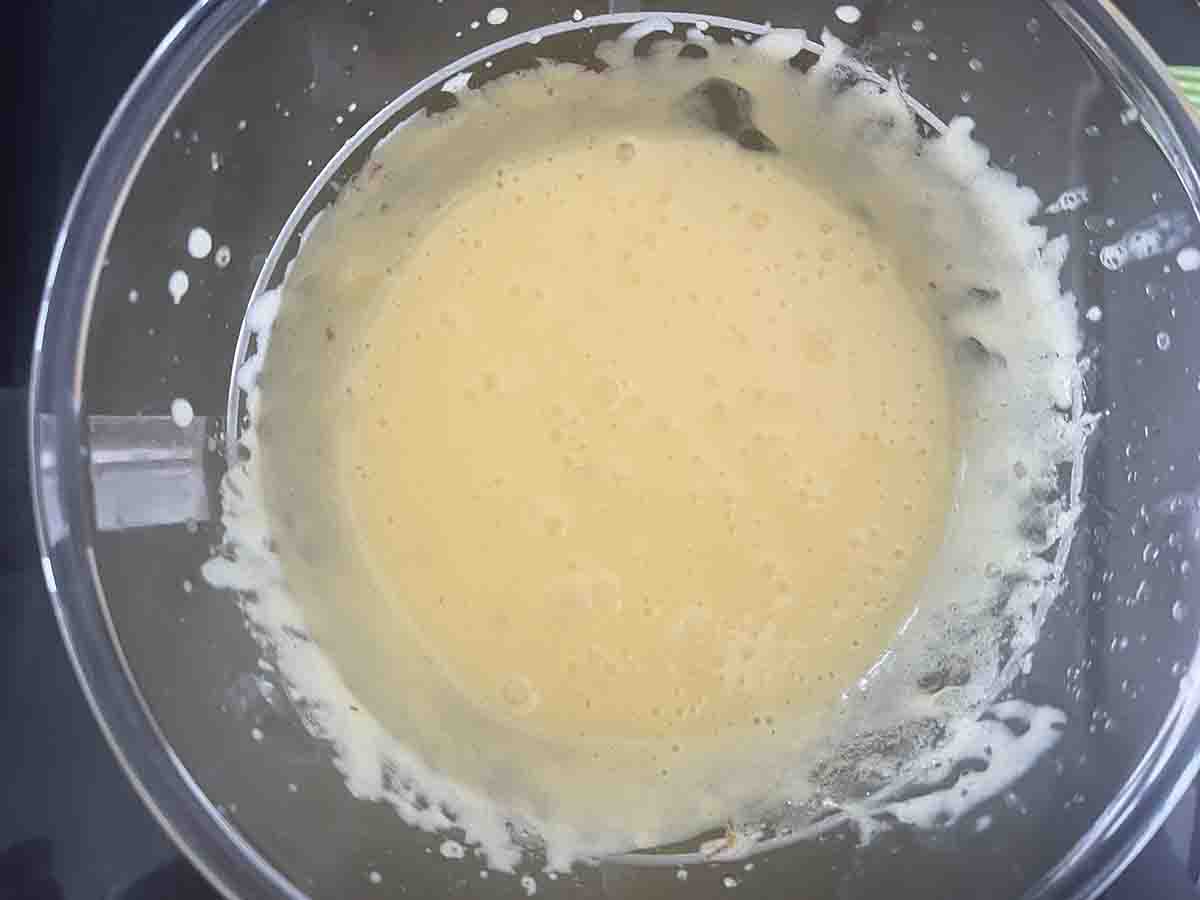 Keep adding the butter until it is totally incorporated.
Season to taste.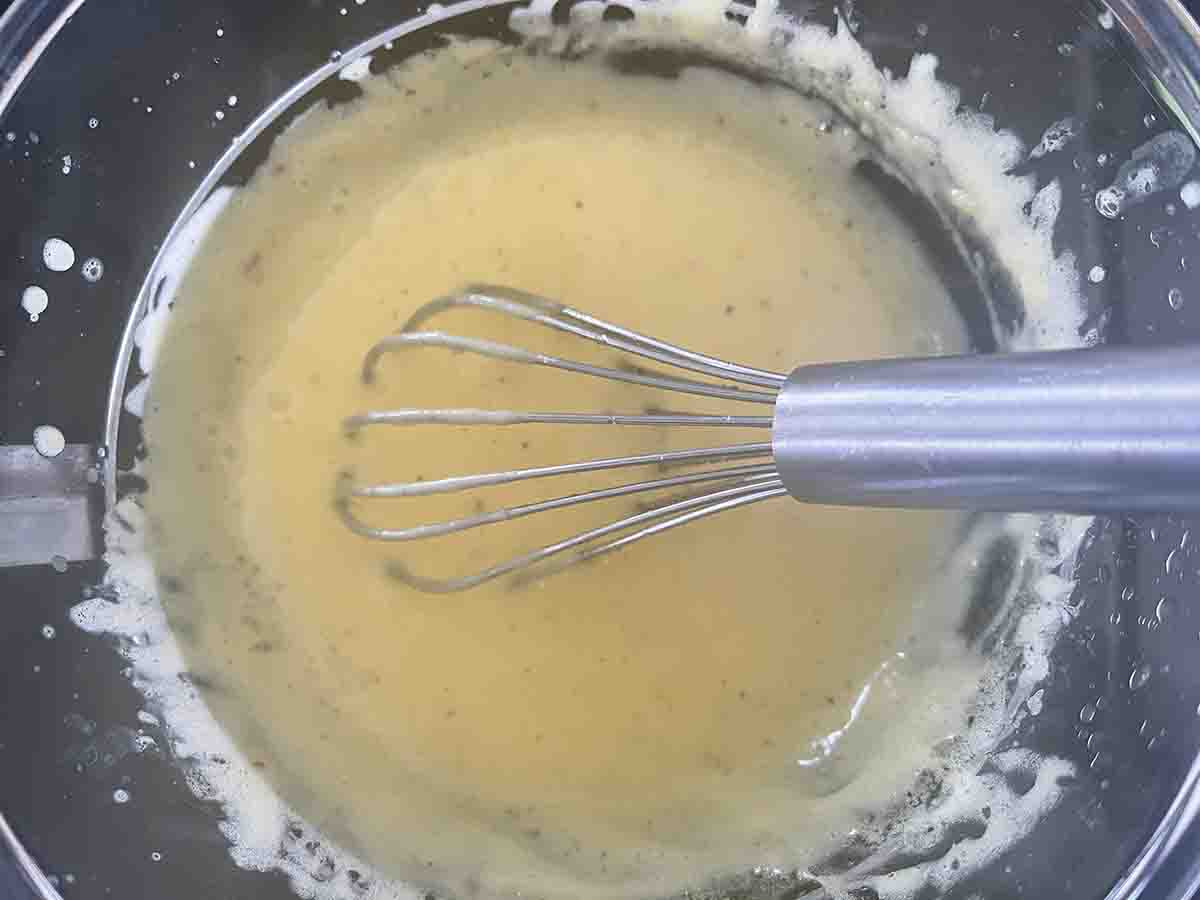 Make sure that the butter is not too hot or the sauce may curdle.
As the sauce cools it will solidify. Either whisk in a few drops of water or very gently warm in a bain marie.
If the hollandaise hasn't thickened you can add another egg yolk. Put the egg yolk in a small bowl and whisk to break it up. Whisk the sauce and gradually whisk in the egg yolk.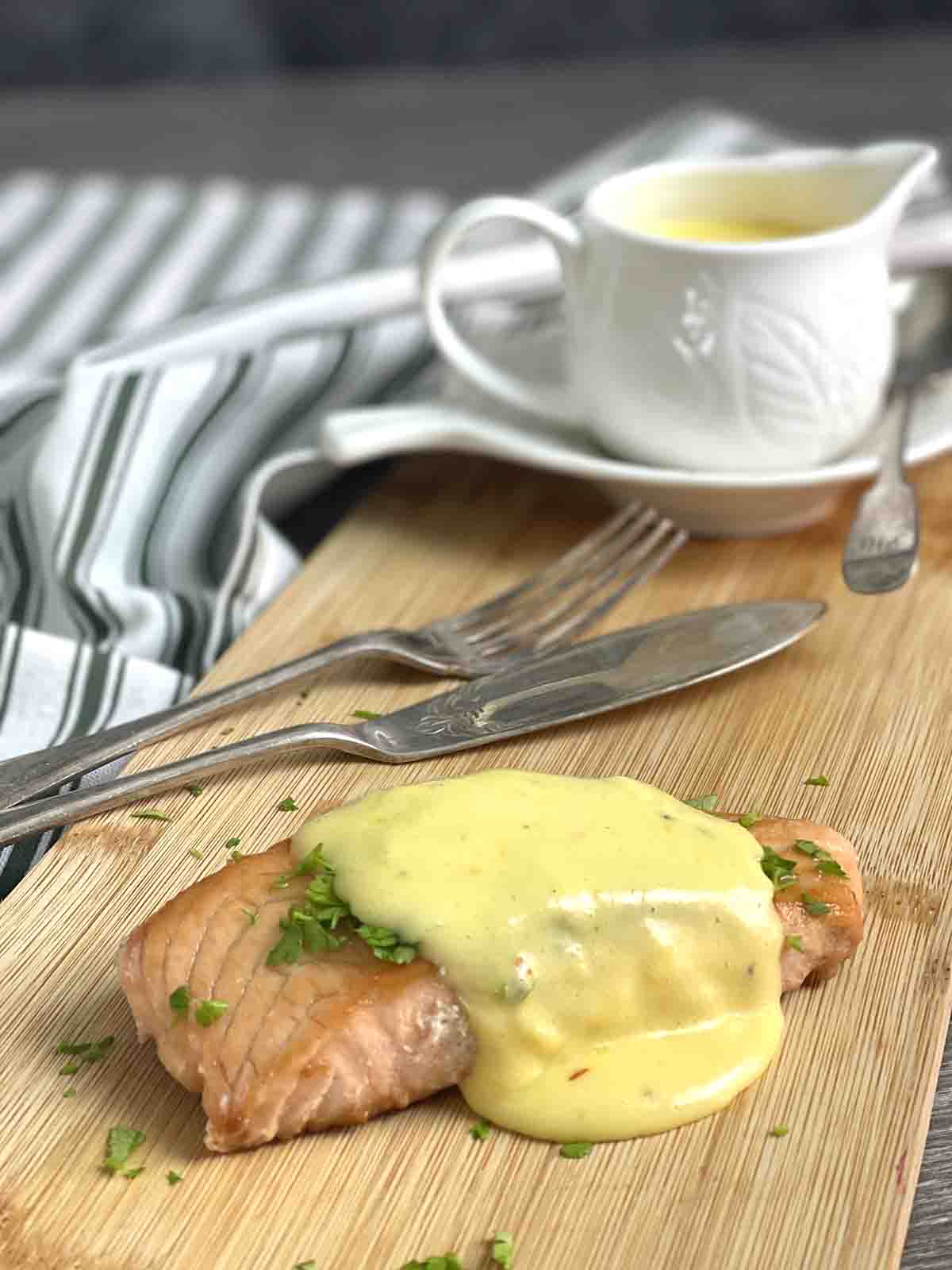 Saffron sauce grimrod should be served just warm or at room temperature.
🥗 Side Dishes
Serve this saffron hollandaise with your favourite seafood dishes, or just plain baked or grilled fish. It's an essential in eggs Benedict and delicious with vegetables too.
🥙 Substitutions
white wine vinegar - use fresh lemon juice.
saffron - add a small amount of turmeric for colour.
📖 Variations
herbs - add chopped basil, tarragon or dill to the sauce. They all go well with fish dishes. Alternatively, add chopped parsley or thyme for vegetable dishes.
🍣 Storage
Refrigerator - cool, cover and store in the fridge for up to 2 days
Freezer - saffron hollandaise can be frozen for up to a month. Defrost overnight in the refrigerator.
To reheat - place in a ban marie over a very low heat.
🍱 Prepare in Advance
Make this a day in advance and bring to room temperature to serve or reheat as above.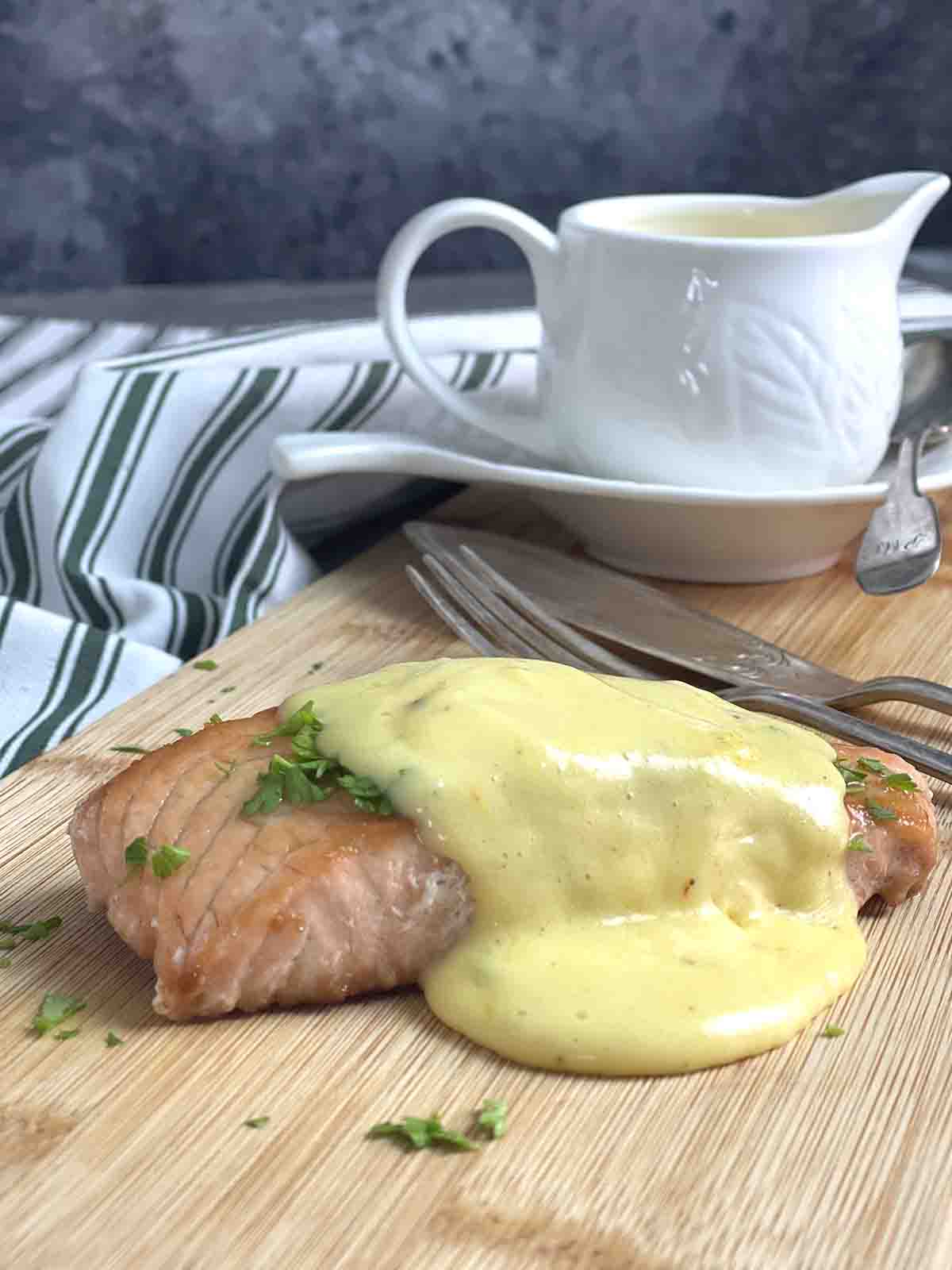 🤔FAQs
What is saffron?

Saffron threads are a spice that comes from a type of crocus. Each plant has three stigmata, which is dried to become saffron.

As so many flowers are required to make a pound of spice, it is one of the most expensive spices.

Aside from its flavour, it gives a rich golden colour to dishes.


What does saffron taste like?

Saffron has a slightly sweet, earthy flavour with a tinge of bitterness. It is a very subtle flavour so doesn't overpower seafood.
Let me know what you think in the comments or you can post a picture and tag me on Twitter @chezlereve, Instagram @chezlerevefrancais, or Facebook @chezlerevefrancais
More sauces to try
📋 Recipe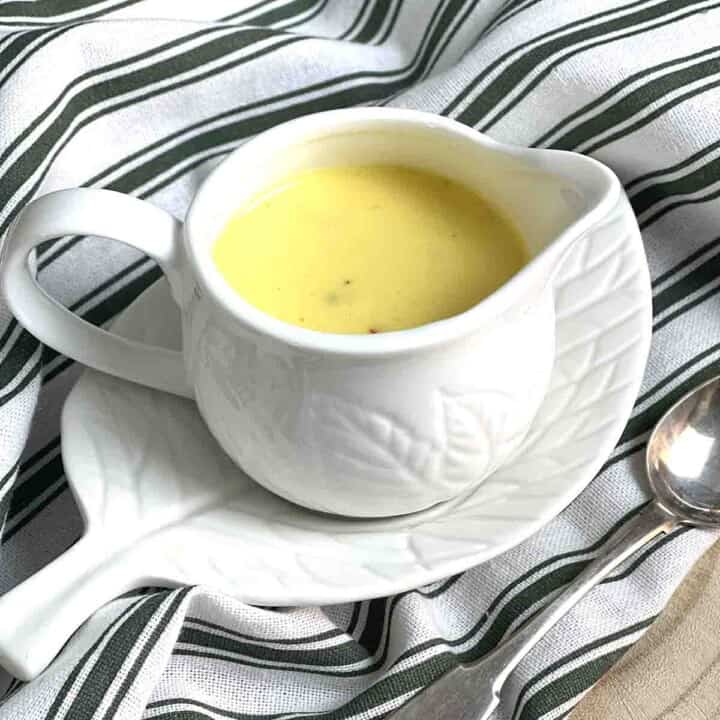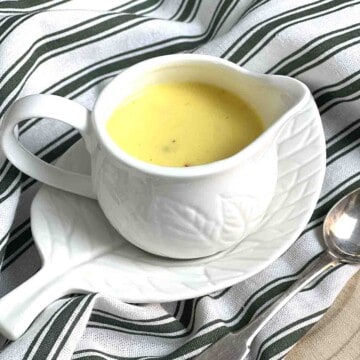 Saffron Sauce Grimrod
This saffron sauce or grimrod sauce is based on the classic Frenchhollandaise sauce with the addition of saffron.
Equipment
whisk

glass or ceramic bowl

saucepan

jug
Ingredients
2

egg yolks

120

g

butter

¼

teaspoon

salt

flaked sea salt to taste

⅛

teaspoon

black pepper

to taste

2

teaspoon

white wine vinegar

10

threads

saffron
Instructions
Melt the butter in a pan, or in the microwave in 10 second bursts on full power.

Skim off any solids that float to the top and pour into a jug.

Place the egg yolks in a heatprof bowl with the vinegar.

Whisk briefly to combine.

Add the saffron to the egg yolks.

Place the bowl over the simmering water in a bain marie and whisk constantly and pale and thick. This will take around 5 minutes.

Continue whisking and start to pour in the butter in a very steady stream. The sauce will start to thicken.

Continue to add the butter until it is totally incorporated.

Season to taste.
Nutrition Facts
Saffron Sauce Grimrod
Amount Per Serving
Calories 252
Calories from Fat 243
% Daily Value*
Fat 27g42%
Cholesterol 162mg54%
Sodium 346mg15%
Potassium 62mg2%
Carbohydrates 2g1%
Protein 2g4%
Vitamin A 893IU18%
Vitamin C 2mg2%
Calcium 22mg2%
Iron 1mg6%
* Percent Daily Values are based on a 2000 calorie diet.
Disclaimer: The nutritional information provided is approximate and is calculated using online tools. Information can vary depending on various factors, but we have endeavoured to be as accurate as possible.
Detailed instructions for this recipe, including step by step photographs, hints and tips, can be found in the main article.
Food Safety
Do not use the same utensils on cooked food, that previously touched raw meat.
Wash hands after touching raw meat.
Don't leave food sitting out at room temperature for extended periods.
Never leave cooking food unattended.
Use oils with high smoking point to avoid harmful compounds.
Always have good ventilation when using gas.
Do you have a question or did you make the recipe? Please leave a rating as it helps other readers to discover this dish. Your name and email are required to avoid spam comments; they are never used for any purpose or shared with third parties.
However, due to spam comments, I do have to moderate each one, so don't worry if you cannot see your comment immediately. I'll publish your comments as soon as I can.