Have you had mousseline sauce? This French sauce is light, creamy and lemony and the perfect sauce for simply cooked fish.
It's also perfect served with vegetables too, and the sauce only takes 5 minutes to make, so it's perfect for entertaining friends at home or for a romantic French dinner for 2.
I've added fresh basil, as it goes so well with fish, but it's delicious on its own or with your choice of herbs. You really need to try this!
Bon appétit!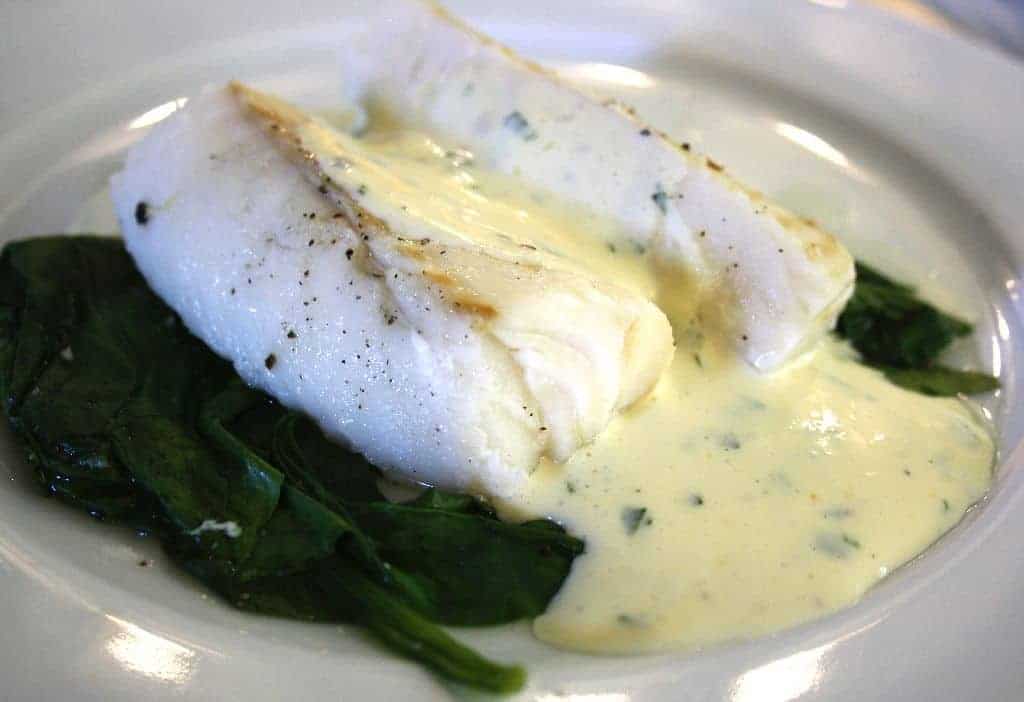 Jump to:
Why you will love this sauce
This is a really elegant sauce that is creamy and buttery and goes with so many dishes, so it's a great sauce to master for entertaining!
Baked chicken, fish or steamed vegetables are perfect served with this sauce and it only takes a few minutes to make.
It's really easy to tailor the sauce too; try tarragon with chicken, dill or basil with fish and parsley with vegetables.
For this recipe the sauce is served with cod, so you can see how easy it is!
🥘 Ingredients
For the fish
I've paired this sauce with chunky cod fillets. Fresh fish can be really expensive so we often keep frozen fillets to hand. If you are using frozen then allow it to defrost thoroughly and then pat it dry with kitchen paper before cooking. Any plain fish fillets are perfect for this dish but keep in mind that thin fillets will cook much quicker.
To add some flavour and colour to the fish I've have also used some fresh spinach leaves, but sliced leeks or asparagus would work well too. Cut any hard vegetables in smaller pieces so that they cook as the same time as the fish.
For the sauce
Butter
Egg yolks
Lemon juice - for the best flavour use fresh. A little lemon zest added to the sauce at the end is great for extra flavour and garnish too.
Whipping or double cream to fold into the sauce to give it a light texture.
Fresh basil leaves - or try tarragon, parsley, dill or chervil.
🔪 Instructions
The simplest and easiest way to cook fish is en papillotte. This is basically cooking the fish in a parcel, so that it cooks in its own juices. It's brilliant as you can prepare the parcels in advance and after the cooking there is minimal cleaning up.
Place a piece of cod on the spinach or vegetables in a foil parcel and season. Scrunch up the foil loosely, allowing the air to circulate but make sure that liquid cannot escape.
Put the foil packets on a baking tray.
⏲️ Cooking time
Preheat the oven to 180C/350F/160FAN/Gas4 for about 10-20 minutes, depending on the size of the fish.
Meanwhile make the sauce by setting up a bain marie. You don't need to have any special equipment, just use a glass bowl over a pan of simmering water. The bowl should sit on the saucepan and not in it so the bowl is heated with gentle heat from the water.
Put the egg yolks, lemon juice, seasoning and a knob of butter in the bowl over the heat and start whisking. It should get quite thick in a couple of minutes.
Take the bowl off the heat and gradually whisk in the remaining butter, lemon and some chopped basil.
Lightly whip the cream until it just holds its shape.
When your fish is cooked open the packet carefully as there will be lots of steam. Transfer the fish to a plate.
Fold in the whipped cream to the sauce.
Pour the sauce over the fish or serve separately.
Decadent and delicious, this sauce turns an ordinary meal into something special.
What's your favourite sauce for fish?
FAQ
French sauces to try
📋 Recipe