Have you had Mousseline sauce? This French sauce is light, creamy and lemony and the perfect sauce for simply cooked fish.
It will certainly jazz up any fish that you have, and the sauce only takes 5 minutes to make, so it's perfect for entertaining at home or for a romantic French dinner.
I've added fresh basil to mine but it's delicious on its own. You really need to try this!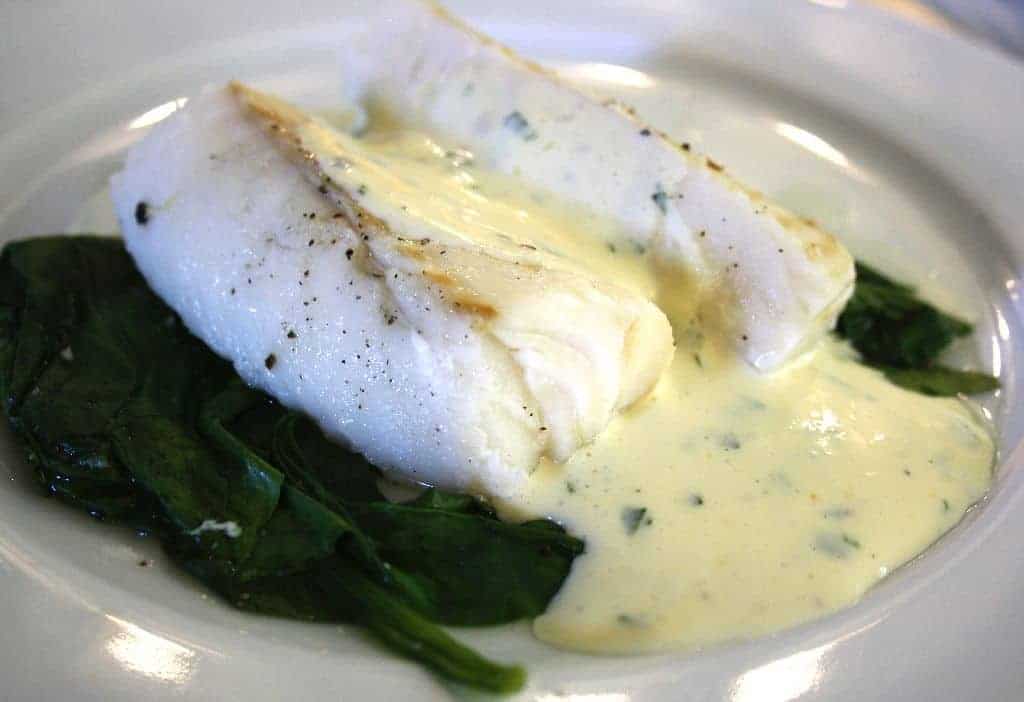 What is a mousseline sauce?
There are five classic hot sauces that many of the sauces we still use today are derived from. Mayonnaise is said to another sauce on its own but it's mainly served cold.
They are:
The White Sauces
The Velouté Sauces
The Espagnole Sauces
Hollandaise Sauce
Beurre Blanc Sauce
These sauces are known as 'mother' sauces and they all have variations known as 'daughter' sauces. Mousseline sauce is a daughter sauce of a Hollandaise, but with a small amount of whipped cream added.
What are the ingredients?
I've paired this sauce with cod fillets and spinach. I tend to buy frozen cod, as it is cheaper, thaw it and drain off all the water. I've have also used fresh spinach but sliced leeks or asparagus would work well too.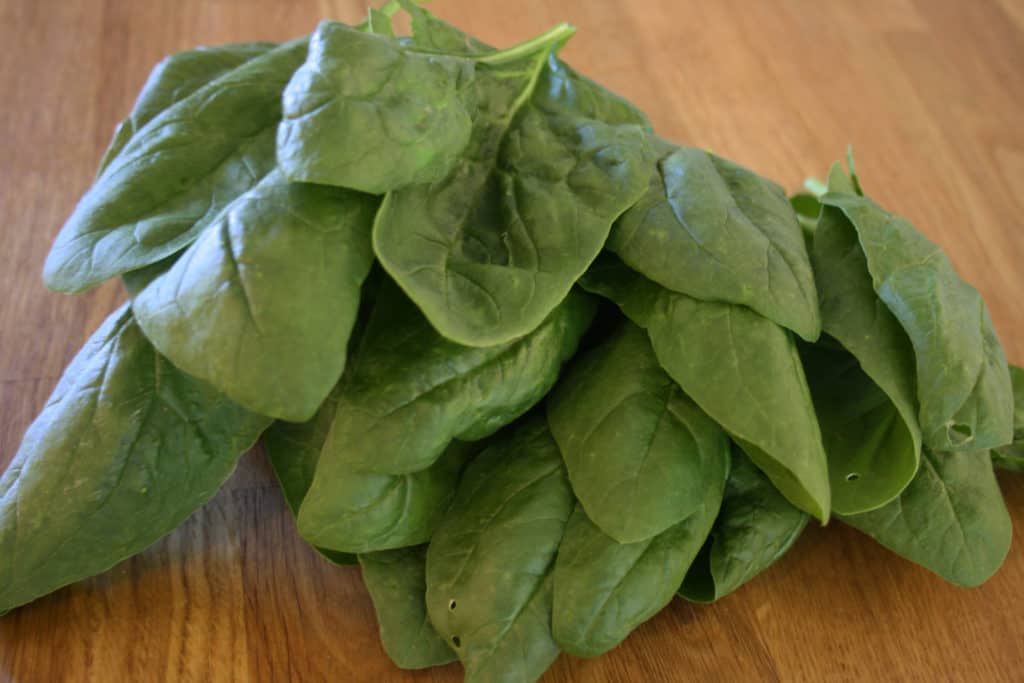 How to make the sauce for the fish
The simplest and easiest way to cook fish is en papillotte. This is basically cooking the fish in a parcel so that it cooks in its own juices. It's brilliant as you can prepare the parcels in advance and after the cooking there is minimal cleaning up.
Place a piece of cod on the spinach in a foil parcel and season. Place in a medium oven 180 C for about 10-20 minutes, depending on the size of the fish.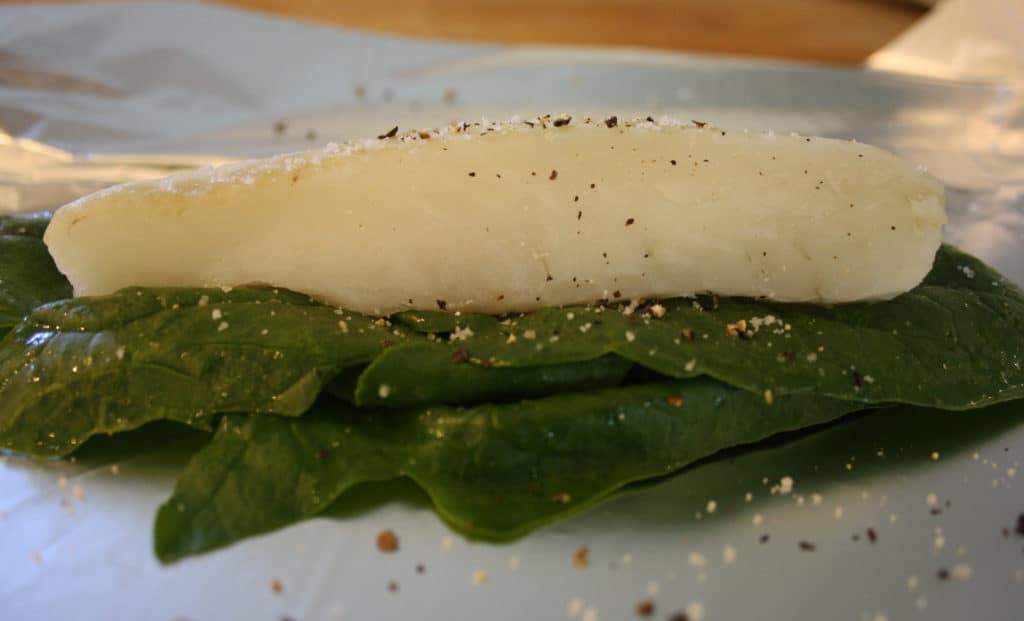 Meanwhile make the sauce by setting up a bain marie. You don't need to have any special equipment, just use a glass bowl over a pan of simmering water. The bowl should sit on the saucepan and not in it so the bowl is heated with gentle heat from the water.
Put egg yolks, lemon juice, seasoning and a knob of butter in the bowl over the heat and start whisking. It should get quite thick in a couple of minutes.
Take the bowl off the heat and gradually whisk in more butter, lemon and some chopped basil.
When your fish is cooked open the packet carefully as there will be lots of steam. Transfer the fish to a plate.
Fold in the whipped cream to the sauce.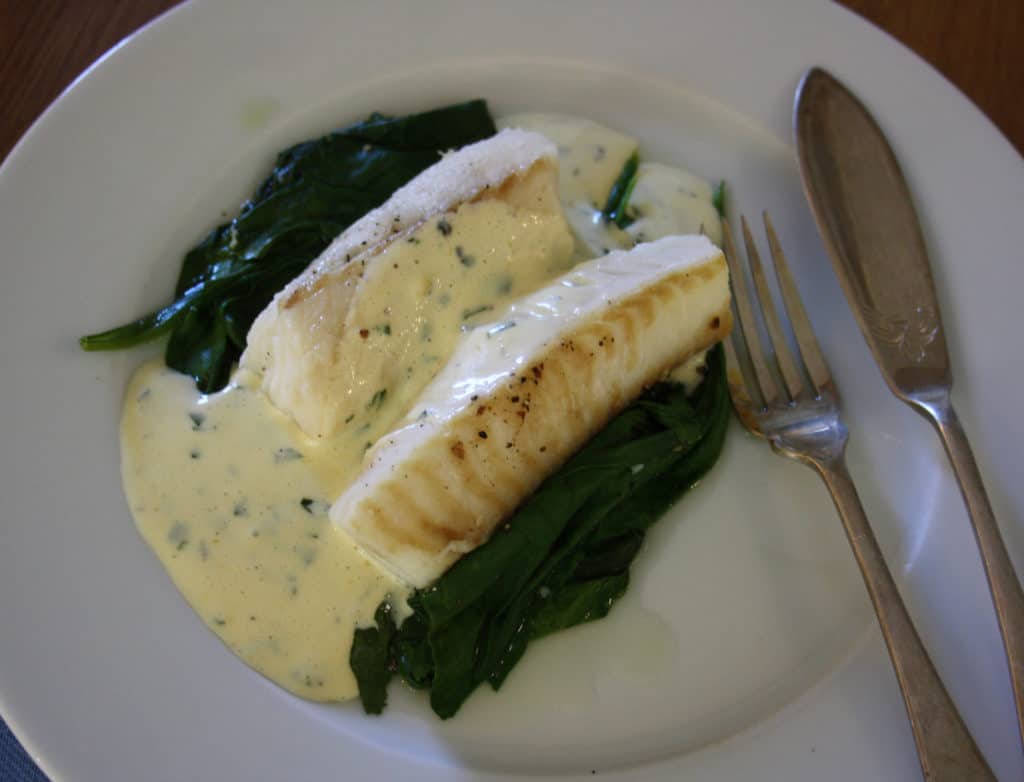 Pour the sauce over the fish or serve separately.
Decadent and delicious, this sauce turns an ordinary meal into something special.
What's your favourite sauce for fish?
FAQ
What else can you serve with this French sauce?
You could serve this sauce with chicken cooked in the same way or serve it with steamed vegetables. A great dish for entertaining is my baked seafood parcels .
Can I make this dish in advance?
If you are serving this sauce with fish then it's great to get ahead and make up your parcels in advance. As it's fish, I would recommend that you prepare and cook on the same day and always with frozen fish.

The sauce is best made just before you want to serve it. You can keep it warm in the bain marie, over a very low heat before adding the cream, but there's a chance the sauce will split.
French sauces to try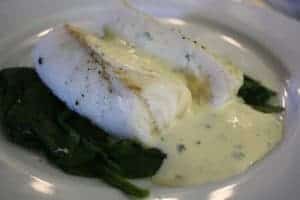 French Mousseline Sauce for Fish
Cod on a bed of spinach simply roasted in the oven and served with a Mousseline sauce which is flavoured with basil.
Ingredients
600

g

cod

in 4 portions

250

g

small bag of young spinach or about 20 leaves

seasoning
For the sauce
2

egg yolks

2

tsp

lemon juice

seasoning

50

g

butter

50

ml

whipped cream or thick cream

1

tbsp

fresh chopped basil
Instructions
Make a foil parcel and place a seasoned cod fillet on a bed of spinach.

Bake at 180 degrees C for 10-20 minutes.

To make the sauce set up a bain marie with the egg yolks, seasoning, 1 tsp of lemon and a knob of butter.

Whisk over heat for about 2 minutes, or until the mixture has thickened.

Take the bowl off the heat and whisk in the remaining butter gradually with the lemon and basil.

Keep warm over the bain marie and just before serving fold in the cream.
Nutrition Facts
French Mousseline Sauce for Fish
Amount Per Serving
Calories 300
Calories from Fat 162
% Daily Value*
Fat 18g28%
Cholesterol 206mg69%
Sodium 229mg10%
Potassium 987mg28%
Carbohydrates 3g1%
Protein 30g60%
Vitamin A 6580IU132%
Vitamin C 20mg24%
Calcium 109mg11%
Iron 2.5mg14%
* Percent Daily Values are based on a 2000 calorie diet.
Be the first to receive new recipes in your inbox and get my free E-Book of 25 French Recipes! Subscribe here