Roasted Tomato Soup with Garlic. The first thing I noticed when I moved to rural France is that many people grow their own vegetables. The earth here is like crumbled chocolate and everything seem to grow and grow. It's easy to grow melons and peaches, which would be difficult where I used to live. Naturally everyone grows tomatoes and, far more than they actually need, which means that people are often popping round to offload their tomatoes! It's a lovely gesture but sometimes you can't eat them quick enough before they go soft and that's when I make my roasted tomato soup.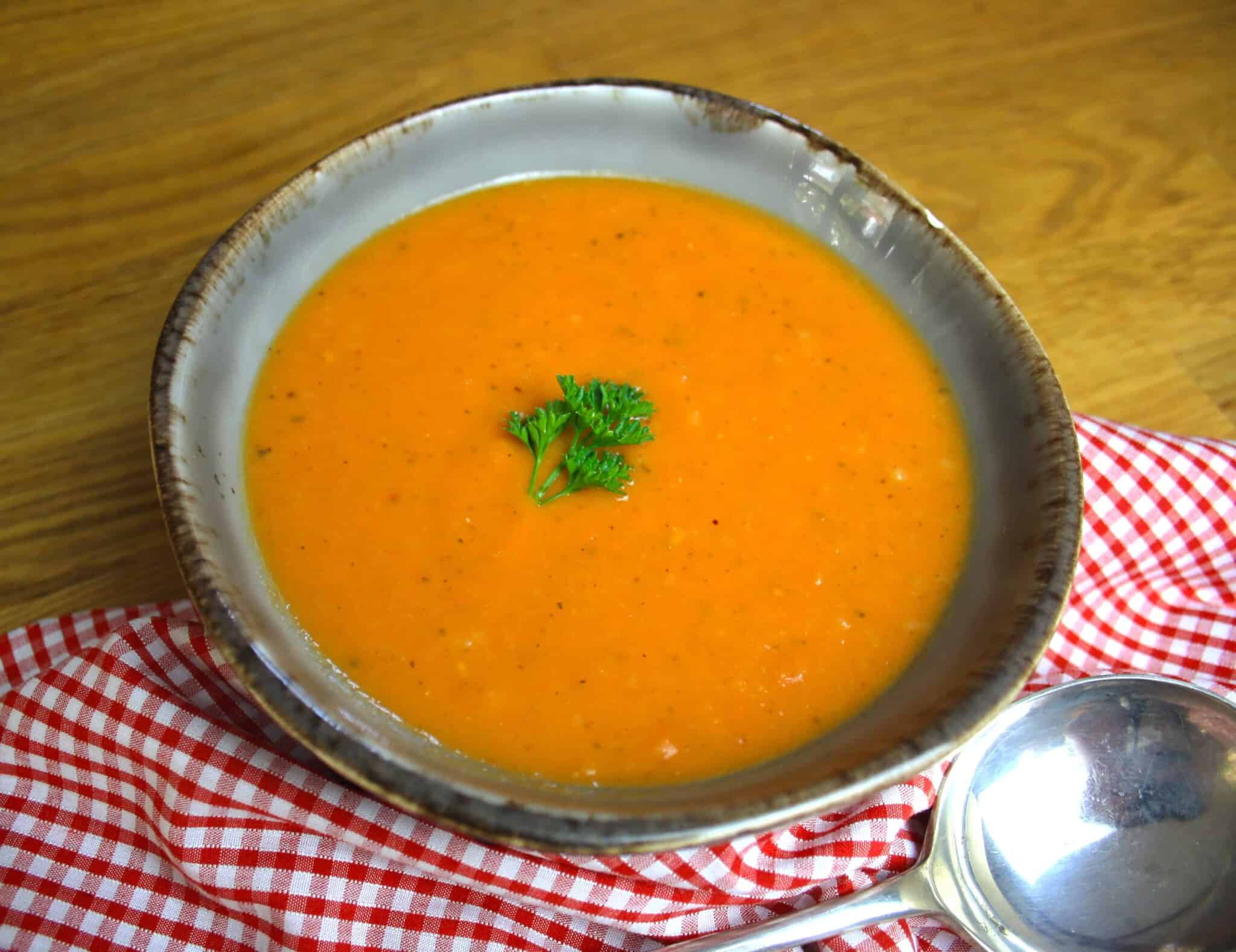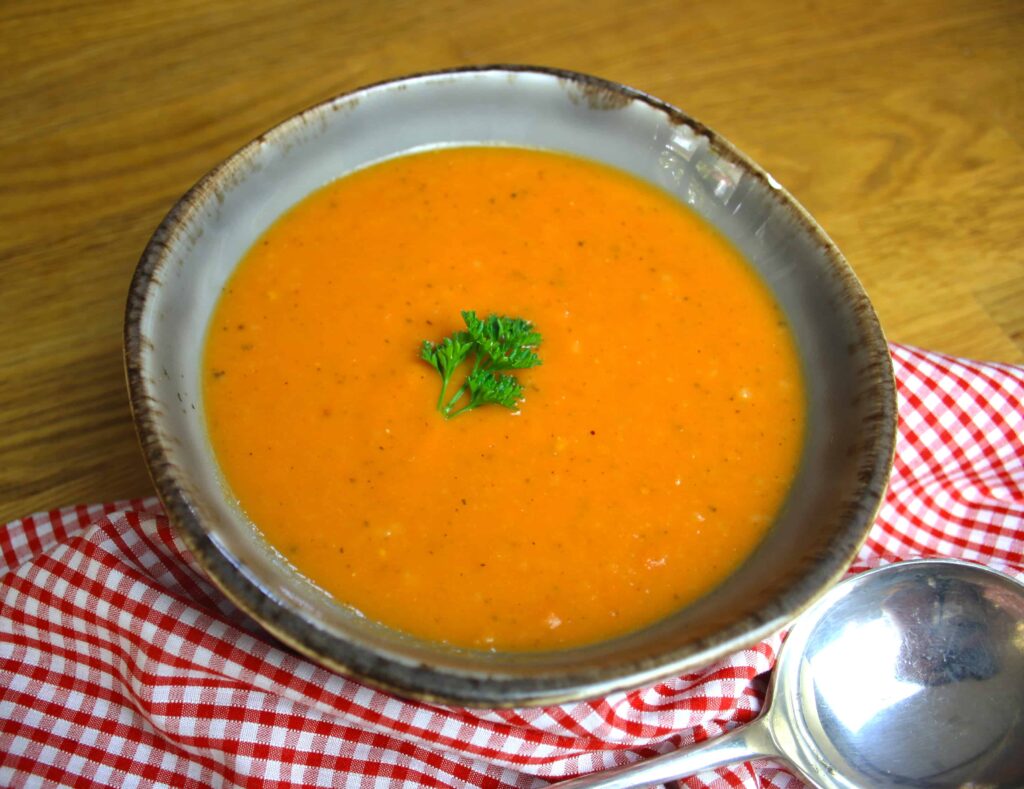 I'm not a fan of peeling tomatoes so here is my method. Halve the tomatoes, or quarter them if they are large. Put them in a large roasting tin with a drizzle of olive oil and salt and pepper. Put a whole bulb of unpeeled garlic in a dish and place in the oven at 170 C with the tomatoes for around an hour. The tomatoes are ready when the skin slips off and the flesh is mushy. To test the garlic gently squeeze one of the cloves. If it's soft it's ready. Leave to cool a little and then I use a spoon and fork to remove the tomato skins.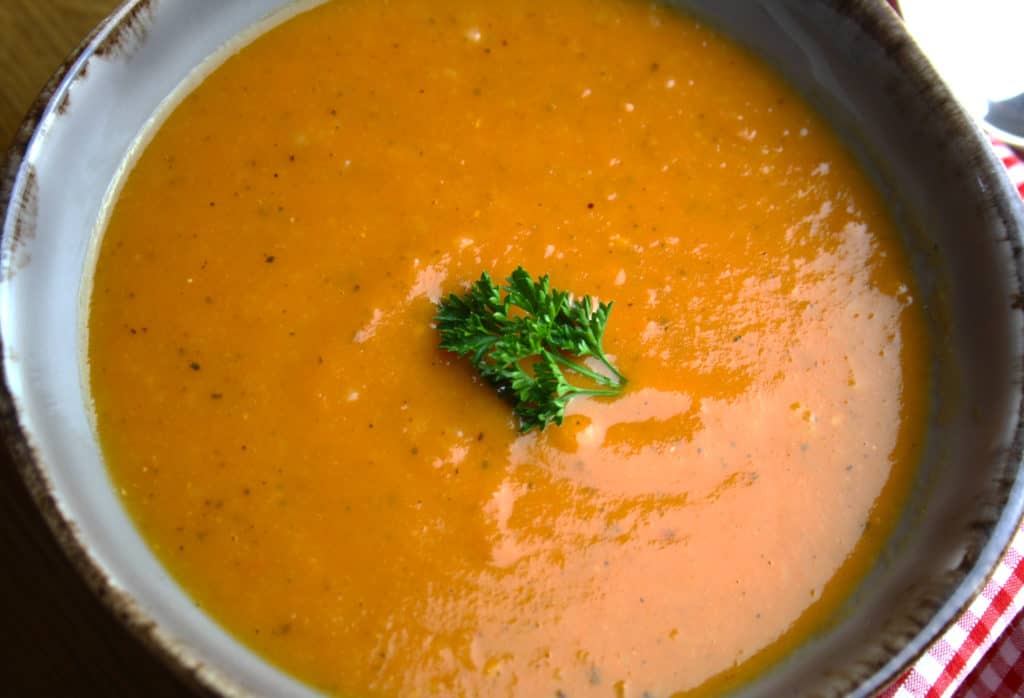 Next take a large pan and soften a chopped onion in some butter. Tip in flour and cook for a minute before stirring in the stock gradually until it thickens. Squeeze the garlic cloves and the garlic should come out like a soft paste. Pour in the tomatoes and garlic and use a stick blender to combine the mixture. Bring the mixture back up to the boil, check the seasoning and serve..
This Roasted Tomato Soup with Garlic is rich, sweet and satisfying and the garlic adds an extra depth without overpowering the tomatoes. Next time you have tomatoes try my lazy way to make soup!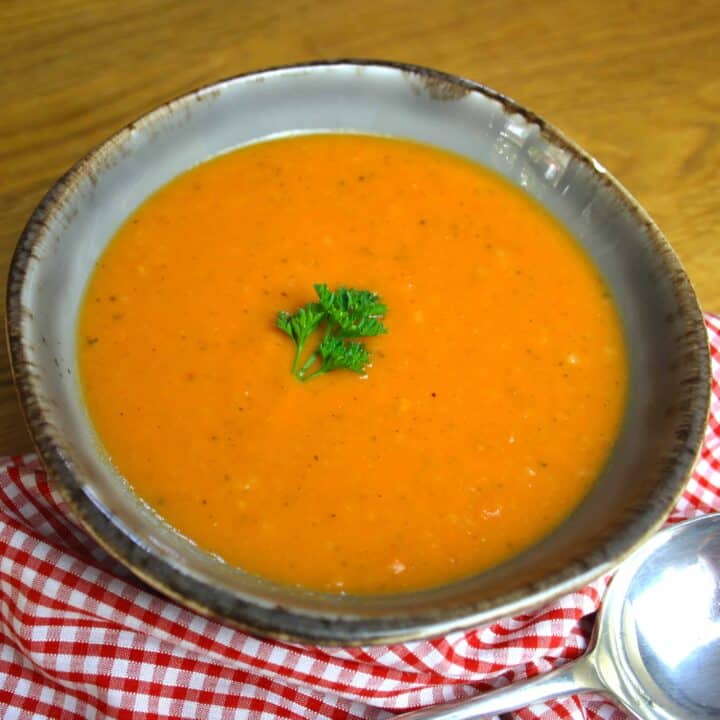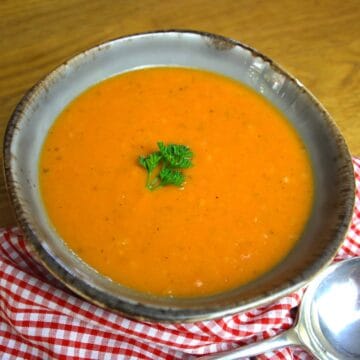 Roasted Tomato Soup with Garlic
Roasted Tomato Soup with Garlic. Tomatoes and garlic roasted in the oven then combined with stock to make a simple and delicious soup.
Ingredients
1

kg

tomatoes

1

onion

chopped

1

bulb of garlic

olive oil

500

ml

vegetable stock

25

g

butter

25

g

flour

seasoning
Instructions
Halve the tomatoes and place in a roasting pan with a drizzle of olive oil and seasoning.

Roast the tomatoes and garlic for about an hour at 170 C

Remove the skins from the tomatoes and mash the skins over a sieve to get any remaining juice.

In a large saucepan melt the butter and soften the onion for a few minutes before adding the flour for a minute, stirring.

Gradually add the flour until the mixture thickens then pour in the tomatoes and squeeze out the garlic.

Use a stick blender until the mixture is smooth then reheat and check the seasoning.