Oven dried tomatoes are the perfect and easy way to get into preserving if you are feeling daunted by all the processes.
With minimal work you can have intensly flavoured tomatoes which are perfect for sharing boards, antipasti, pasta dishes, for bread making and so much more.
This is perfect if you grow your own tomatoes and these preserved tomatoes make a perfect gift too!
Bon appètit!
Jump to:
Why you will love this recipe
really easy to do and no special equipment required
makes an easy and impressive gift
so many different uses in the kitchen
These tomatoes are perfect as a gift for a foodie, especially if you grow your own tomatoes. We all tend to have a glut of tomatoes in the summer season this is an easy way to use them up.
Buying gifts in rural France is not easy and many preserved foods are expensive. It's also customary to take a homemade item for the host if you are invited to someone's home for drinks or dinner. These tomatoes are always well received as they are so versatile.
What are the ingredients?
For this recipe I used plum tomatoes but you can use any homegrown or bought tomatoes. Obviously home grown, fresh tomatoes will have a more instense flavour but all tomatoes will improve with the oven drying process.
You will also need olive oil, salt, dried basil, garlic and sugar.
How to make oven dried tomatoes and preserve in oil
It is so simple to preserve tomatoes this way. Just a few hours in the oven but you don't need to do anything while the tomatoes slowly fry out and become sweet and delicious.
I started with 16 plum tomatoes but use whatever you have. Obviously smaller tomatoes will need less cooking time. Give them a good wash.
Line a grill pan with foil and replace the grill.
Cut the tomatoes in half from core to tip and place cut side up.
Sprinkle with the salt, sugar, dried basil and olive oil.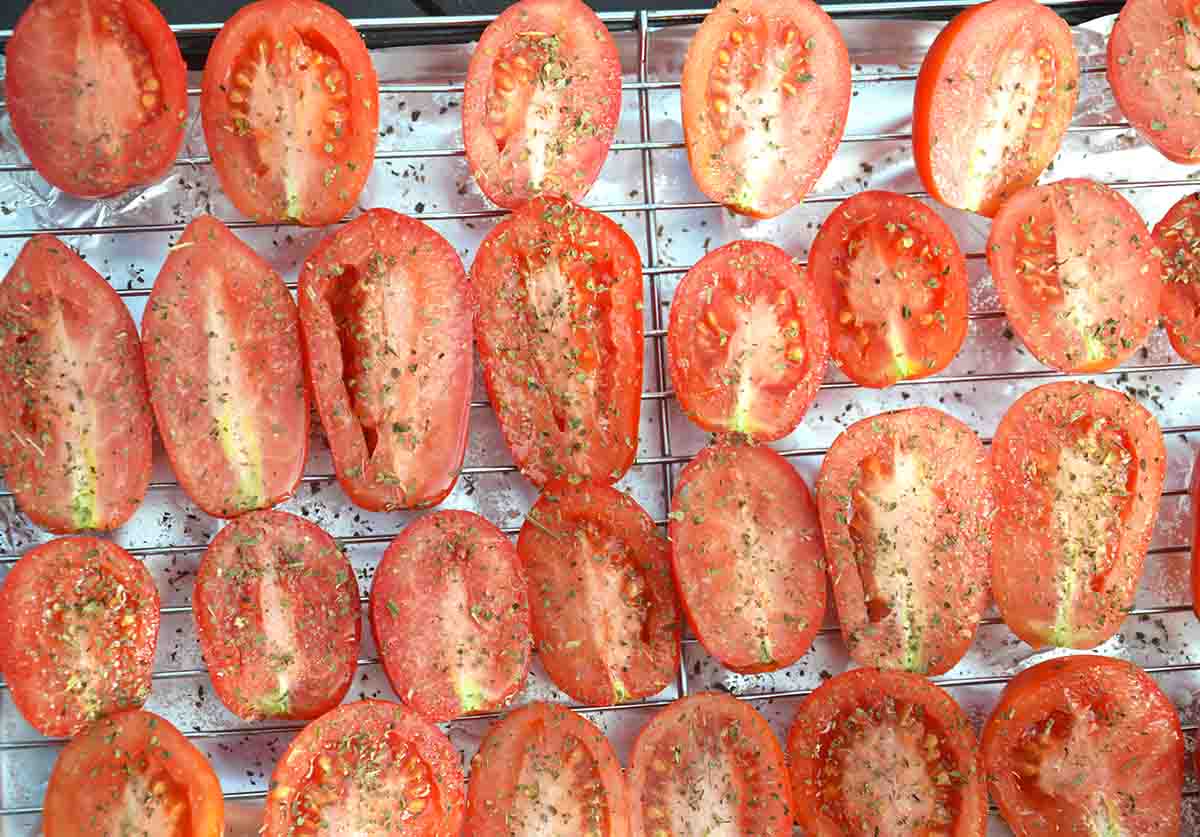 Turn the oven to its lowest heat setting and put the tray of tomatoes inside with the door slightly ajar.
Bake for between 8 and 12 hours. The tomatoes should be dry but still pliable.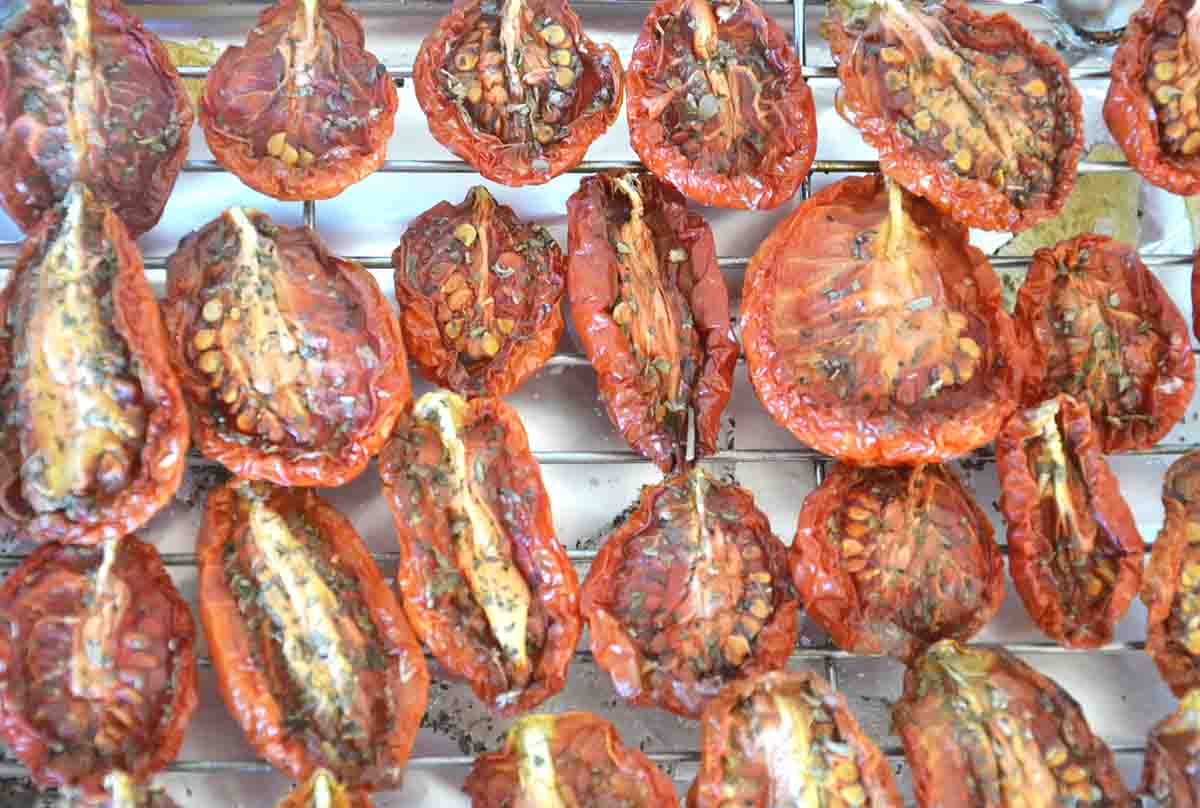 Divide the mixture between 4 sterilised jars. I keep jars from bought sauces. Add the finely sliced garlic and more herbs at this point if you like.
Top up the jars with regular olive oil and make sure that the tomatoes are completely covered in the oil. Cover with a screw top lid.
They are ready to use in a few days but will improve the longer they are left.
Recipe FAQs
Top tips
make sure that you start with unblemished fruit for the best results
don't skimp on the sterilising or the tomatoes will go mouldy
no need to use virgin olive oil
skip the basil and use dried rosemary or thyme
add some finely chopped red chillies for a kick
More tomato recipes
📋 Recipe
More sauces to try