Estimated reading time: 5 minutes
This chocolate Easter Bundt cake is perfect for both children and adults. It's a rich moist cake, covered in a creamy chocolate ganache that your fork will want to dive into.
Easy to make and cook, the only problem you will have is waiting for the cake to cool so you can eat it!
Perfect to make for a crowd, or just lots to enjoy for the family - it's up to you.
Bon appétit!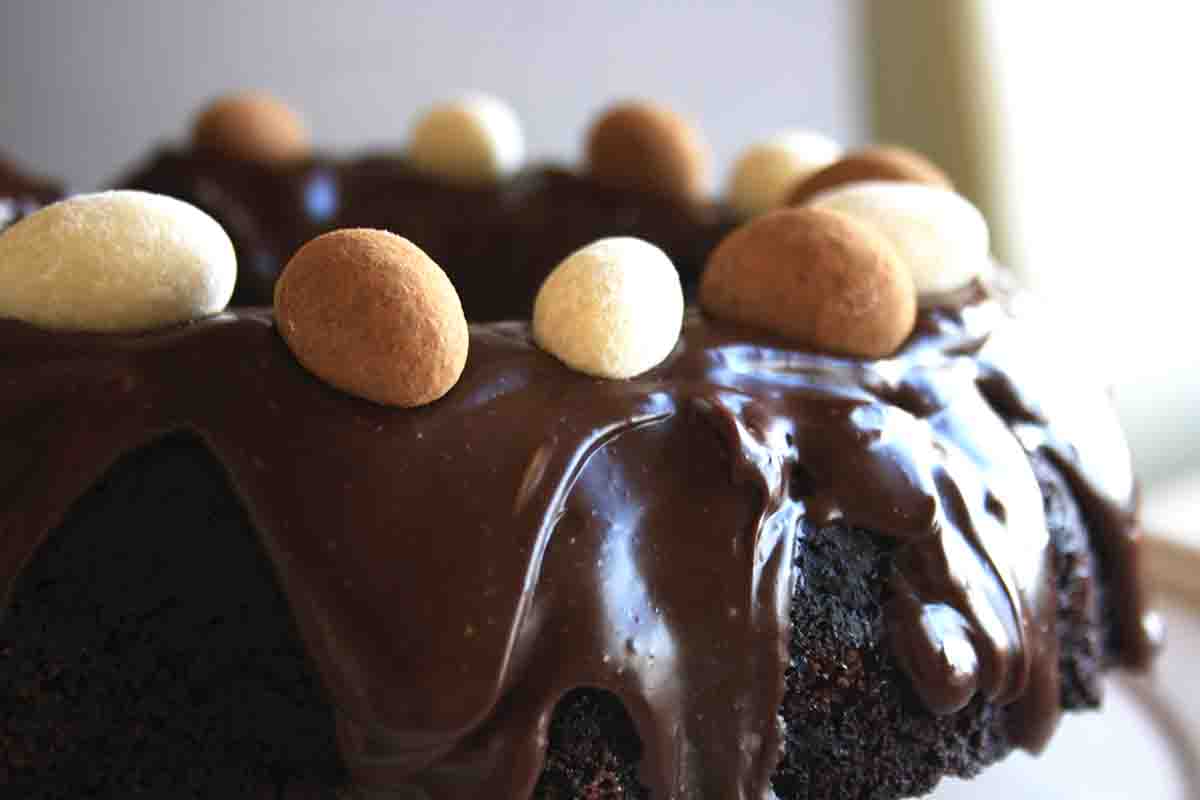 Jump to:
What are the ingredients?
This is the perfect cake if you haven't had the chance to get to the shops as you will probably have everything for the basic cake already in your cupboards. The only essential item is the Bundt tin itself so here's what you will need:
softened butter - for a richer cake
soft light brown sugar - this will give it a fudgier texture than plain granulated sugar
self raising flour - if you don't have this add half a teaspoon of baking powder per 100g/half a cup but note this is not the same as baking soda
unsweetened cocoa powder - not drinking chocolate
eggs - 1 always use large
chocolate eggs to decorate - mine were quite large ones but use whatever you prefer or not at all!
For the ganache:
plain chocolate - preferably at least 50% cocoa solids for a real chocolate hit
double or heavy cream
How to make the cake
The is chocolate Easter Bundt cake is really simple to make.
Start by preparing the Bundt tin. Use some softened butter to grease the tin. Now add a tablespoon of cocoa powder and shake it around until all the butter is covered. This will make sure that the cake comes out of the pan cleanly.
You can use a food mixer but it is just as easy to use a bowl and a wooden spoon. Beat the butter and sugar together until pale and fluffy.
Stir together the flour and cocoa and sieve into a bowl.
Gradually beat in the eggs, one at a time with a tablespoon of the flour mixture. This will help to prevent the eggs from curdling.
Use a metal spoon to fold in the remaining flour carefully.
Spoon the cake mixture into the tin and bake at 180C/350F/Gas4 for 25-30 minutes until an inserted skewer comes out clean.
Leave to cool for 5 minutes in the tin then turn out onto a rack to cool.
How to make the chocolate ganache
In the meantime make the chocolate ganache topping.
Chop plain chocolate into small pieces and place in a heatproof bowl.
Heat the cream until it is almost simmering then remove from the heat and pour over the chocolate.
Leave for 10 minutes and then whisk until the chocolate melts.
Pour over the cake and decorate with chocolate eggs and leave to set at room temperature.
Recipe FAQs
This chocolate Bundt cake is perfect for sharing at Easter teatime or as a mid morning treat at any time of the year!
What's your favourite Easter cake?
More chocolate desserts to try
📋 Recipe