Home » Recipes » Cakes, Breads and Sandwiches

Surprise Easter Egg Cakes

Are you looking for an easy recipe for entertaining this Easter ? This recipe for Surprise Easter Egg Cakes is great for children or adults. It can be made into different sizes and is made from store cupboard ingredients. Best of all, everyone will love the surprise chocolate egg inside!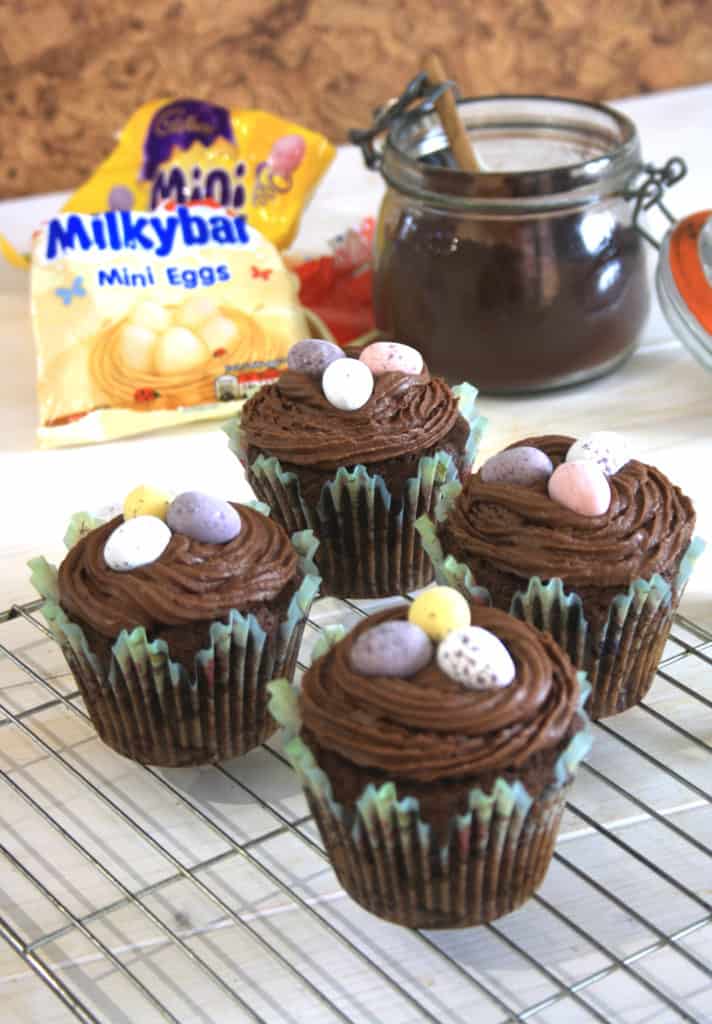 To make the Easter Egg cakes I used a basic sponge mixture ratio of 2 eggs to equal amounts or 115g of sugar, flour and baking spread. I prefer to use baking spread rather than butter for many reasons. Baking spread is economical, ready to use directly from the fridge and keeps the sponge light. I also find that I'm not looking for a buttery taste if I have a chocolate cake. Of course, you can use room temperature butter if you prefer.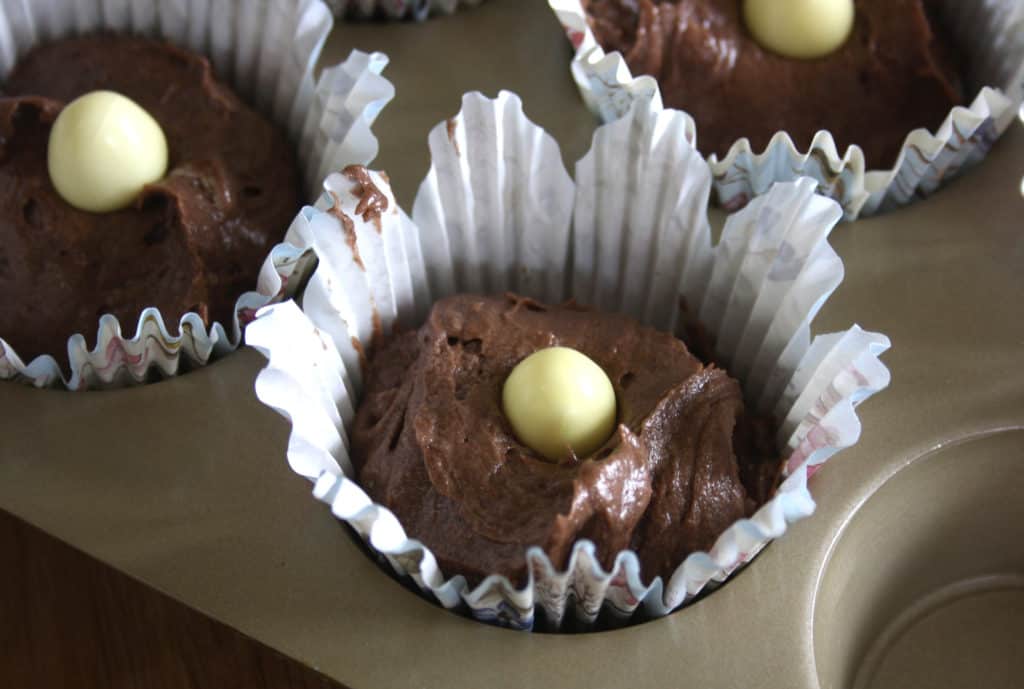 Cream the baking spread or butter with the caster sugar until fluffy then add the eggs one at a time. Beat in well. Mix the cocoa powder with self raising flour and fold into the mixture. I used a large ice cream scoop to measure the mixture into five muffin cases but you could also make 10-12 cupcakes from the same mixture. Alternatively, use 170 g of sugar, flour and butter to 3 eggs and the mixture would make enough for a 7 inch or 18 cm sandwich cake. For a sandwich cake you would need to double the icing quantity to fill the cakes and ice the top.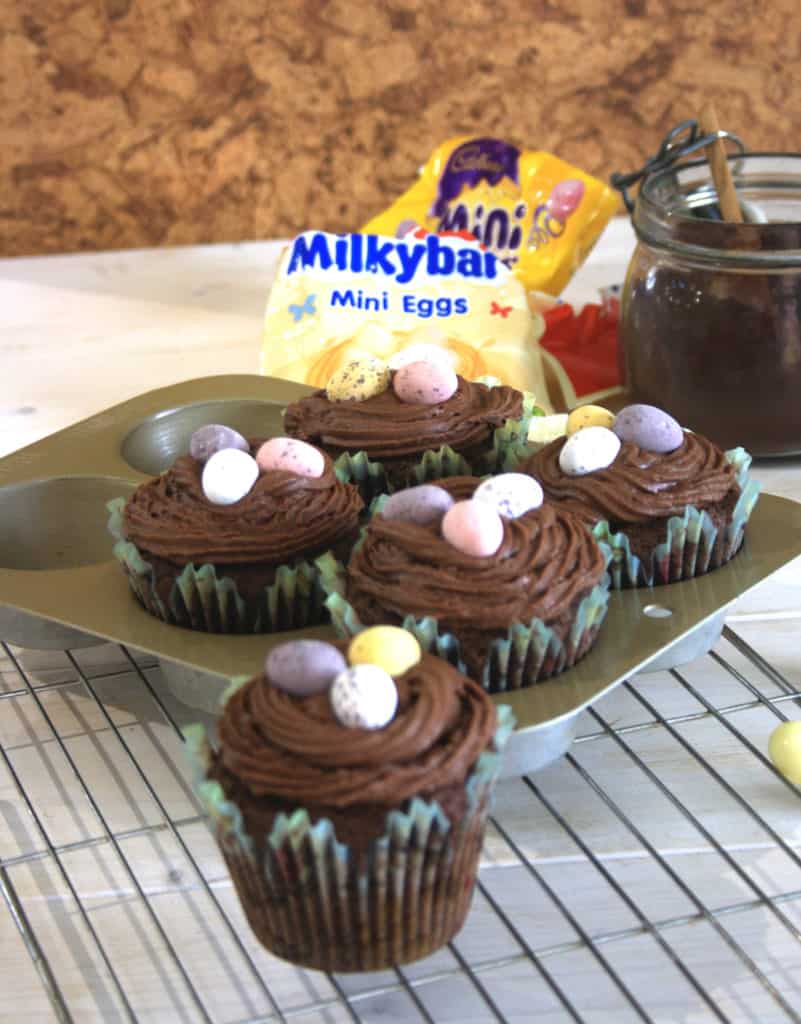 The next bit is the surprise. I used Milky Bar mini eggs and pushed one into the centre of the muffins but you could add a couple more. Just make sure they are not too close together or it will effect the cake holding together. Whichever shape you decide to bake they all go in the oven at 180 C but timings will vary. Cupcakes about 12 minutes, muffins about 20 minutes and sandwich cakes 20-25 minutes, or until a skewer inserted comes out clean.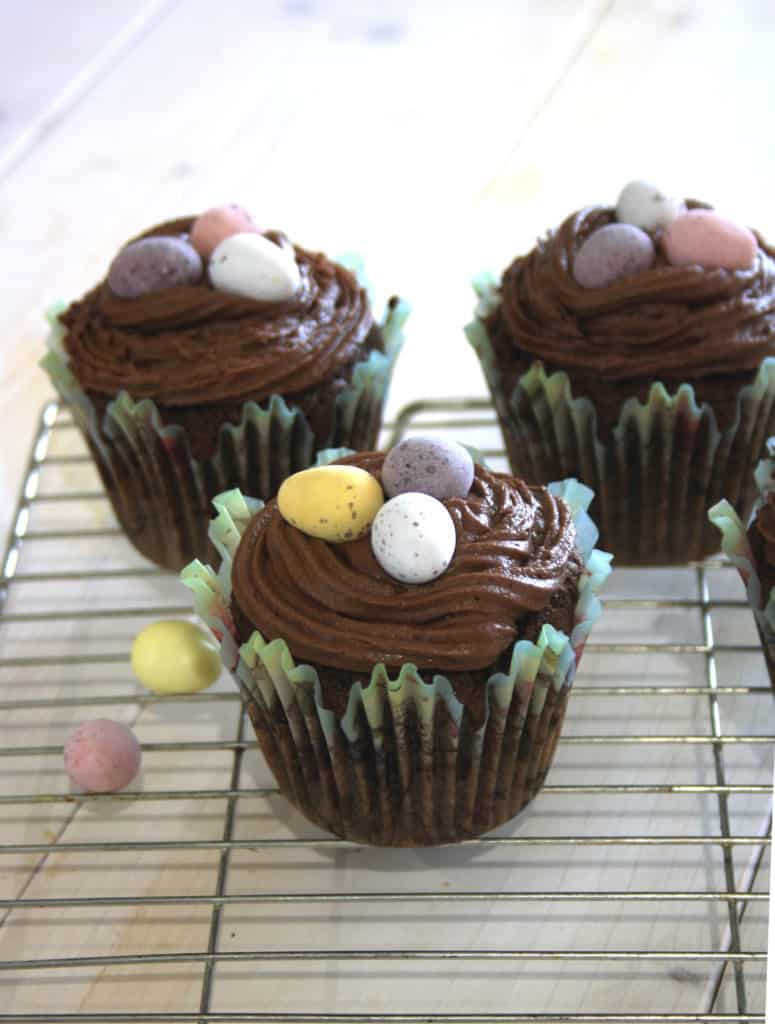 When the cakes are cooked place them on a rack to cool while you make the icing. Mix 2 tablespoons of cocoa powder with 350g of icing sugar then beat together with baking spread or softened butter. You might need to add a splash of milk to get the correct consistency.
I used a large star icing nozzle to create a nest shape on top but you don't need to be an experienced cake decorator for these Surprise Easter Egg Cakes. You can also smear the icing on top with a knife then use a fork to give it some texture or put the icing in a sandwich bag and cut the corner off as a makeshift icing bag. Either way this is a great project to make with the children over the holidays as they will love mixing and decorating these!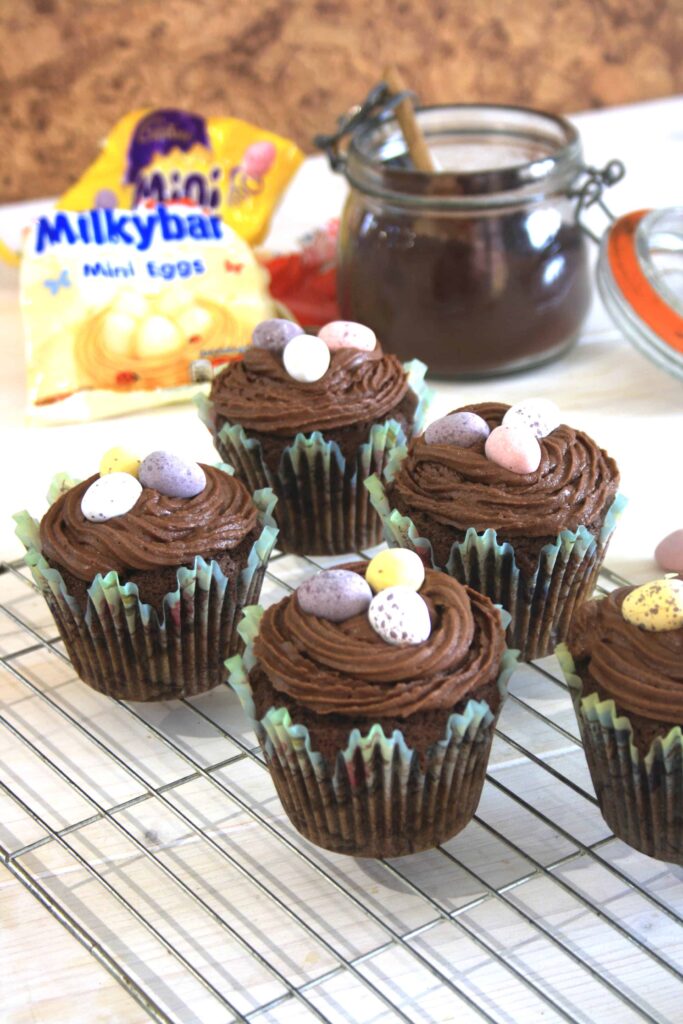 I decorated each Easter egg muffin with 3 Cadbury's Mini Eggs but you can use any type of egg decoration.
How long will these Surprise Easter Egg Cakes last?
They will keep iced in an airtight tin for 2 or 3 days or you could freeze the cakes without icing and decorate them later.
If you like my Surprise Easter Egg Cakes you may also like to try Easter Chocolate Bundt Cake with Ganache.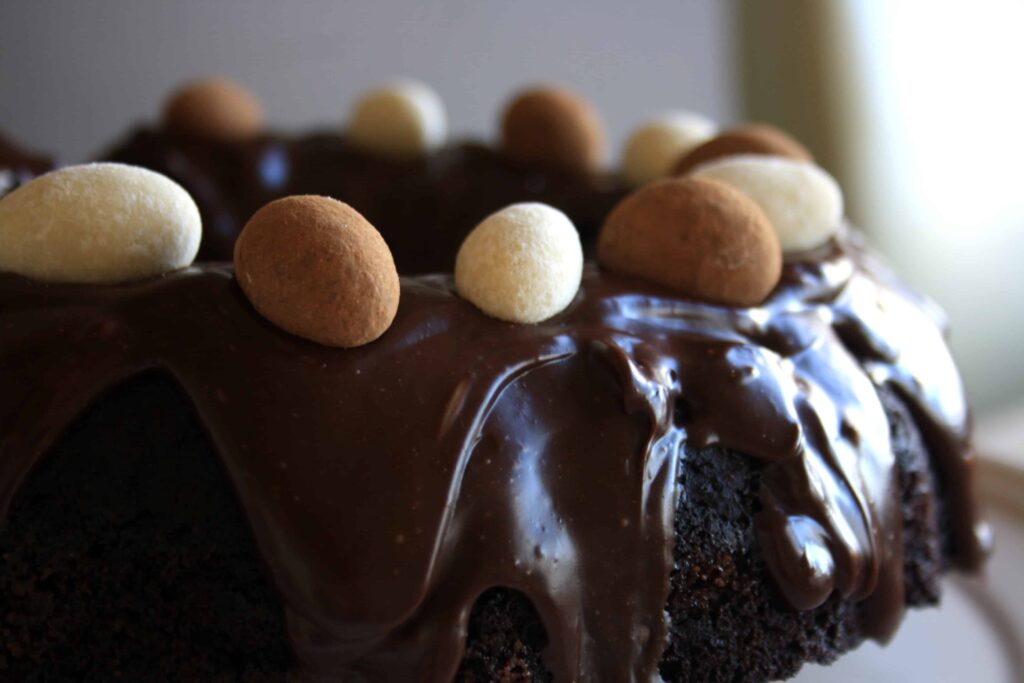 Don't forget to Pin the recipe for later!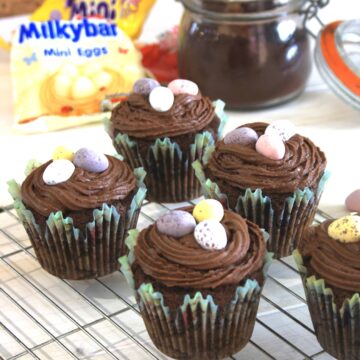 Surprise Easter Egg Cakes
Surprise Easter Egg Cakes are easy to make and decorate and have a surprise chocolate egg baked inside. Perfect to make with children for an Easter treat.
Ingredients
For the cakes
2

tablespoon

unsweetened 70% cocoa powder

2

eggs

115

g

butter or baking spread

115

g

caster sugar

115

g

self raising flour

5

Milky Bar Mini Eggs or similar
For the decoration
350

g

icing sugar

55

g

butter or baking spread

2

tablespoon

cocoa powder

a little milk if required

15

Cadbury's Mini Eggs
Instructions
Preheat the oven to 180 C and line a muffin tin with five paper cases.

Cream together the butter and sugar then beat in the eggs one at a time.

Mix together the cocoa and flour and fold into the mixture.

Divide the mixture between the muffin cases.

Place a Milky Bar egg into the middle of each cake.

Bake for 15-20 minutes until a skewer inserted comes out clean.

Put the muffins on a wire rack to cool.

Make the icing by combining the cocoa and icing sugar together until well mixed.

Cream the butter and mix in the icing sugar until the buttercream is well mixed. Add a small amount of milk if it's too stiff.

Use a large star nozzle to add circles of icing to make a nest and tip each cake with 3 eggs.
Nutrition Facts
Surprise Easter Egg Cakes
Amount Per Serving (0 g)
Calories 723
Calories from Fat 270
% Daily Value*
Fat 30g46%
Cholesterol 138mg46%
Sodium 270mg12%
Potassium 113mg3%
Carbohydrates 112g37%
Protein 6g12%
Vitamin A 945IU19%
Calcium 27mg3%
Iron 1.2mg7%
* Percent Daily Values are based on a 2000 calorie diet.
Disclaimer: The nutritional information provided is approximate and is calculated using online tools. Information can vary depending on various factors, but we have endeavoured to be as accurate as possible.
Detailed instructions for this recipe, including step by step photographs, hints and tips, can be found in the main article.
Be the first to receive new recipes in your inbox and get my free E-Book of 25 French Recipes! Subscribe here