Salted Caramel Chocolate Tart is one of my guilty pleasures. The combination of crisp pâte sucrée filled with oozing caramel and topped with chocolate is my absolute idea of heaven! Much as I could demolish this whole tart by myself, it would be equally good for any party as it will serve up to 10 portions.  I found the basic recipe for this in a magazine years ago, way before salted caramel became trendy. I've changed the recipe over the years and find it is just as easy to make the caramel, but you could use a tin of ready made instead.
What is Pâte sucrée?
Pâte sucrée is basically French sweet pastry. It has a higher content of butter than normal shortcrust pastry so is very rich but crumbly. It's normally used as the base for fruit tarts.
What are the ingredients for the Salted Caramel Chocolate Tart?
To make the pâte sucrée you will need plain or all purpose flour, icing or confectioners sugar, good quality cocoa powder, butter and an egg.
For the caramel layer the ingredients are butter, double or heavy cream, brown sugar and sea salt flakes.
The top chocolate layer needs plain chocolate or semi sweet. I prefer the hit of 70% dark chocolate. You will also need butter, caster sugar, eggs and chopped nuts.
How to make the Pâte sucrée?
First make the pastry by putting flour, cocoa, icing sugar and butter in a food processor and combine until  well mixed.
Add a beaten egg and enough water for it to come together in a ball.
Put the dough between two sheets of clingfilm and roll out to  line  a greased 34 x 10cm loose bottomed tin. If you need to patch the pastry don't worry and it will repair itself in the oven due to the extra butter.
Prick the base with a fork and chill in the fridge for 20 minutes.#
Bake it blind at 200 C for 10 minutes then remove the beans and paper and bake for another 5 minutes or so until the bottom feels set and cooked.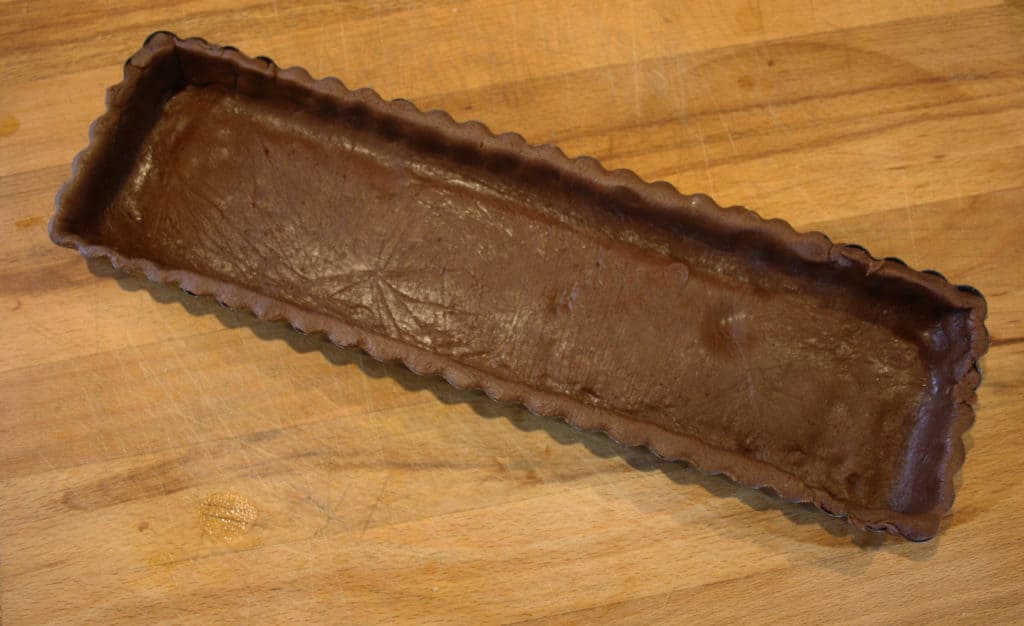 How to make the Salted Caramel Chocolate Tart
In the meantime make the caramel by heating sugar, cream and butter in a saucepan. Stir until the sugar dissolves and then simmer for about 8 minutes until thick and golden.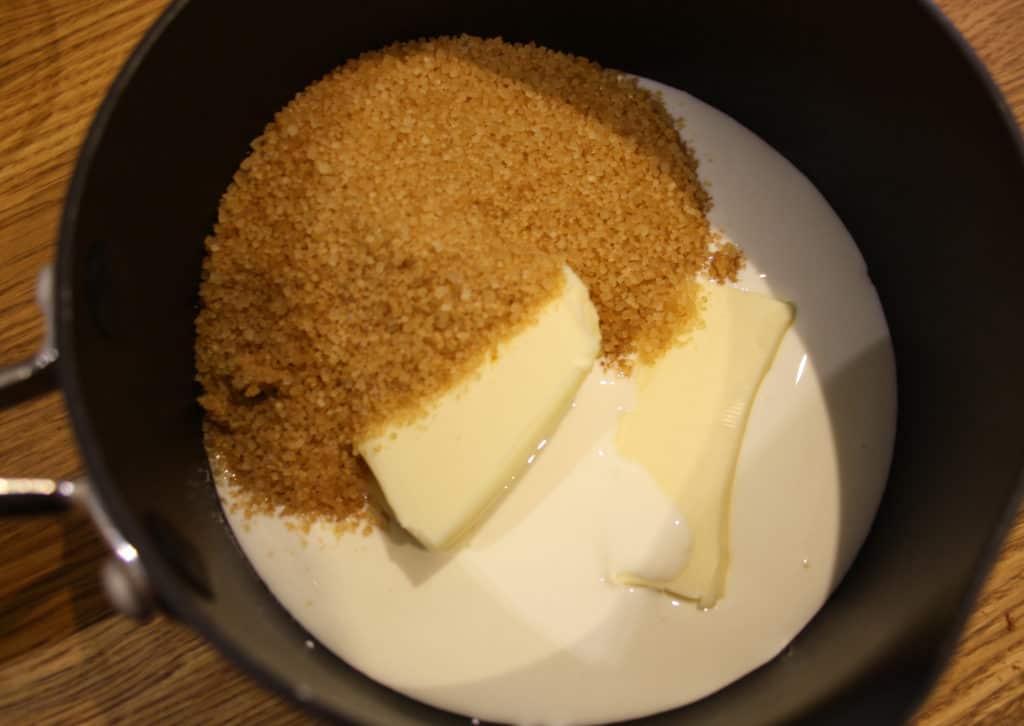 Break the chocolate into small pieces and put in a glass bowl with the butter. Melt in the microwave on high in 10 second bursts.
In another bowl whisk the  eggs and sugar then quickly stir in the chocolate.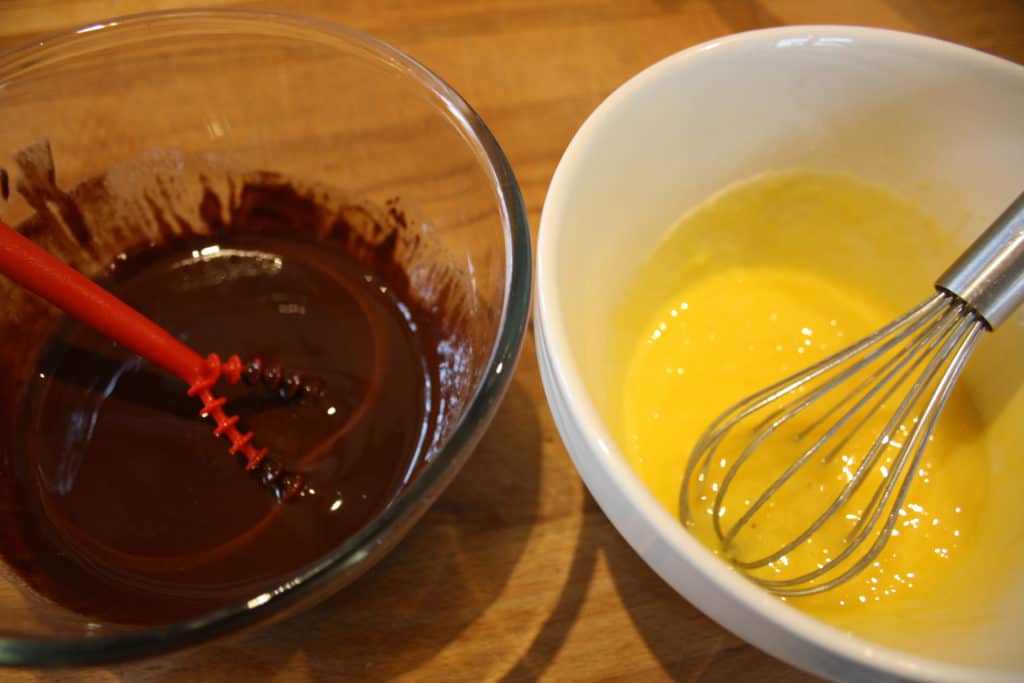 Pour the caramel onto the pastry base and sprinkle with seal salt flakes.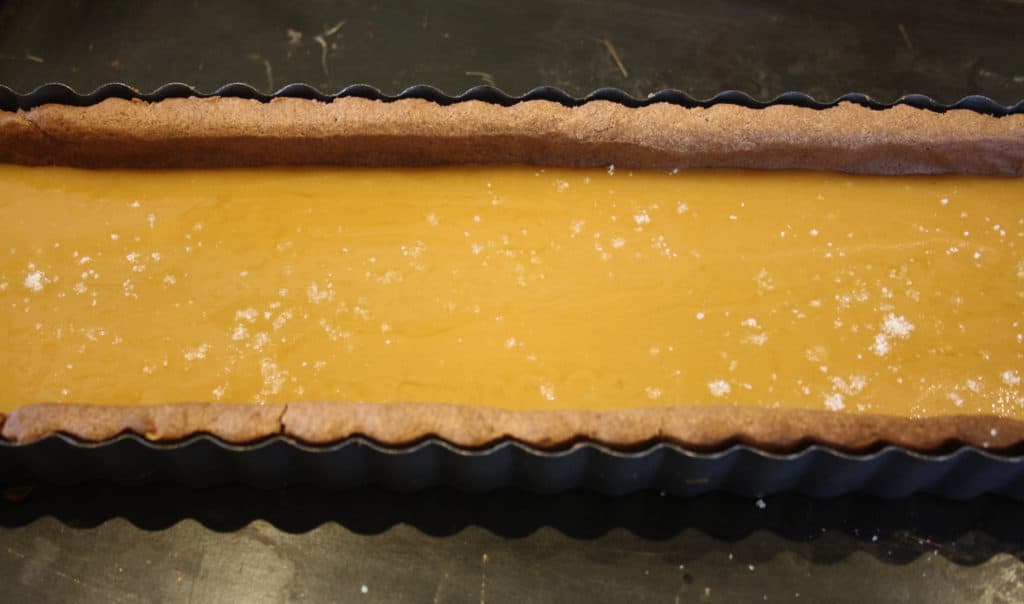 Pour over the chocolate mixture and sprinkle with chopped nuts.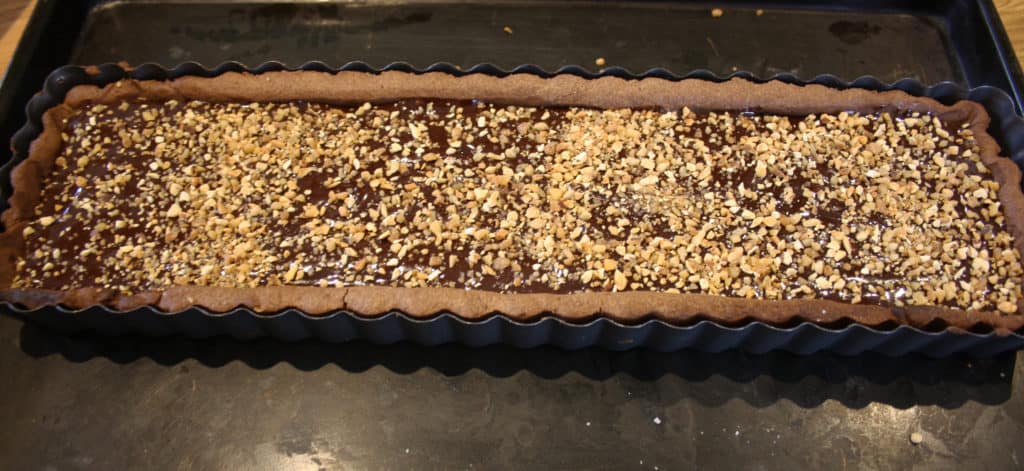 Reduce the temperature to 190 C and cook the tart for 10 minutes. Allow to cool and then refrigerate before serving.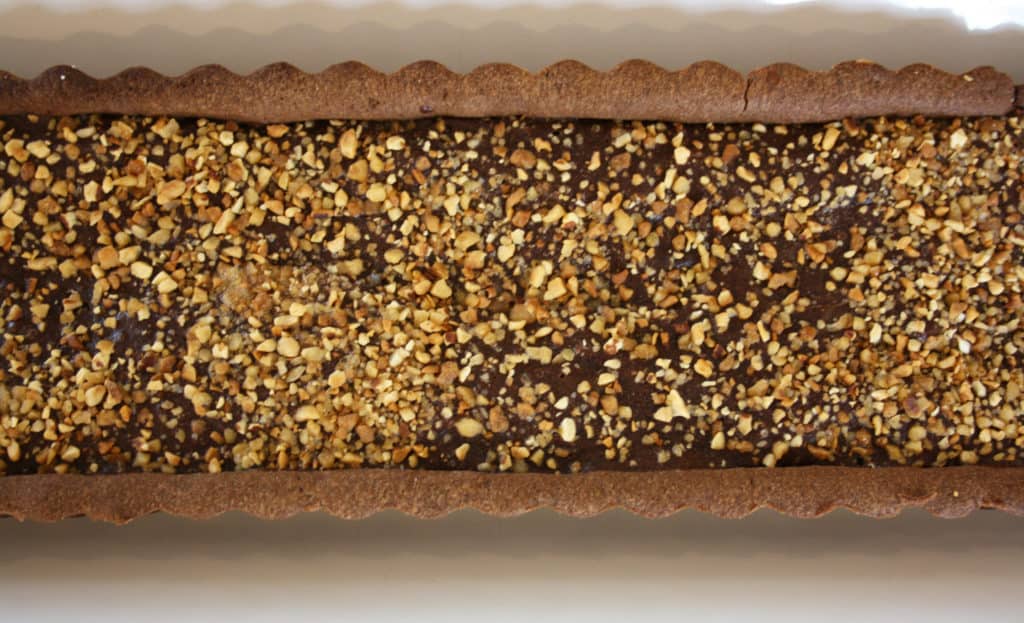 The caramel will still be soft from underneath the chocolate layer.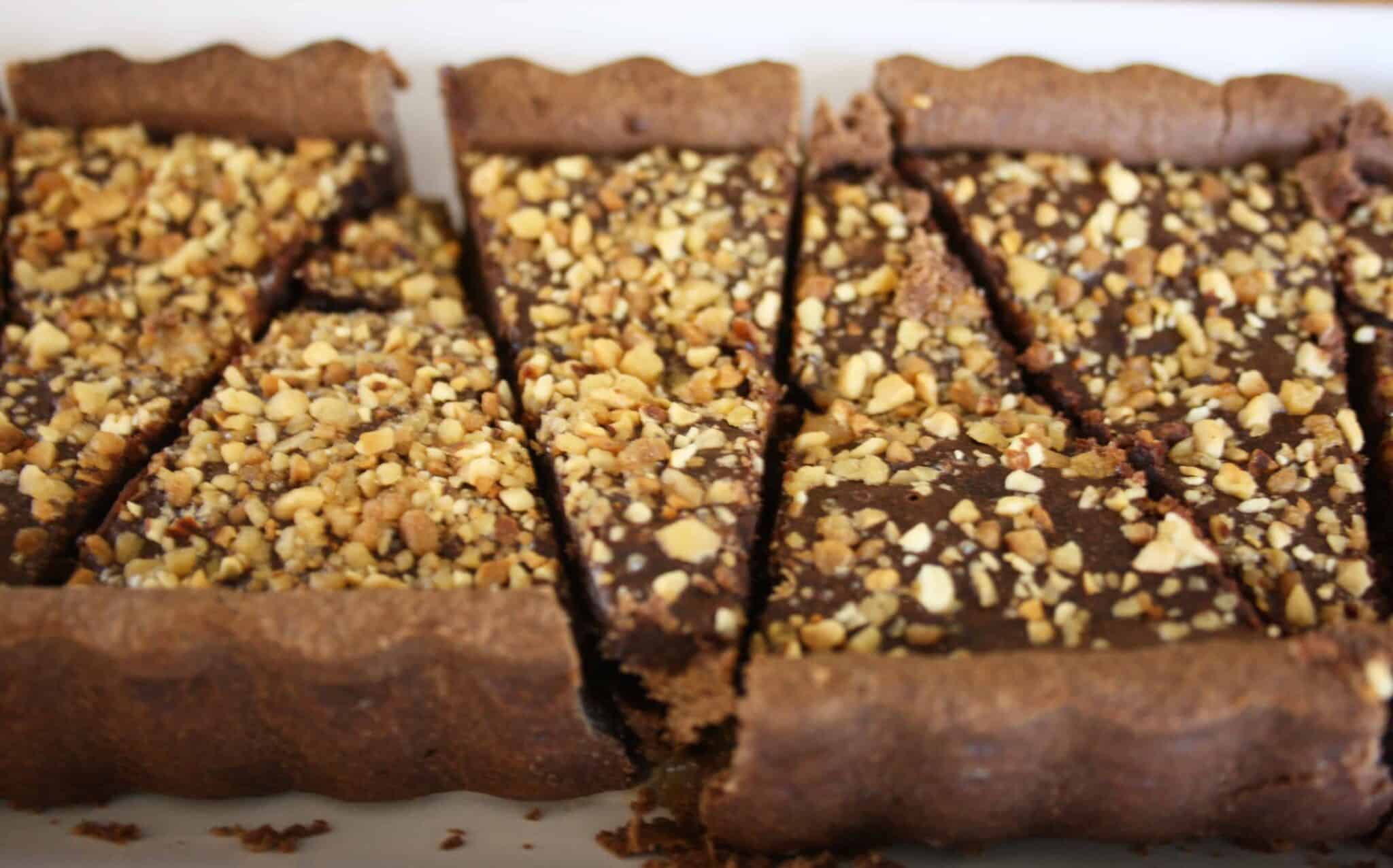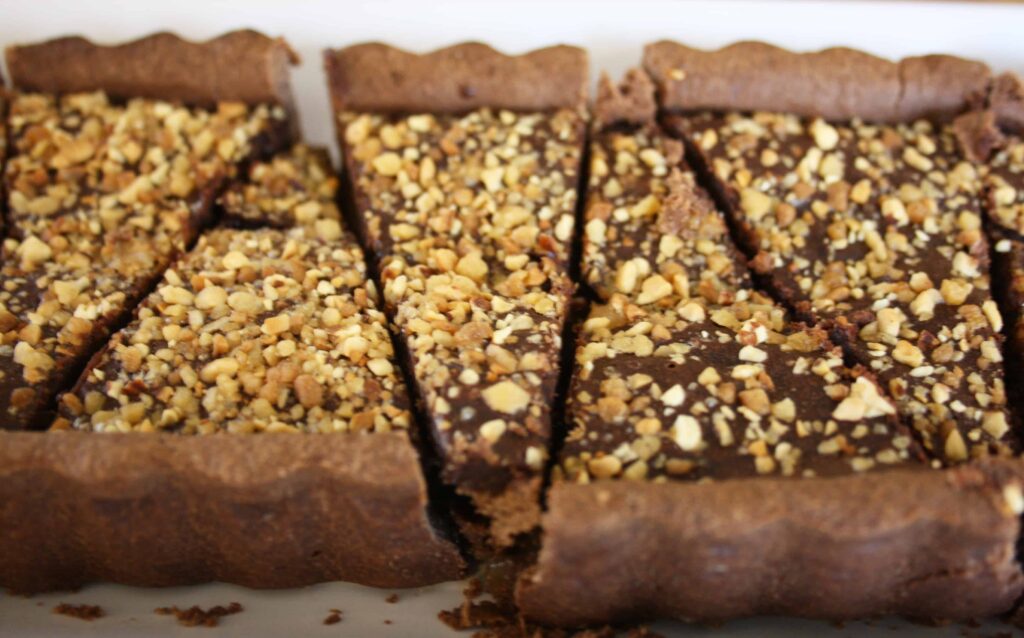 This caramel chocolate tart is extremely rich so serve small portions!
Serve with vanilla ice cream or cream or just on its own.
Other dessert recipes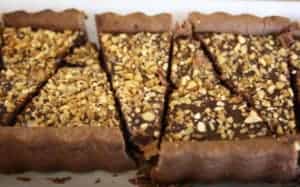 Caramel Chocolate Tart
A delicious chocolate tart base filled with layers of caramel and chocolate.
Ingredients
For the pastry
155

g

plain flour

21/2

tablespoon

cocoa

3

tablespoon

icing sugar

100

g

butter

1

egg

beaten
For the caramel
50

g

butter

75

ml

heavy cream

double

100

g

brown sugar

1

teaspoon

sea salt flakes
For the chocolate layer
100

g

70% plain chocolate

50

g

butter

2

tablespoon

caster sugar

1

egg

1

egg yolk

2

tablespoon

nuts

chopped
Instructions
Use a food processor to combine the pastry ingredients then add the egg and sufficient cold water to make the dough come together.

Roll out the dough between 2 pieces of cling film and line a greased, loose bottom tin (34x10cm).

Prick with a fork and refrigerate for 20 minutes.

Bake blind at 200 C for about 10 minutes then remove the beans and paper for another 5 minutes until the base is set.

Make caramel by putting ingredients (less salt) in a saucepan and stir over heat until the sugar has dissolved. Simmer for 8 minutes.

Break the chocolate and place in a glass bowl with the butter. Microwave for 10 second bursts until melted.

In another bowl mix the eggs with the sugar and quickly mix the chocolate in.

Pour on the caramel, sprinkle with salt then pour over the chocolate and sprinkle over the nuts.

Bake at 190 C for 10 minutes then cool and refrigerate before serving.
Nutrition Facts
Caramel Chocolate Tart
Amount Per Serving
Calories 376
Calories from Fat 225
% Daily Value*
Fat 25g38%
Cholesterol 107mg36%
Sodium 403mg18%
Potassium 146mg4%
Carbohydrates 37g12%
Protein 5g10%
Vitamin A 706IU14%
Calcium 48mg5%
Iron 2mg11%
* Percent Daily Values are based on a 2000 calorie diet.